Congratulations! You've brought your new puppy home and he's getting along well with everyone in the house. He's the perfect example of a Golden Retriever: energetic, happy-go-lucky… His only fault is that you cannot seem to stop him from nipping and biting when he's excited.
Let's talk about what your puppy is doing and the reason behind it. Then we can discuss why we need to stop this behavior early and several methods that can be used to do so. These methods apply to all breeds, not only to Golden Retrievers.
Nipping and Play Biting Vs. Fear and Aggressive Biting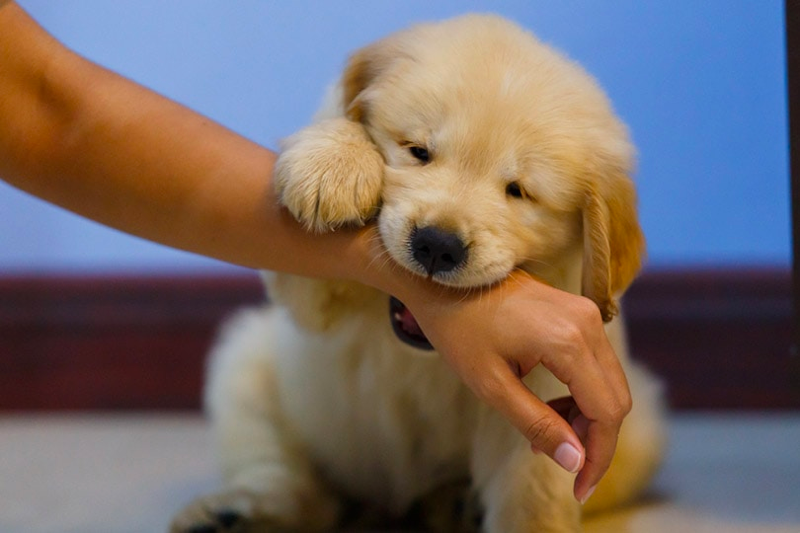 Before we can go any further, we have to determine what type of "mouthy" behavior your puppy is expressing. Methods to stop play biting will not work on dogs who are fear biting. You can determine what type of behavior is occurring by examining the posture of the animal and the environment that they are in.
For example, if a puppy is contentedly playing tug-of-war with you and suddenly their mouth is on your arm and not the toy, that is a play bite. If the puppy is closing its mouth on your pant leg while you're walking around and immediately releases, that is an example of nipping.
In these situations, your puppy will most likely have a wildly wagging tail, a wriggling body, possibly yipping or barking, and an energetic and exciting posture. They will also continue to close their mouth on your person or clothes, especially if you tug away.
If your puppy is cowering in a corner or skulking around and avoiding people when someone moves too close too quickly, that dog might lash out, bite, and retreat, pushing itself farther away from the person.
This is an example of a fear bite. Typically, fearful or nervous animals will give you a warning, like a low growl or their body will stay low to the ground with hunched body posture. If you have a fearful puppy, seek a trainer or behaviorist as soon as possible.
Aggressive biting can be scary, even if your puppy only weighs a few pounds. They'll growl, bare their teeth, and their hackles will be up. Get too close and the dog might lunge, possibly holding on or continuing the attack rather than releasing and retreating.
You may see this if a dog is protective of resources, such as food, the couch, or a toy. You may also see this behavior if the puppy feels threatened or cornered. They may feel like you are towering over them or possibly advancing too quickly in their direction.
Pay attention to your puppy and their reactions. If you see fear or aggressive biting, seek out a trainer who specializes in nervous or reactive dogs. These are behaviors that need to be dealt with sooner rather than later.
Reach out to the breeder or the shelter that your puppy came from and ask questions. Oftentimes, these places can be resources for you or they can point you in the direction of a trainer who can help.
Why So Mouthy?
Now that we've determined that you're dealing with nipping and play biting rather than fear or aggressive biting, let's dive into the reason behind why puppies do this. There is a reason for every behavior that you witness.
In terms of mouthiness, puppies are typically raised with their littermates. These other puppies are learning at the same speed and in the same manner that your puppy does. Except when we separate them from their mother and siblings to bring them home, they are suddenly faced with a dilemma: their new playmates don't play or learn the same way.
People aren't dogs, so we don't react as another puppy would. They are expecting the responses that they would receive from other dogs such as vocalizing and body language cues.
Dogs learn by putting things in their mouth. This includes learning how to play nicely. Puppies will nip and bite with their siblings when playing and this is how they learn boundaries. When their sibling yelps or bites back, they learn that this is inappropriate behavior.
But the Nibbling is Kind of Cute!
I can understand that your 8-week-old puppy nibbling on your pant leg or mouthing at your hands may look cute right now. It can be difficult to interrupt something that is so high on the cuteness scale. Unfortunately, we as the owner have to look at the bigger picture.
Any action from your puppy that goes uncorrected right now is going to stay with them for the rest of their lives. What looks cute on a 12-pound puppy won't look as precious on a fully grown large breed dog.
As they grow, their teeth will get bigger and nips and bites will hurt more, possibly even breaking the skin. Do you really want an 85 – 110 pound Golden Retriever nipping at your hands? Or at your kids? Or even at your houseguests? You have to "nip it in the bud" and correct the behavior now before they assume it is okay.
This also applies to everyone in and out of the house. Everyone who interacts you're your puppy needs to be involved in the correction, otherwise, it won't work. You, your kids, and any outsiders who come into your puppy's environment need to be on the same page and work together.
The First Method: Disrupt
This brings us to our first method for training your puppy to stop nipping and/or play biting. When your puppy starts to get mouthy, make a loud, sharp noise. This sound acts as a disruption, breaking their concentration by mimicking the effect of their sibling's yelp. Personally, I choose a very goose-like "eht" sound.
This noise must be paired with undesirable actions so that they are connected in your puppy's mind. The attention span of a dog is about 1-2 seconds. Any longer than that and your puppy may not understand the connection that you are trying to make.
Do not allow your puppy to go back to what they were doing. This would be like stopping your child from drawing on the wall and then letting them go right back to it after the reprimand.
The disruption method is supposed to act as a correction, a way to make them think about what they are doing. The noise you make is annoying and/or startling to them and they do not want you to repeat it. When they understand that the noise happens when they do something specific, they will perform that behavior less and less.
Nipping and play biting are linked hand-in-hand with your puppy's excitement level. When they get excited, they will use their mouth more and more. Keep this in mind as you are training. If you disrupt the excitement, they are more likely to cease the mouthy behavior.
The Second Method: Distract
Another method of alleviating nipping and play biting is to distract the puppy with a substitute. This substitute should be a toy, preferably not food or a treat. It is very easy for dogs to mistake edible distractions for a reward. You do not want to accidentally reward your puppy for chewing on your arms.
When your puppy starts to nip or play bite, get their attention with a toy that they like. Then hand them the toy in place of the part of you that they are chewing on. You may even need to toss the toy away from you.
Puppies have somewhat of a one-track mind. They will focus on one thing primarily and switching their attention to something else each time creates a good habit. They will understand that hands, clothes, and other assorted body parts are not toys and they will beeline for objects that are made for play.
The Third Method: Disengage
The third method for training your puppy to stop nipping and play biting is to disengage or move away completely. If your puppy is going after your hands or arms, put them behind your back. Sometimes, this is enough of a correction.
In the case that this is not enough: stand up, turn around so that your back is to them, and cross your arms over your chest. Do not engage them in any way. Don't look at them, don't turn around, and don't react to any noise they make.
Keep this up until your puppy no longer seems interested in you. You may have better results if you go and do something else for a moment before re-engaging in play.
This teaches your puppy that their playmate will go away if they nip or play bite. If they do action "A" and their playmate leaves, then they will discontinue action "A." You can't play with someone if they aren't there and dogs are social animals. They prefer to play with others.
Mix and Match Methods
Every puppy is an individual, regardless of whether they share a breed with another. No two dogs will respond to training in the same way. It is because of this individuality that you may need to mix and match the above methods.
You may be one of the lucky ones whose puppy understands the idea after you implement only one method. That's amazing and you should take that as a win because other parts of training may not be so easy.
On the other hand, your puppy may only respond after mixing these methods. That doesn't mean that there is anything wrong with your ability to train. It also does not indicate anything about your puppy's intelligence.
Every dog learns differently, just like human children. It may just take the right combination of tools in your "training toolbox" to help them understand you. Try different methods out, but make sure you give them enough time to work before switching your method.
Cautions When Training Not to Nip
Do not yell at your dog. Firstly, they do not comprehend or deserve your frustration. Nine times out of ten, you aren't even actually upset with the puppy; you are stressed about something else in your life.
Secondly, and I cannot stress this enough, they do not understand English. Dogs can learn commands but, until they are taught what the words mean, the words mean nothing. It would be like yelling at a French speaker in Russian. Just talking louder will not make them understand "off" or "down".
This brings up another point to watch out for. Be very clear with your commands. If you have already taught your dog that "off" means "get off the couch" and "down" means "lay down," then you need to find another word for your command.
I have found that when a puppy acts mouthy it is more a habit to break than a behavior that needs command. You want your dog to keep from nipping and biting all the time, you don't want them to start doing so and then have to give a command to stop it after every incident.
Try to stick to a corrective noise, like the stern "eht" sound we talked about earlier. This will allow you to curb the behavior and teach your puppy that it won't be tolerated. A command word shouldn't be needed if they learn that boundary properly. Save command words for behaviors that you want to be performed, that way the behavior is rewardable.
Speaking of rewards, try not to be physical with your dog, like pushing them away from you when they nip or play bite. Dogs use their bodies to communicate and they will take that as reinforcement and an invitation to continue. Pushing or other physical responses can be counterintuitive to your training.
I am sure you are already doing this but I will reiterate it anyway. Supervise your kids when they are with your dog. Children are most likely to be the target for more intense play and are the most at risk for accidental injury. Keep an eye on your kids and make sure that they know what to do if your puppy starts nipping or playing biting at them.
Do Not Be Discouraged
Like this subheading says: do not be discouraged. If you are struggling to curb your puppy's mouthiness on your own, look into other resources. Find a trainer or behaviorist who can advise you further. Maybe they can even offer you some other tools for your "training toolbox."
Do not be too hard on yourself. There are many factors at play when it comes to mouthy puppies. They might be ignoring your corrections because they are teething. Maybe you have been religiously reprimanding your puppy but your spouse has been allowing some rough play. Try to find the reason and give yourself the benefit of the doubt.
Biting Due to Teething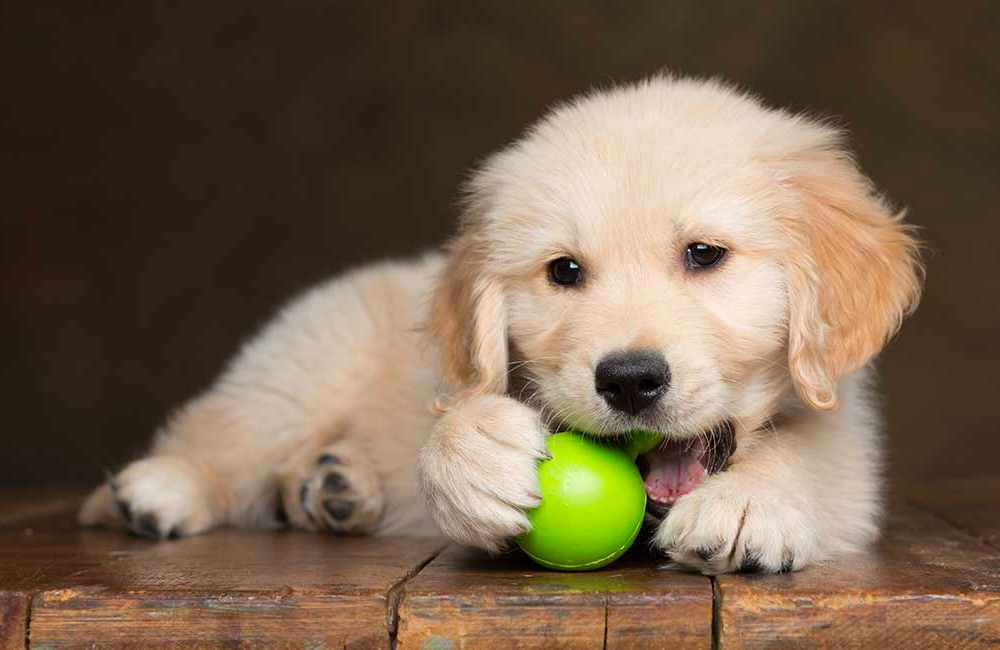 If you or your veterinarian have determined that your puppy is continuing to be mouthy due to teething, there are a couple of things that you can do. Think of what you would do for a human infant in this situation.
One great solution is teething toys, hard rubber toys that are specifically designed to alleviate pain in the gums. Make sure that any toy you give to your puppy is correctly sized so that they don't accidentally swallow pieces of it or choke.
You can also freeze these teething toys for optimal relief. Kong® is a wonderful dog toy manufacturer with many aesthetically pleasing and durable options for puppies. Find toys that your puppy appreciates. Teething toys are worthless if the puppy won't touch them.
Concluding Thoughts
Again, training is a process that is individual to the puppy. Your journey may look very different from that of another Golden Retriever owner. Be consistent, be patient, and be open to trying multiple methods.
Make sure to correct your puppy's mouthiness early. The earlier you reach the understanding that nipping and plays biting will not be tolerated, the sooner you can trust your puppy around children or guests. With all of the methods listed above and the understanding of why puppies nip and bite in the first place, you will have your Golden Retriever puppy behaving like an angel in no time!
Other Training Tips