Golden Retrievers remain one of the most popular dog breeds for pets in the United States. These adorable pooches are friendly and tolerant as well as smart and easy to train, making them excellent companion dogs. They also enjoy playing on land as well as in the water and the mud, so if you own a golden retriever, you're going to spend a decent amount of time giving your buddy a good bath. Investing in a good shampoo will make this a much more pleasant experience.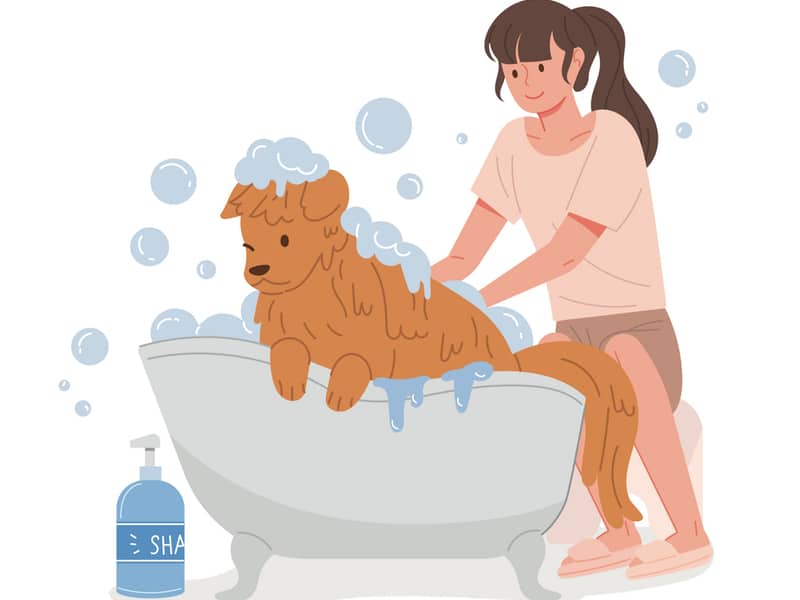 Top 10 Best Shampoos for Golden Retrievers
Here's a quick look at our top choices for golden retriever shampoo.
| | | |
| --- | --- | --- |
| Products | Superlative | Descriptions |
| TropiClean PerfectFur Combination Coat Shampoo for Dogs | Best overall shampoo for golden retrievers | This multi-purpose shampoo cleans, detangles, and deodorizes with a sweet citrus scent. |
| Earthbath Ultra-Mild Puppy Shampoo | Best puppy shampoo | This gentle, tear-free shampoo will get your golden puppy clean without irritating sensitive skin or eyes. |
| Vet's Best Hypo-Allergenic Shampoo for Dogs | Best for allergies | There are no dyes, parabens, or sulfates in this mild shampoo, which contains aloe and vitamin E to soothe irritated skin. |
| Burt's Bees for Dogs Hydrating Shampoo | Best for dry skin | Coconut oil moisturizes dry hair and fur naturally to leave your dog smooth, soft, and happy. |
| Veterinary Formula Clinical Care Hot Spot & Itch Relief | Best for itchy skin and hot spots | With multiple ingredients to soothe itchy, irritated skin, this itch relief shampoo is both effective and inexpensive. |
| Nature's Miracle Oatmeal Shampoo for Dogs | Best for problem odors | Replace that wet dog smell with a light, fresh oatmeal scent with this odor-neutralizing shampoo. |
| Arm & Hammer Super Deodorizing Shampoo for Pets | Most budget-friendly | This inexpensive shampoo is nevertheless effective at getting rid of dog odors while still being gentle enough for regular use. |
| FURminator Ultra Premium Deshedding Shampoo | Best for shedding | While it won't stop all shedding, this shampoo can help contain shedding during bath time while also nourishing the skin. |
| Bodhi Dog Waterless Shampoo | Best waterless shampoo | Available in three fresh scents, this spray-on product freshens your dog's coat without needing to be rinsed out. |
| Honest Paws 5-in-1 Dog Wash | Best shampoo + conditioner | This versatile product cleans, conditions, deodorizes, moisturizes skin, and detangles fur all at once, and it's great for even sensitive skin. |
1. TropiClean PerfectFur Combination Coat Shampoo for Dogs
Golden retrievers have long, feathered fur at their ears, tails, and legs with a shorter double coat over the rest of their bodies, what some call a combination coat. This TropiClean PerfectFur Combination Coat Shampoo was supposedly formulated with just this type of coat in mind. It cleans and conditions a golden's double coat while also reducing shedding by loosening trapped undercoat fluff. This product is also reasonably priced, making it a great balance of effectiveness and value for money. Dog owners love its sweet citrus scent, and even dogs with sensitive skin can benefit from this shampoo.
Pros
5% natural ingredients
Leaves fur soft and shiny
Formulated especially for golden retrievers and similar breeds
Cons
Not for use on puppies younger than 12 weeks
2. Earthbath Ultra-Mild Puppy Shampoo
While all dog shampoo should be pH-balanced to protect your pup's skin, shampoo made for puppies is especially mild. This shampoo should be tear-free, which means it won't damage your puppy's sensitive eyes if you should accidentally get a few suds in them. Earthbath's Ultra-Mild Puppy Shampoo is tear-free, gentle, and free of irritants. It has a light cherry scent and contains aloe vera to keep skin soft. Best of all, it comes with a 100% money-back guarantee that you'll love it.
Pros
Safe for puppies as young as 6 weeks
Mild cherry scent
Very high customer satisfaction ratings
Cons
Some customers report scent is too weak or artificial
3. Vet's Best Hypo-Allergenic Shampoo for Dogs
Products marketed as "hypoallergenic" are designed to reduce or minimize the chance of an allergic reaction in their users. While this is marketing language rather than actual medical terminology, Vet's Best Hypo-Allergenic Shampoo does leave out many common allergens like parabens, sulfates, and added colors and fragrances. Instead, it includes plant-based ingredients like allantoin, aloe, and vitamin E to soothe itchy, red, or irritated skin and soften dry, brittle fur.
Pros
Free of common allergens
Light tea tree oil scent
Softens fur
Cons
4. Burt's Bees for Dog's Hydrating Shampoo
There's no shortage of moisturizing shampoos for dogs with dry skin, but Burt's Bees Dog Care Plus Hydrating Shampoo is among the best. The primary moisturizing ingredient is coconut oil, but there's also colloidal oatmeal and honey for extra soothing. There are no dyes, sulfates, or added fragrances that might cause irritation, and the company makes a whole range of coconut oil grooming products, including conditioner and waterless shampoo. There are other Burt's Bees Dog Care Plus products that contain avocado and olive oil (the Nourishing line) or chamomile and rosemary (the Relieving line) if those work better for your golden retriever.
Pros
2% natural ingredients
Moisturizes both skin and fur
Conditioner and waterless shampoo are also available
Cons
Some customers reported bottle leakage in transit
5. Veterinary Formula Clinical Care Hot Spot & Itch Relief
If your golden retriever just won't stop scratching, Veterinary Formula Clinical Care is an excellent choice both for all-over itchiness and for "hot spots" that dogs won't leave alone. This shampoo contains lidocaine to lessen pain, colloidal oatmeal to soothe irritated skin, and hydrocortisone to reduce inflammation. It works quickly and is unscented, so your dog won't be left with an unpleasant or medicinal odor. It's also free of parabens, dyes, and detergents to avoid causing any further irritation. If you like the results, there's also a leave-on spray version for quick itch relief between full baths.
Pros
Multiple ingredients for itch relief
Inexpensive for a medicated shampoo
Works quickly and reliably
Cons
Must leave on for 5-10 minutes before rinsing.
6. Nature's Miracle Oatmeal Shampoo for Dogs
Although the golden retriever breed isn't known for having a particularly offensive natural odor, these are large, active, curious dogs that frequently get wet or roll in things they shouldn't. When that happens, you want to have a shampoo on hand that not only smells good but also helps eliminate stray odors rather than just masking them. Nature's Miracle Oatmeal Shampoo is an excellent choice to neutralize odors while also moisturizing skin and fur with aloe and vitamin B5. Customers love the light oatmeal scent, and they report that it both lathers and rinses out well.
Pros
Neutralizes "wet dog" smell
Oatmeal and aloe soothe itchy skin
Rinses out easily
Cons
A few customers reported it didn't work on severe odors.
7. Arm & Hammer Super Deodorizing Shampoo for Pets
Perhaps your budget is tight, or perhaps your golden retriever gets themselves wet and dirty so regularly that you go through a lot of shampoos. Either way, you could use a grooming product that's as easy on your wallet as it is on your dog's skin and fir. Powered by baking soda, Arm & Hammer Super Deodorizing Shampoo has a fresh kiwi scent without any parabens, phthalates, or SLS. Customers report that it works as well as advertised, and it's a great choice if you've got multiple dogs to wash. There's also a deodorizing spray with the same scent.
Pros
Great value for money
Free of harsh detergents
Long-lasting scent
Cons
A few dogs had allergic reactions
8. FURminator Ultra Premium Deshedding Shampoo
It bears repeating: no shampoo will stop shedding entirely, especially seasonal shedding, and golden retrievers are high-shed dogs. However, FURminator Ultra Premium Deshedding Shampoo contains omega-3 and omega-6 fatty acids that your dog's skin may lack if they're shedding excessively. Along with the company's conditioner and waterless spray, this shampoo may help reduce shedding due to dry, undernourished skin. It also helps release loose fur during bath time so this same fur doesn't end up all over your home.
Pros
Gentle on sensitive skin
Leaves fur soft and shiny
Easy to use
Cons
Must be left on for 5-10 minutes
9. Bodhi Dog Waterless Shampoo
Although a leave-in dog shampoo won't get quite the same results as a full bath, it can be a great option for golden retrievers who get stinky between baths. Remember that washing your dog too often can remove necessary moisture from skin and fur, so Bodhi Dog Waterless Shampoo can be a good fix. Available in lavender, lemongrass, and oatmeal/apple scents, this spray-on, leave-in cleaner, and deodorizer is alcohol-free and doubles as a detangler for long fur, making it an especially good choice for golden retrievers. To use it, you just spray it on your dog's fur, let it sit for a minute, then rub them down with a clean towel.
Pros
100% money-back guarantee
Three scents to choose from
Can also be used on furniture to remove pet odors
Cons
10. Honest Paws 5-in-1 Dog Wash
If your golden retriever won't sit still for shampoo, conditioner, detangler, or other grooming products one after the other, why not use them all at once? This Honest Paws 5-in-1 Dog Wash contains ingredients that clean and condition fur, loosen tangles, moisturize skin, and deodorize your dog. It contains no dyes, phosphates, sulfates, or parabens to irritate the skin, but it does have a light, natural coconut scent.
Pros
25% natural ingredients
Especially good for long-haired dogs
Soothes sensitive skin
Cons
What to Look for in Golden Retriever Shampoo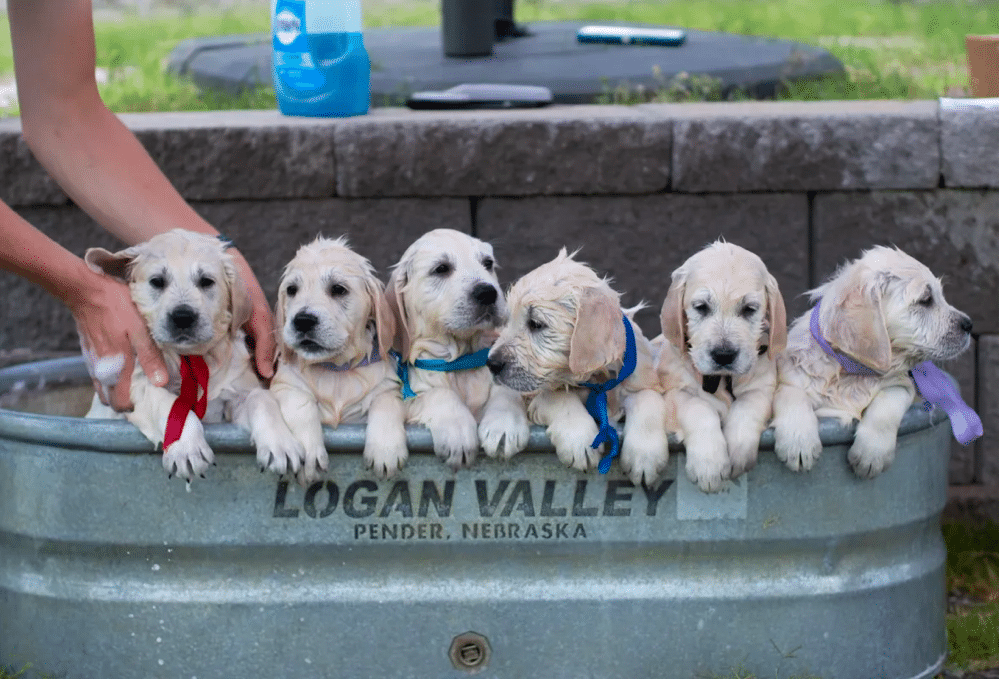 Is there a breed-specific shampoo that's better for golden retrievers? There are some products that make that claim, but any good dog shampoo will do, though not all shampoos for dogs are created alike. Here are some things to look for in a shampoo for your Golden Retriever.
Correct pH
Although it's not specific to golden retrievers, this is the most important reason to use shampoos, conditioners, and soaps made especially for dogs. The pH scale is a measure of how acidic or alkaline a substance is on a scale of 1 to 14, with 7 being completely neutral. For reference, water has a pH of 7, vinegar has an acidic pH of 2-3, and ammonia has a basic (alkaline) pH of about 11. On this scale, human skin has a slightly acidic pH of about 5.5. Dogs, on the other hand, have a more neutral skin pH of between 6.2 and 7.4.
This means that human shampoo is created for slightly more acidic skin than dog shampoo is. Although using human shampoo once or twice in an emergency shouldn't hurt your dog, using human shampoo regularly can cause skin irritation and dryness. If you must use human shampoo on your dog, use only baby shampoo, which has a more neutral pH and gentler ingredients. In general, though, shampoo marketed toward dogs will have the right pH level.
Good for Long Hair
A golden retriever's coat is long and feathered at the ears, tail, and legs, with a dense outer coat and thick, fluffy undercoat. Because of all this fur, this breed requires a decent amount of grooming. If you pick a shampoo that doesn't lather well, you'll have a difficult time working it past your golden retriever's water-resistant outer coat to the softer undercoat. A detangling shampoo or conditioner may also reduce the time you need to spend brushing.
Anti-Shedding
Golden retrievers shed quite a bit, particularly in the spring and fall, and no shampoo is going to change that. You can reduce the amount of fur your pooch deposits around the house by bathing and brushing them regularly. An anti-shedding shampoo with omega-3 and omega-6 fatty acids can help, especially if your golden retriever is shedding due to skin problems. It can also help release loose undercoat fur, allowing you to remove it at bath time instead of letting it get everywhere. However, keep your expectations reasonable – shampoo is not a miracle cure, and it won't stop seasonal shedding.
Specialty Ingredients
Some golden retrievers are hardy and can use any shampoo without problems. Others may have allergies or sensitive skin that make picking the right grooming products a little more difficult. Still, others may have skin problems that are unrelated to grooming, but the right shampoo can still relieve pain and itching. Ingredients like colloidal oatmeal, aloe vera, and hydrocortisone can all relieve minor itching and irritation. You can also find shampoos that fight dandruff. However, constant itching is most often caused by fleas or ticks, so always ensure that you've protected your golden from these pests before blaming their problems on shampoo or diet.
Scent
It may go without saying, but you need to pick a scent that doesn't offend your nose or your dog's more sensitive nose. Most scents are there for human benefit, but some can come off as either artificial or even medicinal. If you don't like the way a shampoo smells, you might not be as inclined to use it, so be sure to pick something appealing.
Frequently Asked Questions
Can you use human shampoo on a golden retriever?
No, you shouldn't use human shampoo on your dog. While it might be okay for an emergency if there's nothing else available, using it regularly may harm your dog's skin, causing dryness or irritation.
How often should you bathe a golden retriever?
There's no one-size-fits-all answer to this, as it depends on your individual dog's activity level and lifestyle. Usually, though, golden retrievers are active enough to need bathing about every four weeks, though if your dog starts to develop an odor sooner than that, you can go ahead and bathe them more often. However, washing too often can strip a dog's skin and coat of protective oils, drying them out and causing skin problems. Try to find a good balance that's right for your dog.
Final Thoughts
The best shampoo for your golden retriever is the one that leaves your dog's fur clean and soft, their skin shiny, and your nose happy. It may take some trial and error to find the ideal shampoo, but we recommend you start with the options on our list. If your dog experiences an allergic reaction or their sensitive skin gets worse, make sure to consult with your vet. You can also ask your vet for recommendations. Just because your golden retriever is an active, curious dog, that doesn't mean they need to smell like they live outdoors.