If you have always loved the Golden Retriever breed, but you don't want a big dog in your house, a miniature Golden Retriever might be the right dog for your family! These cute little dogs are a cross between a Golden Retriever and a poodle or a Golden Retriever and a Spaniel breed. Sometimes called "comfort retrievers", these cute little Golden Retriever look-alikes are a great choice if you have a small home or apartment or you just don't want a big dog underfoot in your house all day long.
Mini Golden Retrievers are cute and sweet, and they are easy to carry around with you as well. There is nothing quite like a small version of a big dog, and if you love mini animals, this might be the perfect breed for you and your family. Miniature Golden Retrievers also have great personalities, which means that they will fit right into your home without a hitch.
If you are ready to learn some more about the reputable breeders for Miniature Golden Retrievers in the USA, you need to keep reading!
Top 7 Reputable Miniature Golden Retriever Breeders in the USA
Important Note: You might want to read our guide about how to choose and due diligence a Golden Retriever Breeder.
1. Taylormade Miniature Golden Retriever Kennels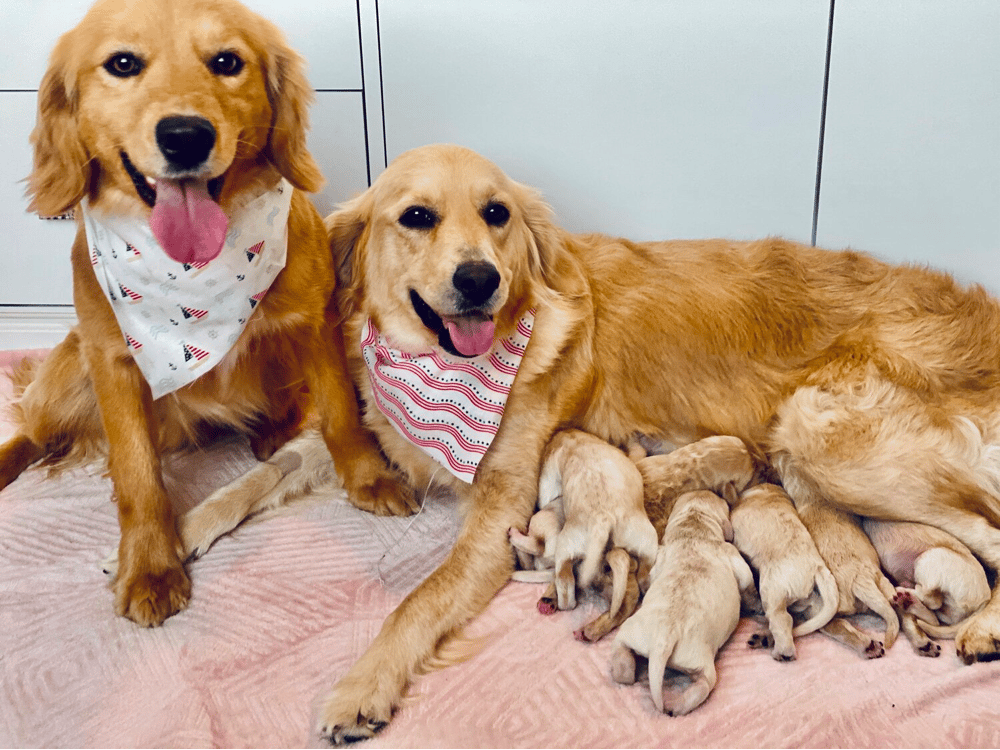 This is a premier breeder for Mini Golden Retrievers, and they charge a fair $500 deposit. Puppies are $5,500, but you can get 1st pick of the littler for $6,000. The puppy-to-go kit that each puppy is sold with comes with a toy or blanket that smells like home, some treats, potty pads, and a bathing and coat care kit. You will also get a collar and a leash for your puppy and their registration certificate. The local vet gives them a fecal test to certify that they are free of parasites, and puppies come with a 2-year health guarantee that can be extended to a 5-year guarantee. Each puppy also comes with 30 days of pet insurance through Trupanion.
Puppies are handled for the first two weeks of life to stimulate neuro function and growth and are then given basic leash and potty training. You can get your puppy at eight weeks. This breeder also offers training and boarding for dogs older than the first eight weeks at $55/day. Puppy flight nanny services can deliver your dog to you, or you can meet the breeder and pick up your puppy in person.
This is a boutique breeder that creates healthy and well-bred dogs that will be free from common health ailments associated with the two breeds that have made them. Careful selection is made to create the right breed opportunities, and you will not have to worry about the health of your dog when you choose to get a puppy from this breeder.
2. GoldQuest Comfort Retrievers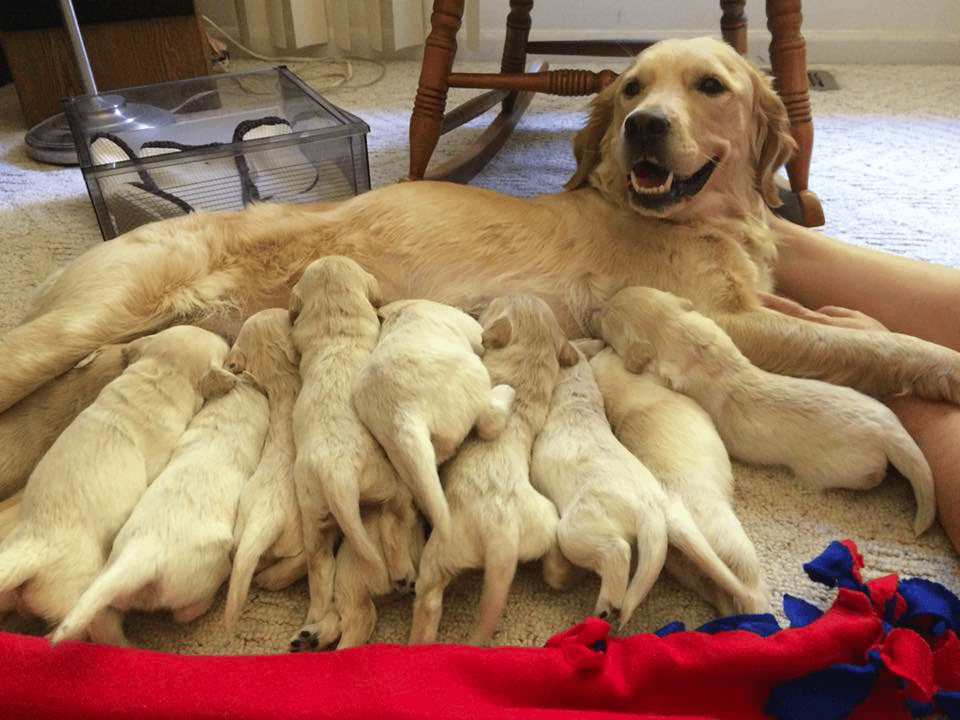 This breeder runs a huge operation that includes Guardian placement, puppy breeding, veterinary care, and breeding services. This breeder also touts that they are the first breeder to create mini Golden Retrievers and claims that they are the expert in this cross. This breeder crosses their dogs with poodles to get them down to the smaller mini size, and all of the breeding lines that are used from this farm are carefully managed and genetically tested. You will get a healthy puppy that is perfect for your family when you choose to work with GoldQuest to get your mini Golden Retriever.
This breeder has created a really unique operation that also allows owners to become their own breeders using the pedigrees that have been carefully crafted at GoldQuest. You can join the community of breeders who work with GoldQuest to create puppies with impeccable breeding and to create a community in your area that has access to this kind of lovely, proven pedigree. This can be a great opportunity if you have always wanted to breed your own dogs but need some help getting started on this venture.
This breeder prepares all of their puppies for eight weeks before they are handed off, and they provide dogs to all 50 states of the US as well as foreign countries. This is a huge breeding operation that knows how to take care of their part of the agreement when you decide to invest in a mini Golden Retriever. You will get a healthy and well-bred dog that is free from health concerns, and that has been prepared to move into your home without a problem.
3. Pacific Northwest Miniature Goldens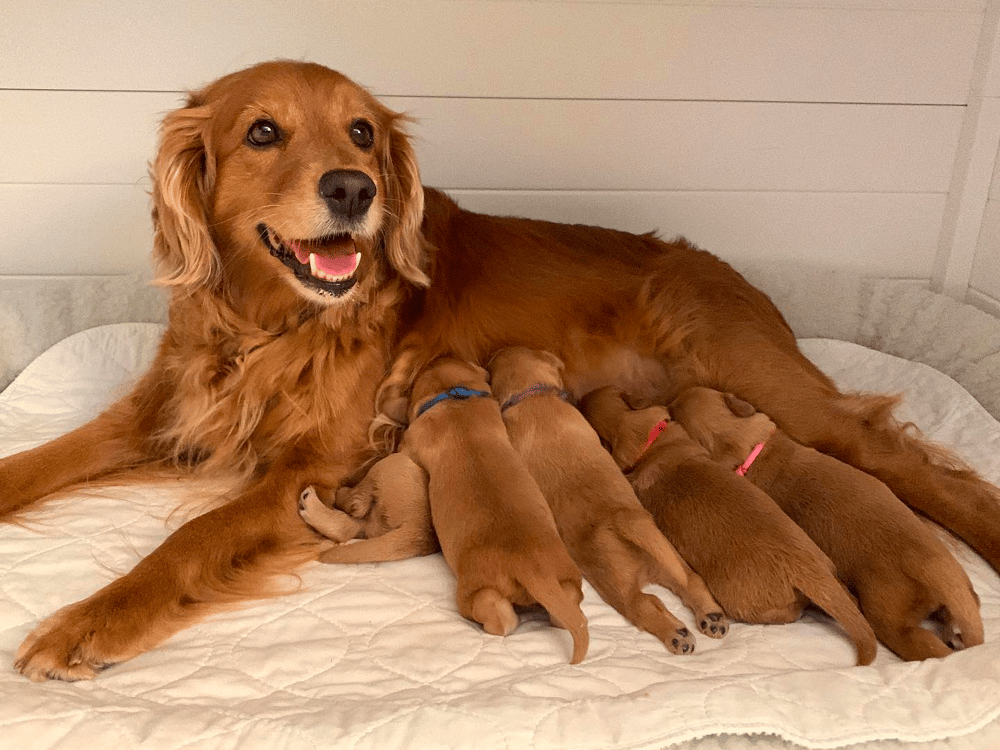 This is the premier Mini Golden Retriever breeder in the Pacific Northwest, and you will have a great experience when you choose this breeder to buy from. The puppies that are raised here are bred carefully to be free from genetic issues and health concerns, and they are kept and socialized until they are old enough to integrate into your home with ease. This is a quality breeder who takes pride in their work and who raises all of their dogs with love and kindness that prepares them to be family pets who will fit right into your home.
This breeder offers shipping services, and you can pick it up in person as well. Puppies come with a full health exam and certificate of health, and they are vaccinated and wormed prior to being handed off to their new owners. You will get a blanket or a toy that has the scent of home on it for your puppy's comfort as they integrate into your home, and your puppy comes with a leash and a collar. Each puppy also comes with a two-year health guarantee and a sample of food.
This breeder is unique in that they offer lifetime support and communication with its puppy owners. They want you to have a great experience with your dog, and they know that not everyone has access to the expertise that they do. Being able to get health and advice as needed can make all the difference in you are a first-time dog owner.
4. Mini Golden Paws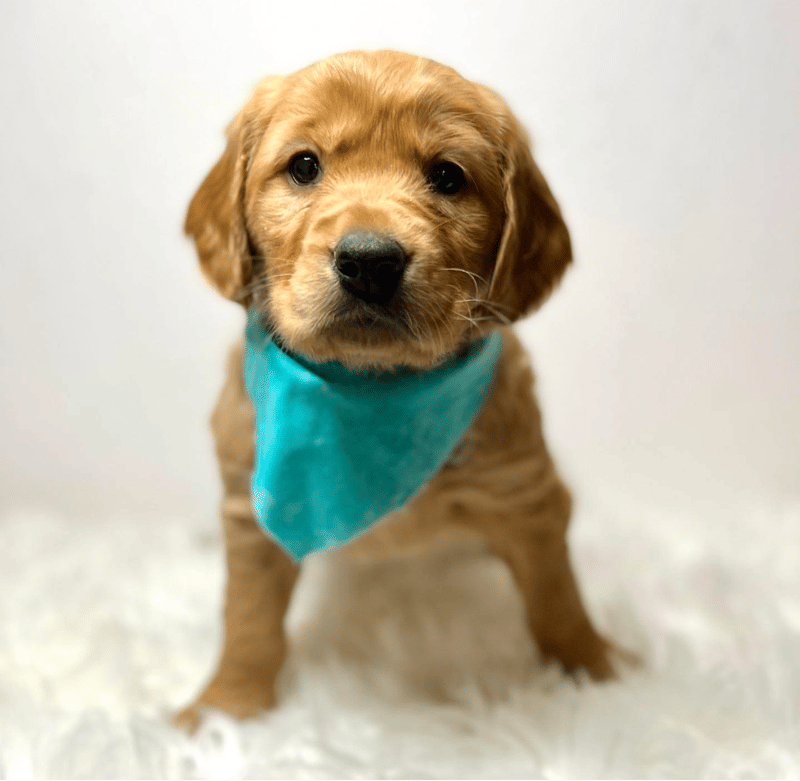 Mini Golden Paws is a dog breeder located in Idaho, specializing in mini Golden Retrievers. Many people love this breeder because they take the time to be really personal in their outreach to potential clients and because they make sure their puppies are ready to go to new homes before they are released.
They are a small family farm that cares about their dogs and dogs' well-being. They socialize all of the dogs, from puppies to adults. They give them a new experience every day and treat them like family.
This breeder offers five different ways to ship puppies, all of them safe and reliable. You will get a blanket with your puppy that smells like home and that keeps them from being scared in their new home, and they will also offer you a toy for your pet. The puppies have their first shots and have been wormed, and you get an included 30 days of pet insurance through Trupanion. The puppies are provided with training for their first 3-16 days of puppy life to help them to be ready for contact with people of all ages, and the breeder includes a healthy certificate that shows that the puppy was examined by a vet before being released to you as their new owner. This breeder also offers a 2-year health guarantee with each dog.
This is a great choice for your needs if you want to place a deposit and then be kept informed about possible litter dates and details about your puppy. This breeder keeps puppies until they are 8 weeks of age, but you will get lots of updates about the well-being and growth of your puppy throughout this time.
5. Miniature Golden Retriever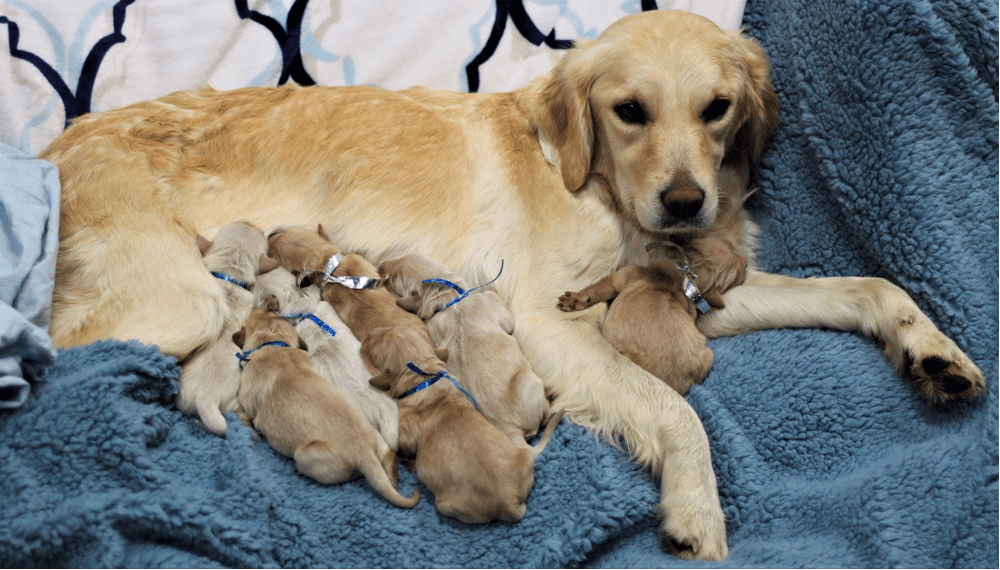 Shannon Halvorsen has a lot of experience and also breeds other animals and has set boundaries around her time and property to ensure care and safety for all the animals and family. You can reserve puppies with this breeder with ease by reaching out to them directly. They do say that they will offer additional training for your puppy if it is ten weeks or older and that they train for 1-4 hours a day for training dogs.
The site shows you all the information about where the parent animals for this breeder's stock were purchased so that you can look at the pedigrees of the dogs before you put down a deposit on a puppy. This is a very busy operation per their website, but they still take time to arrange to ship and to offer you a puppy that is linked with the original foundation dogs. This breeder says that they are one of the four foundational breeders for this breed and that they can be trusted to deliver you a healthy dog that is beautiful and friendly.
The price for female and male puppy deposits is different, but they are transferrable. They offer no refunds but will give you another puppy if your dog has a genetic defect. You can get a copy of the contract before you agree to reserve a puppy so you can see what your well-puppy and other guarantees will include when working with this breeder.
6. Tiny Goldens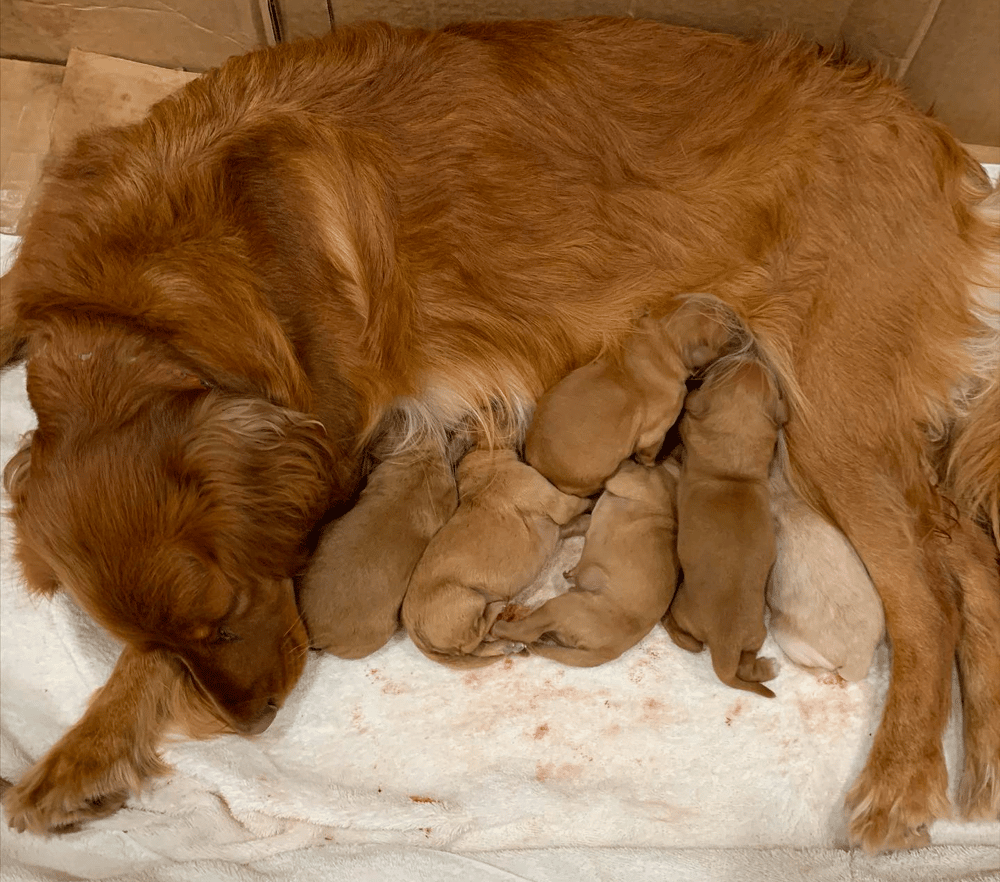 This breeder offers a complete "puppy buying experience". You can follow your puppy's progress from a sleepy puppy to an active youngster through many pictures, videos, and personal communication. You get lifetime "puppy support" if you have questions after you bring your puppy home. They are raised using special bonding and "super dog" techniques that give them the best start for training. These are pets with kind and happy personalities that are perfect for family homes with kids and other pets. The size of the dogs that this breeder aims for is about 40 pounds as full-grown adults. You can reserve a puppy for a fee.
This breeder believes that training is such an important part of the experience that they offer training rebates so that you get paid back for training your puppy. If you think that you might need a little help teaching your puppy what they need to know to succeed in life, this is a great option.
The puppies that come from this breeder are carefully checked out for health issues and certified to be free from genetic issues. You can trust this breeder to provide you will all the right information about dog health and to stand behind their puppies on the off chance that something should go wrong. These are some of the most adorable Mini Golden Retrievers that you can get from this cross, and you will be thrilled if you want to get a small and well-socialized puppy to join your family.
7. Mini Golden Small Paws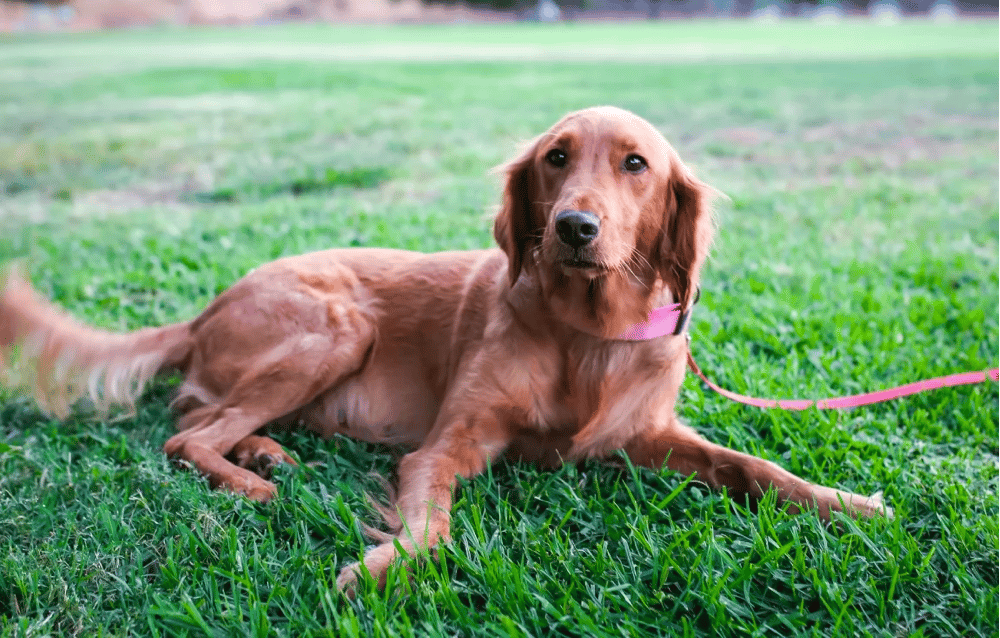 This breeder creates small Golden Retrievers as a passion project. While she is a hobby breeder, she does a great job socializing and caring for her puppies so that they are ready to enjoy fulfilling lives with their new families. You will love that your Golden Retriever has such a big personality and is so prepared to move into your home with you. This location also offers boarding and training and puppy care, so you will be able to foster a long-term relationship with this breeder if you wish. The family operates the business here and creates puppies that are beautiful, healthy, and loving.
This is a great choice if you want to work with a smaller operation but get a quality dog that will be healthy and happy for years to come. This is a great choice for those who like crème-colored Goldens as well since there is a pedigree line that offers this lovely color when you work with this breeder.
Conclusion
There are so many really great things to say about the mini Golden Retriever. You will get all the best features of the Golden Retriever pedigree and temperament without the large size and big-time shedding that can accompany owning a full-size Golden Retriever. This is a great choice if you have a small home or you just love small dogs and want to have a little bit more petite dog for you and your family.
Golden Retriever Resources and Tips