When choosing a new dog, you may have some questions about common personality and health traits. While each dog has a unique personality, some breeds have a history of specific energy levels, instincts, and health concerns. You may need a dog that is good with kids or easy to train, for example. You may also fall in love with a dog that falls outside of your original expectations. For best results with any dog, research the breed well. With the proper information, you can help your new dog adjust to your home and thrive with your family.
Golden Retriever Vs. Boxer: Personality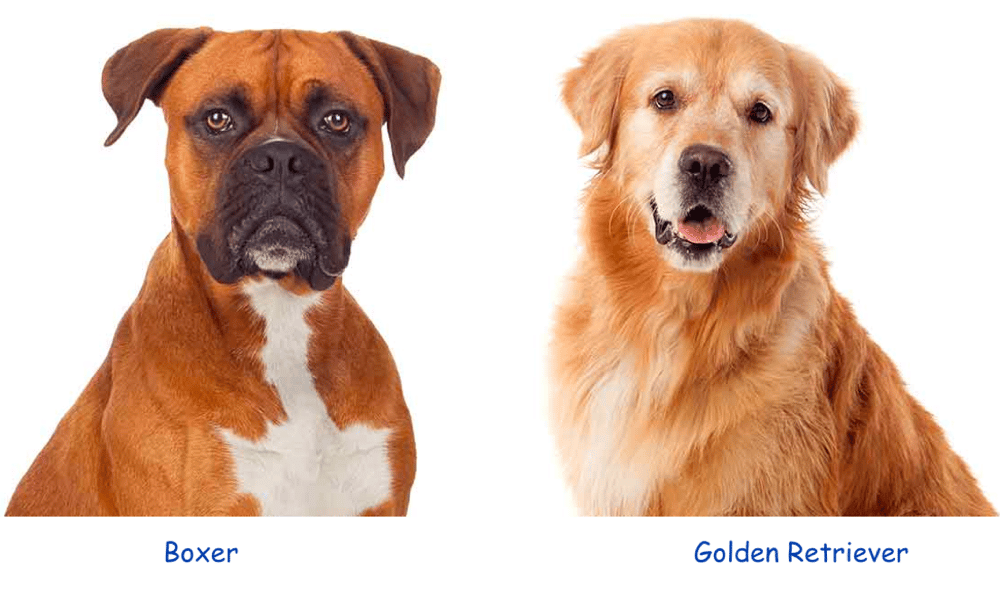 Boxers are well-known for their silly behavior and stubborn nature. They wiggle their whole body when they get excited. They are also very vocal. You may find your boxer "talking" to you when they want something. Other than simple barking, they also make a variety of cute sounds to get your attention. Many owners say they use their sounds to argue with you when acting stubborn. They love to play, leap, and run. Boxers tend to love people more than other dogs. You probably won't ever be alone again if you get a boxer. Expect to have company in the bathroom and while cooking dinner, as boxers want to be near their humans all the time. They are often described as "velcro" dogs because they stick to your side.
Golden Retrievers are great with both dogs and humans. They remain one of the most popular family dogs since they can easily meet new friends and enjoy social situations. Most people describe them as friendly. They also have a non-aggressive appearance, making it easy to introduce them to new people. You may find your Golden rolling on her back in the fresh-cut grass or carrying stuffed dog toys all around the house.
Golden Retriever Vs. Boxer: Size and Appearance
Boxers average anywhere from 50- 80 pounds, yet some can get much bigger. Females are usually smaller than males. They have a broad chest and muscular build. Good leash training can help you manage walks better. During the first year of life, your boxer may look fairly lean. You'll notice that your boxer begins to fill out after one-year-old, yet still has a noticeable waist. Boxers continue to grow until they are about 18- 24 months old. Boxers have short hair, floppy ears, and a long tail. Breeders often dock the tail and ears. They have large blocky heads with droopy jowls.
Golden Retrievers grow to be about 55- 75 pounds, with females usually weighing under 65 pounds. They range from 21- 24 inches in height. The most noticeable feature of the Golden Retriever is their long, fluffy coat. They have a thick body shape and are very strong. Breeders do not change their appearance, leaving the natural tail and floppy ears. There are three types of Golden Retrievers. These include the American golden, the Canadian golden, and the English golden. Each one has specific traits that differ, however, the overall look remains the same. If you can't decide between these two breeds, you may find a mixed-breed dog you love, as well. A boxer mixed with a Golden Retriever is called a Golden Boxer and can have a variety of features from each breed.
Golden Retriever Vs. Boxer: Grooming Need
Boxers do not require major grooming sessions or tools. You can easily take care of your boxer's coat at home. They have short hair, yet you can expect some shedding. Many boxers have allergies and skin issues, however, so you may need to visit the veterinarian for medication or give them medicated baths. White boxers need sunscreen when they go outside. Your boxer may enjoy a light brushing, even though the fur does not get matted.
Golden Retrievers require routine grooming to avoid matted and overgrown fur. They have a thick undercoat, so you must check regularly for ticks and fleas that may hide in the fur. You can brush your Golden at home and many owners learn to trim their fur. If you choose to visit a groomer for trims, you may want to neaten up the fur on their feet between appointments. Purchase a good vacuum, as Golden Retrievers shed a lot, especially during seasonal changes.
Golden Retriever Vs. Boxer: Common Health Issues
Many dog breeds have specific health issues that owners should look out for. Cancer has become a big problem for the majority of dogs, unfortunately. Boxers have a tendency to come down with a variety of skin cancers. Look out for lumps under the skin, as these can show up in even a young boxer. In many cases, your veterinarian can remove the lump, removing all cancer cells with it. You may also notice small, dark-colored bumps on the skin. As symptoms spread, your boxer may need aggressive treatment or hospice care.
Boxers are also prone to allergies that result in skin problems. Itchy skin and fur loss may accompany allergic reactions. Allergy treatment can become expensive, with monthly bills for medication and special food. Some boxers have no allergy issues, however. White boxers have the most skin problems and are often born deaf, as well. You should also look out for heart problems if you have a boxer. Cardiomyopathy can present suddenly at any age. Your vet can help you plan a good diet with proper supplements for heart health.
Golden Retrievers commonly get hip dysplasia, cancer, and skin problems. Hip dysplasia happens when the hip socket or femoral head is deformed. The wear on the socket becomes uneven and places extra stress on the surrounding ligaments. If you notice limping or favoring one leg, get a vet assessment quickly. Older dogs receive medication for the pain and inflammation, while younger dogs may get surgery to solve the problem.
Common cancer types among goldens include osteosarcoma, hemangiosarcoma, mastocytoma, and lymphosarcoma. Heart and respiratory issues can also show up in Golden Retrievers. One common illness that affects both the heart and lungs is subvalvular aortic stenosis (SAS). Pay attention to changes in your dog's behavior and seek help if you notice weakness or breathing problems, or if your dog becomes lethargic.
Golden Retriever Vs. Boxer: Life Expectancy
Boxers often live to be about 10- 12 years old unless they have health issues earlier in their lives. This is a common life expectancy for large dogs. Smaller dogs can live up to 17 years, in some cases.
Golden Retrievers also live about 10- 12 years. Your vet may label your dog a senior at about 8- 9 years of age. At this time, talk to your vet about supplements and common health issues found in older dogs.
Golden Retriever Vs. Boxer: Activity Level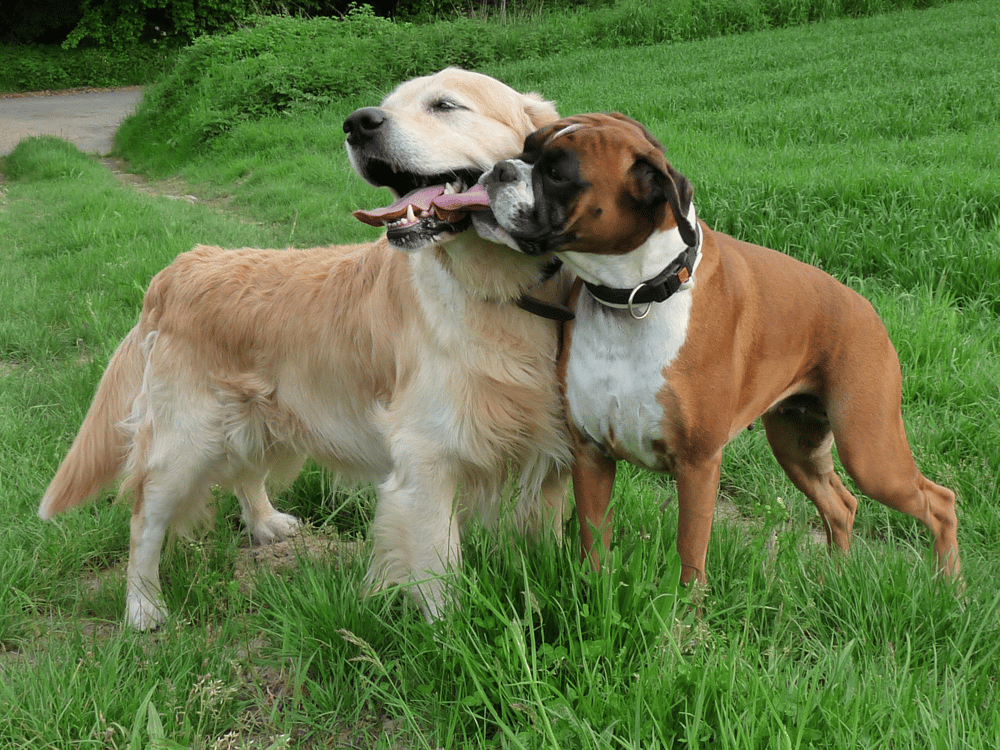 Most dogs need an adequate amount of exercise to remain on their best behavior and stay healthy. If your dog begins to tear up items in your home or has accidents, consider more walks or outdoor playtime in your yard. Boxers and Golden Retrievers both have high energy levels and do well with active families. Boxers begin to calm down once they reach 3 years old, however, they still love to run and jump well past 3 years old. Prospective owners should plan for exercise before choosing a boxer. They do well with a yard to run in. You can also take frequent long walks or visit a dog park.
While boxers have a lot of stamina, they are brachycephalic animals. This means they have shorter respiratory features. From their flat face to their lungs, all features remain less efficient than dogs with longer snouts. They can overheat easily and need frequent breaks on long hikes. If you live in a hot climate, you must practice extra caution with outdoor activities.
Golden Retrievers also have a lot of energy and love to play. They have a much longer coat, meaning they also need proper care in the heat. Golden Retrievers need walks and social interaction with both people and dogs. Even with high energy levels, they are often very obedient and do well inside the house. If you want to take your dog with you to a lot of places and plan to have playdates with other dogs, a Golden Retriever might be the best option.
Golden Retriever Vs. Boxer: Kids-Friendly
Boxers and Golden Retrievers are both great family dogs. They are both large breeds, however, so prepare for training and separation if you have small children. Many dog owners train their dogs to take a break in a crate or put up baby gates to give them a break from human kids. Also, take the time to learn about body language and warning signs to know when your dog needs a break from playing with kids. Teach your kids how to approach and touch dogs properly. Even the best family dog can become agitated when kids pull their hair or ears. Climbing on any large dog can also cause irritation and injury.
You can manage boxers around young children if you take the time to train them properly. Boxers are very muscular, however, and like to play by using their front legs to "box" or swat. They also like to playfully nibble on their loved ones! They can knock over small children due to their size and strength, so simply keep playtime well supervised. Boxers are great for getting all the energy out of your kids, as well. If you want a dog to run around the yard with as much energy as your child, a boxer can help you out! At the end of the day, you may also find your boxer snuggled up with your kids for a much-needed nap.
Golden Retriever puppies play just as rough as all large dogs but are not as muscular as boxers. They also listen well once they are trained. They are one of the most popular choices for families with kids. They want to please their owners and may stay calmer than boxers with visitors and noises outside the home. Since goldens train easily, your young children may get to play with them more during the training process. You must still observe kids closely with any dog, however. Golden Retrievers are large dogs and can easily knock over a baby or toddler while playing. Many families raise their kids with large dogs. Training and safety are the keys to managing a Golden Retriever with your kids. If you have a child that shows fear of dogs, the sweet nature of a Golden Retriever may work well for your family, as well.
Golden Retriever Vs. Boxer: Protecting Your Home
Any large dog can become a deterrent for intruders. A boxer, however, has a much deeper bark than a Golden Retriever. Many people also get more scared of boxers because of their big heads and deep bark, even though they are sweet dogs. Boxers also respond to noise and new people more than Golden Retrievers. If you want a protective and alert dog for your home, consider a boxer. Golden Retrievers simply look more friendly and often love visitors, however, they still bark to protect their property, like any dog.
Golden Retriever Vs. Boxer: Trainability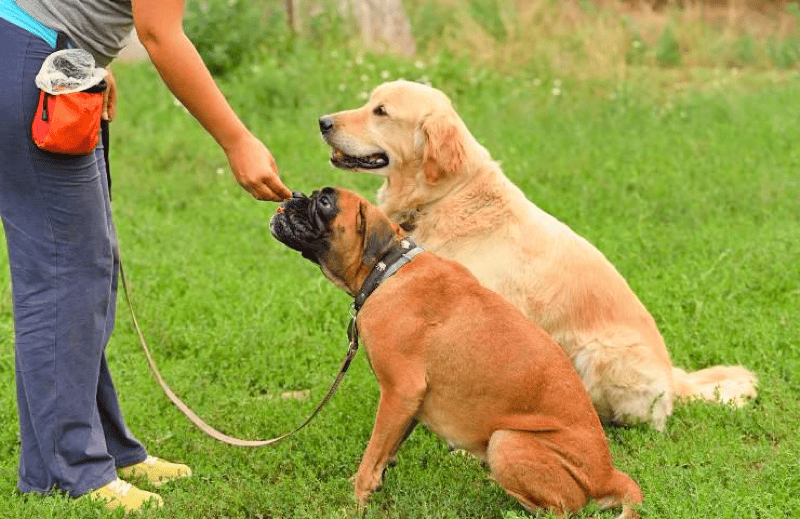 Boxers are incredibly smart and can learn both audible commands and hand signals. They can also act very stubborn when they want to do something else. If you have a young boxer, start training as soon as you bring them home to start good habits and offset some of the stubborn behavior. Think about dog-proofing your house since they can and will figure out how to get items from the kitchen counter. This can lead to them eating dangerous things and breaking dishes. Examples of stubborn behavior include ignoring you when called and refusing to move when you need them to get off the bed or out of your way. Most boxer owners learn to love their quirky attitudes and become very committed to the breed.
Golden Retrievers are easy to train and remain the most popular choice for service dogs. They make a great companion for first-time dog owners of large breeds. Training takes time and patience with any puppy, however, goldens respond well and can learn a large variety of commands and tasks. They aim to please and love to spend time learning with their owners. All dogs, however, become mischievous when food is an option. As with boxers, use a gate to block off your kitchen or keep tasty snacks out of reach. Large dogs can access higher areas in your house.
Golden Retriever Vs. Boxer: Which One is Right For You?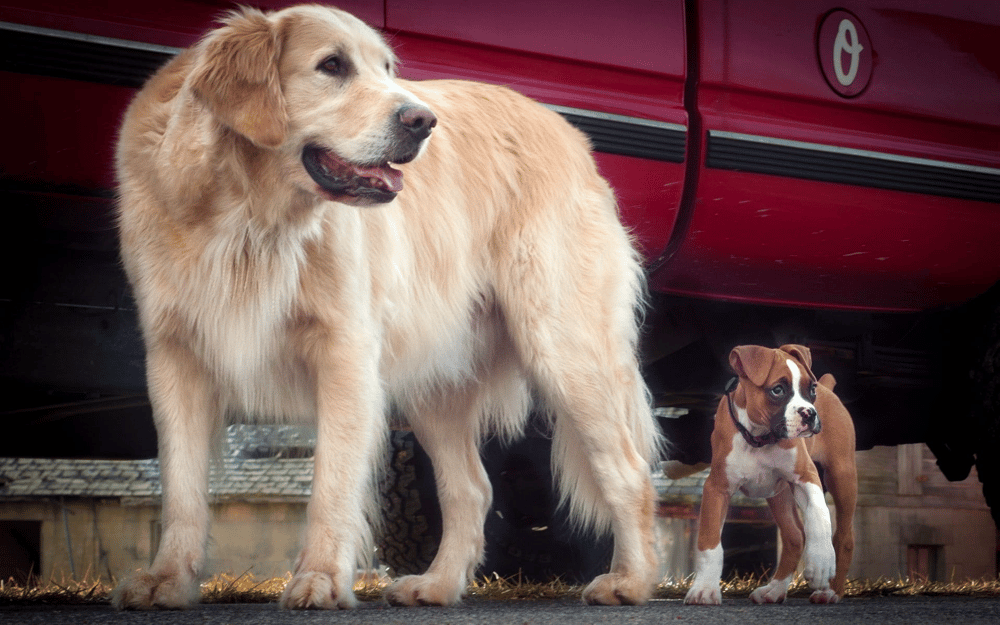 When choosing a dog for your family, take your time and visit with a few different dogs to find the right fit. You may find that breed is not as important as individual personality. You may also find a dog you love at a local shelter or adoption event. Many full-breed dogs end up in shelters when owners cannot care for them anymore. Boxers and Golden Retrievers both have a lot of energy and need a yard or an owner willing to go on long walks. If you love boxers but want a calmer one, consider adopting one over 3 years old. Both Boxers and Golden Retrievers make great family pets and usually love people. Take the time to think about the different features before choosing a new family member for your home.
Golden Retriever Vs. Other Breeds