The Golden Retrievers are outgoing, happy, and confident companions. They are known for their happy-go-lucky nature and are a popular choice for a family dog as they are kind and gentle with children.
But even the best of us, both dogs and humans, can be pushed to our limit when certain behaviors towards us occur. And the Golden Retriever is no exception to the rule.
If you push your dog into unknown situations without teaching them what is expected of them, or if your child decides to play with the dog's food, then the situation can change.
Knowing the signs of aggression, what upsets your Golden Retriever, and ways in which to manage the situation is the difference between a warning from your dog and an attack.
It is the prudent owner who remains calm at the first show of aggression and backs off to assess the situation. Lashing out at the dog for their behavior will not work. You may cower your dog, but they also may learn to fear you which will lead to a higher form of aggression as they protect what matters to them.
Respect your dog and teach your family and friends not to push your dog when it comes to things that are important to them such as certain toys or some foods. And never stare intently at your Golden Retriever or any dog, and it is perceived as a challenge by your dog.
Golden Retrievers Compared to other Breeds for Aggression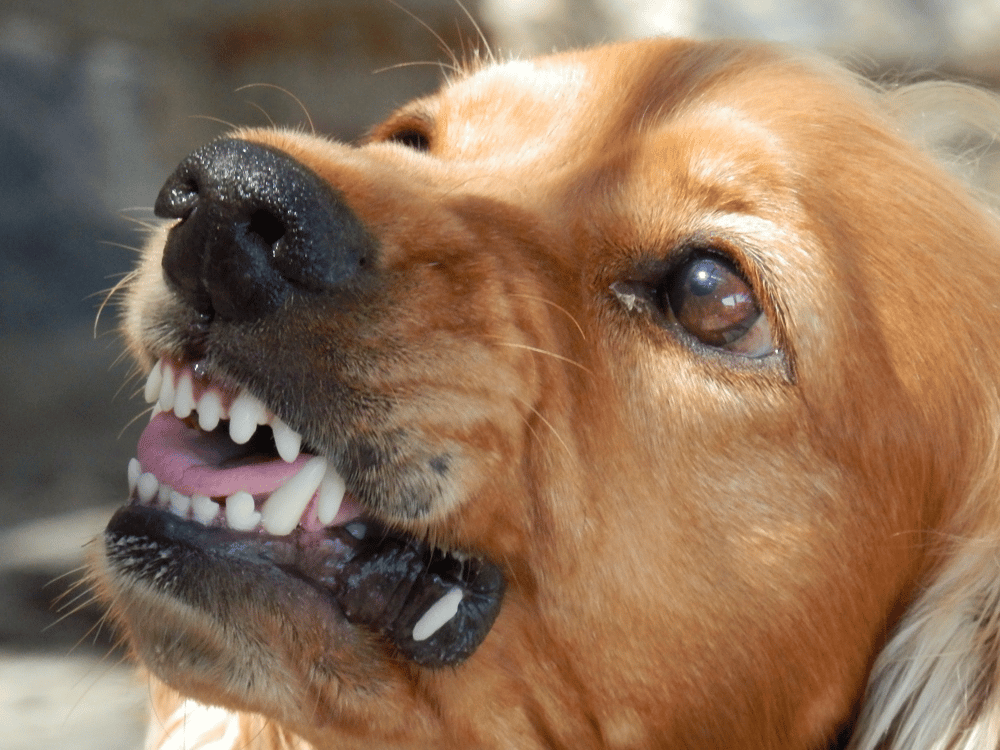 In comparison to other breeds of dogs, the Golden Retriever is low on the scale of aggression. Part of that comes from their breeding.
They were originally bred to retrieve what their masters shot such as waterfowl and to bring it back and drop it at their master's feet. Imagine if their master had to chase the dog and wrestle the waterfowl from the jaws of his Golden Retriever every time he shot a bird! The partnership wouldn't have worked.
The Golden Retriever has learned to live with humans and is more tolerant than many other breeds of dogs.
But like any dog, they must be trained so that they know what is expected from them.
How Golden Retrievers Score on Aggression
Aggression rises from fear or uncertainty of a situation and can be overcome through socializing and learning certain skills so that they are confident and outgoing in life.
The 5 least aggressive dog breeds are as follows:
Golden Retriever – outgoing, friendly, and obedient as well as energetic
Pug Dog – that cute wrinkly face and adorable waddle is a chilled pup.
Bulldog – surprising as they kind of look grumpy and muscular, but they are unflappable.
Beagle – smart, energetic, and patient.
Poodle – they are intelligent, kind, and easy to train.
Signs That Your Golden Retriever is Getting Aggressive
Most people can see the signs of aggression in a dog. To be fair, most dogs will warn when they have had enough of certain behavior. Do not ignore this warning.
A dog that is in an aggressive state may lose control of itself and the results can be horrific. Take your Golden Retriever seriously if they shape up aggressively.
Here are some signals that your dog will give you when they are feeling anxious and aggressive:
They begin by stiffening up in their stance or they may freeze in position.
The eyes will become very focused, and the head is held slightly lower than normal.
A curled or tense lip is an obvious warning.
Their nose will wrinkle up like a prune!
When they show their teeth, it should be an obvious warning to back away… and you should take that option.
The growl intensifies which can escalate into loud barking.
This is followed by snapping their teeth and lunging at the person.
And finally biting, and once they bite, they may lose control of their feelings and bite repeatedly. They may latch onto the skin and shake their head from side to side which causes more damage.
You never, ever want to push your Golden Retriever to this final aggressive act. At the very first signs of a warning, take it seriously. Back off, leave them a way out, and don't stare back at them.
The above describes the worst of aggression, especially taking it to the final attack stage.
At best, a low growl and warning are enough to let you know there is a problem and let you take action to avoid it again. Never beat or abuse your dog. You may think that they understand our language, but they don't.
Change their behavior through training, teaching your dog to trust you, and providing them with a way out of a situation – don't make them feel trapped.
Food and possessions are often very important to a dog, even a Golden Retriever. Luckily your Golden friend is a devoted and usually gentle friend. They will work with you to overcome a few glitches in your relationship.
Why Is Your Golden Retriever Getting So Aggressive?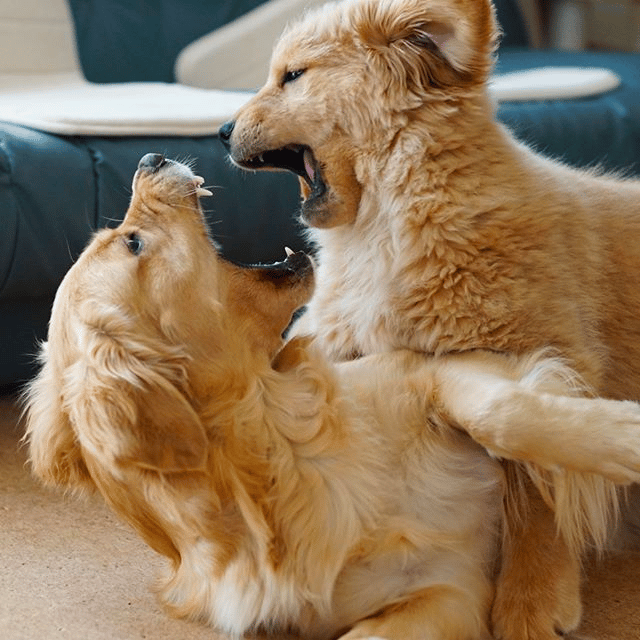 Many people may be unaware of some of the triggers that can make the Golden Retriever or indeed any breed of dog aggressive. What may seem silly to a human, can be extremely serious for your furry friend.
Here is a list of some of the common canine triggers for aggression:
For a dog, this is often the single most contentious trigger for aggression. Food is a very highly rated asset in the doggy world, so it can become the cause of aggression. Let your Golden Retriever eat in peace, don't try to play with them while they eat.
Protective aggression may occur if your Golden has puppies. This type of aggression can also occur if your Golden Retriever thinks you are vulnerable, they want to protect you or your family. Rough and tumble play with your young children can often spark your Golden Retrieve into a protective, aggressive reaction.
Defensive aggression is triggered by fear within your Golden Retriever, but instead of running away, they decide to attack rather than run away. In most cases, the recipient will be bitten. If a guest gets too rough with your Golden, they may end up on the wrong end of the stick.
Predatory aggression is a built-in reaction and comes from their long distant past. Fast-moving objects such as a car and people on a skateboard or a bike, all are attractive to a dog to chase after these objects. It is the thrill of the chase, of capturing a moving target which is natural, but it can be extremely upsetting for a cyclist to have a dog race after them barking in a menacing way, and it can cause an accident.
Redirected aggression is caused by frustration. When someone walks between the dog and the thing that caused their frustration, well, that unfortunate person will be bitten. An example of this is when an owner tries to step in between two dogs when they are shaping up to fight each other.
Frustration aggression occurs when your dog gets excited but is held back from going after it by someone or something. If your dog gets excited when out walking and wants to take off after a cat and you hold it back, they may start biting the leash or even your hand so that they can get away.
Social aggression is more often displayed in an outing with many dogs interacting. They establish their own ranking, and if you take something away from one dog and give it to another dog, the first dog can become hostile and aggressive.
Pain can often lead to aggression. Whether they are injured or have a health condition, if they are in pain, they can respond with aggression because when they are moved, they experience pain. An injured or sick dog should be approached very carefully, and don't assume your friendly Golden Retriever won't bite you.
Territorial aggression is when your Golden Retriever assumes a protective attitude toward you and your home and anyone who invades 'their' territory. They are guarding their boundaries to what they believe is theirs. They need to learn to chill out when someone walks onto the property. Training them to ignore or at least accept someone on their turf requires time and patience.
If your male Golden Retriever has competition for a mate, then the gloves will be off and aggression with often erupt. When your Golden is close to a female in heat, keep them on a leash and remove them before they become aggressive.
5 Tips That Will Prevent/Eliminate Aggression in Golden Retrievers
Socializing your Golden Retriever from the moment they become part of your family is one very important way to avoid or fix an aggression issue within your treasured furry friend.
Here are 5 important ideas to help you live in peace with your dog:
From the day they join your household, make sure you introduce your dog to as many people, cats, and other dogs in a way that makes your new Golden Retriever feel safe and protected. Instruct visitors how to greet your puppy or dog. They should be calm and move slowly to allow the dog to get their measure. Dashing up and grabbing the dog is a no-no. And boxing them in and towering over them is also not appropriate.
Take your Golden on as many adventures as you can. They love being with their human, so if you are going out for coffee, take them too. Many cafes do a 'puppachino' drink which is just fluffy milk, but it will make your dog feel special. Take them on walks, to the beach, play in the river (because they love water), and spend a lot of time training them. The Golden Retriever likes to do things, and training will build up your dog's confidence. Always be kind and calm during training.
Playing is a great way to build a strong bond with your dog and it will also boost their confidence. Aggression comes from fear or is a reaction to abuse. Teach your dog through play, that life is fun, and there are many strange noises or experiences that are fun and safe.
The way to gain the trust and love of your Golden Retriever is to spend as much time as you can with them and reward them with cuddles or dog treats for a job well done. Keeping them active both physically and mentally is important.
If the aggression is high in your Golden Retriever, it would be best to hire a behavioral trainer to show you how to manage your dog, and to point out the triggers that are setting your dog off. Often someone else can see the problem easier than an owner as they are not emotionally involved in the situation.
Introducing your dog to plenty of new people at a young age guarantees that they will grow up to be confident, happy dogs.
Problems such as aggression arise when your Golden is bored, left alone for too long, is mistreated, or neglected. Fear creeps in, anger bubbles up, and at the slightest provocation, the dog will react aggressively.
Conclusion
The Golden Retriever is normally a calm, friendly and outgoing dog, one who delights in action and loves being with their human family.
They are rated very low for aggression but keep in mind that even the nicest of dogs can be pushed into aggression by a careless owner, lack of care, or acts of cruelty.
Although the Golden is kind and gentle with children, never leave a young toddler alone with any dog. Children don't mean to be unkind, but if they hurt your Golden Retriever unintentionally, the dog may retaliate aggressively.
Always teach your children to be kind and gentle with any animal, and the issue of aggression in a Golden Retriever will never raise its head.
Golden Retriever Resources and Recommendations