Golden Retrievers are immediately recognizable to pet lovers. This is one of the most beloved breeds of dog in the United States and the UK because of their beautiful, silky coats and their sweet and loving personality. Most people are aware that these dogs can have a reddish coat color and a bright golden coat color, and they may have seen English Cream dogs as well. What many people are less aware of is that there is also a black Golden Retriever.
The truth about the black Golden Retriever is that this is not actually a recognized coat pattern, and you cannot AKC register a black Golden Retriever because these dogs are not considered purebred. The black Golden Retriever is made from a cross between a Golden Retriever and a flat-coated Retriever or a Labrador. This means that the dogs look an awful lot like regular Golden Retrievers and they have the same kind of temperament in most cases, but they are not actually Golden Retrievers.
If you have been considering getting a black Golden Retriever, you will want to keep reading to learn more about this fascinating breed of dog.
Early History of the Black Golden Retriever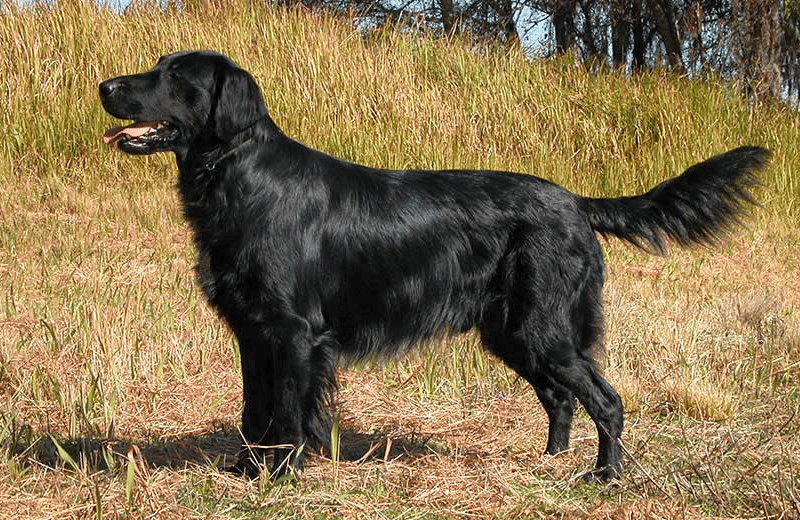 It is thought that the original cross that made the black Golden Retriever was the breed that we recognize for its golden coat and a flat-coated Retriever or a Labrador retriever. The black Golden Retriever dates back to 1868, and it originated in the UK and Scotland. This was a breed that was created to offer up the benefits of the Golden Retriever's stamina and light build while crossing with the hunting savvy and water-loving nature of the Labrador and the flat-coated retriever.
Golden Retrievers were actually bred to be bird-hunting dogs but not to spend a lot of time on the water. Waterfowl hunting in the UK has traditionally been done with Labrador retrievers due to their preference for swimming and their slightly-webbed feet. Hunting on the moors and the downs of Scotland and the countryside in England probably required a mix of skill sets that necessitated combining the two breeds.
Getting access to the energy and sweetness of the Golden Retriever but making sure that the breed could swim and retrieve prey from the water would have been a big argument in favor of this cross. The black coat color is a dead giveaway that the black Golden Retriever is not a purebred dog, but that does not mean that they are not healthy and fun family companions. Many people outside of the UK and Scotland were not aware of this variation of the Golden Retriever breed until very recently.
As a nod to the fact that this is still a healthy and viable breed that can compete in hunting trials and other kinds of sports that the Golden Retriever is welcome to attend, the black Golden Retriever is welcomed into many Retriever clubs despite the inability to register these animals with the AKC. This is a really healthy and athletic dog breed that shares almost all of the traits of the Golden Retriever, and this compromise was the fairest for dogs that compete in hunting events and other kinds of sporting dog trials.
What Does a Black Golden Retriever Look Like?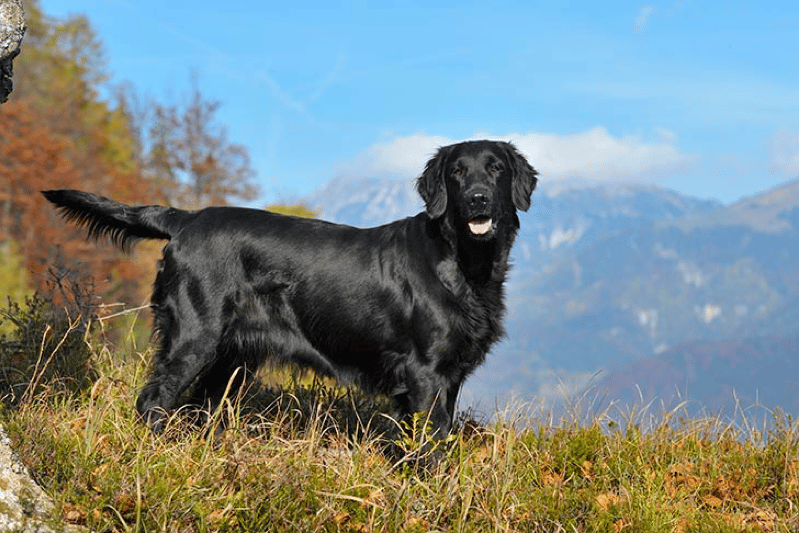 Black Golden Retrievers look just like you might expect. They are dark in color, and they have a similar body type to the Golden Retriever. What is different about them is that their coat can be shorter like labs, fluffy and straight like the flat-coated retriever, or long and silky like the Golden Retriever. Their coats can also offer up many shades of dark brown and black without being truly dark all the way through.
The black Golden Retriever has a narrower head in most cases, more like an English Golden Retriever, and they are built to be leaner than an American Golden Retriever as well. They might have longer legs than your American Golden Retriever, but that is not always the case. When the Labrador genes have come through more strongly, the dog might have a shorter and more compact body like a Lab.
This is a dog that will be about 23-34 inches tall, and it should weigh between 65 and 75 pounds. This is about the same average height as a Golden Retriever, but these dogs tend to weigh less. This can be a good thing if you don't want a very large dog for your companion, but overall, the difference is very slight in size and appearance between the two breeds.
Genetics That Make a Black Golden Retriever
The black coat color that is characteristic of this breed is the result of a genetic mutation that is not present in Golden Retrievers. The dominant allele "E" is what allows dogs to produce black pigment or eumelanin. The recessive allele "e" turns the eumelanin to phaeomelanin which means that you will get a red or golden coat.
The black Golden Retriever must have the dominant allele "E" present in its genetic makeup to create its black coat. There are some instances where dogs that are black Golden Retrievers have a mix of golden and black coat patterning. This might show up as dark spots on the body or the head in an otherwise blonde or golden coat. This is far less common than pure black dogs or dogs that are various shades of dark brown rather than golden in color.
The AKC considers any kind of black hair on a Golden Retriever to be something that makes them unsuitable to be registered. The very foundation of the breed is based on the fact that the genetic pairings of parents will create dogs that are golden or russet in color and not black. While the black Golden Retriever is not that much younger of a breed than the Golden Retriever, this major difference has always been a defining breed choice that the Golden Retriever breed is known for.
There are color specifics that are required for almost every dog breed, so this is not that uncommon for a dog breed. Required colorations often are tied to healthy genetics, but they can also be paired with breed standards based solely on preference. In this case, the appearance of the breed was the driver for the requirement and not deep concerns over genetic well-being as in the case of albino or "white" dogs that sometimes crop up being sold here and there.
Part of the reason that the AKC does not allow black Golden Retrievers to be registered as breeding animals is that the Labrador or flat-coated retriever influence also changes the appearance of the dog somewhat. They are usually a bit smaller and leaner, and their heads are different shapes. They are also less likely to have the long, silky coat that the breed is famous for. While this is in no way related to health, it would alter the appearance of the breed significantly.
Training a Black Golden Retriever
The black Golden Retriever will be more likely to be high-drive and to wander off when not contained than a Golden Retriever. You will find that your black Golden Retriever might need to be exercised frequently, especially as a young dog, but they love to do what their humans are doing, so this is not that big of a hardship. This is a dog that might also have a harder time breaking focus from distractions, which is likely because of their Labrador genetics.
Many people say that their black Golden Retriever is very goofy and sweet and might even be more prone to puppyish behavior than their Golden Retriever. This Golden Retriever breed can be slower to mature mentally as well and might not be ready to compete as early as a purebred Labrador or a purebred Golden Retriever.
Black Golden Retrievers love the water, so if you have a swimming pool or a pond, expect your dog to spend a lot of time swimming around. This is a big difference between the training process for a Golden Retriever and a black Golden Retriever. Your black Golden Retriever will be much more adept at fetching from the water and much more inclined to go into the water than a Golden Retriever. This can be a big adjustment for people who are used to having a dog that does not automatically choose to get wet.
Black Golden Retriever Personality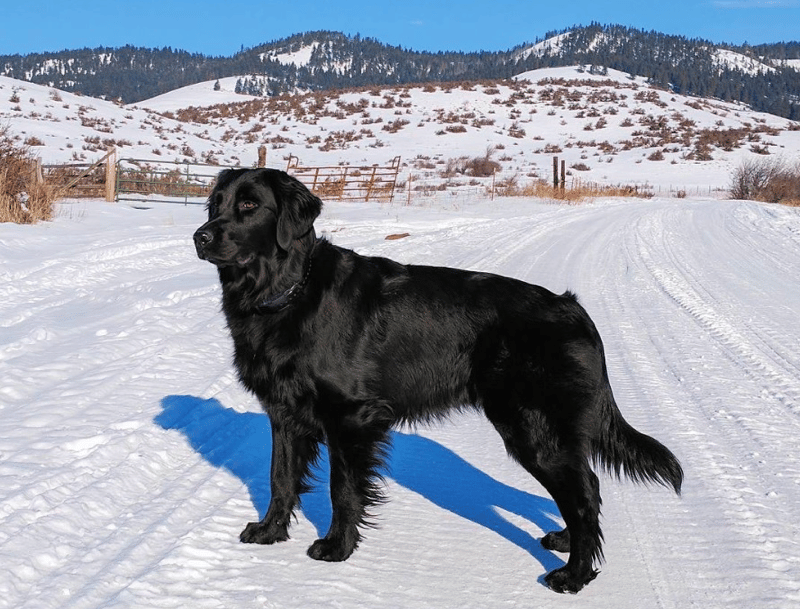 As mentioned earlier, the black Golden Retriever is a bit goofy and can be pretty high-energy. They are kind and sweet, and they love people. This is also a great dog for your family as they love kids and people in general. This dog is more likely to jump onto people than a Golden Retriever, so keep this in mind if you have very small children who might get scared of this behavior.
Make sure that you integrate this dog slowly into your family just to be sure that they will not accidentally offend existing animals in the house. Black Golden Retrievers often get along very well with other pets, but they can be very exuberant in their expressions of happiness which might make older dogs annoyed with them. Some black Golden Retrievers will also have to be told not to chase cats since they tend to have such a high drive toward anything that moves.
You will find that your black Golden Retriever will be eager to go with you on hikes, runs, or just to the dog park, and they are always eager for a chance to play and have fun. You will love the loyal and generous nature of this dog, and they are not the kind of pet that will ever wander off and not come home. This is a great choice if you love to do active things and you want a dog that will be able to keep up with you as you enjoy your favorite adventures.
What is the Expected Lifespan of the Black Golden Retriever?
This dog has the same lifespan expectation as the Golden Retriever and should live for 10 to 12 years. There are some possible upsides as far as general health related to the cross-breeding that is necessary to create this version of the Golden Retriever. There is some evidence that the crossing of the Labrador into this breed can help to prevent common health issues that plague to Golden Retriever breed.
Your black Golden Retriever might be less likely to have hip and elbow dysplasia, and they might also be less prone to cancer. Since there are so few black Golden Retrievers in the United State at this time, the facts and figures are not clear about the comparison in health between the two breeds, but you should always expect improved health related to hybrid vigor.
For people who love Golden Retrievers but hate the thought of losing their dog to a genetic condition, this might a better choice than a Golden Retriever. Those shopping for this breed should be aware that breeders of this variant of the Golden Retriever are not required to certify their dogs for common health issues because there is no AKC registry in place for them. You might not be able to get a certification for your black Golden Retriever related to common breed health issues as you would when getting a puppy from a Golden Retriever breeder.
How Hard is it to Get a Black Golden Retriever?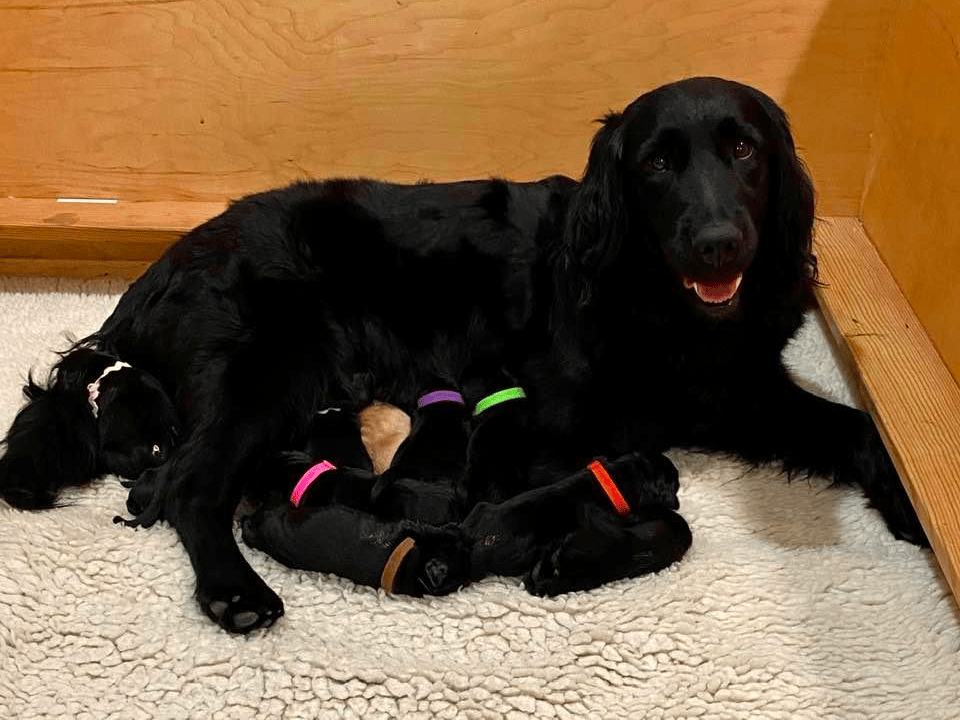 This is also not an easy breed to track down when compared to the Golden Retriever, so you might want to consider this before you start shopping for a black Golden. There are many breeders that can offer you access to Golden Retrievers that are probably in your local area, but you might struggle to find a black Golden Retriever breeder.
You will need to be aware that you might have to travel some distance to pick up your black Golden Retriever puppy, or you might need to pay a company to bring your dog to you. You should ask the breeder if they have a recommendation of a company that they partner with for deliveries. Most breeders that create rare crosses and rare breeds of dogs are aware of this issue and have a plan in place to get puppies to their new homes without issue. Always be wary of a breeder that has no puppy guarantee and no documentation that guides their rehoming process. You will want to make sure that the breeder is well-reviewed and that they have taken the time to have the right buying process in place before you select a dog from their litter.
Something to remember when you are shopping for a black Golden Retriever is that this is not actually a rare dog breed. It is just not one that is common in the US. If the puppies that you are looking at are marked up to be very expensive, or the breeder is being very pushy about how rare they are, it might be better to find another person to get a dog from. These are the behaviors that are common to those that run puppy mills, and this is likely not a good situation for you to get a dog from.
All breeders that profess to create rare dogs are likely not being very careful about the way that they breed litters, and you will want to make sure that you are not supporting this kind of disingenuous breeding and sales process. You might also not get a dog that is a black Golden Retriever when you work with this kind of breeder which can be very upsetting if this was your intention.
Black Golden Retriever Coat
You might be wondering what kind of coat care the black Golden Retriever will need. While their coats are not as long and silky as a Golden Retriever's in most cases, they will still need regular grooming. This is particularly true if you take your dog into the woods or out hunting with you. Sticks, burs, and other kinds of debris in your dog's coat can lead to mats that can cause sores and other skin issues quite rapidly. Tangled coats can also lead to hot spots and other kinds of itchy conditions that it is always wise to avoid.
Make sure that you are prepared to care for and brush your dog's coat regularly if you choose this breed. You might not have to employ a skilled dog groomer to take care of your dog's grooming needs each month as you would with a Golden Retriever, but this is still a long-coated breed. Keeping your dog up to date on flea treatments is also essential for long-coated dogs that go outside and are running around in the brush. If you live in an area with ticks, you might need to look into prevention for this as well since it can be hard to see ticks against the dark coat of the black Golden Retriever.
For those who don't want to deal with really long tail feathers or long leg feathers, the black Golden Retriever is much less likely to be blessed with this coat characteristic of the Golden Retriever breed. Some black Golden Retrievers do have this kind of hair coat but it is far less common. This makes it much easier to keep the coat in good condition, even if you do have to brush your dog regularly to prevent matting and other kinds of skin issues.
Make sure that you have a quality dog shampoo on hand and that you feed your dog high-quality dog food. You will have much better luck with coat care if you have these two factors in place at all times, and your dog will thank you for providing them with this level of support for their health and comfort. Caring for the coat starts with good nutrition and is followed up with bathing, brushing, and matt removal as needed. You will need to have all of these factors in place if you want your dog's coat to look its best every day.
Is A Black Golden Retriever Right For You?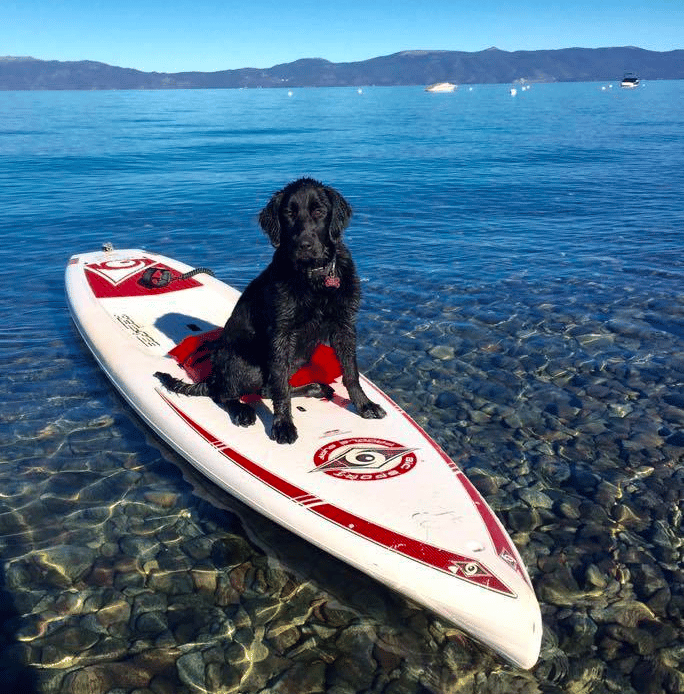 The answer to this question is mostly a matter of personal preference. This is a breed that, in many ways, is exactly like the Golden Retriever minus some alterations in appearance. They are very pretty dogs, and they do attract a lot of attention at the dog park or when your dog is out walking in the neighborhood. They are also very agile and athletic and love the water, which can be a great choice if you want a dog for any kind of watersports or to go hiking and swimming and camping with you.
If you want to show dogs, this is not a good breed choice for your needs since you cannot register this dog breed with the AKC. You will also want to be cautious about picking this breed if you want to breed Golden Retrievers since it is usually not wise to invest a lot of money and effort into breeding dogs that cannot be registered with the AKC. You might also want a dog with the very long and silky hair of the Golden Retriever breed, which you are much less likely to get from a black Golden Retriever.
The appearance of these dogs is very unique, and they are sweet and loving and make great family pets. There are many wonderful things to say about this breed of dog and you might not care about registering your pet to be a show dog. If you are looking for an attractive and kind dog that will be willing to go on adventures with you every single day, then a black Golden Retriever is a great choice for you and your family.
Golden Retriever Resources and Tips