Are you looking for a fun-loving, energetic dog breed that is perfect for your family? If you enjoy spending time outdoors swimming, hiking, or just running and having a good time, the Border Collie Golden Retriever mix would be a perfect addition! These dogs go by Golden Collies, Gollies, or Coltrievers in the breeder world.
In this day and age, more and more families are looking to expand their horizons with new activities and partnerships. The Golden Retriever and Border Collie breeds are both notorious for being insanely intelligent, energetic, social, and most importantly, loving companions. Today I would like to spend some time introducing you to the Golden Collie mix. We are going to explore the temperament of the Golden Collie mix, as well as the physicalities and upkeep of this wonderful breed combo.
Golden Collie Overview
| | |
| --- | --- |
| Weight | 50-80 Pounds |
| Height | 21.5-25.6 Inches |
| Coat Type | Dense, Short, or Medium |
| Coat Color | Golden, Black, Yellow, Chocolate, White |
| Amount of Shedding | Moderate |
| Temperament | Loving, Affectionate, Intelligent, Cheerful, Loyal, Playful, Social, Friendly, Outgoing, Sweet |
| Lifespan | 10-15 Years |
Golden Collie History
The Golden Collie is relatively new to the canine world providing virtually no scientific research based on the development of the breed itself. Created as a "designer breed", the Golden Collie is speculated to have emerged around the 1980s, but with very little recorded data it is hard to tell when exactly the Golden Collie came to light. Most Golden Collies can be found in local shelters or by reputable breeders.
Since there is very little information on the history of the Golden Collies themselves, we will take a look at the parent breed's history. The first recorded literature of the Golden Retriever was found in 1835 by gamekeepers in Scotland attempting to breed a dog fluent in water retrieving. Yellow or Golden retrievers soared in popularity near the end of the 19th century, quickly followed by the first Golden Retriever to win a field trial in 1904. The Golden Retriever was brought to America from Great Britain and Canada between 1890 and the 1930s.
The American Kennel Club registered the first official account of the Golden Retriever in November of 1925 as a Sporting dog, marking the first documentation by the organization claiming the Golden Retriever was separate from other registered retrievers.
The Golden Retriever is a powerful, active dog that is very rarely conveyed as clumsy or hostile. They are eager dogs, showing confidence and loyalty rooted in their background in hunting. Much of the appearance of the Golden Retriever is passed to the Golden Collie including the color and structure of the coat. There is most commonly feathering of the tail and hindquarters that are passed down as well.
The Border Collie was created as a cross between old Roman dogs and Viking spitzes in an attempt to breed the perfect herding dog. These dogs were agile, stealthy, and intelligent making them well equipped to work in the highlands of Scotland and Whales. Many claim the Border Collie is single-handedly the best herding dog to this day due to their hard-working personality as well as their friendliness and loyalty that coincide. The Border Collie was finally recognized by the American Kennel Club in 1995 and was placed into the Herding group, rightfully so.
The Border Collie mirrors the Golden Retriever in terms of athletic upkeep. Both animals are extremely energetic, hardworking, and intelligent meaning they need constant and consistent exercise. The Golden Collie is very quick-witted and very trainable, but it takes a large amount of time and energy to do so.
Golden Collie Temperament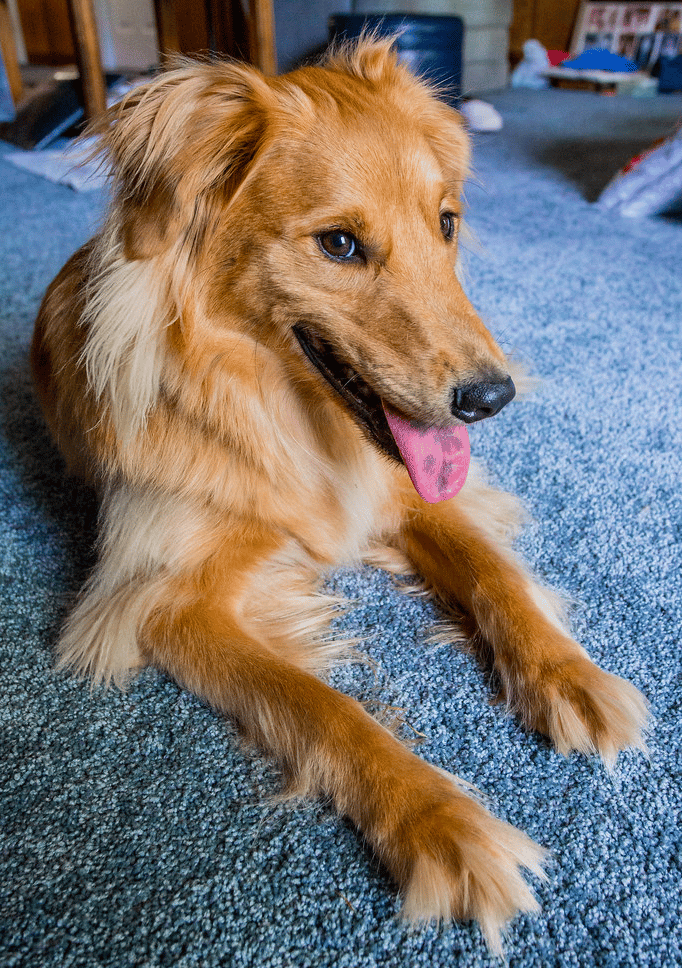 After reading about the origins of the Border Collie and Golden Retriever, it is no surprise that the Golden Collie is remarkable athletically, but these dogs make wonderful family pets as well. Due to the loving nature of the breed, they make wonderful starter pets as long as the owner is dedicated to maintaining their active lifestyle. As a majority, Golden Collies are very tolerant of children and enjoy spending as much time running and playing as possible.
Golden Collies also exhibit a very affectionate persona, most likely passed down from their Golden Retriever ancestors. Welcoming a Golden Collie into your home also means you are welcoming a very very cuddly new friend, so prepare to leave any personal space you once had in the past! Due to the loyal and caring nature of the Golden Collie, these dogs find themselves attached to their family very quickly creating a higher risk for separation anxiety if not handled correctly. These dogs are minimally destructive and rarely find themselves concerned around strangers or other dogs as long as they are socialized and exercised properly.
Golden Collies are very social dogs and should not be left alone for long periods of time. This breed does best in a home with constant attention and activity and demands a large amount of one on one attention from their human counterpart.
Golden Collie Appearance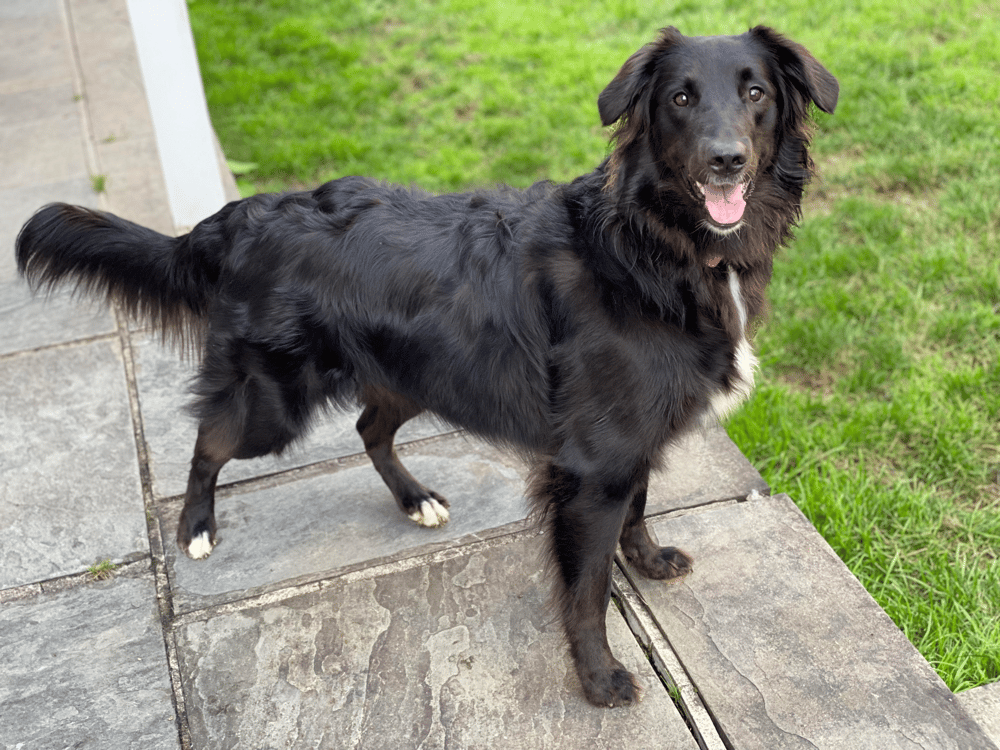 The Golden Collie is a beautiful dog. The Coat of the Golden Retriever mixed with the elegant slenderness of the Border Collie pair together seamlessly. The large structure of the Golden Retriever creates a weight range of 50-80 pounds for the Golden Collie, depending on which traits are passed from the parent breed.
The Golden Collie typically has two coats, a topcoat, and an undercoat. The topcoat is usually straight or wavy but very dense to create a water repellent layer. The undercoat is primarily present to control temperature and avoid overheating. The Golden Collie typically does not shed much during the cold climate, but during the warm seasons, the undercoat sheds away. Since the Golden Collie sheds seasonally, grooming requirements vary by location and season.
A fully mature Golden Collie will typically stand between 21-26 inches classifying them as medium to large-sized dogs. Since the breed mix is so new and has not quite had time to distinguish itself, it is difficult to predict the exact size and appearance of each dog. Some can inherit the golden color from the Golden Retriever while others inherit the Black color from the Border Collie or a mix of both.
The wide range of appearance brought on by the varying look of both parent breeds can provide a fun selection of looks to each dog, adding a sense of uniqueness that is hard to find amongst many purebreds. Although the exterior look of the dogs may be drastically different from individual to individual, the interior makeup and structure of the Golden Collie remain roughly the same regardless of exterior appearance. The Golden Collie is a very sturdy dog with a long snout and gentle almond shape or triangular slanted shape in the eyes. The ears are typically floppy and the tail long and feathery.
Golden Collie Lifespan
The Golden Collie has a lifespan that directly mirrors that of their parent breeds. The Golden Retriever is expected to live 10-12 years, while the Border Collie is usually expected to live 10-17 years. Since there is so little research on the Golden Collie mix itself, it is safe to assume the Golden Collie is expected to live approximately 10-15 years. There are many wonderful traits passed to the Golden Collie from both breeds, but unfortunately, that does come with health risks inherited as well.
Golden Collie Food and Diet Requirements
Both the Golden Retriever and Border Collie are insanely active breeds that require a lot of nutrient-rich food in their diet. Feeding your Golden Collie rich meats such as chicken, beef, turkey, or lamb are most ideal, although many store-bought pre-processed options are available. When feeding any breed it is recommended to use a feeding chart provided by the company that produces the brand of food chosen. Using a feeding chart helps prevent overfeeding which can lead to obesity, or underfeeding which leads to malnourishment.
When selecting a pre-packaged food for your dog, it is important to study the ingredients used and choose a brand that provides the most nourishment (such as the meats listed above), and avoid brands that are listed with chemical preservatives such as Butylated Hydroxytoluene (BHT), Butylated Hydroxyanisole (BHA), and Ethoxyquin. These preservatives are typically added to low-quality dried food and have been shown to cause medical conditions such as kidney and liver damage, different cancers such as leukemia, immune deficiency, and blindness. It is also advised to avoid food with ingredients such as corn, wheat, soy, and fillers as the top ingredients and opt for foods that provide natural meats and ingredients at the top of the list.
The average medium-sized dog is fed between 2-3 cups a day, either staggered between 2-3 meals or served once a day. It typically costs about $1.50 to $2.00 per day when fed good quality dry food and this averages to about $39 to $45 per month. The amount of food and frequency of feeding is usually determined by the weight of the dog when the dog is fully grown and healthy. Some dogs are prescribed special food by their veterinarians, so it is important to communicate any changes in your dog's eating, drinking, or potty schedule to your veterinarian as soon as possible.
It is also important to be cautious of the ingredients found in dog treats and only give the recommended amount of treats by the manufacturer per set. Typically it is best to save treats as a reward to encourage good behavior, healthy habits, and consistent training.
How much Exercise Does A Golden Collie Need?
Golden Collies descend from two highly athletic and energetic parent breeds. This breed is suited best for young adults or families who can sustain and keep up with a very needy dog. The Golden Collie can not spend too much time cooped up or their mental and physical health will take a drastic toll. Golden Collies are not recommended for apartment living unless the owner is dedicated to maintaining a constant, active lifestyle with the dog.
The Golden Collie is also a wonderful sports dog. Since the breed learns quickly, many of these dogs are well suited for agility course training, sports training (such as flyball, swimming, and herding sports), as well as basic obedience training and trick training. Many communities provide wonderful resources for training arenas and local sports.
Unfortunately, the Golden Collie is not officially recognized by the American Kennel Club or any similar organization (the United Kennel Club, the Canadian Kennel Club, etc.) therefore the breed does not qualify in many purebred competitions, and sports, or pageants held by accredited organizations. Thankfully there are many mixed breed competitions with these organizations as well as some local organizations that allow enrollment of the mixed breed.
Is It Easy to Train a Golden Collie?
The simple answer is yes, it is very easy to train a Golden Collie if the owner is committed to the consistency needed to effectively train a dog. There are many local, certified trainers who provide obedience training, sports training, hunting training, and behavior training. The Golden Retriever and Border Collie alike are both highly intelligent dogs who find pleasure and reward in training so the Golden Collie mix is no different.
In this day and age, the most recent and shown to be the most effective way of training is positive reinforcement training. Positive reinforcement training includes rewarding a dog when a correct behavior is performed with either treat, play, or attention. Most trainers and owners incorporate using a clicker in their training as well, a tool that correlates a clicking sound with a positive reward to communicate to the dog that a positive behavior was performed and a treat will soon follow. Due to the Golden Collie's intelligent nature and sweet disposition, the breed takes very well to positive reinforcement style training.
Golden Collie Grooming and Care
Typically a Golden Collie will need grooming once every other month to upkeep the feathering hind quarters and ears, but during the hot summertime or in hotter climates it is recommended to groom the Golden Collie at least once a month while applying de-shedding treatment. This grooming schedule provides comfort for the dog as well as alleviates the amount of loose fur accumulating around the house and on the dog itself.
At home, the Golden Collie requires weekly brushing with a sturdy bristle brush and routine ear cleaning to prevent ear infections due to their floppy ears. You can clean their ears using a damp cotton ball and get rid of any debris. Nail trimming should also be done regularly with the Golden Collie's grooming appointment, or at home, if you feel comfortable.
Many Golden Retrievers are prone to skin conditions, so it is important to understand that a Golden Collie puppy can also develop these issues, and they need to be treated regularly through medicated shampoos, conditioners, and sprays. It is important to bathe your Golden Collie either when the dog is very dirty, or on a regular once-a-month schedule. Over bathing can also lead to dry skin and fur.
Golden Collie Health Risks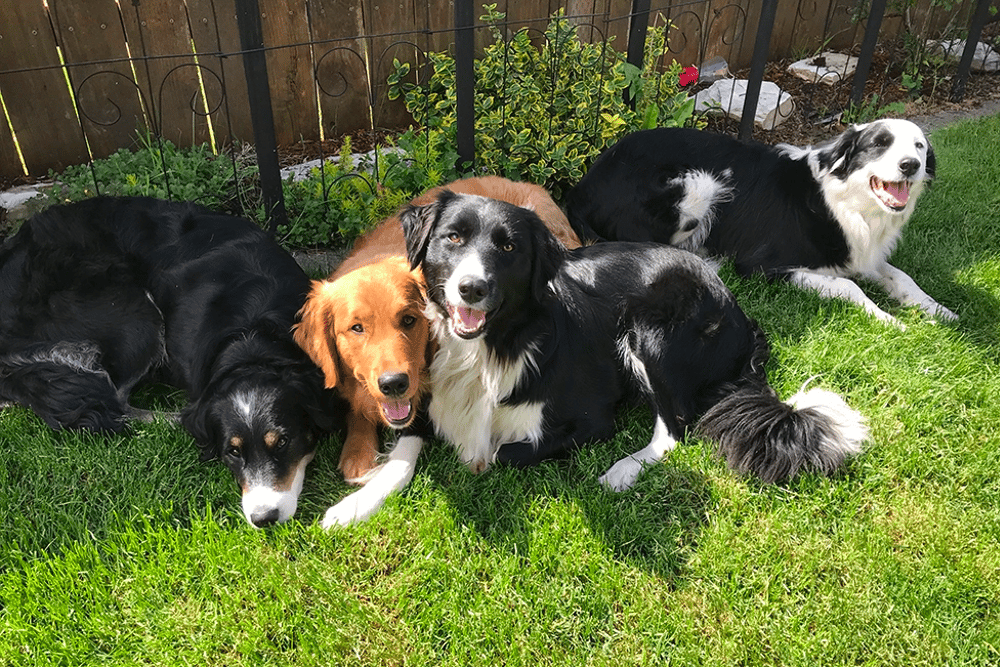 Luckily many mixed breeds are found to be freer of health risks than their pure-bred parents due to a larger gene pool and selective mixing. Although this does mean that the Golden Collie is likely to be healthier than the parent breeds, it is important to know that there are some genetically passed-down disorders to keep an eye out for.
Border Collies are typically perceived as a healthy breed, but some common issues can be hip dysplasia, epilepsy, and hypothyroidism. Diagnosing these conditions early is the most efficient way to treat them, so routine checkups with your veterinarian are necessary for the Golden Collie, as well as all other dogs.
Golden Retrievers unfortunately are prone to more health risks, making the Golden Collie prone to them as well. The most common risks seen amongst Golden Retrievers are hip and elbow dysplasia, Aortic Stenosis and heart problems, cataracts, skin conditions, and cancer. It is very important to keep these conditions in mind when selecting a Golden Collie for your family. Veterinary care should be preemptively anticipated and budgeted when adopting a Golden Collie or other breeds alike.
How Much Does a Border Collie Golden Retriever Mix Cost?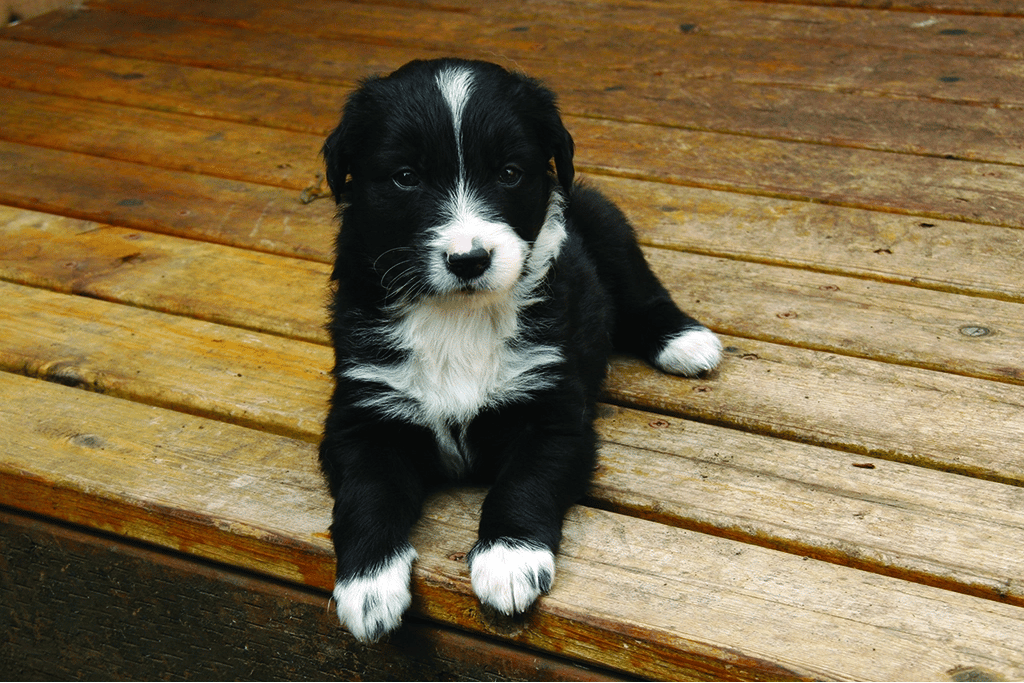 Golden Collie can either be found in local shelters, third-party sources like PetFinder and PuppyFinder, or directly through reputable breeders around the world such as McGregor Goldens and Crooked Rooster Farm.
Golden Collie

Breeders
1. Crooked Rooster Farm
The Crooked Rooster Farm is a breeding farm located in Snohomish, Washington founded by the Khols family. Their commitment is to always care about their puppies and to never have one step foot in a shelter, therefore they claim to always take back unwanted puppies and assist in the rehoming process if needed. Adopting a puppy through this farm guarantees puppy documentation of a clean bill of health, light training, first rounds of vaccinations, and a goodie bag sent home.
2. McGregor Goldens
McGregor Goldens is a breeding farm located in Lacey, Washington founded by Diane McGregor. The Golden Collies (referred to as Coltrievers) bred here are bred directly from working dogs. The puppies are born and raised in the comfort of her home, getting them accustomed to home life. They are also exposed to many stimuli at a young age, developing problem-solving skills before they are even adopted out. She believes in positive reinforcement training and teaching your puppy to think outside of the box.
Border Collie Golden Retriever Mix Price
When looking to purchase or adopt, a person should expect to pay between $300 and $1,500 for a Golden Collie puppy. The range of this number varies so drastically due to the wide range of institutions that provide the ability to purchase a Golden Collie puppy or fully grown dog. Typically the younger a puppy is, the more expensive they become.
Every puppy needs extensive vaccinations for the first 6 months of life, then follow-up boosters and visits to the vet every year or so. Some organizations and breeders provide those vaccinations for you but are prepared to cover the cost yourself out of pocket or invest in pet insurance.
As your puppy gets older, you will need to also prepare yourself to cover the costs of leashes, toys, food, treats, bedding, and training as well as medical care. It is also best to always anticipate your sweet pup getting sick or in an accident and understand that you are completely responsible for those expenses and the emotional support needed by your dog.
Is A

Golden Collie

the Right Choice for You?
Essentially, that is an answer only you can decide. If you feel you are ready for a Golden Collie after reading this article and spending time researching and preparing for the new addition, then congratulations! You may have found the perfect fit for your family.
I myself personally own a Golden Collie and he is one of the best things to happen to my family. Although there are some days when his bubbly personality can be difficult to keep up with, I can confidently say I have never seen this dog anything but happy and excited. When picking the correct breed for your family, there is no "wrong choice". Your decision boils down to what dog would make you and your family happiest, and hopefully, this article has helped you one step closer to finding your perfect match!
Other Golden Retrievers Mixes