The cost of your Golden Retriever can vary based on certain details. You might pay more for a show-quality dog that has papers, and you will also be likely to pay more for some of the unique coat variations, like the English Cream. Knowing how much to budget for your Golden Retriever purchase is important before you start shopping.
How Much Does a Golden Retriever Cost?
The average cost for a Golden Retriever is about $1,000 for a pet-quality animal. Show quality puppies can be as much as $3,000. If you choose to get a rescue dog, the maximum amount that you should expect to pay is $500 for an adoption fee. Dogs of all breeds cost about $2,000 a year for care which includes veterinary bills, food costs, grooming costs, and toys.
Full Breakdown of

Golden Retriever Cost
There are various considerations that you need to think about when you are looking at the real cost of owning a dog. You will have to consider the purchase price, as well as the cost to care for your dog after you have purchased them. While there can be times when your dog costs more due to illness or other unexpected events, these average costs will be a good guideline for your cost considerations.
How Much Do Golden Retrievers Cost to Buy or Adopt?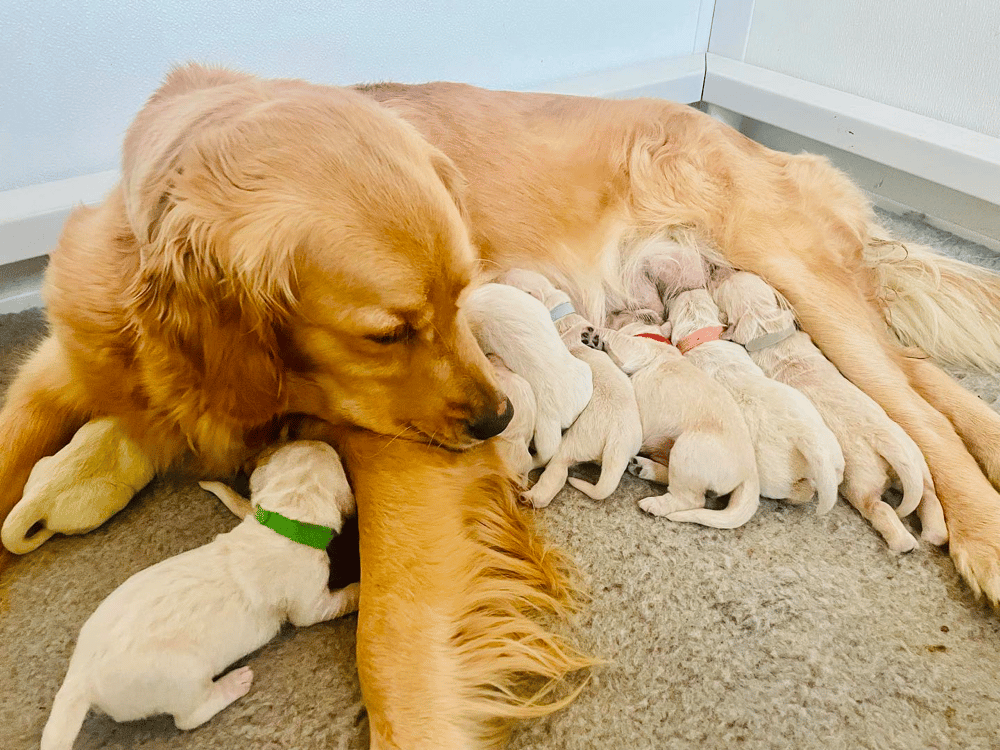 When you are looking at buying a Golden Retriever from a breeder, you need to be aware that you will pay more money than if you choose to rescue your dog. Getting a dog from a breeder can come with some perks, such as the ability to register your dog with the AKC, and you might also get access to a variety of certifications that prove that your dog will not suffer from common genetic flaws within the breed. That being said, this costs more than choosing a dog from a rescue.
Make sure that you are prepared to spend about $1,000 for a pet-quality dog and as much as $3,000 for a dog that will be registered with the AKC. Breeding animals will cost even more since most breeding operations will not sell breeding-quality dogs to just anyone. You will need to be prepared as well to pay for the cost of transport to get your dog delivered to you or to go pick them up. You might live right around the corner from the breeder that you are considering, but if you don't, the cost of pickup/delivery needs to be added to your considerations of the initial cost.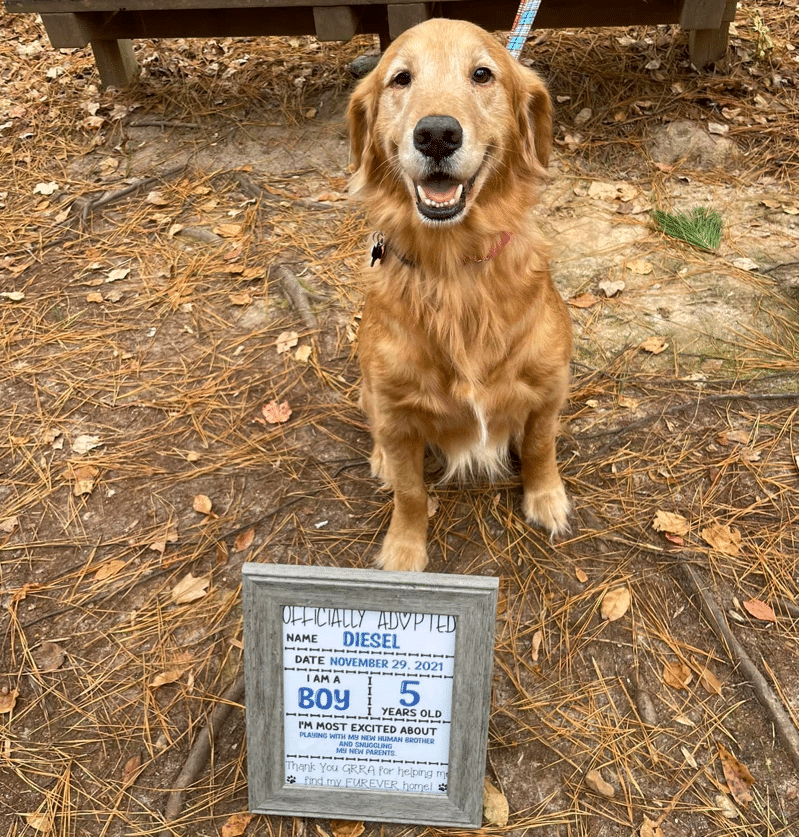 When you adopt a dog, you will likely only be asked to provide an adoption fee to secure your new friend. This is usually about $300-$500 and is intended to cover the costs that the shelter had into taking care of the dog until someone gave it a home. You can typically donate more if you wish, but the basic adoption fee is all that is required in most cases. Shelters and rescues are required to vaccinate and spay or neuter the dogs that they release to new homes, so you will not have to pay for these services for your new puppy unless they are not done with their full range of puppy shots.
You will want to remember that rescue dogs might not be purebred and cannot be registered with the AKC. It is also not likely that you will be able to access any certification for common health issues related to the breed. Rescue animals are not guaranteed in the way that breeder's animals are, but they cost a lot less money.
First-year Costs for Golden Retriever Puppies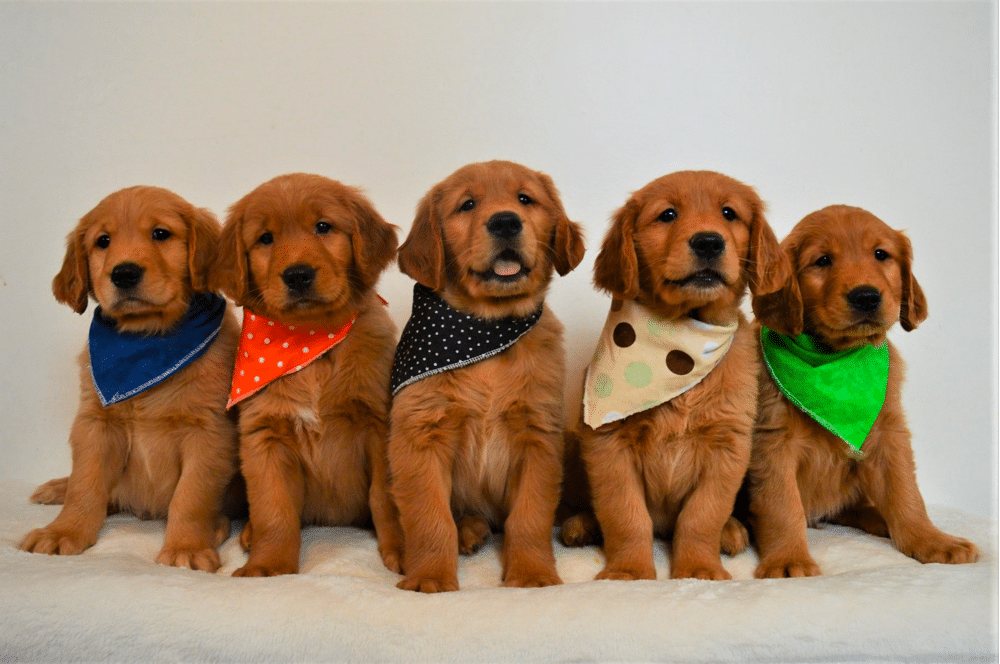 There are many variables that can go into consideration to do with the first year's costs for your Golden Retriever puppy.
The average cost for the first year of ownership for a Golden Retriever puppy is around $1,500, but you might spend more if your dog is not healthy at some point during the year or if you have surprise costs that crop up for other reasons. Vet bills can be quite expensive, so you should always allow at least $500 for this expense, no matter if your puppy is done with their initial vaccines or not.
Food can also be spendy depending on where you live, and you will want to be certain that you are not feeding your dog cheap grocery store dog food. The health risks associated with feeding poor-quality dog food are not worth it for most pet owners, and the investment in a few extra dollars per bag of kibble will help ensure a long and happy life for your puppy. You will probably need to get a crate and some other items like a leash or a dog bed for your puppy as well.
You will need to budget for most of these basic items, which could vary in price depending on your location. City areas will have higher costs, and things like puppy training or boarding could be much more expensive in these areas as well. Make sure that you think about all of these items before you buy a puppy. Sometimes people get excited about the idea of having a dog and forget to look at their budget before they buy.
Average Cost of New Puppy Items
These are the average costs of some common items that you might need for your Golden Retriever puppy. You might not end up buying all of these items if you have other pets in the house that you can share with your new dog. Make sure that you do have a leash and collar for each pet in your home and that you are prepared to provide a crate or dog bed for your pet as needed as well.
| | |
| --- | --- |
| Harness | $25-$40 |
| Leash | $15-$20 |
| Dog bed | $40-$100 |
| Food | $500-$1,000 per year |
| Poop bags | $10 |
| Baby gate | $60 |
| Toothbrush and toothpaste | $5 |
| Nail clippers | $15 |
| Shampoo | $10 |
| Brush | $16-$20 |
| Treats | $16-$30 |
| Toys | $20-$50 |
| Food and water bowls | $20-$30 |
| Vet Visits | $200 on average each |
| Puppy classes | $50 each |
| Spay/Neuter | $200-$300 |
| Puppy Training Classes | $100 |
You might not have to buy all of these items, but you should always plan for some costs that you did not expect. For example, if your dog is not able to eat the kibble that you bought due to an allergy, you might have to buy different food for an added cost. They might also chew up their dog bed when they are young, and you might have to buy a new one.
Having some money in reserve for unexpected costs is always a good idea for a pet owner. When you are prepared for emergencies, you will be much less likely to feel annoyed with your dog when something happens that you did not expect. It can also be scary to face paying a large vet bill when you do not have the funds to take care of this expense.
How Much Does Spaying or Neutering Cost?
This is one of the things that is often included with your purchase of a puppy that has come from a breeder, but you might be asked to help fund this surgery if you are getting a pet from a shelter. The average cost for these surgical procedures when there are no complications is about $500. You might have to pay more if the animal is older or if there are complications involved in the surgery. Make sure that you ask about this cost when you are looking into any puppy purchase.
You will want to fix your Golden Retriever in most cases so that you do not have to deal with Goldens that go into heat or that might want to wander to find other dogs. It is much easier to care for a fixed pet than one that is intact, and most breeders and rescues will require that you fix your pet before they release it to you. There are already so many animals without homes that it is common for part of the purchase price for any pet to include spaying or neutering.
What Are Some Common Reasons for Vet Bills Related to Golden Retrievers?
If you have had dogs before, you know that they can sometimes have health issues that you did not expect. One of the most common reasons that your puppy might need to see the vet beyond their annual vaccinations is for retained puppy teeth. Puppy teeth usually fall out within the first year of your dog's life, but some dogs have a hard time losing these teeth. This can require surgery to fix, so you might need to budget $500-$1,000 for this service if your dog is unlucky enough to experience this issue.
Older Golden Retrievers can suffer from a few specific ailments, some of which are common to the breed. Any dog might end up with eye issues, but Golden Retrievers can be prone to blindness and cataracts. Your dog might also end up with arthritis at a fairly young age or cancer. Golden Retrievers tend to have elbow and hip dysplasia as well, and if you do not get a dog that is certified by a breeder, you might need to be prepared to pay for surgery to help resolve this issue.
Most older dogs will be quite healthy from the time they are 2-8, but you should start adding another $500 to your budget each year after this age. Your dog could end up with very expensive health conditions that might cost more than $1,000 a year to treat. While this is not common, there are older dogs that are quite expensive to care for, and this is something that every Golden Retriever owner should be aware of.
Having an older dog can be more costly, but you will find that dogs that have been fed a good diet and cared for with attention to detail will be much less likely to suffer from ailments of this nature as they age. Your vet can advise you about the various health conditions that you can prevent or avoid through proper maintenance. You will want to prioritize these considerations for every dog that you have in your care to help them to have a longer and happier life but also to help you to save a little money on their long-term needs.
How Much Does Dog Grooming Cost?
Dog grooming costs about $1,000 a year in some cases. If you have chosen one of the longer-coated and silkier-haired Golden Retriever varieties, such as the English Cream, the cost of keeping up with their grooming can be quite high. However, if you have a Field Golden Retriever, you might not need the groomer for this dog very often. The comfort that you have with the grooming process when done at home can also save you money compared to people who have the breeder provide all the care for their pet's coat each year.
You will not be able to avoid the reality that your Golden Retriever's coat will need upkeep. Make sure that you are not assuming that you will be able to skip this expense unless you feel like splurging on this kind of care. The long and silky hair of the Golden Retriever requires monthly care of some kind, and if you cannot provide it, you will need to pay for someone to take care of this need for you. This is necessary to prevent issues with your dog's health and problems such as mats, hot spots, and other issues. Make sure that grooming is on your list of items that must be paid for each year so that you are not shocked when you find out that your dog needs major grooming to resolve issues with their coat.
How Much Does it Cost to Buy Food For a Golden Retriever?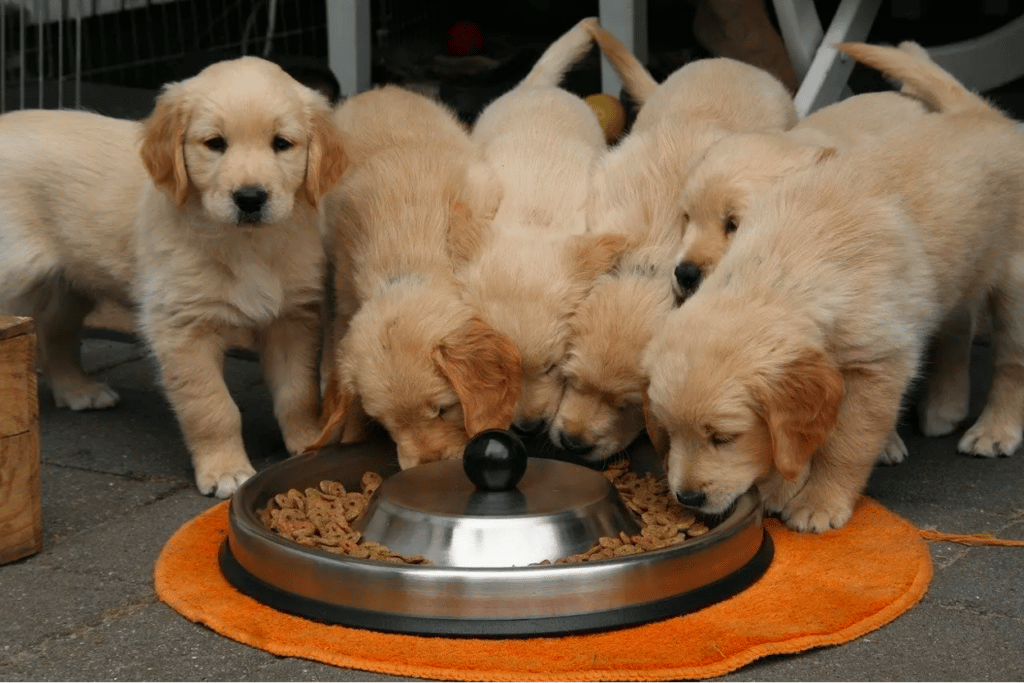 If you are going to feed quality kibble to your dog, you will need to plan to spend about $15-$20 a bag for your dog's needs. This should last you for most of a month unless the bags are quite small. If your pet needs a special diet for some reason, the cost per bag might go up to $30 or $40. You will need to ask your vet about ways to bring down the cost of specialty foods since they can sometimes help you to get these products at a reduced price.
Food is a very important factor in dog health, and you will need to consider this one of the primary things that you budget money for. Your dog will be happier and healthier with quality food in their belly, and you will not want to scrimp on your food budget each month to say more money on other things. Your dog will not feel slighted if they have fewer toys to play with so long as they are being fed adequately.
How Much Do Adult Golden Retrievers Cost Each Year?
Adult dogs can be a little more cost-effective unless they have health conditions that require medications. You will not have to buy all the initial items like food bowls and leashes for these older animals unless they are brand-new to your home. Once your dog is grown up, the only big change in cost will be related to them eating more food each month.
The average cost of dog food might go up some with a full-grown dog, and you might need to budget as much as $1,000 for annual food costs for a large, full-grown dog. Make sure that you are still feeding healthy food and that you ask your vet how much food your dog should be getting each day if you are not sure. Maintaining your dog's weight is important for their overall health, and you will want to make sure that you do not feed your dog too much each day.
Toys and treats can cost you about $200 or less a year for an older dog. Older dogs will not usually need a bunch of new toys each year, and if they are trained, they also might not need treats very often. You will probably spend much less on this kind of purchase with an older dog in your family because they will be more settled and require less distraction to be happy and healthy.
Vet bills can be one of the biggest costs associated with an older adult dog. As your dog ages, you might have to pay for ongoing medication needs to support their health, and things like injuries or surprise illnesses might happen as well. You should always have about $1,000 in savings for your pet just in case there is an emergency vet bill that comes along that you need to resolve right away. You might also be able to get access to emergency credit as needed to help take care of your dog if a health emergency occurs.
The total average cost for an adult Golden Retriever each year will be about $1,000, but this amount can increase to $2,000 as they get older. Older dogs might need care for arthritis and other conditions that require daily medications. You should add about $500 a year to your annual cost projections for dogs over the age of eight.
To Summarize The Basic Costs of Golden Retriever Ownership
The cost of a Golden Retriever each year can vary based on how much you choose to spend on training and board and grooming and how much you want to spend on basic care. The basic breakdown of the costs of owning a Golden Retriever is listed below. Always make sure that you have a solid budget in mind before you get any pet. Being able to care for your pet is important, and no one wants to get a dog and then have to find a new home for them due to unexpected costs.
Remember that your dog will cost more as they age, and do not be surprised if you have to add about $500 to your annual budget each year after your dog is about 8 years of age. Older dogs can cost more money, but we as owners owe them the care they deserve for all the love that they have given us over the years they have shared with us. This is a very healthy breed overall, and you should not have to worry too much about surprise health scares when you pick a Golden Retriever for your family.
| | |
| --- | --- |
| Cost to Get Dog From Breeder | $1,000-$3,500 |
| Adoption Cost | $200-$500 |
| First-year costs | $1,500-$2,000 |
| The annual cost for adult dogs | $1,000-$3,000 |
| Geriatric dog costs | $1,500-$3,500 |
The Golden Retriever Breed is a Wonderful Addition to Any Family
Despite the potential for extra costs associated with owning a Golden Retriever, many people would not have any other pet in their homes. This is a loving, kind, and gentle dog breed that fits into any family with ease. You will be so glad that you invited a Golden Retriever into your life, and whether you get your dog from a breeder or a rescue, you will have a delightful experience with your Golden Retriever every day.
Budgeting for the proper care that your dog needs each year is important. Many people get pets and only realize after they have their home that they cannot afford them. This is not very fair to the dogs that have to be rehomed, and it can be a tough situation for you as an owner. Use the budget listed above as a guideline for your annual costs for your Golden Retriever. If you feel that you can afford this dog breed, you should not hesitate to add this loving animal to your home!