A Golden Retriever barks for a Reason. They usually bark less than other dogs, but if a visitor comes to the property, they will warn you of this. They may bark to let you know they require your backup, or if they are stressed about stranger danger. Your Golden Retriever has your interests at heart.
Why do Golden Retrievers Bark?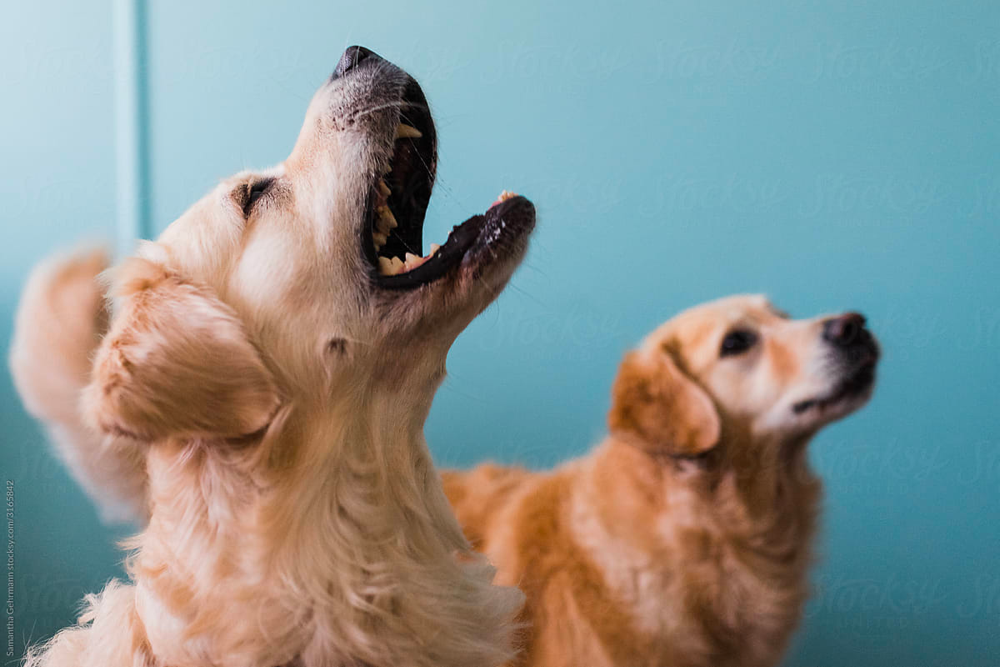 Barking is a way of communicating. It wards off intruders, scares predators, or helps when herding sheep or cattle. A bark from your Golden Retriever is an inquiry of a stranger's intentions regarding entry to your property.
Your dog may be unsure about when someone is coming onto your land. They will woof to give you a warning. They may want you to come and check this person out … your dog is asking if this person should be allowed onto the property?
Golden Retrievers are very protective of their humans, their land, and their home buildings. If a stranger turns up, it is good that they give a warning, and you can confirm whether the person or another animal is welcome on the property.
The Golden Retriever is a dog with a job. They like to monitor who is coming or going. They may not actually back up their barks with sudden action, but they can create a fuss so that you know when strangers are around.
Different Types of Barks from a Golden Retriever
| | | |
| --- | --- | --- |
| Bark Type | Sounds Like | Purpose |
| Territorial | Intense barks mixed with growls | Alerts humans to intruders |
| Alarm | Sharp short barks | Warns any visitors. |
| Fearful bark | High pitched serious bark aggressive posture | Your Golden is fearful |
| Frustration | Steady bark directed at someone or thing | The dog feels trapped or restricted |
| Playful | Hi-pitched barks – a friendly demeanor | Invitation to play |
| Excitement | High-pitched repetitive barks full of excitement | Excited and ready to play |
| Boredom | Monotone bark – can last a while | Venting about being bored |
| Separation anxiety | Whining, howling, and yelping generally upset | Dog is left alone for too long and is worried |
| Attention seeking | Non-aggressive, barking at humans | They want attention. |
| Social barking | Associated when with other dogs | Triggered by other dogs and play interaction. |
Barking is Your Dogs Way of Communicating
Barking is a dog's most prominent method of communication whether it is between dogs, other animals, or communicating with their humans and is a key part of a healthy dog's communication. They express joy, happiness, welcome, pain, stress, or uncertainty.
When you check your dog to find out why they are barking, you need to train them that once you step in, you are in charge.
A simple verbal 'it's okay' and then stepping in front of your dog should be enough for them to stand down.
If you exhibit a confident pose and tone, your dog will be confident that you have it all under control and they don't need to be fearful or scared.
They have done their job and warned you of a situation, and from here on in, they can leave it in your capable hands. Well, that is the theory – you may have to do this several times before your Golden Retriever gets that you want them to stop barking and let you handle the situation.
Barking is how your dog communicates, and as a rule, the Golden Retriever is less of a barker than many other breeds of dog.
How Do You Get Your Golden to Stop Barking Excessively?
There are some situations though where a Golden Retriever may bark more than you wish. Constantly barking can become a highly annoying habit. And it can often stem from boredom.
Some dogs such as the Golden Retriever like to be part of the family. They want to be with you, even if you are just mowing the lawn.
You may need the help of a professional dog behaviorist to get this problem under control. But a simple way is to keep your golden busy so that they don't become bored and begin barking.
You need to find ways to keep them occupied until the family is home again.
Provide them with stimulating toys and activities to keep them busy when you are away from home.
Take them for an early morning run to burn off a bit of their energy before you leave them.
Use treats toys – where your dog must work to get the treats out from the toy will keep them busy as well as a frozen block of stock with treats frozen inside during summer.
Organize for a family member, dog walker, or friend to call in and play with your dog for an hour or so. It will be well worth the extra cost and keep your neighbors happy.
Provide a couple of sleeping options for your dog. A comfy shady patch under a tree or a sunny spot on the veranda will make a welcome doze spot.
A well-fenced secure yard so that they can run around with a ball will help.
During summer a child's paddling pool would be ideal for them to cool off.
Teach your dog to have a job. Dogs can be trained to pick up the pegs where you drop them on the ground and place them in a basket. The Golden Retriever loves to help. They can bring in the paper or collect the mail… if you are there to receive the mail otherwise, they may shred it all.
If your dog barks at passing cars, neighbors, or other dogs through the fence, consider covering that area with a dark mesh so that your golden cannot see them.
Your Golden Retriever is a part of your family. They form strong bonds with family members and consider themselves part of your team. Keep them busy even if it means you must pop home at lunchtime to share your lunch with them.
How to Monitor Your Golden Retrievers Barking
Barking can become a habit for any dog who suffers from boredom, lack of contact with their owners, and generally just bark just because they can.
A compulsive barker starts slowly, venting their frustration to anyone who will listen.
They will bark and attack the fence if people walk by, just to break the monotony.
Their barking can be triggered by loud noises such as a car backfiring. Or it can be another dog who walks past the fence.
Left alone without meaningful contact, some dogs can become used to hearing their own voice. But it is important to stop the barking from becoming a habit therefore check with the neighbors as to how their behavior is during the day.
They can also become destructive and rip up the garden, chew on anything left outside, or become boot or shoe destroyers.
The secret to a quiet, happy dog is providing plenty of things for them to do when you must go out to work.
If they become a problem, plan their day to be full of activity. If there is too much going on at the front of the home, restrict them to the rear of the house where it is quieter. And leave on a radio or something to break up the silence.
Change their toys around within or outside the home so there is always plenty of fun variety to entertain them.
Conclusion
The Golden Retriever is still a moderate barker. This is because they were used in the hunt for game birds that their owners originally went out hunting for.
It was usually the quiet Golden Retrievers that were selected for breeding, as a dog that barked excessively would scare the birds away. The Goldens had to be patient, and quiet and retrieve the birds with a gentle mouth so as not to damage the game.
Although the time-honored job of retrieving game birds is almost a thing of the past, the modern Golden Retriever is still a moderate barker, and they make an ideal hunting companion.
While they do bark occasionally, the Golden Retriever is not particularly noisy, which endears them to many owners who now live in smaller allotments than the Golden of days gone by.
Golden Retriever Resources and Tips