Do you want an amazing, loving, gentle family dog that also makes a tremendous non-aggressive watchdog? Not sure what breed might be right for you? Then let me introduce you to the Golden Retriever Dalmatian mix, also known as the Goldmatian or Goldmation. The Goldmatian is a mix between the golden retriever and the dalmatian. This article will teach you everything you want to know about this spectacular breed. If you are curious about the Goldmatian, continue reading to see if this is THE breed for you!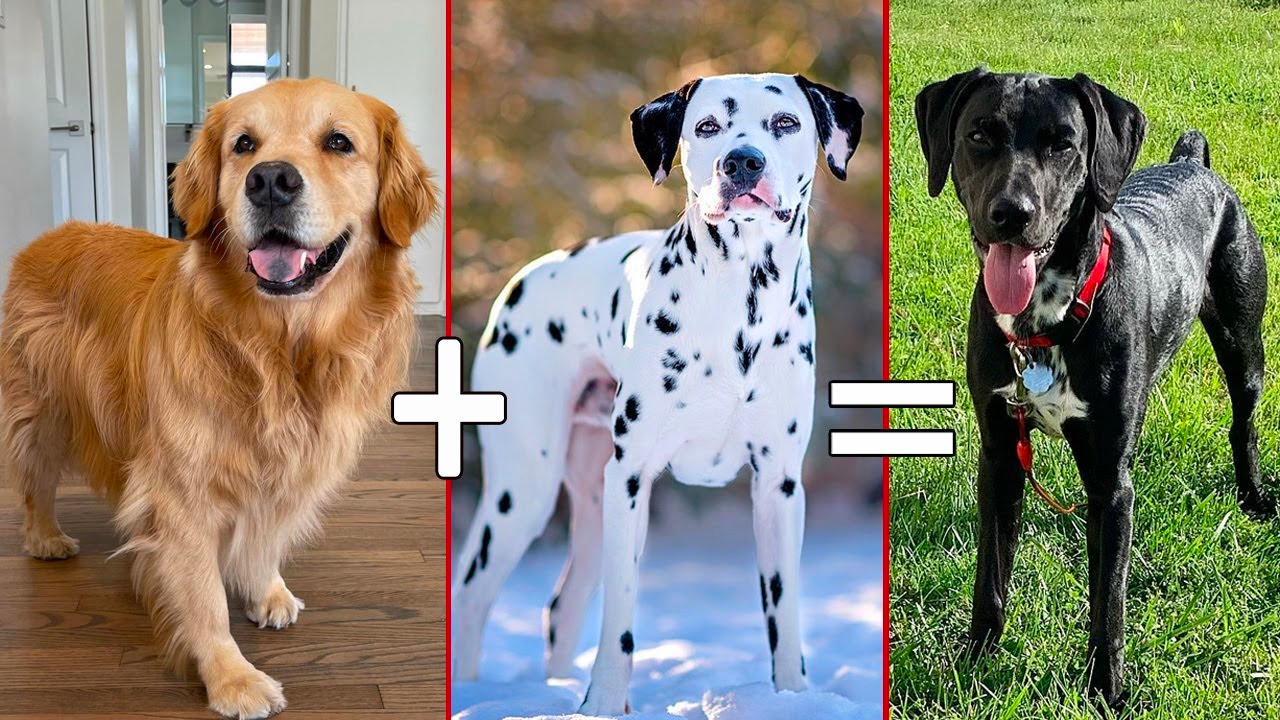 Golden Retriever Dalmatian Mix at a Glance
| | |
| --- | --- |
| Weight | 55-70 pounds |
| Height | 19-23 inches |
| Size | Medium to Large |
| Coat Length | Medium to Long |
| Coat Coloring | Gold, Pied, Black |
| Eye Coloring | Usually Blue or Black |
| Amount of Shedding | Moderate to Heavy |
| Intelligence | High |
| Energy Level | High |
| Exercise Needs | High |
| Drool Tendency | Medium to High |
| Barking Level | When Necessary |
| Temperament | Friendly, Intelligent, Playful |
| Life Expectancy | 10-12 Years |
| Hypoallergenic | Probably Not |
| Child Friendly | Yes |
| New Owners Friendly | Yes |
| Best Suited For | Active Singles, Watchdog, Families With Children |
Golden Retriever Dalmatian Mix History
The history of the Golden Retriever Dalmatian is not precisely known. Designer dogs, however, became quite popular in the United States in the 1990s.
Breeders started crossing two or more purebred dogs about 30+ years ago to create a mixed breed that was healthier, gentler, and more trainable. The golden retriever dalmatian is thought to be one of the first hybrids developed. These designer dogs come from a long lineage of popular established breeds – the Dalmatian and the Golden Retrieve.
Golden Retrievers were bred in Scotland in the mid-1800s. Their main task was to retrieve downed game from water or land for their hunter-owners. They came to the United States via Canada in 1910.
Dalmatians got their name from Dalmatia, a region in Croatia. These dogs have existed in Asia, Africa, and other areas of Europe since ancient times. Throughout history, dalmatians have been guarding sheep, trained to hunt, and were retrievers, performers, and guard dogs running alongside coaches protecting the horses and passengers.
The Appearance of the Golden Retriever Dalmatian Mix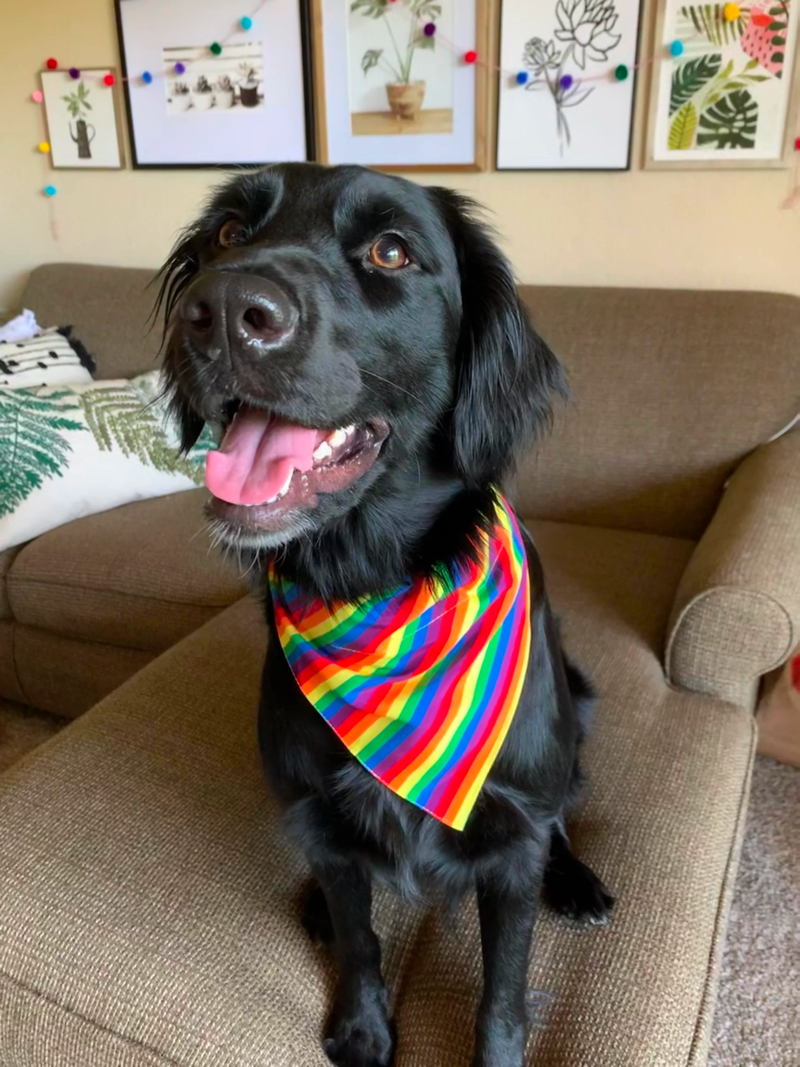 Like most hybrids, it is impossible to predict precisely what your Golden Retrieve Dalmatian will look like. Their appearance depends on genetics! However, we do know that this is one adorable breed.
The Golden Retriever Dalmatian is a medium to large-sized dog with a well-proportioned body. They usually have a long snout, a somewhat curved tail, and droopy ears. The adult Goldmatian is generally between 19 to 23 inches tall and weighs between 55 to 70 pounds. Their eyes are usually brown or blue, and they have black noses.
As mentioned above, it is hard to say precisely what the golden retriever dalmatian will look like. Some are a perfect blend of both parental breeds. And some may inherit the golden retriever parent's long fur and the dalmatian parent's distinctive spots. This pattern may be clearly visible and distinct, or it can be faint and subtle with just a tinge of the spots on their lighter coat. You never know – up to genetics!
But in any case, the Goldmatian is just one of the cutest, most adorable designer dogs you could ever want!
The Temperament of the Golden Retriever Dalmatian Mix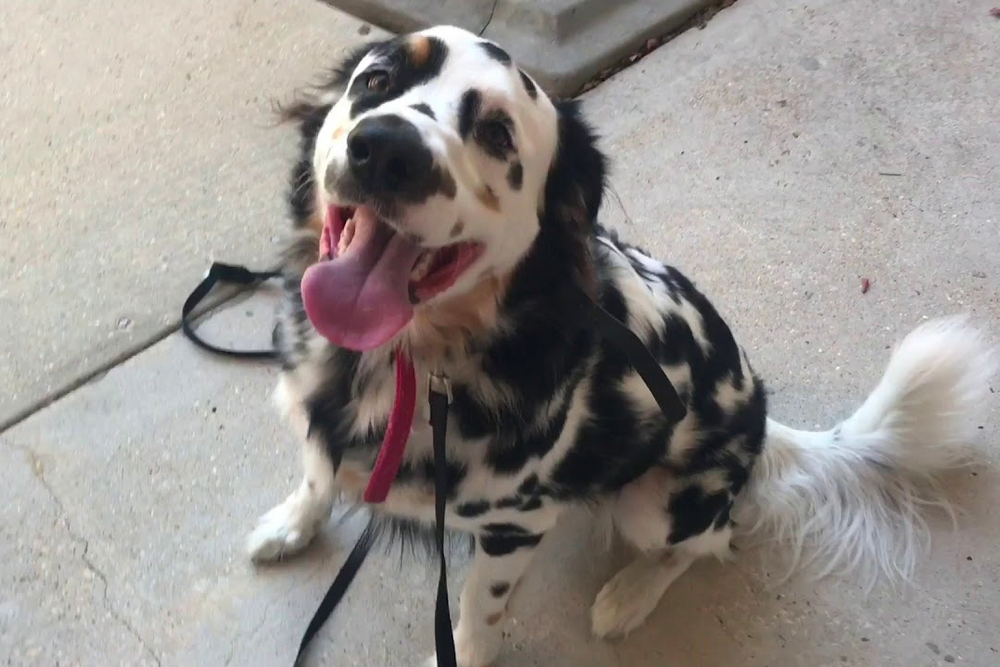 The Golden Retriever Dalmatian mix is sweet, sassy, and all good things rolled into one affectionate dog breed!
This breed will do well with single pet parents or with families. The important thing is that their family is active. This breed is best suited for people with a home with a fenced-in yard for them to run around safely. This is a very active breed with tons of energy; they need lots of exercise to use up all that energy. Also note this designer dog has a high prey drive, and they have a tendency to chase small critters. Therefore, it is crucial to keep this dog on a leash when taking them out for a walk.
They LOVE to be with their human family and even get along famously with other dogs in the household. They are fantastic family dogs and get along wonderfully with children of all ages. The Goldmatian doesn't see themselves as an only family dog but as equal family member! Goldmatians do not like to be alone.
Since this dog is a part golden retriever, they love to be around people. However, the flip side of this is that they might be susceptible to the Golden's tendency to have separation anxiety. Therefore, they might not be an excellent fit for a family if they will be left alone for long periods of time. Left alone for long periods can lead to destructive behavior, including chewing on things and excessive barking.
I know first-hand about separation anxiety with Golden Retrieves. We have a golden mix, and we left him home for less than an hour to run an errand. We lived at the time in a two-bedroom apartment, and we crate-train our dog as a puppy. He was three years old at the time and no longer confined to a crate when we left our home. Who knew that while we were gone, a kid would pull the fire alarm, and the fire department would pull up just as we were returning to our apartment? The alarm was a constant high shriek sound right outside our apartment. Our golden mix was terrified. He chewed a HUGE hole in an oriental carpet my husband had brought back from India while on a business trip! Needless to say, my husband was furious. But who could be upset with our pet? It wasn't his fault some kid pulled the fire alarm! Separation anxiety is real among goldens, and when they become scared, they become destructive. Lesson learned.
But don't fret – if you have your heart set on this breed (and who wouldn't) and you get this breed as a puppy, it is possible to leave your golden retriever dalmatian mixed dog home alone for extended periods when you must be away from this house while you work. However, you must put the time into crate training your Goldmatian puppy. And notice I said puppy – it would be next to impossible to retrain an older dog. This will be discussed further along in this article.
Another option if you have your heart set on this breed and must leave the house for long periods of time is doggie daycare. Doggie daycare is also an excellent option for your pet to learn socialization skills and how to interact with other people and dogs.
Both of the parental breeds of the golden retriever dalmatian are very intelligent, which could make training your Goldmatian challenging since they tend to be a tad bit stubborn. Be consistent with your training and reinforce that YOU are the alpha dog, and your Goldmatian should obey. Remember always to praise and reward when they follow your instructions. There is nothing more satisfying to these dogs than to please their owner.
The Golden Retriever Dalmatian Mix Shedding & Grooming
Golden Retrieve Dalmatians can be heavy shedders. Both of their parental breeds are shedders, so there is no way around this.
To keep their coats shiny and looking good, they should be brushed twice a week at a minimum. This will also help prevent tangles and matting from occurring, especially during the two main shedding seasons in spring and fall. In fact, you might feel as though your pet is shedding so much that they will go bald during these times. But have no fear; this is normal. If you are a "neat freak," you might want to consider investing in a robotic vacuum to vacuum each night.
What about bathing? This breed is known to be droolers, and they are very active. Because of their drooling, they can develop a doggy odor, and when this happens, you know it is time for a bath. Usually, baths are needed once amount. But please, make sure you use a delicate shampoo formulated for dogs, so it doesn't dry out their skin. Never under any circumstances use human shampoo, as this shampoo is too harsh on your pet's skin and will probably require a trip to the vet! Suppose your pet is stinky, and you just don't have the time or supplies for a full bath. In that case, you can sprinkle either baking soda or cornstarch (provided your pet doesn't have any allergy to corn) on your Goldmatian to neutralize the smelly odors and then thoroughly brush your pet. Only do this occasionally, as they can dry out their skin.
To reduce the doggy odor caused by their excessive drooling, you might find it beneficial to put some towels or lightweight blankets on top of their bedding. Before these start to become smelly, you can toss them in the washer, and this will help keep your Goldmatian smelling fresher longer.
Also, make sure you check their ears, nails, and teeth several times a month, preferably weekly. Their ears should be gently cleaned with a soft cloth once a week, which helps prevent the smelly yeast infection that droopy-eared dogs are prone to. You can time this cleaning to coincide with their regular brushing routine, and your pet will think they spent some time at the spa! This also makes a great bonding experience between you and your pet. Their nails will most likely wear down from regular activity, but if they don't, they should be trimmed about once a month or whenever you hear them click against a bare floor. Their teeth should be cleaned at least once a week.
Is it Easy to Train Your Golden Retriever Dalmatian Mix?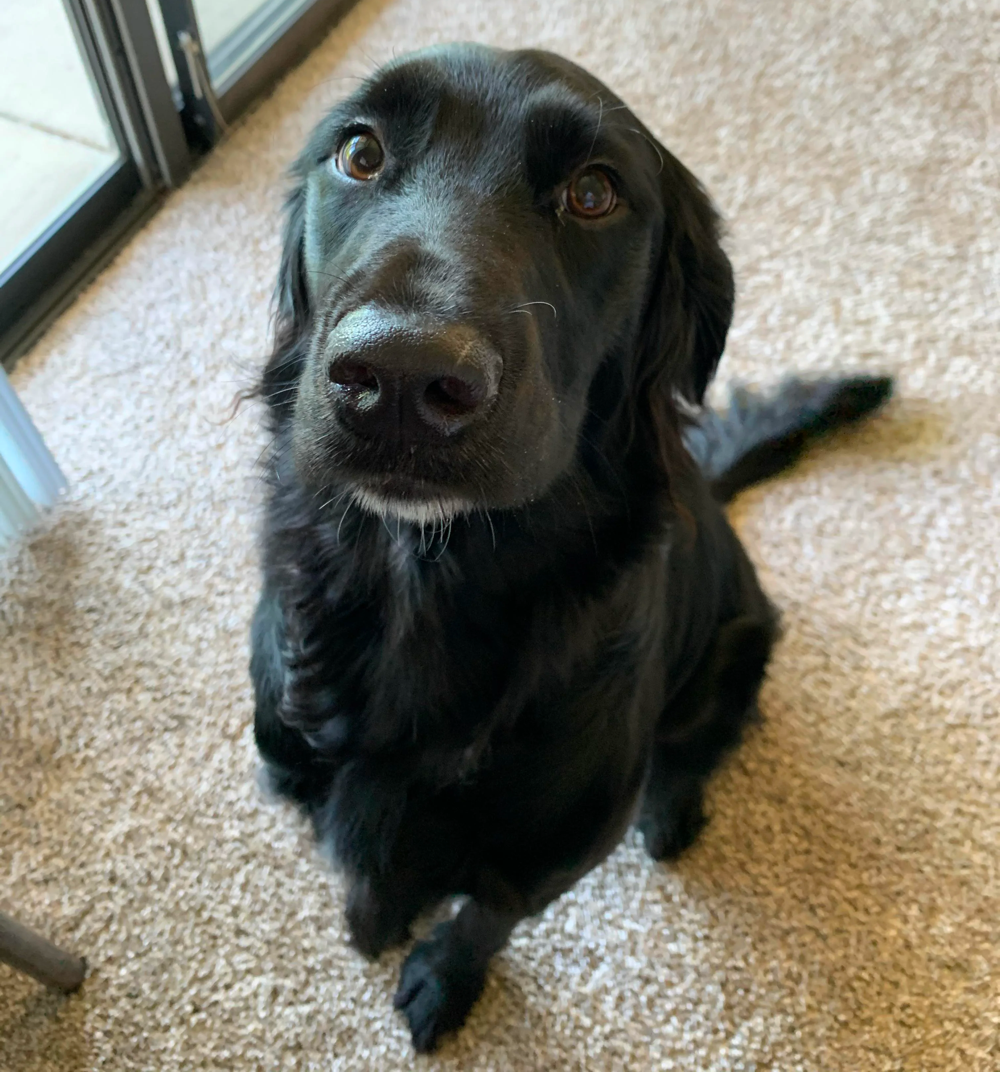 The Golden Retriever Dalmatian mix comes from two very bright parental dogs. The Dalmatian parent loves to bark and howl, so your Goldmatian pup will surely be a vocal pet if training isn't started early! Patience is definitely needed here, and you must understand you will never stop their barking; it is only natural to them. Your goal is to control their barking.
As mentioned before, Goldmatians are extremely intelligent. One would guess that would mean they are easy to train, and usually, they are, especially since they love to please their owner. However, sometimes they can and do have a strong, stubborn manner.
As with both of their parental breeds, the golden retriever dalmatian loves praise and is rewarded for listening and following commands. Therefore, it is essential with training to take a positive approach and give them tons of verbal encouragement, plus a few tasty yummy treats when they have learned and responded appropriately to your instructions.
The key to practical training is to be consistent, firm, and fair. Remember, as stated before, socialization is also an essential part of training.
Because these dogs are so agile and physically active, they love a physical challenge. They will do well with agility training and other dog sports. In addition, these activities will help tire your dog out.
Because these dogs are so intelligent, they will also benefit from mental stimulation training.
Here are some examples of mental training to do with your Goldmatian:
Interactive Games: such as doggie board games where your dog must complete some obstacles to get a treat or puzzle games where your pet is encouraged to figure out how to get a treat out
Hide and seek: tell your dog to sit and stay (this is assuming they know these two commands already), and you go and hide and then count to ten and call your dog. Once they find you give them tons of praise and a treat.
Playing fetch: this simple activity provides both physical and mental stimulation, and most dogs LOVE playing this game with their owners.
Puzzle games: a simple one is a Kong. With a Kong, you fill it with a treat, and your pet must lick, sniff, and shake to dislodge the treat to eat it.
And lastly, do not forget crate training. This is very important on so many levels for your dog, no matter their breed. A crate is a sanctuary for your pet, their "safe place." Never use a crate as punishment. Their crate should be their happy place, a place to sleep, a place to be safe.
If you must leave your Goldmatian for extended periods of time, and they have been appropriately crate-trained, their crate becomes a safe place to be while you are away and will keep them safe and out of trouble.
If you need to be away for an extended period of time, and your Goldmatian needs to be in their crate, throw in a safe toy like a Kong filled with all-natural peanut butter (make sure it does not contain artificial sweeteners as these are deadly to your dog) and play some calming pet music. Also remember to provide water. A dispenser that hangs on the side of the crate is an excellent way to keep them hydrated. Once you return, make sure to immediately let your pet out of the crate, praise them, and then take them for a nice long walk to use up their pent-up energy. You will create a happy pet that loves its crate and doesn't mind being alone at times.
When you are home, leave their crate door open, and let them wander in and out of their crate at will.
How Much Exercise Does the Golden Retriever Dalmatian Mix Need?
The Goldmatian is a high-energy and intelligent breed that needs physical and mental stimulation daily.
At a minimum, Goldmatians should get approximately 75 minutes a day of exercise, and at least half of that should be focused and intense.
This breed is highly athletic, so you can do various things to meet this daily requirement. You can take them on multiple daily walks, take them running with you, hiking, or swimming. Take them to a dog park to interact with other dogs. Do agility training.
If walking is your main go-to activity with them, change your routes and walk at least two miles daily with them.
Provide a safe, enclosed backyard space for them to play and explore safely. Please do not leave them alone outside for long, though, or their inquisitive nature might get them into too much trouble!
Golden Retriever Dalmatian Health Issues
In general, Golden Retrieve Dalmatian mixed breeds are pretty healthy. While their parent breeds are pretty hardy, and they do benefit from hybrid vigor, that isn't to say there won't be any health issues for your Goldmatian. It would be best if you still look for genetic disorders that are more common for Golden Retrievers and Dalmatians.
Some minor conditions to be aware of include:
Eye Entropion
Deafness
Allergies
Some more severe conditions to be aware of include:
Hip and elbow dysplasia
Renal dysplasia
Epilepsy
While the Goldmatian can be susceptible to the above various health issues, this is nothing that regular veterinarian visits and health screening will not take care of.
The health of your Goldmatian is also dependent on the food your feed your pet. All pets deserve top-quality food that is appropriate to their age, size, and activity level.
Since Goldmatians are very energetic dogs, they need their daily dose of proteins. Poor-quality dog food is packed with fillers that will satisfy your pet's hunger but won't provide any health benefits. So, make sure you check the ingredients of your dog food and give your top-quality pet food.
Your Goldmatian needs about three cups of food a day divided into 2 or 3 servings per day. Treats shouldn't be used too often but need to be used during training.
The life expectancy for your Goldmatian is between 10 to 12 years which is typical for any larger medium-sized dog. It is vital that your pet gets the needed exercise, receives quality dog food suited for his age and size with minimal treats, and has regular check-ups with a vet.
Generally, you can expect the golden retriever dalmatian mix to be a very healthy dog breed and will probably never encounter any of these diseases in their lifetime.
Is the Golden Retriever Dalmatians Right for You?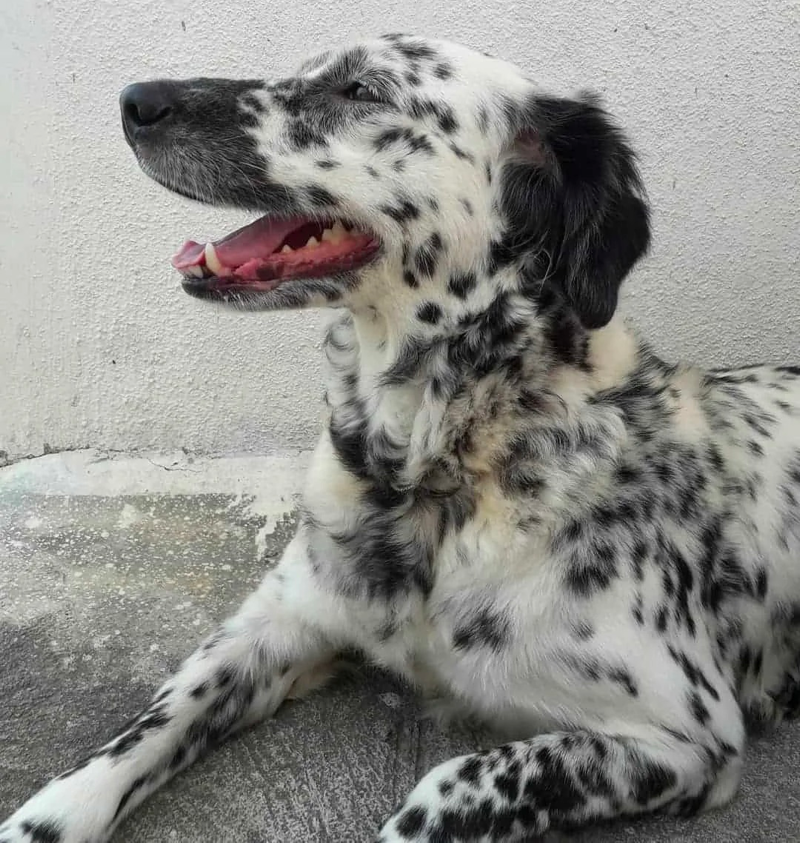 The Goldmatian is an excellent choice for families of all sizes and ages – as long as we are talking about an active family.
It is excellent to get your Goldmatian as a puppy. You can start socializing your puppy from the first day you bring them home. In fact, a reputable breeder will start this before you pick up your puppy. Early socialization slowly builds up their confidence by introducing them to new sounds, situations, and people. A puppy that has gone through socialization skills won't act standoffish around strangers and will love all the attention they receive.
Beginning socialization skills early also helps ensure they will be suitable for adults and children of all ages.
While the golden retriever dalmatian is not categorized as an aggressive dog, they can be loud and bark and howl when encountering strangers. But other than then, they usually are quiet and calm. They might be cautious around strangers until they know their owners know the people, but again this is not a sign of aggression.
This is an excellent dog for highly active people or families with children and other pets who need an exercise partner.
Golden retriever dalmatian mixes are loving, devoted, and protective without having an aggressive bone in their body!
Conclusion
The golden retriever dalmatian mix is a special dog breed. Not only do they have a unique physical appearance, but they also have an energetic yet laidback calm nature.
They need to be in a home with active families or individuals with lots of time and energy to spend with them daily.
Don't let their adorable drooling faces fool you. These dogs make great guardians and watchdogs! Their ferocious barking and howling will keep away all invaders.
Proper training and socialization will ensure that these dogs are loving, well-behaved, and happy.
I hope that you will better understand what it is like to own this highly energetic, loyal, and brilliant dog; and whether or not this dog is the perfect fit for you and your lifestyle!
Other Golden Retrievers Mixes