If you have just gotten a Golden Retriever puppy, you are probably wondering how long they will live and what you will need to do for them when they start to get old. You could even have this question as you start to see changes in your dog's energy level and interest in things like playing or going on walks. Knowing the signs of aging in your Golden Retriever can help you to get ahead of common health ailments, and it can help you to prepare for the aging process that your dog is going through.
At what age is a Golden Retriever considered a senior? Golden Retrievers are considered to be senior or aging dogs at ten years of age. Being ready to help your old Golden Retriever as they age can be fairly simple if you are prepared.
If you are ready to learn some more about how to care for your old Golden Retriever, you need to keep reading. We will help you to learn how long Golden Retrievers live, signs that your Golden Retriever is getting old, and what to expect as your dog ages past the age of ten.
How Long Do Golden Retrievers Live?
Like most large breeds of dogs, Golden Retrievers do not live as long as smaller dogs. You should expect your Golden Retriever to live for ten to twelve years. This is the average lifespan for this breed of dog, but there are some dogs that make it to be fourteen or fifteen from time to time. Just like people, dogs experience the aging process very differently, and your dog might not seem old at all when they are ten, while another dog could seem quite old at this age.
Golden Retrievers that have been certified by a breeder to be free of the common health ailments of the breed like hip and elbow problems will also have a longer lifespan overall. The breed is prone to cancer, so this can throw off all of your plans to have your dog until they are quite old, but that is just a risk that you always take when you get a Golden Retriever for your pet. Golden Retrievers are lovely dogs, however, and it can be well worth the risk of dealing with cancer to have one of these charming dogs in your life.
Signs That Your Golden Retriever is Getting Old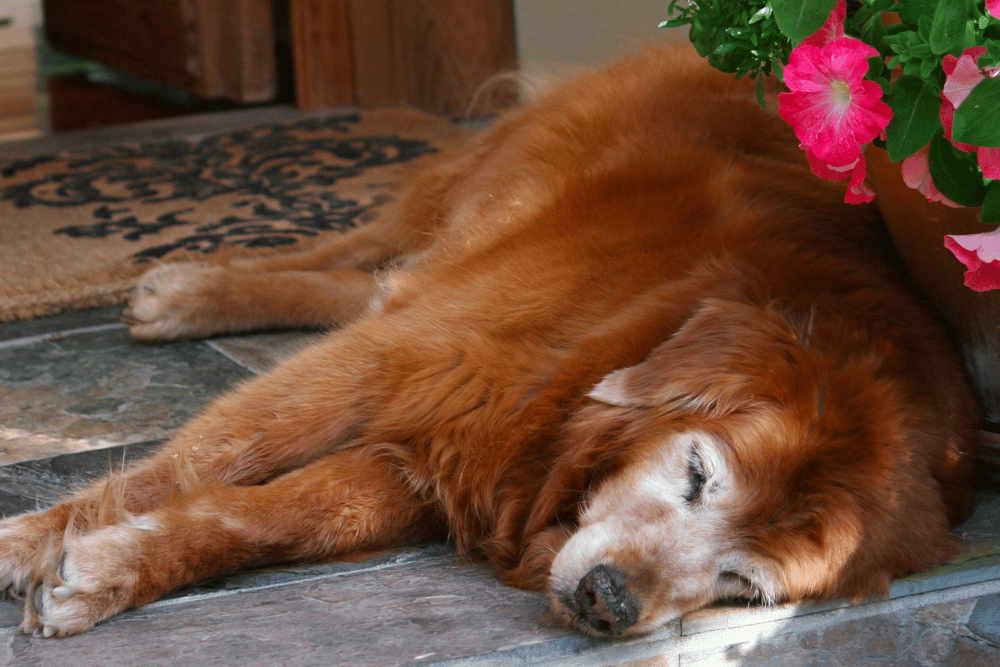 Some dogs seem to age all at once, as if they became old overnight, while other dogs experience a more gradual shift into old age. Your dog could experience either kind of aging, and you need to be prepared for both kinds of aging. There are some common signs that your dog is getting older, and you should be aware of these signs so that you can help your dog to be comfortable and healthy as they age.
Signs your dog is aging include:
Your dog might start to show grey hair around their muzzle or on their face in general as they get older. Some dogs start to go grey all over their body as well. This is usually one of the first signs that your dog is getting older, and you might see this sign before you see any other changes. Grey hairs are a key part of aging for dogs, and you will notice this happening to any dog as they get older.
As dog's age, they start to slow down. This might show up as reduced energy when they are playing or a lack of interest in long walks or play. As your dog ages, they will experience some reduced ability to keep up with their old activities, and most dogs will start to be happier with resting than they were when they were younger. Your dog will usually sleep longer than they did before as well.
As dog's age, their sight becomes less acute, and Golden Retrievers can be particularly prone to issues with their vision. Dogs that are losing their sight might bump into things more, or they might seem scared to go up or down steps or to cross from light into shadows. You will want to look for signs of cloudy eyes, as well as this can indicate cataracts. Dogs that are older will also start to lose their hearing, and they might not come when you call them, or they might sleep through things that would have woken them when they were younger.
Old Golden Retrievers can be prone to arthritis which can start out being of small impact on their health but end up being a big factor in their daily discomfort. Arthritis can destroy the joints, and it causes a lot of pain when it is not managed in any way. If your dog seems to be having trouble getting up and down or if they cry out in pain when playing, they might have arthritis.
Some dogs will show signs that they are not as hungry, and they might be willing to miss meals from time to time. This might be because your dog's sense of smell is less acute, which can impact their appetite. They might also just not feel as good, which can make them be less hungry overall. You might have to tempt your senior dog with soft food or treats to help get them to keep eating enough to maintain their weight.
Older dogs are prone to fatty tumors, and these might show up on any part of your dog's body. These are usually benign, but you will want to have the biopsied to be sure. Keep an eye on these growths to be sure that they do not increase in size rapidly or become an issue for your dog's overall comfort
Some dogs might start to get fat because they cannot exercise enough to keep up with what they are eating. It is very hard on your dog's joints to be overweight, and it can also increase their chances of getting cancer. You should be sure that you put your dog on a little bit of a diet or get them switched to a weight gain prevention food if you notice them gaining weight.
What to Expect From Your Aging Golden Retriever
As mentioned before, some Golden Retrievers will age more rapidly than others. This is just how the process can go, and you might find that your dog seems to have gotten old quite rapidly, much to your dismay. There are some common things that you can expect to see when your dog reaches certain milestone ages. Ten is the age that your dog is considered a senior dog, so we will start there with our discussion about what to expect from your old Golden Retriever.
10-year-old Golden Retriever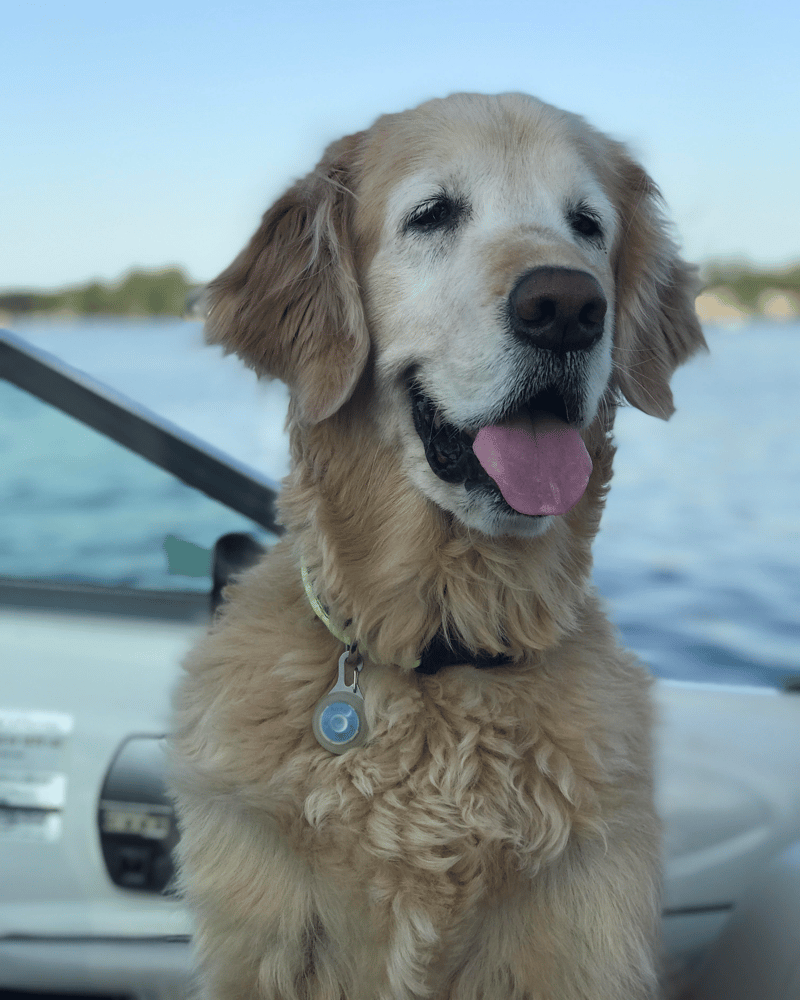 Your ten-year-old Golden Retriever might not seem that much different than they did when they were five or six. They might still seem bright-eyed and healthy and have lots of energy. You might have noticed that they don't play quite as hard and that they might get sore when they do exert too much, but most dogs at this age are just starting to show signs of aging. You could see some cloudiness in your dog's eyes at this age, and you might also have noticed that they seem not to hear quite as well when they are called from across the yard.
In some cases, your dog might start out their ten-year-old year in great shape and start to decline over the course of the year. This is quite common, so you will want to pay attention to signs of arthritis and other kinds of pain or discomfort as your dog's ten-year-old year goes forward. This is the age where you will start to want to be paying more attention to what your dog's energy level seems like and how they are feeling.
11-year-old Golden Retriever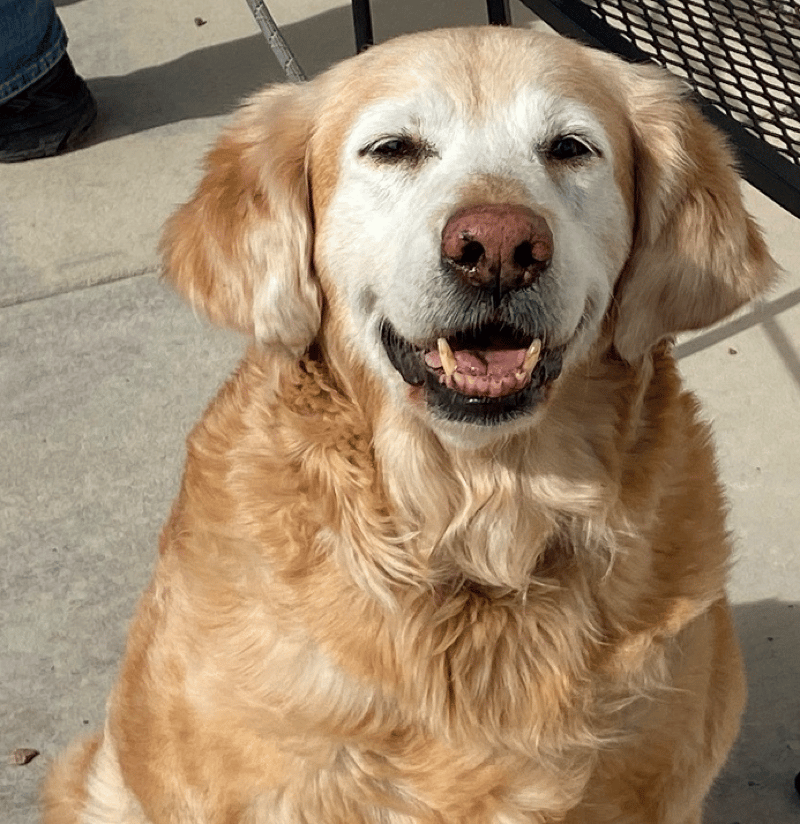 The eleven-year-old Golden Retriever will probably have cloudiness in their eyes, and they might be slowing down a bit. They might sleep more and have gained some weight. This is a time when arthritis will make itself known, and your dog might need to go to the vet to get some help with their joints like pain medication. Make sure as well that you are paying attention to weight gain at this age and that you are checking for signs of loose teeth or other kinds of issues with your dog's mouth that might make them less likely to eat.
Be sure that you cut back a little on your dog's exercise if you notice that playing hard takes a toll on them later. You will need to help your dog to adjust to this time in their life, and sometimes this means helping your dog to set boundaries for themselves.
12-year-old Golden Retriever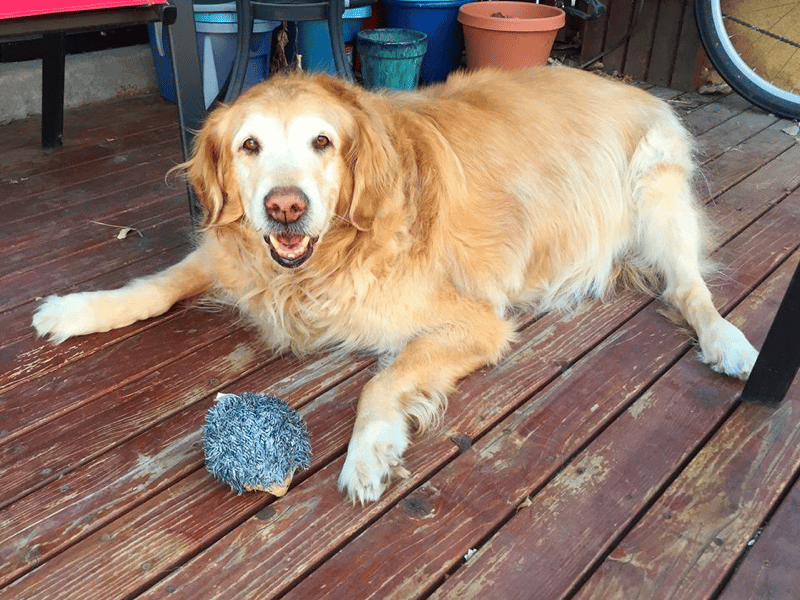 This is often the last year that you will have with your Golden Retriever. You will have noticed by now that your dog is slowing down a lot and that they sleep a lot. They might have a lot of trouble with their arthritis, or they could be having issues with their hips. Dogs this age can be weak at times as well, and your dog might not be able to get up and down the stairs.
You will probably have to get your dog onto a diet at this point as well, and you will need to cut back on what you are doing to give them exercise. If you are lucky and your dog is aging really well, this might be the first time that you think to yourself that your dog is getting old. Most dogs will seem to be quite old at this point, however.
13-year-old Golden Retriever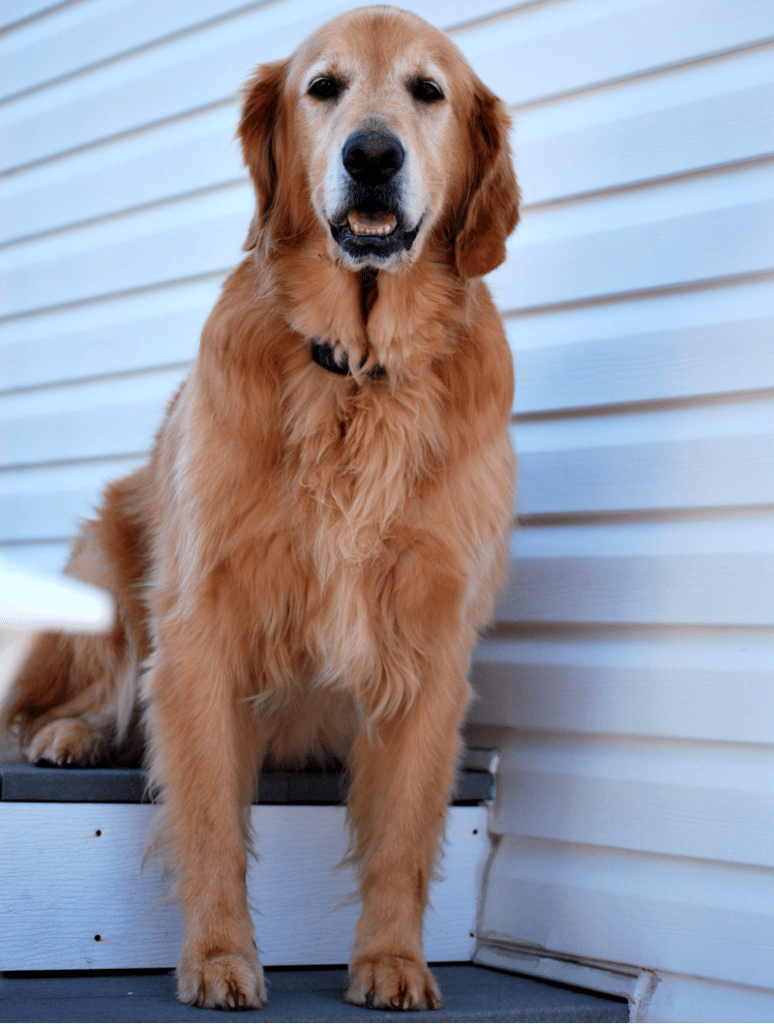 A thirteen-year-old Golden Retriever is very old. You might have to do a lot to keep your dog comfortable at this age, and they might sleep almost all day. Some people with a dog this age mostly wake them up to feed them and to make them go out to go to the bathroom. If your dog is aging really well, you will still be able to take them on short walks, and you might not be having issues with feeding your dog either. Most dogs at this age will be losing teeth, so you might need to make the switch to a softer food if necessary.
When you have a very old dog that is a large dog, you should talk to your vet about joint support options and pain management for their arthritis. These kinds of supportive care items can make a big difference in your dog's older years as far as comfort and happiness.
14-year-old Golden Retriever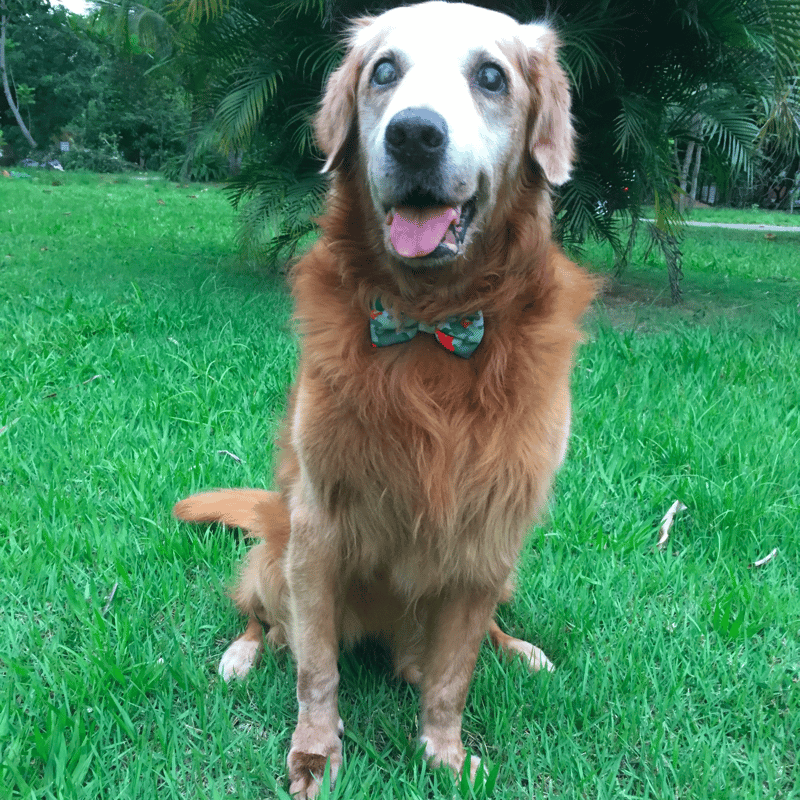 A fourteen-year-old Golden Retriever is probably going to be quite lethargic, and they might have coat issues that you are dealing with as well problems with eating kibble. There is a full spectrum of things that you can expect from a dog this age as this is not a common age for a Golden Retriever to be. You will find that your experience with a dog of this age is going to be outside of the norm, and your vet might have to tell you what to expect based on your dog's current condition. This is going to be an elderly dog that might be weak and might struggle with lots of health issues, or it might just be moving slowly and sleeping a lot.
15-year-old Golden Retriever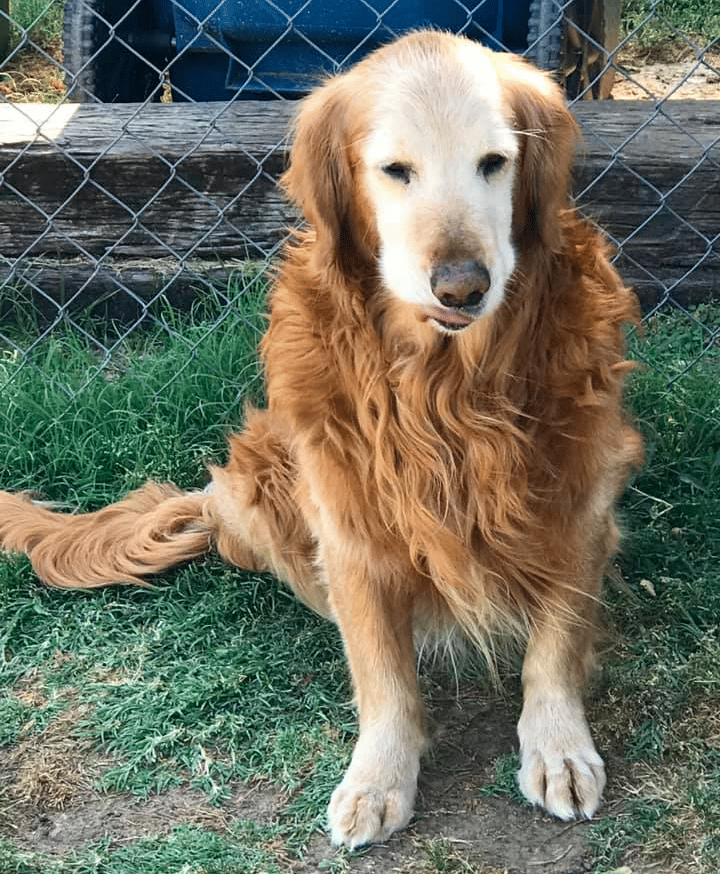 As with a fourteen-year-old retriever, a dog this age will be quite elderly and could have a whole host of issues that you are dealing with. You should not expect to enjoy time with this dog for much longer, and you might have already realized that your dog is quite old. While it is sad to contemplate losing your dog, this is a very old age for a Golden Retriever, and you will have been lucky to have so many more years with your dog than most Golden Retriever owners are allowed to enjoy.
Aging Golden Retriever Health Problems
There are a variety of health conditions that very old Golden Retrievers might suffer from. These conditions are usually the more advanced version of the common aging ailments that your dog was starting to show at ten years of age.
Severe Arthritis
Your dog might have trouble with arthritis pain even when they are being given pain medication. As your dog's bones age, they might not have any cushion left to protect the joints from rubbing together as your dog moves. This can be quite painful and can limit your dog's life and activities greatly. You should be sure that you adjust your dog's environment and exercise needs to be sure that you are not causing them to deal with excessive pain each day.
Blindness and Deafness
A very old Golden Retriever might be fully blind or deaf. You can sometimes help your dog to adjust to these changes by making it easy for them to find the things that they need in the house and by paying attention to them if they seem confused. Helping your dog to get around can be a simple way to make these limitations manageable, but some dogs get very frightened by being deaf or blind.
Issues With Eating
Digestive and food intake issues can plague very old dogs and can make it very hard to feed them enough calories each day. Your vet can help you to make a dietary plan that will work better for your very senior dog, but some animals just struggle to eat at this age no matter what you do. This can be a tough reality to face, but all you can do is try to keep your dog fed to the best of both of your abilities.
Cancer or Serious Illness
Dogs that are quite old are prone to serious illnesses of various kinds. There are many conditions related to aging that cannot be treated very effectively. You should still take your dog to the vet and get them the help that they need to be comfortable for as long as possible despite their very advanced age. There are always new technologies and care strategies being developed, and your dog might benefit from these in their very old age.
Ways to Keep Your Golden Retriever Happy and Healthy
There are some ways that you can keep your Golden Retriever happy and healthy, and you should consider these a mandatory part of planning for your dog's older years. There are also some treatments that can be done later on when your dog is becoming a senior dog that will improve the quality of their life as they age.
Feed Quality Food
Your Golden Retriever should always be fed quality food. Make sure that you use a brand that is suggested by your vet and that the food that you are giving them has joint support supplements in it. This will make a big impact on your dog's long-term health in every way. You will never regret spending a few extra dollars on food for your dog when you see how much it can benefit them in their old age to have been fed properly.
Exercise Them Properly
You will want to be sure that you give your Golden exercise, even as they age, but that you are careful about how you give your dog an outlet for their energy. Dogs that are aging will need to be prevented from jumping onto things or jumping into and out of the car. This protects their hips and other joints from damage. You will also want to be aware that your dog might not realize that playing too hard will make them sore the next day. Be sure as well that you limit activities that require twisting of the hind legs so that you can avoid tears to ligaments and other structures in your dog's hind end.
Provide Supportive Care
You can extend your older dog's lifespan greatly in most cases by adding some supplementation that supports healthy joints. Ask your vet about products like glucosamine, MSM, and hyaluronic acid to help support healthy joints and healthy joint fluid. You might also inquire about injectable joint support like Adequan. These products can help your dog to have many more years of comfort, and you will stave off some of the effects of more serious arthritis by putting your dog on these health protocols.
Be Careful About Their Environment
As your dog ages, be sure that you keep the floor space clear of any objects that could trip them or cause an injury. You should also be cautious about things that are sharp or not stable and that are at eye height. Dogs with reduced vision might not seem like they cannot see until they run into something or fall over something. Make sure that your senior dog does not sustain a serious injury in this way by making the house dog safe for your older dog.
Stick to a Grooming Schedule
As Golden Retrievers age, their coat can become harder to manage. Make sure that you have a plan for your dog's coat care needs so that they do not suffer from mats, hot spots, and other kinds of health issues. You will have a much better time keeping your dog comfortable if their haircoat is being cared for correctly.
Your Old Golden Retriever Can Still Have a Good Life
While it can be hard to see your Golden Retriever aging, these tips and suggestions can give them the chance to live a much healthier life as an older dog than if they did not get this kind of care. These simple strategies can make your dog's senior years comfortable, and they will get to enjoy all their favorite activities despite their advanced age.
In case you missed the other articles in this series, you can catch up here: