Good quality sleep is important for young and older dogs. For a puppy, sleep provides downtime to the body so that growth can occur. For the older dog, it is valuable rest that ensures healing and muscle relaxation.
How Long Do Golden Retrievers Need to Sleep?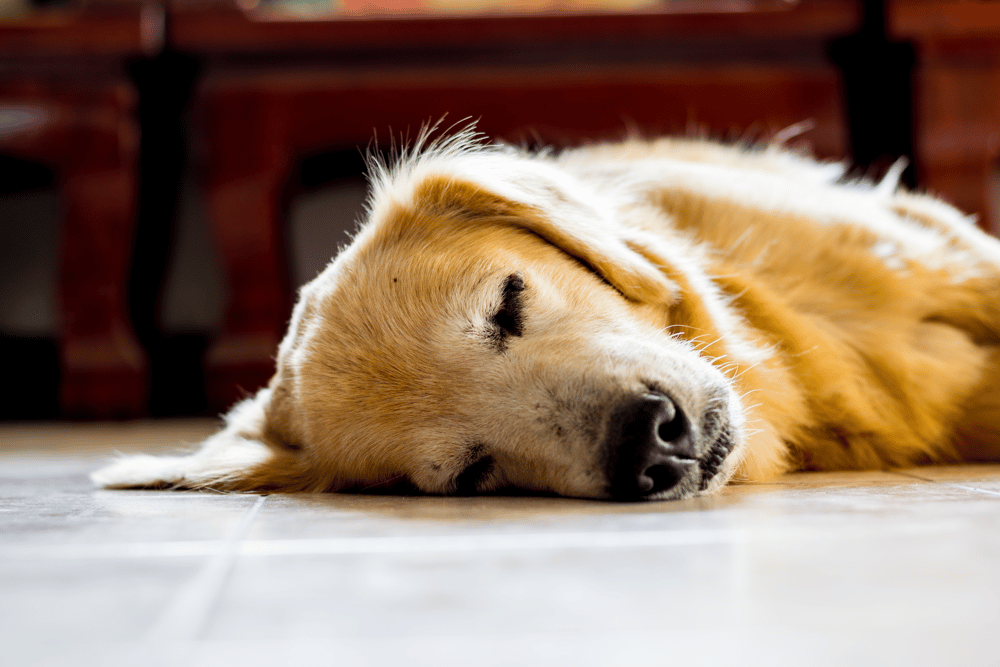 First, let's look at the amount of sleep each dog requires at certain stages of its life. Naturally, the amount of sleep changes as they mature into their senior years.
The Growth Chart of the Golden Retriever at the various stages of their development.
| | | | |
| --- | --- | --- | --- |
| Puppy at Birth | Puppy at 6 months | Adult Dog | Senior Dog |
| They require about 22 hours of sleep, and when they are not sleeping, they are nursing. | 10 – 18-week-old puppies can sleep from 18 -20 hours per day. It will gradually decrease in time from here on. | Adult dogs usually only sleep for a mere 12 -14 hours per day. | Your senior dog will probably need a bit more sleep, from 14 to 18 hours depending on the dog. |
Sleep is a very important factor that allows a Golden Retriever to replenish their vast energy reserves after play or work.
Your Golden Retriever Puppy needs a good quality sleep that allows for the growth patterns to kick in and be effective. Their tiny bodies are not quite finished when they are born, as their closed eyes and limited hearing will testify. As they grow, they need to replenish the energy they use to get around and explore so plenty of sleep is vital for these fuzz balls of energy.
The adolescent dog is full of energy and is ready for action at the drop of a pin. Even if they seem to be in a deep sleep, if you reach for their leash they will be bouncing around your feet before you even get a chance to call them.
Adult Golden Retrievers are full of energy. They love to be with you regardless of whether you are walking, swimming, working or whatever … they are a starter. And they will go till they drop, so you need to build in a rest period for these dynamos!
The senior Golden Retriever has a mind that is willing to work, but a body that is a bit slower than it used to be. They need their rest to build back up the energy they have used and allow for their aches and pains to heal.
How Does Your Golden Retriever Sleeping Habits Compare to other dog breeds?
Two main things influence the amount of sleep required between the different breeds of dogs.
Size and build. The Golden Retriever is a large solid dog, and they use up a lot of energy just getting around than a smaller dog. Therefore, they require more naps to top up their energy than a lap dog.
Work or Companion dog. The amount of sleep a dog needs depends on its way of life. A sedentary dog will need less sleep than a working dog. The Golden Retriever was bred to be a working dog and they are always busy doing something. They are at their best when they are working.
The personality of a dog needs to be factored into the sleep requirements too, as a Golden Retriever is a people pleaser.
When you get a Golden Retriever they will become an extension of you – what you do, they want to do. If you are an active person, your dog will happily be the same.
Dogs of all breeds reflect their owner's way of life; a busy person equals a busy dog. If you are a less active person, then your dog will often reflect your habits.
Sleep requirements reflect your lifestyle habits, so it is fair to say that applies to dogs who will mimic their owner's habits.
Why does my Golden Retriever Puppy sleep so much?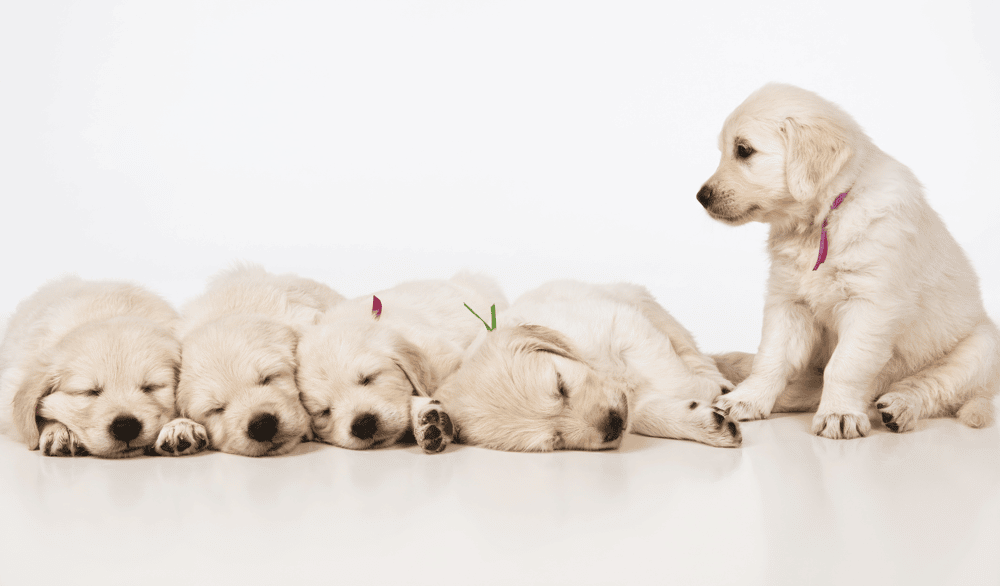 A puppy's life is all about sleeping, feeding, sleeping, playtime, sleeping, exploring, and finally, sleeping once again. If they are not waking up, they are settling down to sleep.
Their bodies are still growing and developing, and plenty of sleep allows time for their body to complete their growth requirements.
They are going through a huge physical and brain developmental stage in which sleep plays a vital role.
Your Golden Retriever consolidates all the learning and memories from the day through their sleeping patterns.
A lot of sleep is required to prevent anxiety and enhance the ability to learn.
Teach small children not to disturb your puppy while they are in a deep sleep. A puppy needs to feel safe and secure while they are in this vulnerable state.
Teach your puppy to have a crate as their safe place to go to when they are tired and need to sleep – it gives them a secure base to fall back upon.
Sleep is the ideal way for your puppy to recharge their energy, especially after play or exploring.
If they are going through the socialization stage (at approximately 12 -16 weeks of age), sleeping allows them to process all the knowledge they got from the experience.
Plenty of undisturbed sleep allows a young Golden Retriever to become a confident and outgoing dog.
Why is a Sleeping Routine Important for the Adolescent Golden Retriever?
This young dog is neither a puppy nor an adult, it is in the awkward stage of growing.
They are awkward, all legs and feet, and behave like a grown dog on steroids- they are all over the place.
They have so much energy that they can wear themselves out because they forget to stop to rest. But if they don't stop to rest, they can become burnt out very quickly.
This stage in your young dog's life needs you to take charge and teach them a routine that will protect them from themselves.
They need to learn when to stop and rest and recharge their energy. Make set times during the day to stop and rest.
The Golden Retriever loves to please their human, but you need to train them to slow down and smell the roses for a while … in other words, take a nap.
If you are doing a long walk, slow down and rest for ten minutes or so every hour or so. Just break their frenetic activity. Teach them that there is plenty of time in the day, and to take life a bit slower.
PLEASE NOTE:
It is also very important that you teach them to rest and take a nap after a meal. Give them at least two hours of rest after their meals before playing any high-activity games. Otherwise, they can suffer from a condition known as bloat (gastric dilatation volvulus), where their stomach fills with gas, fluid or food and twists on its axis. It compresses vital blood supply to the stomach and prevents blood in the abdomen from returning to the heart. It is a life-threatening condition and will need urgent veterinary treatment.
Does Your Adult Golden Retriever Need Much Sleep?
The adult golden doesn't need as much sleep as dogs from the other age groups. Life is at its perfect balance as an adult dog. They can get away with 12- 14 hours of sleep, intermittent naps, and the occasional deep snore snooze during the day.
They can do this because:
They are used to taking naps when the opportunity arises.
The adult Golden Retriever has settled down since their crazy adolescent days and they are more confident in themselves and their place within the family hierarchy.
If they are working dogs, they instinctively know that daily naps are vital to keeping their energy level at their best.
Golden Retrievers are used to a routine and have been trained to nap when it is necessary. It's like recharging your dog till you need it … when you say 'come' they will be on their feet barking, 'let's go!'
They are true people-pleasing pooches, so don't take advantage of that and work them till they drop. They have a big, soft heart, and it is yours to protect and care for.
How much Sleep Does Your Senior Golden Retriever Need?
While your dog's spirit may be willing as they head into their senior years, those aging bones and muscles can't quite cut it as they get older.
They still have the will to be with you and do what you want, but for their sake, tone things down a bit and allow them to snooze beside you instead of expecting them to do a seven-hour mountain walk.
The senior golden can't get away with the things that a younger dog can. It takes them longer to recover after a walk than an exuberant puppy.
They will sleep a bit more than they used to, which is a natural progression in life.
Make sure that they have a comfortable bed out of a draft and indulge them in their doggy dreams on a sunny afternoon.
Sleep restores limbs and aching muscles.
Can a Golden Retriever Sleep Too Much?
An adult dog has a sleep cycle of approximately 12 hours, with intermitting naps during the day. But too much sleep could be a sign of a health issue.
If they change their sleep behavior, then it is important to observe them and if it doesn't improve, take them to the vet for a health check.
Sleeping too much could be a sign of boredom. With nothing interesting happening a dog will normally go to sleep. If you are away and your Golden Retriever is home alone and bored, leave them some new toys to play with, or give them a treat puzzle to break the day. A surprise visit from a dog walker could fill in the time and burn some of their energy off rather than trying to sleep it off.
If your dog is anxious or worried, it could affect their sleeping cycles, so it is always best to overcome a problem and find a solution so that your dog is happy.
Conclusion
For any living creature, sleep is a vital part of life. When your Golden Retriever sleeps, its mind and body are busy repairing things throughout the body.
Making sure your dog has the time to allow the body time to process the happenings of the day will calm any anxiety or fear.
Golden retrievers, no matter what age, need deep relaxing naps throughout the day, which will ensure that they are more likely to have a better attitude and temperament overall.
The old saying 'Let sleeping dogs lie means leave the dog alone because if you wake them, you may have more than a sleep-deprived dog on your hands. If sleep deprived, dogs could get angry, fearful, or anxious, and that only causes more trouble.
So let your Golden Retriever sleep; let their dreams about catching that duck reach a happy conclusion. It's worth it to have a happy, cheerful pooch at your side.
Golden Retriever Resources and Tips