Learning about the three stages of your Golden Retrievers coat will help you understand each stage of growth. It starts at birth as a thin short coat, morphs into a fluffy stage between 3-6 months of life, and finally your dog will display their gorgeous long feathery coat as an adult.
The 3 Distinctive Stages of Coat Development for a Golden Retriever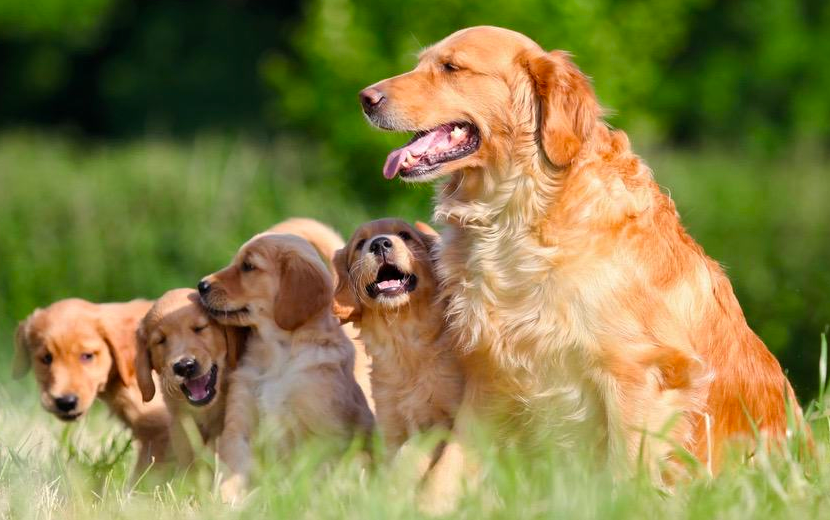 The Golden Retriever was bred to have a thick double coat that meant that they could retrieve shot birds in any weather, such as during the cooler duck season. This thick coat kept them warm in cold weather, and the water flowed off their coat keeping them warm and dry.
They have a lovely personality and tend to get along with everyone, young and old alike. But it is their beautiful long golden coat that they are known and admired for.
Here are the three distinct stages of development of a Golden Retrievers' Coat.
| | | |
| --- | --- | --- |
| The Puppy Stage | The Fluffy to Fur Stage | Getting their Feathers Stage |
| Your cute Golden Retriever puppy is born with a thin coat that is wet from the birthing stage. But it dries to a warm soft and fuzzy stage that will keep the puppy warm and regulate their body temperature. | At 3-6 months of age, your GR will transition from their soft fuzzy coat which becomes the undercoat. They will start to grow their outer coat through the undercoat at this stage. | Roughly at 18 months, your Golden Retriever will display long silky 'feathers' – the long, beautiful hairs that start on the tail, followed by the chest, stomach, and their legs. |
When Do Golden Retrievers Lose their Puppy Fur?
Everyone loves a cute Golden Retriever puppy; they are so adorable with their fuzzy fur that makes them look more like a cuddly bear than a dog.
Combined with their drop-dead good looks and their cute demeanor and cuddly disposition, you have one little puppy that will wind you around their paw and steal your heart.
In the two to three months after their birth, they will be a little fuzzy ball, and here is why.
The Golden Retriever puppy is born with a short thin coat of fur which is suited to them while they adjust to life and learn how get about.
Their short coat is easier for the mother dog to clean, and it enables the puppy to move about unencumbered while learning how to walk, play and feed.
Although their coat will start getting thicker in the first few months, they will remain short.
In these first few months of life, it is a good time to train your little Golden to enjoy being groomed as this will become part of their weekly life. Be sure to start with a soft brush so it doesn't hurt their skin and try to get them to sit still for their grooming at least a couple of times per week.
Brushing them while they are young gets them into the habit of being groomed because the Golden Retriever does shed a lot of fur and brushing your dog helps to control their shedding.
What Happens at The Fluffy to Fur Stage?
This stage of coat growth and development happens around 3-6 months of age.
Your puppy's coat will transition from fluff to fur, and their coat will start to grow. It often shows first in the tail area but be aware that this can vary from dog to dog.
Their coat is a double coat. The undercoat is thick and protects them from heat and cold.
The dense outer coat grows from amongst the underlying puppy fluff which settles to become the undercoat.
At 4-8 months they will start getting their adult coat. Each Golden Retriever is different, there is no set time that each stage must happen within.
Asking your breeders for information about when the parent dogs of your puppy went through their coat growth stages will give you an idea of when that will happen for your pup.
When Do Golden Retrievers Get their Full Coat?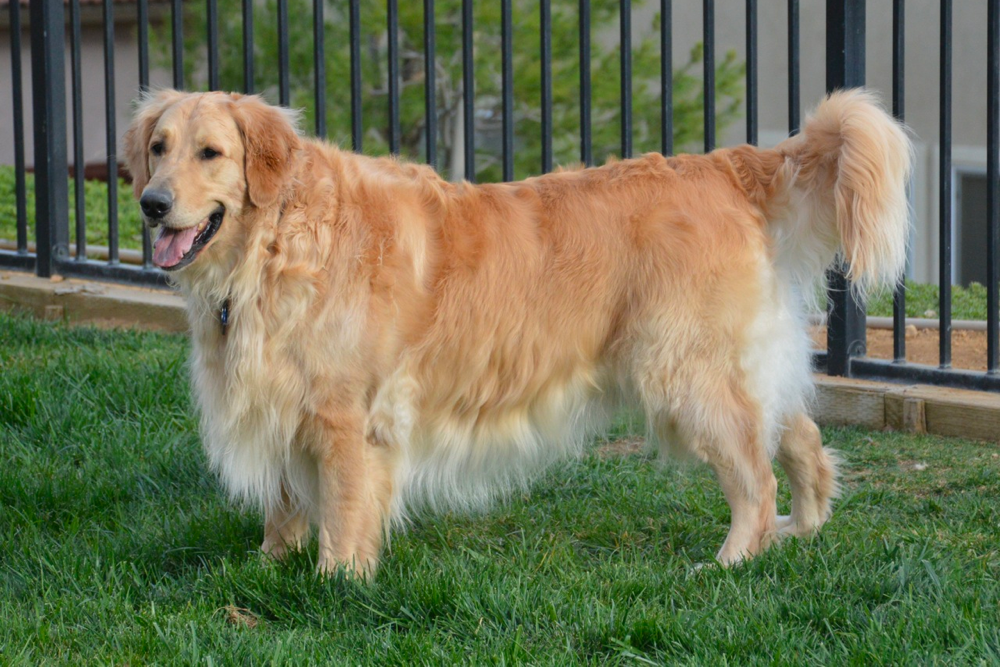 This full growth stage is from about 8 months onwards, again, depending on the dog.
At 18 months, you will notice that your dog's entire body will be displaying feathers, or feathering as some people call it.
These long, beautiful hairs start on the tail, followed by the stomach, chest, and legs within their first year.
From here on, the coat of the Golden Retriever will be shed several times during the year, depending on where you live and what the climate is like.
The highest level of shedding occurs in the late spring, and the late fall. Other than that, they shed modestly throughout the year.
When do Golden Retrievers Tails get Fluffy?
Dogs are individuals, and the time that they achieve any key steps in their growth cycle can vary depending on the dog.
The tail starts to fluff out at around 8-10 weeks old and is made up of two layers.
First there is the outer layer of long guard hairs, then the undercoat is comprised of softer, downy hairs.
Each dog is different as to when their tails achieve the beautiful Golden Retriever fluffy look. The guard hairs start first on the tail which becomes fluffy and long by the time they are six to eight months old.
The job of the fluffy topcoat fur is to protect the dog from nature's elements and keep the undercoat dry and clean. It is the undercoat that protects the dog's skin and keeps them warm. And let's face it, a Golden with a long, sweeping fluffy tail is hard to resist.
Why Does My Golden Retriever Shed So Much?
The Golden Retriever is a very popular breed that is a great family dog. They have a lovely nature, plenty of energy, and just love their people.
What many would-be owners don't understand is that the Golden Retriever sheds a lot of furs. Their fur can get everywhere – on your furniture, on your clothes, floating in the house, and rolling around like a tumbleweed in the garden!
When you get a Golden Retriever, you must accept the shedding that comes with the dog.
So why do they shed so much?
It is because of their coat; they are a double coated canine, which means that they have a waterproof topcoat, but they also have a soft downy undercoat.
Their coat is designed by nature to help regulate their temperature.
It is normally during the changes of the seasons – particularly spring and fall, that they shed the most.
During summer their coat is thinner than usual, but they start growing thicker fur for the winter.
But in saying that, be aware that they shed pretty much all the year around.
Regular grooming with a rake comb and pin brush during grooming helps control the thick under hair.
Regular brushing removes the excess loose hair from within the coat and can cut down on the amount of hair in the home.
The climate where you live is a factor in the coat stages of your Golden Retriever. If you live in a hot place, they will shed their coat more to remain cool. If you live in a cold climate your golden will shed less to protect them from the icy climate.
A dog who spends a lot of their time outside will develop a thicker coat than a dog that spends a lot of time indoors.
Is My Golden Retriever Shedding Too Much?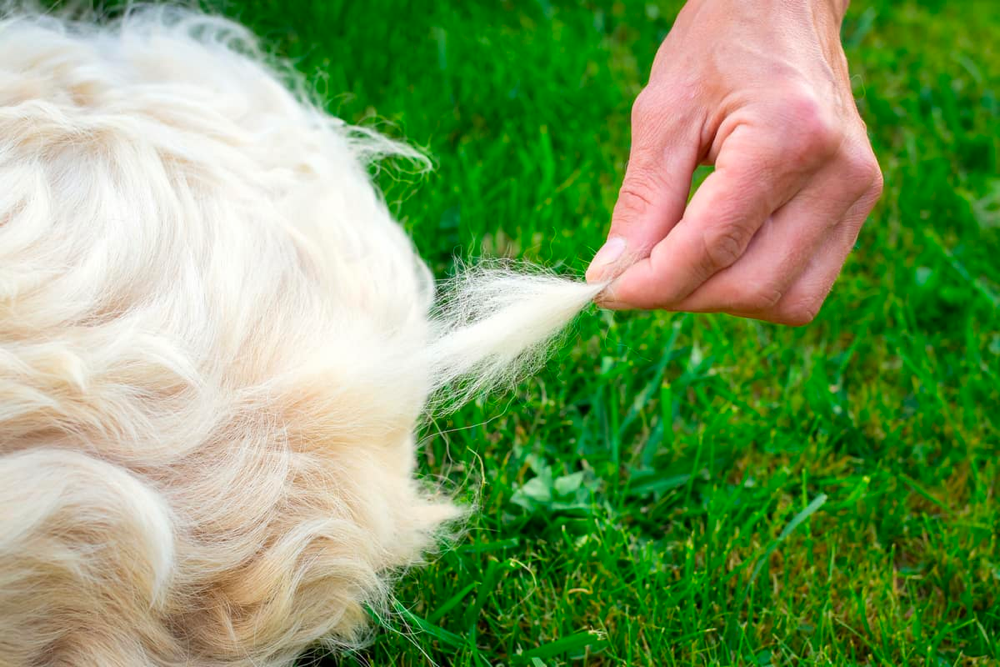 As earlier stated, the Golden Retriever seems to shed all year around. But what if it is excessive, like handfuls of hair falling out – is that normal?
There are certain things that can affect the amount of fur that your Golden Retriever sheds. It may just be a growth phase that they are going through, but it could be an outside influence that is causing a change in their shedding pattern.
Allergy reactions due to pollen, food, or even their grooming shampoo can be a factor. You may notice them scratching more than usual. A dog with allergies also suffers from eye or ear infections so check them regularly to ensure all is well.
Parasites such as fleas, ticks, and mites can almost drive a dog mad, and you will notice your dog itching themselves and probably whining at the same time. That thick coat is an inviting place to call home for parasites, so check their coat carefully, especially after long walks in wooded areas.
Stress can affect your Golden Retriever. This breed of dog loves to be part of the family, they don't like being home alone. They need to be with their owners. If your Golden Retriever is feeling left out, they may begin scratching themselves or fretting which can cause hair loss.
Checking your dog's coat while you are grooming them each week is advisable. Make sure that they are also booked in for a regular health check with your local vet. The vet put your mind at rest as to what is normal shedding and what is not.
Does Grooming Help Control the Golden Retrievers Coat?
Grooming does help control the shedding of your dog's fur coat as it keeps up with the loose hair and removes it before it falls out around your house or gets rubbed off onto your couch.
A long rake comb can really sort out the dense undercoat and pull out any loose, irritating hair while a pin brush keeps the top hairs clean and tangle-free.
With a consistent routine of grooming and washing your dog, you will remove the loose hair and be able to dispose of it. Sometimes when your dog is molting (shedding their hair) you can grab handfuls of their hair and pull gently. You will be shocked at how much comes out, especially during the spring months as your dog's fur gets shed, ready for the warmer weather.
Brushing daily if possible is great, otherwise, try to groom them at least three times per week. Bathing, which is important to care for the coat, needs to be done once a week, or twice a month using a suitable mild dog shampoo.
Why is My

Golden Retriever

Coat Going Darker?
This phenomenon is a natural occurrence as your Golden Retriever ages.
During the puppy stage, they are more of a light golden color, but as they mature, some of the longer guard hairs darken over time.
Their coat is characterized by a thick, light-colored undercoat and moderately rough darker outer coat.
The climate can make a difference. A hot sunny climate where they spend a lot of time in the water can make for a lighter-colored coat.
In a colder climate, your Golden Retriever's coat could deepen to a rich caramel or darker shade.
The Golden Retriever should not be shaved as it is the worst thing that you can do to your canine. If you do a complete shave, it may damage the coat and it will never grow back like before. It can also result in skin allergies and damage.
The undercoat is designed to protect the dog from both hot and cold temperatures. The springtime shedding of the undercoat helps them cope with the heat.
Conclusion
Golden Retrievers are known for their lovely, fluffy coats and long flowing tail. Their soft golden or darker caramel colors are beautiful and new owners are attracted to their looks, good nature, and goofy, adorable antics.
But like most things, there is a price to pay for their good looks, and that is that they shed a lot. But with regular grooming and brushing, a bath or two a month, and the use of low allergenic mild shampoo, you will be able to control as much of the shedding as possible.
And if you ask any Golden Retriever owner, they will tell you that the shedding is a small price to pay for such an affable, glorious dog.
Golden Retriever Resources and Tips