Increasingly, Americans are becoming aware of how important it is to provide sufficient exercise for our dogs. More American dogs are obese than ever before, resulting in all kinds of health problems and reduced quality and length of life. Read our article about exercising your dog to learn statistics about obesity in American dogs and the health consequences. The best Frisbee for dogs can provide an outlet for energy and a great opportunity for exercise.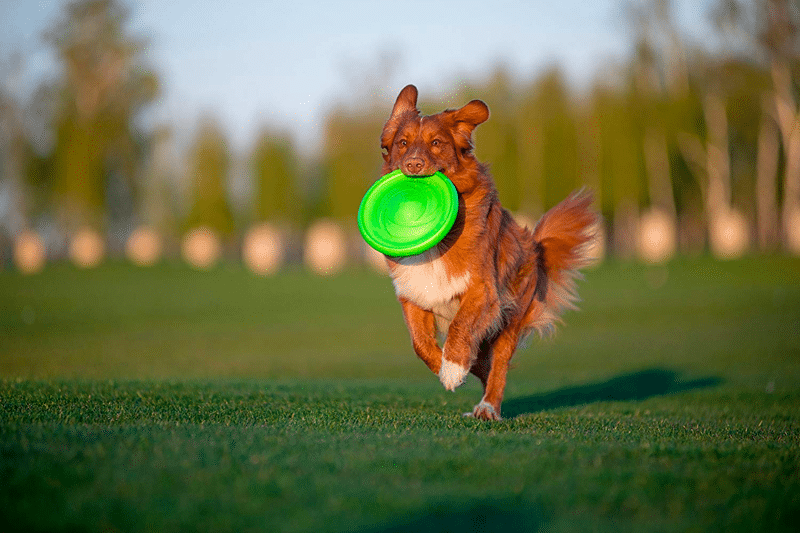 Frisbee is a suitable activity for all kinds of dogs. Active small breeds like terriers will love playing with small dog frisbees since these toys stimulate a desire to chase and catch. Breeds with high energy like collies, shepherds, and pointers will love the opportunity to stretch out and run after a frisbee and may also enjoy catching the frisbee. Of course, all sorts of breeds that like to retrieve will also enjoy this activity, including retrievers and spaniels.
Frisbee can be a great way to provide sufficient exercise for your dog. Playing frisbee with your dog allows you to remain relatively stationary and exert little effort while letting your dog run extensively for great cardio exercise. Furthermore, the fun of chasing and catching the frisbee will take your minds off of the exercise and make this an enjoyable activity that you both look forward to.
While the good old-fashioned frisbee has served dogs for many years, there are good reasons to consider buying a frisbee made especially for dogs. Hard frisbees that are made for people can fracture and shard, cutting your dog's mouth or tongue. This can occur even if your dog does not chew on the frisbee. All it takes is an over-enthusiastic catch to break the frisbee and potentially hurt your dog. For this reason, frisbees made for dogs are becoming more and more popular among dog owners.
Read more: Top 10 Interactive Dog Toys to Keep Even the Smartest Pooches Busy
Hard and Soft Frisbee: Which is Better?
Which is better, a hard or soft frisbee? The best flying discs for dogs come in a range of textures and materials from fabric to rubber, to hard plastic. Which one is right for your dog? As already discussed, very hard frisbees that are made for people have some risks when used with dogs.
If your dog has a soft mouth and grip and does not often catch the Frisbee in mid-air, you may not need an indestructible dog frisbee. The advantage of hard frisbees, beyond being very affordable, is that they can fly for a long time and have predictable flight patterns.
Soft frisbees are safe for your dog because they are designed to be caught by dogs and so will not shatter or shard. Floppy rubber frisbees provide a satisfying grip for your dog and fabric soft frisbees with foam interiors can float extremely well for awesome games of fetch into the water. Soft frisbees are generally the best small dog frisbees.
Soft frisbees do not fly as well as hard frisbees, and they won't fly as far either. These frisbees are also not generally as good for catching out of the air, since their flight pattern is too unpredictable. Fabric-soft frisbees aren't the toughest dog frisbees, so don't choose fabric if your dog is a destructive fetcher.
If you would prefer a compromise between the flight of a hard frisbee and the safety of a soft frisbee, you can choose a disc that is made of a material hard enough to provide great flight but soft enough to be gentle on your dog's mouth. Such frisbees are unlikely to fly as well or as far as a hard frisbee, but they can have predictable enough flight patterns for great air catches, and they tend to be among the most durable dog frisbees.
What Makes a Fantastic Dog Flying Disc
The best flying disc for your dog will be of a size that she can comfortably grip and a material that is safe for her catching and chewing style. The frisbee that you choose should be made of a material that is non-toxic. If you would like to play with your dog in the water, choose one of the toughest dog frisbees that can float so that you can have many fun games of fetch at the lake or beach.
Indestructible dog frisbees are hard to find, but you can find some that are advertised to be difficult to destroy or that the company will replace when destroyed. It may take a couple of products for you to find the perfect frisbee for your dog, so don't be discouraged if your dog isn't interested in your first choice or if she destroys the first "indestructible" dog frisbee that you buy.
Top 3 Best Hard Frisbee for Dogs
1. Hyperflite Jawz Competition-Grade Standards Dog Disc
Does your dog love her standard frisbee, but you don't love having to replace the frisbee after every couple of play sessions when it becomes punctured and disfigured from playing? This professional dog frisbee is made to competition-grade standards so that you know it can stand up to even the least gentle mouth. This is one of the best frisbees for dog training that you are likely to find.
This frisbee has a patented dual grip that makes it easier for you to throw and for your dog to catch. It was designed by world champions to fly as far as possible and be durable enough to stand up to more than a couple of games. This disc can set records with the distance it flies, so if you would like to wear your dog out as thoroughly as possible with as little effort as possible, this puncture-resistant, far-flying disc might be right for you.
Pros
Puncture-resistant
Designed by world champions
Capable of record-setting throws
Dual grip for better catches and throws
Resistant to puncture
Cons
Doesn't float
It Goes so far it outruns some dogs
Doesn't glow or reflect in the dark
2. West Paw Zogoflex Zisc Tough Flying Disc Dog Toy
Are you in search of a disc that flies like a hard frisbee but is soft enough for your dog to catch it mid-flight without damaging her mouth? This innovative frisbee can fly long and high but is soft enough for the most fantastic catches. This is one of the most durable dog frisbees that you are going to find.
Choose between a 6.5 and size and an 8.5 size for the perfect frisbee for your dog. You can feel confident buying this frisbee since it is guaranteed 100% by the manufacturer against dog damage. This means that even though this frisbee was not designed to be used as a chew toy if your dog manages to rip it up between play sessions, you won't be out of money. You can feel even better about buying this product since it is made in America, dishwasher safe, and recyclable.
Pros
Flies like a hard frisbee but soft on your dog's mouth
Choose between two sizes
Guaranteed by the manufacturer against dog cause damage
FDA-compliant and non-toxic
Dishwasher safe
Made in America
Cons
Doesn't fly as well as a regular frisbee or the Kong frisbee version
Rubber feels slimy with dog slobber after a couple of throws
3. Aerobie Dogobie Flying Indestructible Dog Frisbee
Here is a far-flying indestructible dog frisbee. The aerodynamic design of this frisbee makes it extremely easy to throw and gives it a predictable flight pattern that makes fantastic catches easier. The soft materials are gentle on your dog's mouth but hard enough to cut through the air for a decent throw.
This material will resist punctures and tears so that even rough dogs will be able to keep fetching it for some time to come. If your dog loves hard frisbees but has cut her mouth on them before, this disc might be a great alternative. At this price, even if your dog does manage to rip the frisbee apart after some time, you won't mind buying a new one.
Top 7 Best Soft Frisbee for Dogs
1. Hyper Pet Flippy Flopper Dog Frisbee
This is among the most durable dog frisbees. It is soft but tough enough to keep going through many games of fetch. It is affordable enough that you won't mind replacing it when it is ruined or lost. This disk comes in your choice of bright orange, red, yellow, pink, or green so that you can play in style and also be less likely to lose your Frisbee.
This fun little desk floats in the water so it is a perfect tool for playing in the pool or at the beach. Durable, multi-layer nylon construction holds up to even aggressive catches.
Pros
Bright color so you are less likely to lose it
Very affordable
Floats in water
Durable, multi-layer nylon construction
Cons
Won't hold up to deliberate chewing or tearing
Can't choose which color you get when you order online
Won't fly as far as hard Frisbees
2. KONG – Flyer
If your dog has a tendency to destroy frisbees as quickly as she fetches them, you may want to try this disc. This is one of the most durable dog frisbees, made by one of the best-known makers of chew toys in the market. This KONG flyer is soft enough that your dog will be able to catch and carry it without hurting her mouth.
It is durable enough to take some chewing without being destroyed. If your dog loves to play frisbee but you worry about her damaging her teeth and gums with the intensity of her play, this might be the best choice for you. Choose between size for large dogs and a small dog frisbee to get the best frisbee for your dog.
Pros
Soft and gentle on the dog's mouth and teeth
Two sizes for any size dog
Accurate flight and durable rubber construction
Made of the original Kong rubber so you know it will last
Cons
Flimsy so will not fly as far as a standard frisbee
Difficult to get consistent results in catch out of the air
Doesn't float
3. Chuckit! Flying Squirrel
If you know your dog loves disc toys, why not mix it up a little and try this playful flying squirrel toy? This spinning toy has an aerodynamic shape that is great for short-range games of fetch. This is a large, light toy that will float in water, so it is a great water toy that is unlikely to be lost.
The high visibility colors make it even easier to see this toy even if it is in the water or on tall grass. For nighttime play, it features glow-in-the-dark paws so that you can see it in the dark. This disc has soft, raised sides, making it easy for people and pets to pick up. This makes it a great choice for dogs with short noses that otherwise have trouble picking up toys. The multi-layer design is rugged enough to provide hours and hours of entertainment.
Pros
The aerodynamic shape is great for short-range games of fetch
High visibility colors and glow-in-the-dark paws
Floats and is easy to pick up from the water
Rugged, multi-layer design
Cons
Takes some practice to learn how to throw and will never fly as far as a regular frisbee
Can be destroyed quickly with dedicated chewing
The shape will change with games of tug so it won't throw as well.
4. IMK9 Soft Natural Rubber Dog Frisbee
The company that makes this flying disc takes a different attitude on the tendency of dogs to chew up their fetch toys. If your dog chews up anything that she fetches, including so-called indestructible dog frisbees, you will appreciate this company's guarantee to replace a frisbee that has been destroyed by your dog.
Let your dog have fun and then just send in the destroyed toy for your free refund or new frisbee. This policy makes this one of the best dog frisbees for chewers. Since the disc is made of natural soft rubber it won't shard or hurt your dog.
This toy is inexpensive, to begin with, but with this guarantee, it quickly becomes the best buy that you've ever found. This disc is easy to throw too. The aerodynamic groove design makes this frisbee fly for a very long time with just an easy flick of your risk.
Pros
The blue color is highly visible to your dog
Doubles as the water bowl
Aerodynamic design that flies easily
Soft, natural rubber
The company will return money or replace a damaged disc
Cons
Doesn't fly very well or far compared to professional dog frisbee
Too heavy for airborne catches
Tends to roll after flying so may get lost in shrubbery
5. StarMark Easy Glider Max Tough Dog Frisbee
Here is one of the toughest dog frisbees that are also safe for your dog's gums and teeth. This frisbee is designed to fly long and straight. The aerodynamic design causes this disc to tend to fly slowly and level so that your dog has a great chance of catching it from the air.
The soft material is gentle on your dog's teeth so she won't mind catching it over and over again. If you are looking for a frisbee that is a good compromise between flying distance, easy catching, and safety, this is a good choice for you. This is one of the most durable dog frisbees that you are likely to find that also flies this well.
Pros
The aerodynamic design causes the disc to fly low and slow
The soft material is gentle on your dog's mouth but is also durable
Comes in bright colors that are easy to see on the go
Predictable flight pattern that makes it easy for your dog to catch it
Cons
Will not fly as fast, far, or unpredictably as a regular frisbee
Will not hold up to sustained intense chewing
You cannot choose the color that you get when you order online
6. RUFFWEAR – Hydro Plane Floating Disc for Dogs
Does your dog love frisbee in any weather, including in the water or in the snow? This disc is perfect for water play since it is oversized and easy to grab due to the hollow inside. The buoyant foam causes the frisbee to float high on the water surface so it is easy for your dog to see and retrieve.
This fun toy will also skip over the surface of the water or snow when you throw it, causing a fun motion that your dog will love to chase. This buoyant foam is firm enough to keep its shape through many rough catches but is also soft enough to be comfortable on your dog's teeth and gums. This is one of the best flying discs for dogs to play in the snow since it tends to sit on top of the snow.
Pros
Made from abrasion-resistant materials that will stand up to long games of fetch
Buoyant foam floats high on the water and stays on top of the snow
Durable foam construction and abrasion-resistant material keep their shape through many throws
Brightly colored so it is easy to see
Cons
Much larger than an average frisbee, so too large for some dogs
Difficult to throw for long distances, especially upwind
A determined chewer will quickly shred it
7. COLLAR Floppy Dog Frisbee
Do you wish that your dog liked to play Frisbee, but have found that she is uninterested in flying discs? This floppy frisbee can entice dogs that normally aren't interested in frisbees thanks to its innovative design. This makes it one of the best flying discs for dogs who don't care about frisbee.
Each side of this toy has a different design which causes a different flight path. This makes for unpredictable throws that are fun to chase, in order to maintain your dog's interest. This disc is easy to pick up from the ground, so dogs that tend to chase but don't want to pick up the disc may be more willing to actually fetch this toy.
This disc is made of a high-quality material that is a creation of the company, neither plastic nor rubber. This non-toxic, soft material will not irritate allergies and it's absolutely safe.
Pros
Innovative design allows for different flights depending on which side you face up when you throw it
Easy to pick up off the ground
Floats in water
An innovative new material that is neither plastic nor rubber but is completely safe and non-toxic
Cons
It tends to have an unpredictable flight trajectory no matter which side faces up
Won't hold up to much chewing
Heavier than a regular frisbee
Conclusion
Whether you have a dog that is obsessed with frisbees, a dog that tends to destroy her fetch toys, or a dog that is uninterested in fetching frisbees, you can find the perfect flying disc for your needs. From the toughest dog frisbees that can hold up to a lot of abuse, to small dog frisbees that invigorate interest in little dogs that can't play with full-sized Frisbees, to professional dog frisbees for competition, there are all kinds of hard and soft frisbees to choose from.