Many people think of the Golden Retriever and the Goldendoodle as interchangeable breeds. These two breeds do offer many similar benefits, but there are some key differences between them you should know about. The more that you know about these two breeds, the easier it will be to be sure that you are shopping for the right dog breed for your needs. Getting the right dog for you and your family can be easy if you are aware of the differences between these two breeds that are sometimes thought of as interchangeable.
The Golden Retriever and the Goldendoodle are both popular family dogs that many people are excited to add to their home. That being said, many people assume that these two breeds are identical and that the dogs are very similar to care for and train. This is not actually the case and people should be aware of the differences between the two breeds before they choose one over the other. While they both make great family dogs, they are different breeds that have different needs.
We will talk about the differences in temperament, training, personality, and origins of each breed in this article. These factors might help you to make a more educated decision about which of the two breeds you want to pick. Knowing more about the dog breed that you are thinking about getting is important so that you get a dog that fits right into the family.
If you are ready to learn more about the Golden Retriever vs Goldendoodle, you need to keep reading!
| | | |
| --- | --- | --- |
| Items | Golden Retrievers | Goldendoodles |
| Weight | 65 lbs | 20-80 lbs |
| Height | 22 inches | 17-224 inches |
| Origins | Scotland | Australia and US |
| Life expectancy | 10-12 years | 10-15 years |
| Shedding | 2 x a year | 2 x a year |
| Grooming | Daily brushing and groomer visits | Daily brushing and groomer visits |
| Training | Very easy to train | Very easy to train |
| Cost to buy | $1,000-$4,000 | $1,000-$5,000 |
Golden Retriever vs. Goldendoodle: Appearance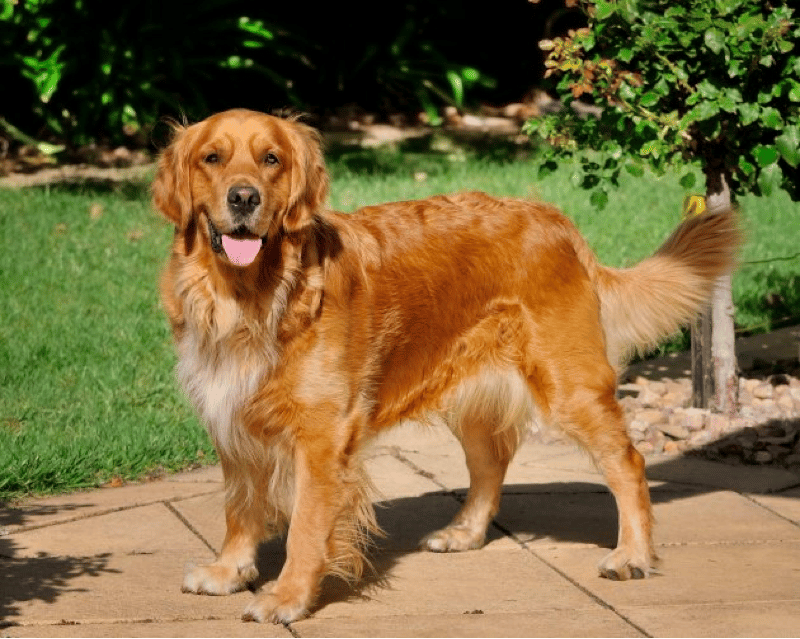 This is one of the places where the two breeds differ the most. The Golden Retriever has a long and silky coat and they can come in various colors. The Goldendoodle usually has a shorter coat that is curlier, and they might not come in all the same colors as the Golden Retriever. The long and silky coat of the Golden Retriever rarely comes through in the Goldendoodle breed. If this is a very important consideration for you, you will need to select a Golden Retriever to get the coat that you want to have.
Both the Golden Retriever and the Goldendoodle require daily brushing and regular visits to the groomer, so there is no difference between the two breeds as far as this part of their care. The Goldendoodle can range in size and appearance much more than the Golden Retriever, so be sure that you consider this if you are shopping for a doodle. Doodles are a mixed breed originally, so you can see Goldendoodles in very small sizes all the way up to a size larger than a Golden Retriever. The Goldendoodle will also sometimes have the more stocky and sturdy body type of the show retriever, but they could also be lighter and leaner like a Field Retriever.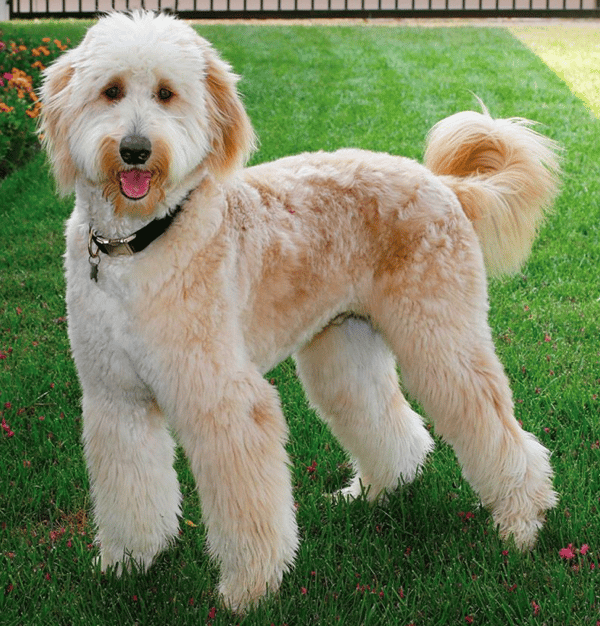 The appearance of the Goldendoodle can be very hard to predict between different breeders, so you will want to ask to see pictures of the family members that each breeder has on file. This will help you to know what your puppy will probably look like when it is born. If you have been looking at Golden Retrievers, you are probably already aware that you can select from different types of retrievers, which is a key difference when shopping within the retriever breed versus the Doodle.
You will find that Golden Retrievers look different if you are shopping for a Field Retriever, a show Retriever, or a hunting dog. All of these dogs come with their own appearances, and you would be wise to check out the appearances of all of these kinds of Retrievers before you pick one. The different branches of the Golden Retriever breed can look very unique to one another, which can surprise some people.
Golden Retriever vs. Goldendoodle: Temperament
Both of these breeds are kind, happy, and loyal. These are both breeds that are known for being trainable and easy to work with, and they both also love to make their owners happy. This means that either breed can be the right kind of family dog for your needs. These are both really great dog breeds, but they are not exactly the same, of course. Temperament is one of the key ways to decide between these two breeds, so make sure that you are getting the right dog for the kinds of activities and lifestyle that you want to share with your dog.
The key difference that you can expect between the Goldendoodle and the various kinds of Golden Retrievers is that the Golden Retriever breed does have some variation in the intensity and drive of the dogs that you can buy. Field and hunting retrievers can be much more intense and high-drive, which can make them less ideal for family dog lives. Golden Retrievers that are bred to work can require a lot of exercise and things to do to keep them busy in order to be happy. The Goldendoodle and the show Golden Retriever are both much more mellow overall and are less demanding as far as daily exercise.
This temperament difference can make a big impact on your happiness with the dog that you have picked, so you need to be aware of the difference between the energy of each kind of dog before you buy. It can be really hard to have time for a high-drive dog unless you are prepared for this need in advance, so checking on the temperament of the dog that you are shopping for is important.
Golden Retriever vs. Goldendoodle: Intelligence
Both of these breeds are very smart. They might seem goofy and silly, but they are actually really intelligent dogs that are very simple to train. Many people worry about Golden Retrievers vs Goldendoodles when it comes to intelligence. This is not a concern that is really necessary since you can do all the same activities with both kinds of dogs with only a few exceptions.
The Goldendoodle is known for being really happy-go-lucky, so you might find that your Goldendoodle is a little harder to keep on task when you are training, particularly when they are very young. This is something that the breed often grows out of right away, so it should not be a big discouragement from picking a Goldendoodle instead of a Golden Retriever.
These are both dogs that can compete in agility competitions, that can learn lots of tricks, and that can be trained to work with your schedule and your training demands with ease. These are dogs that are really approachable for a wide array of owners to train, which makes them both a good choice for many people.
Golden Retriever vs. Goldendoodle: Life Expectancy
The Goldendoodle might live a few years longer than a Golden Retriever, but this is not always the case. Both breeds have an average life expectancy of about 11-122 years, but some dogs will live longer than that. These are medium to large dogs, so you can always expect a shorter lifespan than you would from a very small dog breed.
This is the downside to picking one of these breeds, as many people want their dogs to live into their twenties. The reality is that only a very small dog breed can be considered to reasonably live into their late teens or older. You will need to consider that both of these breeds are prone to the same health issues as well, which can limit their lifespan.
Being realistic about the lifespan of these two breeds can help you to be prepared for ownership of the Golden Retriever vs Goldendoodle. This is always the downside of owning pets, and you need to be sure that you are prepared for the experience of owning a dog.
Golden Retriever vs. Goldendoodle: Exercise Need
These two breeds can both be high-energy puppies, but they often get much calmer as they reach about a year of age. You will need to be prepared that either of these breeds will have lots of energy when they are puppies. The Field Golden Retrievers can be a high drive for their whole life, but a Goldendoodle will almost always calm down greatly as soon as they reach a year of age.
These dog breeds are easy to keep busy because they are so smart, so you can play with your dog, go running with them, or even just walk them each day to keep their energy levels at bay. If you don't have daily time to contribute to the needs of your Goldendoodle or a Golden Retriever, you should consider carefully whether or not you should be getting a dog. No matter what kind of dog you choose, you will need to plan to provide it with daily exercise for its well-being.
Golden Retriever vs. Goldendoodle: Potential Health Risks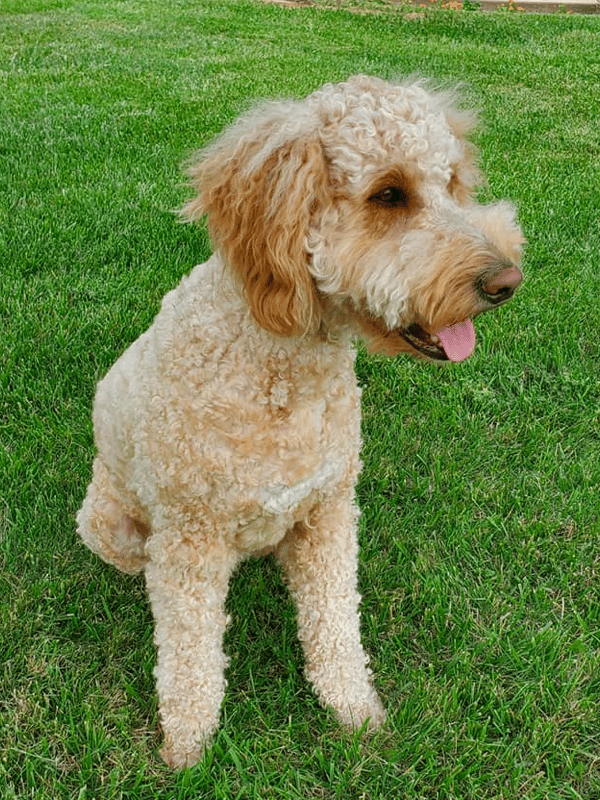 The health risks for each of these breeds can be partially avoided by getting a dog from a reputable breeder. Breeders who take the time to breed carefully will certify their dogs to be free from some of the common health issues that can plague both of these dog breeds.
Golden Retrievers can be prone to hip and elbow dysplasia, and unfortunately, Golden Retrievers are also quite prone to cancer. These dogs might also have heart or lung problems as they age, and good breeders will certify their dogs for health in these areas as well. The breeding pool for Golden Retrievers was too small at a few points in their creation, leading to some flaws in the breed that would have otherwise been avoided.
Goldendoodles are a mixed breed, so they have some different health risks that you should be aware of. The Goldendoodle can be prone to patellar luxation, hip dysplasia, progressive retinal atrophy, Von Willebrand's Disease, epilepsy, and cranial luxation. These defects in the breed can be hard to deal with due to the nature of the way that this breed is managed, or rather not managed by a breeding organization.
You will need to be sure that you get certification from the Goldendoodle breeder you are considering buying from. You will also want to look at reviews for the breeders that you are considering buying from to see if anyone has had issues with their puppy's health. There are benefits to breeding two breeds together, and there are fewer issues with cancer and joint issues in this breed, but there are also some other serious health issues that come with the kinds of breeding that are done to create the Doodle breed.
Golden Retriever vs. Goldendoodle: Shedding
The Golden Retriever sheds in a big way twice a year, but they can shed all year long as well. This is a breed with a thick coat that has different layers of hair, so shedding is a common complaint to do with the breed. You can make the shedding process much less severe if you take the time to brush your dog and get them to the groomer on a regular basis.
The Goldendoodle does not have the same long coat, but it can still be shed all year long. You will find that they are usually much easier to care for with regards to grooming than a Golden Retriever, but you will still need to provide your dog with daily brushing and coat care. The bigger risk for Goldendoodles is that they can get mats, which can lead to major grooming issues as well as skin infections and other problems. You trade shedding for the risk of severe matting of your Goldendoodle's coat, but this might make a big difference to you overall as an owner.
Technically, both breeds require lots of grooming management, and you will need to be prepared for the process of caring for this kind of coat no matter which breed you pick.
Golden Retriever vs. Goldendoodle: Grooming Needs
As we already touched on above, there are some grooming needs that both breeds will need. The Golden Retriever will be more likely to shed, and they will need to have care from a groomer regularly. If you like to do outdoor activities with your Golden Retriever, their coat will need even more management to prevent issues with mats, debris in the coat, and other problems. You will also need to get a specific set of products to care for your Golden Retriever's coat when you perform at-home grooming. This prevents damage to your dog's coat.
Goldendoodles can have variable coat textures. You will find that some doodles have really short coats that are curlier, while others have really long and fluffy coats. They will still need a lot of grooming maintenance even though their coat is not the same as Golden Retrievers. You will need to take them to the groomer, and you will need to brush them regularly. You will also want to get the right kind of brushes and grooming products for the coat type that your Doodle has. This can make all the difference in caring for your Doodle's coat long-term.
Golden Retriever vs. Goldendoodle: Trainability
Both of these breeds are really easy to train. You will be able to teach them to do nearly anything, and they will love to make you happy. This means that you can enjoy so many fun activities with either breed. For those who love to train their dogs to do tricks, play games, and more, these breeds are an ideal choice.
Both of these breeds can also be high-drive as puppies, and they might need a little leniency for their training hours when they are little. These are high-energy breeds that can sometimes need to burn off some steam before they can focus. You will need to remember that this is part of the growing-up process for both breeds and be assured that your puppy will calm down and get more focused later on as they age.
These are breeds that can be trained to do so many different kinds of activities, and both of them can even be used for service animals. Either breed can excel in so many kinds of training tasks, and you will be able to keep your dog entertained every day with ease if you are willing to work on training with them each day.
Golden Retriever vs. Goldendoodle: Prices
The prices for Goldendoodles can vary widely. You will need to expect to pay more for quality breeders, but there are pet quality breeders out there that do not charge much for each puppy. You should be wary of these breeders that are offering Doodles for about $200-$500. These are usually breeders who are not very careful in their breeding program, and you will likely not get certifications for the health of your dog.
Quality breeders for both breeds will charge from $1,000-$5,000 for a dog. You will pay more for dogs that can be used for breeding or that are specifically bred for hunting or show. When you get a pet-quality dog, you will pay less than you will if you are looking for a dog that can compete or be used for breeding. Remember that breeders usually only offer limited AKC registration with ease pet-quality animals that they sell, so you will need to work with the breeder on a contract basis if you are looking for a breeding animal instead.
The price of your dog might not indicate the quality of the pet that you are getting either. You will need to look into the reviews and information that the breeder has online to see if you think that the price of their dogs is reasonable. If you are not getting the right combination of benefits from working with a breeder, the cost of the dog doesn't really matter. You need to be able to get the kinds of benefits that you are looking for and think of the cost as a secondary part of your consideration. Saving money can be nice but not if you get a dog that is not healthy and that was not bred responsibly. Likewise, paying a lot of money for a fancy breeder but not getting all the right certifications and benefits doesn't make sense, either.
Golden Retriever or Goldendoodle: Which One is Right for you?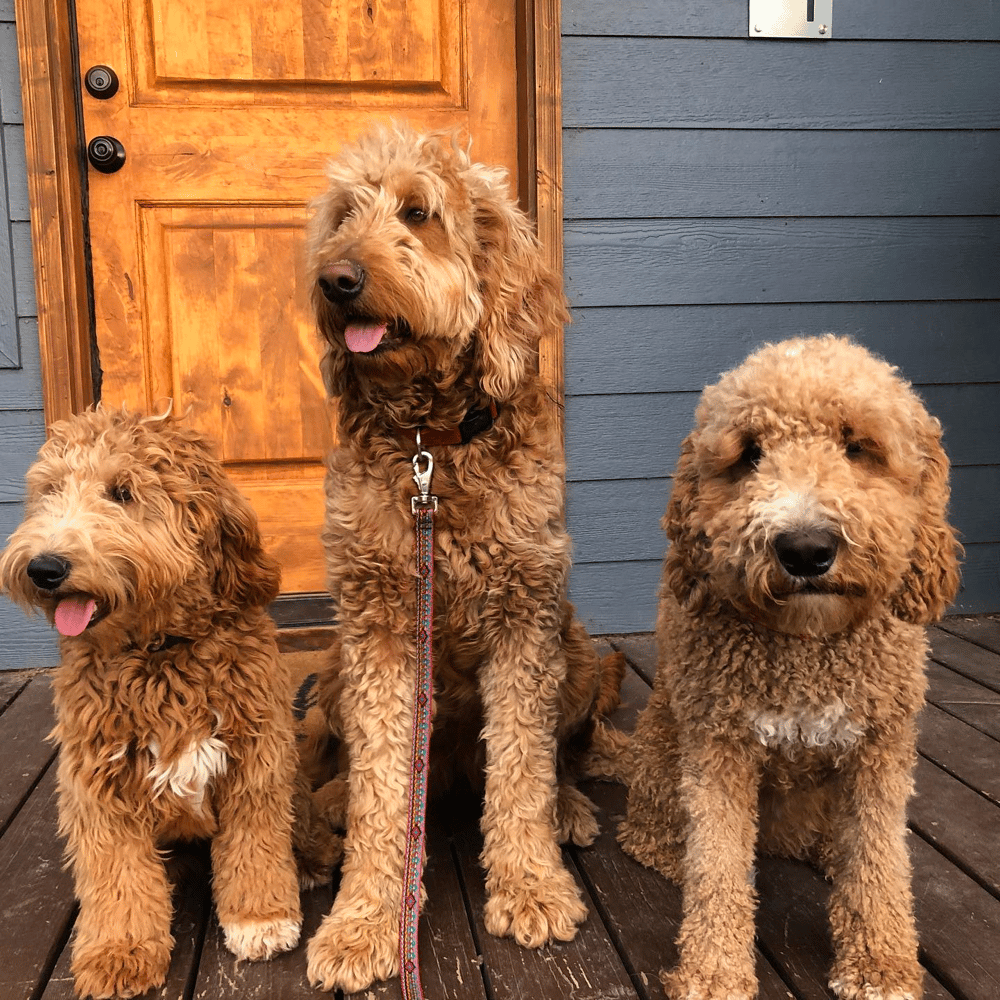 Both the Goldendoodle and the Golden Retriever breeds are great family dogs that can fit right into your home with ease. You will not have any trouble training dogs of these breeds, and they are loving, kind, and loyal dogs overall. These are some of the nicest family dogs around. You can expect to pay more for either of these breeds when you get a dog that has been correctly certified for responsible breeding. You will also need to expect that both breeds will require lots of grooming to manage their coat as well.
These are great breeds to select if you have the time to work with your dog every day and if you love to train your pet to do tricks to compete in obedience, and more. There are so many reasons that these are great dog breeds to pick between, and you might find that either breed will suit your needs. This guide will help you to decide which dog breed is going to be better for you. Always consider spending some time around each breed in person if you can as well.
Picking a Golden Retriever vs a Goldendoodle can be an easy decision. Both of these breeds make great dogs for families, and they can provide years of love, happiness, and enjoyment to you and your family.