People love the Labrador Retriever! This is why they've been listed as AKC's most popular breed for thirty years now. It's no surprise, given the Lab is a handsome dog known to be intelligent, and easy to train. They have a great temperament, with an outgoing but gentle nature, this is an active breed that gets along with everybody. Labs are known to be a multipurpose breed so they're a popular choice for anyone looking for a loyal companion, a hunting dog, a show dog, or a service dog.
Luckily, the state of Utah has no shortage of Labrador Retriever Breeders. We've compiled a list of only the best; these Labs range from American and English lines, with hunting and show backgrounds, so you're bound to find a breeder that has exactly what you want in a puppy.
It can be hard to find a good breeder, as puppy mills have learned how to appear like ethical breeders, so it's good to ask questions and do thorough research to prevent being tricked. The breeders on this list are highly reputable and have years of experience in breeding and owning Labrador Retrievers.
1. Kanosh Labs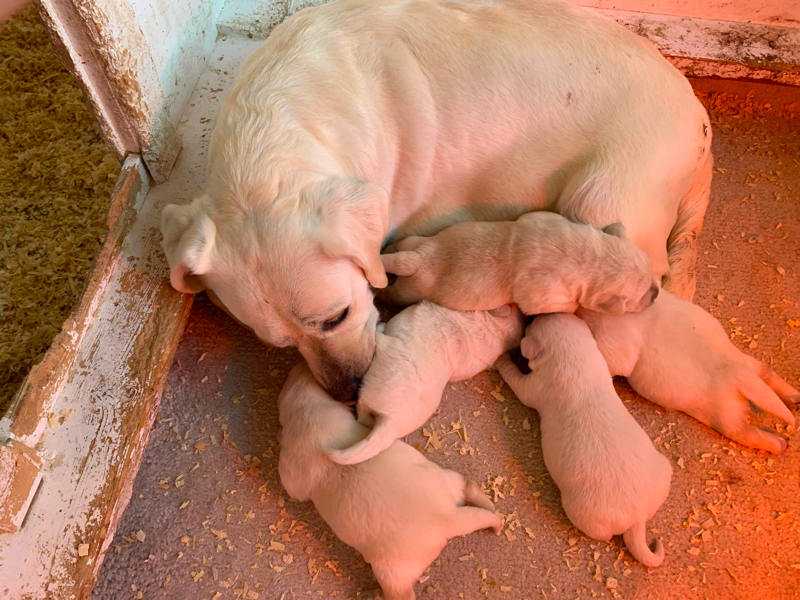 Ethical breeders will always have a vision of what they consider to be the perfect dog and work tirelessly to meet that vision with every dog they produce. Kanosh Labs is no exception. Founded by Owen back in 1987, he's had a lot of time to work on his vision and discover what he likes to see in the Labrador Retriever. His dogs are of the English variety, due to their classic looks, and not only have championship titles in conformation but have proved themselves with working titles too! He believes that bench line Labs should still be versatile, and his dogs certainly are.
Kanosh Labs produces dogs that are genetically sound and healthy; every dog brought into their breeding program has been thoroughly health screened, and is only bred if their hips and elbow scores are Excellent or Good. Their dogs have strong pigment, kind eyes, a straight back, and a moderate muzzle to match their blocky heads. A Kanosh Labrador is as handsome as it is healthy, and will be a loving family member for years to come. These dogs are easy to train, love to be with their owners, and enjoy being outside as much as stretching out on the couch with the family.
This breeder, located in Kanosh, Utah, often has litters available and will talk you through the entire process of purchasing a puppy. Not only that, they believe it's important to have a relationship with each puppy buyer for the entire life of that dog. Sometimes they have retired breeding dogs available for adoption if you're wanting an older dog. All puppies have had their dew claws removed, their first two sets of shots, are dewormed, and have been microchipped before going to their new homes. Puppy buyers will also receive a folder containing relevant information, including Limited AKC Registration, vet records, AKC microchip info, pedigree, and the parents' OFA scores.
2. Rosewood Retrievers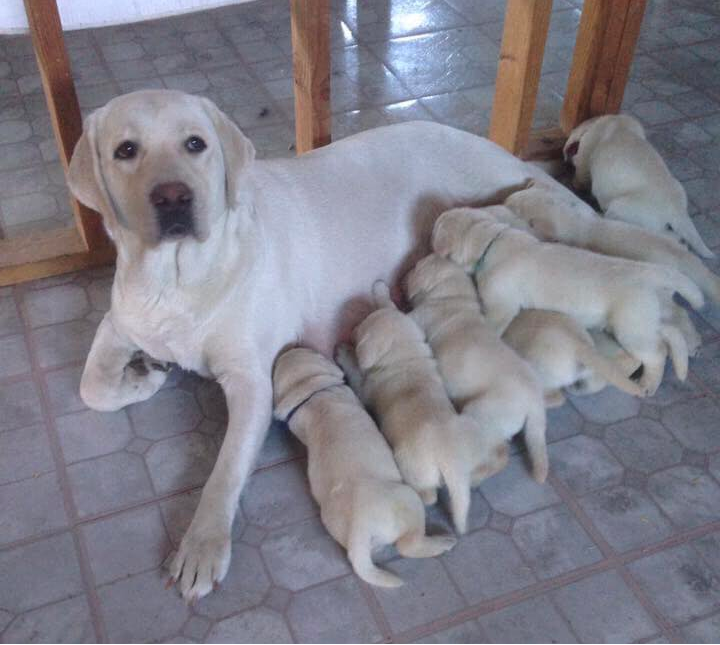 Located on forty acres in the beautiful Grantsville, Utah, a dog from Rosewood has all of the space to run, play, swim, and hunt. Though Virginia and Ron only began breeding Labrador Retrievers back in 2004, they have been involved in the breed since 1975. Their dogs are multipurpose and have competed in hunt tests, Rally traits, and in the conformation ring. Whether you want a loving family pet, or want to try your own hand in competition, a Lab puppy from Rosewood Retrievers can do it all.
As an AKC Breeder of Merit, their program only breeds the three accepted colors of the Lab – black, yellow, and chocolate – so you won't find dilutes in their lines. The dogs in their breeding program are high-quality and of great health, with impressive titles and pedigrees. Puppies are typically sold with Limited AKC Registration, but exceptions are made with homes that want to compete with their dog. Rosewood dogs are a mix of American and English lines, with some breedings taking more after one line over the other.
Rosewood also offers started dogs, for anyone wanting an older dog that has already had training. Puppies are sold with a 7-day genetic health guarantee, and a 26-month health guarantee on their hips, elbows, and eyes. Studs and dams are genetically health tested to be clear of EIC, and other inheritable diseases, before breeding and have been certified through OFA.
Virginia and Ron also offer boarding and training services!
3. Woodland Hills Ranch and Retrievers
This breeder believes that good-looking dogs shouldn't only belong to people that are into dog shows. Labradors from Woodland Hills grow up to be exceptional dogs; they have the classic good looks of the English Labs, are bred with health in mind, and have that sweet temperament the breed is known for. Many puppy buyers just want a family dog, and with a Woodland Hills Labrador, you can have exactly that… while being able to brag about all of the champions in your puppy's pedigree!
A lot of people prefer the English line of Labradors because of their calm personalities and good looks, Byron and Lashaun are no exception. They began with American line Retrievers but made the change to English lines after a decade. Still, they wanted to produce multi-purpose dogs that are in the house, but still love to retrieve and work. Many of their puppies go on to be active sporting dogs, while still being great around children and other animals.
Health is very important to this Utah-based Labrador Retriever breeder. Since 2013, all Woodland Hills Lab puppies have been "clear through parentage" of the PRA and EIC genes! Their dams and sires and certified to be free of hip and elbow disorders through OFA, and undergo annual eye exams.
Every puppy goes to their new home having begun socialization, is eager to learn, and has started basic obedience and recall training. This makes for confident puppies that are easy to train and helps make the transition into a new home smoother. Woodland Hill sells their dogs on a Limited AKC Registration basis unless you're an established kennel or hope to title your puppy. All puppies have had their dew claws removed, been dewormed, are up to date on their shots, and are socialized with children.
4. Utah White Labs
Located in the town of West Haven, Utah White Labs specializes in breeding white English Labrador Retrievers that are of sound health, structure, and temperament. Yellow Labs range from white to fox red, and any shade in between, so while their dogs are light in color they are accepted by AKC. This breeder is perfect if you prefer yellow Labs that are white or cream in color. White Labradors have become popular, so unfortunately there are a lot of bad breeders that produce them to meet the demand. Dana isn't one of them; because she cares more about quality over quantity she only breeds a few litters a year, and proudly practices responsible breeding.
Their puppies have gone on to fill a variety of jobs that include therapy and service dogs, sporting dogs, show champions, and skilled gun dogs. Most importantly, they all make great family dogs and loyal companions. While you might just be seeking a pet, you'll know that your Labrador from Utah White Labs comes from an amazing pedigree full of a champion, health-tested dogs. Being show-line Labs, their dogs have laid-back temperaments, but still possess the drive and eagerness to hunt and play.
Breeding dogs are genetically cleared for inheritable diseases by DNA testing, are clear for CNM and EIC, and have had their hips and elbows certified Good or Excellent through OFA. Their sires and dams are incredibly healthy and have great temperaments.
Puppies are socialized in the home with children, other dogs, and cats, and come with a 27-month health guarantee.
5. RedRock Labradors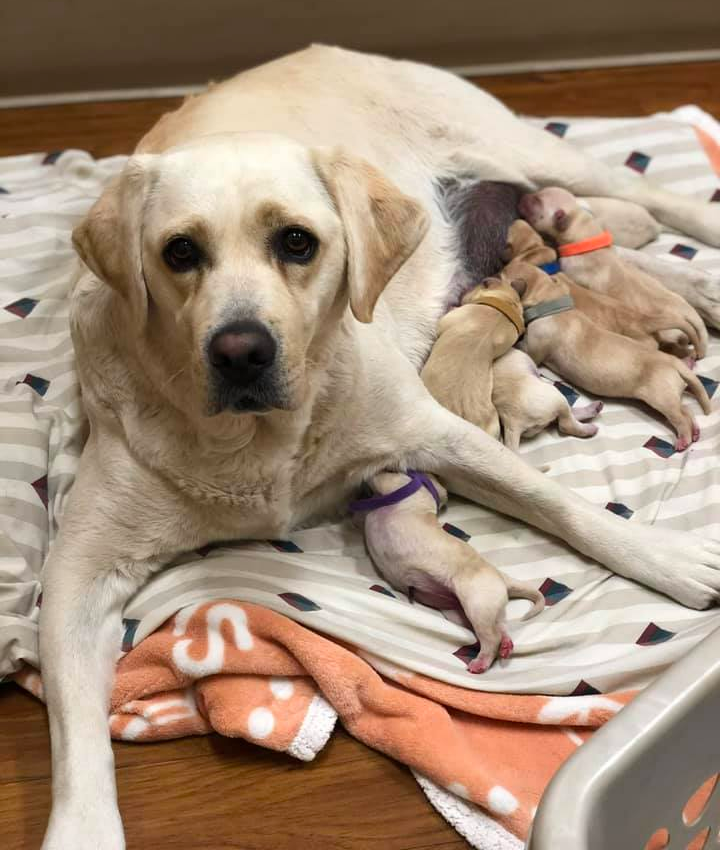 The next on our list of Labrador Retriever breeders in Utah is RedRock Labradors. With a program that began over 30 years ago, Mike knows what he's doing when it comes to breeding quality dogs. RedRock Labradors strives to produce Lab puppies that go on to make loyal family companions, that can also be skilled show and hunting dogs. Health and temperament are top priorities for this breeder.
The Lab is a versatile breed that should be able to enjoy life in the house as a family dog, but also have the drive to work and retrieve. Their dogs have sweet temperaments, so they're very affectionate, and are noted for their intelligence, making them very easy to train. All of their breeding dogs come from exceptional bloodlines that are champions, have champions in their pedigree, and have been thoroughly health screened.
All of their puppies are AKC registered, have had dew claws removed, and have been socialized in a home environment from the day they're born. Your RedRock Lab puppy will come home up to date on their shots and dewormed. This breeder temperament tests each litter when they reach 6 weeks of age, this process helps them in matching each puppy to the appropriate home based on the qualities you're looking for and what you plan to do with your puppy in the future.
If you have any questions you can reach out to Mike using the contact information below, and stay up to date with his program by liking the RedRock Labradors Facebook page.
6. Stormy River Retrievers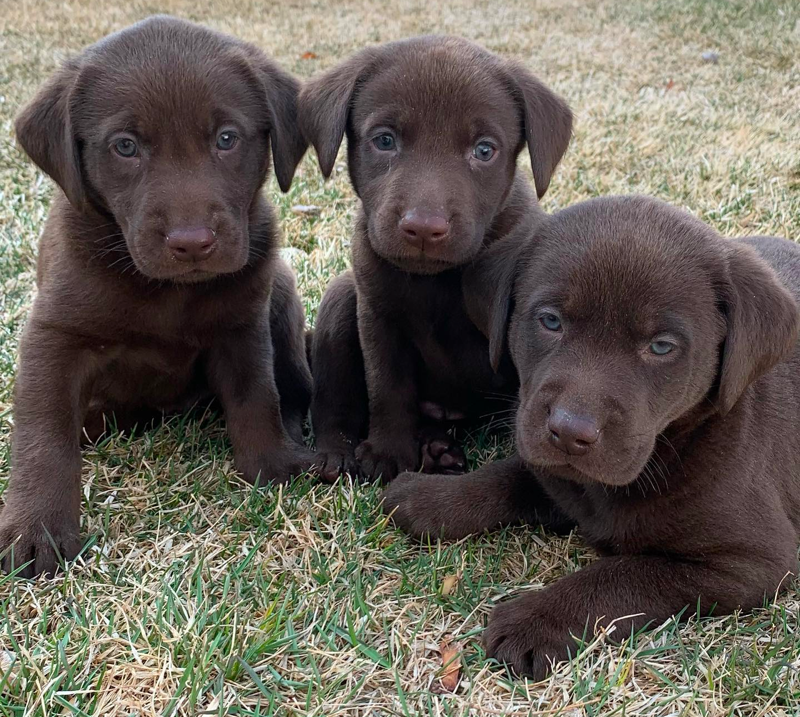 Located in Richfield, Utah, Stormy River Retrievers specializes in American field line Labrador Retrievers. This type of Lab has a leaner build, smaller head, and higher drive that is preferred by active hunting or sporting homes. Derek and Kelsey Stoker are dedicated to producing the best Labrador Retriever possible, so their dogs have awesome temperaments and impressive pedigrees. Each Lab puppy from Stormy River Retrievers is descended from generations of National Field Champions!
Stormy River Retrievers cares about producing dogs that are genetically healthy, so all of their breeding Labradors are genetically cleared of disorders such as EIC and CNM. They are certified by OFA to be free of the elbow and hip disorders and have their eyes tested annually through CERF.
Workability is very important to Stormy River Retrievers, breeding pairs are carefully selected in order to produce puppies that will make great hunting and companion dogs. Their Labradors are eager to please, love to retrieve, have great off switches in the house, and are very loving and social.
Puppies have had their dew claws removed and are up-to-date on their vaccinations and dewormer when sent off to their new homes. This breeder socializes puppies in the home, getting them used to being around children, adults, and other dogs, and introducing them to water and bumpers.
7. Sevier River Retrievers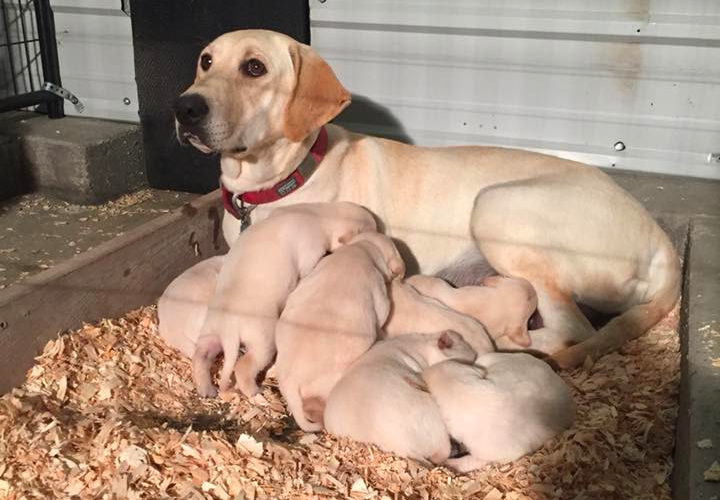 The next breeder on our list has only been around for a little under a decade, which is a relatively short amount of time, but they already boast an impressive program and bloodline. Sevier River Retrievers produces high-quality Labrador and Golden Retrievers that are raised as loving members of the family. Scotty and Mindy truly love their dogs, and this care is obvious in the way they run their kennel.
In order to produce top-quality Lab puppies, Sevier River Retrievers thoroughly health screens each of their breeding sires and dams to ensure that they're free of any health or joint disorders common in Labradors. Their dogs are fed high-quality kibble, get to play and exercise daily, and enjoy life in the home as well-loved family members. Litters are planned well in advance, with pedigrees extensively researched during the process of deciding which dogs to pair together.
This breeder knows how important socialization is, so starting at the birth of a litter they implement a process known as ENS (Early Neurological stimulation) due to the amazing benefits that it provides to puppies. Sevier River Lab puppies will have been introduced to a variety of different sounds, sights, smells, textures, people, and other dogs and animals before going to their new home. This helps make a balanced and confident Lab puppy that will be easy to train, and a great companion.
If you would like to know more about their program, you can send them a text, email, or give them a call with any questions you may have! We've also included their Facebook page, where you can stay up to date on their program, and check out all of the positive reviews that past puppy owners have left.
8. Barton Labradors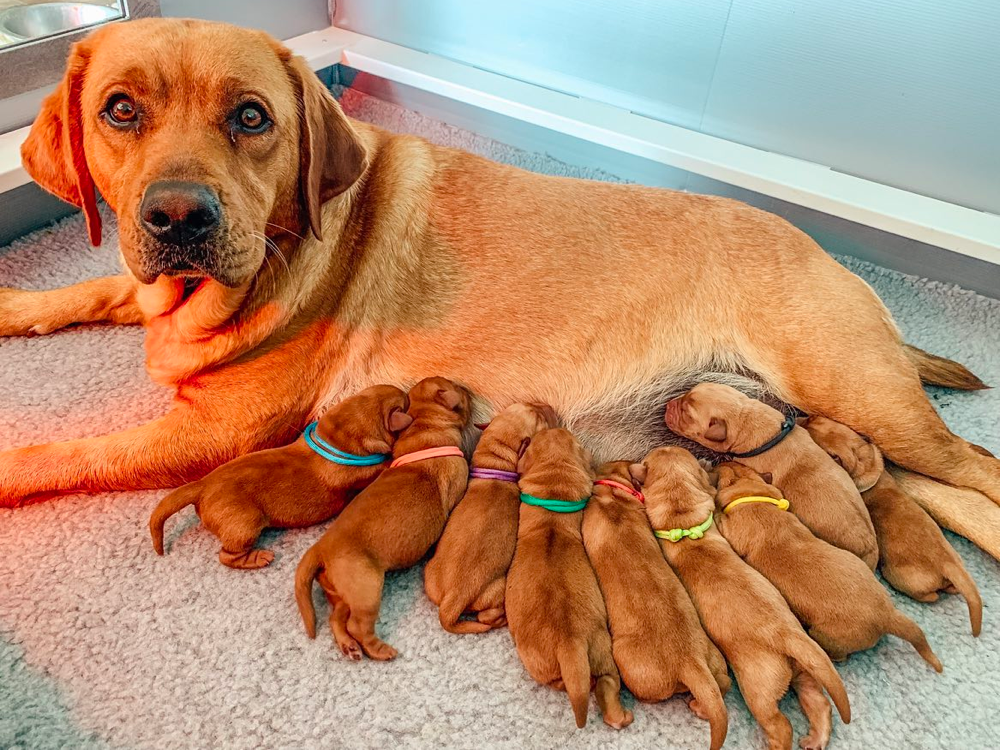 Located in a small town in Utah, Barton Labradors is a small hobby kennel founded by Kelliann Barton, that specializes in the English line Labrador Retrievers. They produce yellow, black, and chocolate puppies, but have a preference for the darker shade of yellow known as fox red. Their dogs have that classic appearance known for the breed, with blocky heads, soulful eyes, and a stockier build, that are passed onto each litter of puppies. A puppy from Barton Labradors is known to be intelligent, loving, and full of personality. They make great family pets but can also thrive as service animals, therapy dogs, and hunting dogs.
You can check out the current dogs in her breeding program, as well as their extensive health clearances, on the website listed below. Before ever being considered for breeding, each Labrador Retriever within this kennel undergoes recommended OFA, CERF, and genetic health tests in order to be cleared of any diseases or disorders known in the breed. Their website doesn't go into details about their socialization process, but you can reach out to Kelliann by email or phone if you have questions.
Barton Labradors won't have any more litters in 2022, but this is a great time to get on the waiting list for 2023 litters.
9. Gunther Labradors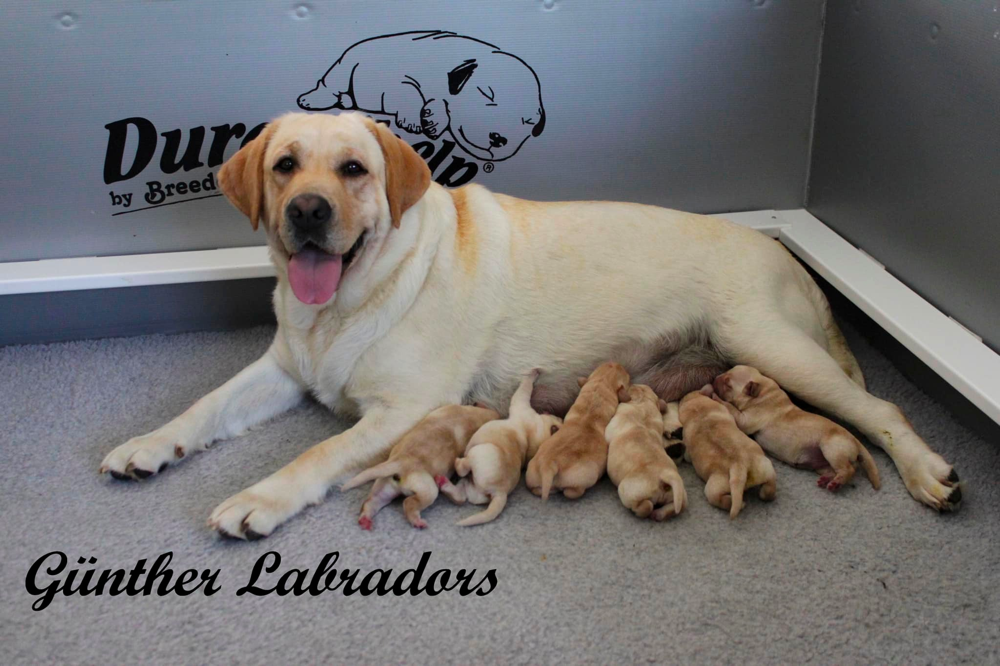 We're halfway through our list of the best Labrador breeders in Utah, but that doesn't mean this next breeder is lacking in quality. Katie Guenther is the founder of Günther Labradors, a small hobby kennel that aims to produce well-rounded show-style Lab puppies that have been bred to AKC standard, and have the sound structure and temperament the breed is known for. Katie's dogs are stunning and come from exceptional pedigrees that are filled with conformation champions.
Being a small program, Günther Labradors only has a couple of litters a year available, allowing them to focus more on their dogs and ensure that they're producing puppies of high quality. This is a breeder that wants to make sure that each Labrador she produces goes to the best home, and will keep in contact with you through the entirety of your puppy's life. Katie loves to get updates, and will happily follow any social media accounts you might make for your Günther Labrador dog.
As a responsible breeder, Katie rigorously screens buyers to ensure that all of her puppies will go to great homes. She studies and takes notes of the personality of each individual puppy in a litter, including this information as part of her process when it comes time to place each Lab puppy in the right home.
10. Elite Labrador Retrievers
Elite Labrador Retrievers lives up to its name, as they produce some of the best Labradors in both the United States and Canada. Their dogs come from bloodlines that boast impressive pedigrees filled with National Champions, so it's no wonder that a dog from Scott Memmott is a popular choice for hunting and sporting homes. Scott specializes in the field-type American Labradors, so his dogs have a more streamlined build than compared to their English cousins, and lack the signature blocky head.
His dogs are easy to train, love to retrieve, and are built to work. While he does breed Labradors with great off switches, making them loyal family pets, his dogs do best in active homes that have experience with a high-drive working breed. An Elite Labrador Retriever is a good-looking dog, with exceptional health, that lives to make its owner happy. At the end of the day, the dogs that Scott produces tend to be calm in the house and have very sweet, gentle temperaments.
If you're looking for a hunting companion, or want to try your hand at competing in sports, a puppy from Elite Labrador Retrievers is a great option! All of his breeding dogs have undergone rigorous health testing, so your puppy won't inherit any diseases common in the breed.
11. Antler Labradors
The next breeder on our list has a unique program; they specifically breed and train Labradors that excel in hunting for shed antlers! This type of hunting has been growing in popularity in recent years due to how exciting a hobby it is, one that can be shared with your dog. Though most dogs can be trained to find shed antlers, the dogs that are the best at it generally come from bloodlines that have been bred for it. Jared Madsen specializes in breeding this unique type of Labrador, so if you want to get into this hobby, a puppy from him is a great start.
Jared truly breeds for a versatile Labrador, because not only are his dogs great at finding shed antlers, but they're also from talented field line pedigrees that love to hunt and retrieve waterfowl. His breeding stock has amazing pedigrees filled with working dogs of champion caliber, all while still being great family pets at the end of the day. We scrolled through Antler Labrador's website and found that all of the dogs have been extensively health screened, so they're certified through OFA and CERF, and are clear of disorders like CNM and EIC.
These are Labradors that are lovable, healthy, full of drive, and easy to train. If you prefer a more laid-back puppy, let Jared know so that he can set you up with the correct choice. All puppies are sold with full AKC Registration, and prices are very affordable and on a range dependent on the training you want your puppy to have already received. Occasionally, they sell fully finished dogs that have been fully trained to hunt antlers.
12. Utah Pointing Labs
We know that the Labrador Retriever is an amazing multi-purpose dog, which is part of their charm, so it's no surprise that some bloodlines can make effective pointing dogs. Our next breeder on the list of the best Lab kennels in Utah is Utah Pointing Labs, founded by Tyce Erickson. This breeder strives to produce high-quality Labradors that have the drive to do it all, while still being loving and devoted family pets that are great with kids and other animals.
Utah Pointing Labs breeds American field line Labrador Retrievers, so their dogs are smaller in size and weight than English Labs. Though this program breeds working line dogs, they have that awesome temperament the breed is known for and have strong off switches bred into them… which means that your Lab puppy will be able to calmly chill on the couch during off days.
Every breeding Labrador in this program has been completed health tested and certified, so your puppy will be free of any inheritable diseases. Utah Pointing Labs actively hunts and trains their Labradors, and most of their current breeding sires and dams hold impressive hunting and pointing titles. We think this breeder is a great choice for active hunting and sporting homes.
Puppies are sold with a health guarantee on their hips and elbows for up to 28 months of age, and eyes have a guarantee for up to 18 months of age. Check out their website for upcoming litters, and occasionally this breeder will have older dogs for sale!
13. Water Monster Retrievers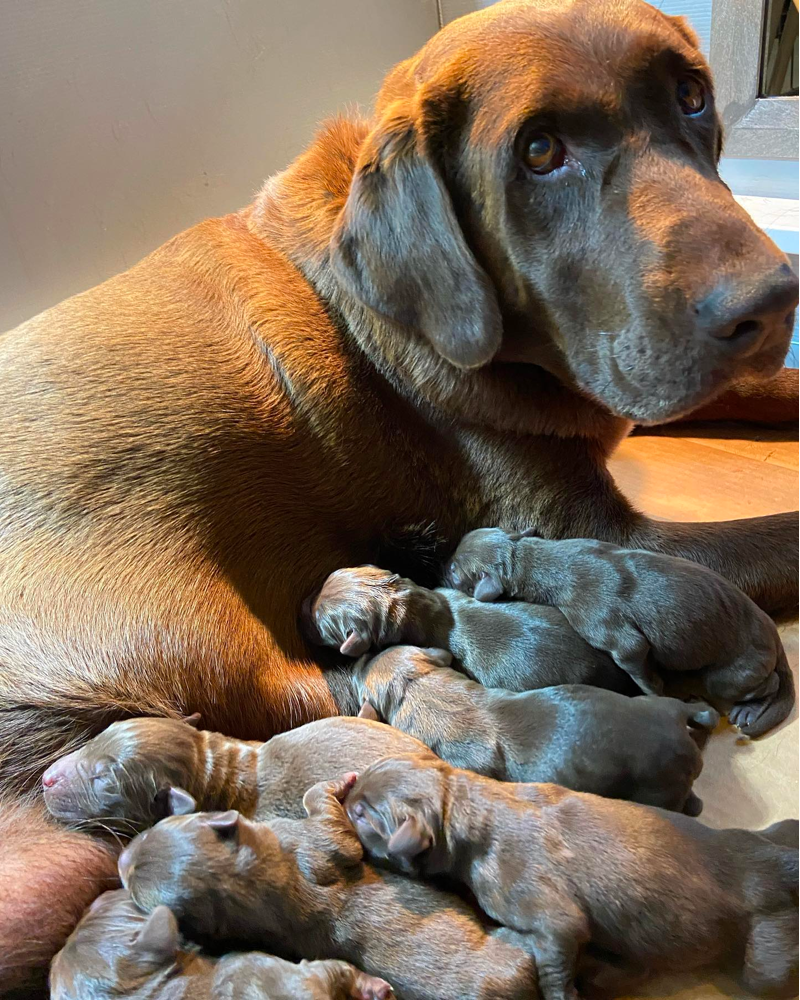 Another breeder on our list of the top best Labrador Retriever breeders in Utah is Water Monster Retrievers. This program also specializes in hunting Labradors and has pedigrees chock-full of titled hunting champions. These Labs are incredibly active dogs that love the water and live to retrieve, but still are family dogs at the end of the day. Kerry knows how important it is to have a hunting dog with a good temperament so he is very picky about what bloodlines to include in his program.
Water Monster Retrievers is a small breeding program that only has one or two litters a year, so if you're interested in a puppy from his next litter we advise that you reach out in advance to get your name on the list. He typically breeds black and chocolate Labrador puppies, with strong pigment and solid temperaments. Parents are health tested and cleared for any defects, and this information can be checked and confirmed through the OFA website.
Though his website doesn't have as much information regarding how puppies are socialized and what health guarantees they're sold with, you can use the contact information below to reach out and ask for more information. Water Monster Retrievers also has a Facebook page that shows the recent achievements of Lab puppies and dogs bred by this kennel.
14. Goldrush Labradors
With nearly thirty years of experience in breeding Labrador Retrievers, Goldrush Labradors has had a long time to research and perfect their bloodline. They breed for the classic looks of English Labradors, and their pedigrees have many conformation and hunting champions. It's important to Bruce and Susan to produce the perfect family dog, so their Labs have great temperaments and are incredibly easy to train. A Lab puppy from this breeder will grow up to be calm, loving, and without any aggression.
As a rule, Goldrush Labradors only keep female dogs and have never owned a stud dog. They have a great relationship with other breeders and seek the best males to breed their girls to. Females are fully health tested and certified by licensed veterinarians, and are only bred to the finest stud dogs that have also been completely health screened.
If you're looking for a beautiful Labrador with an outstanding pedigree, Goldrush Labradors might be the breeder for you. They sell puppies with Limited AKC Registration but are willing to change it to full if an owner desires to become an ethical breeder or show their puppy in the conformation ring. Lab puppies from this program make great family dogs that love to be with their owners and have a nice, calm temperament. Many Goldrush Labradors become service and therapy dogs and are even used as "example dogs" by instructors when enrolled in obedience classes!
Bruce and Susan love to stay in contact with puppy buyers and are always available to answer any questions you might have.
Final Thoughts
Labradors are amazing dogs, known for their pleasant temperaments and love of water. Backyard breeders have unfortunately gotten their hands on these amazing dogs so it's becoming more common to find Labs that are too aggressive and hyper. This is why it's very important to find a reputable breeder if you're looking for a new Lab puppy. Some working lines produce dogs that have higher energy and drive but are still very friendly pets that get along well with kids and love to cuddle on the couch at the end of the day.
Kanosh Labs is my top pick from the list of Labrador Retriever breeders above. Their dogs have that classic look that we know and love from the breed, but haven't lost that drive to hunt and retrieve. A Labrador from this program is well bred, well-loved, and has been socialized from the moment they were born. The breeder provides puppy buyers with all of the information that they need to succeed with their new puppy and is always a phone call away.
We encourage anyone looking for a puppy to do their own research when it comes to breeders and to choose lines that will work best for your household. Always have a list of questions to ask any breeder and don't be scared to check and confirm things like health test results.
Reputable Labrador Retriever Breeders in The Other States