Another 4 weeks have passed, and your 12-week-old Goldendoodle puppy has now slightly matured into a 16-week or 4-month-old Goldendoodle. At this stage, your new puppy should now become your best friend as it has now gotten accustomed to you.
Taking care of your puppy should start becoming less stressful as more maturity begins to set in. What you practically have is a very adorable bundle of fur and pure energy. Your Goldendoodle should start getting rid of habits that you might find annoying and start developing much less annoying habits.
With that being said, this article is here to provide you with everything you need to know about your 16 weeks Goldendoodle puppy. You get to find out what living with one is like and also learn some helpful tips on how to better handle any challenges that might come along the way.
Get a glass of something chill, put your feet up, and do ensure you read this till the end as it promises to be both informative and engaging.
The 4-month-old Goldendoodle puppy is at a crucial stage in its life. You should get used to some new developments. Socialization should continue as always, more and more baby teeth might begin to fall off to leave away for the adult teeth.
What To Expect From Your 4-Month-Old Goldendoodle Puppy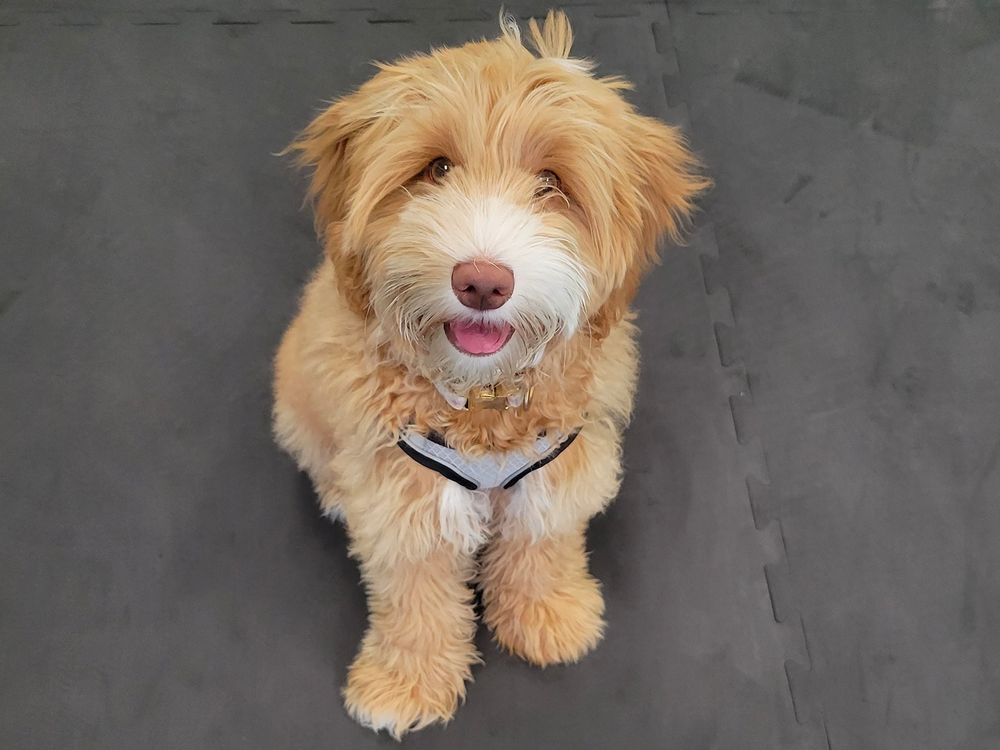 Your Goldendoodle puppy would have gone through a lot of changes at this stage and that also includes size. He or she should be looking more like a miniature adult Goldendoodle and less like a Goldendoodle puppy. Training should be a lot more enjoyable for both you and the Goldendoodle as they should have a more developed brain to help them accumulate faster.
In addition to that, your Goldendoodle puppy should start showing some subtle signs of stubbornness as it should be less willing to please you. It should no longer suffer much from separation anxiety and its stubbornness should be corrected as they age, so it is essential that your Goldendoodle puppy gets the needed training to help mold its behavior.
Teething should be another aspect of the 4-month-old Goldendoodle puppy to look out for. The biting and chewing trait of your Goldendoodle puppy should be less frequent as the puppy should now be developing new adult teeth. However, it is worth noting that adult teeth don't fully develop until at least 7 months would have gone by.
With proper socialization training, your Goldendoodle should be a lot more friendly than ever before. It should be able to establish a good or friendly bond with familiar faces which is why chances are that you're more likely best of friends with your Goldendoodle puppy.
Prepare for a period of being fearful. This usually happens to Goldendoodles at the ages of 5 to 6 months when they might start to feel extra anxious. In all this, you would need to be extra supportive of your precious Goldendoodle puppy.
Crate training can help handle this as the fearful period usually is a result of ignoring the separation anxiety your Goldendoodle might face after the 12th week of being born.
Your Goldendoodle should be able to get proper sleep at night now with less frequent potty accidents or night howls. This is because they should have a stronger bladder or at least stronger control of their bladder so it can hold in much longer than before. This translates to better night sleep for both your and your Goldendoodle puppy.
Tips for Living With Your 4-Month-Old Goldendoodle
By the 16th week, your Goldendoodle should have received another round of vaccinations and dewormings to ensure they remain healthy and strong. If you haven't taken them to your local vet, then consider doing so as this next round of shots is crucial to have well-developed and strong immune systems.
After receiving this set of vaccinations, your Goldendoodle puppy might not have a need for any other vaccinations till they attain adulthood or are very close to adulthood. They should also be strong enough to explore new places so consider taking them to dog parks and doggie play dates to mingle with other dogs or pets.
They would need an immediate grooming session as their adult coat should begin to form at this stage of the Goldendoodle life. Brush or comb through the 16-week-old Goldendoodle's coat regularly to help prevent coat matting.
Training should be a lot more enjoyable for you as a parent as you would find that your Goldendoodle is a lot more attentive and focused during training sessions. Always ensure to make use of the positive reinforcement method of training to ensure your Goldendoodle learns properly.
You can also include leash training in your Goldendoodle's training schedule. Take them on regular walks with a leash both in public and outdoors. This is to help them become familiar with the leash.
And when it comes to socialization, the 16-week-old Goldendoodle should be pretty well socialized (that is if you started the socialization training early on). But it never hurts to continue socializing your Goldendoodle puppy.
Expose them to many stimulating environments, people, and animals to help them become more friendly and handle situations better. In addition to that, your Goldendoodle puppy should become a lot more curious and eager to explore making the process of socialization pretty easy for both you and the puppy.
How Big Is A 4-Month-Old Goldendoodle?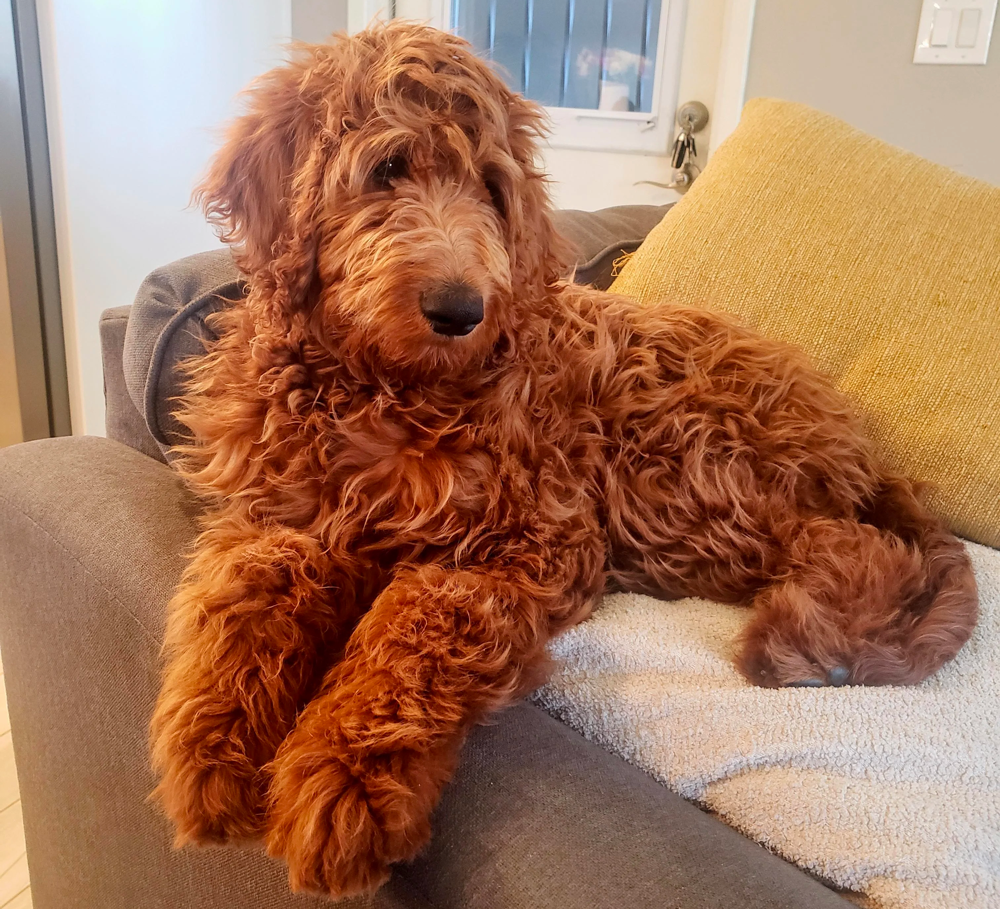 As with the 12 and 8 weeks Goldendoodle, the exact size of the 16-week-old Goldendoodle is heavily dependent on the exact size class that the Goldendoodle in question belongs to. These are the standard, miniature, medium, petite, and teacup sizes classes of the Goldendoodle.
For the miniature, petite, and teacup Goldendoodle, the average size of the Goldendoodle can fall between 7 to 19 pounds. For a medium-sized Goldendoodle, it's a little different, it can fall between 25 to 30 pounds and for the standard-sized Goldendoodle expect your Goldendoodle to weigh between 35 to 40 pounds.
How Much Do You Feed Your 4-Month-Old Goldendoodle Puppy?
The 16-week-old Goldendoodle puppy should have a larger feeding appetite than the 12 and 8-week-old Goldendoodle puppies. They have a high-calorie requirement which ranges from 1100 to 1840 kilo calories each day. And they require between 25% to 30% protein in their kibble as well as 12% to 18% more fat in their kibble each day.
When it comes to exactly how much food they should consume each day, this depends on the exact size class the 16-week-old Goldendoodle puppy actually belongs to. To simplify, the exact food a standard-sized Goldendoodle puppy eats is usually larger than what a miniature Goldendoodle of 16 weeks should consume.
For smaller-sized Goldendoodles like the miniature Goldendoodle to the petite and teacup Goldendoodle, you should consider giving them ⅔ of a cup of good quality kibble, this can be spread across three different meal savings in a day. The medium-sized Goldendoodle has a bigger appetite and should consume 1.5 to 3 cups of good quality kibble spread across three meal servings in a day.
And for the standard-sized 16-week-old Goldendoodle, you should consider feeding them between 3 to 5 cups of good quality Goldendoodle kibble a day. This can also be spread across three meal savings a day. Ensure they don't overfeed as the excess food can either spoil them by making them lazy or cause them to be overweight.
How Much Sleep Does a 4-Month-Old Goldendoodle Puppy Need?
The 16-week or 4-month-old Goldendoodle should have a better sleep at night. This translates to a lesser sleep time than the 8 and 12-week-old Goldendoodle puppy. Consider letting them sleep a little over 12 or 13 hours a day.
Their bodies still have a lot of growing up to do which requires tons of energy, but since they get better sleep at night, you find that the 16-week-old Goldendoodle doesn't require a longer sleep duration to feel fully refreshed.
How Much Exercise Does A 4 Month Old Goldendoodle Puppy Really Need?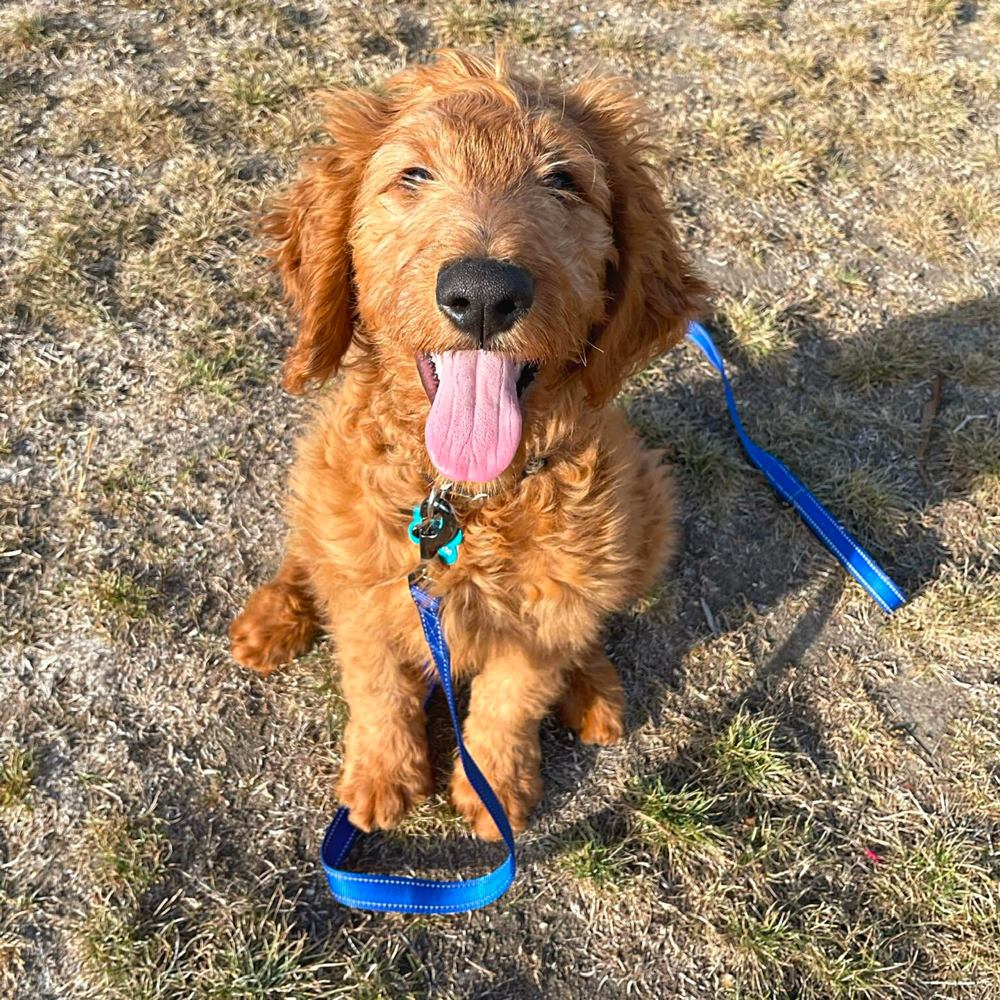 Exercise is highly recommended for the 16-week-old Goldendoodle. At this point they are very energetic, curious, and often clumsy, so they can quickly become destructive if all that energy doesn't find a way to be released.
At 4 months or 16 weeks, you can consider slightly increasing or changing your exercise routine or schedule for your furry companion. Consider adding an extra 10 minutes into their exercise duration but ensure it is evenly spread across the day.
A good routine is giving them a 20-minute workout in the morning and a 20 minutes workout in the cool evening, totaling a 40 minutes workout session in the day. You can take them on long walks to a safe environment or have them engage in both mental and physical exercises like tug, fetch, and even puppy puzzles.
Training Your 4-Month-Old Goldendoodle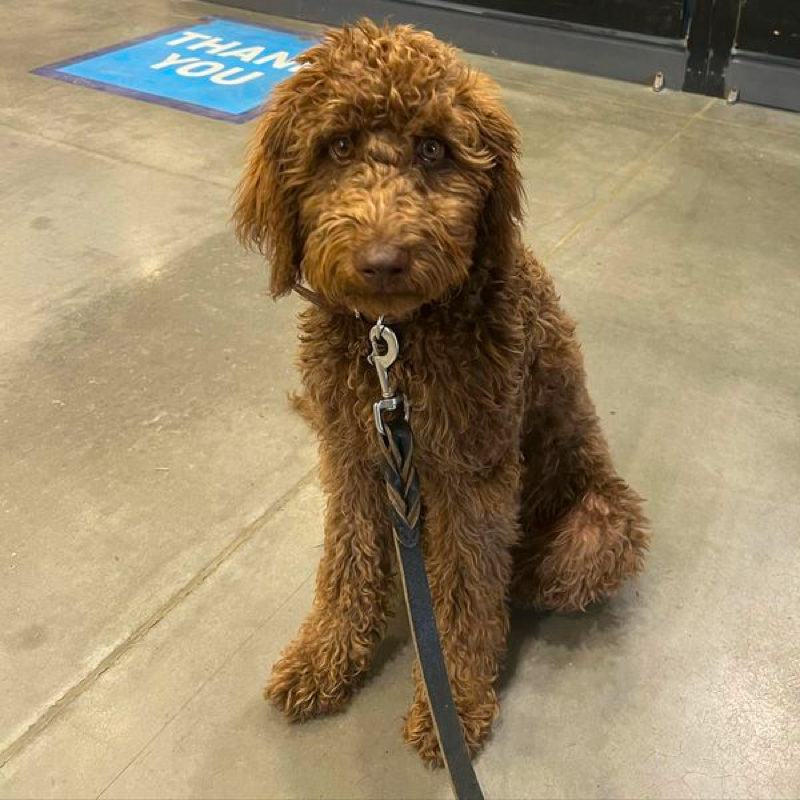 At 16 weeks of age, your Goldendoodle should be rounding up with its potty training. This is assuming you started potty training them from 8 weeks of age. They should be able to control when and where they potty so you should probably take a break.
Crate training should also be rounding up around this stage as your Goldendoodle should be adjusting to being alone for a few minutes or hours. It is worth noting that at 5 to 6 months of age, there is a possibility of separation anxiety coming back, so prepare for such a phase.
Since your Goldendoodle and you would be doing a lot of activities at this stage, leash training should be the next on your training list. This should be pretty easy as the 16-week-old Goldendoodle should be more focused and attentive during training sessions.
Continue obedience training for your Goldendoodle, it should be pretty used to basic commands like sit and fetch, consider improving this by adding some new commands to the sessions.
4 Month Old Goldendoodle Behavioral Patterns
The 16-week age stage is often viewed as the preadolescent stage. As such, you might start to notice some very visible signs of maturity and independence. He or she might start to wander around the house and look to explore new territories. This is a result of curiosity and confidence.
He should be more focused and attentive on whatever task it engages in, this is why training sessions are much more fun at such stages of the Goldendoodle's life. He or she might appear stubborn sometimes, but you can easily blame it on adolescent hormones.
With time and proper training, your puppy should be much more obedient and willing to submit. Your puppy should also be a lot more social, establishing pack members and making friends with other pets it might encounter as it continues to explore and grow.
The possessive nature doesn't really go away at this stage of its life as it can easily be found hoarding its toys and even bones. With proper training, you should be able to curb this behavior of the 16-week-old Goldendoodle puppy.
4 Month Old Goldendoodle Health Problems
At 16 weeks of age, your Goldendoodle should be very strong and healthy, assuming they get their appropriate nutritional requirements met each day. They are rather clumsy at this stage and can suffer some slight accidents from moving around energetically.
Other basic illnesses they might suffer can easily be prevented with the right vaccinations and shots, so ensure a 16-week-old Goldendoodle gets all the necessary shots and vaccinations they require from a licensed vet.
Precautions For Raising a 4-Month-Old Goldendoodle
Your major priority at this stage is to ensure your Goldendoodle is kept safe and healthy. Provide them with needed shots and vaccinations and do ensure they get all the required rest and food nutrients they can get for their growing bodies.
You can opt to take them on some fun activities like swimming but ensure you stick close to them as they can be clumsy.
Final Thoughts
With all that has been said so far, it is essential that you make a lot of lovely memories with your Goldendoodle puppy.
Provide them with all the love, care, and attention they deserve and do ensure you keep them clean and safe. Thanks for reading, do check out the article for more engaging content like these.
Related Posts: