In your search for the beautiful Goldendoodle breed, you probably must have stumbled upon the chocolate Goldendoodle. This beautifully coated Goldendoodle color, just like the black Goldendoodle, is known for having the energy and playful nature of the Golden Retriever while still retaining the high intelligence that comes with the Poodle.
The Chocolate Goldendoodle gets its dark chocolate coat from the Poodle side of its gene pool which is the more dominant gene in the chocolate Goldendoodle designer dog. The chocolate coat is a popular choice amongst most Goldendoodle dog lovers and breeders strive to produce such beautiful dogs.
This article reveals everything you need to know about the Chocolate colored Goldendoodle in order to help you make an informed decision when next you would be searching for the perfect Goldendoodle for you and your family. With that being said, please ensure you read on, to learn something new.
What Makes the Goldendoodle Chocolate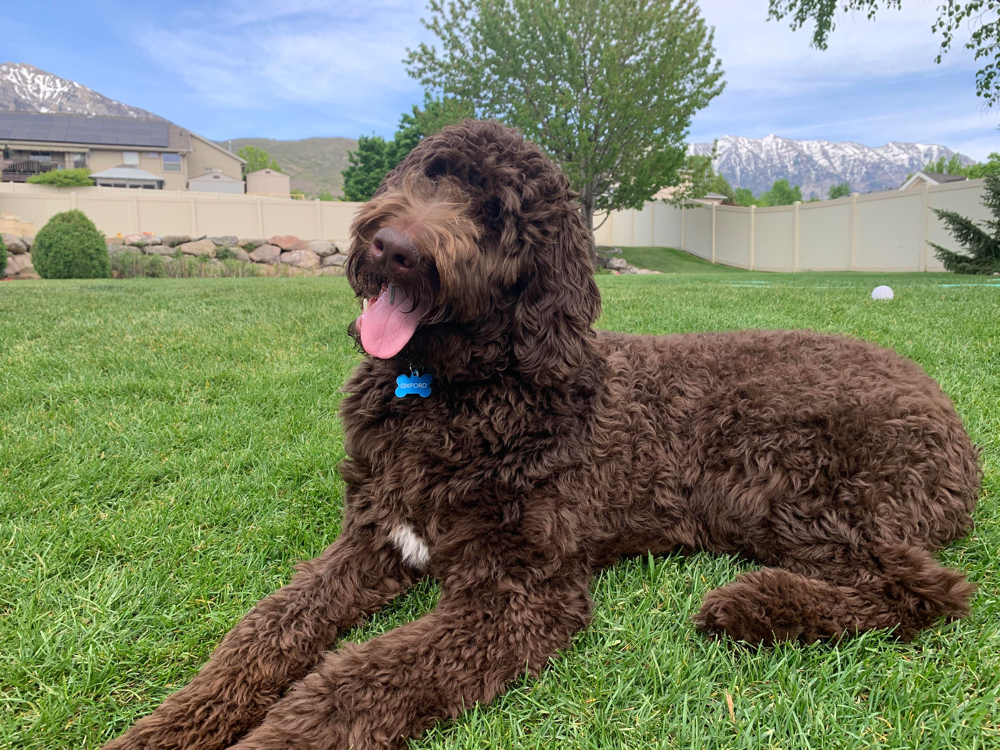 To get a Chocolate Colored Goldendoodle, you should ensure that one or both parent breeds being crossed should possess a chocolate coat. This is oftentimes the Poodle parent as the poodle comes in a wide variety of coat colors (about 10 varieties). However, crossing a chocolate Poodle with a chocolate-colored Golden Retriever would also give you a chocolate Goldendoodle.
In addition to the Poodle parent being chocolate in color, you have to ensure that its gene is the dominant gene in the Goldendoodle, this is why the generation of the Goldendoodle being bred matters. F1B Goldendoodles, which have about 75% more poodle genes, are more likely to have a chocolate coat than an F1 Goldendoodle, which has a 50% poodle gene.
The dark chocolate coat color of the chocolate Goldendoodles is most likely to be accompanied by a silver coat color from birth till at least 2 years would have passed. For multigen Goldendoodles, you have to ensure that both Goldendoodles being used are Chocolate colored Goldendoodles. Using only one chocolate-coated Goldendoodle would not guarantee a beautiful Chocolate Goldendoodle.
READ MORE: 20 Goldendoodle Colors And Coat Patterns Explained (With Pictures)
Are Chocolate Goldendoodles Rare?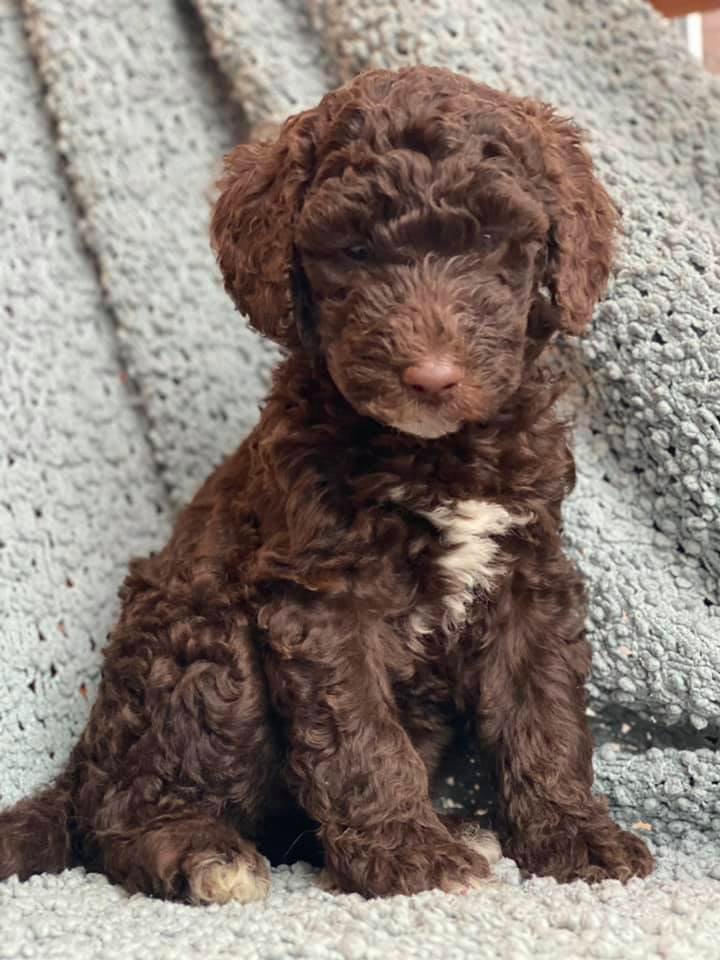 Although both the Golden Retriever and the Poodle each possess chocolate coat variations, these coats are still recessive for both breeds, which is why the chocolate Goldendoodle is regarded as a rare hybrid.
Finding a Chocolate coated Golden Retriever can be quite hard, and so is finding a Chocolate coated Poodle. However, a good breeder can work with just the Chocolate Colored Poodle and make sure it is the more dominant gene in the Goldendoodle.
If you can't find a Chocolate Golden Retriever or a Chocolate Poodle in your area, you should try connecting and cooperating with breeders from different locales to ensure you find a Chocolate colored sire or dam for your breeding program.
How to tell what kind of coat a

Chocolate

Goldendoodle coats
In addition to your Goldendoodle producing a chocolate coat, it can also be quite challenging to figure out the exact kind of coat the Goldendoodle would produce. Goldendoodles are known to change coat color as they get older, so a Goldendoodle born with a Chocolate coat, doesn't always guarantee, that they would end up with a chocolate coat as they mature.
There is a great way to tell what coat color a Goldendoodle would end up with and that is through the nose or nostrils of the Goldendoodle puppy. Pay close attention to the coat color around the nose of the Goldendoodle, this would give you an insight into what the original color of the Goldendoodle would be.
Chocolate Goldendoodle Coat Types
There are 3 possible coat types your Goldendoodle would be most likely to end up with. These coat types might not be easily determined by looking at their coat type as puppies. It is random and can be subject to change at any time.
1. Straight Chocolate Coat
The Straight Chocolate Coat is very rare and can be gotten from a Chocolate Golden Retriever with the dominant gene in the Goldendoodle. This coat makes grooming the Goldendoodle very easy, as the hair won't tangle up while being brushed and would cut with ease.
However, the disadvantage to this coat type is that the puppy might not be hypoallergenic as Goldendoodles with straight coats are known to shed with ease and a lot.
2. Curly Chocolate Coat
Over time, people have sought Goldendoodles with the Curly coat more than Goldendoodles with the other 2 coat types. This is because the Curly Coat is easier to groom and take care of than the 1st Coat type of the Goldendoodle.
This coat type gives the Goldendoodle a more poodle-like appearance and hence is less shedding than the straight coat type. Meaning your Goldendoodle would most likely be Hypoallergenic and great for dog lovers with dog hair allergies. But they would require more grooming than the other 2 coat types.
3. Shaggy or Wavy Chocolate Coat
Chocolate Goldendoodles with a shaggy or wavy coat type, are oftentimes the most common Goldendoodle types you would find. Their coats are mid-curly and are the easiest to groom. They also don't shed with ease and they won't require as much grooming as the curly or straight-coat Goldendoodles.
Since Goldendoodles with shaggy or wavy chocolate coats don't shed with ease, they are most likely to be hypoallergenic and are perfect for dog lovers with dog hair allergies.
Still, regular grooming should be given to all Goldendoodles regardless of the Coat type. A minimum of one or two hours a week should be dedicated to grooming your favorite furry companion. It keeps them comfortable, happy, and healthy. If you can't spare an hour or two, then consider hiring a professional groomer to get the work done.
Why Do Chocolate Goldendoodles Change Color?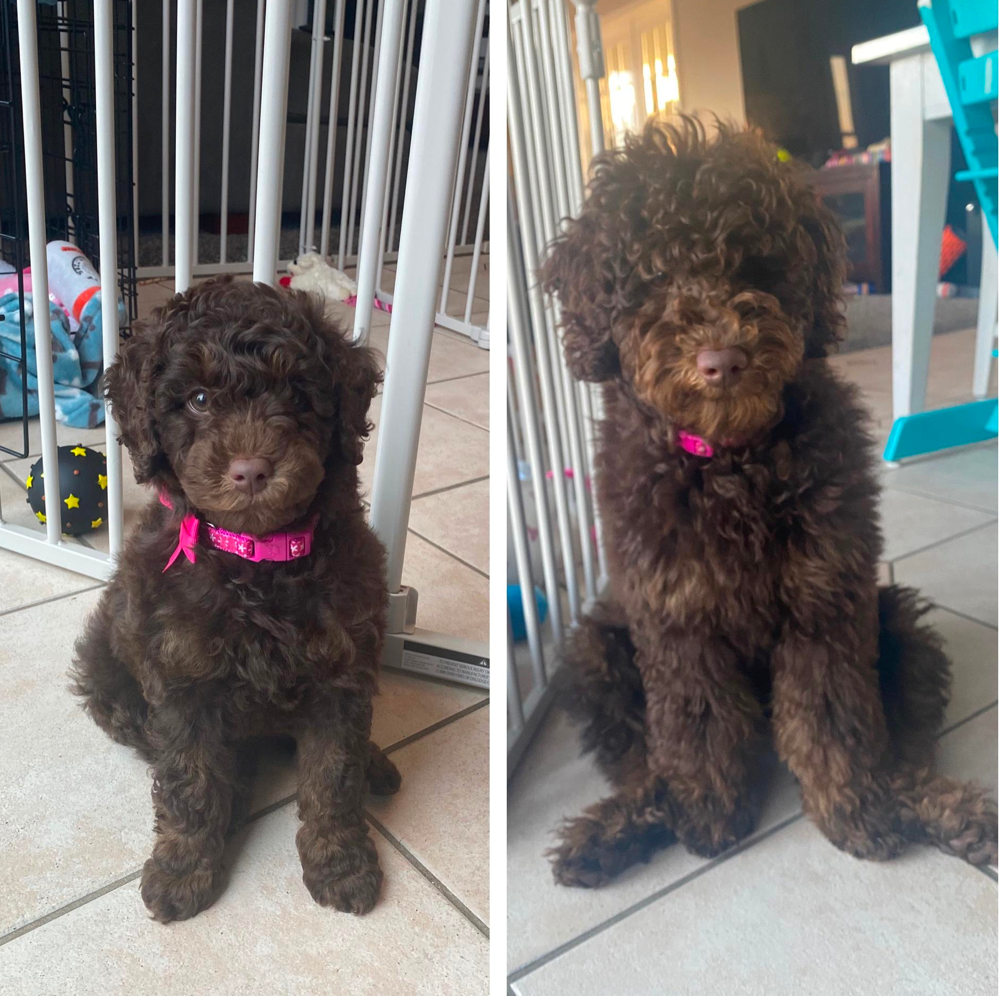 As we have stated earlier, Goldendoodles are known to change color as they get mature. This is not the same for all Goldendoodles though. Some Goldendoodles might undergo minor coat color changes like developing a silvery shine to their Coat or maybe a more drastic color change from dark chocolate to a more light brown variation.
This is a sign of maturity and should not be taken with much seriousness. If you are in dire need of ending up with a chocolate Goldendoodle, discuss with the reputable breeder to know how often their pups change color and also help in deciding what particular Goldendoodle is guaranteed to end up with the desired chocolate-colored coat variety.
Chocolate Goldendoodle Temperament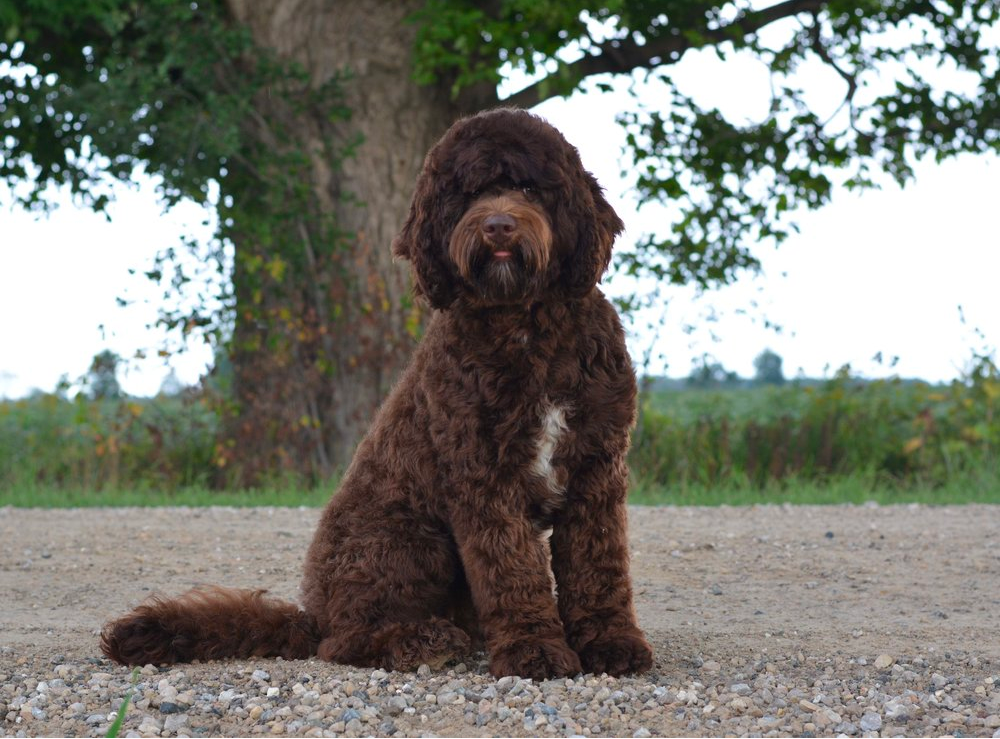 A different coat color doesn't necessarily mean a different Goldendoodle Temperament, so the Chocolate Goldendoodle acts and possesses almost the same temperament and personality as the regular Goldendoodle.
One very common temperament of the Goldendoodle is its intelligence. This intelligence trait is gotten from the Poodle side of its gene pool as Poodles are widely known as intelligent dog breeds. The Goldendoodle is very easy to train and oftentimes well-behaved.
They are energetic, but their high intelligence and proper training can make them an ideal dog companion to have in indoor living spaces that are small. If your Goldendoodle looks more like the Golden Retriever, it would be much needier than a Goldendoodle that looks more like a Poodle.
In general, they are sweet and loving family pets and enjoy time around the family, playing games and being chased by the kids. They are loyal and compassionate and would always be by their owner's side. They love attention but aren't the type to cause trouble looking for it.
They are terrible guard dogs, as they are most likely to alert you of any possible disturbance than confront it, so you can be sure they make good alert dogs. Also, they are quite friendly and open to new faces, especially when socialized early and properly.
Chocolate Goldendoodle Appearance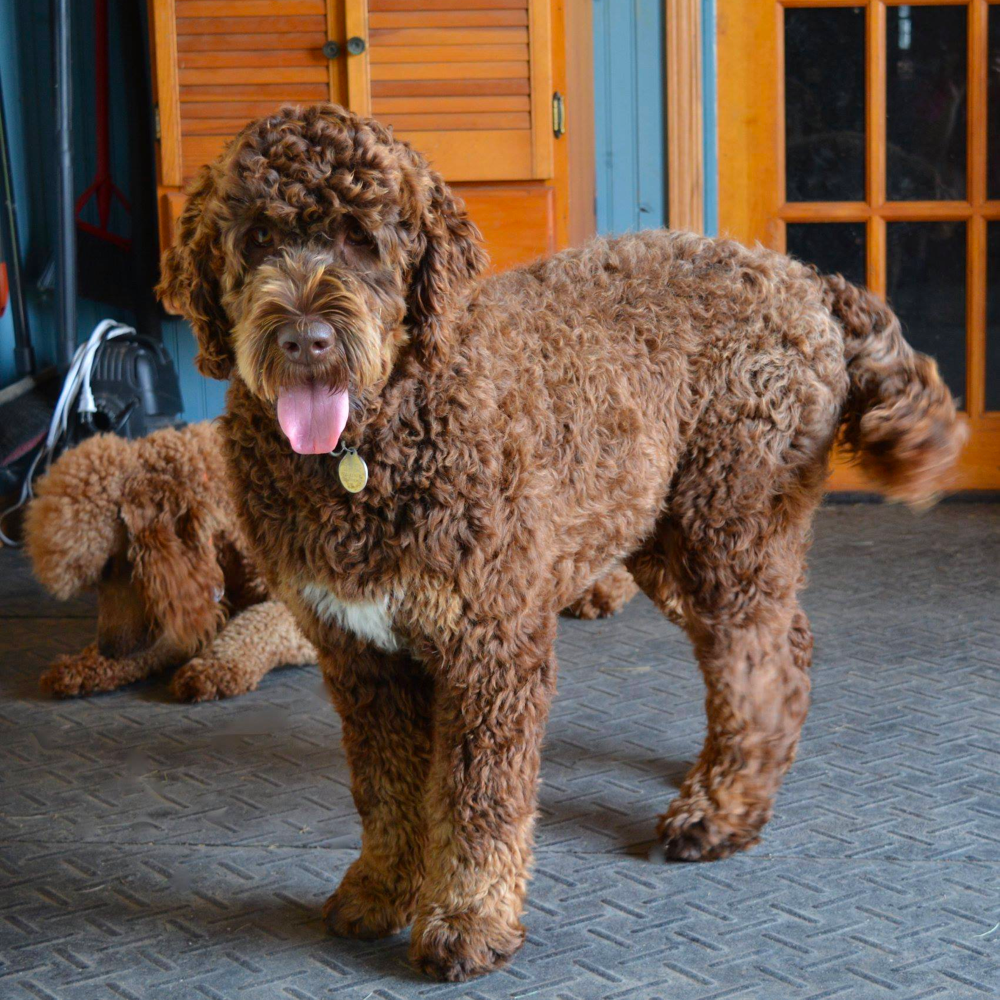 Chocolate Goldendoodles look like regular Goldendoodles but with dark chocolate coat color. However, their Coat types do have a major impact on how the Goldendoodle looks. Depending on their Coat type, the Goldendoodle can either look like a Golden Retriever or look like a standard Poodle.
If they possess a straight coat type, they look a lot more like the Golden Retriever and if they possess a wavy, shaggy, or curly coat type, they look a lot more like the Poodle Goldendoodle.
Their Coat conformation makes them very adorable dogs with a teddy bear-like resemblance and are more loved by the women and your girls. Their hypoallergenic coat also makes them well sought after by people around the world.
Chocolate Goldendoodle Size
These beautiful angels come in 3 major size groups. The Mini Chocolate Goldendoodle, The Medium Chocolate Goldendoodle, and The Standard Chocolate Goldendoodle. Now all three sizes of the Goldendoodles are there to suit your various living conditions.
1. Mini Chocolate Goldendoodle
Mini Chocolate Goldendoodles can be further divided into two groups, the teacup Goldendoodles and the petite Goldendoodle. They weigh between 15 pounds to 30 pounds and have a maximum height of 13 inches to 17 inches. They are great apartment dogs and can live in small spaces.
2. Medium Chocolate Goldendoodle
Medium Chocolate Goldendoodles are quite common and are for families not in search of a large dog and also not in search of a small, tiny dog. Getting a Mediums Sized Goldendodole would mean getting a Goldendoodle that weighs between 40 to 60 pounds and can grow as tall as 17 to 20 inches.
3. Standard Chocolate Goldendoodle
Standard Chocolate Goldendoodles are loveable Goldendoodles that are best kept in a house with enough space to run and play. Their high intelligence and good housebreaking practice can make them suitable for apartments and smaller spaces too. They weigh between 50 to 80 pounds and can grow as tall as 20 inches to 24 inches in height.
Chocolate Goldendoodle Generations
There are multiple generations for breeding a healthy ChocolateGoldendoodle. However, here, we would look at a few generations of the total Goldendoodle generations and how to get a chocolate-coated Goldendoodle from these breeding generations.
1. F1 Chocolate Goldendoodles
To get a standard F1 or First generation Goldendoodle, you have to ensure you breed a Golden Retriever with a poodle. This gives you a Goldendoodle with 50% Golden Retriever gene and 50% Poodle Gene.
To get a chocolate-coated F1 Goldendoodle, you would need a chocolate-coated Poodle (compulsory) and a Golden Retriever of any color (Chocolate Golden Retrievers would be excellent). Hopefully, the poodle's gene would be more dominant, leaving you with a perfect Chocolate Goldendoodle.
2. F1B Chocolate Goldendoodle
The F1B or First generation backcross Goldendoodle is an excellent generation that gives you a better chance of getting a Goldendoodle variation you prefer than an F1 generation Goldendoodle. This is because the F1B generation is 75% poodle and 25% Golden Retriever.
This forces the Poodle gene to be more dominant than the Golden Retriever gene. To get a chocolate-coated Goldendoodle, you would need a Chocolate Goldendoodle breeding parent with any Golden Retriever, Preferably a Chocolate Golden Retriever.
3. F3 Chocolate Goldendoodle
An F3 or multigene Goldendoodle brings with it, the highest possibility of ending up with the desired Goldendoodle variation. This is because, to get an F3 Generation Goldendoodle, you would need 2 F1B's Goldendoodles each with 75% Poodle genes and 25% Golden Retriever genes.
Getting two Chocolate F1B's Goldendoodles might not be easy, but by breeding them, you stand a higher chance of producing a standard Chocolate Goldendoodle with hypoallergenic coats.
What are the Color Variations of Chocolate Goldendoodles?
The Chocolate Goldendoodle really doesn't come in many variations. There are only two variations of coat color, the dark chocolate Color variation, which is the most common of the Chocolate Goldendoodle. It is partially regarded as an official poodle color by the AKC.
For the 2nd Chocolate Goldendoodle color variation, we have the coffee brown coat color. This has a lighter shade of brown than the dark color variation for the Goldendoodle. It is quite beautiful and oftentimes comes with a shiny silvery glint on them.
Chocolate Goldendoodle Lifespan
How long your Chocolate Goldendoodle lives can be affected by many factors, proper breeding practices being one and health vigor being another. However, for the Chocolate Goldendoodle, you get an average lifespan that varies from 10 years to 15 years.
When compared to the parents, we can wholeheartedly say, that the Chocolate Goldendoodle lives longer than the Golden Retriever and is about the same lifespan as that of the Poodle parent.
In comparison to other Goldendoodle color variations, the Chocolate Goldendoodle shares pretty much the same lifespan as other color variations of the Goldendoodle. They all live for as long as 15 years on average which is quite good, as you get to enjoy the loveable company of your loveable furry friend for a much longer time period.
However, you should note that the lifespan can be affected by health defects and genetic issues which would be discussed later in the article.
Training the Chocolate Goldendoodle
One of the best traits of the Goldendoodle, in general, is their high intelligence which helps make training the Goldendoodle a lot easier and enjoyable. The chocolate Goldendoodle is no exception as they are very intelligent and would adapt to being trained with much ease.
When compared to the Golden Retriever and Poodle parents, the Goldendoodle inherits its high intelligence from the Poodle (although, the Golden Retriever is also an intelligent dog breed). They are more likely to learn a trick faster than most dog breeds out there.
The Chocolate Goldendoodle is eager and willing to learn new tricks, this makes them perfect dogs for show competitions as well as suitable dogs for therapy, service, and work dogs. As long as the Goldendoodle is trained early, it would pick up new tricks with relative ease.
Every chocolate Goldendoodle breed is best trained using positive reinforcement. This ensures you make use of positive treats and non-strict corrections to keep the puppy motivated and well trained. Try as much as possible to not get frustrated while teaching your Goldendoodle new tricks, as this would do more harm than good. If you can't handle the Goldendoodle training yourself, ensure you make use of a professional, who can get the job done with a better success rate.
Common Chocolate Goldendoodle Health Problems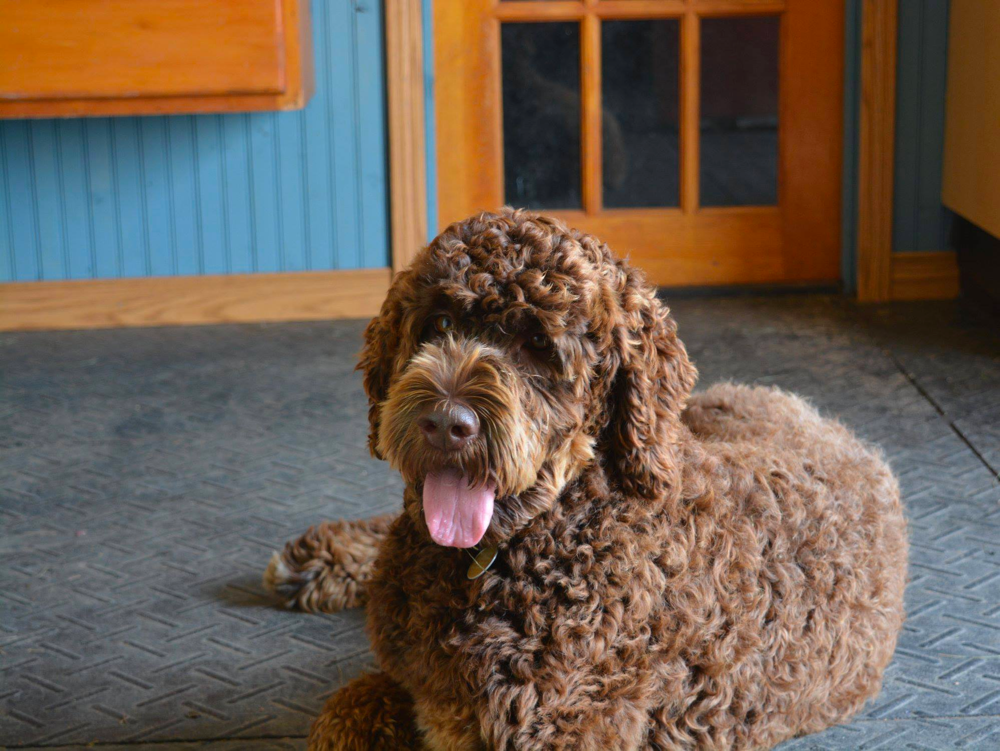 Before getting a Chocolate Goldendoodle puppy, or any Goldendoodle puppy from a breeder, it is quite important that you ask or enquire from the Goldendoodle breeder about the breeding practice used or employed by the Goldendoodle, as even though the Goldendoodle has a higher tolerance to diseases and health defects than the Golden Retriever or Poodle parent, they still suffer from following conditions;
1. Hip Dysplasia
The dysplasia of the hip or elbow is quite common with large dog breeds like the Poodle and the Golden Retriever. It occurs when there is an unusual displacement from the regular working of the ball and socket joint.
It is a very painful condition that could limit or altogether stop the movement of the Goldendoodle. Goldendoodles with Hip dysplasia might require surgery if the condition gets too critical.
2. Cataracts
Also known as cloudy eyes, cataracts can be quite damaging for the Goldendoodle, in this case, the Goldendoodle would develop a white blur in his vision that could later grow to completely render the Goldendoodle blind.
With Older Goldendoodles, the condition might go bad, as the condition can not be treated. However, younger Goldendoodles could later regain their sight when surgery has been done.
3. Skin Sensitivity
Over time, your Goldendoodle might develop skin issues that can result from poor grooming practices and improper health practices as well. These can lead to skin reactions, spots, and other blemishes that can leave the Goldendoodle uncomfortable and in pain.
Because of their sensitive skin, it is required you observe regular Grooming for the Goldendoodle to keep them happy and playful.
4. Arthritis
Arthritis is quite rare for the Goldendoodle, but it does happen and can be very painful or life-threatening for the beautiful furry angel. A Goldendoodle that suffers from Arthritis would suffer from inflamed joints, which could lead to overall discomfort for the Goldendoodle puppy.
5. Seizures
Seizures or Epilepsy are quite common for the Goldendoodle. Also life-threatening, Goldendoodles inherit this terrible condition from both breeding parents of the Golden Retriever and the Poodle. This condition could be avoided with proper breeding practices, this is why you should always deal with a reputable breeder.
Grooming Needs of the Chocolate Goldendoodle
The Chocolate Goldendoodle's shedding frequency depends a lot on the coat pattern or type of the Goldendoodle. As it has already been stated, the Goldendoodle with a straight coat is prone to more shedding than a Goldendoodle with a curly or shaggy coat. However, all Goldendoodles are considered hypoallergenic, with low to no shedding coats.
This, therefore, affects the required amount of grooming each chocolate Goldendoodle would require. For Goldendoodles with long straight coats, they would need to be groomed a minimum of 2 to 3 times a year. This would involve bathing and brushing the coat. Trimming the dog's nails and dental care are also major necessities.
For a Goldendoodle with a wavy or curly coat, 4 to 5 times a year of regular grooming would be required. This can be achieved with regular brushing, dental care, and also nail trimmings. Use a good quality brush with nice soft bristles for brushing your Goldendoodle's coat. Ensure you hire a professional if you can't do this by yourself.
How Much Are Chocolate Goldendoodles?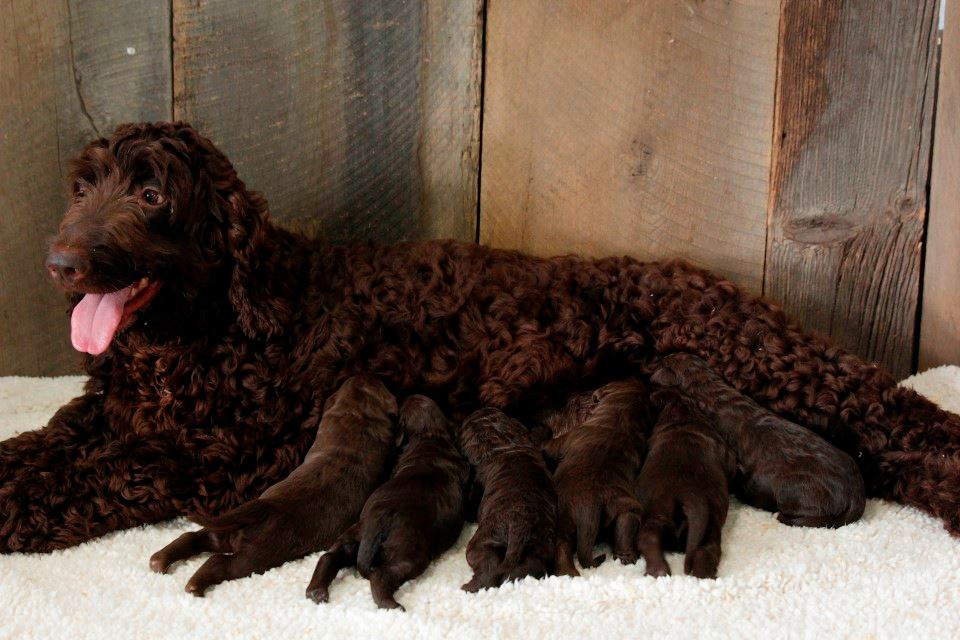 The price of the Goldendoodle has seen a nice increase over time, this is because Goldendoodles are fast becoming widely recognized and are loved by numerous people. On average a Goldendoodle should cost between $1000 to $2000, however, the Chocolate Goldendoodle, which is very rare, is valued between $1500 to $3000.
The price listed varies heavily with each breeder, but don't be scared to break the bank for a Goldendoodle, as long as you are getting it from a reputable breeder. Remember, it is quality over price.
Is a Chocolate Goldendoodle right for you?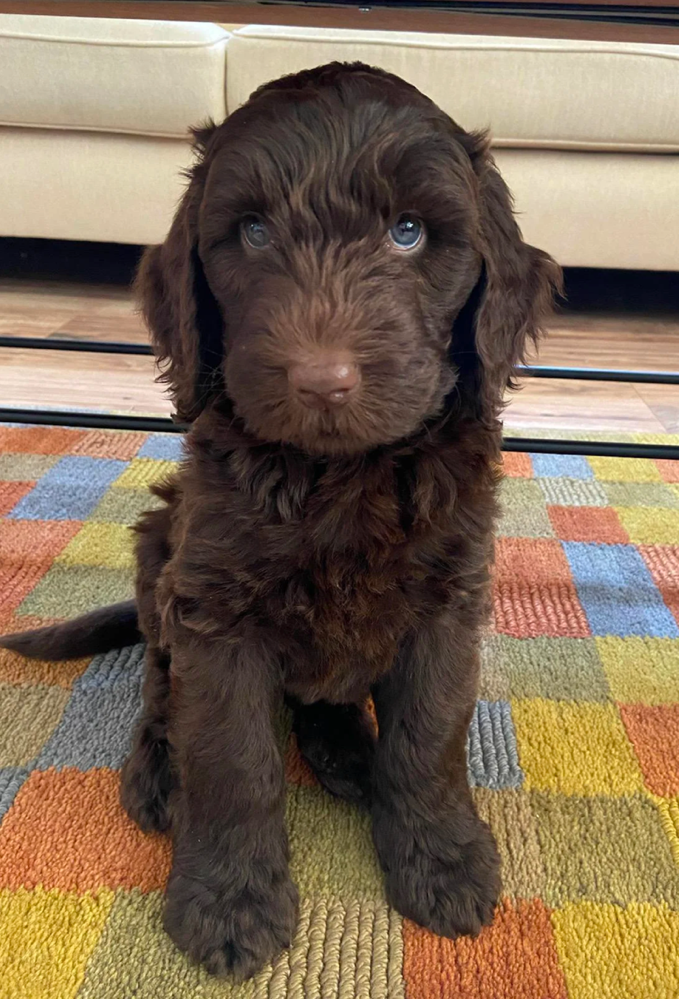 The Chocolate Goldendoodle is a rare variation of the Goldendoodle that is widely loved by doodle lovers across the United States and the whole world. They bring the loveable character sets of the Golden Retriever and Poodle, while still being beautiful and almost flawless in their chocolate coats. They are awesome family companions that you definitely would enjoy.
As we have stated in numerous points of this article, ensure you get your chocolate Goldendoodle (or any Goldendoodle) from a reputable breeder. Ask the right questions and demand the right certifications.
That's all we have for you in this article, do ensure you check out other articles on our website to learn something new about the beautiful dog breeds.
Other Goldendoodle Colors