The phantom Goldendoodle is a unique Goldendoodle color variant that many would describe as rare. It is worth purchasing but before contacting your breeder, it is very important you get all the facts and needful information on the Goldendoodle color variant.
Because of its unique coat color, many might go as far as describing phantom Goldendoodles are separate or new Goldendoodle varieties. This is not true as they are the same as every other color variant of the Goldendoodle breed. The only difference is its color.
With that being said, this article provides all the information you would need on Phantom Goldendoodles. Its genes, traits, coat colors, personality, and a lot more. So do ensure you read on till the end.
Related posts:
What is a Phantom Goldendoodle?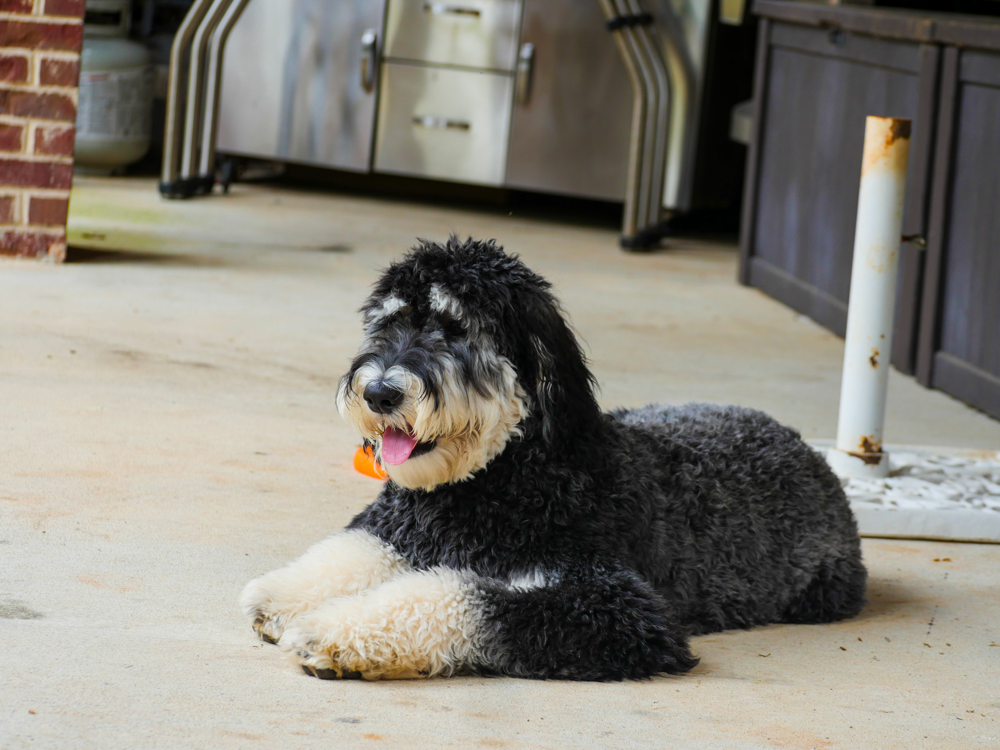 Phantom Goldendoodles are unique. Their uniqueness comes as a result of their distinct coat. The Goldendoodle breed is blessed with a double coat color. A primary coat color and a secondary coat color. It is almost similar to the Dobberman dog breed. When compared with other Goldendoodle variants, the phantom Goldendoodle shares similarities with the Tuxedo Goldendoodle.
The double coat colors of the phantom Goldendoodle are specific to certain regions of the phantom Goldendoodle's body. These are the muzzle, chest, eyebrows, tail, or ears, at the lower legs of the Goldendoodle.
For a Goldendoodle to be called a phantom Goldendoodle, then it would need to have its coat colors in these specific locations. The secondary colors appear mostly on the face and legs of the phantom Goldendoodle, while the primary color is more dominant, covering most parts of the Goldendoodle's body.
You can breed a phantom Goldendoodle by breeding a phantom Poodle with a Golden Retriever. This is easier said than done as phantom Goldendoodles are often described as products of luck.
Are Phantom Goldendoodles Rare?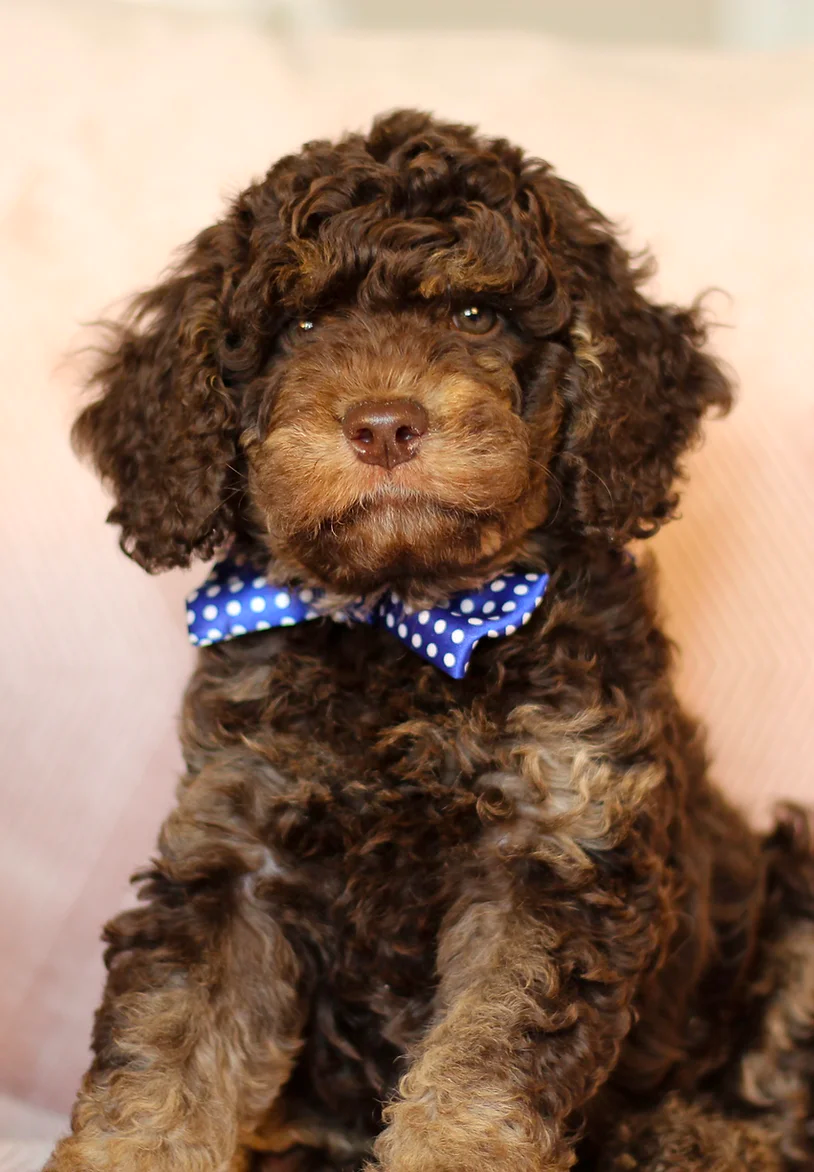 Yes, they are. As stated earlier, in most cases, phantom Goldendoodles are created through luck as the possibility of producing one intentionally isn't high. The specific coat location is a major contributor as to why the phantom Goldendoodle is a rare breed color variant.
Phantom Goldendoodles possess both Golden Retriever genes and the phantom Poodle gene. What decides the coat color of a puppy is basically the overall strength of a parent's gene. Basically, the puppy parent with the stringer or dominating gene should determine the puppy's coat color.
For a phantom Goldendoodle, this obviously the phantom Poodle. But there are cases where the Golden Retriever's gene comes out stronger. This is why they are called products of luck.
Phantom Goldendoodle Coat Types
The phantom Goldendoodle is pretty much the same as every other Goldendoodle variety in existence. As such, they come in three distinct coat types that are common for all other Goldendoodles. These are the;
Short or flat coat phantom Goldendoodle
Wavy or shaggy coat phantom Goldendoodle
The curly coat Goldendoodle
1. Short or Flat Phantom Goldendoodle Coat
Since phantom Goldendoodles are gotten from breeding a Golden Retriever with a Phantom Poodle, there is a possibility that the phantom Goldendoodle can end up looking more like the Golden Retriever parent breed, while still retaining the coat color gene from the Poodle parent breed.
The short hair or flat Goldendoodle coat type is considered to be the most likely to shed coat when comparing all three possible Goldendoodle coat types. As such they are not really regarded as hypoallergenic coats.
Phantom Goldendoodles should have a double coat color while still having short and easy-to-shed or loose fur. Even at that, the phantom Goldendoodle with a short or flat coat is still low shedding when compared to the Golden Retriever.
2. Wavy or Shaggy Phantom Goldendoodle Coat
If you have ever desired a Goldendoodle with a teddy bear look, then the Goldendoodle with a shaggy or wavy coat would be your best choice. They are generally known to be hypoallergenic as their wavy or shaggy coat is low to non-shedding.
A phantom Goldendoodle with a shaggy or wavy coat would look more like the poodle parent and its coat would be full and teddy bear-like. Being a phantom Goldendoodle, it would have a double coat color.
When compared to the other coat types for the Phantom Goldendoodle, this is far less likely to shed than the flat or short coat type and is obtained from all generations of breeding.
3. Curly Phantom Goldendoodle Coat
Curly coats for the Goldendoodle are the most hypoallergenic of the three. This is because of the tangled nature and overall length of the coat. The high length and tangled nature mean it would most likely not shed when moving around.
For the phantom Goldendoodle, expect a Goldendoodle coat type that makes it look more like the Poodle parent rather than the Golden Retriever parent. It should pose the double coating color attributed to phantom Goldendoodles.
Grooming should be harder for a Goldendoodle dog with a curly coat. But you would need to frequently groom your Goldendoodles coat if it's curly to keep from tangling too much.
Is It Possible For A Phantom Goldendoodle To Change Color?
One cool part about the phantom Goldendoodle is that they are easy to spot. The phantom Goldendoodle is one of the few Goldendoodle color variants that are known to maintain one color from birth till they eventually mature and become adults.
A phantom Goldendoodle at the puppy stage would still possess the same color coating at the same locations which are the eyebrows, muzzle, chests, under the tail, lower legs, and a lot more.
They don't possess the fading gene that is present in most Goldendoodles with a solid dark-colored coat. As puppies their adorability is quite high you would almost wish your puppy stays a puppy forever.
Phantom Goldendoodle Temperaments and Personality
The temperament and personality of the phantom Goldendoodle shouldn't really be different from the regular Goldendoodle since they are the same breed. They are generally considered quiet and calm dogs.
They make great family companions due to this trait. Phantom Goldendoodles love the presence of people and are generally friendly. In the same vein, they hate being left alone as they can often come off as needy.
When left alone for too long, they might suffer from separation anxiety and take out some of their anxiety and frustration on your living space property. This is why it is recommended that you get a trained professional to keep your dog busy while away.
Phantom Goldendoodles, like most Goldendoodles, are energetic. This is another reason why not to leave them alone. Their energetic nature can quickly turn destructive or negative. And this is not good, especially when living in an apartment.
You would need to exercise or train your phantom Goldendoodle regularly. We'll get to more on that later in the article.
Phantom Goldendoodle Appearance
The appearance of the phantom Goldendoodle is pretty much similar to the regular Goldendoodle. They come in a variety of sizes and colors. And when it comes to coat types, they can come in any of the three coat types which are flat, wavy, or curly types.
What truly sets the phantom Goldendoodle from others would be its coat pattern. It possesses a double-coat color pattern. A primary and a secondary coat can vary in color depending on the phantom Goldendoodle type.
These primary and secondary coat colors are known to be specific to certain locations which can range from the eyebrows of the puppy to the lower end of the puppy's legs. The phantom Goldendoodle can be easily mistaken for a tuxedo Goldendoodle. But there are certain distinctions.
Phantom Goldendoodle sizes
Phantom Goldendoodles offer variety when it comes to both colors and sizes as well. Your designer dog breed can come in either one of the following sizes for the Goldendoodle;
Miniature phantom Goldendoodle
Standard phantom Goldendoodle
Medium phantom Goldendoodle
Petite phantom Goldendoodle
Teacup or micro-sized phantom Goldendoodle
Your full-grown or mature phantom Goldendoodle can have a size range between 7 to 25 inches and 11 to 80 pounds. It all depends on the exact size variety you go for. When looking at the standard Goldendoodle, can range in height between 22 to 25 inches tall. And for weight, it can range between 45 to 80 pounds to be fully considered a stand-sized phantom Goldendoodle.
For the medium-sized phantom Goldendoodle, then expect a height range between 17 and 21 inches. And the weight should be between 30 to 45 pounds. The mini-sized phantom Goldendoodle should range between 13 to 16 inches in height. While the weight range should be between 16 to 30 pounds.
There are even smaller sizes of the miniature-sized Goldendoodle like petite phantom Goldendoodle. It can range from 11 to 15 pounds in weight and 11 to 13 inches in height. Then the teacup-sized phantom Goldendoodle weighs lower than 11 pounds and measures lower than 11 inches.
Most Popular Color Variations of Phantom Goldendoodles
It is worth stating again the phantom coat isn't a color choice but rather a Goldendoodle coat pattern. As such, there are other popular color variations attributed to the phantom Goldendoodle. Here are some of them;
1. Black Phantom Goldendoodles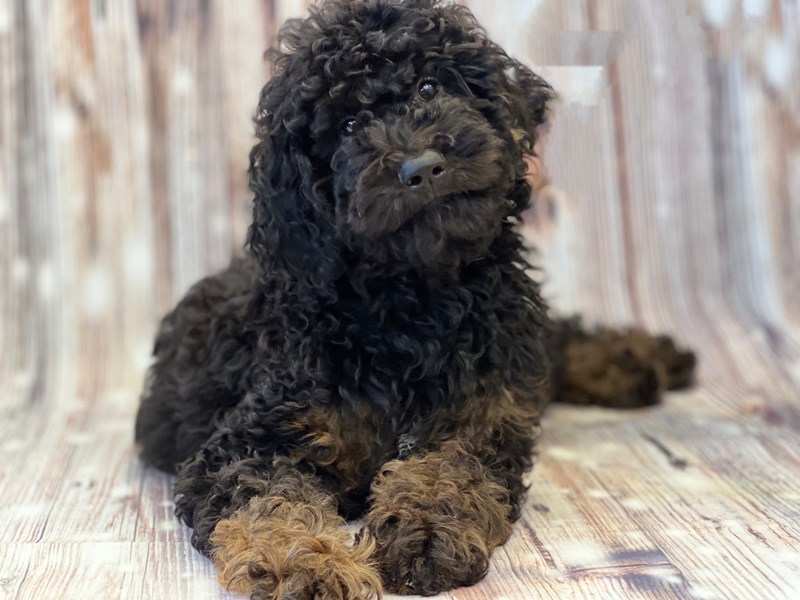 Although the phantom Goldendoodle is a rare color variant, black phantom Goldendoodles are arguably the most common or popular phantom Goldendoodle you can see.
As always, they carry the regular double-color coat pattern with the primary coat color being black and the secondary coat color being some other color. Some possible coat colors for the black phantom Goldendoodle are;
Black and Tan
Black and Cream
Black and Red
Black and Silver
Black and Gray
Black and Apricot
Black and White
Black and Brown
From the color combinations of black phantom Goldendoodles, the most popular combination you can find is the Black and Tan Goldendoodle.
2. Chocolate Phantom Goldendoodle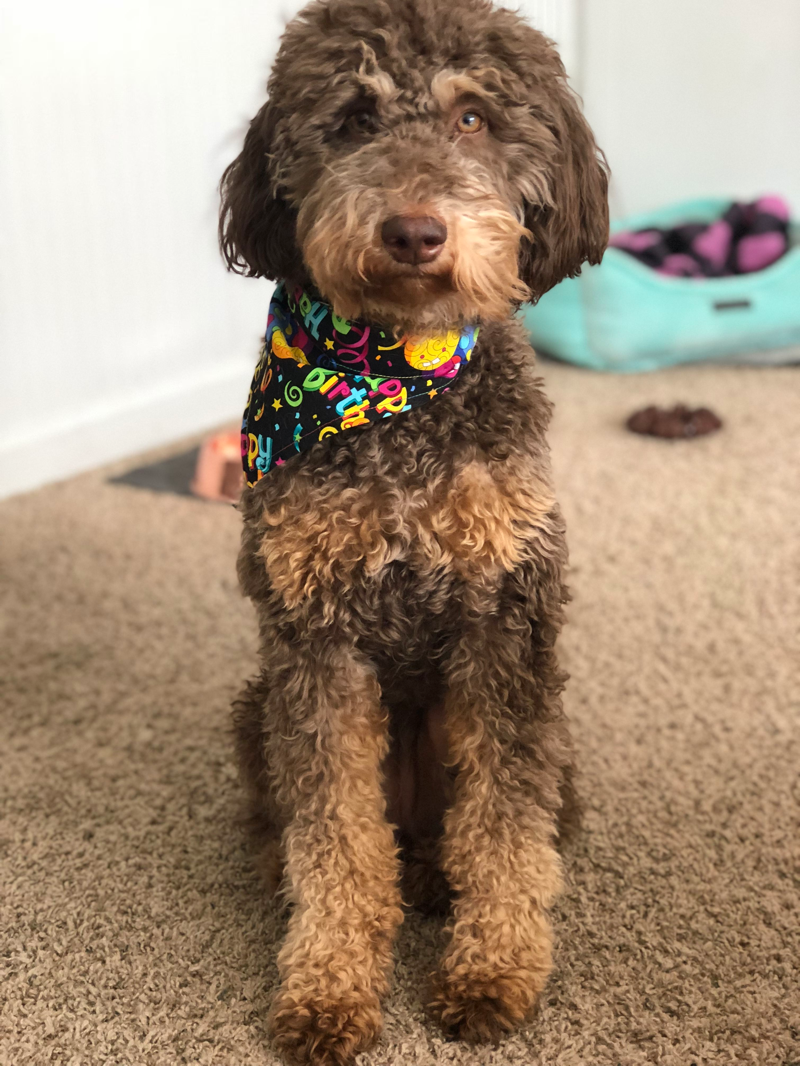 Chocolate phantom Goldendoodles are another popular choice when it comes to the rare color variation of the designer dog breed. For a chocolate phantom Goldendoodle, the primary coat color is often chocolate or a very dark shade of brown. It comes in secondary colors like cream, white, or apricot.
3. Red Phantom Goldendoodle
Finding a red phantom Goldendoodle is almost impossible. The color variant is one of the rarest phantom Goldendoodle coats to produce. They have a red primary color coat and are often paired with secondary coats of cream, apricot, or even white, like the chocolate phantom Goldendoodle.
4. Silver Phantom Goldendoodle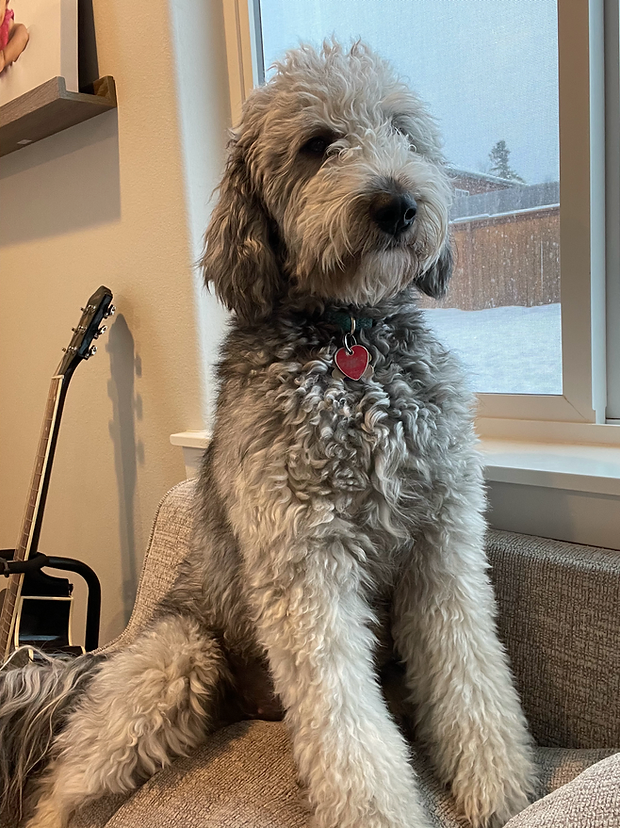 The silver phantom Goldendoodle is another common color variety of the phantom Goldendoodle variant. It features a primary coat color of silver or gray and it is often paired with a secondary coat color that is cream.
5. Sable Phantom Goldendoodles
Sable phantom Goldendoodles are blessed with unique coat colors and patterns. They do have the same pattern as the regular phantom Goldendoodle coat, but their fur can be very distinct. What makes a sable phantom Goldendoodle is its black-tipped fur.
The roots of their fur can be any color but its tips are black and beautiful. They have the fading gene, so it is possible for your sable phantom Goldendoodle to lose its coat color as it ages.
6. Brindle Phantom Goldendoodles
Getting a brindle phantom Goldendoodle is very difficult. This coat color features the Goldendoodle with light and dark stripes that closely resemble those on a tiger. The brindle phantom Goldendoodle would still have the color patterns of the regular phantom Goldendoodle.
7. Merle Phantom Goldendoodle
Another very rare color variant of the phantom Goldendoodle is the merle phantom Goldendoodle. It features a combination and marbling effect of the merle Goldendoodle with the regular double coat color of the phantom Goldendoodle. The coat colors can range from blue to red to chocolate.
Phantom Goldendoodle Lifespan
There is a common misconception about Goldendoodles of different color variants when it comes to their lifespan. It is worth stating that all Goldendoodles irrespective of their color variations are still the same breed.
With that being said, the average lifespan of a phantom Goldendoodle should be the same as a regular Goldendoodle. They should be able to live between 10 to 14 years provided they enjoy good health practices and are given the right nutrients in both food and in supplements too.
There are other factors that can impact the overall lifespan of the Goldendoodle, so it is worth noting that the 10-14 years lifespan is not set in stone.
Training The Phantom Goldendoodle
This is highly recommended for your phantom Goldendoodle. They can be a little too energetic and if left with all that energy and no place to channel it, your sweet Goldendoodle might cause you some problems in the long run.
Make out time to exercise and train your phantom Goldendoodle from the puppy stage till they eventually become adults. Go on walks for at least one hour a day or take them swimming or basically involve them in mental exercises too.
When it comes to training your phantom Goldendoodle, then you would find it a lot easier than expected. This is because the Goldendoodle is an intelligent dog breed and trainability for the puppy should be quite high.
They work well when trained using positive reinforcement. Rather than being stern and authoritative on your Goldendoodle while training it, employ a gentler or softer approach towards it. Reward good behavior with treats and toys but be careful not to overdo it as you might spoil them a little too much.
When it comes to negative behavior, you can result to light taps on the Goldendoodle's muzzle to correct it.
If you can't make out time to exercise or train your phantom Goldendoodle, then consider hiring a trained professional to do this for you. But it is recommended that you do this yourself as it can help strengthen the bond between you and your beloved Goldendoodle puppy.
Are There Potential Health Problems with the Phantom Goldendoodle?
Goldendoodles in general are a healthy breed. But they are prone or susceptible to a few health defects which can be inherited from their Golden Retriever and Poodle parents. However, these are not specific to the phantom Goldendoodles, but all Goldendoodles.
Phantom Goldendoodles are regular Goldendoodles, and their coat coloring doesn't provide any health problems for the breed.
Do Phantom Goldendoodles Shed A Lot?
The answer to this question depends a lot on the coat type of the phantom Goldendoodle in question. As we already know, the phantom Goldendoodle has three coat types which are:
Flat or short coat
Wavy or shaggy coat
Curly coat
Of all three coat types, Goldendoodles born with the flat or short coat type are more likely to shed than those born with the other coat types.
Since most phantom Goldendoodles are born with wavy or curly coats, then we can say that the phantom Goldendoodle is a low to minimal-shedding dog breed.
How Much Are Phantom Goldendoodles?
Rare Goldendoodle color variants like the phantom Goldendoodles are usually very expensive to own especially when dealing with a reputable breeder that truly cares for the Goldendoodle puppies they produce.
So before getting a phantom Goldendoodle puppy, you should put a budget between $3000 and $5000 for the puppy. Always get your puppies from a reputable breeder, irrespective of the high cost.
Phantom Goldendoodle Puppies for Sale
Check out any of the following breeders in the United States when looking for phantom Goldendoodles.
1. Goldendoodles Forever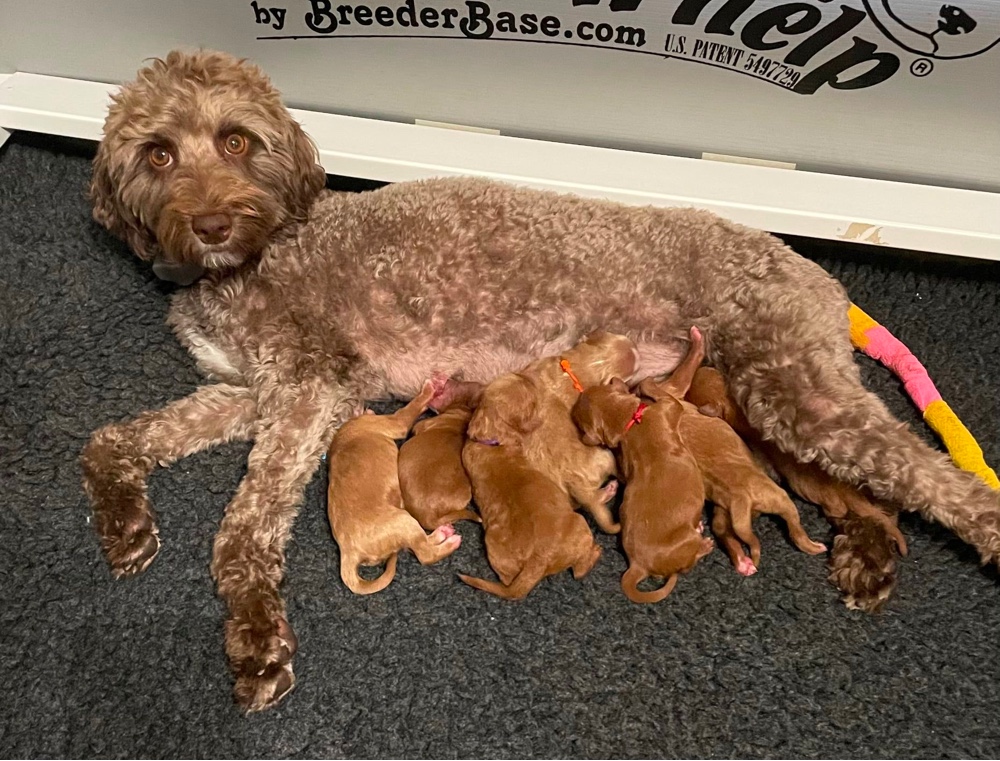 Goldendoodles Forever are a top breeder of Goldendoodles and they are located in Dubuque Iowa. They are reputable breeders that truly love their Goldendoodle dogs and are all about improving the breed through proper breeding practices. Their breeding program produces multi-gen Goldendoodle puppies of various coat colors including the very rare phantom and sable Goldendoodle coats. All their dogs have hypoallergenic coats. As they are tested and are healthy.
Their breeding program ensures only the best sires and dams are accepted into their program. All their Goldendoodle dogs are selected for their program based on their overall health, intelligence, and even coat to ensure they get the desired litter. Their sires and dams undergo thorough and extensive health testing for genetic health conditions that could prove harmful to the Goldendoodle litter. They are health tested and are certified to show they have good functional hips, elbows, eyes, and cardiac.
All puppies they produce are raised on a 4-acre property in Dubuque, Iowa. There they are surrounded by all family members both extended and nuclear. They are also surrounded by children and also other pets and animals. This ensures they get socialized and used to interacting with various people and animals of different age ranges. The puppies are also introduced to a few training practices.
Your puppy should come with a 2 years health guarantee. They should be health tested and checked by a licensed vet and each should have their full vaccinations and deworm recorded. They also offer lifetime breeder support for all families and owners of their dogs.
Goldendoodles Forever Contact Details
2. Breezy Hollow Puppies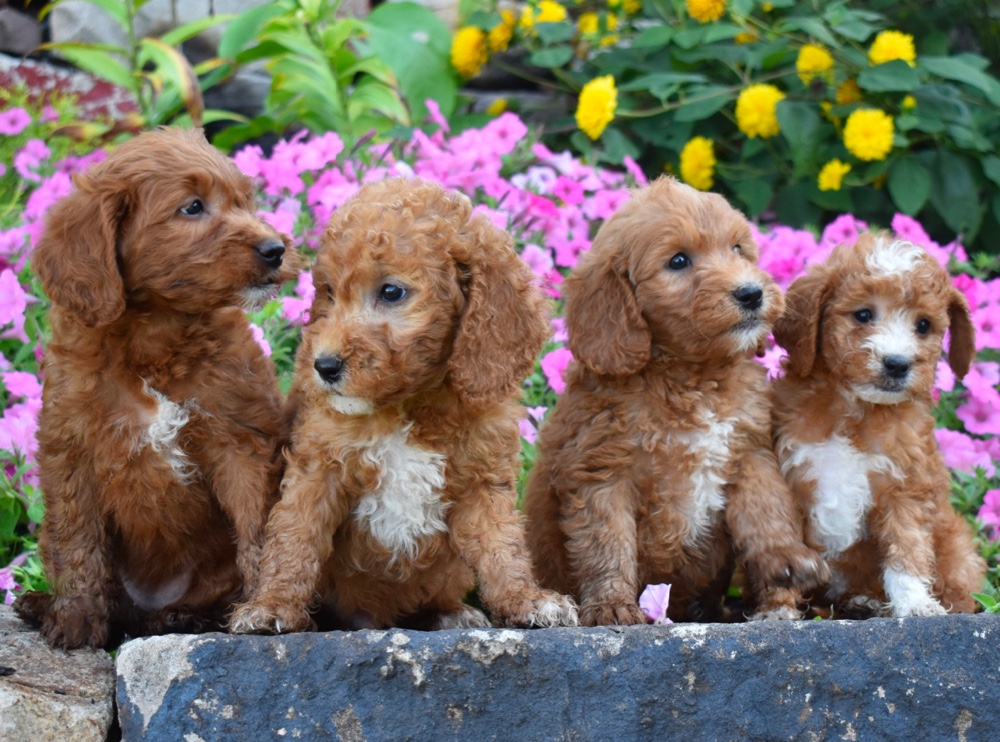 Breezy Hollow Puppies are the next breeders to be added to our Goldendoodle list. They produce all Goldendoodle puppy coat colors and focus on the medium, miniature, and petite sizes of the Goldendoodle. Their puppies are raised to be wonderful family companions and they each come from impressive lines. All their dogs are hypoallergenic and are blessed with the teddy bear look which makes for good conformation.
Every Goldendoodle is raised on their property in Millersburg, Pennsylvania. There they are raised to be excellent family companions as well as excellent dogs in general. All puppies are given proper socialization and are raised with human and non-human interactions. Every Goldendoodle should come with a basic introduction to both crate and potty training and they are fed with high-quality food and supplements.
Their breeding program is quite standard as they carry out all necessary research before adding a dog into their breeding program. The sires and dams are practically members of the family. They are raised and given a full examination of their genetic health. This is to ensure they are free from any harmful defects that could cause trouble for the breed. Every Goldendoodle puppy comes from an OFA-certified parent.
Their Goldendoodle puppies are health guaranteed. They are also examined and checked by a licensed vet and each has their full deworming and vaccination records updated. They are also microchipped to ensure you don't lose your puppy.
Breezy Hollow Puppies Contact Details
Is A Phantom Goldendoodle Right For You?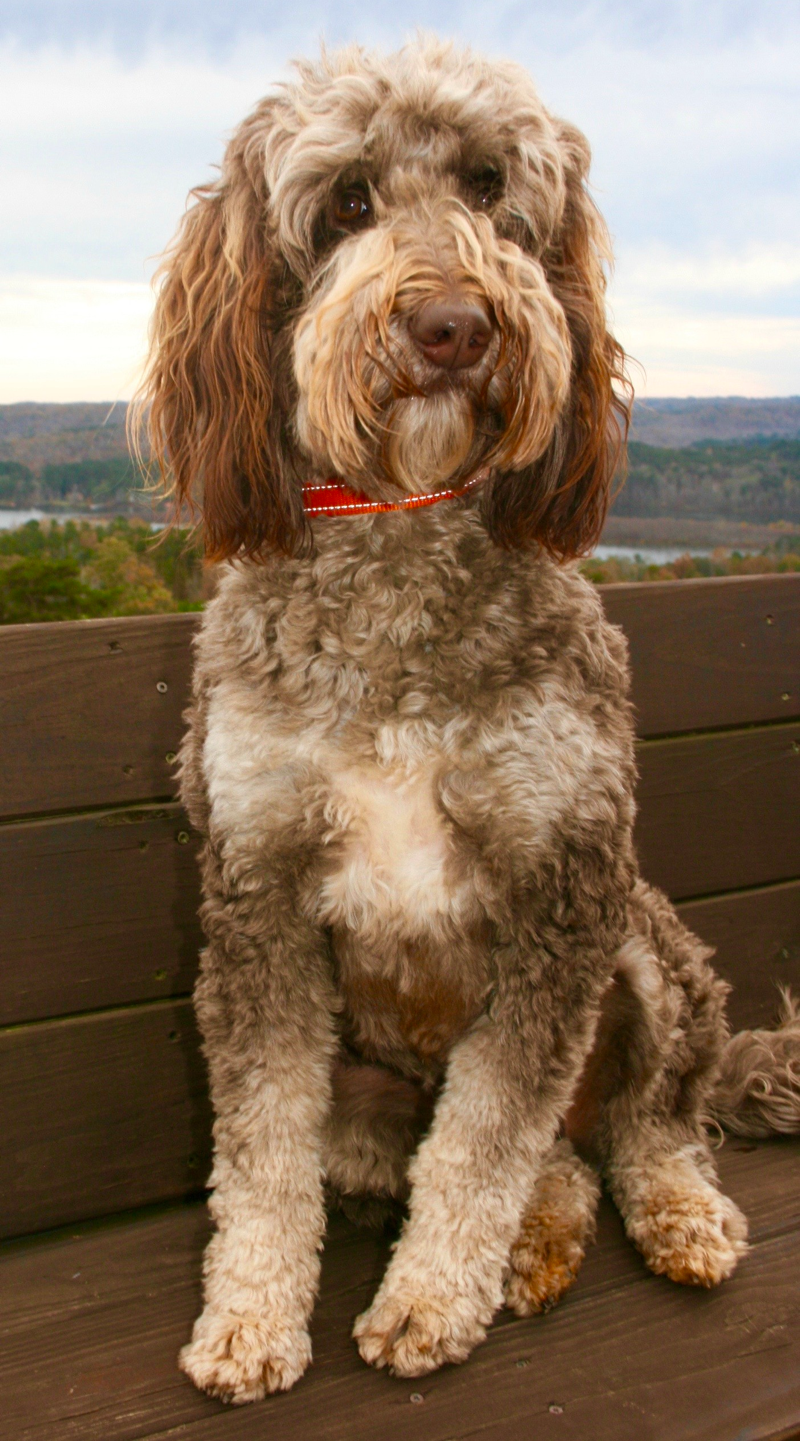 With all that has been said about the phantom Goldendoodle, it's time to decide if it's the right dog for you. I believe this question depends on the kind of activities you engage in. If you're an active person and don't have any problems with exercising and training your dog, then the phantom Goldendoodle is for you.
They also make great dogs for an active family and love being around children. They can be quite protective of their family but they aren't really suited to be security dogs as they are often very friendly.
Raising them should be really easy, and so does training and exercising them. If you are getting a phantom Goldendoodle, then ensure you deal with a reputable breeder. Ask the right questions and demand the right certifications for your Goldendoodle puppy.