8 weeks is often the age at which our beloved Goldendoodle puppy should be ready for pickup from their respective breeders. At this stage, the Goldendoodle puppy should have gone through a lot to ensure they come out perfect, healthy, and strong.
Even with all that, the puppy still has a lot more development to do, and you as its new owner are a critical part of this development process. With that being said, this article provides you with everything you need to know about the 8 weeks old Goldendoodle puppy.
At 8 weeks of age, your newly obtained Goldendoodle should have gone through some basic processes depending on their respective breeders' programs. They should have gone through basic socialization and training programs to help them get more comfortable in new situations.
We would provide you with valuable information on what to expect from your newly gotten Goldendoodle, the processes they would have gone through, and what needs to be done to ensure they grow strong and healthy.
What To Expect From a Week-old Goldendoodle Puppy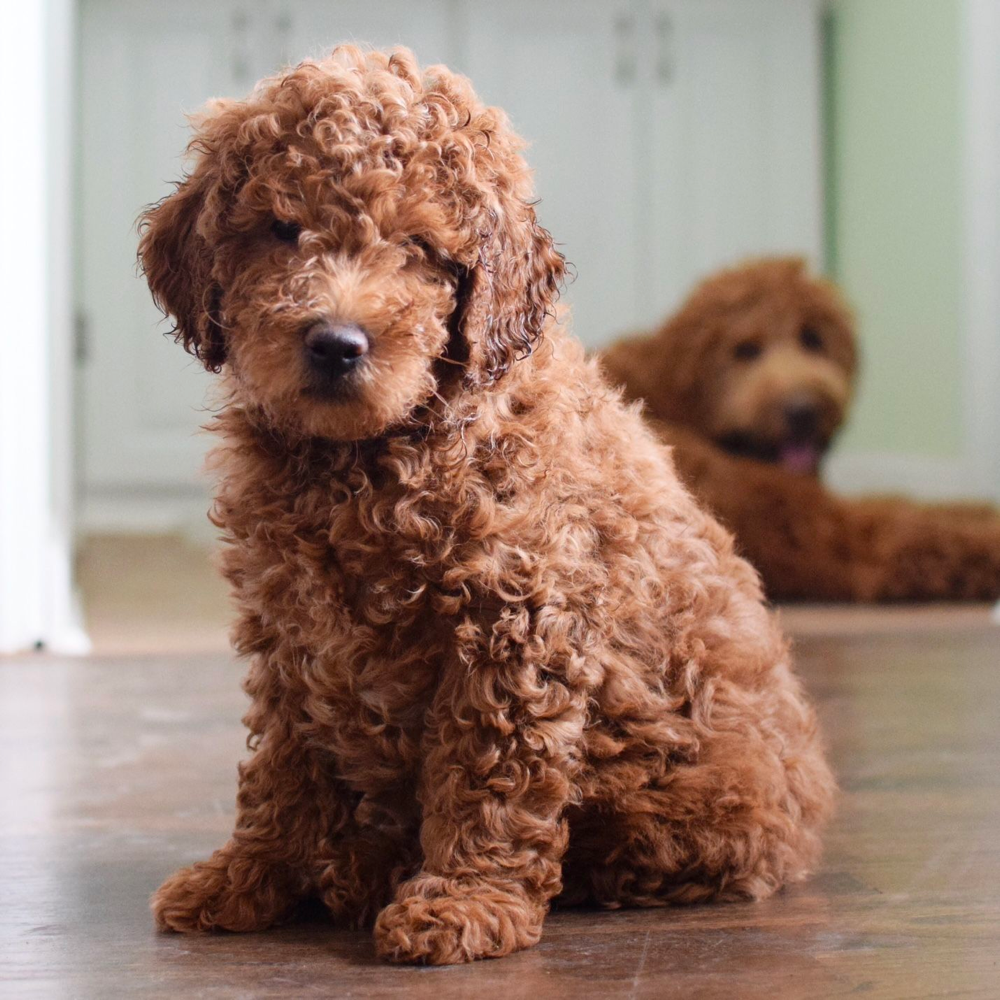 As stated earlier, the 8-week age range is the time period at which you should be getting your Goldendoodle puppy from their respective Goldendoodle breeder homes. With that being said, depending on how reputable the breeder is, your Goldendoodle should already be properly socialized or introduced to the basics of proper socialization.
This is highly important as even though Goldendoodles are incredibly nice and generally happy dogs, an unsocialized Goldendoodle can develop some erratic traits or behaviors that can be caused by stress from being in unfamiliar situations and seeing unfamiliar faces. And since your new Goldendoodle friend should be seeing you for the first time around this stage, socialization is a high necessity.
They should also be healthy and fully checked by a licensed vet. Reputable breeders know the importance of vaccinations and deworming for Goldendoodles and all dogs in general. With that being said, your new Goldendoodle puppy should have received all the necessary shots and deworming that are appropriate for the exact age range they fall on.
And as an extra, some Goldendoodle breeders make an effort to introduce or start their Goldendoodle puppy on the basics of certain training programs like basic commands, potty, and crate training. If this is the same for you, then you are expected to further improve on the overall training your new Goldendoodle gets as they are no longer under the care of their breeders.
First Week Schedule With 8 Week Old Goldendoodle Puppy
After receiving your Goldendoodle puppy from the breeder, the next and best thing to do would be to have them properly checked or examined by a licensed vet. Have them properly examine your Goldendoodle puppy and be sure they are free from any issues that might have been overlooked by the breeder.
While the puppy is with the vet, have them properly vaccinated and dewormed to keep them healthy and strong. You also would want to ensure they are properly trained and exercised to ensure they are in the best of shapes and behaviors.
When it comes to socializing your new Goldendoodle puppy, there is a great way to go about it. The idea is to make sure your Goldendoodle puppy familiarizes itself with every possible situation and possible human interaction it can possibly be exposed to.
This is why socializing should be done in a safe and comfortable place, where the Goldendoodle can in a sense "Feel at home". There are three key focal areas you should prioritize when it comes to socializing your Goldendoodle puppy.
The first should be human interaction. This is highly important when trying to familiarize your Goldendoodle with your household and friends. Ensure you regularly introduce your Goldendoodle to people of various age groups and appearance structures. This can include them trying out different attires and looks on your Goldendoodle to ensure they are comfortable with people in any form they might appear in.
For the second socialization priority, focus on general experiences and stimulations that the Goldendoodle puppy might get introduced to in the future. This can come in a variety of sounds like car horns, vacuum cleaner noises, and a host of others. Different textures can also be introduced to the Goldendoodle and a host of other feelings as well as sights.
Take your Goldendoodle puppy exploring, and let them soak in different experiences that can help shape them into becoming bright and generally happy dogs. So occasional swimming, car rides, and regular walks would definitely help them get properly socialized.
The third area or focal point when it comes to socialization should be interacting with other dogs and animals. If your Goldendoodle was raised on a farm, this can help a lot with getting them socialized with farm animals and other pets.
But if your Goldendoodle still doesn't have many interactions with other pets, then you should consider taking them on regular walks to regular parks or animal parks where they can meet and make new friends with other puppies or pets.
If you can't seem to make out time to properly socialize your Goldendoodle puppies like listed above then consider getting the help of a professional to get them regularly socialized for you. This can be regular doggy daycare or home. Just ensure they are carefully vetted before handing over your precious Goldendoodle to them.
How Big Is An 8-Week-Old Goldendoodle?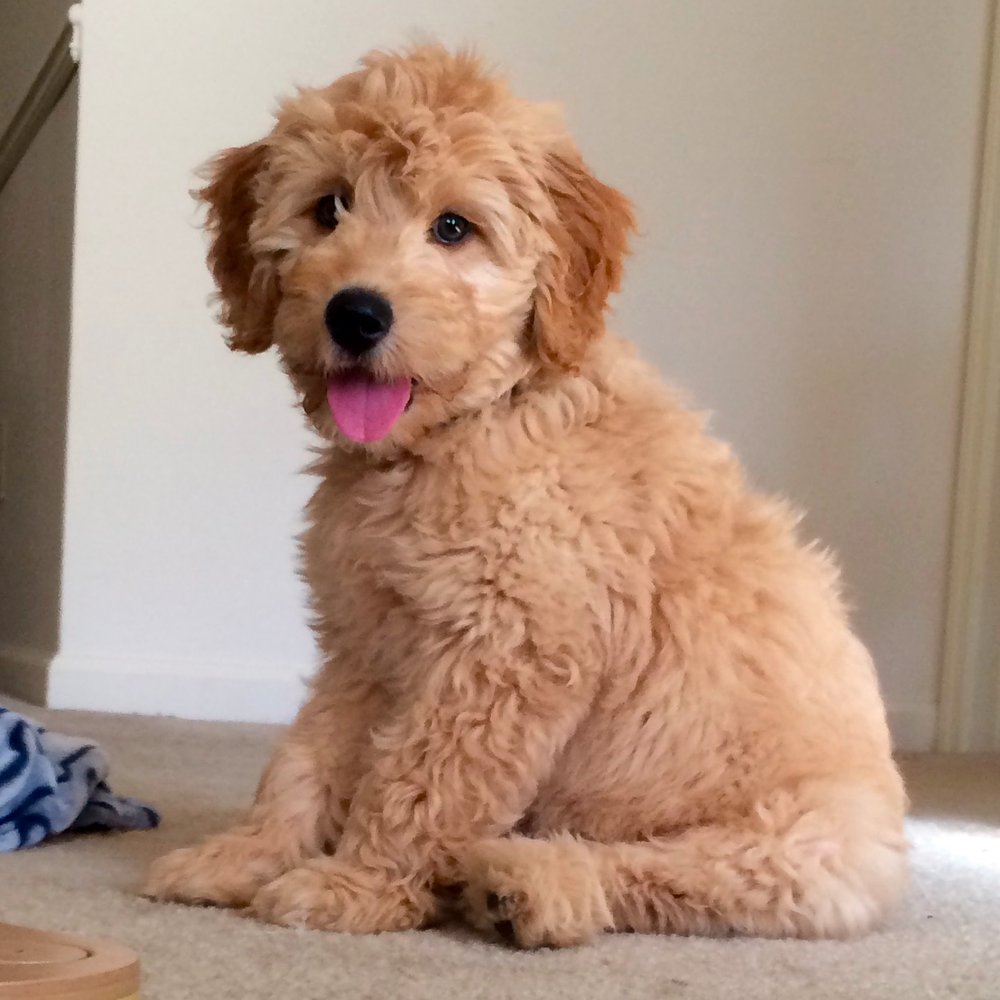 Identifying how big your Goldendoodle would be at 8 weeks of age can be a bit difficult to predict. This is because the size of the Goldendoodle can be affected by lots of different variables and factors.
Even though an 8 weeks Goldendoodle is technically still a puppy, their sizes can be influenced by the exact size class they fall under, teacup, petite, and standard Goldendoodles could each possess different sizes and weight classes at that stage of their life.
But on average, your Goldendoodle should fall between the range of 3 pounds to 12 pounds in weight. The height also depends on the overall size class they fall under, with an average of 7 to 12 inches.
How Much Do You Feed A 8-Week-Old Goldendoodle?
At this stage of the Goldendoodle puppy, you should also expect that they develop a ferocious appetite. This is practical because they are at the peak of the growing stage and they require all the necessary nutrients that could further make them healthy.
The required nutrients for a Goldendoodle puppy at this stage are protein, carbohydrates, and fat, alongside other nutrients like vitamins, calcium, and a lot more. The exact feeding schedule should be based on the size of the 8-week-old Goldendoodle puppy.
For a miniature 8-week-old Goldendoodle puppy, you can consider feeding them with ½ cup of good quality kibble a day. This can be spread across 3 to 4 different meal servings for that day. This also works for even smaller sizes of the 8-week-old Goldendoodle puppy like the petite and teacup size class.
When looking at medium size Goldendoodles puppies, at 8 weeks old, you can consider providing them with more food than you would a small-sized Goldendoodle. ⅔ of a cup should be more than enough for them. You can spread that across 3 to 4 servings to ensure they are well-fed but not overfed.
And as for the standard-sized 8-week-old Goldendoodle puppy, you should consider feeding them 1 cup of Goldendoodle kibble each day. This can also be spread across 3 to 4 servings each day to be certain they get all their desired nutritional requirements.
How Much Sleep Does an 8-week-old Goldendoodle Puppy Need?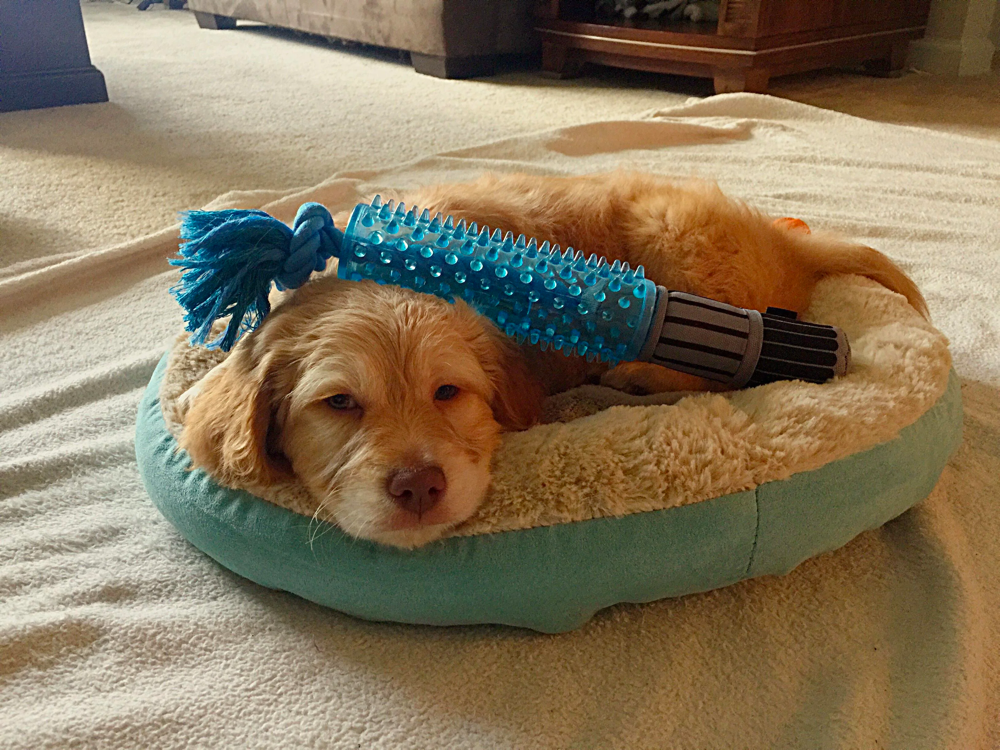 Even the 8-week-old Goldendoodle puppy can be seen as energetic, they are still pretty young and deserve all the sleep and rest they can. Their immune systems and overall bodies require all the sleep that they can get.
With that being said, ensure you provide your 8-week-old Goldendoodle puppy with over 18 to 20 hours of complete sleep each day. This should go on till they are at least 20 weeks old, at which point their entire sleep schedule can then be reduced to 13 hours minimum.
And as such, it is highly important that you let your Goldendoodle get all the desired rest even though you might feel very tempted to play with them.
How Much Exercise Does an 8-week-old Goldendoodle Puppy Need?
It is highly important that you do not overwork your Goldendoodle, especially during their puppy stage as their bodies and the overall system is still very fragile and easy to injure. But with all the sleeping and feeding they do, it is easy for them to get overweight at this stage and that is certainly not ideal for your Goldendoodle's overall health.
With that being said, you should regularly exercise your Goldendoodle pups and keep them healthy. Start them slowly by introducing short 10-minute walks each day. This can be done between 1 to 3 times each day, totaling 30 minutes of mild exercises for them.
Remember to do this in a safe and controlled environment where they would be free from any harm or health issues that might affect them. You can also introduce them to small games like mild fetch or perhaps tug.
As theory gets older (perhaps 4 months and above), you can proceed to increase the overall time limit for exercising your Goldendoodle and even add more games for them to play and generally have fun.
Training Your 8-week-old Goldendoodle Puppy
Training your Goldendoodle puppy might feel like a daunting task and who can blame you? Sometimes it feels like they might be having a hard time understanding basic instructions. But the Goldendoodle is a wonderful dog to train.
They are quite intelligent and are more likely to pick up instructions and learn faster than the average canine dog or breed. When training a Goldendoodle it is always a great idea to adopt a gentle and kinder approach to training. This method is called positive reinforcement and it is proven to be much more effective on Goldendoodles than simply being stern and authoritative.
It involves rewarding your Goldendoodle's good behavior with playful pats, doggy treat,s and toys and punishing their bad behaviors with light but firm taps on their muzzle and some other not-to-serious actions. This way, you can keep them interested long enough for them to learn new tricks and techniques.
For an 8-week-old Goldendoodle puppy, there really aren't many training options they can take on at such a young age. In fact, there are three possible pieces of training they can undergo at such a young age. These are;
Crate Training
Basic Obedience Training
Potty Training
Teaching your Goldendoodle the right way to potty is actually one of the best if not the best skill they can actually learn at such an age or stage in their life. It takes a few weeks for your Goldendoodle to become fully potty trained (16 weeks max), but for an 8-week-old Goldendoodle puppy, you can make the best for them by giving them a healthy start.
Items like puppy pads can be used at the start of potty training your Goldendoodle. Start by getting the puppy used to using the puppy pads, then slowly move the puppy pads towards the door once they get used to that area, you can then slowly move the puppy pads outside the door until they get used to the outdoor potty.
You can also decide to start them directly on the outdoor potty but you have to follow a few rules or tips. One of them is taking them on frequent potty breaks. This can be done once every 30 minutes to help them get used to the outdoor potty.
Another helpful tip is to come up with a positive reinforcement reward or punishment system for whenever they potty outdoors. Praise them almost immediately, if they potty outdoors, and if they don't a firm but not harsh punishment system should suffice.
Monitor them with a close eye and notice any period of time they potty indoors so you can punish them or praise them if they potty outdoors. And ensure you always use the same door for your Goldendoodle puppy when training them to go potty outdoors.
Crate Training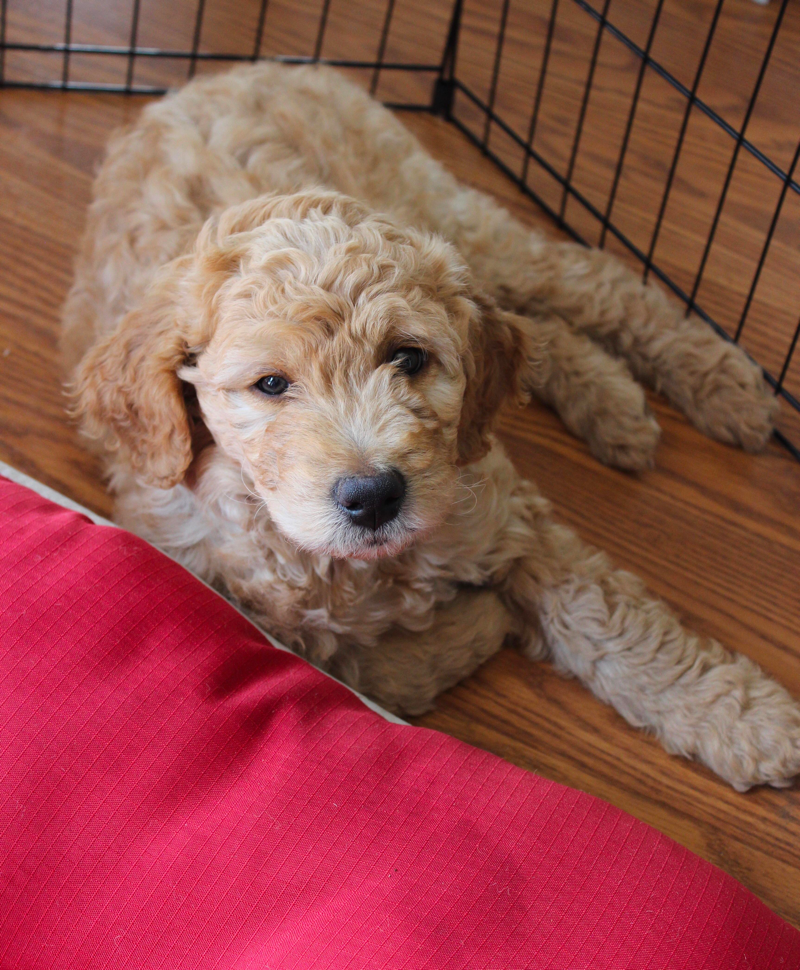 Goldendoodles are incredibly prone to separation anxiety and this is why a proper crate training process is important for them as well as for you. To get your Goldendoodle puppy to see the crate as a personal space or area, you might need a lot of patience.
Try creating some crate-only toys that you can play with only when they are in their crates. It can be something stressful like a puzzle that could keep them very occupied in the long run and force them to settle in while playing with these toys.
You can also try feeding them while in their crates. That way they can see the crate as a personal space and often go there whenever they feel the need to relax or sometimes get away from you.
When first introducing them to a crate, your Goldendoodle puppy might result in whining or barking in an attempt to get free but ensure they stay there for a while before thinking of letting them out. You can even wait till they are done whining or barking before letting them out so they don't get used to doing that whenever in their crates.
Crate training and potty training often go hand in hand so always be on the lookout when your puppy is in a crate for signs that it would want to go potty so they don't get used to going in their crates. And if you do let them out to go potty, don't engage much with them as they might want to play or run with you so make it strictly business only.
Basic Obedience Training
This is another essential training routine that should not and cannot be easily overlooked. Your breeder should already have given your Goldendoodle puppy a head start on basic obedience training to make it easy for you.
If they haven't, then you would just have to start them on this as early as possible. You can start with the basics, like making them sit before giving them their food or access to their food. There are certain tips you can apply when doing this.
A combination of right-hand gestures and the right timing can help you achieve this. Try moving the food or treat above the puppy's nose to make them assume a sitting position before giving them their treats. You can pair this up with some verbal commands like 'sit' and 'yes' if they do achieve such a position.
Try to stay positive throughout the training session and if you find that you are easily getting frustrated, you can opt to end the session and try again when you feel more relaxed. Always remember to use positive reinforcement and no harsh words or reactions. Your Goldendoodle is smart and should have no problems picking up this skill.
How to Deal with 8-Week-Old Goldendoodle Behaviors
For an 8-week-old Goldendoodle, this is usually the stage where they are most impressionable. And as such this is often the stage where they should start getting all the training they can get. Since they are getting used to you, they might suffer from simple or basic separation anxiety.
This is why crate training might be very important at this stage. Potty training should also be started at this stage. They can also become very chewy or bitey as this is when they start developing teeth. So expect excess signs of biting or chewing around the house. You can occasionally find a tooth in a pillow.
To handle this, ensure you tire out your puppy with regular exercises and training. Ensure the exercises are age appropriate so as not to risk their fragile system or bodies on certain hardworking exercise sessions that can be too demanding for them.
With proper training, they should also be able to understand the ranking and can hence become submissive or dominant during this stage. It is essential you keep them submissive as this can further help with training, especially in the crate and potty training. Teach them the most basic commands like how to sit or stay or even fetch.
8 Week Old Goldendoodle Health Problems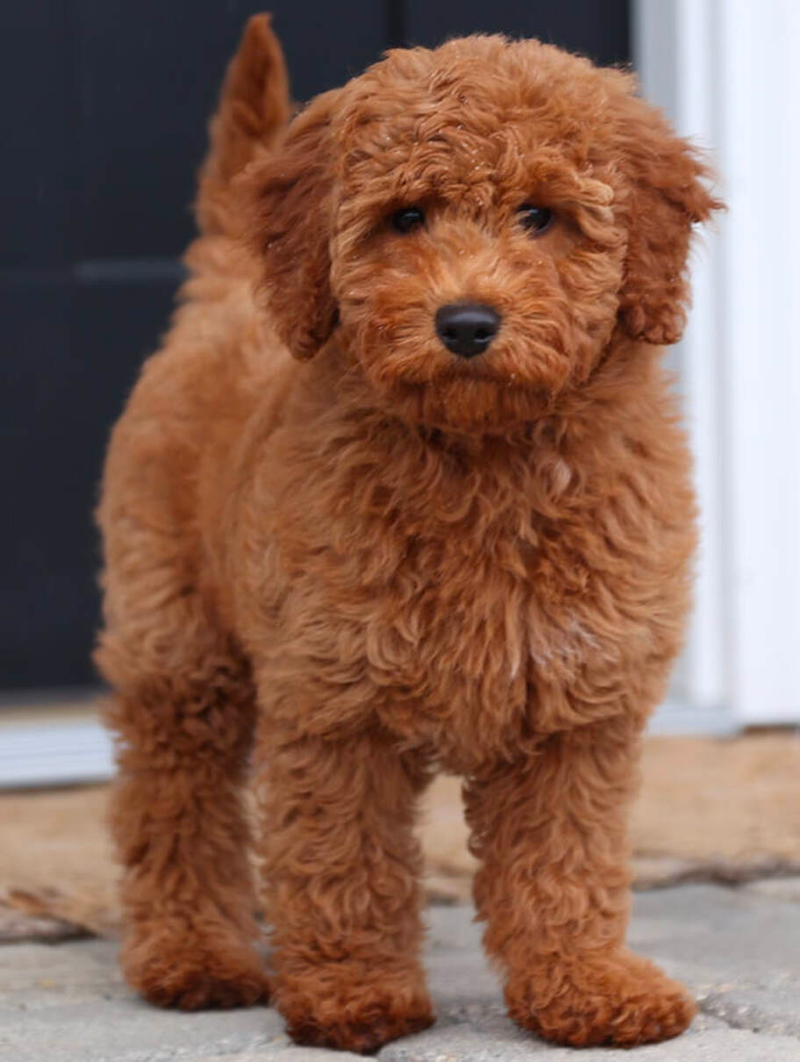 At such a young age, it is not uncommon for your Goldendoodle puppy to suffer some mild health issues or problems. Their body systems should be pretty young and fragile so they might suffer a few health issues like
Puppy Diarrhea
Be careful with the exact kind of food you give your Goldendoodle puppy at this stage as they might be prone to conditions like diarrhea. Before changing their feeding plan do a check with the vet on what they can be allergic to or not and stay away from that.
It is always recommended that you feed your Goldendoodle puppy with what is recommended by the breeder. Maintain that particular food until they grow into their adult years or stage.
Exercise or Stress
Sometimes, we might go a little overboard when it comes to exercising our puppies and this can cause serious health issues for them. So always remember that they still have fragile bodies and can't take the intense exercises that you might already be used to.
Precautions For Raising An 8 Week Old Goldendoodle
With all that has been said so far about the 8-week-old Goldendoodle puppy, you definitely need to follow any of the following precautions to keep them safe and healthy. Keep them regularly groomed and brushed. Ensure they have safe puppy toys and keep them away from any hard treats or chewing toys that might cause problems for them.
When it comes to training sessions, avoid harsh or painful punishments and always employ positive reinforcement for them. If they haven't received their full vaccinations and deworming, ensure they do and maintain these vaccinations when due.
Conclusion
Following these tips should help ensure your Goldendoodle gracefully survives this stage of its life. Always keep them happy and strong by providing all the necessary love and attention they require.
What's next you can learn: