A major reason why the Goldendoodle is so popular amongst dog lovers in the United States is its outstanding coat.
The Goldendoodle produces several coat types that are often classified as low to non-shedding. This can have a major impact on how hypoallergenic a Goldendoodle is, as the less a Goldendoodle shed, the more hypoallergenic it is.
But aside from these, what else is known about the Goldendoodle Coat? In this article, we cover everything you need to know about the Goldendoodles coat types. We also provide some basic grooming tips to keep your Goldendoodle's coat looking great and even recommend certain items to make grooming a lot easier.
With that being said, do ensure you read this article to the end as it promises to be entertaining and informative.
An Overview of the Goldendoodle
Before getting into the nitty-gritty of the Goldendoodle coat types, a general understanding of the Goldendoodle is important. Goldendoodles are basically the children of Poodle and Golden Retriever parents.
They are also known as a designer dog breed as they come in a wide variety of colors, coats, and patterns as well as sizes, which can be obtained from smart, intentional breeding.
The beautiful designer dog breed is known for its playful charm, overall friendliness, easygoing temperament, and high intelligence. This high intelligence trait of the Goldendoodle also means they are easy to train.
Because the Goldendoodle is obtained from a breeding Golden Retriever with a Poodle, they can take up any of the sizes between the Teacup size to the petite size, the mini size, medium, and standard sizes.
But on average the Goldendoodle can measure up to 34 inches and can weigh as much as 80 pounds depending on the size. When looking at life expectancy, the Goldendoodle does live a fairly long life for a dog, ranging between 10 to 13 years of age.
And then there are coat types. This is the whole focal point of this article, so let's get right into it.
How Coat Genes to a Goldendoodle's coat Type
Asides from Goldendoodle generations, there are other ways to properly predict the coat type of a newly produced Goldendoodle litter. The following contributing genes give you a better insight into how your Goldendoodle gets its coat type.
1. The Coat Curl (KRT71)
The coat curl or curly gene has a huge say on the exact coat type a Goldendoodle gets. A Goldendoodle with a curly coat would have definitely inherited the curly gene or trait from its parents.
It is worth mentioning that it is possible for two Goldendoodle parents with wavy coats to possess the curl gene and produce children with curly coats. This is why breeders should ensure they test their breeding dogs for the curl gene.
2. Coat Length (FGF5)
Their coat length is another contributing gene to a dog's coat type. Dogs with long hair have a high tendency of having kids with curly or wavy coats but because the long coat gene is recessive, you would need both parents to possess the trait to produce an offspring with long hair.
Luckily both the Golden Retriever and Poodle parents of the Goldendoodle are blessed with long coats so all Goldendoodles come with long coats.
3. Improper Coats Gene or Lack of The Furnishing Gene (RSPO2)
The furnishing gene is arguably the most important way to predict a Goldendoodles coat. It is a dominant gene found in dogs with long coat hair. It usually appears on the face of the dog(giving it the mustache look) and the eyebrows of the dog.
The improper coat gene is the lack of the furnishing gene in a dog. A dog with an improper coat gene has a rather smooth face with short hair. These dogs are known to shed a lot more than dogs with the furnishing gene.
You can have your Goldendoodles puppy go through the furnishing tests to be certain and able to predict their coat types.
The Various Goldendoodle Coat Types
As stated earlier, the Goldendoodle is a highly versatile breed that comes in a wide range of coat colors, patterns, and types. When it comes to coat types there are 3 main coat types attributed to the Goldendoodle.
These coat types offer certain unique features and qualities for the Goldendoodle and having a basic understanding of each Goldendoodle coat type should be crucial to pickling your dream Goldendoodle puppy. The three main Goldendoodle coat types are;
The Straight Coat
The Curly Coat
The Wavy or Shaggy Coat.
A Goldendoodle can be born with any one of these coat types listed above.
The 3 Goldendoodle Coat Type Comparison
| | | | |
| --- | --- | --- | --- |
| Coat Type | Rarity | Shedding Propensity | Mostly Found in |
| The Straight Coat | Rare | Most shedding coat type, but less shedding than a Golden Retriever | F1 Goldendoodles |
| The Curly Coat | Uncommon | Minimal to non-shedding, hypoallergenic for Goldendoodles that are F1b and multi-gen | Common in F1b and Multigen Goldendoodles. But exists in all generation types |
| The Wavy Coat | Most common | Minimal to non-shedding, mostly hypoallergenic | Found in all generations of the Goldendoodle. |
The Straight Goldendoodle Coat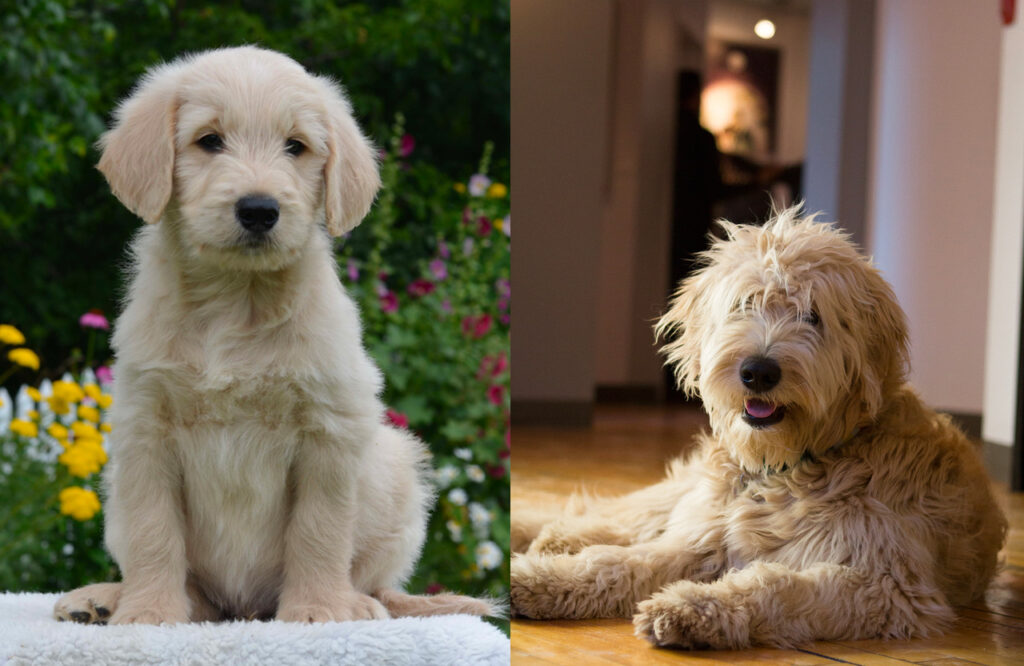 There are variations of the Goldendoodle that are born with a straight, untangled coat type. It is sometimes called the flat coat and is also common in other dog breeds like the chihuahua and the Golden Retriever. Goldendoodles that inherit the non-curly trait from their parents usually end up with a straight coat type.
Since the Golden Retriever is one of the parent breeds responsible for the Goldendoodle, it is clear that a Goldendoodle with a straight coat usually inherits this coat type from the Golden Retriever parent.
The straight or flat coat type also features a rich fluffy texture and some coat furnishings (which are described as the extra layers of hair on a Goldendoodle's face). And it can be found mostly in Goldendoodles of the standard F1 generation.
One important characteristic of a Goldendoodle with a straight coat is that they shed a lot more fur than the other 2 Goldendoodle coat types. This means Goldendoodles with straight Goldendoodle coats are not hypoallergenic as they can be bad for people suffering from dog allergies.
Cut down on how often you brush your Goldendoodles fur if it is a straight coat. Regular brushing would lead to heavy shedding and more dog fur around the house. Instead of brushing the Goldendoodle's coat yourself, have a professional do it.
They are relatively cheap and could help you take great care of your Goldendoodle straight coat without the risk of excess shedding.
The Curly Goldendoodle Coat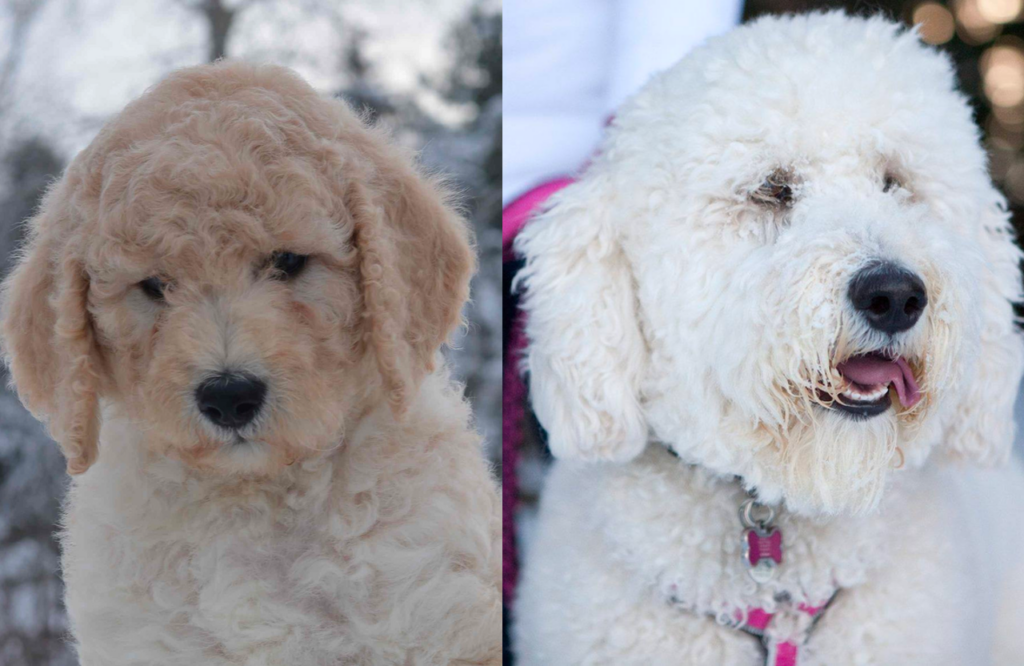 The curly coat is a Goldendoodle coat type that has enjoyed increased popularity over the years and this is because lots of people have described the teddy bear look the curly coat adds to the Goldendoodle as "Adorable".
Even with that, there are other benefits the curly coat adds to the Goldendoodle. An example would be the level of shedding it offers. Curly coat types are less likely to shed than the straight coat and as such are more hypoallergenic.
Curly-coat Goldendoodles can be found in all generations of Goldendoodle, but the possibility of getting a Goldendoodle with a curly coat is almost half, in first-generation breeding.
To get a curly coat, a Goldendoodle puppy must inherit one curly gene from each parent of the Goldendoodle. Also, the Poodle parent's genes of the Goldendoodle would be the most dominant of both Goldendoodle parents.
Regular brushing and general grooming are a lot easier as the puppy sheds a lot less. You however need to make sure the hair around the eyes gets cut well to avoid the curled hair delving into the Goldendoodle's eye.
The Wavy or Shaggy Goldendoodle Coat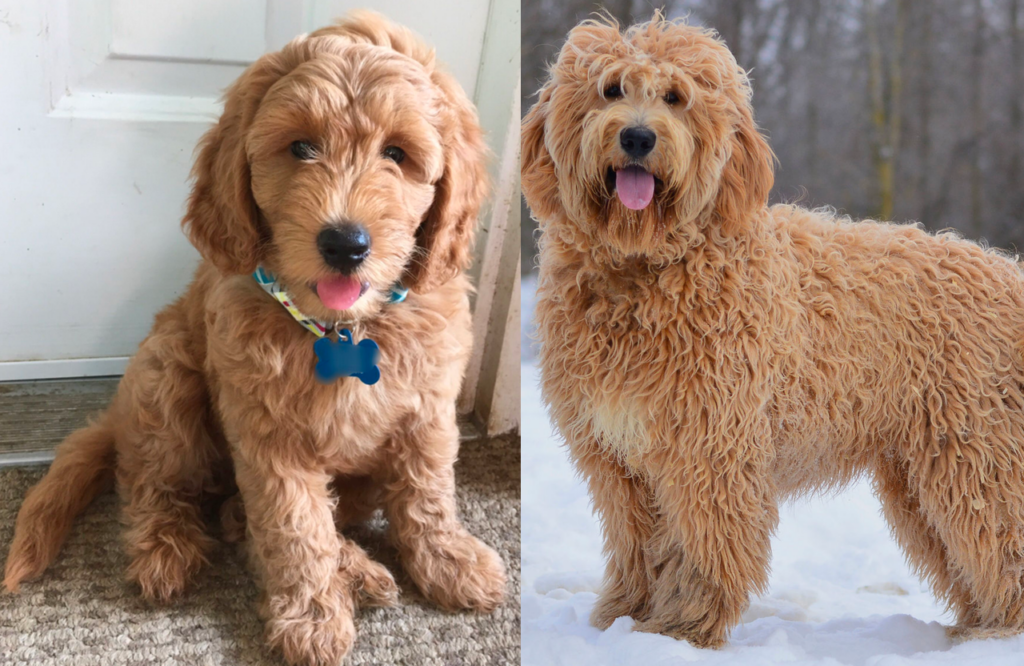 The 3rd and most common Goldendoodle coat type is the wavy or shaggy Goldendoodle coat. It is in between the curly and the straight coats and has also been classified as low to non-shedding and is therefore hypoallergenic.
A Goldendoodle puppy with a wavy or shaggy coat is known to inherit one curly gene and one straight gene from both the Golden Retriever and Poodle parent genes. And this coat type can be found in all generations of the Goldendoodle.
Just like the curly coat, you would need to regularly groom and brush the fur of the Goldendoodle with a wavy coat. This is to prevent the hairs from tangling up. You would also need to clip them regularly to keep the hair from growing into certain sensitive parts of the Goldendoodle's body.
What Coat Type Would Your Goldendoodle Have?
It can be a bit difficult trying to predict the exact coat type your Goldendoodle puppy will end up with as genetics can be a little tricky, but how do you tell what coat your Goldendoodle will have? Luckily they are a few methods experienced and reputable breeders use.
The muzzle area on the puppy's face can give you some sort of clue as to what type of coat the Goldendoodle puppy would end up with. The idea is to look out for waves or crimps on the puppy's muzzle hair or face.
The more waves or crimps the puppy has, the more curly its hair would be. If the puppy has a rather smooth face with no puppy beard or hair, the chances are that it would end up with a straight or flat coat type.
Again, a reputable breeder should know all these, so it is always better to ask them these questions and more before choosing the puppy for you.
Goldendoodle Coat Stages From Puppy To Adulthood
It is a known fact that Goldendoodles get to change their coats from puppy to adulthood, and as we just learned, there are good methods to help in figuring out what exact coat type your Goldendoodle would end up with while in its adult stage. But when do Goldendoodles lose their puppy coat?
Well first off, it is worth noting that the Goldendoodle has two coat stages, the puppy coat stage and the final coat stage. As the puppy matures, it begins a slow and gradual coat change which oftentimes isn't noticeable.
The puppy coat stage lasts from age 0 to 8 months. At this stage, the puppy is born with a very soft coat that is super easy to groom and care for. As the Goldendoodle puppy matures further, it begins to grow into the final coat stage.
This adult coat stage starts from 8 months and above. At this stage, the coat of the Goldendoodle becomes a lot more stiff and thick. It can be a little bit difficult to groom and care for and could be either shaggy, straight, or curly.
Grooming Your Goldendoodles (Caring for its Coat)
One thing that can be agreed upon from all three coat types of the Goldendoodle is the importance of grooming. Your Goldendoodles coat can only look and feel good when groomed properly.
Depending on the exact Goldendoodle coat, how often you groom your Goldendoodle should vary. You can opt to do it yourself or hire a professional with more experience than you have. Here are some basic tips to help you.
Wash your Goldendoodle at most once a month with a great quality shampoo.
All Goldendoodle coat types aside, the straight coat requires regular brushing. This should be done to get rid of loose hair.
Clip hair from sensitive areas like the eyes as it can affect the Goldendoodle's vision.
The ears should be kept clean. Use an ear cleaner to get rid of the excess moisture that could build up from baths.
Which Goldendoodle Coat is The Best?
Now that we know all we need to know about each Goldendoodle coat type, which Goldendoodle coat is best for you? Well, that's for you to decide.
It all depends on what works best for you. If you do suffer from dog hair allergies, you can consider getting a Goldendoodle with a curly coat or a wavy coat. And if you don't mind a few extra dog hair in the house, you can opt for a Goldendoodle with a straight or flat coat type.
Another factor to look out for would be the teddy bear look. Most dog owners love the teddy bear look that Goldendoodles come in. If that's what you're searching for, then get a Goldendoodle with a shaggy or wavy coat type. And they are also hypoallergenic. In the end, Goldendoodles are a truly versatile breed.
There you have it. All you need to know about the various Goldendoodle coat types alongside various tips on properly grooming your Goldendoodle. Do ensure to check out the website for more engaging and informative content.