The Apricot Goldendoodle is one of the prettiest Goldendoodle colors. This is one of the most popular colors of Goldendoodle, and it is sometimes compared to the Red Goldendoodle. These two colors are both very pretty, and it might seem like there are no differences between the two coat patterns. There are some key things that you should know about the Apricot Goldendoodle before you decide that this is the right dog for you and your family.
The Apricot Goldendoodle is not one of the more common coat patterns within the Goldendoodle breed, but this does not mean that you will not get the benefit of the Goldendoodle's sweet personality. The biggest difference in this Goldendoodle type is that the Apricot Goldendoodle looks a lot like a teddy bear. This might be an ideal appearance for your preference, but it is a harder coat color to track down.
If you are ready to learn more about the Apricot Goldendoodle, you need to keep reading.
1. Apricot and Red Goldendoodles Are Not the Same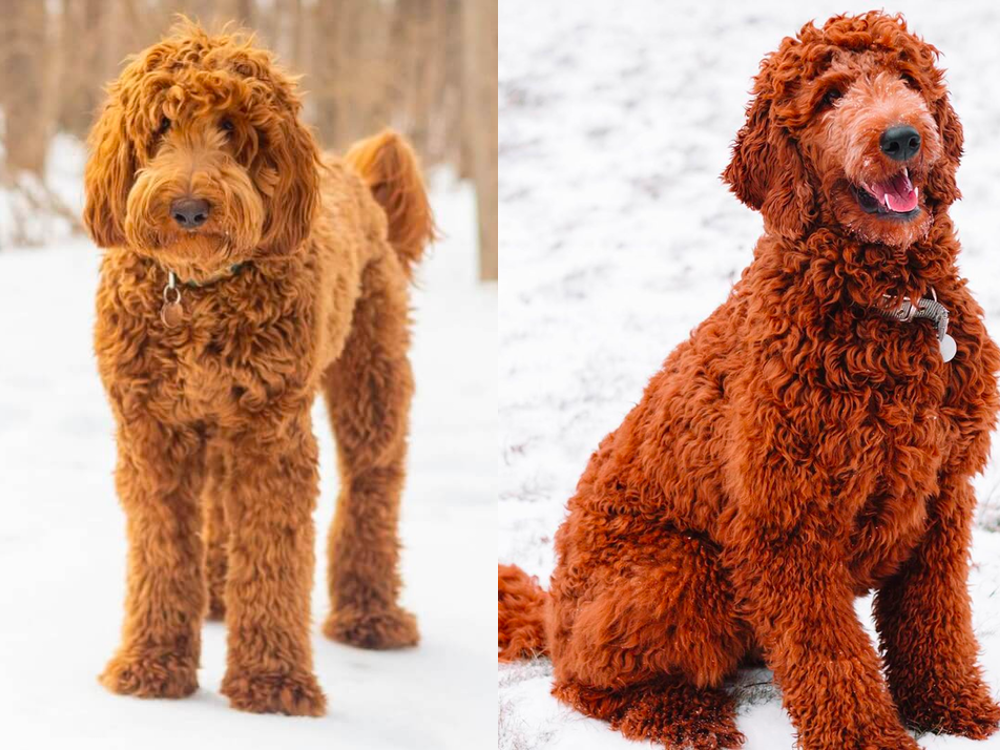 | | | |
| --- | --- | --- |
| Items | Apricot Goldendoodle | Red Goldendoodle |
| Height | 21-24 inches | 20-26 inches |
| Temperament | Sweet, quiet, kind | Sweet, gentle, patient |
| Energy Level | Low to mid-range | Mid-range |
| Coat color | Lighter red with an orange tone | Bright red |
| Weight | 45-75 pounds | 50-90 pounds |
| Coat Type | Straight, Curly, Wavy Coat | Straight, Curly, Wavy Coat |
| Shedding | Low | Low |
Red and Apricot are two different coat colors within the Goldendoodle. The red coat color is a brighter red, while the apricot color is more orange and more accurate to the name. The apricot coat pattern is often described as peach rather than red. The red coat pattern is a lot more like the red color that you might see in the Irish Setter breed.
2. Apricot Goldendoodles Can be Multi-Colored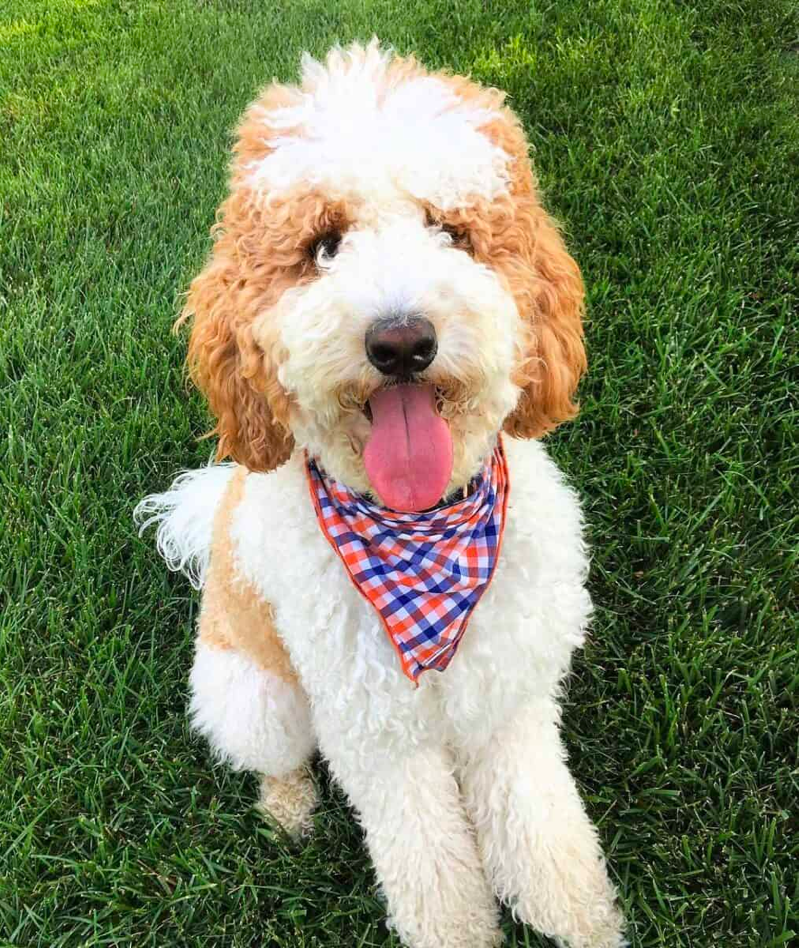 Your Apricot Goldendoodle can actually be multi-colored. This is also called a Parti Poodle. This coat variation will have some white spots in the coat, which are often around the chest, the paws, or the face. White is the most common secondary color, but there might be other colors that show up in the mix as well. You should ask the breeder that you are shopping with if there is any likelihood that your dog might be more white than Apricot. This can also happen, and it can be one of the things that new dog owners are not happily surprised by. Talking with the breeder is always a good idea when you are picking a unique coat pattern for your dog.
3. Apricot Goldendoodle Coat Patterns
Just like other Goldendoodles, Apricot Goldendoodles come in three coat types. They might have a very curly coat like a Poodle, or they could have a coat that is much more like a Golden Retriever. Some dogs also have a mixed coat that offers the benefits of both breeds' coat patterns. This third option is the most ideal for many owners of Goldendoodles. Most breeders attempt to get a moderate coat type from each of their litters, but sometimes the genetics from either parent is more dominant.
4. Apricot Goldendoodles Don't Shed Much
One of the key benefits of picking a Goldendoodle for you and your family is that this breed does not shed much. This has led to the breed being known for being hypoallergenic, which is not actually correct. Instead, the lack of shedding can make a big impact on allergies for those who struggle with this issue. Being able to get a dog for the first time can be a reality for those with allergies if they shop for a Goldendoodle.
5. Apricot Goldendoodles can fade over time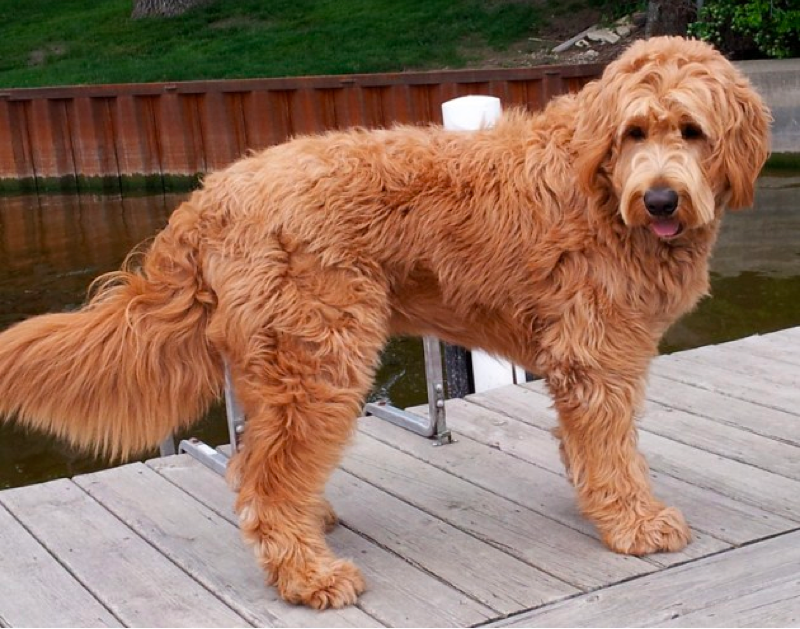 This is part of the genetics that are contributed to the breed from the Poodle side of the Goldendoodle pedigree. Dogs also tend to go grey as they age, so you will need to consider this a part of the potential behavior of your dog's coat in the future. All reddish colors of Goldendoodle will tend to fade to a lighter shade as they age, which is something that some dog owners are really surprised by.
Being prepared for this color shift is part of choosing this dog breed for your companion. This color is beautiful even when it changes over time, and you will find that you will not miss the puppy color of your dog as it fades. This is still a dog breed that offers a coat that is soft, curly, and beautiful, even if the color of it changes some over time.
6. Apricot Goldendoodle is not as expensive to get as you might think
You will probably have to pay about $1,000-$1,500 for an Apricot Goldendoodle. The size of the breeding operation can impact the cost of the puppies that are for sale from each breeder. Doing some research about the Goldendoodle breeders in your area can help you to plan your budget for dog shopping. Always be wary if the breeder claims that their dogs are rare and try to charge a huge extra fee for unique coat color. This is often a warning sign that you are dealing with a dishonest breeder.
7. Apricot Goldendoodles are Medium Sized
Apricot Goldendoodles are about 21-24 inches tall, and they weigh about 45-75 pounds. This is a nice size for dog owners who do not have a huge yard but do not want to have a tiny dog. The Goldendoodle breed does really well in an apartment if that is the living arrangement that their owner has to offer. They are not so high energy that they cannot be trusted to live in a small space, and they are happy to be with their family, even if they do not have a huge backyard to play in.
8. Apricot Goldendoodles Have a Long Lifespan
Apricot Goldendoodles live for 10-15 years. This is a really long time for a dog of this size. This is one of the things that makes people loyal to the Goldendoodle breed. Large breeds tend to have a shorter lifespan than smaller breeds, and this can be very hard for dog owners to accept. Being able to escape the sadness of losing a dog every 7-9 years can be a big benefit for selecting the Goldendoodle breed, and this is one of the reasons that many people opt to get an Apricot Goldendoodle.
9. Apricot Goldendoodles Are Very Easy to Train
Apricot Goldendoodles are a very easy dog breed to train. These are not high-drive dogs, which means that they will be happy with some exercise every day, but they will not need to be trained to do agility or some other really intense activity just to be happy. Working on tricks can be enough to keep your Apricot Goldendoodle happy, or just going on a walk to the park can be enough to make them feel fulfilled. This is a dog breed that is very simple to train, even if you have never trained a dog before.
10. Feeding an Apricot Goldendoodle is Easy
Apricot Goldendoodles are really easy to feed as they are often not picky eaters, and they do not need to eat anything other than quality dog kibble. You can supplement your dog's food with some raw food or some treats if you wish, but be sure that your dog does not get fat. This is a breed that can sometimes tend to gain weight easily, and you do not want to cause your dog to be exposed to health risks that can be associated with obesity.
11. Apricot Goldendoodle Need To Be Groomed Regularly
Apricot Goldendoodles will need to be groomed on the same schedule as regular Goldendoodles. If your dog has a curly coat or a mixed coat, you might not have to groom them as often as dogs that have gotten a Golden Retriever-style coat. It is usually a good idea to have a professional groomer see your dog a few times a year, no matter what kind of coat pattern they have. You can also make sure to have some grooming products and brushes on hand to take care of everyday grooming needs at home. This helps to make sure that your dog does not get mats or hot spots, but it cannot replace the skill of a professional groomer.
12. Apricot Goldendoodles Are Not Hypoallergenic
Goldendoodles of any color are not hypoallergenic, even though some people believe that they are. This is a common misconception, but it does not mean that you have to give up your dream of finally having a dog despite your allergies to other dog breeds. Goldendoodles, as a whole, do not shed much and are not as likely to upset the allergies of people who have a hard time being around dogs. If you get your dog groomed regularly, you will find that your allergies will probably not be much of an issue with a Goldendoodle in your home. You just need to remember that your dog will not actually be allergy-free, and be sure to keep up with their grooming and coat care to help keep your allergies in check.
13. Apricot Goldendoodle is not common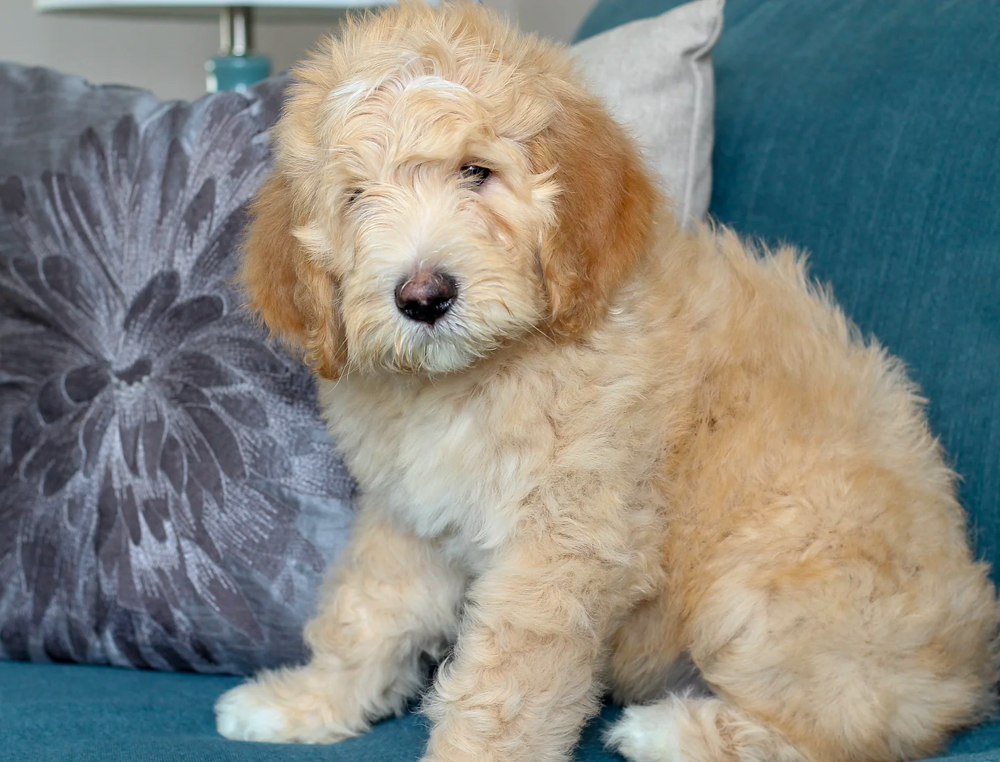 True Apricot Goldendoodles are fairly uncommon unless the breeder is intentionally breeding just for this color. There are also variations within the Apricot coat pattern, so you might have to inquire about the range of colors that each breeder is able to produce. Some Apricot coat colors are redder, while others can be more cream in color. If you are really picky about the color of the coat of your dog, you need to see if the breeder will be willing to demonstrate the color range that they produce, and you might also want to be sure that they will hold a dog that will be a true Apricot color for you. Not every breeder will be willing to do you this favor since coat color can be so unpredictable.
Even though the Apricot coat color is not common, this does not mean that it is more valuable either. This is not a dog breed that can be registered with the AKC, so coat color variation is just a matter of preference and is not backed by a value structure based on dog shows. You will find that many breeders breed for all kinds of different coat patterns and that there is not a strong preference for any specific coat pattern type or color in these breeding programs.
14. Apricot Goldendoodles Can Only be F1 or F1B Generation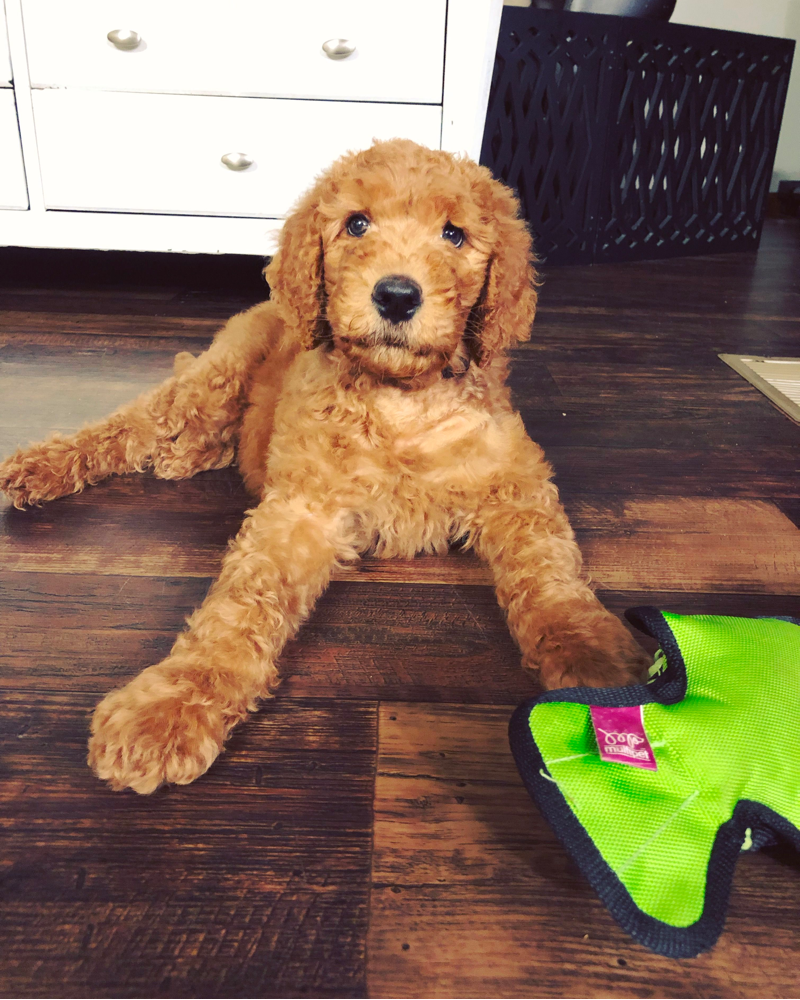 Not everyone is aware that there are various generations of Goldendoodle. You might have heard terms like F1, F1B, F2, etc. Apricot Goldendoodles can only show up in the F1 or F1b generations of dogs. This is because the color is only expressed when an Apricot Goldendoodle or an F1 Apricot Goldendoodle is involved in the cross. An F1 Apricot Goldendoodle. This is a cross between an Apricot Poodle and a Golden Retriever. An F1b Apricot Goldendoodle is a cross between an F1 Apricot Goldendoodle and an Apricot Poodle.
The b in the name of the cross means that there is a backcross involved in the cross. An F1 dog is 50% Poodle and 50% Golden Retriever. An F1B dog is 75% Poodle and 25% Golden Retriever. The difference in the percentage of Poodle involved in the cross can impact the looks of the dog as well as its energy level. You might need to do some research into the differences between the generations when it comes to appearance and energy level before you pick which generation is right for you.
15. Apricot Goldendoodles Can be Cream as Well
Apricot Goldendoodles can also come in a cream coloration. Cream Apricot dogs are lighter in color and are quite pretty as well. Many people do not even realize that these dogs are actually Apricot in color and not true Cream Goldendoodles. The difference between true cream and Apricot Cream is that the dogs with Apricot coloring have reddish ears and noses and might have a more reddish tone to the ends of their coat. This can be a bit misleading when you are looking for an Apricot Goldendoodle, and you might need to be sure that you are specific if you want the bright red version of the coat. Some breeders cover the full range of different Apricot shades in their breeding program, so you will need to be specific if you do not want a cream coat coloration.
16. Apricot Goldendoodles Are Healthy Overall
Hybrid dogs are often far healthier than their purebred counterparts. This means that your Apricot Goldendoodle will unlikely suffer from major health concerns the way some other breeds can. There are a few common ailments that your Goldendoodle might have to deal with, and responsible breeders will certify their dogs as being free of these common problems.
Goldendoodles can suffer from hip and elbow dysplasia and also the heart and eye conditions. There might also be issues with yeast infections in their feet in some cases. Skin issues like hot spots can happen related to matted hair and etc, and they might also suffer from sebaceous adenitis. Many of the problems that Goldendoodles can struggle with happen later in life, so when your dog is young, these issues are not typically a concern. Be sure that you look into the various health conditions that your dog could present with at some point so that you are prepared for what these kinds of health conditions can mean for you and your family.
Always make sure that you get written documentation or certifications from the breeder that their dogs are free from defects that might lead to hip and elbow issues or heart and eye conditions. This is not a 100% promise, but it makes a big difference to know that you are working with a breeder who has tried to prevent these genetic defects from being passed along in their dogs. This is also a good way to support more responsible breeders who are making an effort to create a litter of dogs with good health.
17. Apricot Goldendoodle's Coats and Color Can be Determined Easily
If you are not sure if you are going to be able to tell what coat pattern and what color your puppy will have later in life, it is actually easy to check for their future coat pattern and their color by looking at the hair around their nose. This is how breeders are able to predict coat type and color for new owners of their dogs. You will need to be sure that this process is done to verify the coat color and pattern that you have selected if you are looking for a very unique combination of traits. While there is no 100% guarantee that the coat pattern that your dog shows will not change slightly after they are very young, this is a pretty reliable way to check on coat type before a dog is weaned from its mother.
Apricot Goldendoodles Are Very Special
Goldendoodles are wonderful dogs, and Apricot Goldendoodles are very beautiful. If you want a dog that is a lovely color, you will want to consider an Apricot Goldendoodle at the top of your list. This is a sweet and kind dog that will fit right into your family with ease and who will make your day brighter just with their presence. This dog is easy to train and has a great long lifespan.
If you have been looking for a really fun companion animal who will be happy to share adventures with you every day, you need to get an Apricot Goldendoodle. There are few dogs that are as kind and loving as this breed, and their beautiful color is an added bonus.
Other Goldendoodle Colors