If you're thinking of getting a rare dog breed that would be perfect for an active family or perhaps you alone, then the Merle Goldendoodle can be the dog for you. Goldendoodles in general are very interesting hybrid dogs. They are blessed with the energetic yet gentle disposition of the Golden Retriever while still having the high intelligence that comes with the poodle breed.
The merle Goldendoodle is a really special coat variety of Goldendoodle you might be interested in and that's what this article is all about. We provide you with all details of the genetics, the traits, and basically everything you need to know about the breed.
With that being said, do ensure you read this article till the end, as we guarantee you would learn something new and useful.
Related posts:
What is Merle Goldendoodle?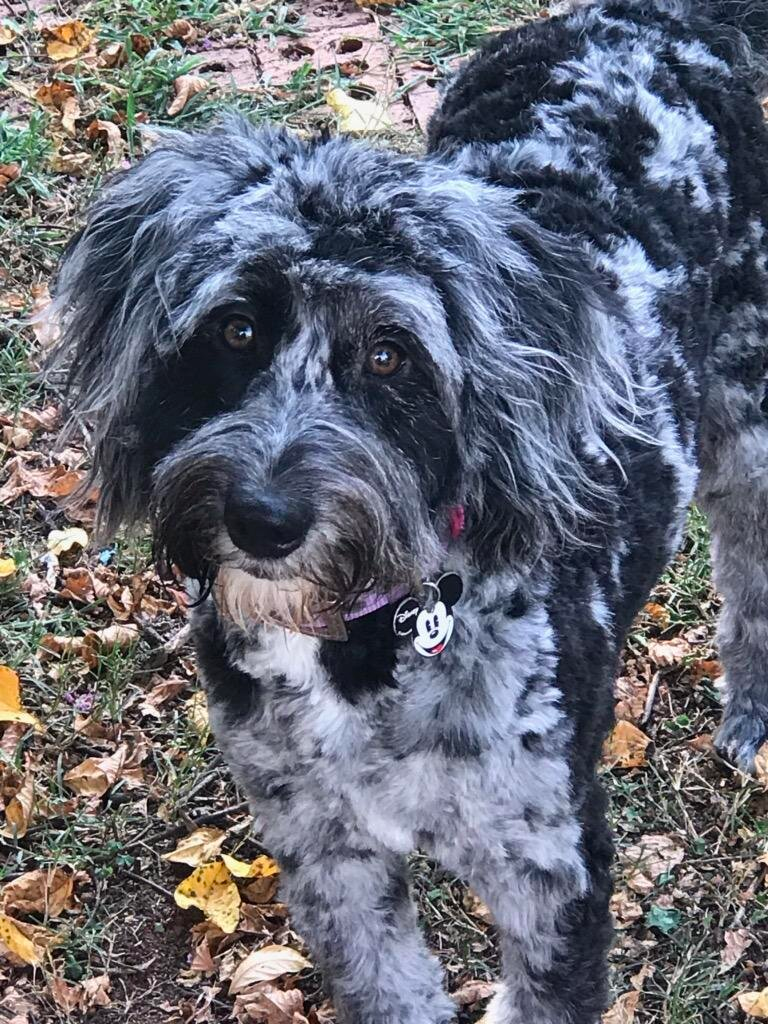 As we already know, all Goldendoodles are gotten or obtained from breeding a Golden Retriever with a poodle. Merle Goldendoodles are no exception. They are obtained from breeding a Golden Retriever with a merle poodle.
Merle in this case doesn't refer to a different coat color, but rather the coat speckling pattern or mottling pattern. It comes from the dog having a merle gene which causes the dog's coat to develop a pattern similar to marbles.
This merle gene is said to be semi-dominant, so what this means is that it takes just one Goldendoodle parent to have its gene and pass it down to the puppy. 10 out of 10 times, this gene is gotten from the Poodle parent of the Goldendoodle.
Even with poodles, the merle coat isn't considered a standard color coat for them, they usually get this from breeding a poodle with another dog with a merle coat like the welsh corgi or the Australian cattle dog. So in essence, it is possible to spot the DNA of other dog breeds in Goldendoodles with merle coat genes.
Merle Goldendoodles can come in a variety of coat colors like the blue merle (which is very popular), the red merle, the black, or the chocolate merle. And these dogs are usually obtained from multigenerational breeding or multi-gen doodles.
Are Merle Goldendoodle Rare?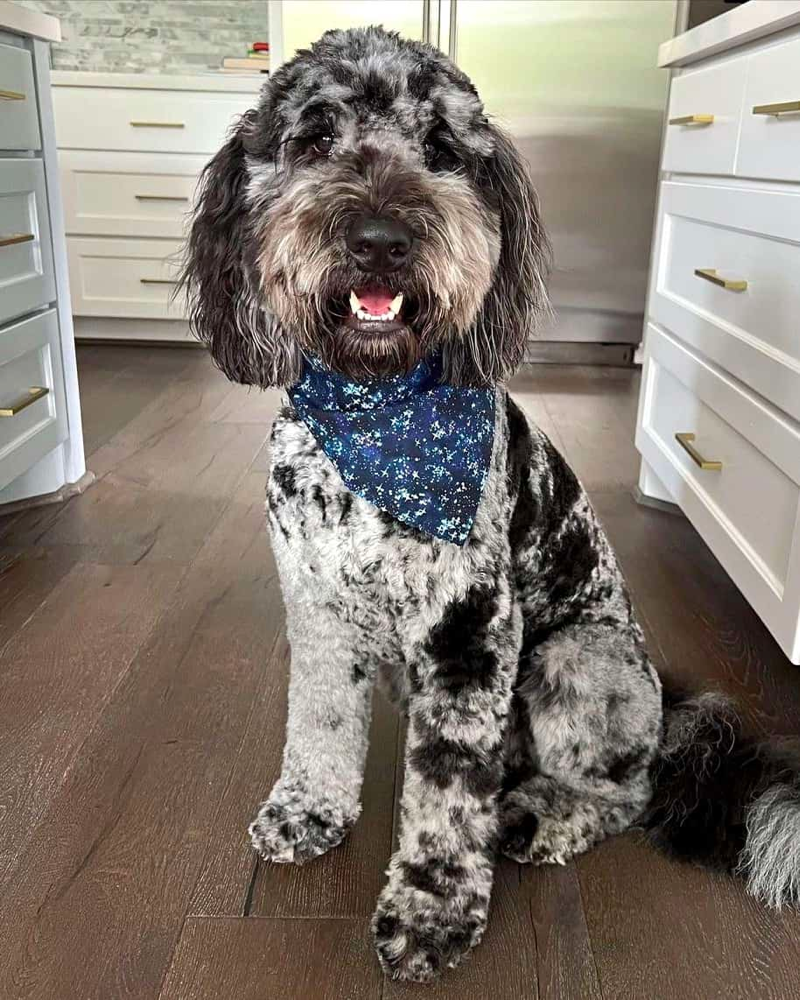 The short answer is yes, merle Goldendoodles are often super rare Goldendoodles. This is because of the difficulty of producing them. The gene is an incomplete gene and is created from the heterozygote of this incomplete gene.
As stated earlier, you can only find this gene in Poodles when looking at both Poodle and Golden Retriever parents of the Goldendoodle. And because it is a semi-dominant gene, you only need one parent dog breed to carry this gene and pass it off to their offspring,
It is never recommended that you breed two dogs that possess the merle gene. If you do, then the offspring would develop severe health defects and can even turn up deaf, blind, or even both. These are the reasons why merle Goldendoodles are rare.
Merle Goldendoodle Coat Types
Merle Goldendoodles are regular Goldendoodles with the merle coat gene in them, as such they possess the three main coat types that come with every Goldendoodle puppy in existence. These are the;
Short or flat coat type,
Wavy or shaggy coat type, and
Curly coat type.
1. The Short or Flat Coat Merle Goldendoodle
Goldendoodles born with the short or flat Goldendoodle coat are often seen as the less hypoallergenic of the three possible Goldendoodle coat types. And for merle Goldendoodles, this is no exception.
Merle Goldendoodles with short or flat hair often look a lot like the Golden Retriever parent but with a merle coat, They are the least popular Goldendoodle coat types and are the most likely to shed of the 3. But it is worth stating that any Goldendoodle with a short or flat coat is still less likely to shed than a Golden Retriever.
2. The Wavy or Shaggy Coat Merle Goldendoodle
This is the most popular Goldendoodle coat type when looking at the three Goldendoodle coats. This is mainly because Goldendoodles with this coat often come with a teddy bear look which most people find adorable and are attracted to.
Merle Goldendoodles with shaggy or wavy coats are low to non-shedding. This means they are most likely hypoallergenic in nature than the flat or short Goldendoodle coat type.
3. The Curly Coat Merle Goldendoodle
Goldendoodles with the curly Goldendoodle coat type are often said to be the most hypoallergenic coat types, they have the least shedding propensity and are often adorable.
Merle Goldendoodles with the curly coat come with curly or tangled hair and are blessed with the rare merle coat which could come in any of the merle Goldendoodle colors.
Do Merle Goldendoodles Change Color?
It is possible for a Goldendoodle with the merle gene to change its color. Most Goldendoodle puppies are born with a single coat type. This changes as they grow older. There is a genetic gene called a "fading gene" that is common with most Goldendoodle types.
Most Goldendoodles with this gene tend to lose their color over time as they age. This is why you might find a black Goldendoodle at birth that slowly changes its coat color to a silver or gray substitute.
Merle Goldendoodles, especially the black merle Goldendoodles, do exhibit signs of this fading gene and can change color as they grow older.
Merle Goldendoodle Temperament
Again, it is worth stating that merle Goldendoodles are simply regular Goldendoodles with the merle gene in them. As such, they exhibit pretty much the same temperament and character traits as most Goldendoodle coat colors in existence.
Your merle Goldendoodle should be a mix of sweet, calm, gentle, and energetic. Goldendoodles are a bundle of joy. With the merle Goldendoodle, you should expect them to make friends with lots of people as well as with other animals.
They love to play and are usually at their happiest when surrounded by family during activities like picnics or swimming. Merle Goldendoodles are very active and as such love to get busy and creative. This is why it is recommended to regularly exercise or work your Goldendoodles a bit to get them tired.
Merle Goldendoodles are incredibly loyal companions that would always stay by their owner's side, giving cute and adorable puppy eyes in search of a reward for practically being a good dog.
They can also come off as independent and responsible sometimes, especially when around kids. Merle Goldendoodles are terrible guard dogs but they do tend to care for the security of kids when around them.
It is also possible for merle Goldendoodles to have dog breeds gene in them as merle Poodles have bred from cross-breeding a Poodle with another dog breed with a merle gene. Your Goldendoodle might develop a temperament based on the other dog's genes it might have.
An example would be a merle Goldendoodle with a border collie gene in it. It shouldn't surprise you if your Goldendoodle is a lot more intense than other Goldendoodles. Border collies often have an intense personality which is said to be more dominant than submissive.
Merle Goldendoodle Appearance
Merle Goldendoodles are regular Goldendoodles with one distinct feature which is the merle gene or the merle coat. Basically, they look like every other Goldendoodle out there, but their coat is merle patterned and almost marble colored.
They are known to have kind eyes, range in sizes from small to medium and can come in any of the three Goldendoodle coat types which are wavy or shaggy, flat or straight, and curly coat types.
Merle Goldendoodle Sizes
Like the regular Goldendoodle, the merle Goldendoodle also comes in a wide variety of sizes which makes them a true designer dog breed. They can come in any of the following Goldendoodle size ranges;
The standard-sized merle Goldendoodle
The medium-sized merle Goldendoodle
The miniature-sized merle Goldendoodle
The petite-sized merle Goldendoodle
And the teacup-sized merle Goldendoodle.
On average, the merle Goldendoodle should weigh between 13 to 80 pounds and should have a height range between 7 to 25 inches. The standard-sized merle Goldendoodle should weigh between 45 to 80 pounds. It can grow between 22 to 25 inches tall. They are the tallest and heaviest merle Goldendoodles you can find.
The medium-sized Goldendoodle should be next in size. It should weigh between 30 to 45 pounds and should have a height between 17 to 21 inches. The next should be the miniature-sized Goldendoodle. These usually are small varieties that weigh between 16 to 30 pounds. Their height range is usually between 13 to 16 inches.
Smaller sizes like the petite Goldendoodle can be bred from miniature-sized Goldendoodles. They can weigh between 11 to 15 pounds and can grow as tall as 11 to 12 or 13 inches. The Smallest size, which is the teacup merle Goldendoodles, would be super rare. Their height should be lower than 11 inches and they should weigh less than 11 pounds.
Most Popular Color Variations of the Merle Goldendoodle
As stated earlier, the Merle gene of the Goldendoodle alters the coat pattern of the Goldendoodle and not the color. As such, the merle Goldendoodle can come in a variety of coat colors. A few of these coat colors are;
1. Blue Merle Goldendoodle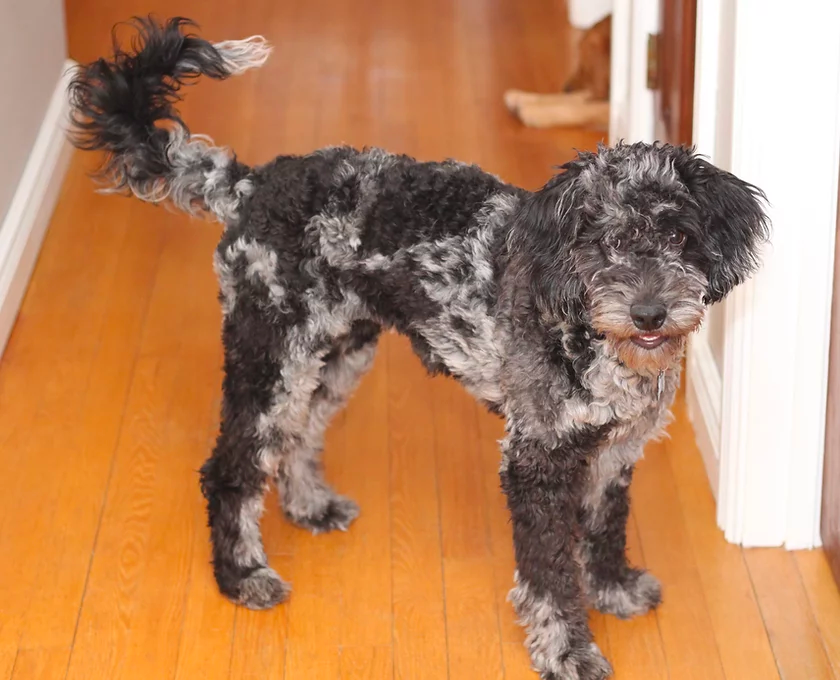 The blue merle Goldendoodle is obtained from breeding a blue merle Poodle with a Golden Retriever or breeding a blue merle Goldendoodle with another Goldendoodle of solid coat color. It features a merle pattern but with a light blue base coat that gives the puppy a more marbling look.
Getting a blue merle Goldendoodle is easier said than done. The color is very rare and due to the overall aesthetics of the puppies, they are in high demand.
2. Chocolate Merle Goldendoodle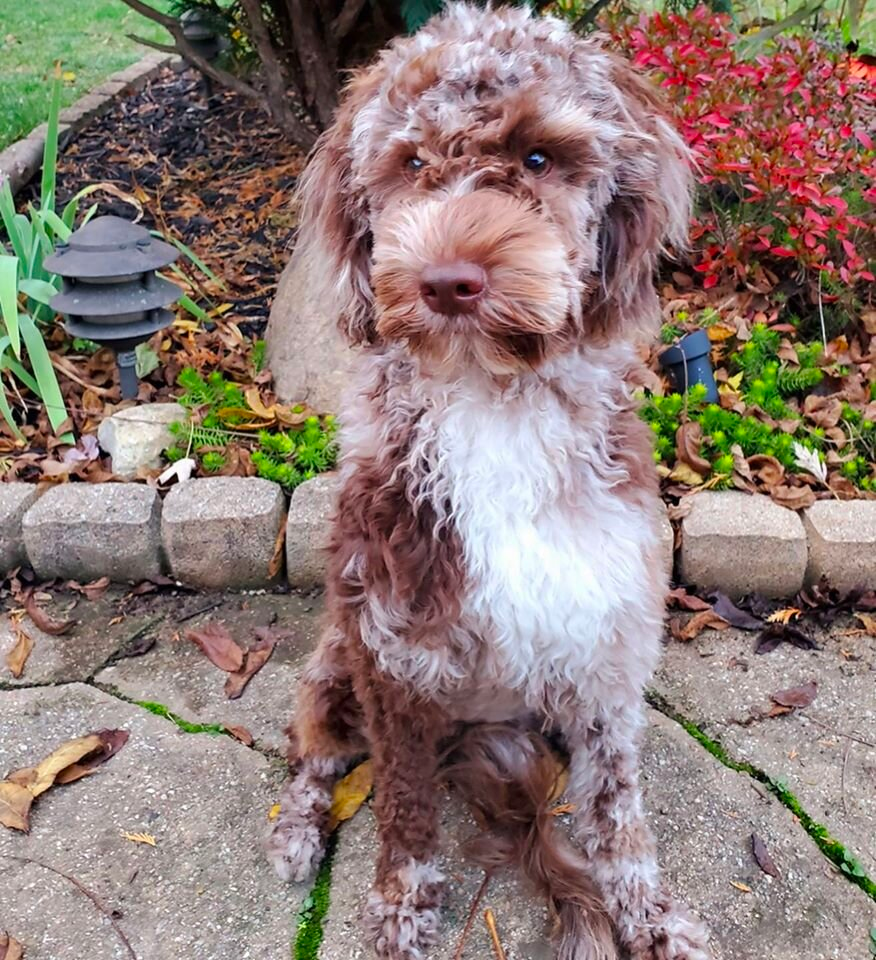 The chocolate merle Goldendoodle should bear similarities with the blue merle Goldendoodle except it has a chocolate coat base color and these dogs are often gotten from the Poodle parent.
3. Phantom Merle Goldendoodles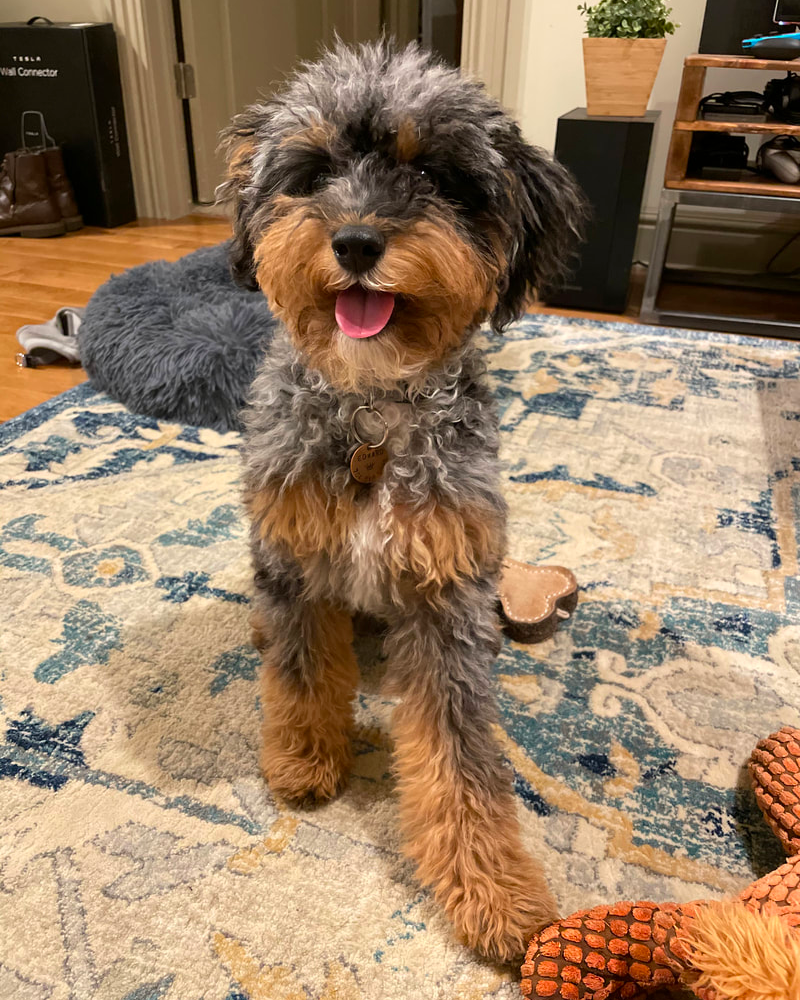 Phantom merle Goldendoodles come in 2 colors in a merle pattern while being in specific locations like the eyebrows, and chest. Muzzle, lower legs, and even the ears of the Goldendoodles. The two coat colors are often brown or black and the merle pattern is existent on their coat.
4. Red Merle Goldendoodles
When you breed a red merle Poodle with a Golden Retriever or Red Merle Goldendoodle with a solid Goldendoodle, you can end up with a rare red merle Goldendoodle coat.
They usually have a reddish brown base color and the signature merle pattern that makes these Goldendoodles very beautiful.
5. Black Merle Goldendoodle
Black merle Goldendoodles are also rare but not as rare as the rest. They are the most likely to possess the fading gene and fade into a light silver or gray color. They feature a black base coat and a rich merle pattern that is simply beautiful.
How Long Do Merle Goldendoodles Live?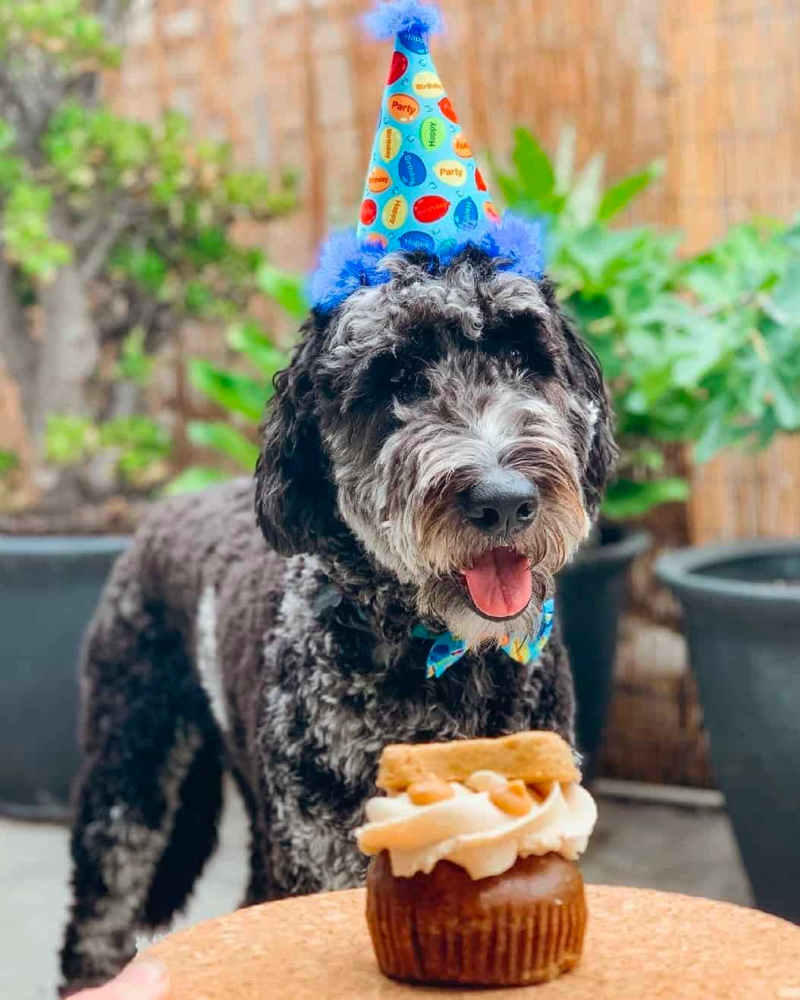 Merle Goldendoodles are prone to certain health conditions which would be discussed in detail later in this article. However, if bred, raised, and cared for properly, the merle Goldendoodle should live the average lifespan of a regular Goldendoodle.
This should be between 10 to 15 years. But there are a number of factors that can affect this, so it is worth noting that this is just general speculation.
Training The Merle Goldendoodle
You shouldn't really worry about training your merle Goldendoodle puppy. They are incredibly smart as they are often a mix of dog breed genes. The high intelligence that comes with being an offspring of the Poodle breed makes the merle Goldendoodle easily trainable.
When training the merle Goldendoodle, it is worth stating that you can get a lot more achieved faster with positive reinforcement than you would with negative training techniques or tips.
Instead of shouting or raising your voice at the puppy, give it a stern look and a light tap on its head. It should be able to understand the message.
Goldendoodles in general also require a lot of exercise and merle Goldendoodles are no exception. You would need to keep them regularly exercised to get rid of the excess and intense energy that they are prone to.
If left unexercised, that intense energy merle Goldendoodles and all Goldendoodles, in general, are prone to can easily become destructive, especially in apartments and smaller homes. It is recommended that you take your dog each day for a walk.
You can also try to make out time for your puppies to keep them occupied. You can make use of a hired help or trainer to do it for you, or you can make the effort to do it yourself this a better choice as it helps you build better relationships with your furry friend and companion.
Are There Health Problems With The Merle Colored Goldendoodle?
This is where the merle Goldendoodle differs from other Goldendoodles. They have a higher propensity for developing genetic defects than regular Goldendoodles. As such you have to be careful when breeding them. Here are some of the possible health defects that your merle Goldendoodle might be exposed to.
1. Deafness
It is possible for a merle Goldendoodle puppy to suffer from deafness either partial or total. This is caused by the merle gene and it often happens on the side of the ear where the merle pattern is most dominant.
2. Blindness
Another common problem that can come from improper breeding of merle puppies is blindness. It can come from birth or develop as the puppy matures. Merle Goldendoodles born with blue eyes most likely suffer from this condition.
3. Bloating
Bloating for Goldendoodles can be very severe and life-threatening. It is a terrible condition that occurs in merle Goldendoodles and appears as excess air or swelling of the stomach. It can be very painful and requires immediate medical attention.
4. Cushing's Disease
This is another terrible health defect that can affect the adrenal gland of Goldendoodles like the merle Goldendoodle. It is a hormonal disorder that can lead to a weakened immune system. It can also cause weight loss for your dogs and even certain skin defects.
5. Alopecia Color dilution
Alopecia color dilution can be quite severe for merle Goldendoodles. It is a skin condition that could result in a Goldendoodle losing parts of its fur, making them bald in the long run. For merle Goldendoodles, the dog loses its fur at areas of the body where the merle patch exists.
Do Merle Goldendoodles Shed A Lot?
The shedding propensity of your Goldendoodle or how much your Goldendoodle shed depends on the coat type of your Goldendoodle. For the merle Goldendoodle, it depends on the coat type.
Merle Goldendoodles with curly or wavy fur are known to be low to non-shedding Goldendoodles. They are practically hypoallergenic and are safe around people with dog hair allergies.
However, merle Goldendoodles with the short and flat coat type are more likely to shed than the other Goldendoodle coat types. They require less grooming as they can easily shed their fur. But it is important to state that merle Goldendoodles with a flat and short hair coat type are still fewer shedders than Golden Retrievers in general.
How Much Are Merle Goldendoodles?
Merle Goldendoodles are super rare, and as such, they can be quite expensive to purchase. Their rare color and difficulty in breeding are what cause the high cost of getting one. Depending on the breeder, a merle Goldendoodle can cost between $2000 and $5000. For rarer merle Goldendoodles like the blue merle, it might cost a bit more.
In all you're doing, ensure you get your merle Goldendoodle from a reputable breeder. This is a very difficult Goldendoodle puppy to breed, and its health defects can be quite bad. So forget the high cost and ensure you obtain your Goldendoodle puppy from a reputable breeder.
Merle Goldendoodle Puppies For Sale
1. Valaurah Farms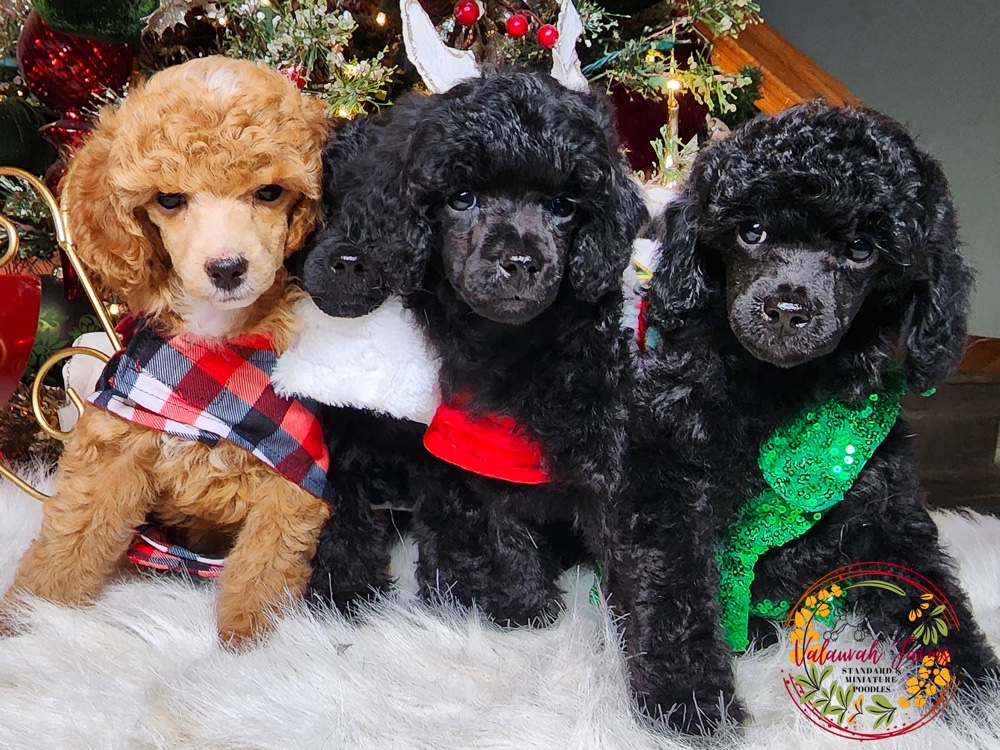 Valaurah Farms is the first Goldendoodle breeder to be added to our list. They are based in Washington and are quite experienced with over 3 years dedicated to breeding high-quality family-friendly Goldendoodle companions. They focus on merle Goldendoodles and breeds of most merle colors. Their puppies are from the f1b generation and are blessed with the low-to-nonshedding coat that makes them truly special dogs.
Vaalaurah Farms utilizes the best CKC-registered sires and dams in their breeding programs that come from decent bloodlines and are incredibly healthy. Their sires and dams each have genetic testing done for all their dogs to ensure they are free from any potential harmful defect. The sires and dams are healthy and each has their OFA certifications available upon request to show that they are indeed healthy.
Because they deal with merle puppies, a lot is taken to properly raise the puppies the right way. All their merle Goldendoodles get to live in their family house in Spokane, Washington, where they are monitored closely. They also have their socialization done early to guarantee that you end up with a well-rounded Goldendoodle puppy. Each Goldendoodle puppy is raised using Puppy Culture. They are introduced to Early Neurological Stimulation. And even have a Voldhard puppy aptitude test done on them.
Expect Your Merle Goldendoodle to come with appropriate health records, they should be microchipped, and given their full vaccinations and deworming as well. They come with a lifetime health guarantee and lifetime support from the breeder.
Valaurah Farms Contact Details
2. Christensen Goldendoodles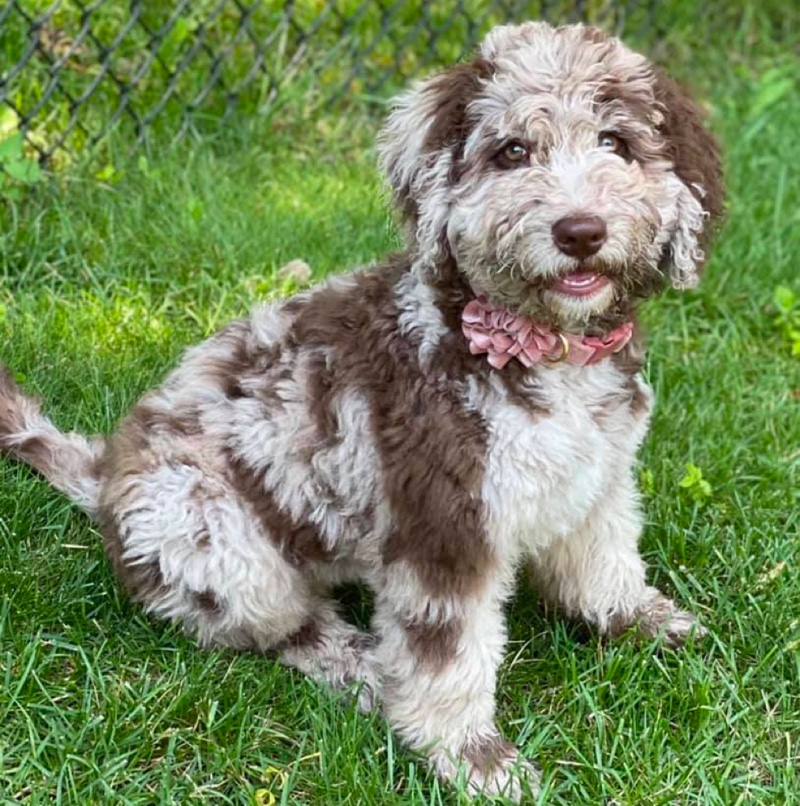 Christensen Goldendoodles are a family-oriented breeder that has a deep love for merle Goldendoodles. The breeding facility which is located in Campbell, Minnesota is owned and managed by Alana Christensen. They produce almost all possible merle Goldendoodles including the chocolate merle and Goldendoodles and the blue merle Goldendoodles. All their Goldendoodles are from impressive families and are bred to be wonderful family companions.
Their breeding program is all centered on improving the Goldendoodle breed through proper breeding practices which they are very transparent on. Their sires and dams are well-structured dogs that are practically members of the family. Since they are dealing with merle Goldendoodles, they perform very extensive genetic health testing on each of their parent dog breeds to ensure they are indeed healthy and strong and are free from any defects that could be transferred to the newly produced merle Goldendoodle litter. They also have hips, elbows, eyes, and heart testing done on all dogs with certifications to show that they are functioning properly.
All their Goldendoodle dogs are raised in the family house. They are surrounded by kids throughout their stay at the family house in Minnesota. The puppies are socialized from day one and are given the best in care, attention, food, and supplements. The puppies are exposed to new environments and are introduced to new faces that could help further improve the puppies' socialization. They are given basic crate and potty training too.
Every Goldendoodle puppy they produce comes with a full written health guarantee. They are health tested and checked by a licensed vet and have all their vaccinations and dewormings taken.
Christensen Goldendoodles Contact Details
Is the Merle Goldendoodle Right For You?
Merle Goldendoodles are excellent family companion dogs. They get along with kids well and they do so with other animals and pets. They do require some level of attention, as they require regular grooming and exercises as well as training.
Make out the time to do this for your puppy or hire a professional to do this for you. Since merle Goldendoodles are more likely to suffer health issues, it is important that you only deal with responsible Goldendoodle breeders.