If you have been looking for your new best friend, you have probably already considered getting a Goldendoodle. There are a few mixed breeds that are as loving and kind as a Goldendoodle. These are excellent family dogs who love their humans and who can be trained to do almost anything that you want them to do. Being sure that you are getting a great companion animal can be a really nice perk of shopping for a Goldendoodle compared to other breeds.
If you have begun the shopping process, you might have realized that there are a bunch of different types of Goldendoodles out there. You might be confused about the difference between the F1, the F1B, the F2B, and the other kinds of Doodles that are listed on some breeder's websites. This is very reasonable since those who do not breed dogs might not have ever heard these terms before. Knowing more about what each of these terms means can help you to be sure that you are going to get the right dog for you and your family to love and enjoy.
If you are ready to learn more about the F2B Goldendoodle, you need to keep reading!
What is an F2B Goldendoodle?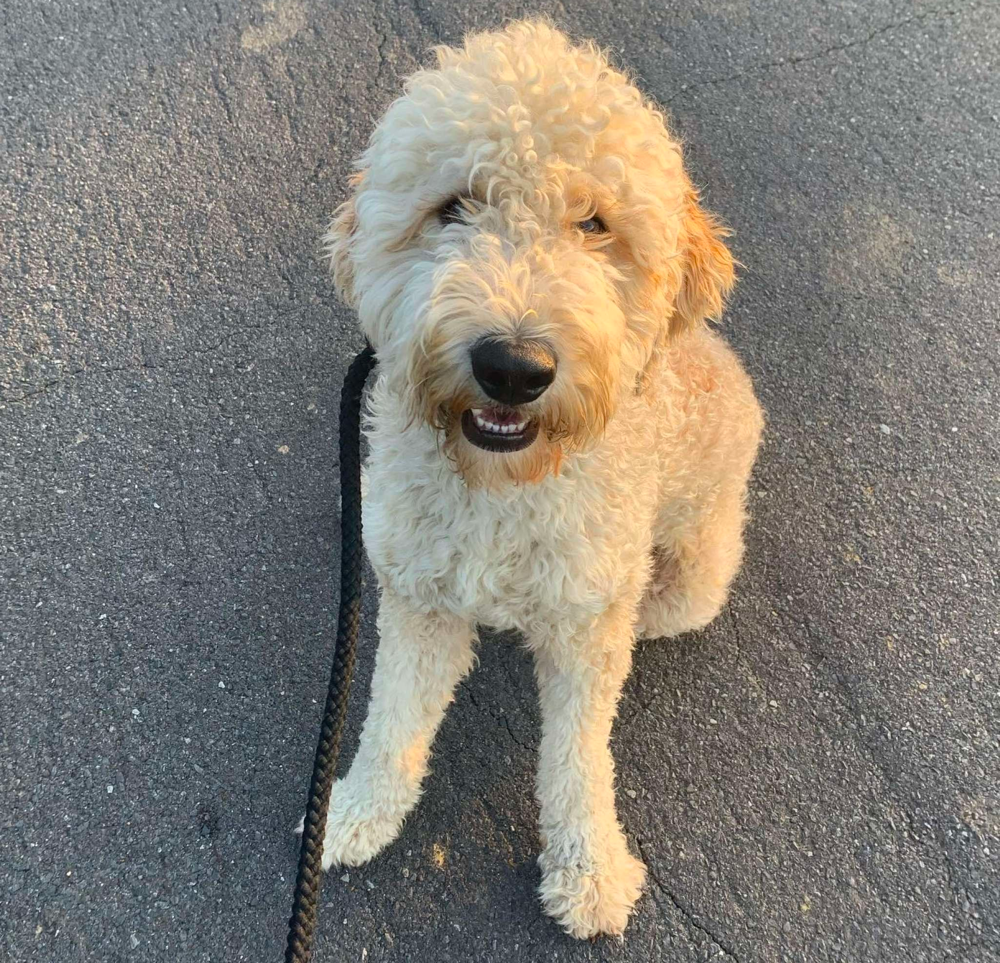 An F2B Goldendoodle is 62.5% Poodle, and 37.5% Golden Retriever. One parent is an F1 and the other parent is an F1B parent. The generations that follow are the F3 and backcrosses and will usually show more Poodle genetics than the F2B. This is how the mixing can impact traits and how different generations within this breed can seem so unlike one another.
The first letter of the term for this generation is an F, which stands for the word filial. The number that follows indicates the generation number. An F1 is therefore a generation one filial dog. This is the original hybrid, so that means that the F2B is the generation after the F2 filial group.
The B at the end of the F2B means that this is a backcross dog. This is because a first-generation dog was bred back to a purebred dog to create the F2B cross. This cross can bring with it a more Retriever-like coat and you might see a higher occurrence of the common Golden Retriever colors that are not as typical of being expressed in the original hybrid cross. The traits that this dog will show might be more like a Golden Retriever as well due to the backcross. The breed that provides the backcross has a lot to do with the way that your dog will look.
What's the Difference Between the F1B and the F2B Goldendoodle?
An F2B Goldendoodle is an F1 dog that has been crossed back to a purebred dog to create a new kind of cross. And F1B is an F1 dog that was crossed with a back cross that was purebred. The purebred dog that was used for this cross can greatly impact the overall traits that the resulting litter will show. The purebred backcross will add a lot more strength for one kind of characteristic set. If the parent is a Poodle, then you will likely see more Poodle traits in your dog. If the purebred cross is a Golden Retriever, you might see more Golden Retriever characteristics.
This set of conditions applies to both the F1B and the F2B crosses, but the F1B will have more Poodle in it than the F2B since the cross is closer to the original hybrid litter.
F2B Goldendoodle Traits and Characteristics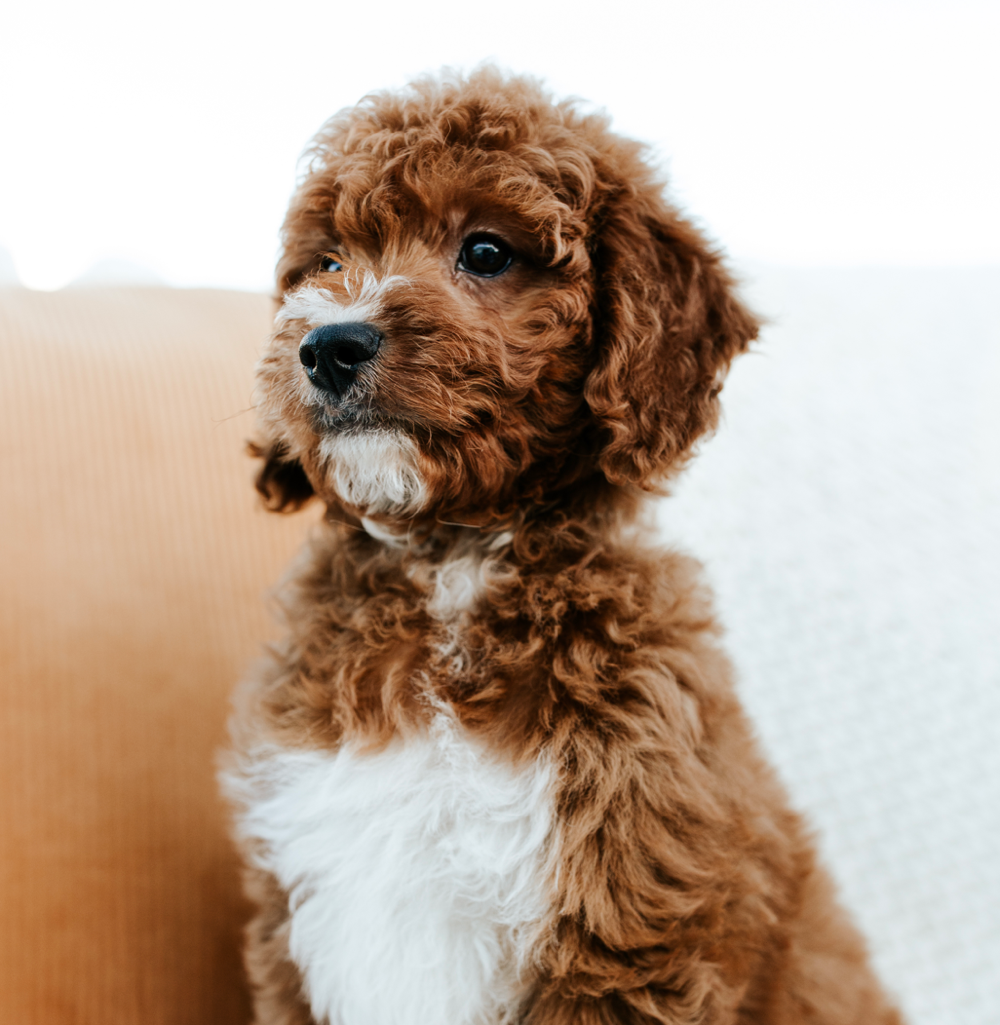 There are various sizes of this kind of Goldendoodle. You might be able to get a toy dog, a small dog, a medium dog, or a standard dog from different breeders. Other than changes in size, however, the F2B Goldendoodle will show the same overall characteristics. This is a medium-large dog in most cases. This means that your dog will fit in well at an apartment or a house and you will not have to worry about issues with a very large dog knocking things off the table or dragging you around when you take them on walks.
These Goldendoodles can come in chocolate, red, black, white, cream, golden, sable, grey, blue, and other colors. You will not see the unique coat patterns as often as cream or golden, but some breeders make sure to breed selectively for coat colors. The coat color of your dog will actually change over their lifespan and you might have a dog that gets lighter or darker as they age. Don't be too attached to the color that your dog is as a puppy as they will change their color along the way.
This is a really sweet and kind dog that will love being around adults and kids and that will be eager to play, go running, learn tricks, and just be with its family. You can count on a happy-go-lucky and silly personality in many of these dogs, which can make them a lot of fun if you want to have a cheery companion in your home with you at all times. Having good company is a positive of choosing this dog breed and for those who live alone or who have kids who might need a friend to help keep them busy, there is nothing quite like a Goldendoodle.
Some people also enjoy an F2B Goldendoodle that is protective of the home and they will at least be sure to bark if there is someone at the door or if they think that something is going on that should not be. This is a dog breed that loves its family and that will do everything that a more protective dog can do without having to worry about aggression or control of other negative behaviors.
F2B Goldendoodle Appearance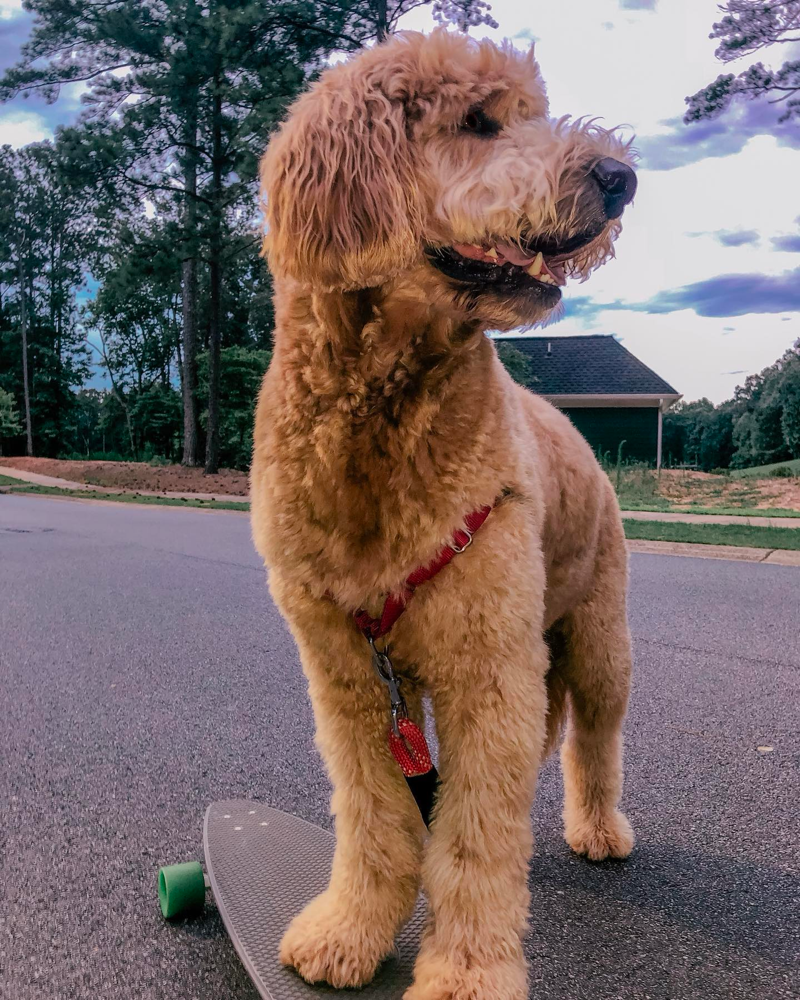 F2B Goldendoodles are lovely dogs and they have beautiful coats. They are just as pretty as their temperament is sweet and you will be getting a dog that checks all the boxes for your family. Having a dog that is sweet, pretty, and trainable is a big benefit to choosing the F2B Goldendoodle. These dogs are some of the loveliest if you value a fluffy coat and want to have a dog that brings a unique color that might not be possible in other versions of the same dog breed.
Goldendoodles as a whole are quite attractive dogs, but being able to get a red Goldendoodle or a beautiful sable dog is possible with this cross when it would not be possible in other crosses within the Goldendoodle family. The coat color of Doodles is often more limited in the other generations, so this can be the right generation to choose if coat color is really important for your choice of dog.
F2B Goldendoodle Full Grown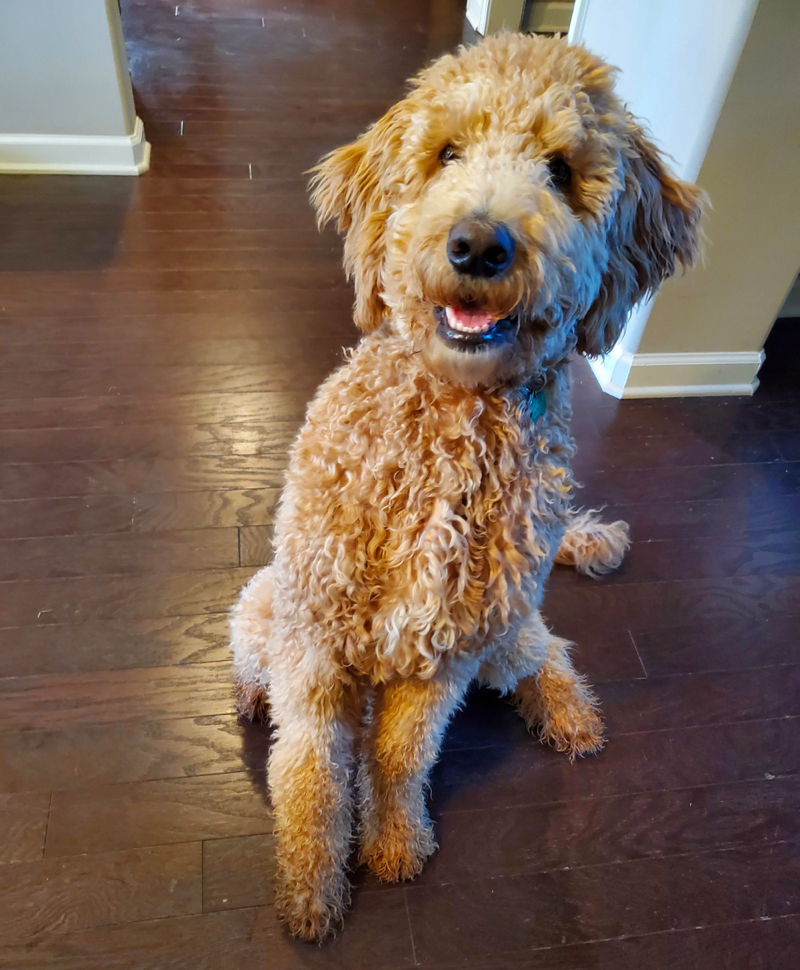 This dog breed will be about 45-75 pounds when full-grown and it will be about 21-24 inches tall. The medium-sized dogs are about 10 pounds lighter and about 3-4 inches shorter. The toy sizes are not representative of the breed as a whole, but they can be about 11-15 inches tall and about 30 pounds or less. You will probably not be looking at the toy-size dogs, but if you are, you will find that they are about in this size range.
This dog breed can look more like a Poodle in body type or more like a Golden Retriever. You will be able to get some idea of the size and appearance of your Goldendoodle when it is grown by seeing the parents. This can help you to predict which body type your dog will have compared to other dogs that you might have seen before shopping for your own Goldendoodle. The farther back from the original cross that your Goldendoodle is, the less likely it will be that it will look specifically like either of its parents. Goldendoodles that are as far back as the F2B often get a balance of different traits which can add up to a dog that mostly looks like a Goldendoodle without strong traits that are visibly related to either parent.
This dog breed can have either the Poodle coat or the Golden Retriever coat, but often the F2B dog will have a shaggier coat that is a lot more like a Poodle's coat. This can make it harder to groom them, but the fact that Poodle coat colors come through in the breed frequently means that you will also be able to get access to so many more colors of coat that in the F1 cross as an example.
The most common colors of the F2B Goldendoodle are chocolate, red, black, white, cream, golden, sable, grey, and blue. You might also be able to end up with an apricot F2B Goldendoodle because the red coat can change colors over time to become an apricot in color. This is one of the most desirable colors for the Poodle breed, and some people love this color more than all the rest. In the purebred Poodle, apricot is a color that often costs more to get.
F2B Goldendoodle Coat Type
The coat types of an F2B Goldendoodle can vary quite a bit. Most of these dogs are shaggy but have a curly Poodle coat. This means that grooming them can be tough, and you might not want to try and tackle grooming this dog at home on your own. The coat is really beautiful and many people prefer it to some other Doodle coats, but that does not mean that it is easy to care for. This is a coat that does not shed much either, which can be really nice for those who don't like to clean up a lot of hair.
While Goldendoodles are sometimes advertised as being hypoallergenic, this is not really the case. They simply shed much less than other dog breeds do. This can help with allergies for those who struggle with these kinds of problems and since these dogs are less prone to producing dander this can be an added bonus. All of these benefits will go out the window, however, if the dog is not groomed regularly enough.
F2B Goldendoodle Common Health Issues
The F2B Goldendoodle is prone to some health conditions that both Golden Retrievers and Poodles can get. They also have their own health challenges that are not common to these other two breeds. The F2B Goldendoodle is prone to various eye conditions like progressive retinal atrophy and glaucoma. There are some other eye defects and health issues like cataracts that are common to this breed because of the Poodle DNA in the breed.
This breed is also really prone to hip dysplasia and heart conditions. Addison's Disease and skin issues are also possible for this breed to contend with. You will have better luck with your dog's skin if you make sure to keep it groomed. Goldendoodle health risks are just part of owning this lovely breed of dog and you can check with the breeder that you are thinking of buying from to see if they certify their animals for good health. It is always a good idea to work with a breeder that will certify their dogs and stand behind their breeding processes.
Many health risks that are present in any breed are an issue because of inbreeding. You will want to be sure that your breeder of choice is not a puppy mill and not more motivated by breeding for color than anything else. The more responsible your dog breeder is, the less likely it will be that they will be creating dogs that are not healthy. You will have a much more positive experience with dog ownership if you get a healthy dog that has been bred responsibly. While some health conditions are not possible to avoid, you will be much less likely to deal with long-term health issues with your dog if you buy from a reputable breeder.
Grooming the F2b Goldendoodle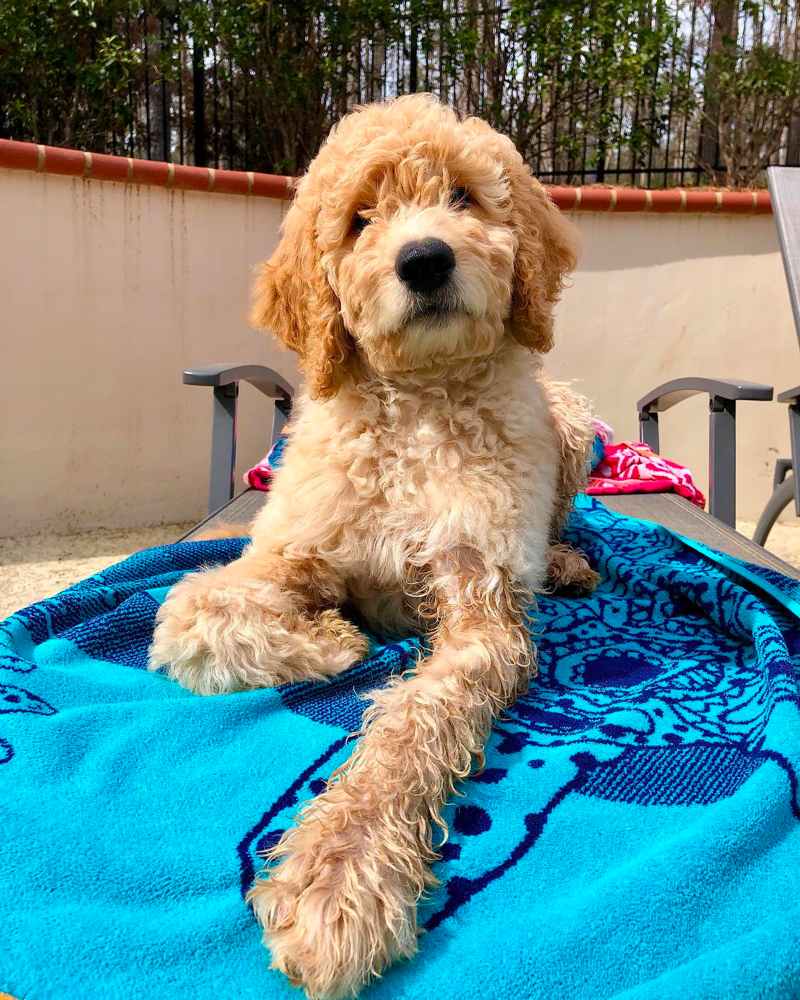 This dog will need to be groomed on a regular basis due to the mixed nature of their coat. You will not want to do this grooming on your own in most cases, and a regular visit to the groomer will probably be your best bet. This coat is more prone to mats and tangles too, so you might need to be sure that you remove any burrs or other debris from the coat before they can turn into tangles that lead to hot spots and other skin health issues.
Groomers who are familiar with this kind of dog breed are important as well. You will need to be sure that you are not risking the health of your dog's coat by hiring a groomer that is not familiar with the process to care for this kind of coat. Mixed-breed dogs can have more challenging coat care needs so you might need to shop around for the right groomer for you.
The breeder of your dog will be able to advise you about the coat care needs of their animals. The coat style of these dogs can be judged when they are puppies by looking at the hairs around the nose. Your breeder should be able to tell you what kind of coat pattern your puppy will have and advise you about best practices when grooming this coat style. They might even be able to recommend a groomer for you to work with and some grooming tips for you to use on your own in between visits to the groomer.
Always remember that there are no silly questions if you are trying to learn how to care for your new dog. Breeders are always happy to give you advice and help you to have the best experience possible with your new dog. They are the experts, after all, and can offer you lots of advice about the care that your new F2B Goldendoodle will need.
F2B Goldendoodle Exercise and Training
This is a very trainable dog breed. You can easily train your dog to play games and do tricks, to do agility, and to compete in obedience competitions. The F2B Goldendoodle tends to be pretty high energy as a young dog, but they mellow quickly and learn to focus. You might need a little extra patience when you first start working with your Goldendoodle to make sure that they learn to have a positive experience with training. The high drive of the Golden Retriever can impact your dog's ability to focus, so be sure that you are using positive reinforcement with these dogs.
This dog will also need daily exercise, but they will not need as much energy-burning activity as a purebred Golden Retriever. You will be able to satisfy their needs with a walk or even some fetch in the yard if that is what you have time for. This is a dog that thrives on attention more than exercise, which makes them such a good candidate for small houses or apartment life. Your dog will just be happy to do things with you and they will not care much about what those things are. If your dog tends to chew, make sure that they have plenty of puppy toys and that they are getting some form of engagement from you every day.
Having other dogs in the house can provide quite a bit of necessary stimulation for your F2B Goldendoodle as well, so if you are really busy and just put the dogs out in the yard that might be enough to keep your F2B dog busy and happy for the rest of the day. This is a dog that needs mental stimulation more than physical work and being engaged in some form of bonding with humans or other dogs can be more than enough for these dogs to feel like they have gotten the daily attention that they need to be happy.
How Much Do F2B Goldendoodles Cost?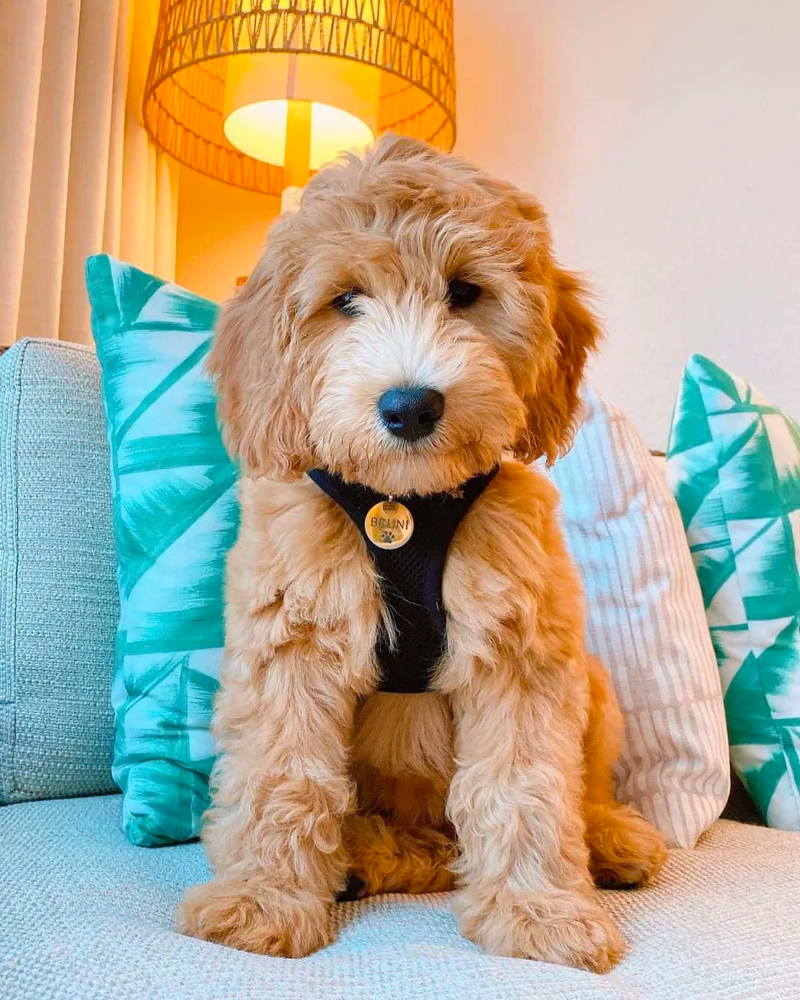 The cost of this generation of Goldendoodle can vary widely depending on your area and the breeder's preference. You might pay anywhere from $500 to $2,500 for a dog of this generation. These are not dogs that can be registered with the AKC, so you might want to be cautious about spending a lot of money on a dog that you are not likely to be breeding or using to compete with. The upper end of the cost spectrum is often due to the breeder being very up on certifications for health and well-being, but you might still want to be cautious about choosing a dog that will cost you this much money.
Be sure as well that you think about the fact that you will probably have to travel some to pick up your F2B Goldendoodle. These dogs are not as common as some of the other crosses, so if you are looking for this particular generation, you might have to make a trip to go get your dog or have someone transport it to you. This can add to the overall cost of securing the dog, so you should keep this in the back of your mind.
Is an F2B Goldendoodle the Right Dog For You and Your Family?
An F2B Goldendoodle is a really great addition to any family. You will love their cheery and fun personality and you will enjoy being able to do so many great things with your dog. These are dogs that have enough energy to be up for any adventure with their family, but not so much energy that they cannot be trusted to live in a small apartment. For people who want to have a beautiful dog, this is also the right breed to choose since there are few dogs that are this pretty to look at.
For a loving companion who is passionate about your family, there is no better dog than a Goldendoodle. You will love this lovely breed and you should be able to find a quality breeder to get a puppy from in your local area with ease.