White Goldendoodles are a color variant of the Goldendoodle designer dog. It is one of over 20 different Goldendoodle colors and patterns that exist and is loved by many for its angelic-looking coat that is most times hypoallergenic.
To get a white Goldendoodle, you would need to breed a pale-colored or cream-colored Golden Retriever with a standard white Poodle. The result is a beautiful puppy that you are guaranteed to fall in love with.
This article covers everything you need to know about the white Goldendoodle, so make yourself comfortable and ensure you read till the end.
Is The White Goldendoodle Rare?
Contrary to what some might think, the white Goldendoodle is quite rare. Although its white coat is highly sought after, it can be a little bit difficult to produce one.
This is because Golden Retrievers (which are one of the parent breeds of the white Goldendoodle), do not produce any of the two recessive alleles which are needed to produce the Goldendoodle's white coat.
Because of this, it can also be almost impossible to get a white Goldendoodle as an F1 Goldendoodle puppy.
Still, the high demand for the white Goldendoodle has made a lot of breeders in various states opt for producing the snow white Goldendoodles.
White Goldendoodle vs Cream Goldendoodles: Is There A Difference?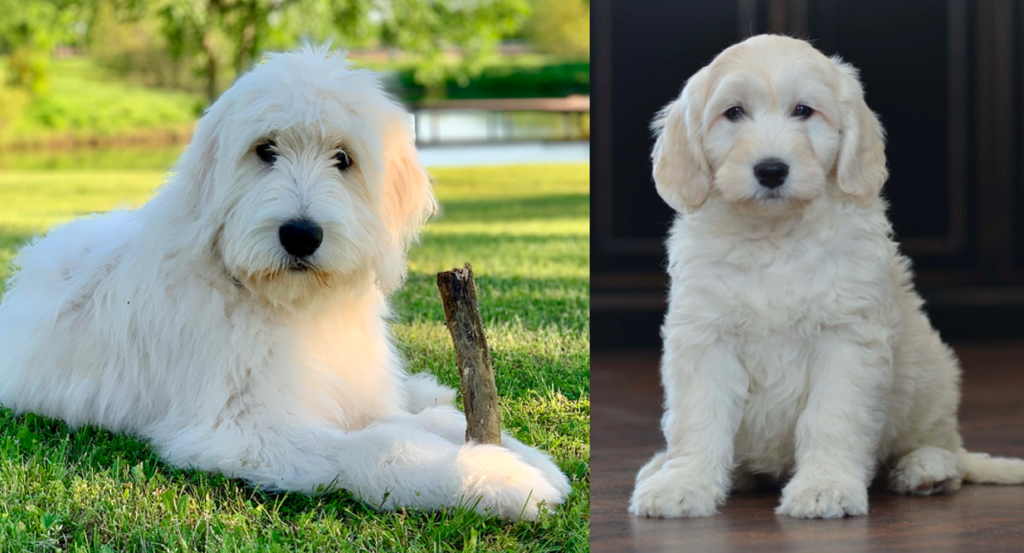 In some cases, the cream Goldendoodle could be easily mistaken for white, however, they are pretty different.
In appearance, the cream-colored Goldendoodle looks more like a lighter version of a champagne Goldendoodle than a white Goldendoodle.
Also, the fur around the eyes, mouth, and nose of a white-colored Goldendoodle has a dark shade to it whereas cream-colored Goldendoodles still maintain the bright cream fur around the mouth, eyes, and nose.
Also, when it comes to rarity, the Cream colored Goldendoodle is a common Goldendoodle variety whereas the white Goldendoodle is rare.
White Goldendoodle Coat Types
Because the white Goldendoodle requires the poodle gene to be more dominant, you can only get two coat types for this Goldendoodle color variant.
1. The Curly White Coat Goldendoodle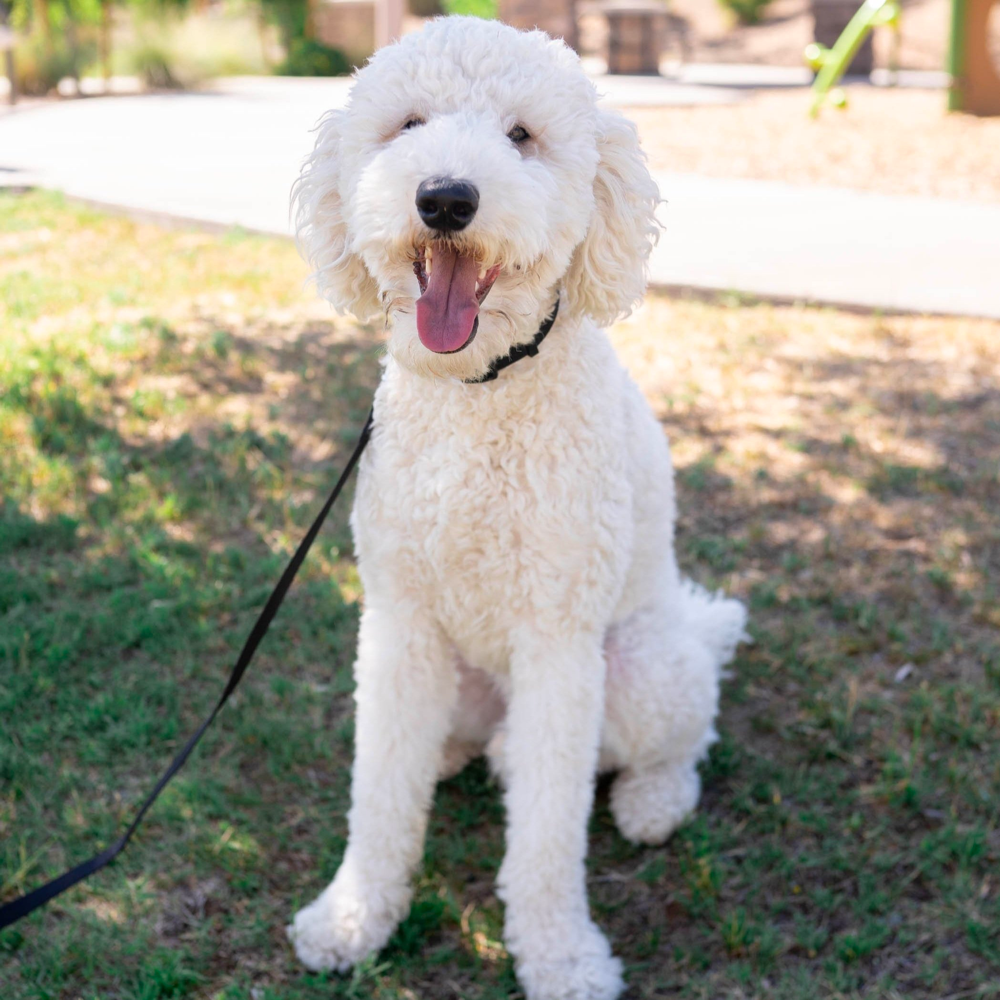 The curly white coat is hypoallergenic. This means it is low to non-shedding, so you won't need to worry too much about dog fur allergies. Grooming can be a little difficult as the curly fur might make brushing a lot harder.
2. The Wavy White Coat Goldendoodle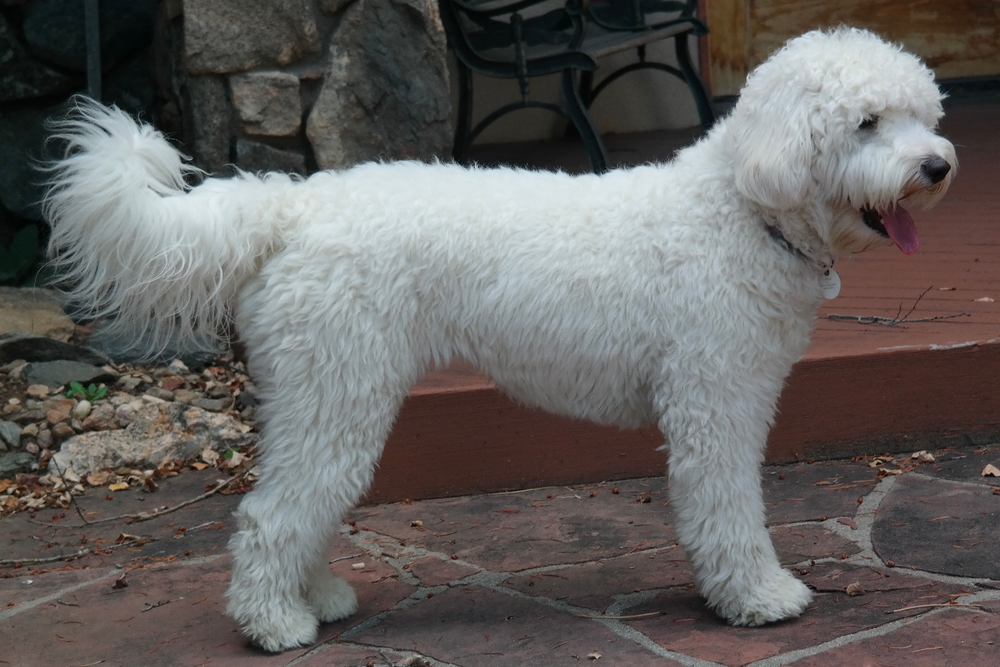 This is a lot easier to groom than the curly coat as the wavy fur could make brushing a lot easier. You are guaranteed a non-shedding white Goldendoodle if it comes out with a white wavy coat. All in all, most people opt for the white Goldendoodle with a wavy coat type.
Do White Goldendoodles Change Color?
No, the white Goldendoodle is one of the very few Goldendoodle color variants that are known to maintain a particular coat color from birth till they grow older. The clearing trait, which is responsible for most Goldendoodles losing their coat colors as they age, is not present in white Goldendoodles.
Overall, one thing that can change about Goldendoodles might be the fur around the eyes, mouth, and nose
White Goldendoodles Temperament
Goldendoodles, in general, are well-tempered dogs and the white Goldendoodle is no exception. They are generally friendly and outgoing. They are great Goldendoodles for families with lots of children as they can be pretty patient and are generally protective of kids.
The white Goldendoodle can also be quite playful and energetic when involved in family activities. They can also be a little destructive when left with all that energy. This is why it is recommended you take your Goldendoodle for walks regularly and engage in other exercises.
White Goldendoodle Appearance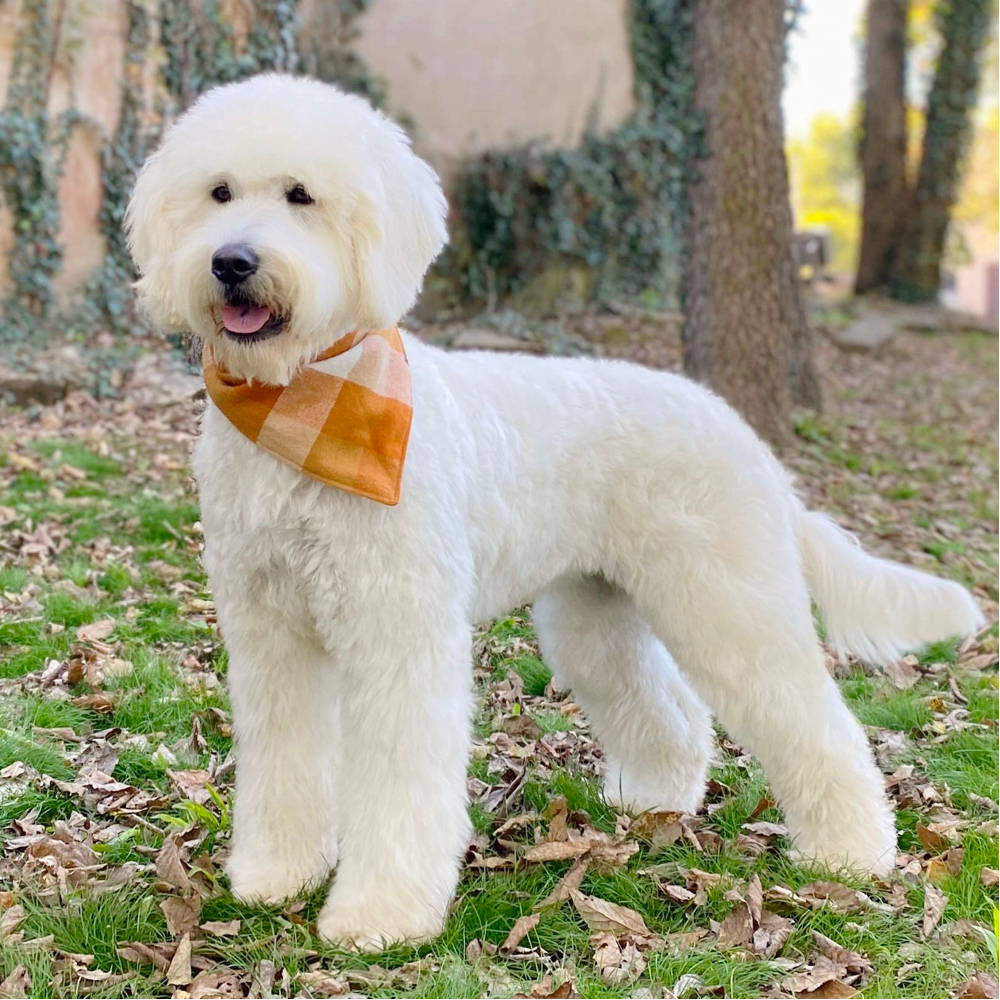 It is almost impossible to find white Goldendoodles that look like the Golden Retriever parent. This is because the alleles that give the Goldendoodle its white coat come mostly from the Poodle parent.
This means most white Goldendoodles take the curly or wavy coat type. They are beautiful to look at as their curly or wavy coat gives them the teddy bear look which is quite adorable. The fur around their eyes, nose, and mouth is usually darker in color which is in contrast to its white coat.
At full maturity, the full-grown white Goldendoodle can weigh between 15 to 80 lbs but this depends a lot on the size of the Goldendoodle puppy.
White Goldendoodle Sizes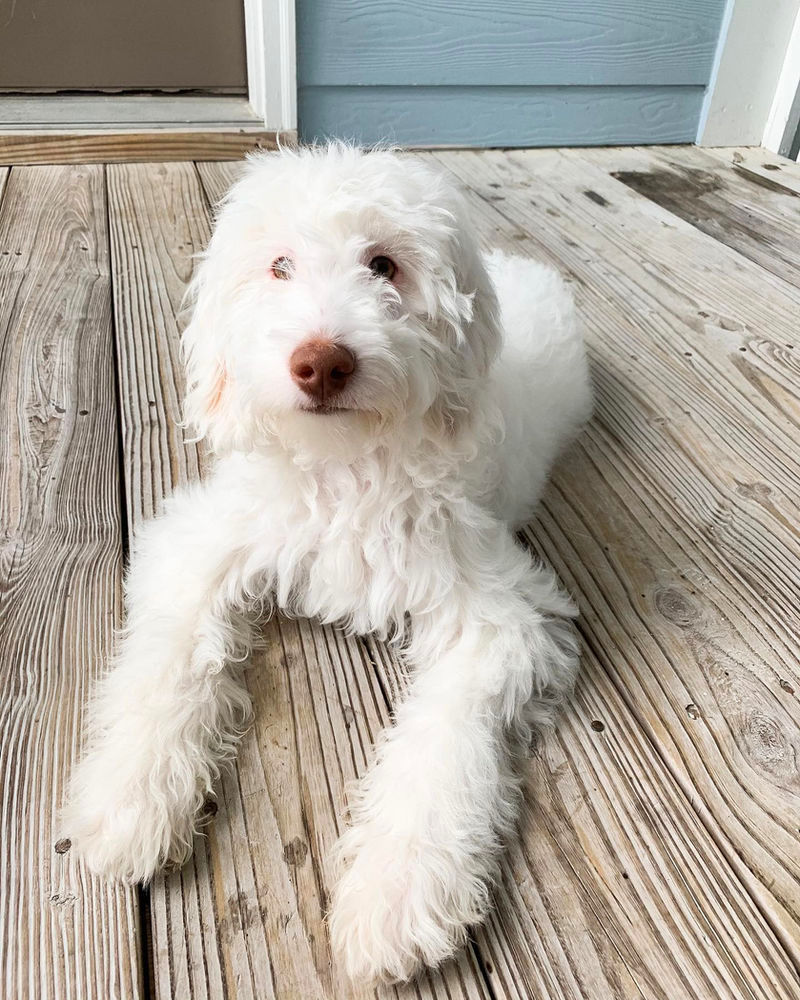 There are currently 5 size variants of the white Goldendoodle. These are the standard size or, medium size, miniature size, petite size, and teacup size. These 5 sizes are the same for all Goldendoodles, not just the white Goldendoodles.
To get a proper understanding of the growing size of the Goldendoodle, you can check out this Goldendoodle growth guide and chart.
Top 8 Most Popular Color Variations of The White Goldendoodle
The white Goldendoodle can be bred with other color variations of the Goldendoodle to produce separate variations for the white Goldendoodle.
This is often not recommended as the more a Goldendoodle is bred, the more saturated its gene becomes and the more open it is too harmful defects from genetics.
However, here are a few of the color variations associated with the white Goldendoodle.
1. Black and White Goldendoodle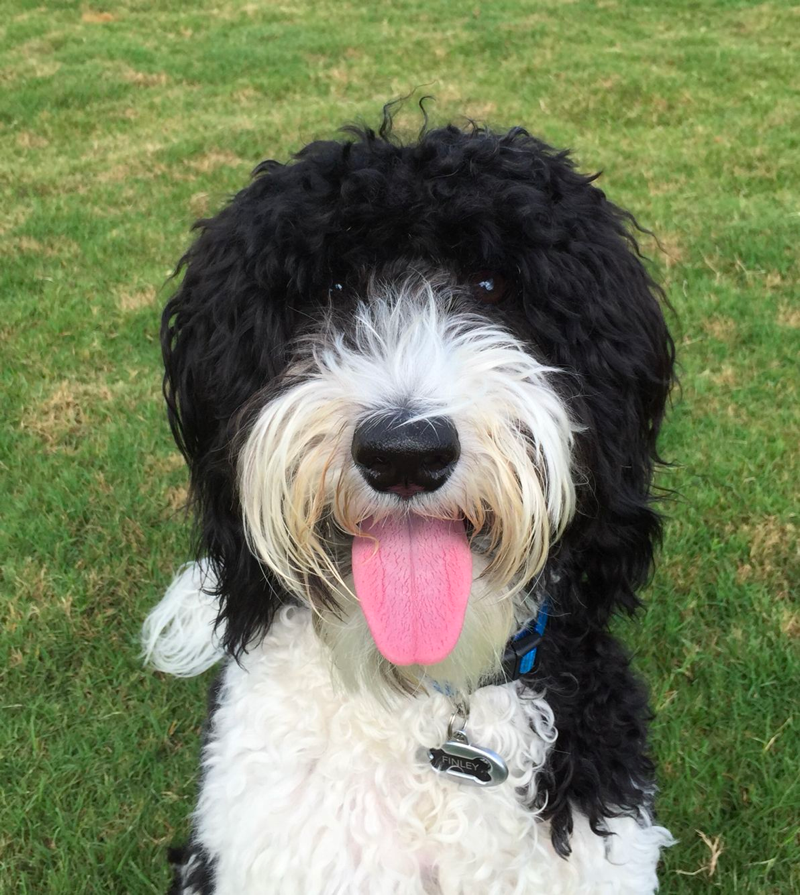 This color variation is quite rare to produce and can only be found in Goldendoodles of higher generations than the F1 generations. It is usually an abstract Goldendoodle which is a single-colored Goldendoodle (in this case a black Goldendoodle), with white patches on its face, belly, and paws.
2. Brown and White Goldendoodle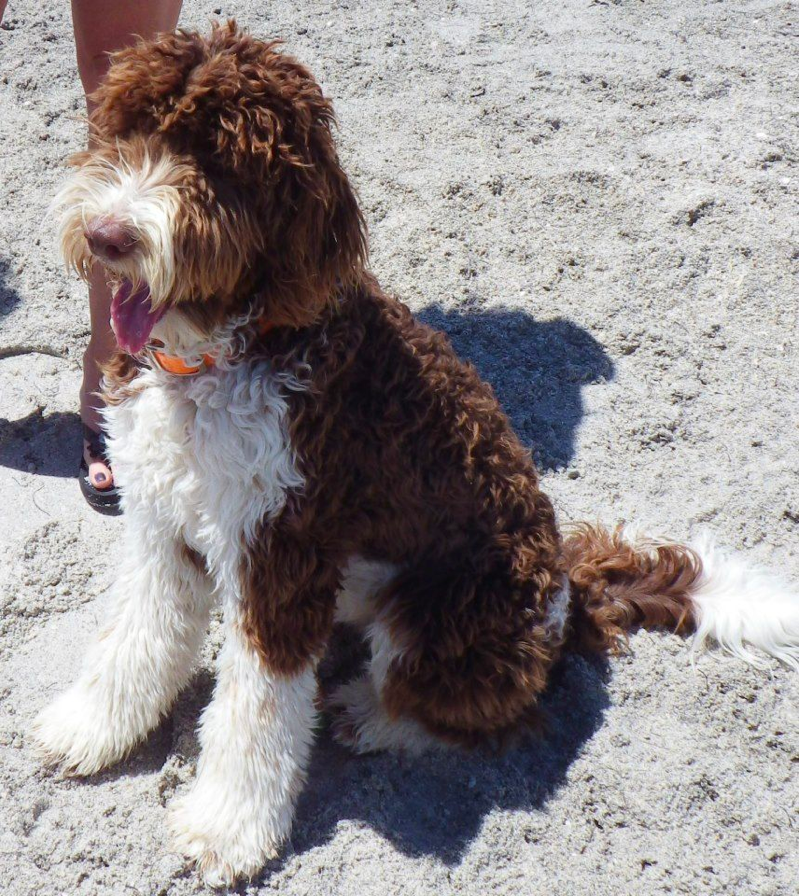 Another rare pattern of the Goldendoodle coat. Just like the black and white Goldendoodles, brown and white Goldendoodles are single-colored brown Goldendoodles with white patches on their belly, face, and paws.
3. Red and White Goldendoodle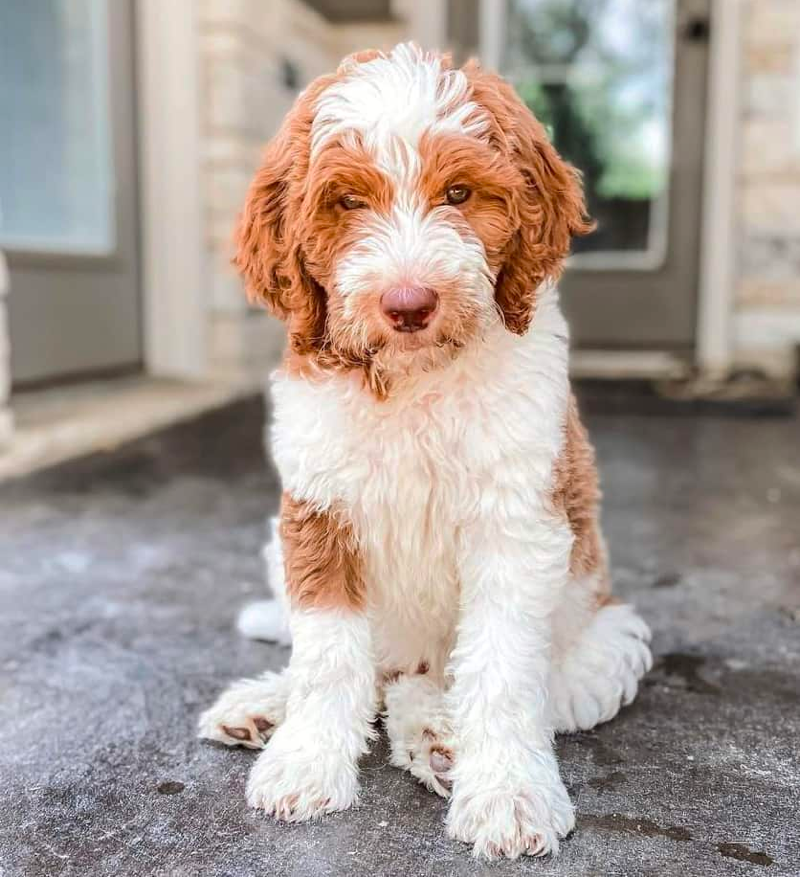 Again, this is another abstract variety of the Goldendoodle. It features a single-colored red Goldendoodle with white patches on its paws, face, and belly. All abstract Goldendoodles are rare.
4. Red and White Parti Goldendoodle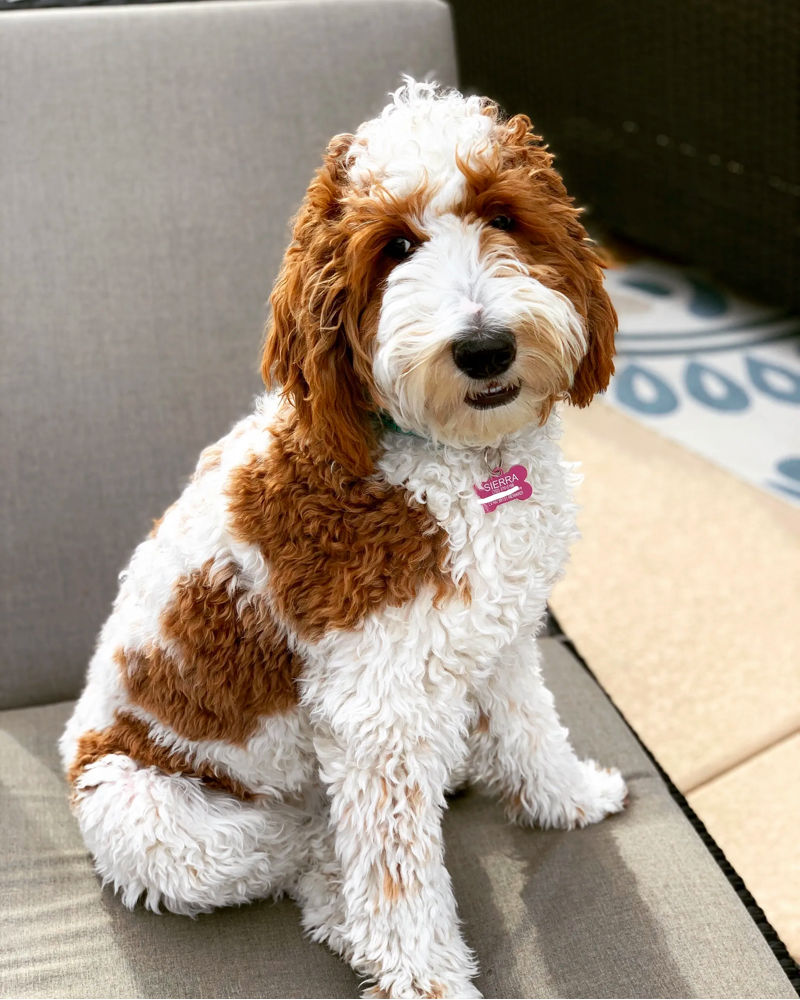 A parti Goldendoodle is quite the opposite of an Abstract Goldendoodle. In this case, the parti Goldendoodle produces two colors which are evenly distributed on the Goldendoodle. A red and white parti Goldendoodle features a red and white coat that is equally distributed on the puppy.
Parti Goldendoodles can only be found in higher generations than the F1 generation of the Goldendoodle and are pretty rare.
5. Tuxedo Black and White Goldendoodle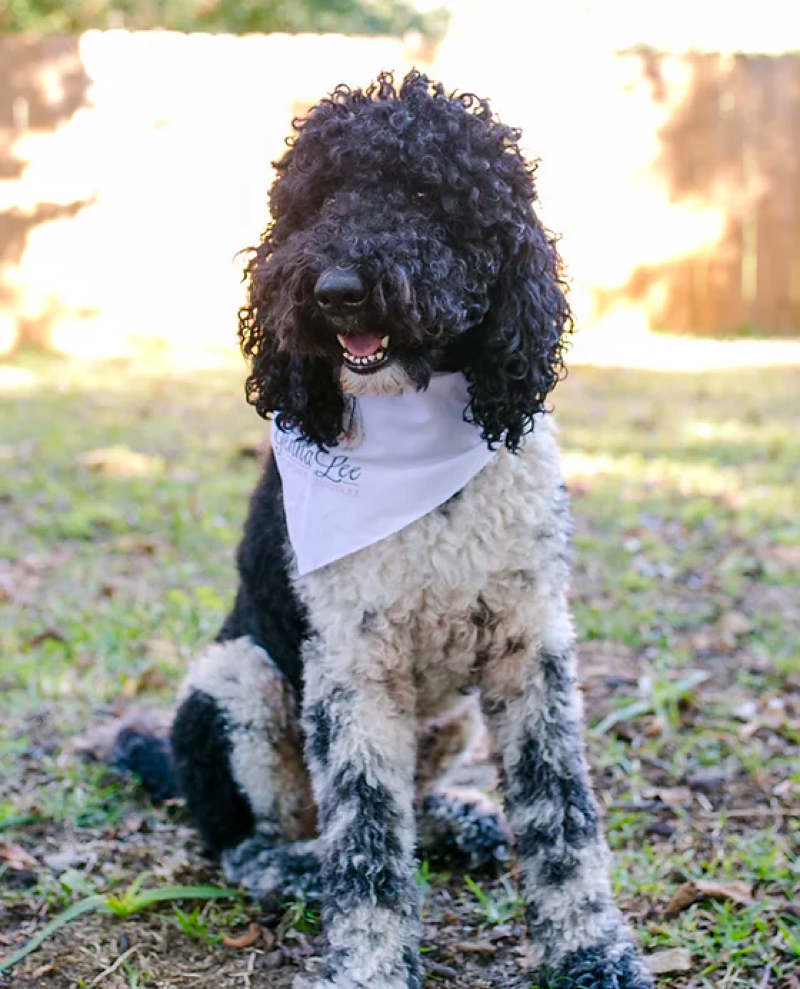 The tuxedo black and white Goldendoodle is another color variation that mostly appears in Goldendoodles of high generations. It is quite rare.
A tuxedo black and white Goldendoodle is simply a parti Goldendoodle in which its white coat color appears mostly on the chest and paws of the Goldendoodle. This gives it a look of a black and white tuxedo.
6. Apricot and White Goldendoodle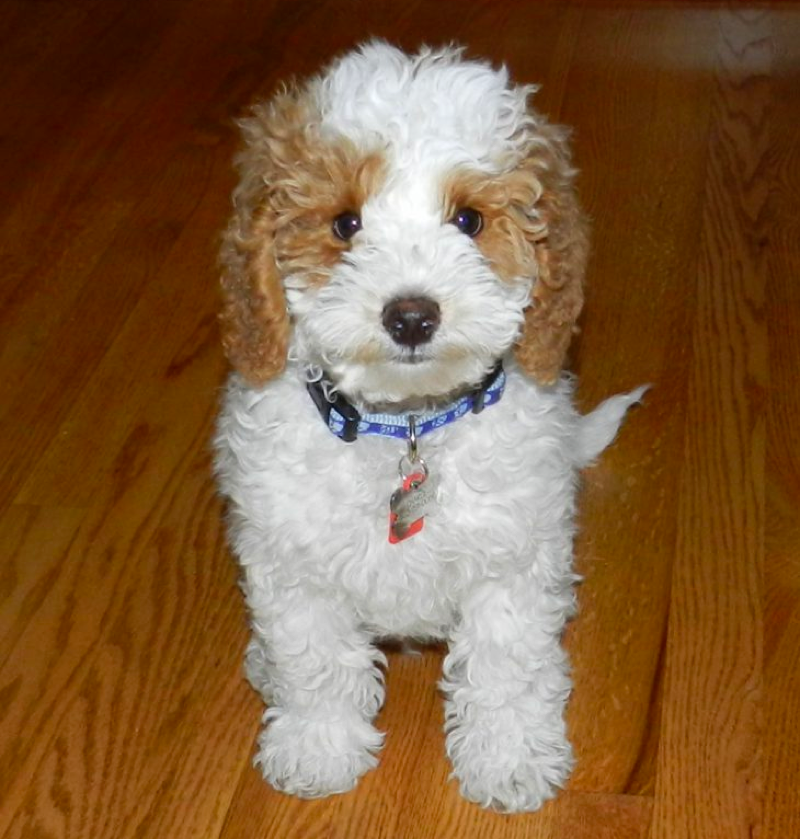 This color variation is an abstract Goldendoodle pattern. It is an apricot-colored Goldendoodle coat with white patches on the face, belly, and paws. And it is quite rare as they can only be found in generations higher than the F1.
7. Apricot and White Parti

Goldendoodle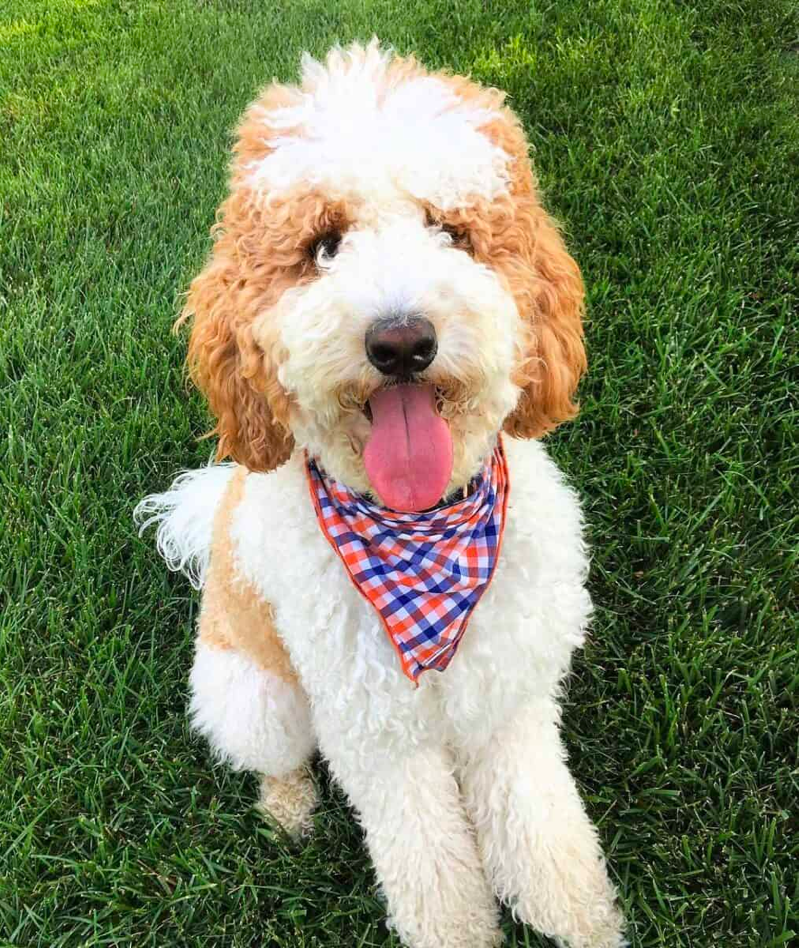 A rare Goldendoodle color variation with two color coats of white and apricot distributed evenly around the entire Goldendoodle puppy. The color variation is only found in generations higher than the F1 generation.
8. Chocolate and White Goldendoodle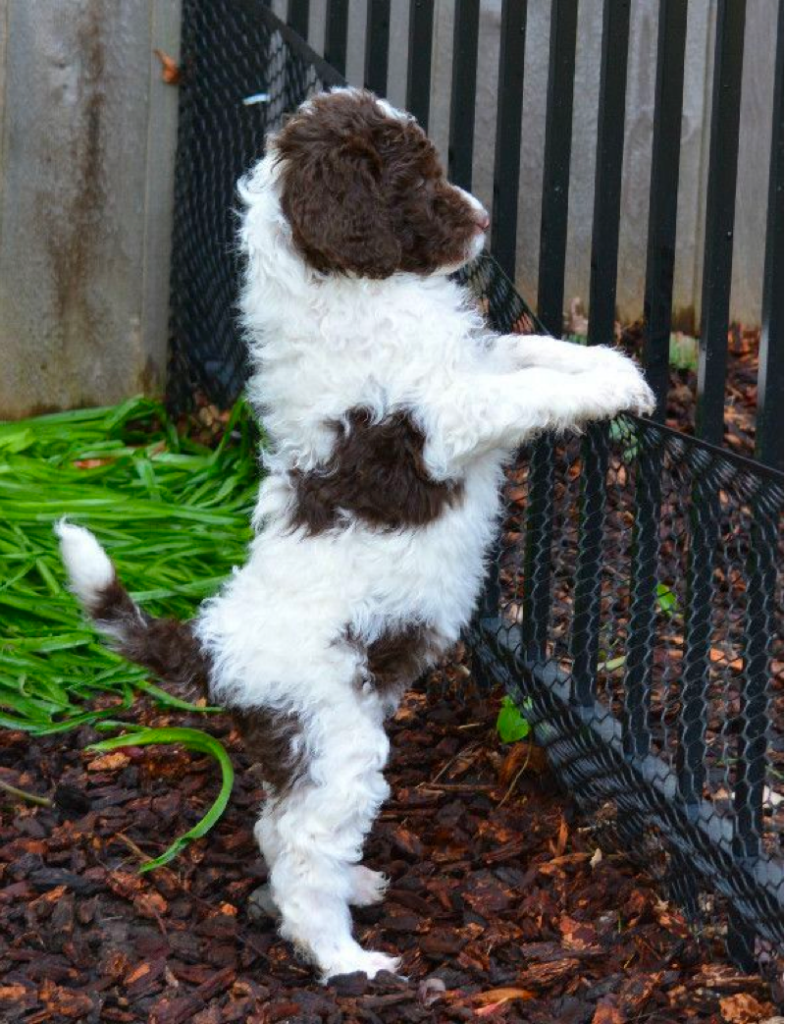 An abstract Goldendoodle of a single chocolate coat with white patches on its belly, face, and paws. Only found in higher generations than the F1 generation of the Goldendoodle.
White Goldendoodle Lifespan
There are lots of factors that can affect the lifespan of your Goldendoodle. Luckily, the coat color is not one of them. White Goldendoodles live as long as every other color of the Goldendoodle in existence.
On average, the white Goldendoodle should have a lifespan that ranges between 10 years to 15 years. This is dependent on different factors.
Training The White Goldendoodle
The white Goldendoodle is a very intelligent dog breed. This is because it inherits a lot of traits from the Poodle parent in its gene, and the Poodle is arguably one of the most intelligent dog breeds there is.
This high intelligence trait of the white Goldendoodle means you would have little to no difficulty when training it.
Also, the white Goldendoodle is always eager to please. This character trait could further prompt the Goldendoodle puppy to pick up new tricks and instructions faster.
Common White Goldendoodle Health Problems
White Goldendoodles are prone to every other health problem each Goldendoodle dog is prone to. However, there is one health condition that is unique to the white Goldendoodle, and that is Cochleosaccular deafness.
This is a rare health condition for Goldendoodles. It is known to affect dogs with white coats, blue eyes, or piebald coats. Proper genetic testing should be done to clear the dog of this condition before breeding.
Do White Goldendoodles Shed A Lot?
No, because white Goldendoodles only inherit the curly or wavy coat from the Poodle and not the straight coat from the Golden Retriever, they are generally low to non-shedding and are hypoallergenic.
How Much Are White Goldendoodles?
Because of the high difficulty in breeding a white Goldendoodle, most breeders tend to charge as high as $3000 or more for an adorable puppy.
White Goldendoodle Puppies for Sale
1. Hurricane Creek Goldendoodles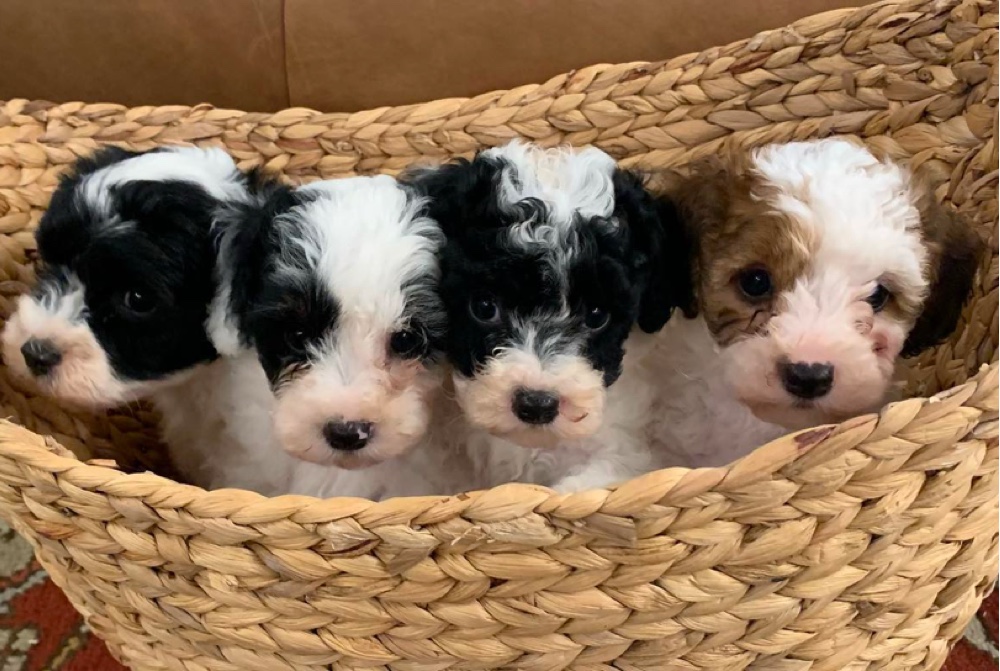 Located in Dickson Tennessee, Hurricane Creek Doodles are very reputable breeders that are particularly interested in breeding white Goldendoodles. They breed their puppies with health, temperament, and personality being their top priority. All their puppies are bred to be excellent family companions as well as service dogs.
All their Goldendoodles come from health-tested parents which are carefully selected after much research would have been done on each breeding parent. They are also checked and certified to have good working hips, elbows, eyes, hearts, and patellas.
The puppies are raised in a state-of-the-art facility that provides the puppies with comfort and safety. You get a well-socialized puppy that is introduced to biosensor training and other puppy enrichment protocols and curriculums. They are given the best in puppy food and supplements including organic food to help ensure they are strong and healthy.
Each puppy comes with a written health guarantee. The pups are also health checked, well vaccinated, and dewormed with records to show it. And they come with a starter kit to help you get started.
Hurricane Creek Goldendoodles Contact Details
2. Moss Creek Goldendoodles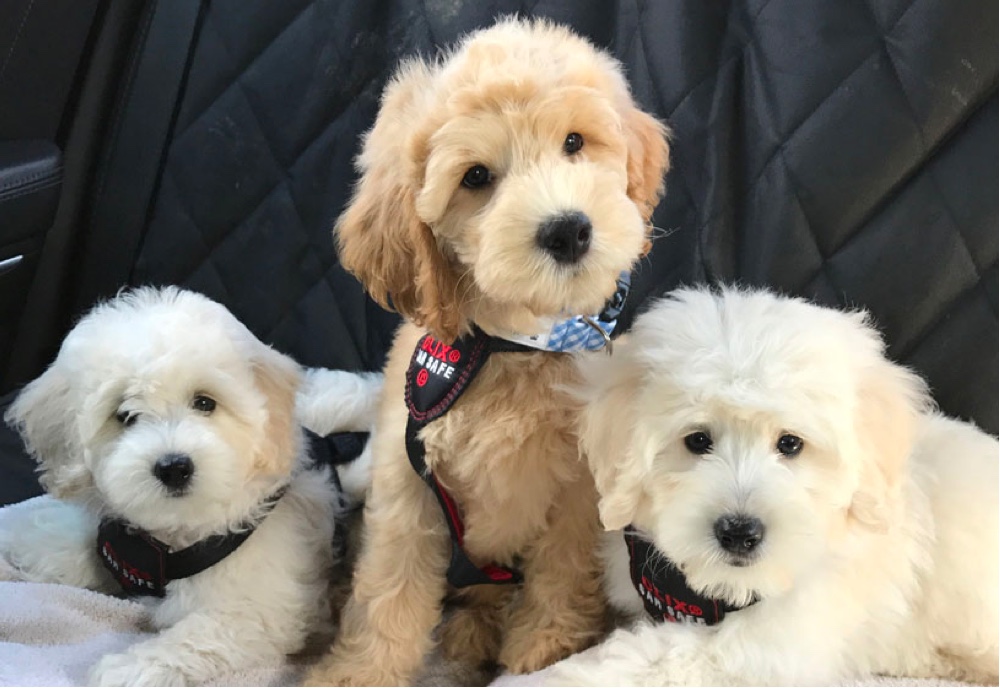 Moss Creek Goldendoodles produces service and therapy Goldendoodles of various coat colors (including white Goldendoodles) that also make great family dogs.
All their breeding parents are selected from championed lines with impressive pedigrees to back it up. They are genetically health tested for all possible defects that could be transferred to the litter. And they each have their OFA certifications to show.
The puppies start off on socialization from the first day of being born. They are given biosensor training and a host of other enrichment protocols and curriculums. Each Goldendoodle puppy is crate and potty-trained and they undergo a Volhard puppy aptitude test, to check their temperament.
All in all, you get a well-socialized puppy that comes with a 2 years health guarantee. They are also well vaccinated and dewormed. Moss Creek Goldendoodle is another reputable Goldendoodle breeder that produces white Goldendoodles in the United States. Located in Sunny Central Florida. Kelli Bailey, who is the breeder behind Moss Creek Goldendoodles has over 15 years of breeding experience.
Moss Creek Goldendoodles Contact Details
Is a White Goldendoodle right for you?
There you have it. All the information you need on the white Goldendoodle. From what has been stated it is clear to say that there are very few differences between the white Goldendoodle and every other Goldendoodle color variant.
All Goldendoodle puppies deserve love and should be given all the attention they require regardless of the coat color, pattern, or type.
We still recommend that you carry out personal research when searching for a Goldendoodle breeder. Ask the right questions and demand the right certifications. With that being said, do check out the website for more engaging articles.
Other Goldendoodle Colors