So, you've decided to get a Goldendoodle puppy for your family. That's a huge step in the right direction. These furry angels are a gift to humanity. They are intelligent, loving, and playful dogs that are perfect for any family.
With that decision made, the next step would be to find a proper, reputable breeder that sells high-quality Goldendoodle puppies. But what do you look out for? How do you know which particular Goldendoodle breeder is reputable, and which isn't? Well, that's what this article is for.
In this article, we'll provide a proper guide to picking the right breeder for you. You'll learn what to look out for, what makes a proper breeder, and a lot more. With that being said, do ensure you read till the end.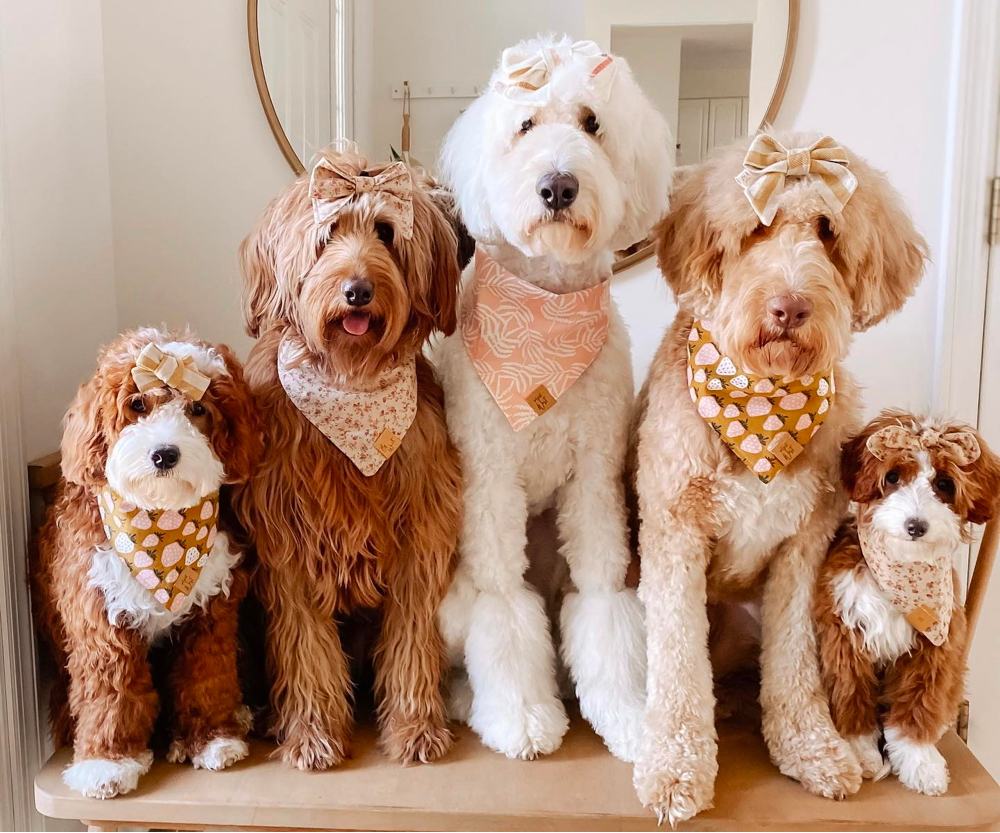 Why You Should Get Your Puppies From A Reputable Breeder?
As we have stated earlier, getting a Goldendoodle puppy is a big decision. The breed is basically seen as a designer breed, and there are reasons why.
Diversity
Goldendoodles are extremely diverse. They come in a wide variety of colors, sizes, patterns, weights, and even coat types. Having proper knowledge of each of these information can greatly affect the quality of life spent with your chosen puppy.
As a new dog owner or someone with not enough information about Goldendoodles, it can get a little bit overwhelming at first. This is primarily why you need a good Goldendoodle breeder. Someone with a lot of experience and love for the breed is willing to guide you into picking the right puppy for you.
Quality Of Life
Another reason for picking a good breeder would be the quality of life you enjoy with the puppy. Goldendoodles have a pretty long lifespan (12 to 14 years). They are also quite susceptible to a number of different genetic health conditions that could negatively impact the quality of life enjoyed by the puppy.
Most of these conditions could cause excruciating pain for your furry friend and some could even lead to its death. The good news is that with proper breeding, most of these genetic health conditions could be prevented.
So getting a good breeder not only saves the puppy from leading a terrible life, it also saves you from the outright trauma you might experience watching your puppy go through all these easily preventable negative health defects.
Purpose
The third and final reason why you should get your Goldendoodle puppy from a reputable breeder would be purpose. If you do not know by now, the high intelligence and decent temperament traits of the Goldendoodle make it a multi-purpose breed.
This means that in addition to being a wonderful family companion and pet, the Goldendoodle could also be used as a work dog or service dog, show dog, or even a hunting dog, being multi-purpose.
So whatever your reasons are for getting a Goldendoodle, you definitely need a breeder that has bred their puppy to serve that purpose. And also, the breeder should be able to pair you with the specific dog or puppy that matches your interest.
What Makes A Good Breeder?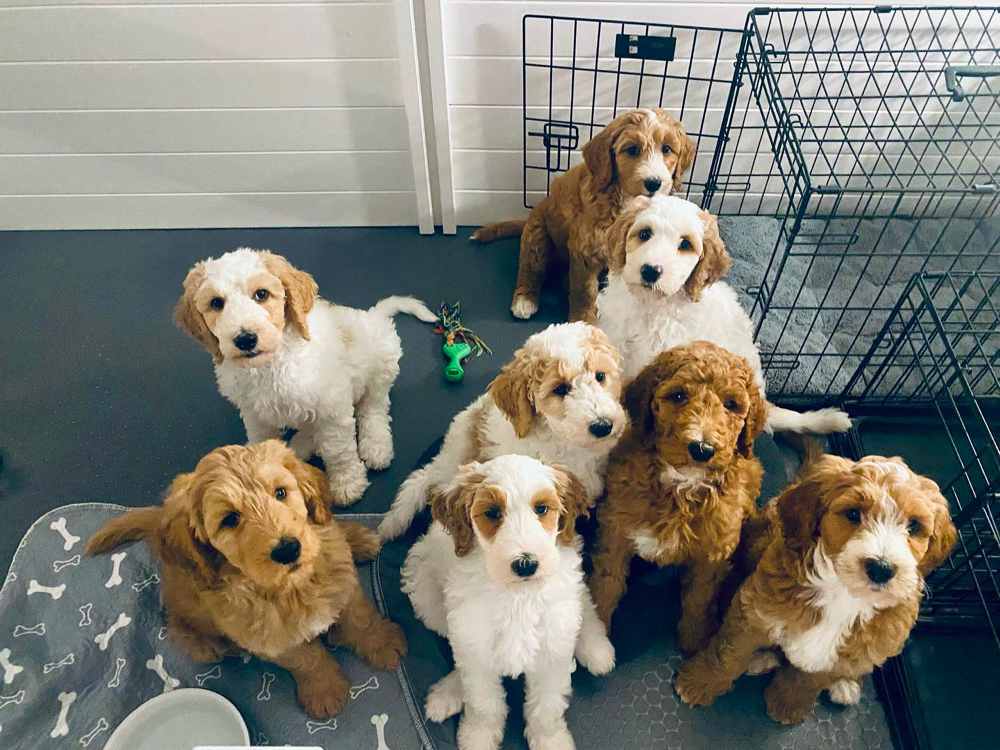 With all that has been said so far, what makes a good Goldendoodle breeder? The short answer would be "a complete love or dedication for the breed". A reputable Goldendoodle breeder should have a lot of love for the designer breed.
This would be his/her motivation towards breeding good quality Goldendoodle puppies. Good breeders should be able to provide a good or healthy start to the quality of life enjoyed by the puppy.
This could be done through ideal breed pairings and breeding practices. They also should be able to train their puppies through healthy socialization practices and enrichment protocols to help ensure the puppies are well-rounded and properly socialized.
Also, good breeders should be able to monitor and track the progress of the puppy after leaving for its new family or home. They should also be able to provide proper assistance and care to the new dog owners to help ensure they enjoy their time with the puppy.
Where to Find Reputable Goldendoodle Breeders
Now that we know the importance of finding a reputable Goldendoodle breeder, the next step would be figuring out where to look. The most recommended option would be the internet.
The internet can be a great medium for searching for the right Goldendoodle breeder for you. It not only provides you with ideal Goldendoodle breeders, but it could also help connect you to the nearest breeders to you. But to be able to use the internet properly, you have to know what you are looking for, this could help you.
1. Social Media Groups And Forums
Social media has grown to become more popular than ever, with lots of breeders opening accounts on websites like Facebook or Instagram. This is a great spot for searching for Goldendoodle breeders.
You can join social media groups and forums that are dedicated to the Goldendoodle breed. There you can connect with millions of fellow dog lovers, share ideas, ask questions about breeders and so much more.
It is important that you tread carefully on social media groups or forums. Just as you can find reputable breeders there, you can also find puppy mills which are breeders who breed with the simple purpose of making money from the puppies.
2. Blogs and Websites
Yes! Another great way of finding reputable breeders on the internet would be by searching specific canine-related blog posts and websites. A good website would be Devotedtodog.com (of course).
Blogs and sites like this could provide accurate information on reputable Goldendoodle breeders (as well as other dog breeds). They could provide you with information like the breeder's website, location, contact details, and a lot more.
But not all blogs or websites bother to update their information on these breeders, as a lot of things could affect the overall reputation of each breeder. With that being said, ensure you do a lot of personal research on each breeder before choosing to work with them.
3. Canine Organizations
There are certain organizations with websites dedicated to helping families locate reputable Goldendoodle breeders. Organizations like GoodDog.com and GANA are perfect examples of these organizations you can check out.
These organizations have certain strict rules and ethics that each aspiring breeder must follow to become a member. This way, they ensure that only reputable breeders who breed their puppies according to these laid down rules set by them are accessible to the public.
Regardless of all these, it is still important that you carry out your personal research before choosing to work with any of the breeders listed on their site.
How to Choose A Reputable Goldendoodle Breeder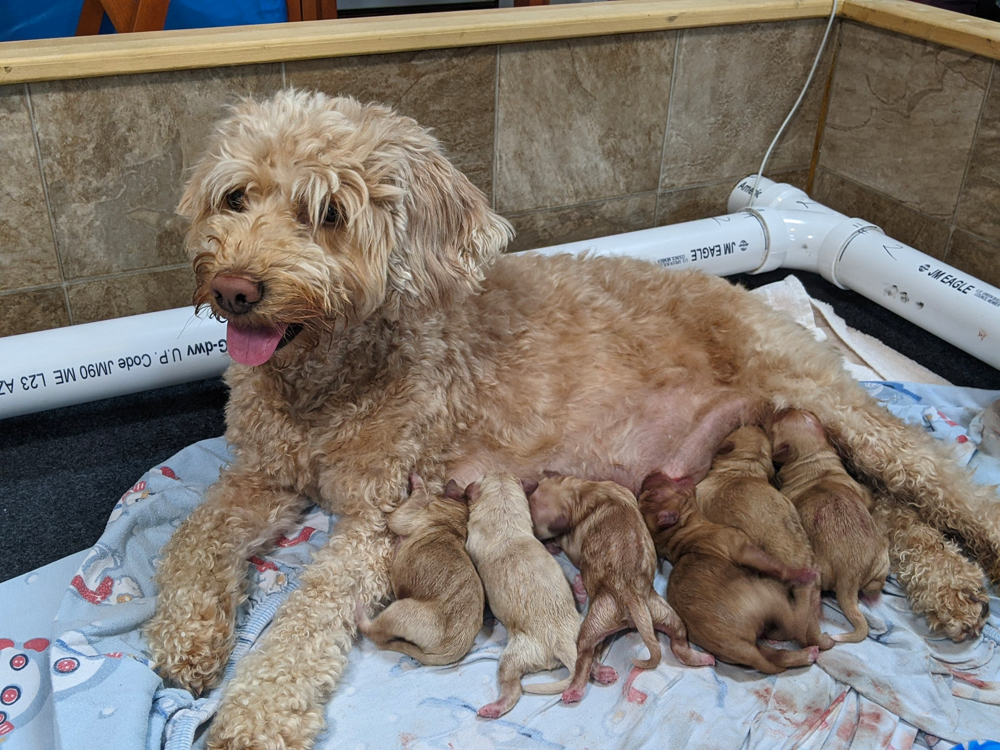 Now that you know exactly where to look, there are certain key aspects you also have to be on the lookout for when you eventually find a Goldendoodle breeder. These aspects contribute to the "personal research" that is mandated for all dog owners to make before working with any breeders.
Your chosen breeder should be knowledgeable when it comes to the Goldendoodle breed, so don't be scared to ask the right questions (or any questions), and ensure you get satisfactory answers before you proceed.
In addition to asking the right questions, there are also certain certifications and documentation of tests and checks that are essential when picking a Goldendoodle. So always ask for these documents and certifications. With that being said, here are the key aspects and signs telling you if a Goldendoodle breeder is reputable or not;
1. Overall Puppy Health
The overall health of the puppy should be a major sign, this can be divided into physical health and social health.
Puppy's Physical Health
It can be easy for new dog owners to get lost thinking about the possible traits of each puppy, don't do that. Don't get distracted by the traits of the puppy. Without a strong or healthy foundation for the puppy, things like puppy color, coat type, and size don't matter.
Good or reputable breeders prioritize the overall physical health of the puppies they produce and this often shows through their breeding program.
There are some specific health issues that Goldendoodles (and dogs in general) suffer. These health defects can also be transferred from parent to puppy which could harm the overall quality of life for these puppies.
A reputable breeder knows this, and actively works towards protecting their litters from these health conditions. They do this by;
Screening each puppy parent for evidence of these health defects in them through genetic health tests. The parent dogs have to be clear of these conditions before being allowed to breed.
Testing each puppy parent for hips, patellas, elbows, eyes, and cardiac health defects. Again, the parent dogs have to be certified "clear" before being allowed to breed. (Organizations like GANA, have a full list of all Goldendoodle health conditions and tests, check them out).
Ensuring that all newly produced poppies are examined regularly by a licensed or reputable vet. As well as ensuring they are all properly vaccinated and dewormed.
Ensuring that each puppy is well fed and given their appropriate nutrients through puppy food and supplements.
Ensuring each puppy is properly exercised to avoid them getting overweight.
A good or reputable Goldendoodle breeder should have a report or record or documents of all these and should be able to provide them to you. These are the right questions you need to ask.
Puppy's Social Health
Another aspect of the puppy's overall health that is equally as important as its physical health would be, its social health. The socialization of each puppy should not be overlooked. It forms the basis of puppy-human interaction.
Early socialization is incredibly important for newly produced puppies. This is done through a variety of puppy enrichment curriculums and protocols. A good breeder should treat the socialization of each puppy with importance.
Ask them how they socialize each of their puppies, and how they ensure the puppies are capable of being calm and well-tempered in a wide variety of situations and environments. These
Are need to know questions that could help ensure a wonderful time with your furry friend.
A reputable breeder should be pretty knowledgeable on all these and should be able to answer these questions properly.
2. Overall Knowledge of the Goldendoodle Breed
Another great way of telling if a breeder is reputable is by taking out the time to listen to them. A reputable breeder should be quite knowledgeable about his chosen breed of puppies. Listening to how he/she talks is the best way to do this.
They should have proper plans and goals for raising their puppies. Both puppy and parent health should be a top priority for their breeding programs and this should be clear through the level of testing and health checks done on each puppy and parent dog.
3. Breeding Environment
Because puppies are young and still have underdeveloped immune systems, the overall cleanliness of the environment they are raised in should be of priority to the reputable breeder.
This is why it is often recommended for "soon to be" dog owners to check out the breeding facilities or homes in person. By doing this, you are able to gauge the overall cleanliness of the environment the breeder places his/her puppies.
A good breeder should take the time to ensure that the puppies are placed in a clean environment. They should regularly clean their feeding bowls, their toys, and basically everything they interact with.
4. Client Screening
Good breeders should be generally concerned with the exact families or homes their puppies end up in. Goldendoodle puppies need all the attention and care they can get. They should never be neglected, this is why proper care should be dedicated to screening each potential dog owner and client.
A breeder that does give their puppies out to any family that comes asking is a sure red flag. This shows that they do not care where their puppies end up and are all about simply making money from the puppies or getting rid of their puppies.
Another thing to look out for is certain dog sale bonanzas or bonuses. Basically, I find it quite ridiculous seeing a breeder put a 'sale' or a "buy one get one free" on their puppies. This for me is a sure red flag, as decent breeders care so much for the puppy to simply give them to families in such a manner.
5. Client Support and Communication
The final aspect you should be on the lookout for should be the level of support and communication that each breeder provides to their clients. A reputable breeder should still be involved in the life of the puppy even after leaving their care.
They should be able to provide adequate help to each client that could assist them in raising and training each puppy properly. This can be done through a puppy starter kit which should come with each puppy you purchase.
Also, in the unfortunate case you decide the Goldendoodle isn't the dog for you, a reputable breeder should be armed wide ready to receive them back from you.
GANA, What Are They?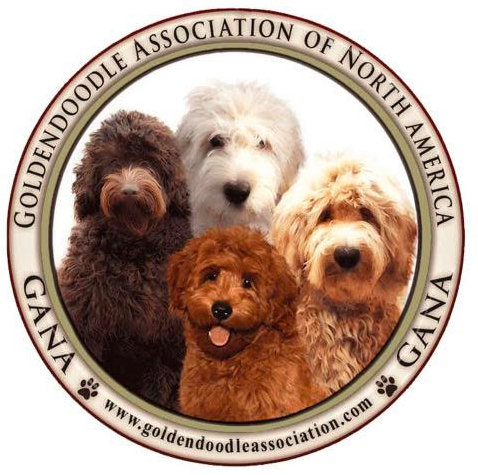 As a new dog owner reading this article, you definitely would have seen one or two references to GANA, and you might be wondering what it is. Well, I'll tell you.
GANA is an acronym for the Goldendoodle Association of North America. They are a non-profit organization that came into establishment in 2008 and are arguably the most reputable Goldendoodle club dedicated to the general improvement of the breed.
It was created for both the Goldendoodle breeder, the pet owner and the Goldendoodle enthusiast to provide adequate support towards pet ownership and breeding.
They aim to protect the Goldendoodle breed and establish strict guidelines or rules that could assist breeders in raising high-quality puppies. They also keep a comprehensive database on all things Goldendoodle, like health tests and a lot more which can be very valuable to their members…
The strict guidelines or ethic codes GANA provides are also well-tailored to help breeders avoid things like inbreeding or line breeding. They also perform registrations for Goldendoodle puppies that they are certain are bred according to their desired breed standards.
With that being said, the Goldendoodle Association of North America, or GANA are passionately devoted to the Goldendoodle breed.
Best Goldendoodle Breeders in The USA
Conclusion
There you have it. All you need to know about finding the right Goldendoodle breeder that offers the perfect dog for you and your family. It shouldn't be hard to spot a good or reputable breeder.
Basically, a reputable breeder should be filled with nothing but love for their Goldendoodle puppy. Because a genuine love for the breed is what motivates them towards breeding the best quality puppy possible.
Still, it is highly recommended that you ask the right questions when dealing with any Goldendoodle breeder. Also, demand the right documentation or certifications from each breeder.
You can check our website for more engaging and informative articles like these, as you are guaranteed to learn something new.