There are many factors that come into play when assessing how smart your dog is, as we will show you. The crossbred Goldendoodle parents are highly intelligent dogs and because of this, your Goldendoodle tends to get the best traits from both the Poodle and the Golden Retriever. Not only are they extremely quick at learning tasks and commands, but they are eager, friendly dog that has a strong desire to please. You can use all these things to your advantage when training your Goldendoodle.
How Smart is a Goldendoodle?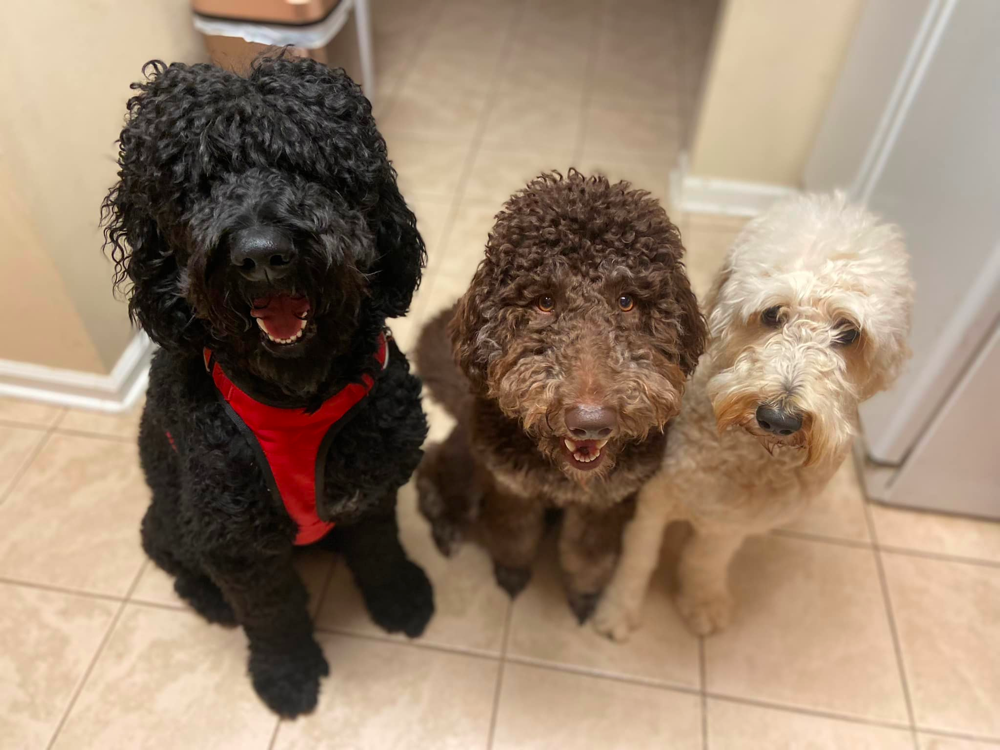 It has been found that even an average dog can have the intelligence equivalent of a 2-year-old child. In other words, they can learn 165 words which is about that of a toddler.
But expanding on those basic skills, your Goldendoodle social skills excel beyond that and can be ranked with the level of a human teenager.
The Goldendoodle often doesn't feature by name on official lists of smart dogs, mainly because they are not considered a pure breed, but by talking to owners and breeders of the dog, they are rated like their parents. On the official lists of smarts, the Poodle (ranked 2nd) and the Golden Retriever (rated 4th) which is admirable.
Every Goldendoodle is unique and is an individual. They are very much like us; they have their own talents and abilities plus they will have their own unique 'quirks' of character that cements their place in our heart.
Three Types of Goldendoodle Intelligence
There are three types of canine intelligence which put simply, is what they know through the bloodline of their parents.
| | |
| --- | --- |
| Instinctive Intelligence | The Goldendoodle knows instinctively through their breeding, about how to retrieve a ball or a stick. They are natural water dogs and are so smart when it comes to herding, and retrieving and they make great companions. |
| Adaptive Intelligence | This is the level at which your Goldendoodle can solve a problem without help. This skill demonstrates a high level of intelligence. |
| Working Intelligence | This type of intelligence is based on the number of repetitions your dog needs to learn a command. The fewer repetitions, the smarter the dog. |
Here is an example of how smart a Goldendoodle can be. My friend has a Goldendoodle and within just a few lessons she has trained her dog to ring a bell by the back door when her dog needs to go out to the toilet.
She had combined several bells so that they hang down, and when her dog needs to toilet, the dog just goes and whacks the bells with her paw or nose and waits till my friend lets her out. Once her Goldendoodle comes back in, my friend gives her a small treat, and they continue what they were doing beforehand. It makes quite a talking point when she has visitors.
Each Goldendoodle is unique in how much of each intelligence they have, but all are touted as being very smart dogs.
Most of all, they love to be a dog with a job; they love helping you and they are their very best when busy. If neglected or left to entertain themselves, you may not like the state of your home when you return.
Demonstrating Their Smarts
Your Goldendoodle loves praise and cuddles, so they will show off just to get your attention. That is how smart they are.
If your dog can remember commands even if you haven't trained it in a while, they have a good retentive memory. This saves you a ton of time so that you can move on to new lessons.
Great problem-solving skills are an indication; puzzle toys demonstrate their prowess, and they will leave no path unturned till they solve the task.
Empathy shows their smart skills; when they comfort you when you are upset then you have a very smart dog. They can sense your feelings and respond accordingly.
They learn tasks or tricks with ease.
Your Goldendoodle easily recognizes its surroundings when traveling by spotting familiar landmarks or by how you act. In other words, they get excited as you arrive at a friend's place because they recognize it is a fun place to be.
Initiating play with you; we all know that when a Goldendoodle brings and plonks a toy on your lap, they are trying to encourage you to play with them.
They are very observant and will watch and listen closely to determine what it is that you are trying to tell them, often turning their head from side to side while they watch intently.
Family skills. The Goldendoodle understands that they need to be gentle around young infants or babies. They are very caring and display extreme care around them which shows how smart they understand the dynamics of family life.
This list is not extensive, but it proves that the Goldendoodle is one highly intelligent dog.
Keeping Your Goldendoodle Smart
With all the smartness wrapped up in these fluffy, cartoon-like dogs, the thing that is required the most from owners is to ensure their Goldendoodle gets enough mental and physical stimulation. They also require your companionship, time, and attention.
Nobody has told them that they are a dog. To them, they are your bestie, your confidant, and your shadow. Where you go, they go too.
They are family, and as such, they want to do what the family is doing. It is up to you to keep them on their toes – figurately speaking.
Allow your Goldendoodle plenty of time to sniff. That's how they learn so when out walking, allow them time to read the 'news'.
Give your goofball pup plenty of new experiences and challenges. Don't go to the same beach, try a different one. Going for a walk? Take a different route.
Instead of just dumping their meal in a bowl, put it into a food puzzle so that they can find and earn their food. It will also slow down their eating rate as Goldendoodles tend to scoff their food in seconds. It gives their stomach time to register that they have eaten, and they won't be looking around for more (hopefully).
Spend time together around the pool (or a child's paddling pool will suffice). Blow them some bubbles. Set up an agility course in the backyard complete with pet tunnels, boxes, and of course, balls.
Doodle play dates are often fun, where they can run and wrestle their excess energy off.
They will love going to the local café with you. Who knows what tasty treat they may pick up (especially when you are not looking) and they will love everyone's attention.
And they will insist on accompanying you on a car ride, just put the window down a bit, please. And don't leave them in the car, it gets way too hot to be healthy.
Training is fun for the Goldendoodle, and you can start training a puppy early in their life. Keep it simple for them. It should be positive with plenty of praise and rewards or treats. Don't make learning time too long, puppies can only concentrate for so long, and then they will be distracted by other things. Short bursts of learning (ten minutes or so) are best.
Conclusion
Again, the question is – are Goldendoodles smart?
Yes, without a doubt or hesitation that can be confirmed. They use their intelligence to solve problems, provide safety, and offer us comfort. They can be trained as therapy dogs or service dogs.
But the greatest thing about these dogs is not only are they smart, but they can magically transform our lives with their undying love and devotion.
They are a ball of goofy, funny, wriggling fur. You never know what they will do next. They are regular cuddle bugs, wanting to be as close to you as they can.
They love your time, love, and attention. Even training time is fun for these comical companions. Because they are so smart, they quickly learn how to fit in with the family and adapt to your life.
Your Goldendoodle is unique; there is not one other Goldendoodle quite like yours. And that is the best thing of all.