Have you ever wondered what an F1B Goldendoodle is? This term can be thrown around frequently by breeders and experts, along with mentions of the F1 Goldendoodle. You probably are wondering if the temperament, the coat color and style, and the size of these Goldendoodles are different. This is a common question and one that you should learn more about before you decide on an F1 or an F1B dog.
Learning more about the various versions of the Goldendoodle breed can be very helpful for a variety of reasons. There are many things to love about the Goldendoodle breed, no matter which generation you select, but picking the right generation can make sure that you get access to the best combination of traits for you and your family.
When you are done checking out this guide, you will know what an F1B Goldendoodle is, what the coat colors and grooming requirements are for this dog, and what else to expect when you pick this Goldendoodle to share your life.
What is an F1B Goldendoodle?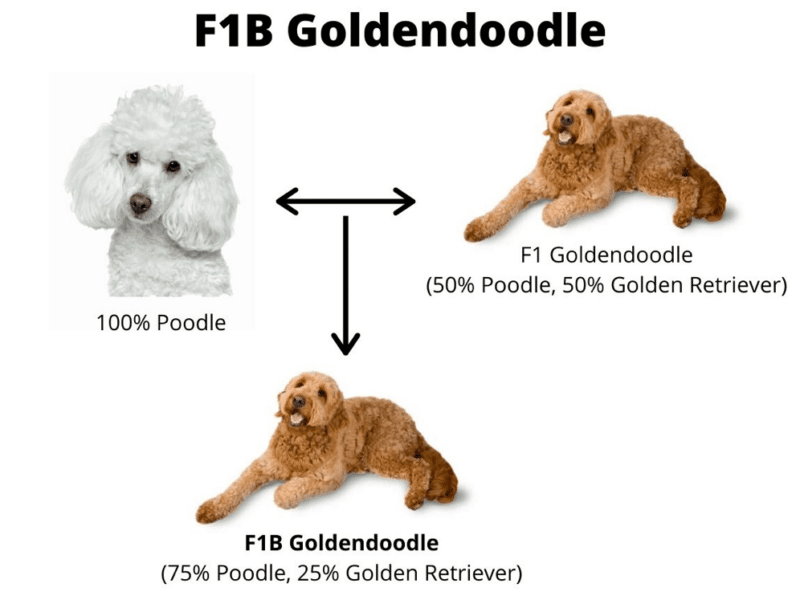 An F1B Goldendoodle is the version of the Goldendoodle breed that was created to offer access to the blend of a Poodle's coat and the Golden Retriever's personality. The F1B Goldendoodle is also commonly associated with a more hypoallergenic coat and much-reduced shedding. This cross is made by mixing an F1 dog, which is a first-generation dog, with a Goldendoodle or a purebred poodle or golden doodle.
The F1B Goldendoodle is one of the most desirable versions of the Goldendoodle due to the lack of allergies and the beauty of these dogs' coats. Many people also feel that this dog is more personable than the traditional Goldendoodle, although the Goldendoodle is well-known for its excellent temperament overall. The F1B can be higher energy than a regular Goldendoodle, but they are still often really trainable and simple to work with and care for.
The F1B Goldendoodle is a first-generation cross which means that you will clearly see the genetic contribution from both parents that went into the cross. The farther from the original cross that breeders get when creating litters, the less likely you will be to see the Poodle or Golden Retriever DNA that went into the cross. All dogs were originally a first-generation cross of some kind, but the breeds that we recognize today are the result of years of deviation from the original cross. The F1B can often show far clearer genetic contributions from each parent due to being a first-generation cross, but there are also some differences in the experience of owning a dog that is that closely related to the original cross.
The more that you know about the F1B dog, the more likely you will be to make an educated decision about picking this generation of Goldendoodle compared to other more distant crosses. You might never have met an F1B since most people do not spend the money to get one, so you should learn as much as possible about this Goldendoodle cross before you decide if this is the right generation of Goldendoodle for you and your family.
What's the Difference Between the F1 and the F1B?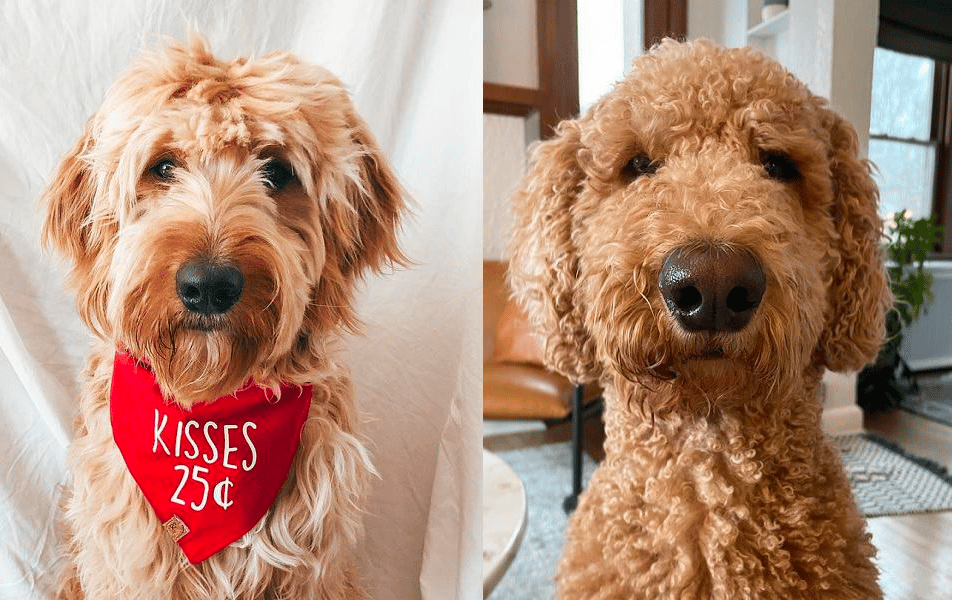 The biggest difference between the F1 Goldendoodle and the F1B Goldendoodle is in the coat. The F1 Goldendoodle is going to have a straighter and longer coat that sheds more, and it will not be as hypoallergenic as the F1B Goldendoodle. F1B Goldendoodles will often get the benefit of more Poodle traits which makes them easier to groom and better for those with allergies.
The F1 and F1B can also have a slightly different temperament than other Goldendoodles too. The closer that a dog breed is to the original cross, the more likely it will be that you will see the best of both parents. When line breeding takes over, more prominent traits can appear that might not be as desirable. The F1B is often associated with having a temperament that is more like the Golden Retriever, which is one of the dog breeds that is best known for its amazing temperament.
The generations of cross-breeds can impact the appearance and the personality of the litters that result from crosses. The farther that a litter is from the original cross between the two originating breeds, the more mixed the traits that can be expressed. A first-generation cross litter will show traits from both of the parents and will be more recognizable as a mix between those two breeds in a general sense. Most people want to get a dog that is closer to the original cross to be able to predict the traits that will be expressed more readily.
There are some benefits to picking a cross that is many generations away from the original two breeds being crossed, and cost can be one of these key benefits. You will often pay far more for a dog that is close to the original pairing since the traits are more recognizable, and the colors and coat patterns are often more predictable as well.
F1B Goldendoodle Traits and Characteristics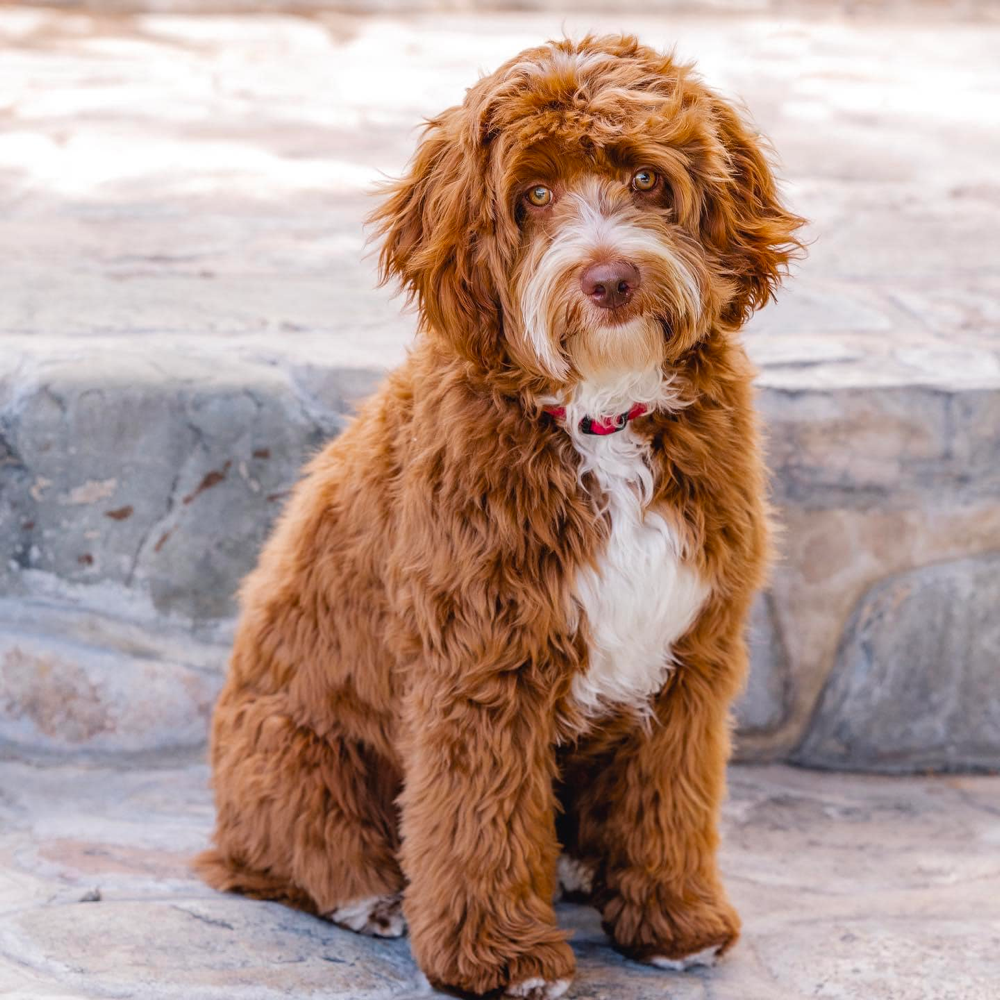 The weight and height of this Goldendoodle variant can vary wildly. You might get a very small dog or a larger dog, and there can even be significant differences between members of the same litter. The coat of this dog will be curly, and the shedding related to its upkeep should be fairly reasonable. This is also a dog that should offer you an almost entirely hypoallergenic coat which can be great for people who ordinarily cannot have pets due to allergies.
You will need to plan to have this dog groomed regularly due to the Poodle coat that most of the F1B dogs are blessed with. This is a friendly and easy-going dog that loves people and children and is always happy to play or go for a walk. One of the other key benefits to the F1B is that it is more likely to get along with small animals in your home like cats, and these dogs also usually integrate well with other dogs in the home.
While the energy level of some of these dogs can be high when compared to the regular Goldendoodle, this is a dog that is so sweet and kind that you will not have trouble managing their exercise needs. The F1B will live for about 10 to 15 years on average, which is much longer than the average Golden Retriever.
F1B Goldendoodle Appearance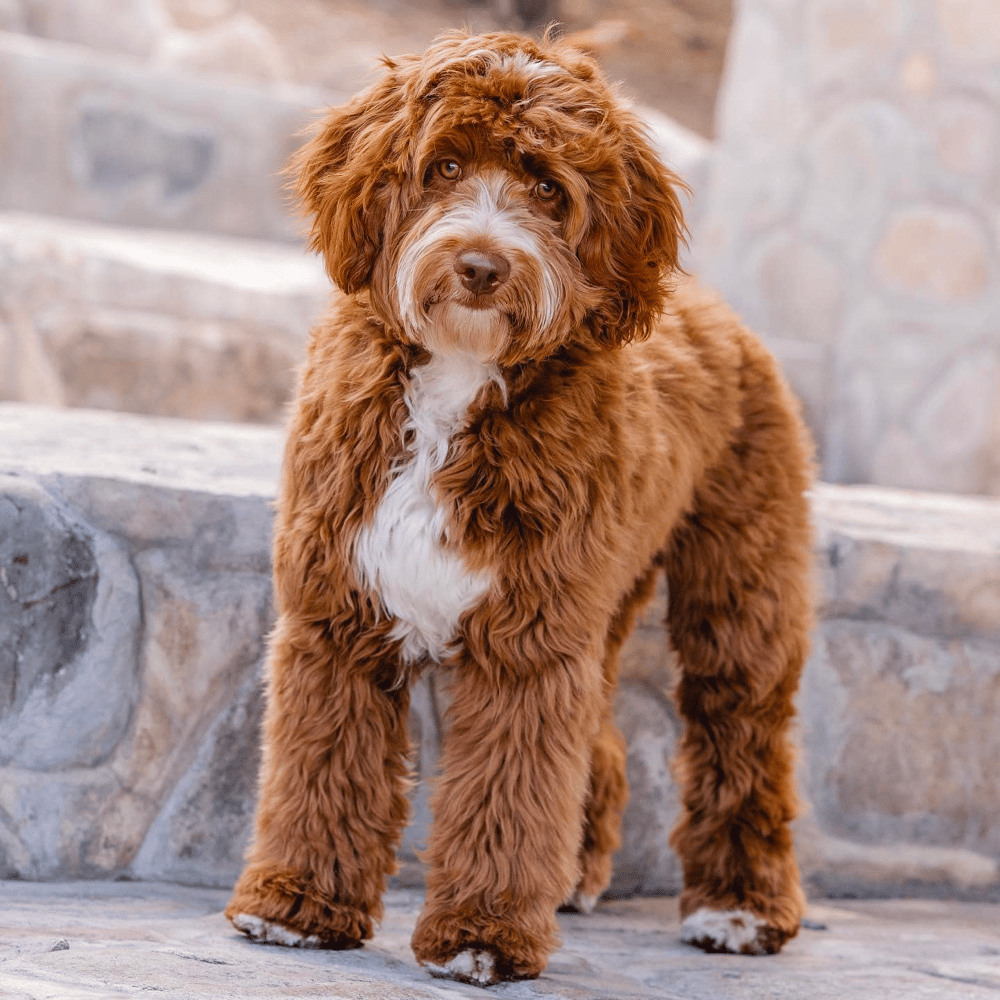 The F1B Goldendoodle often looks more like a Poodle than a regular Goldendoodle. They have a curly coat that is very soft, and they tend to be more slight and lean like a Poodle. The color patterns for these dogs can range from a light yellow or cream to an apricot color that is very different from the regular Goldendoodle coats. Apricot is a common color for the Poodle breed, and it can be asserted most in the F1B.
Most people lean toward the F1B just to try and get the advantage of an apricot coat. The F1B also offers a more Poodle-like coat and a sweeter temperament overall, which are big motivators for those who have kids in the house or who want a smaller dog that is less likely to cause allergies. The appearance of this dog will sometimes vary greatly from the other Goldendoodles that you can select, and for some people, this is worth spending a bit more money on.
F1B Goldendoodle Size When Full Grown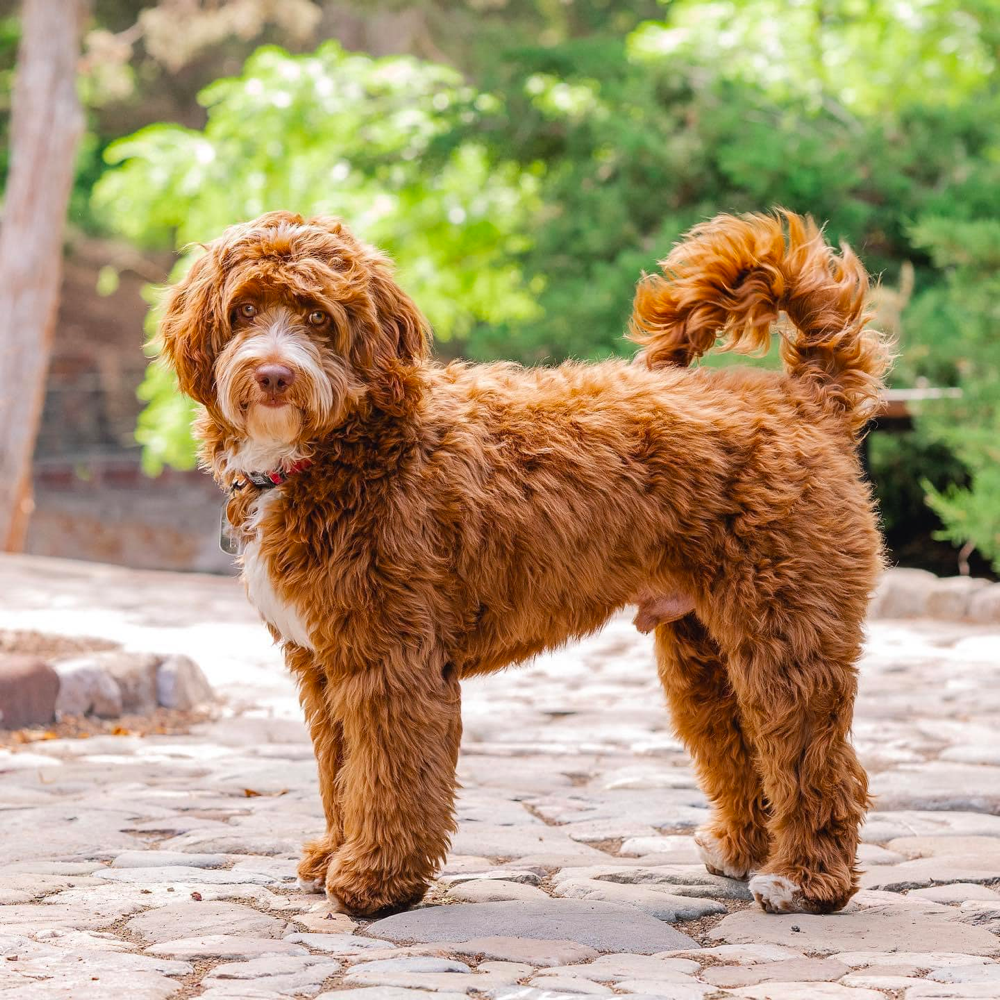 The standard size F1B will be about 19-25 inches tall and weigh about 40-85 pounds. This is a bit smaller than the usual Goldendoodle height and weight standards. For some people looking for a Goldendoodle, the smaller size of the F1B is a big plus. However, since there is so much variety in the traits that come through in the F1B, you can still get a dog that is more like a regular Goldendoodle in size.
Being prepared for some size variation in the F1B is a good idea. Some buyers of this particular Goldendoodle generation will be disappointed when their dog ends up being bigger than they expected it to be. This is something that can happen when you are looking at the full-grown size of an F1B, so you will need to be prepared for this possibility if you are going to select the F1B for your dog.
This is one of the two most common sizes of Goldendoodle. The mini Goldendoodle will be about 20-40 pounds when it is full-grown. It will also be about 16-18 inches tall. This is not a very big dog, and for some people who live in apartments or do not enjoy large dogs, this is the perfect size pet for their needs.
Mini dogs can be a great choice for older people or those who have small living spaces that are not really suitable for bigger dogs. You might also like the small and cute size of this version of the F1B just because it is your preference. This is by far one of the more popular choices that is made when shopping for an F1B, and there is nothing wrong with choosing this size of Goldendoodle over the regular size range of these dogs.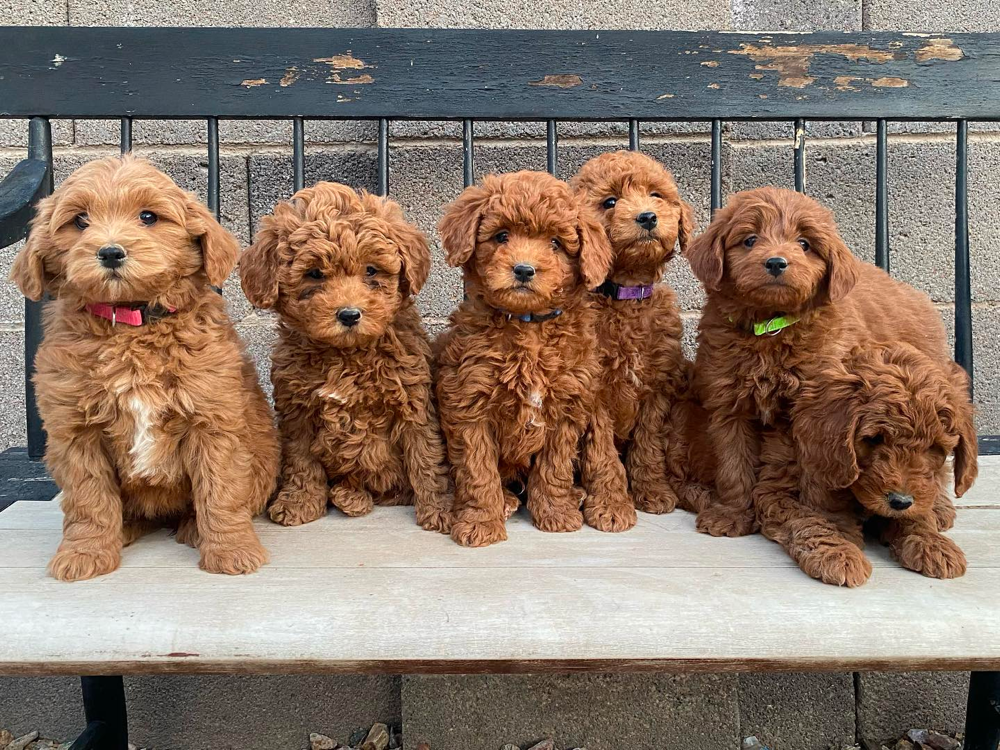 This version of the Goldendoodle has a bit more range in the coat colors that might be expressed in each litter. The F1B Goldendoodle can be chocolate, apricot, cream, black, champagne, red, silver, white, or even parti. The breeder that you are working with should be able to give you a good idea of the colors that show up in their litters. Color variations that are rarer, like black and parti coat patterns, might cost more than other color patterns.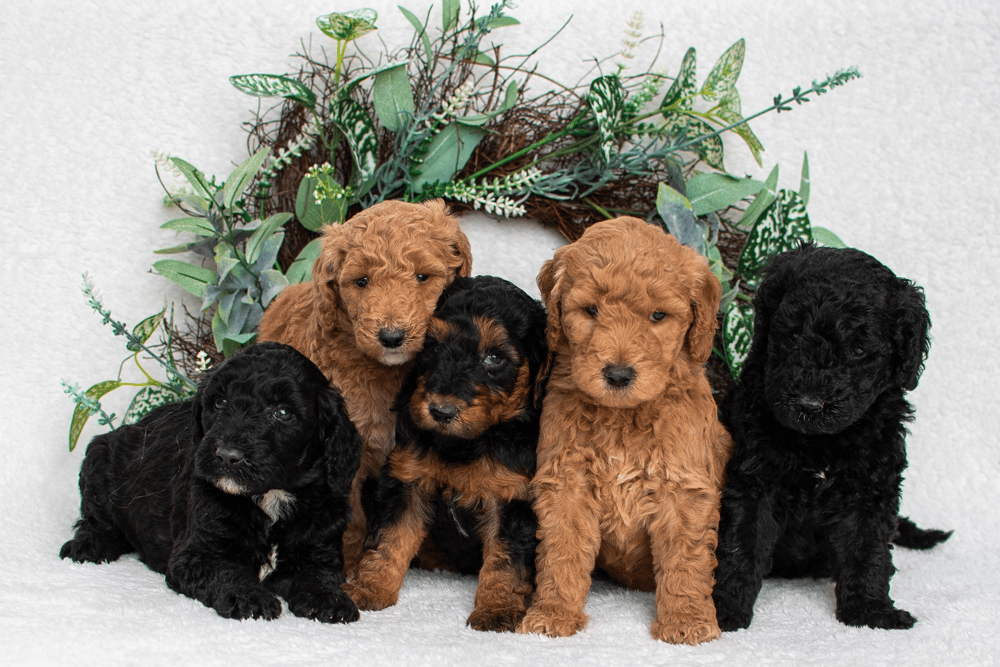 F1B Goldendoodle Coat Type
The coat of the F1B dog is shorter and can be curlier, like a Poodle's. In some cases, you will see the Golden Retriever coat expressed, and the hair will be much straighter and silkier. Most people look for the Poodle-style coat when they are thinking about getting an F1B dog. Any of the various coat expressions that can come through in the F1B will require regular care, and you might need to put your dog on a grooming schedule so that you do not have issues with their coat. Professional groomers can make all the difference in the coat care experience for the owner of an F1B dog.
F1B Goldendoodle Common Health Issues
The health profile of this breed can be a bit harder to predict than the health concerns that you might expect from a purebred dog. Since this is a part-bred dog, the ailments that are common to both breeds might come through in your dog, or you might get a healthier animal due to hybrid vigor.
Hip dysplasia is common in both the Golden Retriever and the Goldendoodle breeds, and you might also have to face issues with vision like cataracts, retinal atrophy, glaucoma, and blindness. Even young dogs that are F1B might have eye issues. This breed can also have issues with patellar luxation and Legg-Calve-Perthes. The risk of cancer is less significant than in purebred Golden Retrievers, but this is also a risk that you might have to be aware of.
Responsible breeders will certify their dogs as free from all of these potential defects, and you should be sure that you do not work with a breeder who will not stand behind their dogs with regard to health concerns. Even though this is not a purebred dog, the health of each litter is important, and you do not want to end up with a dog that has a multitude of health concerns to attend to.
Hybrid dogs can be much healthier overall, but you also cannot as easily predict the kinds of health concerns that can crop up for a dog of mixed breeding. There are various health risks that come from the Golden Retriever portion of this pedigree that cannot be totally avoided even when mixed with Poodle DNA. You will want to be familiar with the common risks for both breeds so that you are prepared for the kinds of potential healthcare needs that your dog might require as it ages.
Grooming the F1B Goldendoodle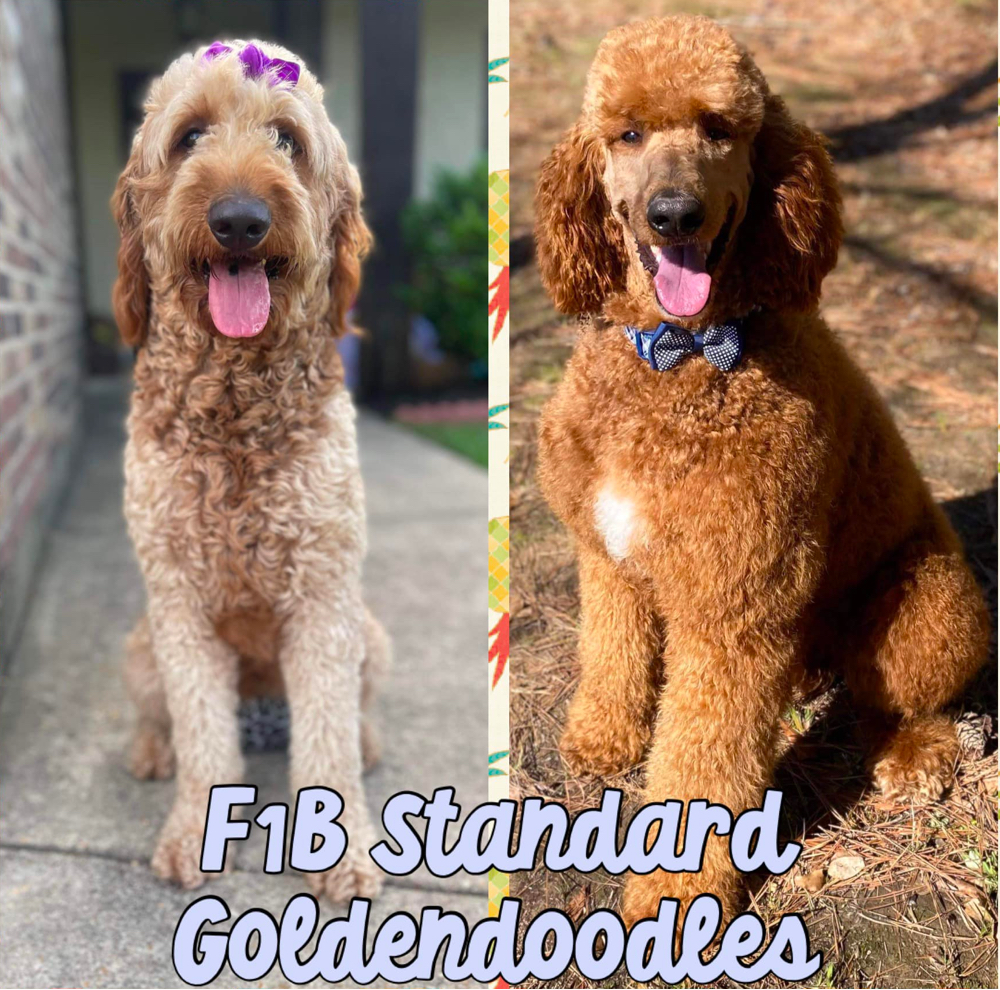 Grooming for the F1B is more complex in some cases than caring for a regular Goldendoodle. You will need to be sure that you have a groomer work on your dog's coat at least twice a year, and you should make sure as well that you have the right grooming tools on hand to maintain your dog's coat at home as needed. With a variety of different coat expressions being possible within this breed, you will need to be sure that you identify the coat type of your dog correctly and care for it accordingly.
The mixed coat that the F1B Goldendoodle breed can be much harder to take care of and can shed much more often. When the Poodle coat is expressed, you will need to make sure that you have a groomer scheduled for regular appointments, but you will not need to worry much about shedding or about caring for your dog's coat in between visits from the groomer.
There is a wide array of different coat needs that your dog might have depending on what kind of coat expression comes through in their genetics. This is one of the main stumbling blocks that many F1B pet owners run into, and you will need to be sure that you understand what the care for your dog's coat type should look like before you start brushing or clipping hair off your dog.
F1B Goldendoodle Exercise and Training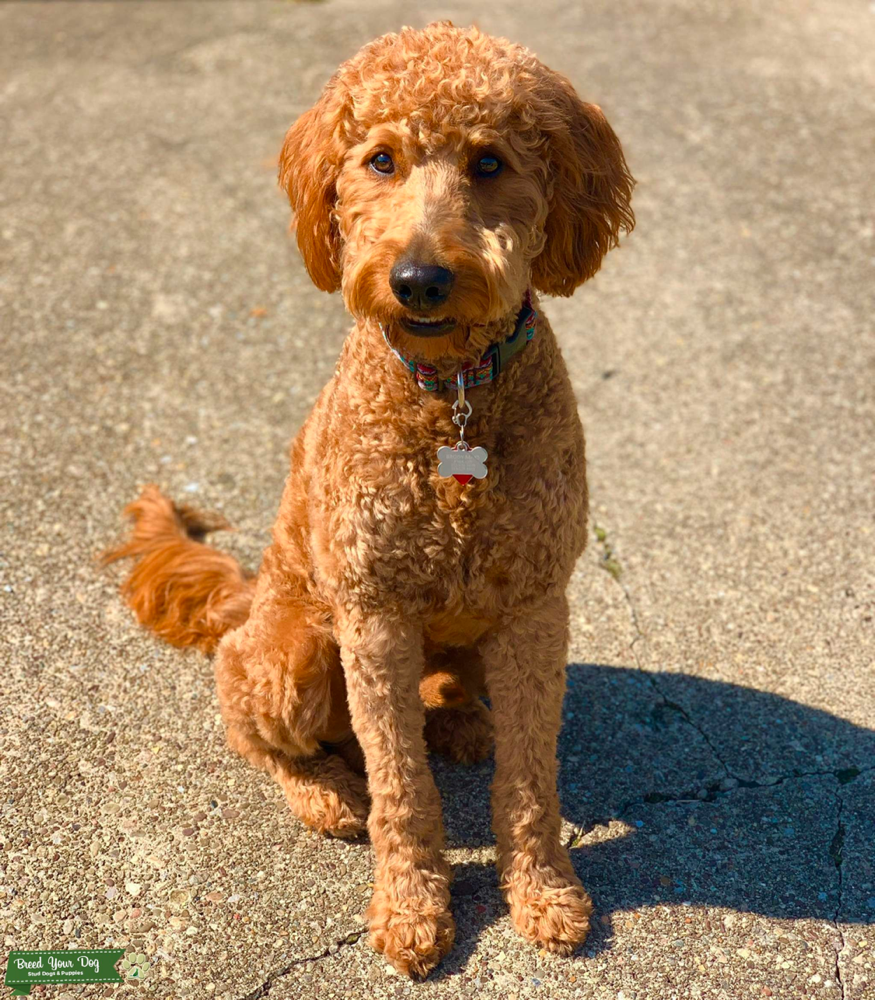 This is a very trainable dog, and you will love their happy attitude and willingness to try anything with their owners. The F1B dog is often more energetic than regular Goldendoodles, and they can also be more stubborn in some cases. That being said, there are few dog breeds as trainable as a Goldendoodle, and the difference between your F1B dog's attitude and the training attitudes of other breeds will be significant.
These dogs can learn many tricks, love to do agility, and are happy to hike, bike, walk and run with their owner everywhere. This is a very loyal and expressive dog breed that enjoys time with kids and adults and is happy to listen to anyone that is fair and patient with them. You can always get the help of a dog trainer if you feel that you are running into roadblocks with your F1B's training. However, many people find that this dog is so easy to train that they do not need much in the way of support.
This is also a Goldendoodle variety that gets along well with other dogs and pets, so you should not have to deal with a lot of work related to integration with new pets in the home or time spent out in public. The F1B dog is a great companion animal, and they are very simple to train.
F1B Goldendoodle Cost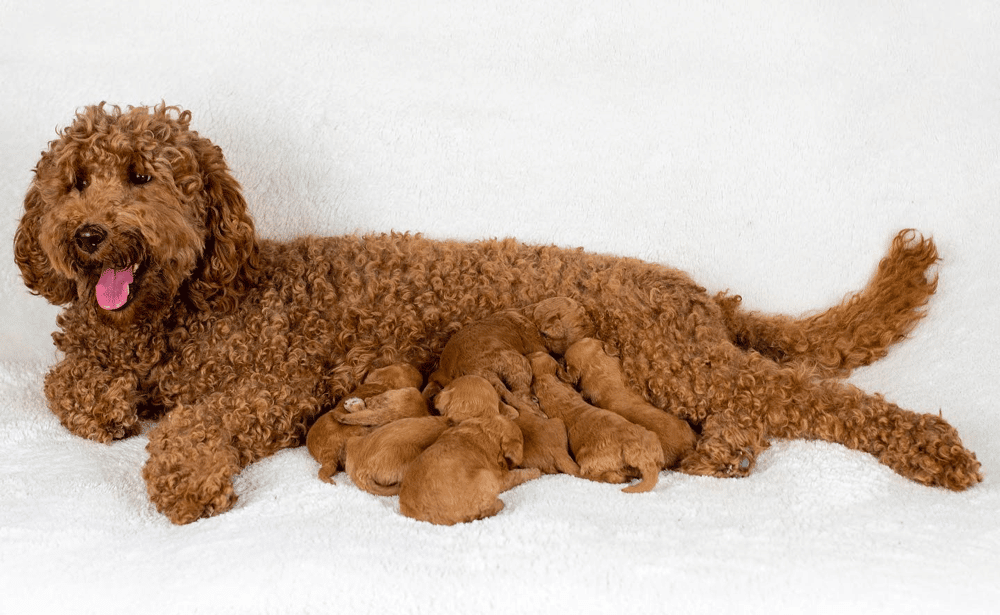 The F1B is often one of the most expensive of the Goldendoodle crosses out there to choose from. When you pick a dog that is many generations from the original pairing, you will often get a better deal on your dog. The F1B often costs about $4,000-$6,000, with the higher end of the price range being reserved for dogs with ideal coat coloration and coat patterns. This can be quite steep for some people, especially without the benefit of AKC registration, but you might be willing to pay this amount to get the best coat and the best appearance.
Make sure that you look into the breeders that you are considering purchasing from so that you can be sure that you are getting a real F1B dog. Without the AKC in the mix, it can be hard to confirm that the dog that you are getting is truly an F1B cross. This is why reviews, research, and word of mouth can be so critical to ensuring that you get a dog that is really worth the money that is being asked for it. Don't be taken in by breeders claiming that they are breeding F1B crosses only to find out that they are many generations farther away than that!
Is an F1B Goldendoodle the Right Dog For You?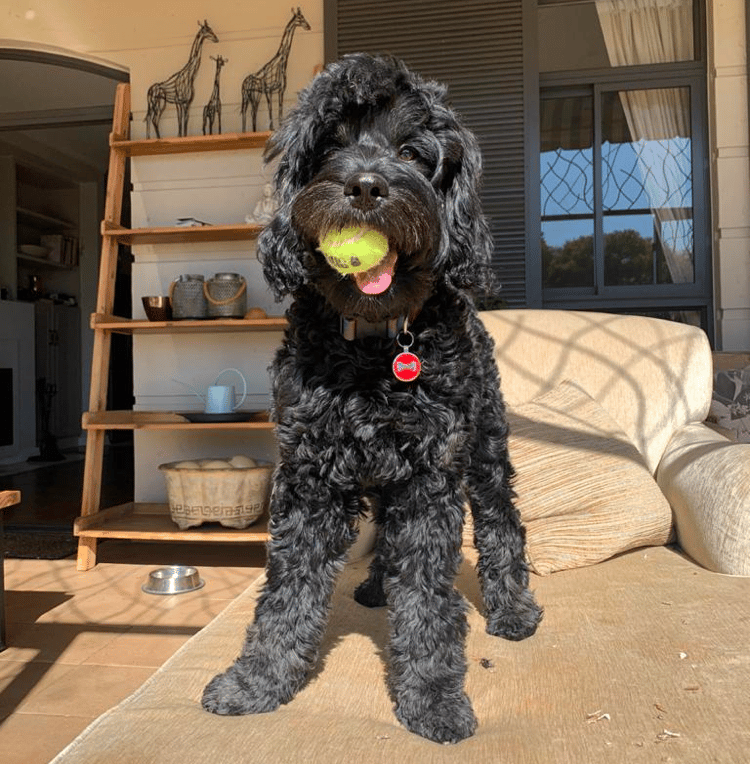 Getting a Goldendoodle can make your daily life much more enjoyable. These are animals that love people and other pets in the home and that are trainable and kind. While slightly higher in energy than a regular Goldendoodle, the F1B is a very sweet and kind dog that is happy just to spend time with people no matter what activities you do with them every day.
Make sure that you have the time for a puppy before you get one since every puppy will need some extra attention as they learn to be housebroken and to spend time with people. You will want to be sure as well that you have the time to take your dog for a walk or to play every day. This is a very social and silly dog that will thrive in a home where it gets enough attention and love every day.
While not a breed that can be AKC registered, the F1B is a great choice for a family pet and one that most people would make again and again. If you don't mind paying for the groomer to see your pet a few times a year, the F1B Goldendoodle will be a great choice for you and your family for so many reasons.