A few more weeks have gone by and your once small and adorable Goldendoodle puppy has started to show some huge and obvious signs of growth and maturity. By now you and your beloved Goldendoodle puppy should be well accustomed to each other.
Goldendoodles in general are very social and active dogs, they love to move around, make friends and be happy all day and by the 12th week, you might start to notice some pretty obvious signs of clinginess and mild to little separation anxiety. And this might actually be a crucial stage for the puppy.
In this article, we provide you with all you need to know to handle issues like these and more on your Goldendoodle puppy. Learn about the 12 weeks Goldendoodle's traits, and behavioral patterns as well as tips on what to expect from your furry friend.
For the 12-week-old Goldendoodle, one sure character trait to look out for would be clinginess. This can sometimes transition into separation anxiety. If your Goldendoodle puppy hasn't yet been crate trained, now is the right time to start.
What To Expect From Your 3-Month-Old Goldendoodle Puppy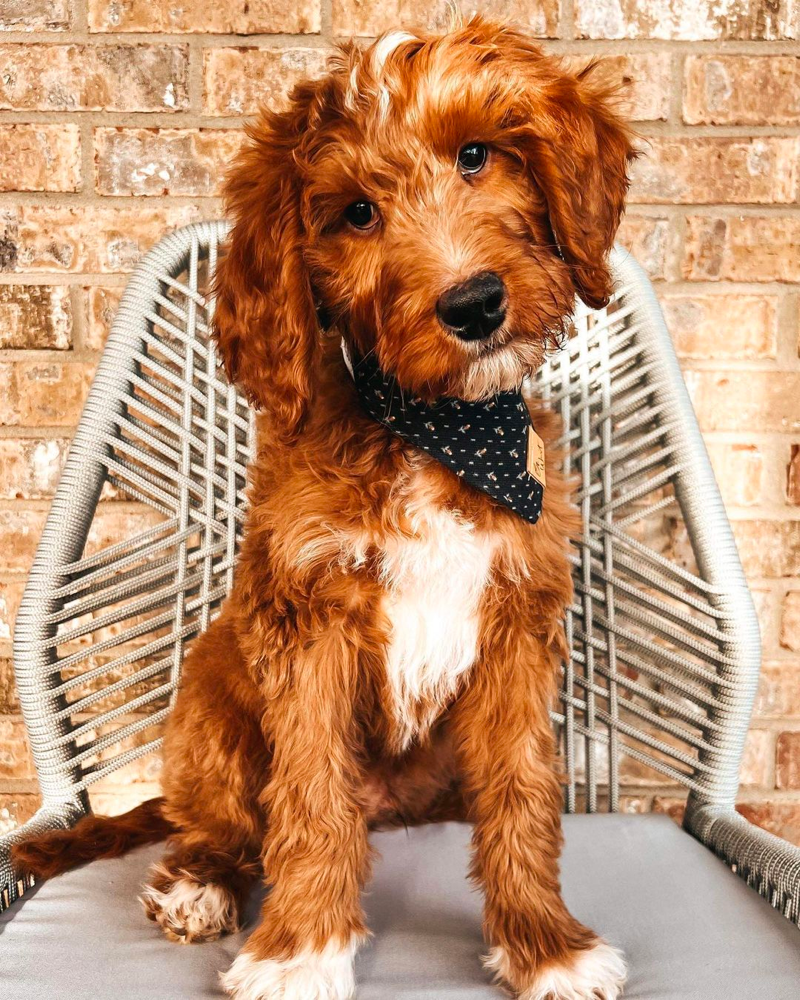 The 12-week-old Goldendoodle doesn't really have many differences from the 8-week-old Goldendoodle. They are still both very tender and highly impressionable or docile, meaning they can easily be taught or trained.
This is mainly because their brains are still pretty young and ready to soak up new experiences that they might come across as they age. At this stage, your Goldendoodle should be already well socialized if you've continued the socialization program or routine started by the breeder.
And if your Goldendoodle isn't properly socialized, then now would be the best time to get them socialized. Also expect a very energetic Goldendoodle by the 8 weeks mark. If properly cared for, your Goldendoodle should have a stronger system which means they can play as much as they want to and can pretty much be exposed to new environments that could further socialize them.
Your 12-week Goldendoodle should also have a stronger bladder and would have fewer potty breaks than the 8 weeks Goldendoodle. Putting a figure on it, expect your Goldendoodle to hold in urine for at least 2 to 4 hours.
Another thing to expect from your 12-week-old Goldendoodle is teething. Your Goldendoodle still shouldn't gain its adult teeth until at least 3 months would have passed, but right about now is when its baby teeth begin to fall out.
The incisors are usually the first set of teeth to fall out during this period, after them, the premolars are more likely to come out next, and then the canines. Don't be surprised if you occasionally find a tooth in your Goldendoodle's feeding bowl. And you might want to consider taking your Goldendoodle to your local vet for a thorough mouth check to be certain they are free from any dental health defect.
You should also aim towards getting your Goldendoodle puppy a suitable chew toy to play with. Hard bones should be taken away from the 12-week-old Goldendoodle puppy as it is most likely to cause damage to the puppy and ensure they feed on kibbles that are easy to digest.
With that being said, The 12-week Goldendoodle can be described as a much more playful and energetic version of the 8-week Goldendoodle.
3 Month Old Goldendoodle Puppy First Week Schedule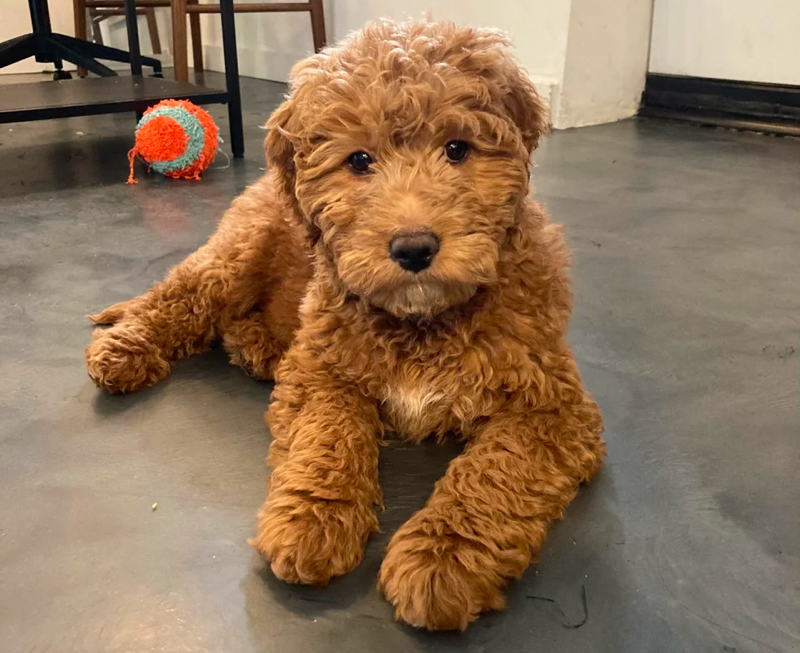 By now, your Goldendoodle should have long received its first puppy shots or vaccinations and dewormings. But they should be due for another round of vaccinations and immunizations that can further keep them healthy and strong.
Take them for regular checks by your vet and ensure they follow their vaccination and deworming schedule. Vaccinations they can possibly receive at this stage include vaccinations for parvovirus, hepatitis, adenovirus, parainfluenza, lepto and distemper. Vaccinations like lepto can only be given to Goldendoodles above the age of 12 weeks and not below.
They can also now receive other regular shots like rabies shots to help keep them immune to these harmful health conditions and defects. Next focus on socializing your Goldendoodle puppy more.
If your Goldendoodle already has a decent start on socialization, consider exposing them to even more stimulating situations and experiences that could further help them. And if they do not have a decent start, create a foundation by introducing them to basic friends, neighbors, and people they would get to see more.
Prioritize taking them to dog parks and organizing puppy play time with other equally enthusiastic dog owners for them to meet and make new friends with other pets as well as with people.
Also familiarize your Goldendoodle with other surrounding textures, sounds and smells, and sights. This would further improve socialization for your 12-week-old Goldendoodle puppy. Taking out time to socialize with your puppy can further strengthen the bond you share with them and make them more drawn towards you.
How Big Is A 3-Month-Old Goldendoodle?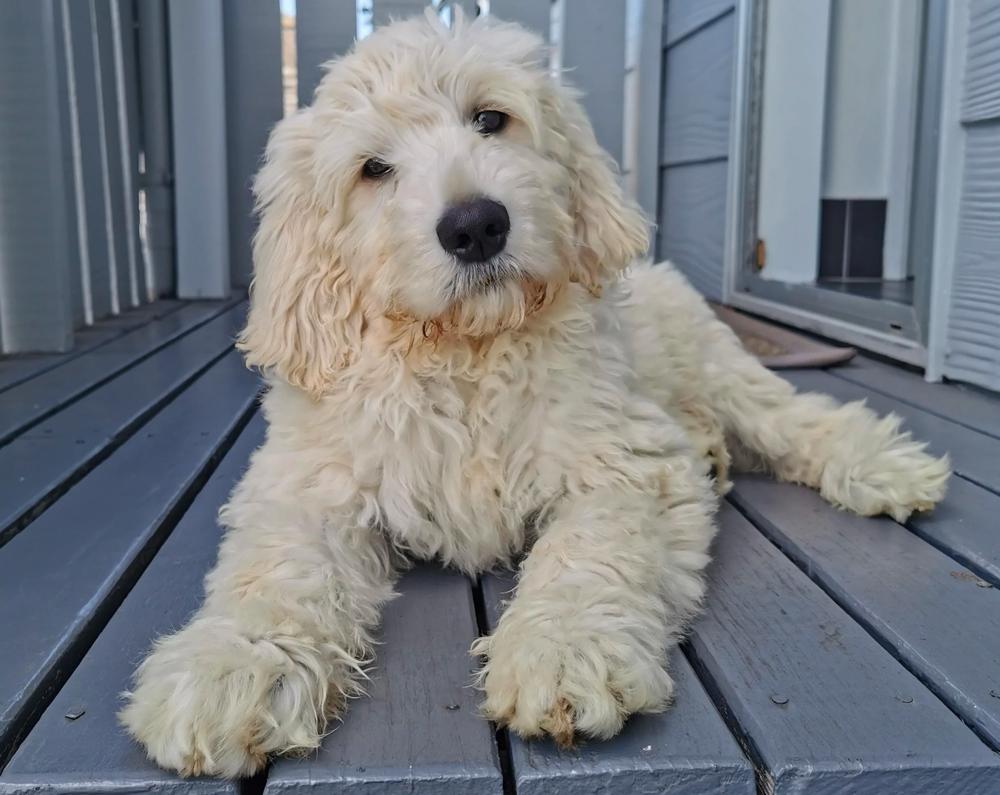 The exact size your Goldendoodle retains at 12 weeks of age depends on a few factors. One of these factors is the exact size class it belongs to. Goldendoodles currently come in one of 5 size classes.
These size classes range from standard size to medium size, to miniature size to petite, and even teacup sizes. A 12-week-old Goldendoodle puppy from the teacup size would definitely be smaller than the 12-week Goldendoodle from the Standard size.
With that being said, expect your Goldendoodle puppy at 12 weeks of age to fall between 6 to 22 pounds in weight. Height can also vary relative to the Goldendoodle size class. So expect your Goldendoodle puppy to be between 8 to 12 or 13 inches tall.
How Much Do You Feed Your 3-Month-Old Goldendoodle Puppy?
Just like the 8-week Goldendoodle, the feeding appetite of the 12-week-old Goldendoodle is also large. In fact, you can say that both age groups of the Goldendoodle share the same feeding schedule or chart.
The feeding schedule should be based on the overall size class of the Goldendoodle in question, so what you feed a teacup Goldendoodle should be a little less than what you feed a standard-sized Goldendoodle.
For miniature to teacup-sized Goldendoodles, you should consider feeding them ½ cup of good quality kibble each day. It can be spread across a maximum of 3 servings each day. For the medium-sized Goldendoodle, then consider a slightly larger quantity, ⅔ of a cup should be fine and it can be spread across the same number of servings each day.
The Standard sized 12 week old Goldendoodle should have the largest food share of all size classes. 1 cup of good quality kibble should be enough for them in a day. It can be spread across 3 servings a day.
How Much Sleep Does a 3-Month-Old Goldendoodle Puppy Need?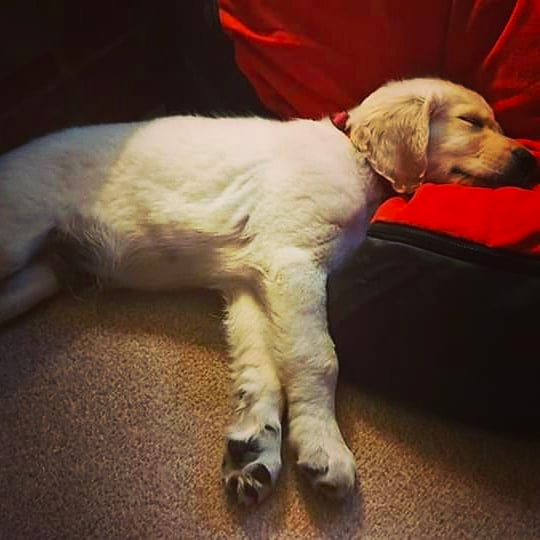 The 12-week-old Goldendoodle needs pretty much the same number of sleep hours a day to stay strong and healthy. Let them sleep at least 18 to 20 hours each day. Their bodies are rapidly growing and active and that consumes a lot of energy.
How Much Exercise Does A 12-Week Old Goldendoodle Puppy Really Need?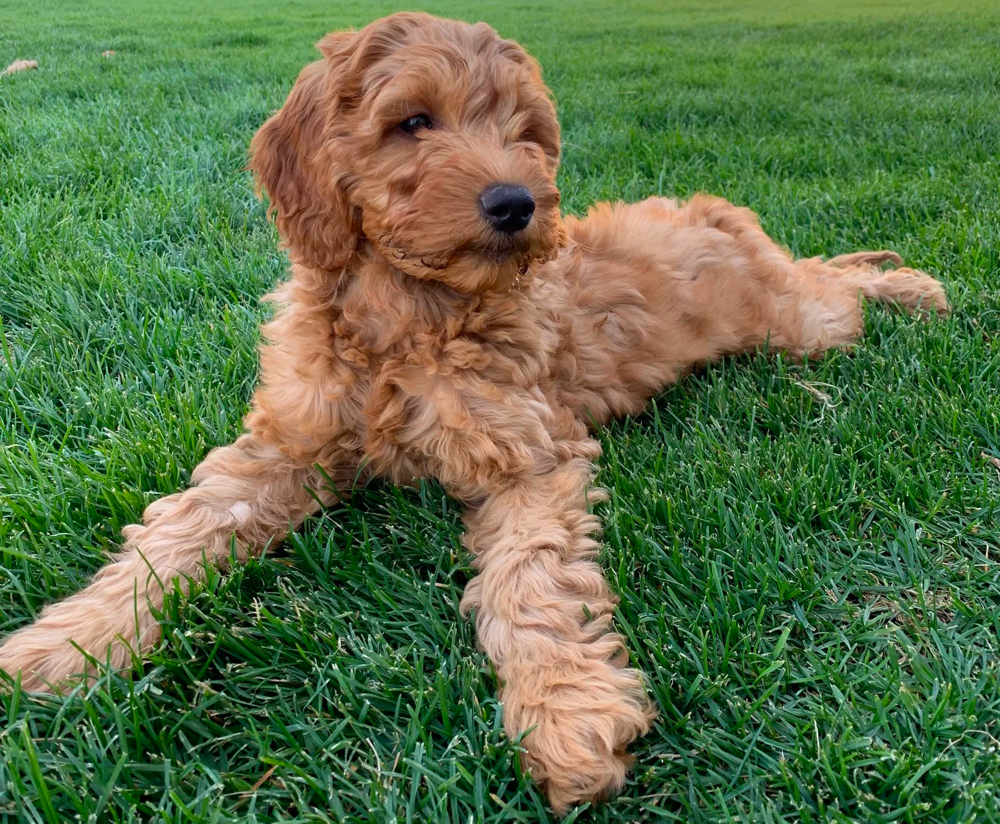 Keep your exercise routine the same with the 8-week-old Goldendoodle as the 12-week-old Goldendoodle is pretty much equally fragile and can't handle any exercise that is too intense for them.
Stick to dog walks that last a maximum duration of 10 minutes. You can spread this amongst 3 different time periods in the day totaling a complete 30 minutes workout each day. Give enough space in between workouts for the Goldendoodle to get enough rest.
Asides from regular walks, you can also engage in light puppy activities like tug or even fetch. These are light exercise plans that can pretty much keep your Goldendoodle occupied. You can consider increasing its exercise load from 4 months (16 weeks) and above.
Training Your 3-Month-Old Goldendoodle
Training and exercise go hand in hand, especially with the 12-week Goldendoodle. Find a proper balance between the two so your Goldendoodle puppy doesn't feel overworked or stressed.
If you gave your puppy an early start (at 8 weeks) to the 3 basic training aspects that are perfect for the puppy Goldendoodle, which are potty training, crate training, and basic obedience training, then by the 12th week, your Goldendoodle should have made considerable progress.
The Goldendoodle is pretty smart, in another 4 weeks of consistent and proper training, he should understand basic commands, how to potty, and how to properly live in a crate or cage without any stress,
Remember to always be patient with your Goldendoodle puppy and always make use of the positive reinforcement method of training to get the best results out of them. If you can't do any of the two, then by all means do get a professional dog trainer to help with your Goldendoodle puppy.
How To Deal With Bad Behaviours of a 3-Month-Old Goldendoodle
Your Goldendoodle at 12 weeks of age should be a lot more playful than you have ever seen. At 12 weeks their bodies should be a little stronger and a lot more energetic, so don't be surprised if you notice your Goldendoodle puppy being a lot more hyperactive than normal.
You would often find them running around the house or running in circles at random. This is a stimulating response to the excess energy that is trapped inside their tiny bodies. The good news is they easily get tired, so you won't have to worry for too long.
Another behavior that should stand out at this stage is their level of curiosity and willingness to explore. You might catch your puppy occasionally staring at the door and wanting to go out exploring.
It is best to provide this to them but in a more controlled and safe environment where you can determine what your Goldendoodle experiences or interacts with.
Your Goldendoodle should also be a lot more possessive with his items like toys or bones. You would often find them unwilling to share these items with their littermates. You can aim to curb this habit in the future.
And the most noticeable behavior you might find in the 12-week-old Goldendoodle is the presence of separation anxiety. Your puppy should be pretty much attached to faces they regularly see at home and as such should have a hard time coping on its own.
This is why crate training is heavily recommended for the Goldendoodle. If you hadn't started it before, do ensure you start training them.
3-Month-Old Goldendoodle Health Problems
The health problems the 12-week-old Goldendoodle might face aren't really different from what an 8-week-old Goldendoodle faces. They are pretty much prone to puppy diarrhea which is why you should be very careful with the quality of kibble you feed your beloved Goldendoodle puppy.
Over-exercising your Goldendoodle puppy can also cause stress even at 12 weeks of age. Do cut back on your training program if you notice they are being stressed. Instead, encourage them to sleep more as long as they don't exceed 20 hours of sleep each day.
Separation anxiety can also become a health problem for your Goldendoodle if left unchecked. So do ensure your Goldendoodle is trained to be comfortable when alone. Ignoring the problem could only make it worse for the 12-week-old Goldendoodle.
Precautions For Raising The 3-Month-Old Goldendoodle
Keeping your Goldendoodle safe, well-socialized, and well-trained should be your biggest priority during its 12th week. Give them all the required nutrients for that age range, ensure their toys are clean and safe for them to play with, and ensure they are well-trained.
Grooming should never be overlooked. If you can't make time to properly groom your Goldendoodle, then hire a professional who can do this for you.
Final Thoughts
Your Goldendoodle puppy is still at a very crucial point in its life, as such, they need all the love and emotional care it can get. Ensure you do all you can for them to grow up healthy, strong, and definitely loved.
Related Posts: