If you're planning on getting a Goldendoodle puppy for yourself or your family, then it is highly essential you know everything you can about the beautiful breed. This article is all about Multigen Goldendoodles.
In this article, we discuss the multigen Goldendoodle or the F3 Goldendoodle. We tell you what they are, what makes them special, the pros and cons (if any) of owning one, and a lot more. So do ensure you relax, get a glass of something chill, and do ensure you read on till the end.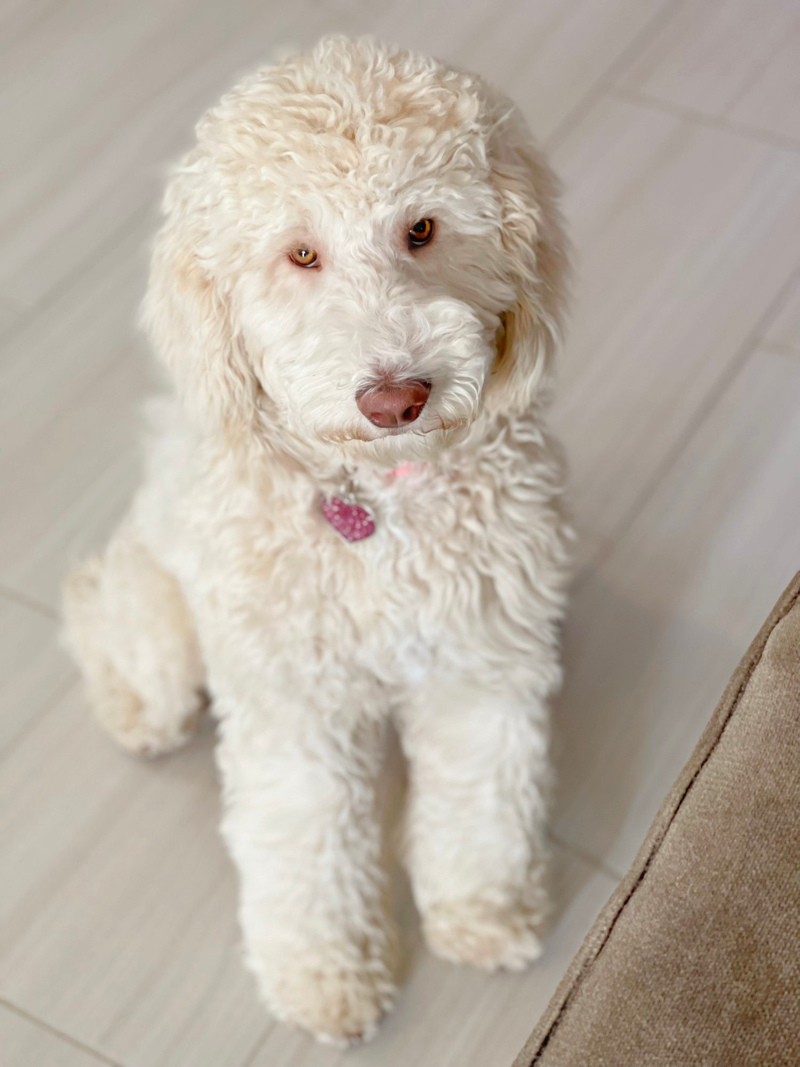 Related posts:
What Is A Multigen Goldendoodle?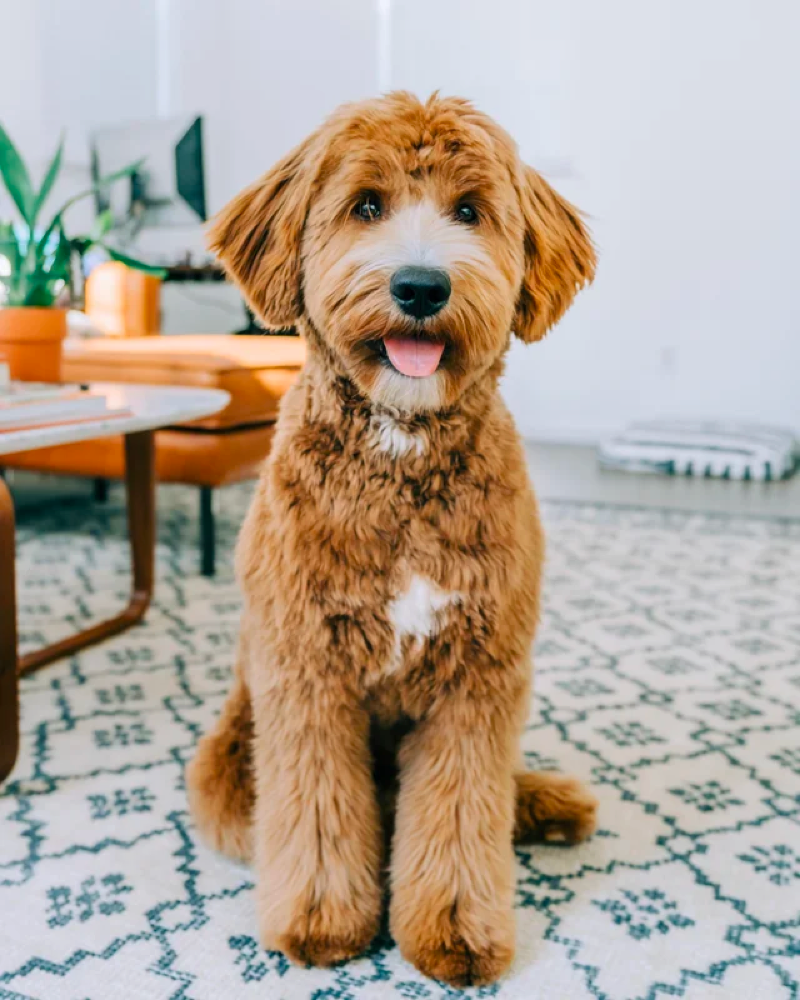 If you've never heard of the multigen Goldendoodle, chances are that you've probably seen one. The breed generation has become a very popular choice for highly reputable Goldendoodle breeders everywhere. And yes, I said 'Goldendoodle Generation'.
Contrary to what some might think, the Multigen Goldendoodle is not a different variety from the Goldendoodle but rather it is a Goldendoodle generation that is obtained from regular breeding or frequent breeding.
It is also called the F3 generation of the Goldendoodle as it comes after the F2 and the F2b generation of Goldendoodle breeding. F3 or multigenerational Goldendoodles are often obtained from planned breeding and they do come with some specific benefits or traits which would be discussed more on later in the article.
In a more practical sense, you would need to breed 2 Goldendoodles that are above the second generation. This means that it is possible to have the grandparents of the Goldendoodle as Goldendoodles too.
This also creates several breeding combinations and breedings which can lead to the production of multigen Goldendoodles.
What Makes A Multigen Goldendoodle Great?
As stated earlier, there are certain benefits that follow a multigen Goldendoodle. These benefits come in the form of traits and coat types and are why most breeders favor the multigen Goldendoodle over the other generations of the Goldendoodle. Here are the pros and cons of breeding a multigen Goldendoodle.
Pros Of A Multigen Goldendoodle
The major reason why most breeders opt for producing a multigen Goldendoodle is basically that multigen Goldendoodles are more likely to come with hypoallergenic coats than other generations of the Goldendoodle.
As we already know, Goldendoodles in general are made up of the genes of their parent dogs. And these two parent dog genes are the Golden Retriever and the Poodle. Golden Retrievers are known to be mid to heavy-shedding dogs and as such, they are not the best dogs for dog lovers who suffer from dog hair-shedding allergies.
Poodles on the other hand are known to have low or minimal shedding coats. This means they are less likely to shed than most dogs. Because multigen Goldendoodles are obtained from breeding higher generations of the Goldendoodle, the poodle gene is more present in them than the Golden Retriever gene.
This means the multigen Goldendoodle is most likely to inherit the Poodle parent's coat than other generations of the Goldendoodle, making them mostly hypoallergenic in nature and a safer dog for people who might be suffering from dog hair allergies.
Although this is most likely a myth than an actual fact, there are some who believe that multigen Goldendoodles are more intelligent and thereby more trainable than the other or previous generations of the Goldendoodle.
This is primarily due to the fact that the Poodle parens gene is more dominant in them than the Golden Retrievers gene. Poodles are arguably one of the most intelligent dog breeds in the world. They are highly trainable and are well behaved.
Golden Retrievers are also intelligent dog breeds, but when compared to the actual Poodle breed, they do fall a little short. The fact that multigen Goldendoodles possess more poodle genes in them than actual Golden Retriever genes, some breeders believe that they are much more intelligent than the other generations of the Goldendoodle. Again this is still a myth as there is no evidence to suggest that this is true or factual.
Cons Of A Multigen Goldendoodle
One of the benefits of crossbreeds or hybrid dogs is that they are blessed with hybrid vigor. This is a phenomenon that makes them generally more healthy than their original parents. For example, there are certain health conditions or defects that are common to both the Golden Retriever and the Poodle, that won't affect the Goldendoodle.
Hybrid Vigor is quite advantageous to hybrid dogs but the drawback is it gets less and less effective the more you breed a particular generation. In essence, First generation dogs, or the F1 generation dogs possess more hybrid vigor than the Second generation dogs, or the F2's.
This puts the multigenerational dog at a huge disadvantage as they are obtained from frequent breeding of a particular generation or breed. The hybrid vigor that is contained in their gene is almost non-existent so they are more likely to inherit some genetic health defects that are common to their original breeding parents or grandparents.
Still, this doesn't mean multigen Goldendoodles are less healthy or generally unhealthy. They are very healthy dogs depending on how they were bred. This is why you need to ensure you patronize reputable breeders only when dealing with multigenerational Goldendoodles.
Multigen Goldendoodle Appearance
Because multigen Goldendoodles poses more Poodle genes in them than the Golden Retriever gene, they almost always take the appearance of the Poodle parent more than they do the Golden Retriever parent. They usually come in a cute and adorable teddy bear look that makes them highly sought after by most doodle lovers.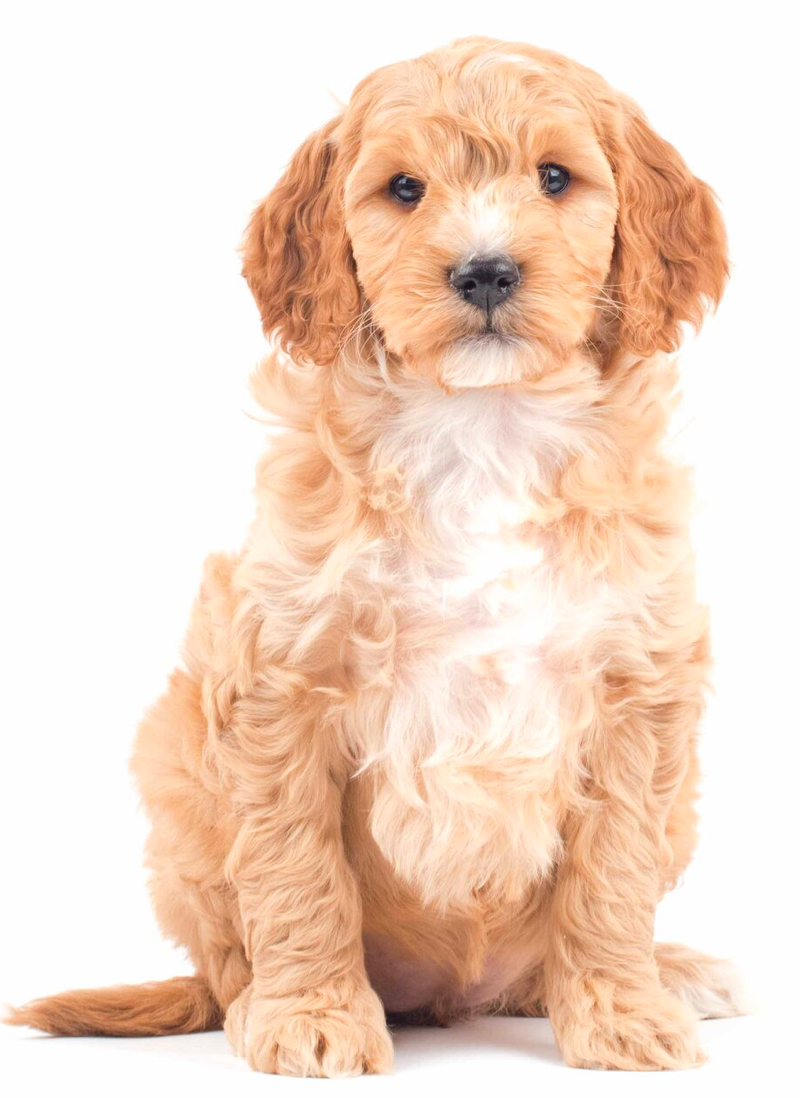 Size Of The Multigen Goldendoodle
Since the multigen Goldendoodle is still a regular Goldendoodle, it comes in a variety of size groups. Your Goldendoodle would come in one of 5 size groups, these are the;
Standard Goldendoodle
Medium Goldendoodle
Miniature Goldendoodle
Petite Goldendoodle
Teacup or micro Goldendoodle
The size range can vary from 7 inches and 11 lbs to 25 inches and 80 lbs depending on the exact size group of the Goldendoodle you own.
Multigen Goldendoodle Coat Types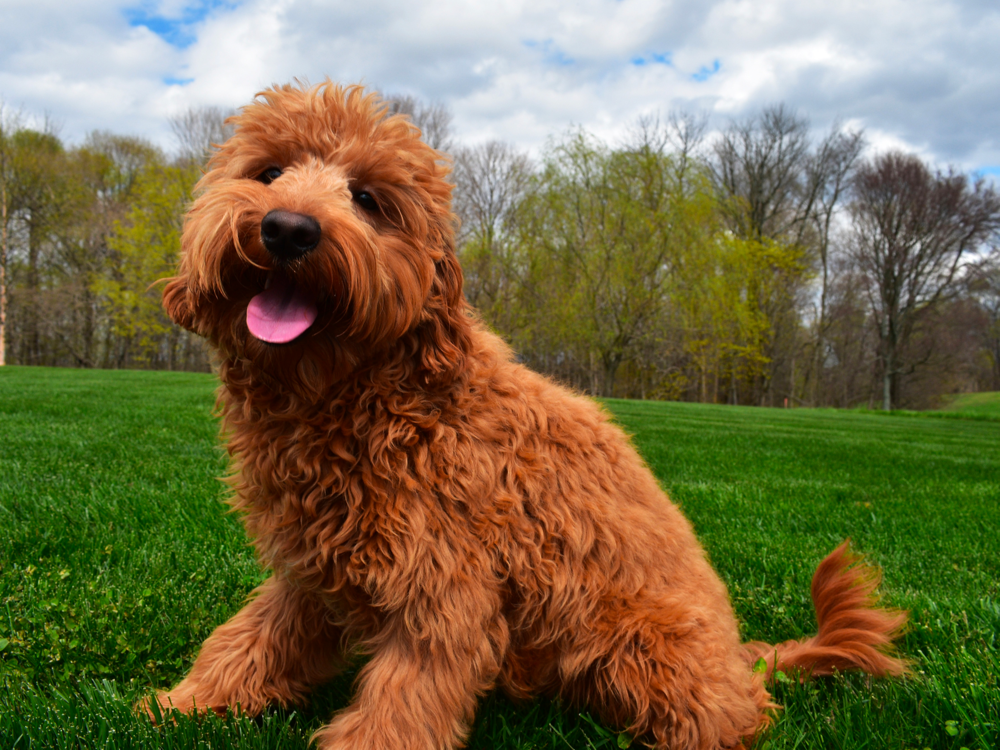 Goldendoodles in general come in one of three coat types. These are the curly, wavy, or straight coat types. For multigen Goldendoodles, the possibility of getting a straight or flat coat is almost impossible. This leaves the wavy or curly coat.
The Wavy Coat
Multigen Goldendoodles with wavy coat types are the most popular and highly sought-after coat types of the F3 Goldendoodle. The wavy coat appears more fluffy than the other coat types which gives them an overall teddy bear look that most doodle lovers are attracted to.
The wavy or shaggy coat also comes with other benefits. They are generally regarded as low to minimal-shedding dogs and are generally classified as hypoallergenic dogs. Their wavy coats do have a tendency to get tangled which prevents them from shedding easily.
Grooming should be easier for the wavy or shaggy multigen Goldendoodle, as the coat type requires less grooming than the other coat type associated with the multigen Goldendoodle.
The Curly Coat
The second coat type that is attributed to the multigen Goldendoodle is the curly coat type. Curly coat multigen Goldendoodles are the second most popular Goldendoodles when looking at the overall Goldendoodle coats.
Its appearance is more identical to the Poodle parent than the Golden Retriever parent. When it comes to shedding propensity, the curly multigen Goldendoodle is low to shedding. In fact, it is the most hypoallergenic coat of all Goldendoodle coat types.
This is because of its long coat hair which easily tangles and makes it difficult to shed. When it comes to grooming, you might need to groom the multigen Goldendoodle with the curly coat frequently as the tangled hair might cause some mild troubles for the Goldendoodle.
Are Multigen Goldendoodles Healthy?
With all that has been said so far about the multigen Goldendoodle, just how healthy are they? Before getting into that, we have to discuss the average lifespan of the Goldendoodle.
How long do multigen Goldendoodles live?
Well, on average you should expect your Goldendoodle to live as long as 10 to 15 years. But this depends on a lot of factors.
All Goldendoodles, not just the multigen Goldendoodles are susceptible to some health genetic defects that are passed down from their parent dog breeds, but the almost lack of hybrid vigor does increase the possibility of the multigen Goldendoodles suffering some of these health conditions more.
Potential Health Issues Of The Multigen Goldendoodle
When it comes to health issues or defects, Goldendoodles are the pinnacle of health as they are much stronger than and have a much more stable immune system than their breed parents.
However, for multigen Goldendoodles, they are prone to a few health issues and defects, like any of the following;
GDV- Gastric Dilatation Volvulus
Although this mainly affects little dogs like the miniature, petite, and teacup sizes of the Goldendoodles, it also affects dogs that have been produced through multiple breedings like the 3rd generation or the multi-generation Goldendoodle.
It is a deadly disorder that is caused by the pile-up of gas from eating heavy meals. It then forces the gut to swell and this can be incredibly painful for the Goldendoodle being affected.
You would need to treat this disorder as an emergency and visit your local vet immediately if you notice any symptoms in your precious Multigen Goldendoodle. You should also be careful with what you feed your Goldendoodle. Avoid overfeeding them and ensure you provide them with the essential nutrients required at the particular age or stage they are at.
Multigen Goldendoodles are also susceptible to health disorders like epilepsy. This can be passed down from both breeding parents and the lack of hybrid vigor further exposes the multigen Goldendoodle to the possibility of the disorder.
Obvious signs of epilepsy in Goldendoodles include Issues with respiration, random seizures, bewilderment, and moving in spots. Proper breeding can help reduce the possibility of your Goldendoodle suffering from epilepsy. And if you do notice any of the symptoms listed above, do ensure you seek professional help and advice immediately.
Do Multigen Goldendoodles Shed?
Due to the fact that most multigen Goldendoodles are born with either a curly coat type or a wavy coat type, they are generally classified as low to minimal shedders.
It is worth stating that it is almost impossible for a Goldendoodle to be non-shedding, so if you stumble on a breeder promising you a 100% non-shedding Goldendoodle, you should be careful when dealing with them.
Are Multigen Goldendoodles Hypoallergenic?
Yes, multigen Goldendoodles are generally hypoallergenic in nature. Their low shedding propensity makes them relatively safe to have around, especially if you or any family member is allergic to the dander located in certain dog coats.
You should groom your multigen Goldendoodle regularly to get the best out of them. Their curly or wavy coat can quickly become tangled and this can cause some certain discomfort for the Goldendoodle. So ensure you brush their coat often and do some other grooming practices like teeth brushing, regular baths, and others.
Multigen Goldendodle Price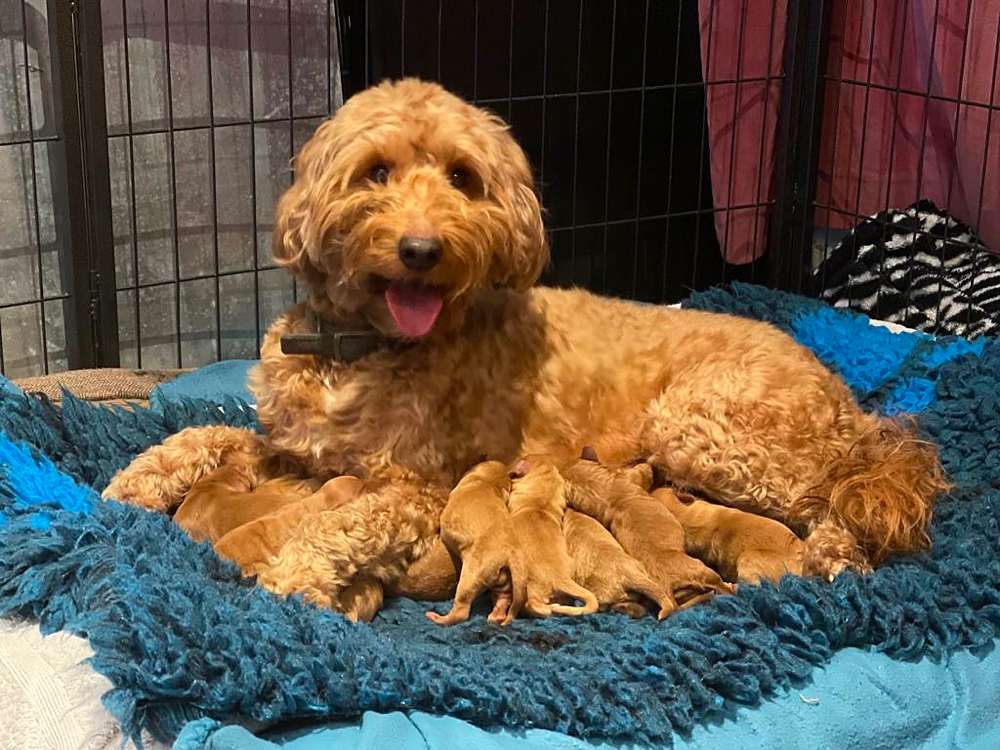 The price of a multigen Goldendoodle depends on a lot of factors like the type of breeder, the Goldendoodle coat pattern and color, rarity, and a host of other factors. But on average, they should cost between $1500 to $4000 for a healthy Goldendoodle puppy.
Is A Multigen Goldendoodle The Right Dog For You?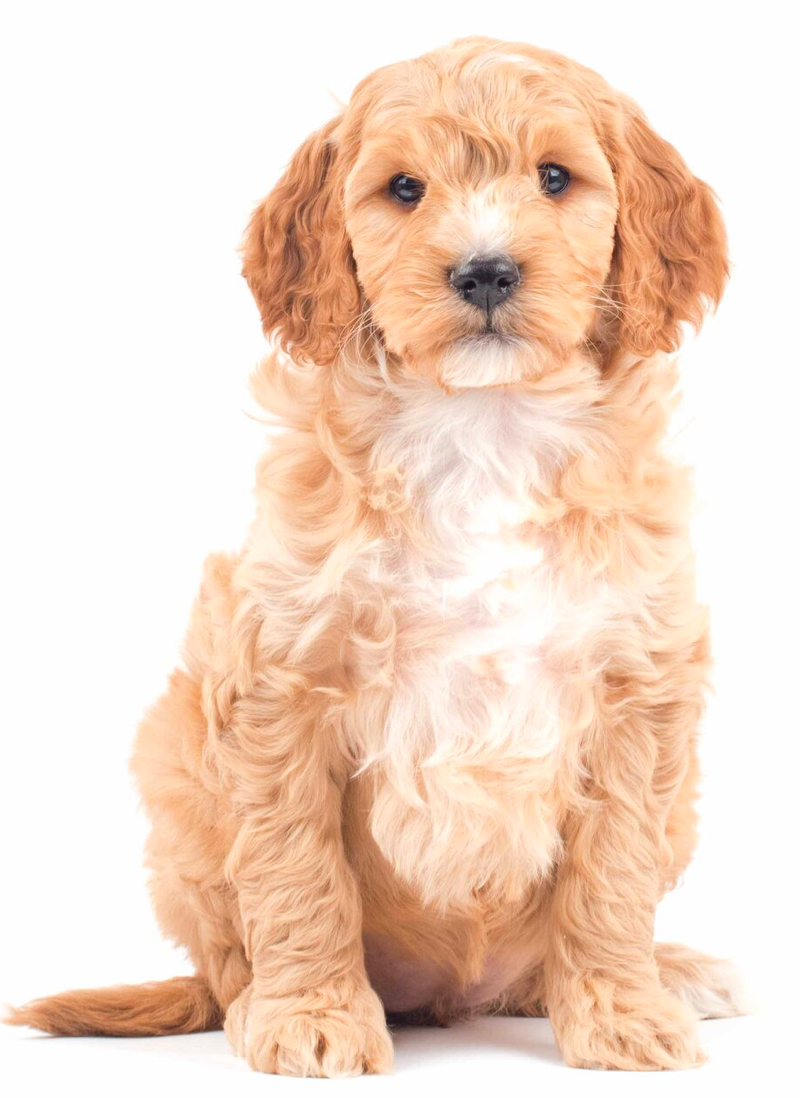 With all that has been said so far, now it's time to decide if the multigen Goldendoodle is the right dog for you. The answer really depends on who you are, what you like, and if you suffer from any allergies to dog fur.
One major reason why you might need a multigen Goldendoodle is its hypoallergenic coat. If you suffer from dog hair allergies, a high-shedding dog would be a terrible choice for you. The multigen Goldendoodle is a low-shedding dog that should be relatively safer for you.
All Goldendoodles generally need lots of exercise to stay healthy and strong. As such, this might be the right dog for you if you are generally active or have an active family.
And if you're searching for a guard dog, then the Goldendoodle is not the best dog for you, they are generally very friendly and as such can't make great guard dogs.
All in all, it is essential that you get your Goldendoodle from a reputable breeder. This is why you should make personal research on each breeder before choosing to patronize or work with them. So ask the right questions and demand the right certifications from each breeder.
That's all we have for you in this article, do ensure you check out the website for more engaging content like these.