If you are planning to add the parti Goldendoodle to your family, then congratulations, you have chosen a special and interesting Goldendoodle color variant. The parti Goldendoodle does make an interesting companion with its adorable temperament and unique coat.
But it is worth noting that the parti Goldendoodle isn't a different Goldendoodle breed. It simply has a distinct coat pattern which many find to be very unique and adorable. With that being said, if you're still yet to decide on whether the parti Goldendoodle is the right dog for you, then this article is for you.
Here, we would be providing you with all information you may require on the parti Goldendoodle. We'll be providing important information on the overall gene, temperament, traits, and a lot more on the Goldendoodle color variant. So do ensure you read on till the end.
Related posts:
What is a Parti Goldendoodle?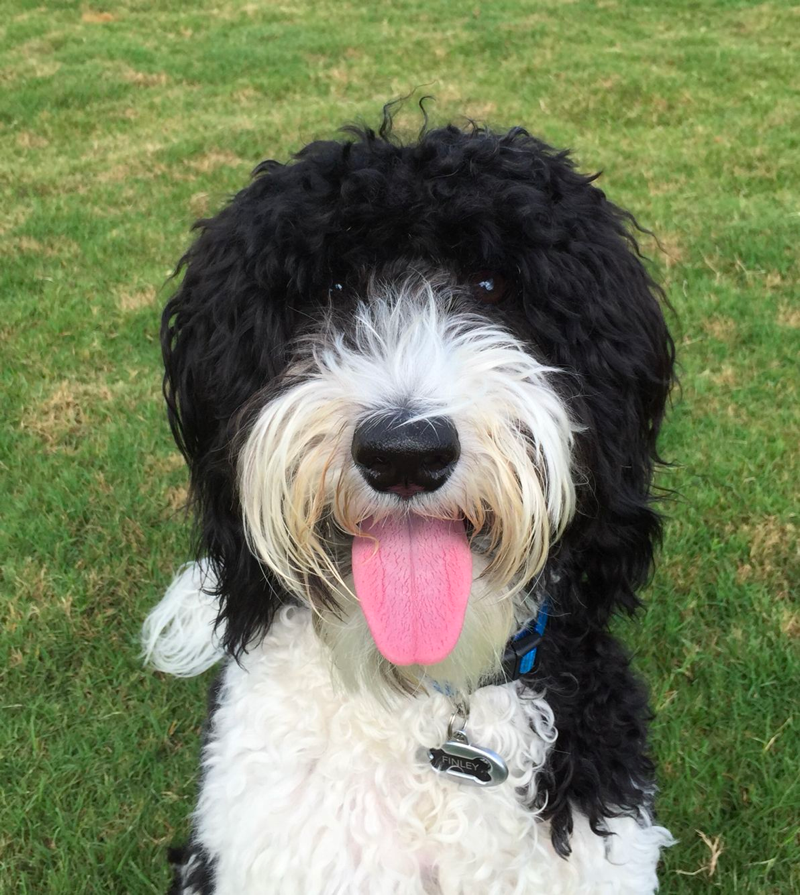 As stated earlier, parti Goldendoodles are simply regular Goldendoodles with a unique coat pattern and color. What makes a Goldendoodle a parti Goldendoodle is the color coat it has and how dominant each color coat is.
To be called a parti Goldendoodle, the Goldendoodle would have to be born with two separate coat colors on its body. One of these coat colors must be black while the other can range in color depending on a few factors like the breeding condition and parent breed.
Another requirement to be called a parti Goldendoodle is the exact ratio in which the two Goldendoodle coat colors appear. It must be equal, meaning the Goldendoodle must have a fur coat that is 50% white and 50% of whatever color it possesses.
Both Goldendoodle coat colors can appear in any location of the doodle's body. That doesn't matter. What matters is that it is proportional to each other.
Are Parti Goldendoodles Rare?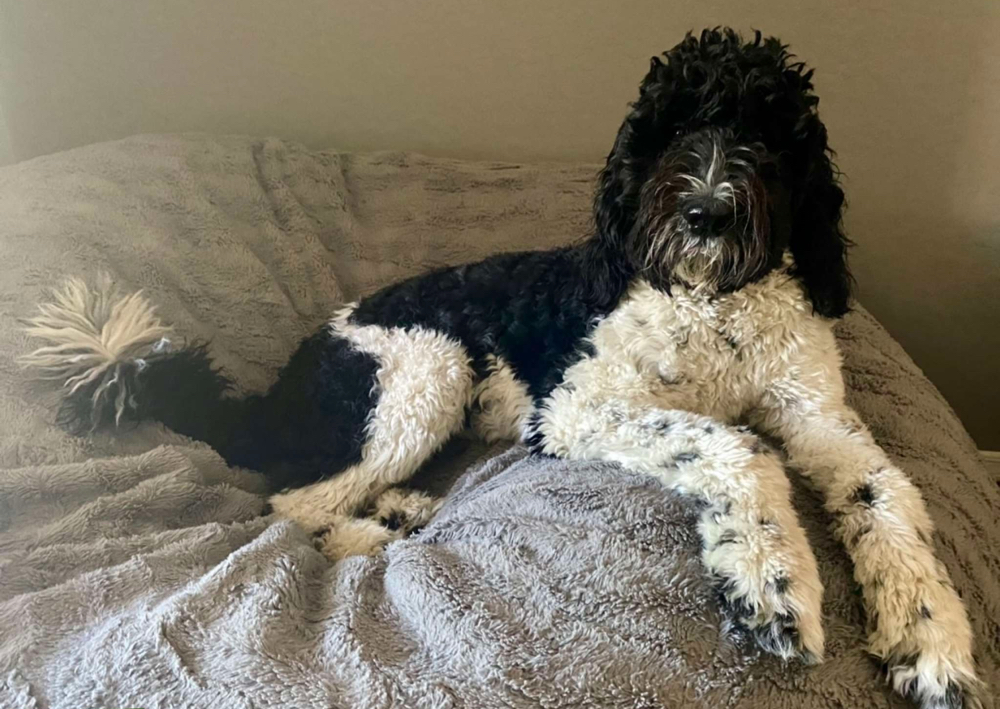 Yes, parti Goldendoodles are very rare to produce. Just like phantom Goldendoodles, parti Goldendoodles are almost considered lucky to produce. The reason is that parti Goldendoodles are caused by recessive genes.
It can be almost impossible to produce parti Goldendoodles that are bred from the first generation of breeding. Most times, you need multigenerational breeding to produce them and this can be a bit difficult to do well.
Parti Goldendoodles are produced when two breeding parents, each with rare recessive genes, are bred together. If one has a dominant gene, it might mess up the parti coat pattern. And because two rare recessive genes are needed, that is why it is nearly impossible to find two-part Goldendoodles with the exact parti coat pattern.
Parti Goldendoodle Coat Types
Parti Goldendoodles can either be born with a short coat or a long coat. But it is much more common to find a parti Goldendoodle with a long coat than with a short coat. Even though long coat genes are recessive, both parent breeds of the Goldendoodle are born with long coats.
With that being said, parti Goldendoodles could come in one of any three coat types. They are Goldendoodles after all, so you can expect to find part Goldendoodles with any of the following coats;
The straight or flat coat type
The Wavy or shaggy coat type
The Curly coat type.
1. The Straight or Flat Coat Type
Goldendoodles with flat or straight coat types are often very difficult to find. This is because the flat or straight coat isn't really sorted after when it comes to the Goldendoodle. This is the most likely coat type to shed fur when looking at all three coat types of the parti Goldendoodle.
A parti Goldendoodle with a straight coat is non-hypoallergenic. It is mostly only found in first-generation breeding and can be quite easy to groom. If you do suffer from allergies to dog fur, then this coat type might not be the best for you.
2. The Wavy or Shaggy Coat Type
Another coat type for the parti Goldendoodle would be the wavy or shaggy coat type. This is the most common and most sought-after coat type for Goldendoodles in general and there are two reasons why.
A first would be because of its overall look. The wavy coat type would give the parti Goldendoodle a fuller, richer look that resembles that of a teddy bear. Another reason would be its low shedding propensity.
Parti Goldendoodles with wavy or shaggy coats are considered hypoallergenic as their wavy fur makes it difficult for them to shed. You can get a parti Goldendoodle with a wavy or shaggy coat if you have allergies to dog fur.
3. The Curly Coat Type
Curly coat parti Goldendoodles are the least likely to shed when it comes to all three parti Goldendoodle coat types. This is because the fur on the curly coat type is tangled and curly, making it difficult to shed.
Parti Goldendoodles with curly coat types look more like the Poodle parent than they do the Golden Retriever parent. And the tangled nature of this Goldendoodle coat type might make it a little difficult to take care of or groom. You can get the parti Goldendoodle with the curly coat type from all generations of breeding.
Do Parti Goldendoodles Change Color?
Yes, parti Goldendoodles are known to change coat color as they grow older. This is most common in parti Goldendoodles with a darker shade color as its solid color. The change is a slight one.
As the parti Goldendodole gets older, you find that its solid Goldendoodle coat color lightens a bit over time. From black, you can get a silvery-colored change over time as the Goldendoodle gets older.
Parti Goldendoodle Temperament
Parti Goldendoodles are regular Goldendoodles, and as such, they share a lot of similarities with the regular Goldendoodle. Your parti Goldendoodle should be calm and often quiet. They are also very playful and enjoy the company of people.
They also are great with kids as they become naturally protective and watchful of them. Parti Goldendoodles are not aggressive, so do not expect the Goldendoodle to make a great security dog as they are very friendly dogs.
Parti Goldendoodles do have the tendency of being needy dogs that crave a lot of attention. They can easily get attached to their owners and can be a bit naughty or destructive when left alone. This is why it is recommended to keep your parti Goldendoodle with a sitter whenever you have to be separated from it.
Parti Goldendoodle Appearance
The appearance of the parti Goldendoodle is quite similar to other Goldendoodle variants in existence. The major difference or most distinguishing factor would be the level coat color and pattern of the parti Goldendoodle.
It should come in two different coat colors one of which must be white while the other can be any solid coat color common to the Goldendoodle breed. This coat color should be of equal proportion when compared to each other.
Asides from the coat pattern and color, parti Goldendoodles often come with long fur lengths and can be born in one of any of 5 Goldendoodle sizes which would be discussed in greater detail later.
Parti Goldendoodle Sizes
Goldendoodles in general are a very diverse breed coming in a wide variety of colors and sizes. Your parti Goldendoodle puppy can come in one of any of the following Goldendoodle sizes:
The standard-sized parti Goldendoodle
The medium-sized parti Goldendoodle
The miniature-sized parti Goldendoodle
The petite sized parti Goldendoodle
The teacup-sized parti Goldendoodle.
On average, your parti Goldendoodle can range anywhere from 7 to 25 inches in height and range between 11 to 80 pounds in weight. But this all depends on the exact Goldendoodle size group your parti Goldendoodle belongs to.
For a standard parti Goldendoodle, you can expect a Goldendoodle height range between 22 and 25 inches tall, and its overall weight can be between 40 to 80 pounds.
Medium-sized parti Goldendoodles are a little smaller, with a height size range between 17 inches and 21 inches. Its overall weight can fall between 30 pounds and 45 pounds. The miniature-sized Goldendoodle, its height should be between 13 and 16 inches tall. While overall weight should be between 16 and 30 pounds.
The petite-sized parti Goldendoodle is an even smaller size than the miniature-sized parti Goldendoodle. It should have a height between 11 to 13 inches and a weight between 11 to 15 pounds. Teacup Goldendoodles are the smallest possible size of the parti Goldendoodle. They should have a height smaller than 11 inches and weighs lower than 11 inches.
Most Popular Color Variations of The Parti Goldendoodle
The parti pattern of parti Goldendoodles allows for two color varieties for the Goldendoodle variant, one of which is white, while the other is any other solid coat color. This creates a lot of color options and varieties when it comes to parti Goldendoodles. Here are some of them:
1. Apricot Parti Goldendoodle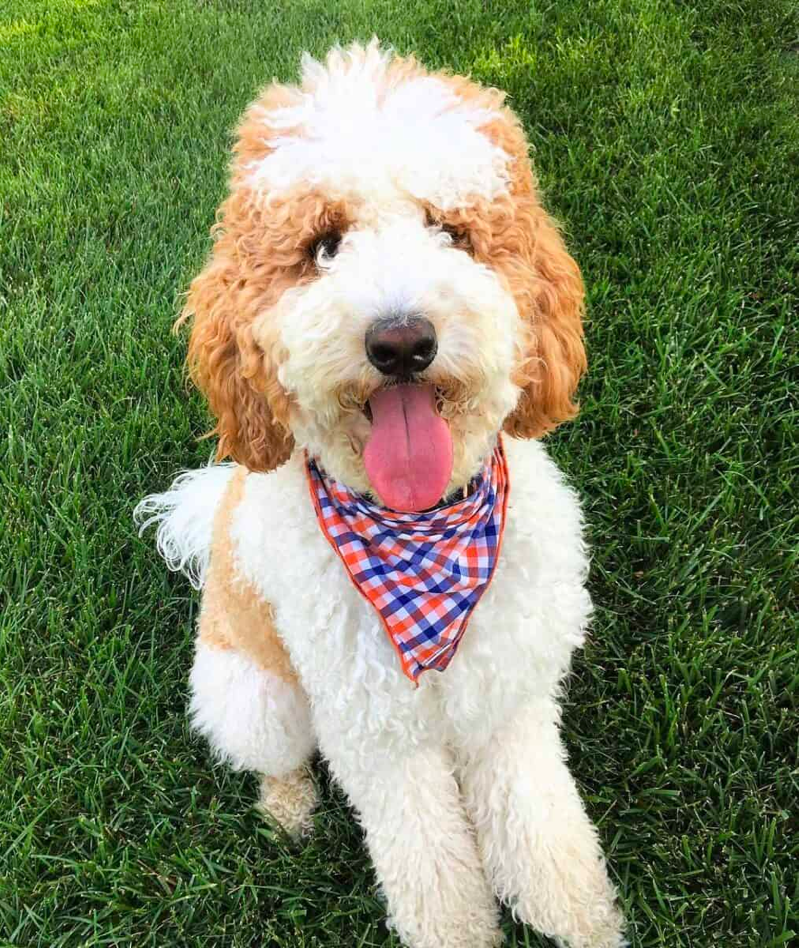 When it comes to the popularity for the parti Goldendoodle, the apricot parti Goldendodoel is arguably the most common variety of the parti Goldendoodle that you are most likely to see. This is because its light red color makes it very beautiful and desirable.
Over time, an apricot parti Goldendoodle is likely to lose its color as it ages. You would find that your parti Goldendoodle might lose its color till it turns a light shade of cream or a light shade of tan. The nose, eyes, toenails, and eye rims of an apricot-colored parti Goldendoodle are often black.
2. Black Parti Goldendoodle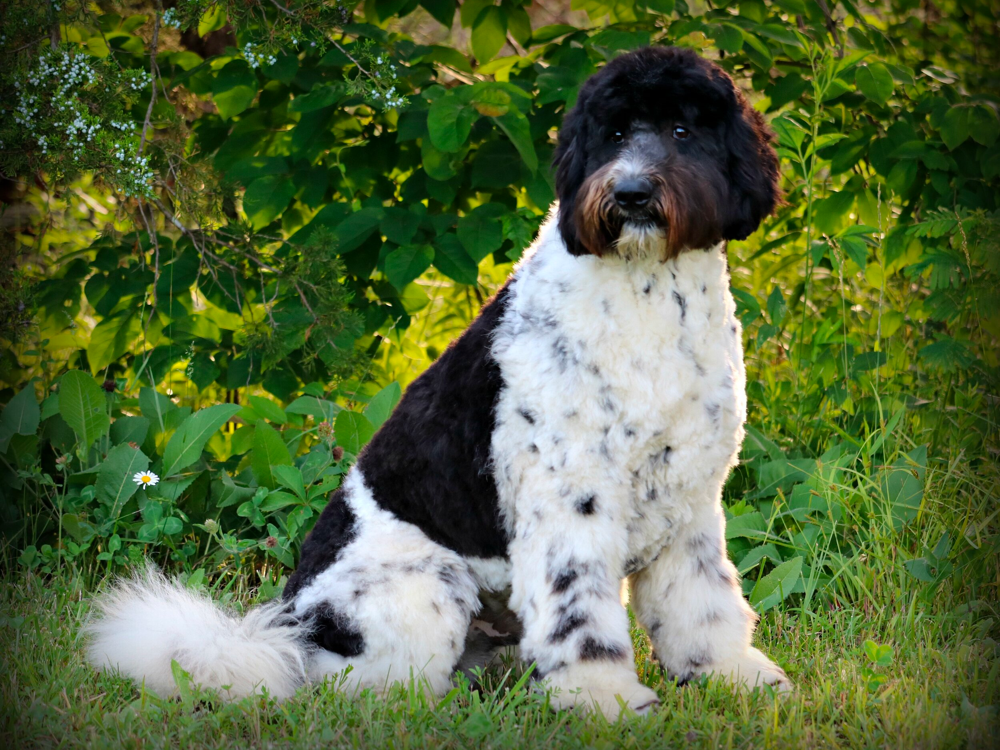 A black parti Goldendoodle is quite beautiful to behold. It features a beautiful patch of contrasting colors which are the black and white colors that makes it pretty easy to spot amidst other dogs.
The black and white parti Goldendoodles are often mistaken as tuxedo Goldendoodles. But parti Goldendoodles are known to have two equal proportion of colors whereas the tuxedo Goldendoodles doesn't. And the location of the white color in a tuxedo Goldendoodle is often specific, appearing on the chests and legs whereas the black parti Goldendoodle doesn't have a specific location for its colors to appear.
3. Red Parti Goldendoodle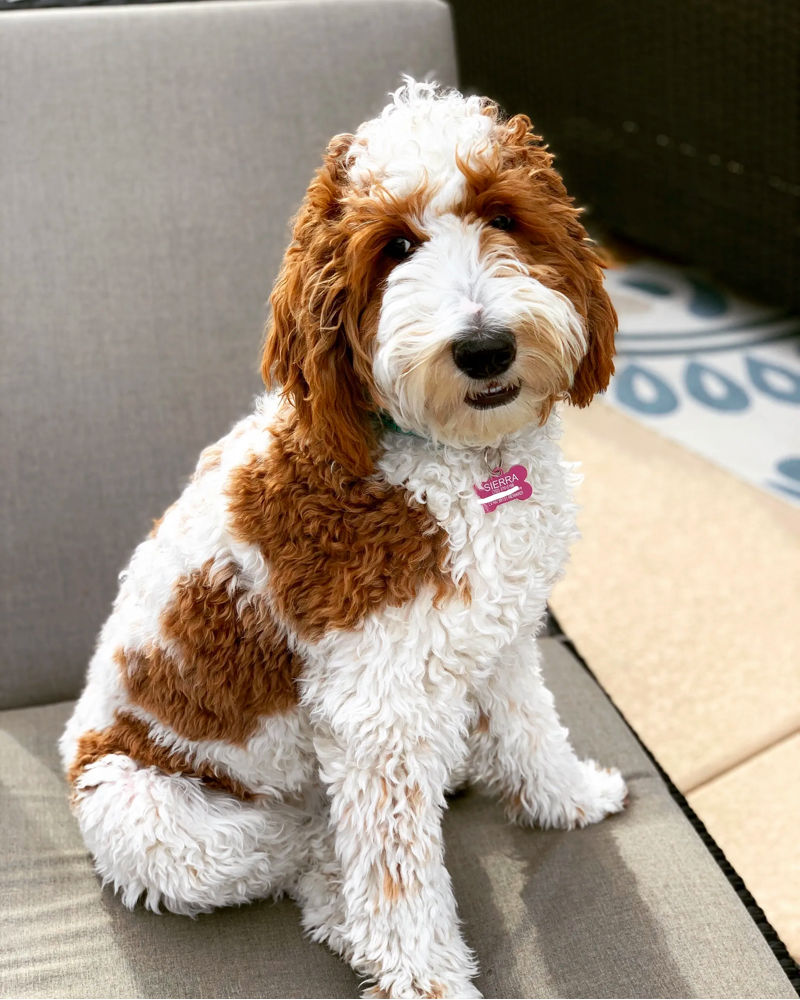 Red parti Goldendoodles are very similar to the apricot parti Goldendoodle. Their reddish shade gives them a vibrant, teddy bear look that makes them very desirable to most dog lovers or doodle lovers.
Also like the apricot parti Goldendoodle, the red parti Goldendoodle is more likely to lose its mahogany-shaded red color as it ages. Favoring a later shade similar to tan, or cream. But they are a beauty to behold.
4. Brown Parti Goldendoodle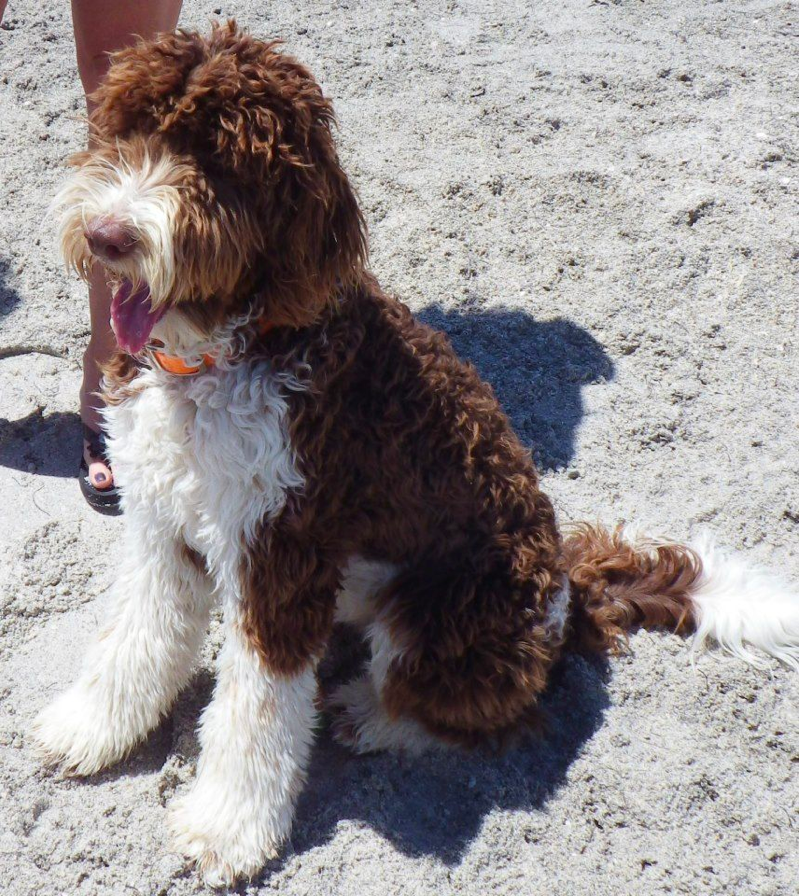 Brown or chocolate parti Goldendoodles are another color variant of the parti Goldendoodle known to lose its color as it ages. The parti Goldendoodle variant features a dark shade of brown or chocolate paired with a white colored coat that is proportional to the brown coat color.
The fading gene or silvering gene is found in this parti Goldendoodle color variant, as such, they are known to lighten as they get older. They could slowly transform into a parti Goldendoodle with a dark cream-colored coat. This unique colored coat of parti Goldendoodles is quite beautiful to behold.
Parti Goldendoodle Lifespan
Your parti Goldendoodle should have the average lifespan of a regular Goldendoodle dog. They are naturally gifted with long life and to achieve this you have to maintain a healthy standard of living for the parti Goldendoodle.
With that being said, your Goldendoodle should live between 10 to 15 years of a full life.
Ensure you involve them in regular exercising, and a healthy diet, provide them with good supplements and maintain a whole lot of other good practices.
Training The Parti Goldendoodle
This is an integral part of fully enjoying your parti Goldendoodle puppy. For them to be properly behaved and learn new tricks or tips they need to be properly trained. This can be done by you or you can seek the help of a licensed or trained professional to get this done well. It is recommended you get this done yourself to build a stronger bond with your puppy.
The good news is that all Goldendoodles including the parti Goldendoodle are very easy to train. They inherit the high intelligence of the poodle which makes them more prone o learn new tricks or tips than other dog breeds.
In addition to their high intelligence, parti Goldendoodles are still regular Goldendoodles that love to please their owners. This makes them more willing to learn new tricks. You can use this to your advantage.
When training parti Goldendoodle, opt for the positive reinforcement style of training. Make use of treats and toys to reward your puppies when they do good and instead of cold painful correction practices, opt for light touches or a stern look when training them. This is the most effective training method.
Exercises are also very important for the parti Goldendoodle puppy. They require this to get rid of the excess energy that they are known for while still getting fit and strong to leave them feeling and looking healthy.
Without proper physical and mental exercises for your parti Goldendoodle to channel its energy to, it might just grow a lot more destructive and take out that excess energy on your household items or furniture.
If you can't make out time to exercise or train your Goldendoodle puppy, then consider getting a professional to do this for you.
Are There Any Potential Health Problems That Are Attributed To The Parti Goldendoodle?
Thankfully no. Parti Goldendoodles have no specific health problems that are attributed to the unique Goldendoodle coat pattern and coloring. They are however prone to certain health conditions which could be inherited from their parent breeds. This includes the following;
Hip and elbow dysplasia
Cataracts
Von Willebrand's disease
Patella luxation
Most of these health defects can be avoided through proper breeding practices. This is why it is very important you get your Goldendoodle from a reputable breeder with impressive breeding practices.
Do Parti Goldendoodle Puppies Change Coat Color As They Grow Older?
Yes, it is possible for a parti Goldendoodle to change coat color as it matures or grows older. Most parti Goldendoodle color variants are born with a silvering or fading gene that causes their coat to lighten as they age. This is often a slight change and not a dramatic one.
Are Parti Goldendoodles Hypoallergenic?
How hypoallergenic any Goldendoodle is regardless of whether it is parti or not depends on its coat type and how much fur it is likely to shed. Goldendoodles with straight or flat coats are known to shed a lot more than the other two coat types of the parti Goldendoodle. As such they are not regarded as hypoallergenic.
However, Goldendoodles with a wavy or curly coat type are generally known to be hypoallergenic in nature. They have a low shedding propensity and this is because their curly or wavy coat makes it difficult to shed.
How Much Are Parti Goldendoodles Worth?
Because of the rare nature of parti Goldendoodles, they are often very expensive Goldendoodle color variants to purchase and adopt. When dealing with a reputable breeder, the price of a parti Goldendoodle can cost between $3000 and $50000.
And depending on a few factors like overall health, lineage, socialization, and a lot more, you can even get a parti Goldendoodle for the price of $8000. Again, this mostly depends on the breeder and his or her practices.
Parti Goldendoodle Puppies For Sale
1. High Mesa Doodles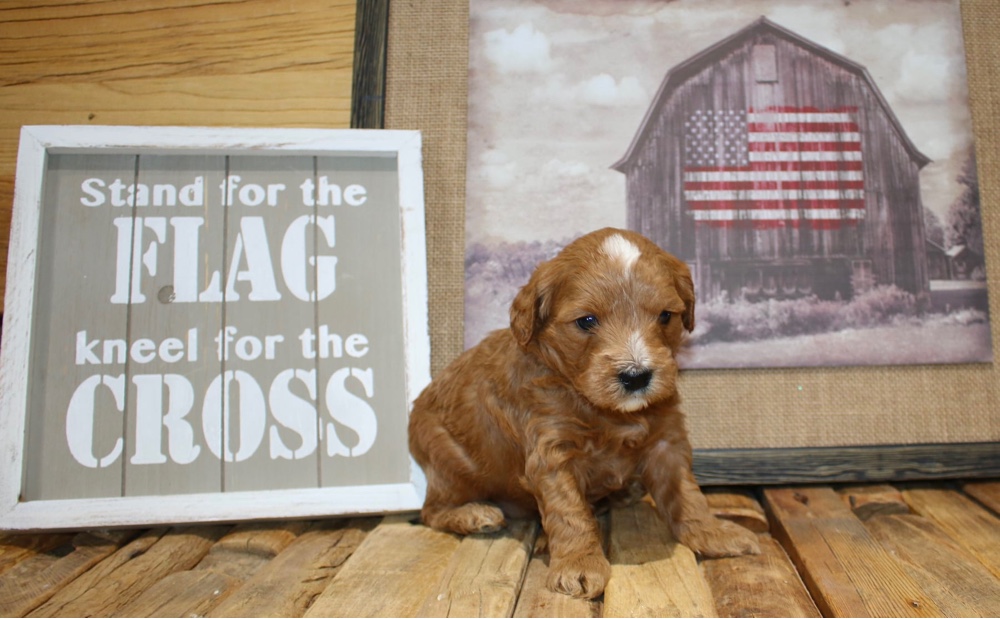 This is a great Goldendoodle breeder with quite some experience in their breeding program. Their breeding program was founded in 2008 and ever since they have been dedicated to producing strong Goldendoodle puppies that make very healthy family companions and are blessed with impressive hypoallergenic coats. They produce Goldendoodles of all color types including the very rare parti Goldendoodle and are quite knowledgeable on the breed. They are recommended by Gooddog.com and are also recommended by Goldendoodles.com.
The breeding program which is located in beautiful Montrose, Colorado is owned by Carol Heller. This is a breeding home which is basically her personal house. The puppies live with her and the family as well as in other guardian homes. They are provided with all the love and attention they require to grow well. They are trained using Early Neurological Stimulation alongside other puppy curriculums to make them well-socialized.
Their breeding program ensures that only the right puppies are produced. They make use of both English cream Golden Retrievers and regular Golden Retrievers to ensure you get the right puppy for you. The pairings are excellently done alongside a lot of research. All breeding parents are health checked through Paw Prints Genetics to ensure they are free from health defects that can affect the Goldendoodle litter. They also have their full OFA examinations done each year.
All dogs come with a 2 years health guarantee. They are given their full vaccinations and dewormings and are vet checked by a licensed vet.
High Mesa Doodles Contact Details
2. Parti Goldendoodle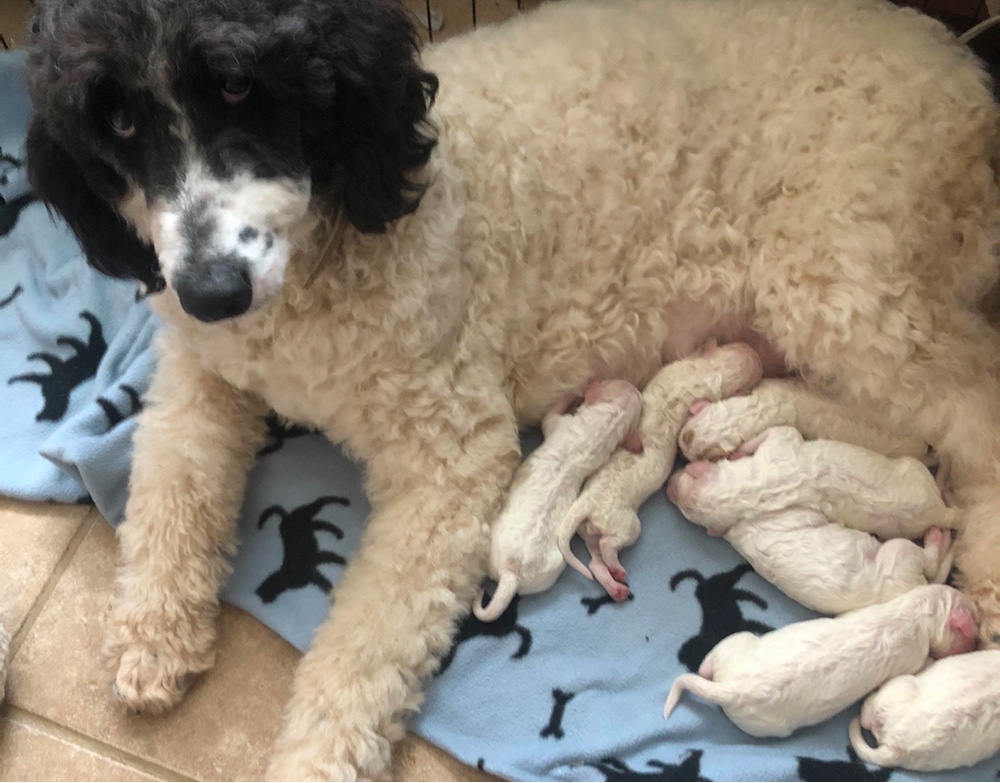 Dr. Jenifer Creed is a vet with a lot of love for the Goldendoodle breed. She has taken a strong liking to the Goldendoodle breed, particularly the beautiful parti Goldendoodle puppy and this is why she opened Parti Goldendoodle. They are located west of Chicago, Illinois, and are focused on the parti Goldendoodle of F1 and F1b generations.
Their breeding practices maintain a very solid breeding program. All their Goldendoodles come from impressive lines. They are blessed with hypoallergenic coats and are products of fine breeding practices. They are given their full genetic health checks as well as full body checks to ensure they are a perfect fit to be added to their breeding program.
The puppies get to live with Dr. Jenifer in the family house where they are treated as members of the family. They are loved and given their full supplements and top-quality food. They are socialized through human interactions and are given proper exposure to different experiences and curriculums that could further improve their socialization and training.
Every Goldendoodle is health checked by a licensed vet. They come with a written health guarantee, and are given their full vaccinations and deworming with records to show it.
Parti Goldendoodles Contact Details
Is A Parti Goldendoodle Right For You?
After all, that has been said so far, do you think the parti Goldendoodle is still the right dog for you? If you are an active person or belong to an active family and enjoy taking your canine companion with you on activities, then this is the right dog for you.
They are wonderful dogs to have around kids and other pets. And they do very well around new faces. It is worth stating that they don't make decent guard dogs as they are too friendly and non-aggressive.
All in all, it is recommended that you get your parti Goldendoodle puppy from a well-respected and reputable breeder. Before choosing a breeder, please ensure to ask the right questions and demand the right certifications.