Meta: If you are thinking about getting a Goldendoodle, you might be wondering how long these dogs live. This is your guide for the lifespan of the Goldendoodle breed.
If you are thinking about getting a Goldendoodle, you probably want to be sure that you are not going to have to deal with losing your dog at a young age. This can be the biggest detraction to having a larger dog, and many people avoid large breeds to spare themselves this unhappiness when their pet passes away. While the Goldendoodle is not actually a large breed dog, many people think of them in this way.
The Goldendoodle lives for 10-15 years. This is a medium-sized breed which gives them a longer lifespan than some other bigger dog breeds. Goldendoodles are one of the best breeds to pick if you want a dog with a long lifespan.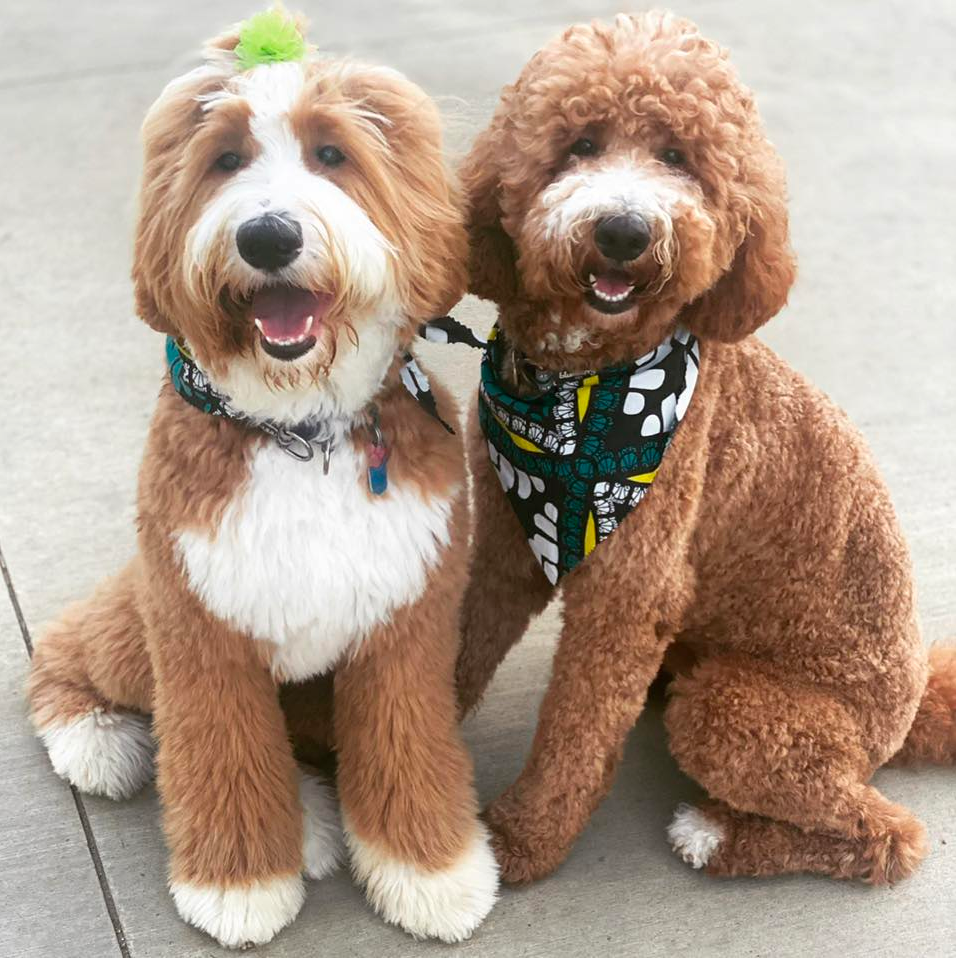 Related Posts:
How Long Do Goldendoodles Live Compared to Poodles and Goldens?
Both of the parent breeds for this mixed breed actually have pretty long lifespans as well. Golden Retrievers tend to live about 10-12 years, and Poodles live for 12-15 years. The combination means that your Goldendoodle will probably live for a median number of years in between the two expectations. The Poodle DNA that is contributed to this cross really helps with longevity and can make it much more likely that your Goldendoodle will be healthy into old age.
There are many reasons that mixed breeds have longer lifespans than purebreds, but the biggest is hybrid vigor. When your dog gets the benefits of diverse DNA, they are more likely to be healthy and to live a longer lifespan. The Goldendoodle will not live for as long as a small breed dog, but they will have a lot longer lifespan than large breed dogs that might only have 6-9 years.
What About the Different Sizes of Goldendoodles?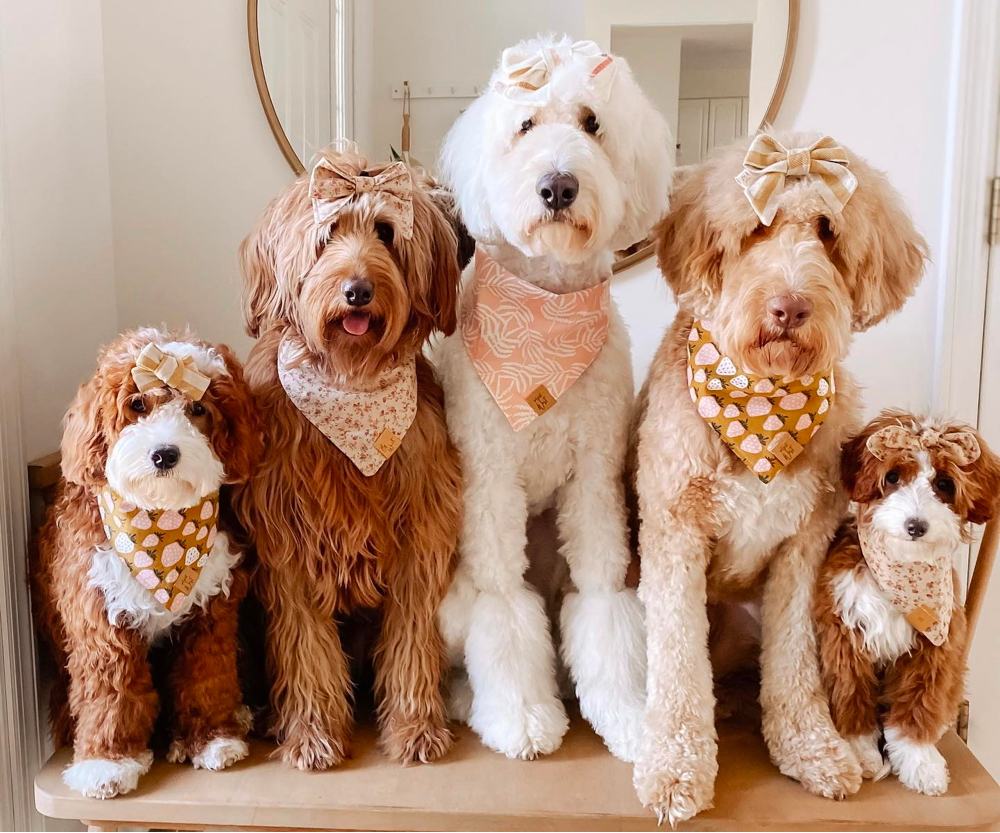 You might be wondering, what about the toy and small-size Goldendoodles? There are many really small Goldendoodles as well as standard-sized dogs and people often wonder if this means that their little Goldendoodle will live a longer life. It is easy to compare the lifespans of these different sizes of dogs so that you can be sure that you are going to get the right-sized Goldendoodle for your needs.
Keep in mind that the smaller dogs within this breed are less common. You might have to work hard to find a dog that is in the toy or mini sizes. Most Goldendoodle breeders aim to create standard-sized dogs. There are some variants, like the English Teddy Bear Goldendoodle, that are smaller and are more commonly bred.
| | | |
| --- | --- | --- |
| Goldendoodle Type/Size | Lifespan | Why? |
| Standard Goldendoodle | 10-15 years | Poodles are longer-lived than Retrievers |
| English Teddy Bear Goldendoodle | 10-15 years | Still a standard-sized dog |
| American Goldendoodle | 10-15 years | Still a standard-sized dog |
| Mini Goldendoodle | 12-15 years | Small dogs have longer lifespans |
| F1b Goldendoodle | 10-16 years | The more Poodle in the cross, the longer the lifespan of the dog |
| Teacup Goldendoodle | 10-16 years | This cross also has more Poodle genetics and is a small dog |
Factors That Affect a Goldendoodle's Lifespan
There are various things that can impact your Goldendoodle's lifespan. You might need to be aware of these common issues so that you can keep an eye on them or possibly select a different breeder to avoid some of the common problems. Reputable breeders will be able to disclose any common issues that their dogs might display, and they should be breeding to try and eliminate these risks.
1. Health and Genetics Testing
This is the part where the breeder has a lot to say about the health of your dog for the long haul. Breeders who perform genetic testing and who do health checks on a regular basis can prevent dogs from being bred who should not be. Because this breed is not regulated by the AKC, it is up to the breeders to do the right things.
Genetic conditions can be avoided through careful testing, and responsible breeders will make sure to check on these issues before every litter. Puppies can also be verified to be free from health defects before being released to new homes. This is the primary way that your dog can be protected from having health issues which is why picking the right breeder is so important.
2. Size
The size of your Goldendoodle can also impact its longevity. Bigger dogs are more prone to heart issues and to problems with hips and elbows. They might also show more issues with their eyes and with arthritis. This is the penalty for increased size, as your dog's body can wear out a bit faster than the body of a smaller dog.
If you want to select a dog with a longer lifespan, you will need to be sure that you are looking at a smaller dog. The smaller the dog, the longer the lifespan in most cases.
3. Hybrid Vigor
As mentioned earlier, the more mixed the breeding of your dog, the more likely it will be that it will be long-lived. Hybrid vigor is more connected with Goldendoodles which have a 50/50 percentage of dog breeds used to create their litter. The more Poodle or, the more retriever that is in your dog's breeding mix, the less hybrid vigor. This means that dogs that are 50/50 cross will likely have the longest lifespan.
This is not an entirely 1:1 ratio with good health, however. Hybrid vigor is often linked with mixed breeds that are not just a 50/50 split between two parent breeds. Dogs with the best hybrid vigor are dogs that have four or even five or six dog breeds in their genetic makeup.
4. Good Care
Your Goldendoodle will need more than just good genetics to have a long lifespan. You will need to provide them with a good, healthy diet and with lots of exercises and mental stimulation as well. The care that your Goldendoodle gets is directly linked with its longevity. Dogs that get regular check-ups at the vet have dental cleanings at least once a year, and who are a healthy weight will have long lifespans, no matter what breed they are.
You will need to be very careful about your dog's weight as Goldendoodles tend to get heavy quite easily. Keeping your dog active is also important for strength and balance, and mental stimulation, so you will be taking care of many different needs when you exercise your dog. Playing with your Goldendoodle is fun and easy, and no penalty at all. In fact, you might find that you yourself are getting more activity in your day due to your Goldendoodle. This is good for your health as well, which is an added perk for investing in a canine friend.
Common Signs of Aging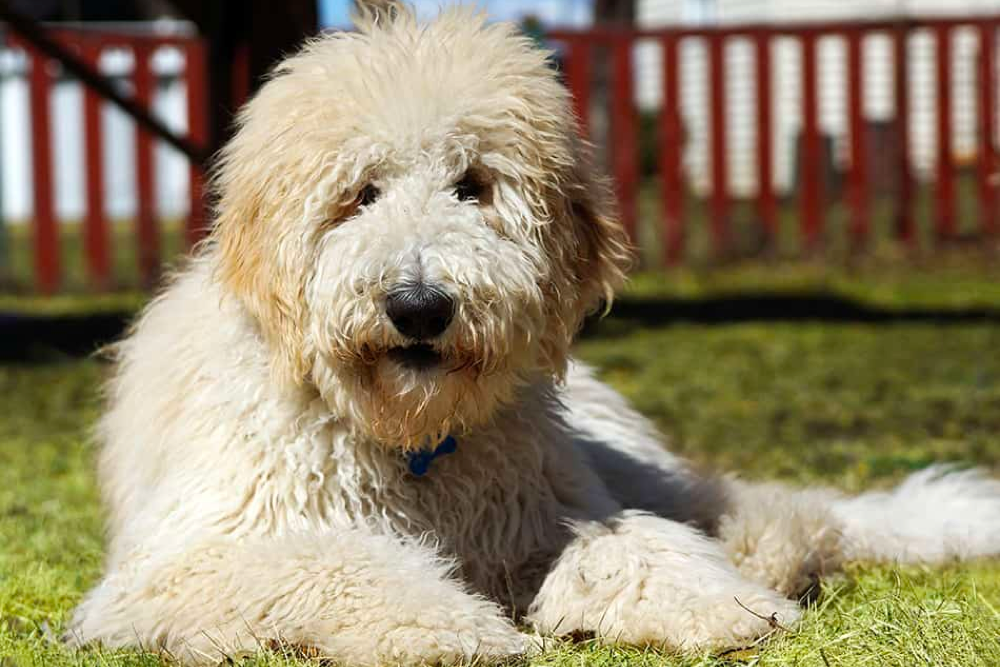 Goldendoodles will show most of the same symptoms of aging that other dogs in their relative size will show. This is something that could start to show up when your dog is 8 or 9, but in many dogs, you will start to notice the aging process at about 10. Each dog is different and ages at a different rate, so you will probably have little idea about how fast the progression of your dog's aging will be.
1. Cloudy Eyes
Cloudy eyes are a common symptom that your dog is aging. In the early stages of the aging process, the lens of the eye will get more firm and more opaque, which leads to a slightly milky appearance in certain light. You will probably see this most clearly in the bright sun. If your dog gets cataracts later on, these will be much denser or might look like circular white areas in the lens of the eye. Dogs of all sizes will start to show cloudy eyes as they age and their sight declines.
If you are not sure if your dog can see adequately, you can take them to the vet to have the quality of their vision assessed. This can help to make sure that you are not missing out on opportunities to provide your dog with better support for their lack of sight. Your vet can help you to make a roadmap to treat or support your dog if they go blind, which can mitigate stress and worry for both you and your dog.
2. Loss of Mobility
As dog's age, they can get arthritis and lose some of their strength and control over their limbs. This might lead to a limp, a reduced interest in playtime, and a loss of balance from time to time. If your dog seems stiff, painful, or seems to have trouble getting up or lying down, it is time to head to the vet for an assessment. There are many treatments that can be applied to help manage arthritis pain and to improve mobility. Dogs can go through physical therapy as well, which can make a huge difference in their longevity and comfort as they age.
This is often one of the first signs of aging that people notice in their canine companions, but it is part of the normal aging process. Thankfully, you can do quite a bit to help support your aging dog when it comes to joint health and a loss of strength and coordination.
3. Reduced Energy
Dogs that age are less likely to be eager to exercise, and your older dog might start to sleep a lot or be unwilling to get up to play and have fun. You will need to consider talking to your vet about this if you think that your dog is feeling poorly, and that is why they are not as interested in playing. Dogs that seem dull, disinterested, or sad might be feeling sick rather than tired.
Decreasing your dog's exercise levels as they age is completely normal, but you need to be cautious about letting them get too sedentary. If your dog has stopped moving around and sleeps all day, they can get fat, and their muscles can waste away. This can lead to premature aging, which would be hard on your dog. You can avoid these problems by taking your dog for gentle exercise that is in keeping with their age and their energy levels. Keeping your dog moving matters as they age, and you will need to at least keep your dog busy with walks or gentle playtime as they age.
4. Lack of Appetite
Some dogs lose their sense of smell as they age, and this can make them much less likely to want to eat enough. If your dog has stopped eating, there could be other more serious things going on as well. Taking your senior dog to the vet when they stop eating is a good idea. The more you know about why your dog has stopped eating, the easier it is to create a plan to care for them or to help them feel better.
There are various appetite-stimulating medications that can be given to dogs who no longer have a sense of smell, or you can change your dog's diet to a raw diet which can often have more smell to it than kibble. There are various serious health issues that can lead to a lack of appetite, like cancer as well, so you will want to rule out these problems before you assume that your dog is just getting older and less interested in food.
Tips for Looking After an Aging Goldendoodle
If you have an aging dog that you are caring for, you might be wondering how you can make them more comfortable and happier as they age. There are quite a few things that you can do when your dog starts to age or slow down so that you can keep your Goldendoodle happier in their older years.
1. Reduce Playtime and Challenge of Exercise
You will probably need to reduce the amount of time that your dog plays each day, and you might need to decrease the intensity of what you are doing with them. Your dog might not know it yet, but their joints are aging, and their body is less coordinated, which can lead to really sore muscles or a dog that does not feel good the next day after going for a run or going to the dog park. Being conscious of your dog's age can help them to exercise in a more effective way that does not make them get hurt or feel sick the next day.
2. Food Changes
Your dog might need to start eating canned food, or raw food, or maybe they will just need to be moved to a senior dog kibble. Adjusting your dog's diet for their advanced age helps their kidneys and other organs to work effectively, and these foods are also often more palatable for dogs who are losing their sense of smell. Food changes are almost always a good idea as your dog gets older, and you can work with your vet to find the right senior dog feeding program.
3. Arthritis or Pain Management
If your dog has started to deal with joint pain, you can provide support through the addition of glucosamine products, and there are injectable joint medications like Adequan that can help your dog to feel much better. These products help to reduce damage to the joints as well, which can give your dog a lot of time with healthier joints that work better. Your dog might also need daily pain management to help them to be able to keep enjoying life despite their elderly joints.
How to Increase Goldendoodle Lifespan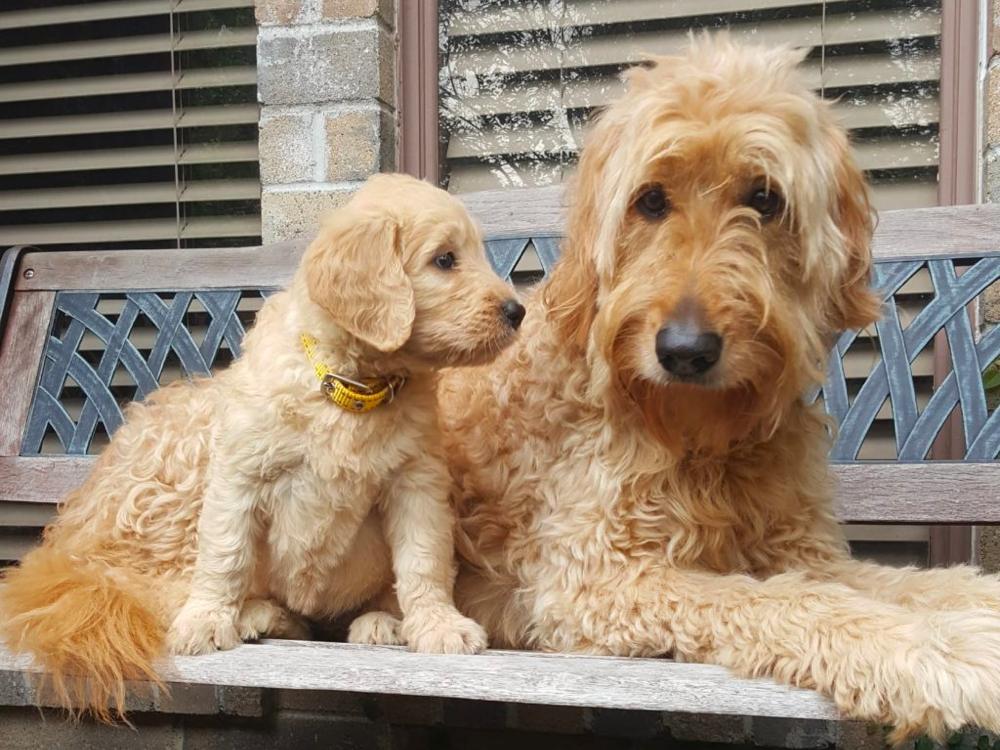 There are some things that you can do to make sure that your dog lives a long and full life. You will want to start doing some of these things from the beginning, even when your dog is young. Some of these items are preventative and can help your dog to have a more enjoyable and healthy old age.
1. Provide Joint Support
Make sure that even young dogs are on a glucosamine and MSM regimen. This supports good joint health and can help keep arthritis at bay. This is often one of the most painful conditions in older dogs, and your dog will be so grateful that you have kept their joints healthy every day as they get older. Joint support can help your dog to be able to play and have fun as they age. Being able to keep your dog off pain management for longer and being sure that they are still able to get around when they get old can be a huge part of keeping your dog around for many years.
2. Keep a Healthy Weight
Your dog needs to be a healthy weight their whole life to have a long lifespan. Do not let your dog get fat, and do not feed unhealthy foods like table scraps. Weight management is a big part of the health of this size of dog. You will need to be sure that you are feeding quality kibble and that you are not overfeeding your dog if you want them to have a long and healthy life. You can work with your vet to make sure that a dog that tends to gain weight is not kept too fat for their well-being, and there are many different kinds of dog food diets out there to try for your dog.
3. Routine Supportive Care
You should make sure that your dog gets to see the vet anytime they are not feeling well and that you offer routine and annual care. Your dog should get a dental cleaning at least once a year, and they should see the vet for a check-up at the same time. These actions can add up to years of longevity with good health that your dog would not otherwise have. Dental health can have a big impact on your dog's well-being, and this is one of the areas that you do not want to forget about when you are caring for your dog each year.
4. Buy From a Reputable Breeder
As with any breed, the more reliable and responsible the breeder that you have worked with, the more likely it will be that you will have a healthy dog for all the years of its life. Buying from a backyard breeder can lead to getting a dog that is not healthy at all and who has a health profile that you cannot be sure of. While you might save money when you are buying your puppy, you might have to spend thousands of dollars on your dog's health as they get older. It can be heartbreaking to buy a dog that does not enjoy a long life, and getting your dog from a breeder with limited experience can lead to this outcome.
Goldendoodles Can Enjoy Long and Healthy Lives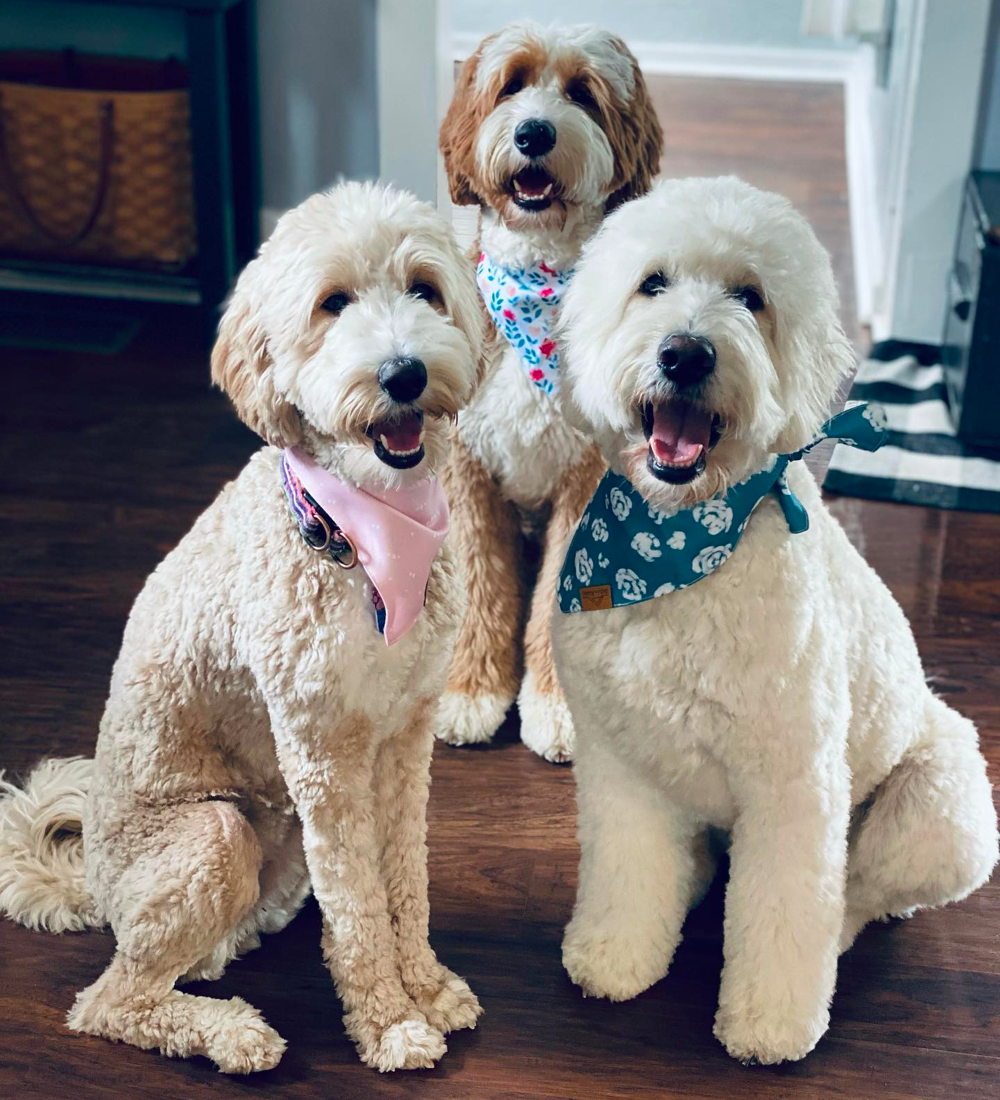 If you have a Goldendoodle, you probably want to be sure that your dog will enjoy the full, expected lifespan for this breed. Always work with a skilled breeder to make sure that you are getting a dog that has optimal health from the start. After selecting a responsible breeder, you will need to be sure that you feed your dog the right food and keep them active and busy for mental stimulation and physical strength.
Caring for your dog with routine supportive care is also critical, and you will want to be sure that you are taking your dog in for annual check-ups at least once a year. These kinds of preventative actions can add years to your dog's lifespan and make it much more likely that your dog enjoys all the years that it possibly can have with you and your family. Committing to your dog's health from the start is a big deciding factor in its overall longevity.