The Goldendoodle, which is fast becoming America's sweetheart Doodle, is a great family companion that is loved for its playful nature, its high intelligence, and its gentle and overall decent temperament.
This furry angel which is a mix between the Golden Retriever and the Poodle is also loved for its beautiful conformation and coat. These coats come in a wide variety of colors and patterns that are simply remarkable.
In this article, we provide everything you need to know about the Goldendoodle's beautiful coat. The exact number of colors and patterns that comes with these beautiful coats, and what generations produce such coats. Without wasting much time, let's get right into it.
How Many Colors Of The Goldendoodle Coat Are There?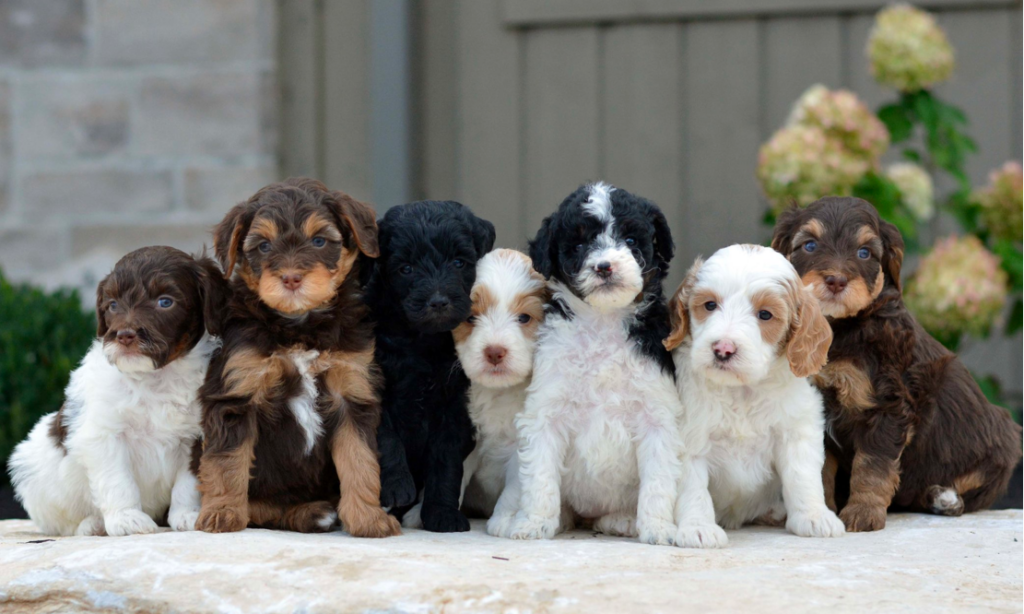 Goldendoodles or Groodles come in diverse coat color variations that make up a total number of 20. These 20 coat colors can be further divided into 2 sections of 12 solid colors and 8 patterned colors.
Some of these coat colors and patterns range in rarity as some can only be produced from breeding a specific Goldendoodle Generation, while some are easily accessible and can be produced from any Generation of the Goldendoodle. Here are the 20 Goldendoodle coat colors:
Apricot
Abstract
Black and White Parti
Black
Brindle
Blue or gray
Chocolate or brown
Champagne
Cream
Merle
Phantom
Parti
Red
Silver
Sable
Silver Beige
Tuxedo
Tan
Tri-color
White
Solid colors like apricot and cream give the Goldendoodle a Teddy bear-like appearance that has truly become popular for the designer dog. These colors are loved around the world and luckily they can be easily bred from any Goldendoodle generation.
While colors like gray or black or blue are deemed as rare colors that might not give the Goldendoodle the Teddy bear-like appearance, but still gives the beautiful furry angel a desirable color.
Also, the total amount of white a Goldendoodle carries has a say on the pattern of the Goldendoodle. For a Goldendoodle with more than half of its coat covered in white patterns, it is often regarded as a Parti Goldendoodle. While a Goldendoodle with less than half of its coat covered in white patterns, it is often regarded as Abstract.
The Goldendoodle Coat Color Chart
Here is a color chart representing the coat colors that come with the Goldendoodle, the exact rarity, and a description to help give an idea of how the color looks on the Goldendoodle's coat.
| | | | |
| --- | --- | --- | --- |
| No | Colors | Descriptions | Rarity |
| 1. | Apricot | A gold-like, brown-like variation of the Color red on the Coat of the Goldendoodle | Common |
| 2. | Abstract | Given to a Goldendoodle with less than 50% of its base color being white | Rare |
| 3. | Black and White Parti | A minimum of half of the Goldendoodle's coat is white with the rest of the coat being black | Rare |
| 4. | Black | The entire Goldendoodle coat is black | Rare |
| 5. | Brindle | The base of the Coat is red in color, with black stripes located at the top of the Goldendoodle | Rare |
| 6. | Blue or gray | The coat of the Goldendoodle is dark gray or almost light blue | Rare |
| 7. | Chocolate or Brown | The Goldendoodle coat is a rich shade of brown | Rare |
| 8. | Champagne | Ranges from dark cream to a pale yellow color | Common |
| 9. | Cream | A lighter shade of the yellow color | Common |
| 10. | Merle | The base color of the Goldendoodle ranges from chocolate to blue with blotches appearing with lighter shades of the same colors throughout the coat. | Rare |
| 11. | Phantom | Specific appearances of the color tan or black | Rare |
| 12. | Parti | Over half of the Goldendoodle coat is white with the secondary coat color being between chocolate, tan, or apricot | Rare |
| 13. | Red | A fiery shade of red or brown | Common |
| 14. | Silver | A lighter shade of gray or blue | Rare |
| 15. | Sable | Any color base, with lots of black tips throughout the coat | Rare |
| 16. | Silver beige | A lighter shade of gray or blue with brown tones | Rare |
| 17. | Tuxedo | Resembles a tuxedo with white, tan, black, apricot, and red patches around the legs and chest of the Goldendoodle | Rare |
| 18. | Tan | A lighter shade of brown | Common |
| 19. | Tricolor | Has colors black, tan, and white as its colors | Rare |
| 20. | White | Ranges from pure white to light shades of cream on it | Rare |
Why So Many Goldendoodle Colors?
The Goldendoodle is a designer dog that is bred to be of various colors and sizes. They are a mix of the Golden Retriever and the Poodle breeds, and they get many coat colors and variations from the Poodle side of their gene pool.
Poodles are known to be quite versatile creatures that come in a variety of coat colors (over 30 colors). 10 of the poodle colors are recognized by the AKC as standard colors while the rest are regarded as non-standard colors. Poodles get these many colors due to gene dilution of the eumelanin and pheomelanin color pigments located on the skin of the Poodle.
Because the Goldendoodle is a cross between a Poodle and the Golden Retriever, it, therefore, inherits these characteristics of the Poodle parent's skin and can thereby be susceptible to gene dilution, hence the color variations.
So for the Goldendoodle to have a unique color or variation, the Poodle's gene in the Goldendoodle would have to be the dominant gene with at least 50% or more of the Poodle's gene being present in the Goldendoodle.
What Is The Most Common Color Of A Goldendoodle?
For the Goldendoodle, the most popular coat colors come from solid colors that give the Goldendoodle its desired Teddy bear look. These coat colors range from cream to apricot to tan, with apricot being the most popular coat color for the Goldendoodle.
Oftentimes, the colors red and champagne are mistaken for apricot in the Goldendoodle's coat, this is a testament to how common the apricot color is in the Goldendoodle.
What Is The Most Desirable Goldendoodle Coat Color?
Apricot is still the most desirable color of the Goldendoodle in existence. Again, this is because of the Teddy bear appearance the apricot color gives the Goldendoodle. Other highly sought-after colors of the Goldendoodle include the colors cream and the color red.
You might want to know: Goldendoodle Coat Types: Understanding Your Precious Goldendoodle's Coat
How Do Goldendoodles Get Their Colors?
Now, as we stated earlier, the skin of the Goldendoodle consists of two pigments inherited from the Poodle parent breed. These two pigments are Eumelanin (the pigment known for giving the Goldendoodle skin shades of black) and Pheomelanin (the pigment responsible for giving the Goldendoodle shades of yellow and red).
Whatever color or pattern the Goldendoodle ends up with is based on how much of these individual pigments are being produced in the gene and how well they interact, mix, and are diluted by the color white (which is the total lack of all pigments).
For every Goldendoodle that is born, they inherit a set of gene colors or alleles from both the Golden Retriever parent and the Poodle parent. This gives the Goldendoodle a complete set of 2 alleles. These alleles can either be dominant or recessive, depending on which parent allele is more expressed in the Goldendoodle puppy.
With that being said, based on the limited colors of the Golden Retriever, they are more recessive in the Goldendoodle while the Poodle alleles are more dominant in the Goldendoodle due to the wide range of colors the Poodle comes in.
For the Goldendoodle to pick up the Golden color of the Golden Retriever, it would need to inherit at least 2 allele sets from the Golden Retriever which is most times only common in First generation Goldendoodles.
As the Goldendoodle generations get farther and farther down, the more difficult it would be to predict the color of the coming litter.
An example would be the possibility of getting a red Goldendoodle by breeding 2 red dogs. You might predict that the Goldendoodle puppy should be red in color, but that might not be the case if both parent breeds have 2 recessive golden alleles inherited from their parents, they are most likely to pass them on to their puppy, leaving the Goldendoodle puppy with Golden color.
So in summary, it can be a bit difficult to breed a Golden Goldendoodle and it can also be difficult to accurately predict what color a Goldendoodle puppy would end up with. What we can do is work with what we already know and perhaps take an educated guess on what the likely color might be.
Goldendoodle Solid Colors
1. Apricot Goldendoodle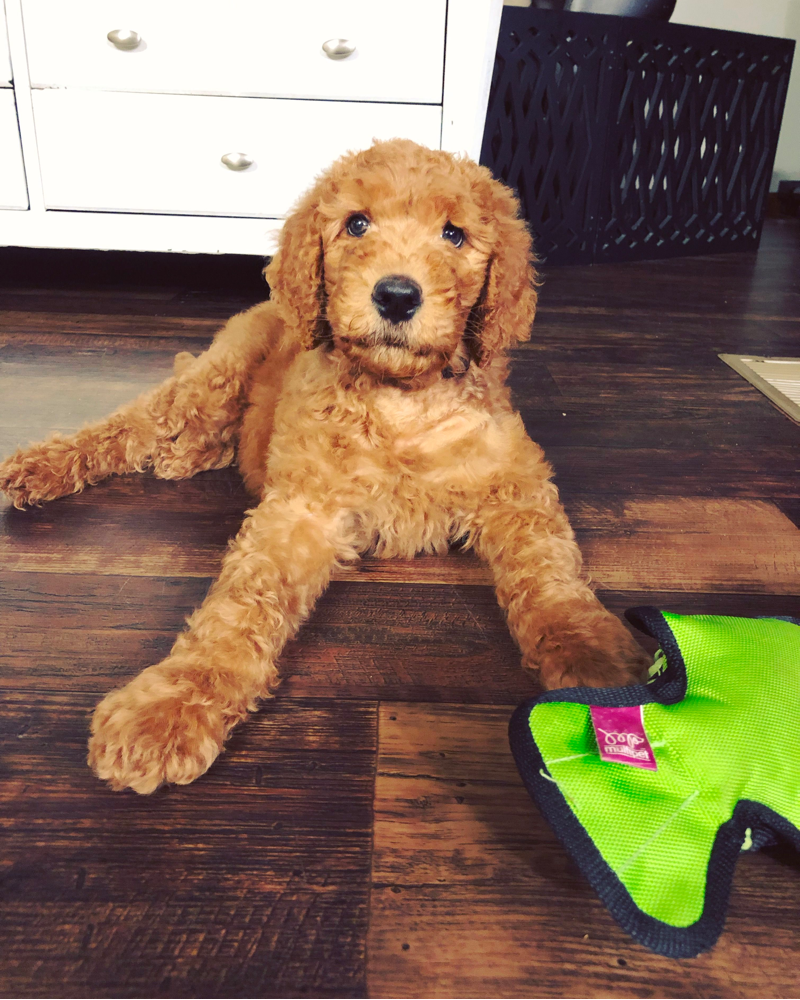 The Apricot color for the Goldendoodle is arguably the most sought-after of all shades and colors the Goldendoodle may end up with. This is because people love cute furry Goldendoodles, and the Apricot shade gives the Goldendoodle exactly that.
It is a variation of red for the Goldendoodle that starts off a dark shade but slowly lightens up as the Goldendoodle gets older. The eye rims and mouth of the Goldendoodle with an Apricot coat are oftentimes black, which gives the Goldendoodle a desired teddy-bear appearance.
Apricot Goldendoodles are quite common and as such pricing ranges anywhere around $1500 to $2000.
2. Black

Goldendoodle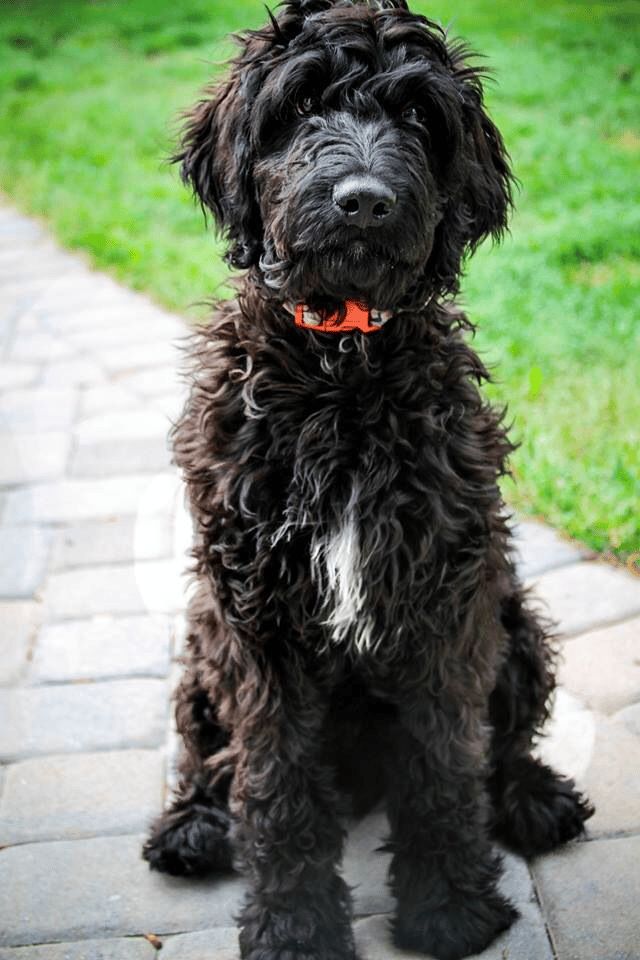 Black Goldendoodles are quite rare or rather uncommon to see, as they are gotten from recessive genes of the Poodle parent and they, unfortunately, do not give the Goldendoodle the highly sought-after teddy-bear appearance that most people desire.
They are pitch black in color and sometimes could fade out as they get older with colors turning to light silver or perhaps gray or blue. The black Goldendoodle's recessive genes make them hard to breed as first-generation Goldendoodles so you might find this coat only in later generations.
Black Goldendoodles are rare and as such the pricing of the puppy varies from $2000 to $2500, depending on the breeder.
3. Blue or Gray

Goldendoodle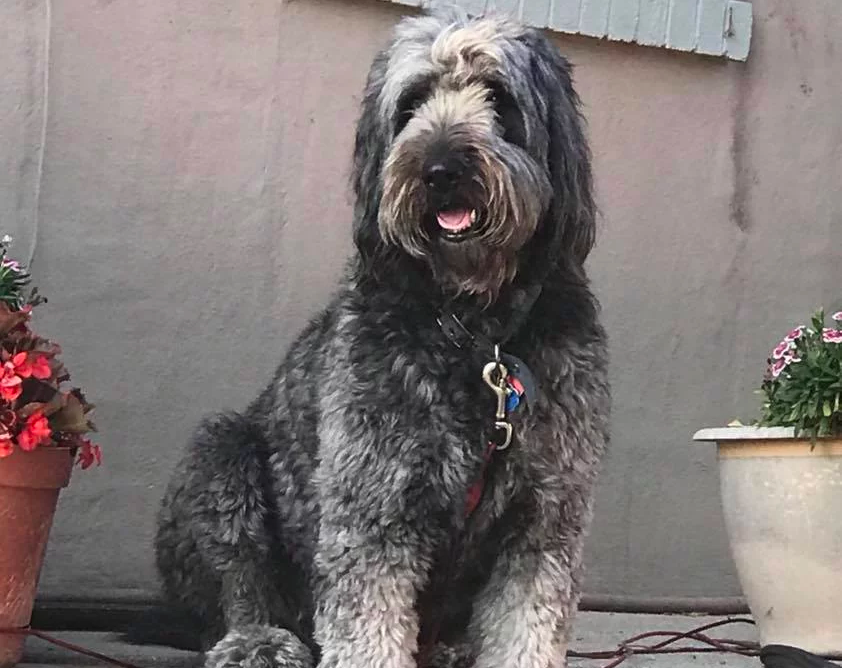 The Blue or gray coats of the Goldendoodle is not similar, but they are grouped together because they both are derived from a similar line, which is the Black coat color. To get the Blue or gray colored Goldendoodle, Multigenerational breeding would need to be done. As you can never get them from First generational breeding.
They are oftentimes steely blue or steely gray in color and give off the dramatic feel when you view a blue or gray Goldendoodle at night or in low lighting. Predicting this color can be very tricky.
As rare Goldendoodle colors, the pricing of Blue or Gray Goldendoodles starts off at $2000 and varies depending on the breeder you work with.
4. Chocolate or Brown

Goldendoodle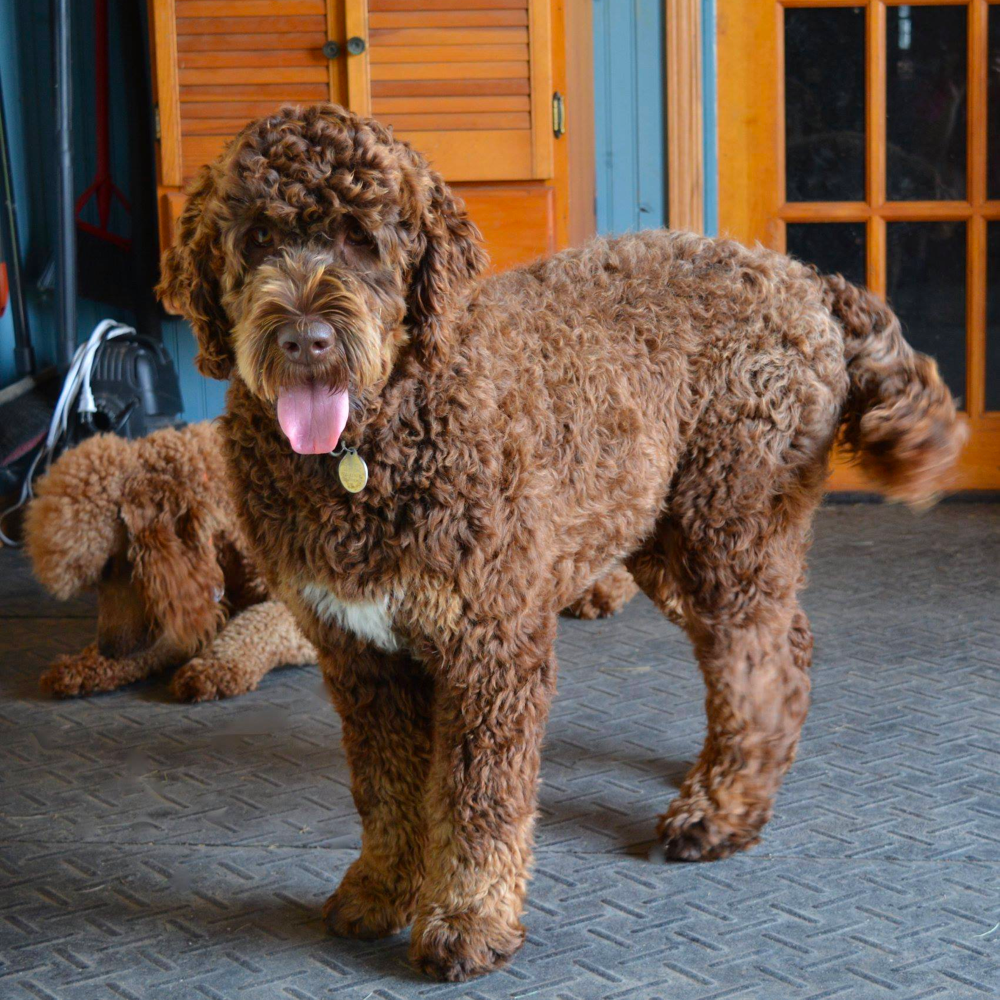 Chocolate or Brown Goldendoodles are quite beautiful to look at. They sometimes give the Goldendoodle the desired teddy bear look and are gotten from recessive alleles inherited from both parents. They are rare but can be gotten from all generations of breeding, including the first generation.
Puppies born with chocolate or brown coats usually start off with darker shades of chocolate color or even black and then as they get older, they fade into a lighter shade of brown. Their color could even begin silvering with time making them quite eye-catching.
They are rare so do expect to pay as high as $2500 for them. Although this price varies depending on the reputable breeder you work with.
5. Champagne

Goldendoodle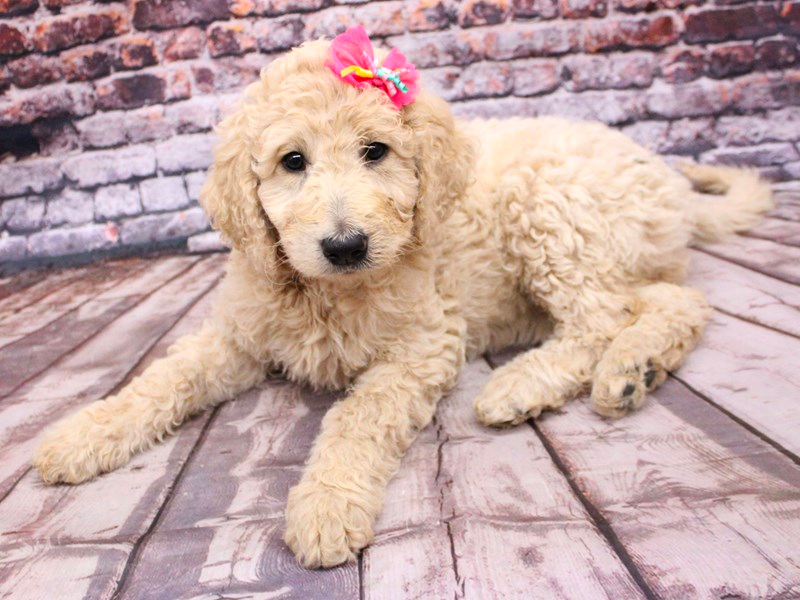 Champagne Goldendoodles also help produce the teddy-bear effect that the Goldendoodle is mostly desired for, they are quite stunning as the shade shines well in most lightings. They are gotten from recessive alleles inherited from the poodle parent, but their coats are quite in tune with the Golden Retriever's golden color.
Usually, the Champagne coat of the Goldendoodle starts off with a dark Golden Color that is quite divine, as they get older, they begin to lighten up into a more yellow shade of golden color. This coat can be a little difficult to maintain and would require regular cleaning.
Champagne Goldendoodles are quite common and as such the price can range from $1500 upwards depending on the breeder.
6. Cream

Goldendoodle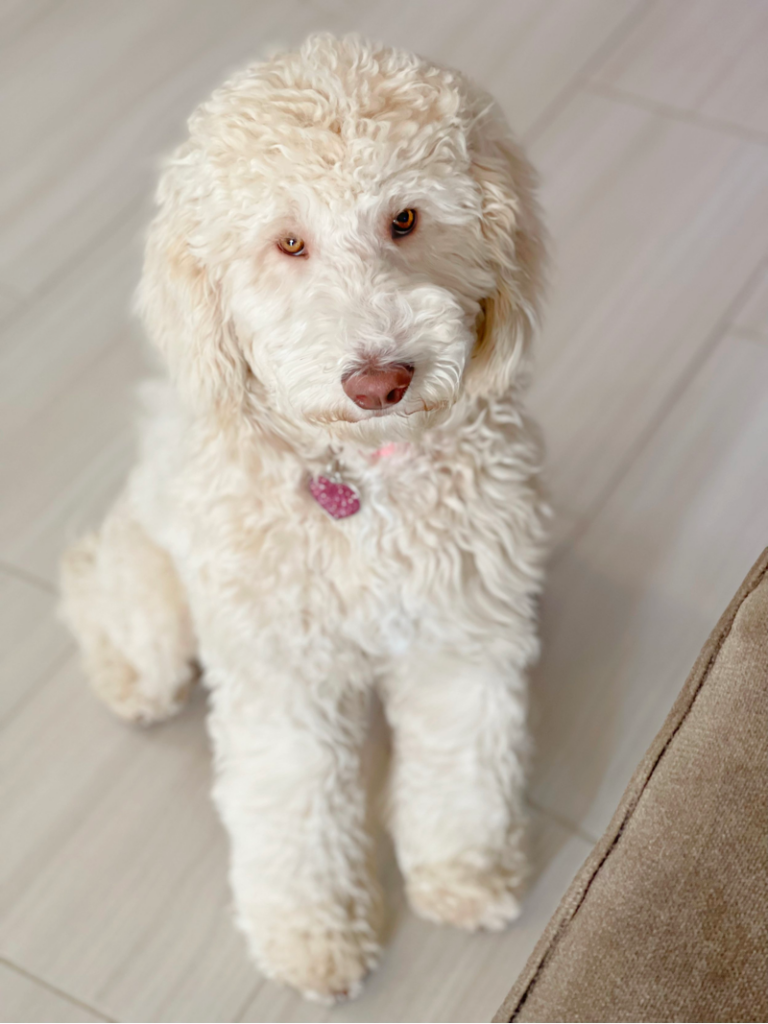 Cream-colored Goldendoodles can be easily mistaken for champagne-colored Goldendoodle. They are most times a lighter shade of the champagne coat color and are almost white.
Getting a cream-colored Goldendoodle can be quite easy as they are AKC recognized and can be gotten from first-generation breeding. They are sometimes used in breeding other colored Goldendoodlesm this is because of the large variations of colors they exhibit.
Cream Goldendoodles are quite common, the pricing for these angels starts off at $1500 depending on the breeder you work with.
7. Red

Goldendoodle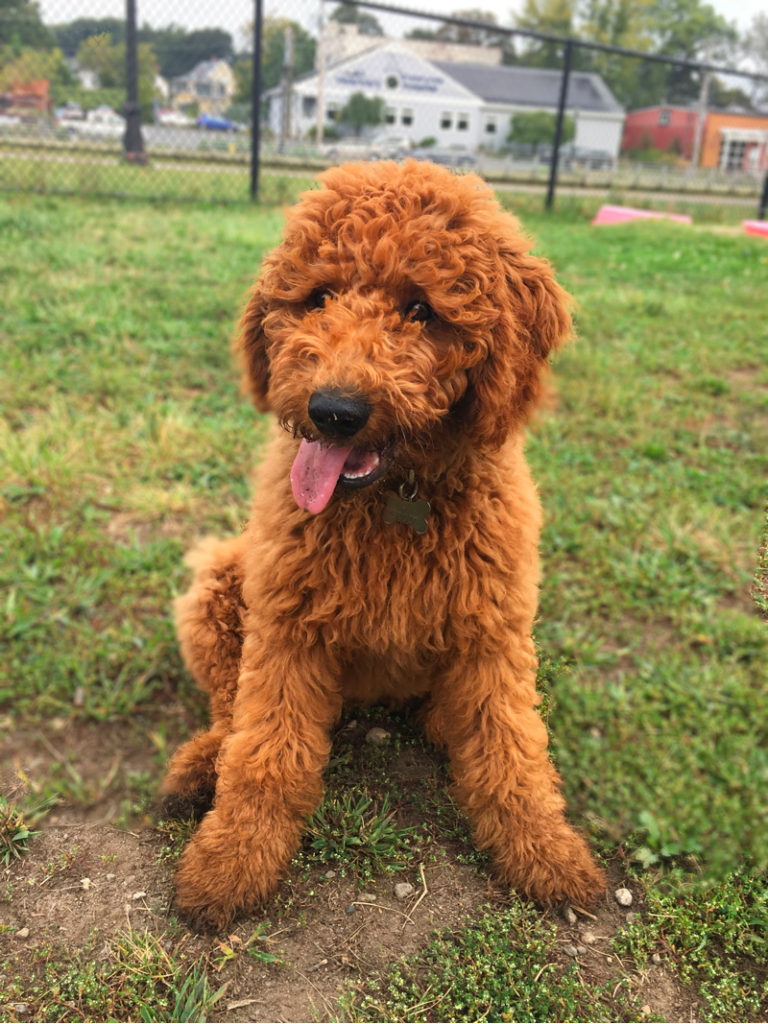 Red Goldendoodles are arguably the Goldendoodles with the brightest coats in existence. Their red coats are oftentimes described as intense and fiery. They are easy to breed and can be gotten from first-generation breeding.
The Coat color is also quite desirable, as it does provide the Goldendoodle with the interesting desired teddy-bear look that is sought after by most doodle lovers. Sometimes the red Goldendoodle comes with dark patches on the eyes and mouth as well as toes.
This is a common color of the Goldendoodle and can vary in price, starting from $1500 to $2000 depending on the breeder.
8. Silver

Goldendoodle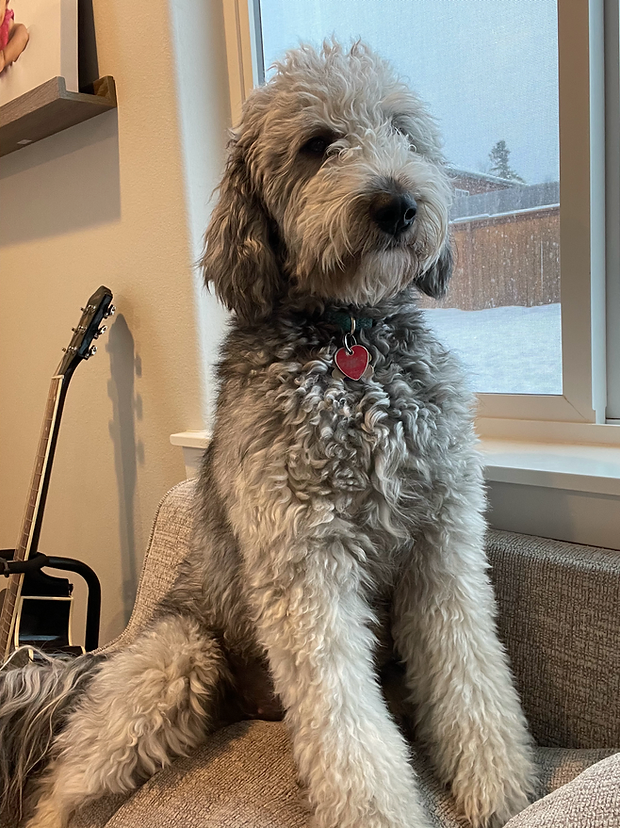 Silver Goldendoodles are a much lighter shade of Blue and Gray Goldendoodles. They result from the continuous fading of the color black, which is often where they start. It can be quite hard to spot a silver Goldendoodle from birth as their silver coat only becomes visible from week 10.
The transition of your Goldendoodle from the color black to the color silver is one that is deemed quite remarkable as the Goldendoodle could end up looking like a completely different dog from the puppy you got. However, this change is a slow one that takes years to actualize.
Silver Goldendoodles are rare and as such pricing might vary from $2000 to $3000, depending on the breeder you choose to work with.
9. Silver Beige

Goldendoodle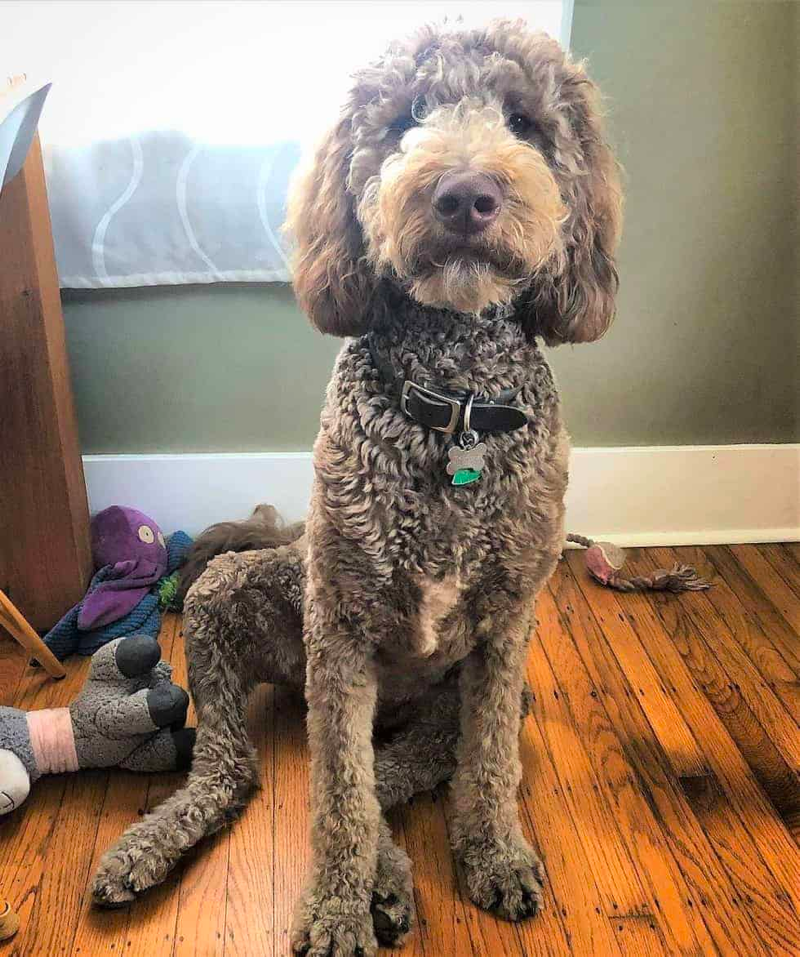 Silver Beige Goldendoodle coats are quite different from the Silver Goldendoodle coats in the sense that, unlike the Silver Goldendoodles that are born dark and slowly fade out to become silver, the Silver Beige Goldendoodle is born dark brown, and slowly fades out to become a lighter shade of silver.
They are recessive alleles that become visible after a minimum of 6 weeks from the Goldendoodle's date of birth. The silver beige color can easily be mistaken for sable, however, sables are known for their black-tipped hairs.
Silver Beige Goldendoodles are quite rare and this is why they are slightly more expensive with pricing starting from $2000.
10. Tan

Goldendoodle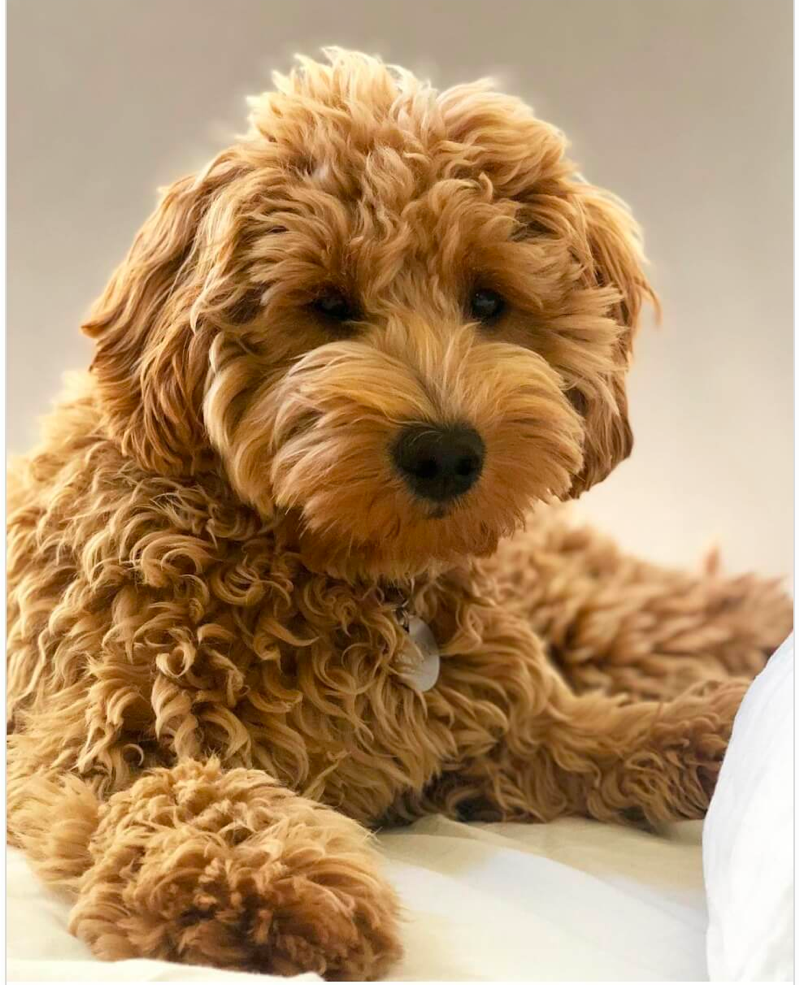 Tan-colored Goldendoodles are quite common for the Goldendoodle breed. They get their beautiful tan coats from the Golden Retriever side of the breeding and hence can be gotten from the first generation breeding.
They are a result of a heavily diluted pheomelanin and they are known to have subtle traces of other Goldendoodle colors like cream and white in their tan coats. Goldendoodles in tan coats don't necessarily give off the teddy bear look but they are highly sought after.
Tan Goldendoodles are quite common, this is the reason they cost an average of $1500 to $2000, depending on the breeder.
11. White

Goldendoodle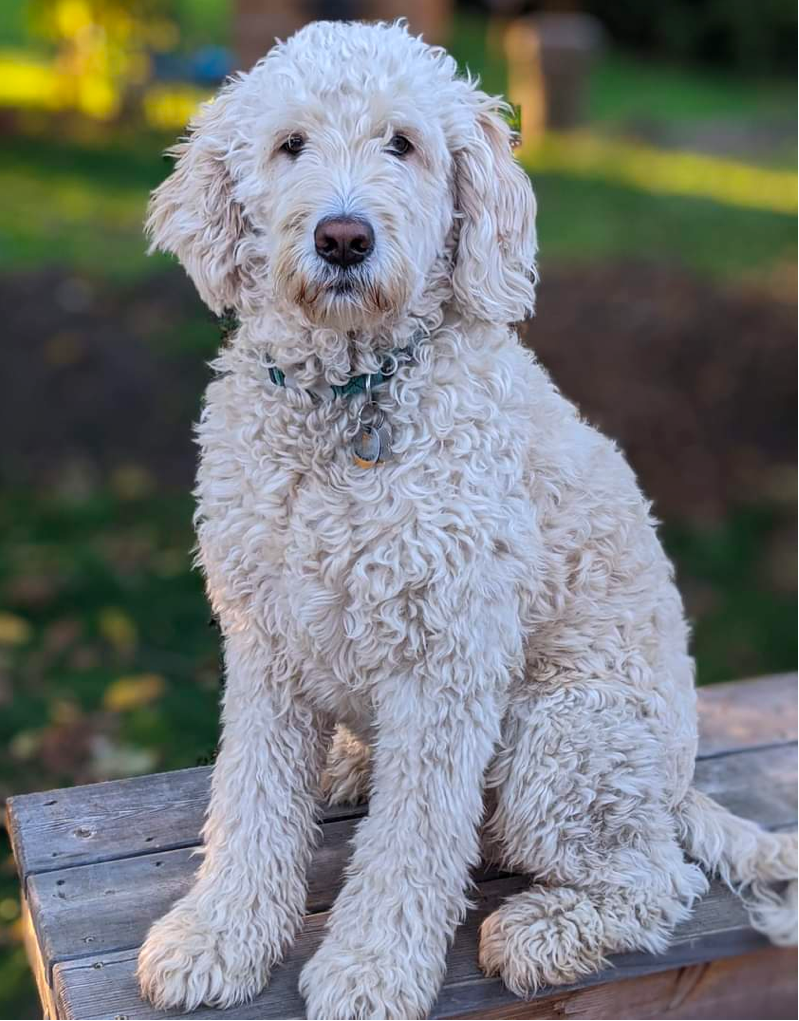 White Goldendoodles are part of the very few Goldendoodle coat colors that are known to change as they mature. The white coat is obtained from two recessive alleles which cannot be found in the Golden Retriever, making it impossible to breed white Goldendoodles from first-generation Goldendoodles.
The white coat that comes with White Goldendoodles often is mixed with other popular close shades like cream and tan. They can be quite adorable to look at under the right lighting and are known to require proper grooming to stay clean and beautiful.
The white coat is quite rare for the Goldendoodle, as they can only be gotten from higher generations of the Goldendoodle than the F1 generation.
Goldendoodle Pattern Colors
1. Abstract Goldendoodle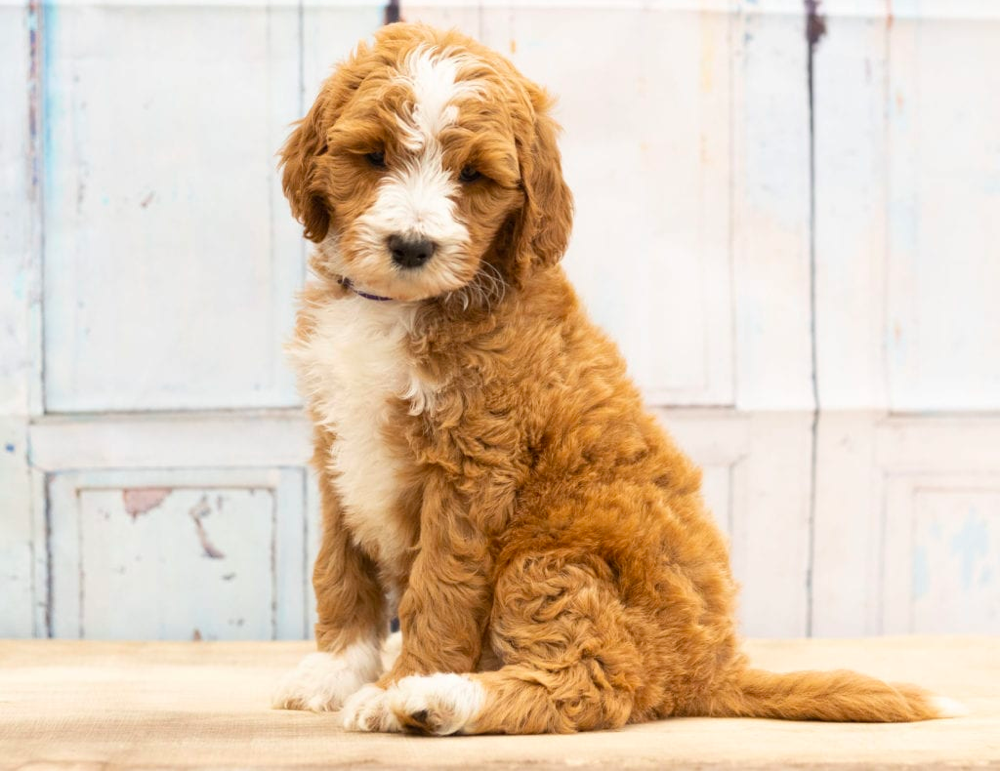 Contrary to what is believed, abstract Goldendoodles are known to be single-colored Goldendoodles with slightly visible patches of another color on some of their features. These patches are often found on the paw, the face (particularly the eyes), and the belly of the Goldendoodle.
The recessive parti gene allele carried by Abstract Goldendoodles is just one color allele that is not expressive enough to actually form a rounded coloration on the Goldendoodle pup. This single allele does not cover more than 50% of the entire coat color of the puppy.
Patterned Goldendoodles are quite expensive due to their rarity. One Abstract Goldendoodle could vary in price up to $2000 and $3000.
2. Black and White Parti

Goldendoodle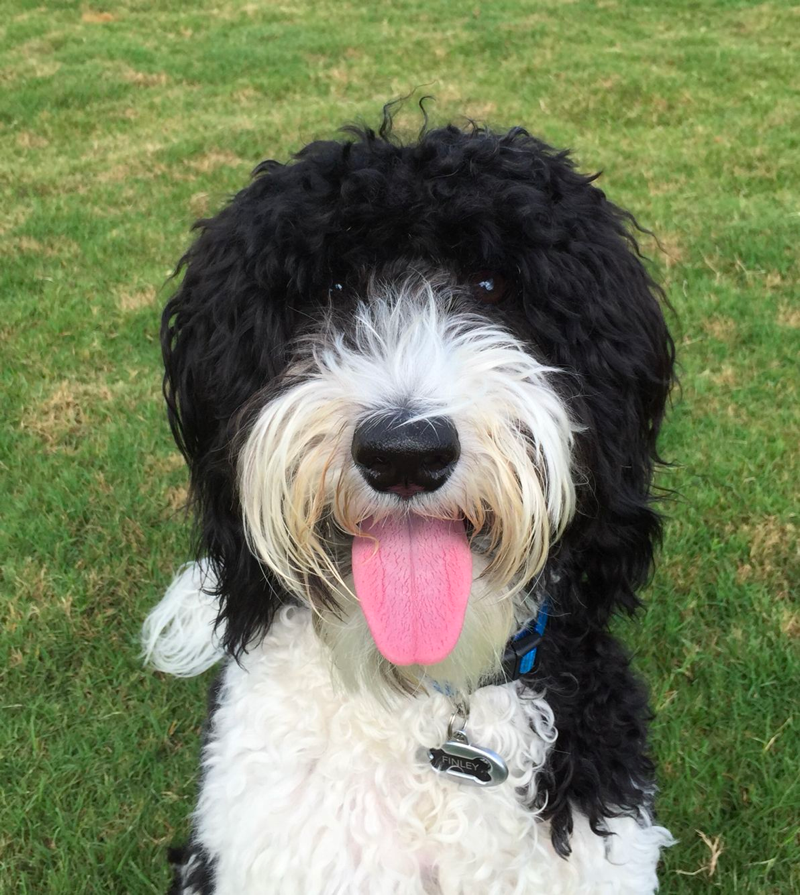 Black and white parti Goldendoodles are unlike the Abstract Goldendoodle which has one single allele which does not produce enough color to cover up to 50% of the Goldendoodle. The Parti Black and white produces two colors of black and white on its coat that are evenly distributed on the Goldendoodle's coat (a 50-50 breakdown).
Unfortunately, the Golden Retriever does not carry such a gene, so you can only find parti Black and white Goldendoodles in generations higher than the first generation of Goldendoodles. The Black and white parti can be confused for a tuxedo Goldendoodle.
Black and White parti Goldendoodles are rare, and as such, are priced between $2000 to $3000, depending on the breeder you choose to work with.
3. Brindle

Goldendoodle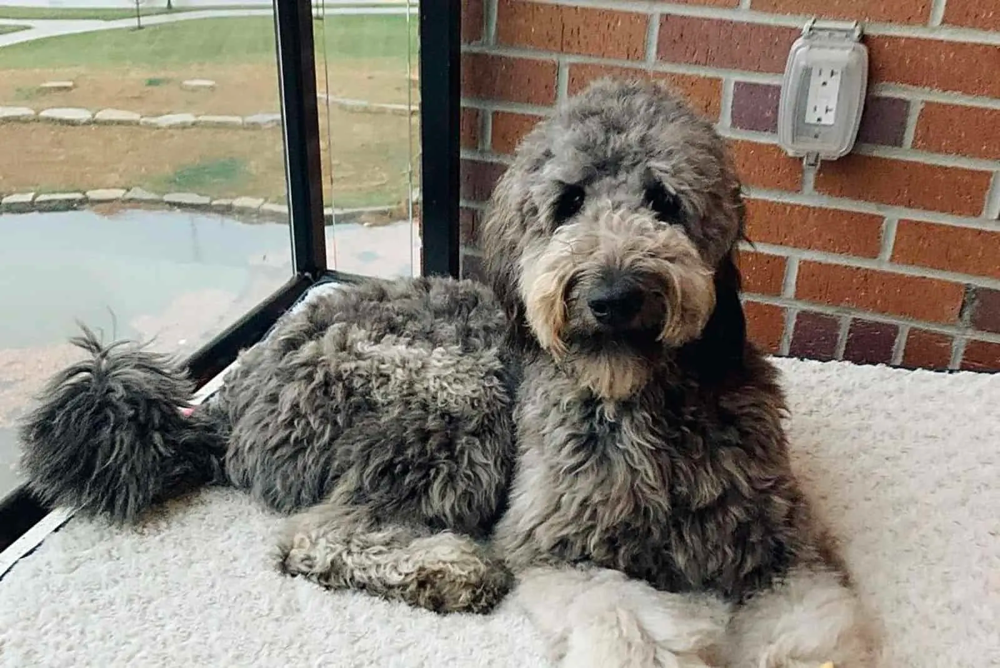 Brindle Goldendoodles are one of the most unique and strikingly beautiful Goldendoodles you have seen. They are perfect examples of Parti-colored Goldendoodles that possess light and dark patterns that are arranged in stripes closely resembling a tiger's coat.
They are recessive Goldendoodle genes that make it difficult to breed or predict the exact color of the Goldendoodle. The base coat of brindling usually is black or a dark shade of brown, but they do possess light striped colors.
Brindle pups are quite rare and unique, it can be difficult to obtain them, this makes the price range for Brindle Goldendoodles vary from $2000 to $3500.
4. Merle

Goldendoodle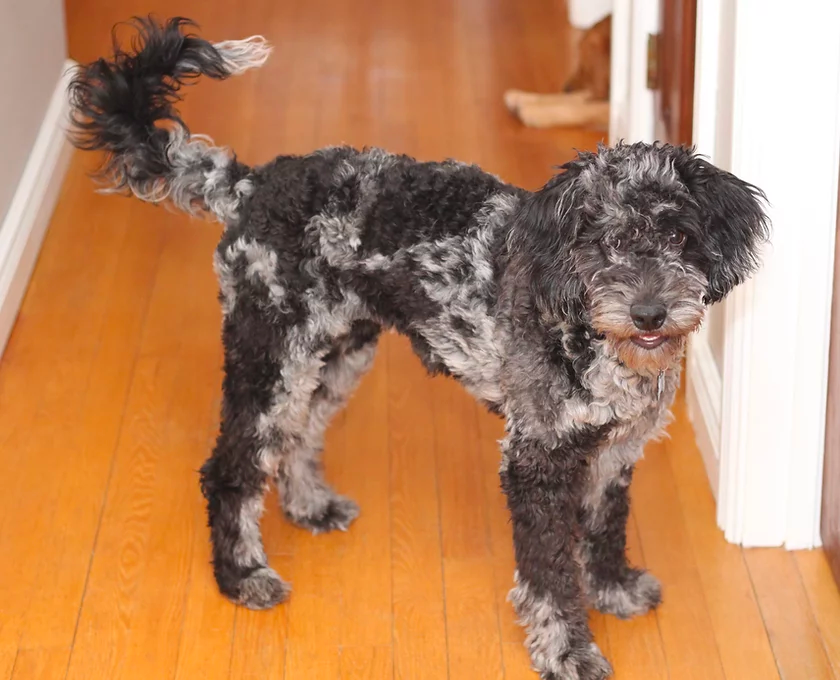 Arguably one of the rarest color variations of the Goldendoodle, the Merle Goldendoodle can only be gotten from cross-breeding two Goldendoodles of which one is a Merle Goldendoodle. Their coat is easily identified by the blue or brown watercolor tickings or patchwork that appear on them.
You have to be careful when searching for a Merle Goldendoodle, as the wrong breeding can leave the Goldendoodle with adverse consequences. Never breed 2 Merles, this can result in a blind, deaf, or generally physically deformed Goldendoodle due to the recessive and incredibly diluted genes.
Merle Goldendoodles are quite rare and expensive and as such fetch a high price, with an average Merle Goldendoodle starting from $2500. Always work with a responsible, reputable breeder.
5. Phantom

Goldendoodle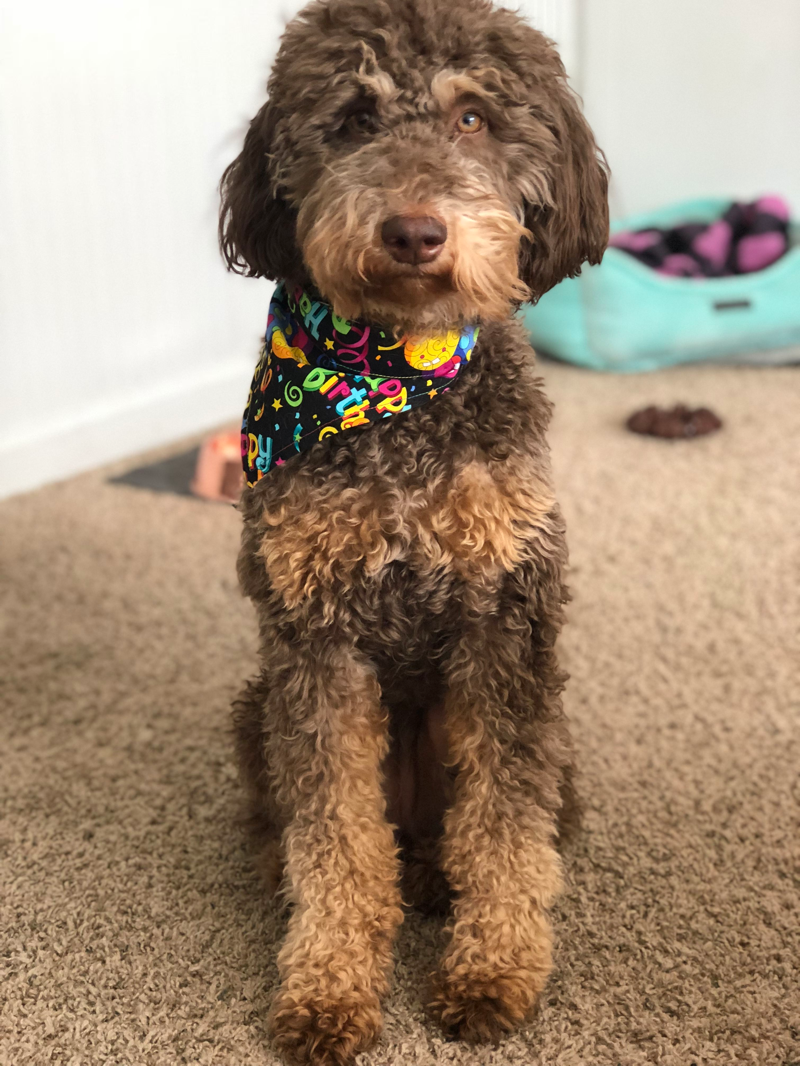 Phantom Goldendoodles are another difficult and rare color variation of the Goldendoodle to find. They are mostly 2nd generation breeding as they don't inherit any alleles from the Golden Retriever parent breed.
You can easily identify a phantom Goldendoodle from its double colors, a base color of black or chocolate which typically covers the whole body, and a lighter color that varies and covers the eyes, muzzle, and fit. Phantom Goldendoodles don't develop other patterns as they mature, making it easy to spot them from birth.
Phantom Goldendoodles are quite rare, this then places their value between $2000 to $2500. This depends on the breeder you choose.
6. Parti

Goldendoodle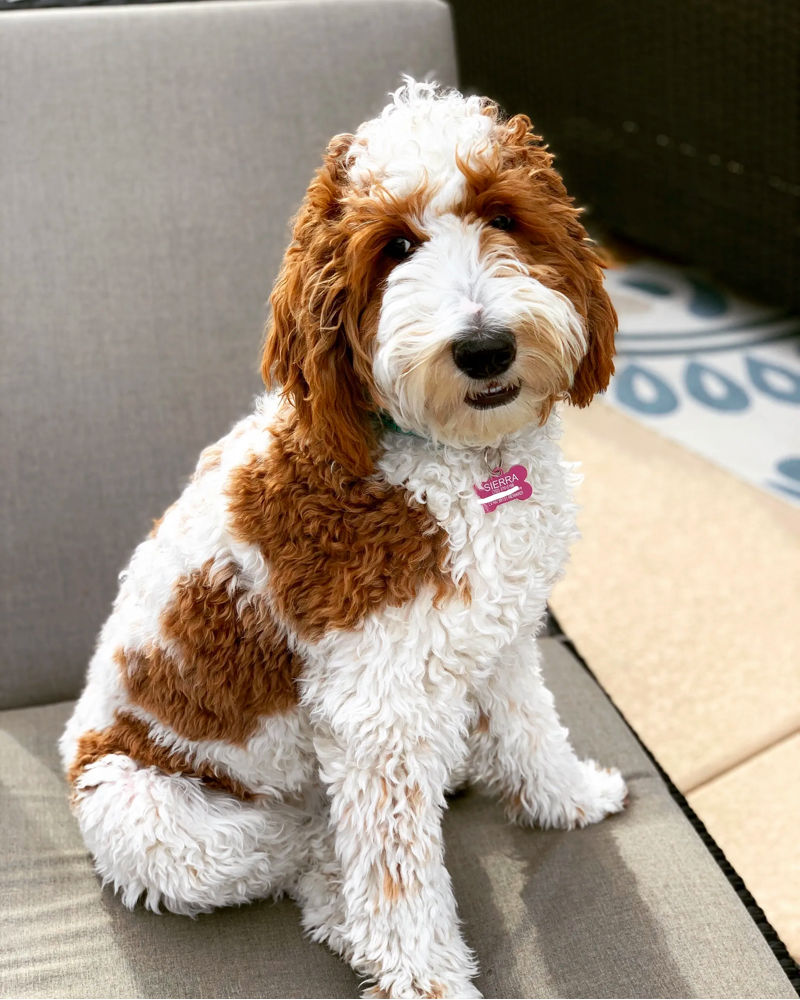 Parti Goldendoodles are the complete opposite of Abstract Goldendoodles. Parti-patterned Goldendoodles usually have two distinct colors, one of which is mostly white. These colors share a 50-50 breakdown on the Goldendoodle's coat.
Being recessive genes, it is nearly impossible to find first-generation Goldendoodles so they can only be found in higher Goldendoodle generations. There are various kinds of parti Goldendoodles. An example would be the black and white parti, listed above. However, standard Parti Goldendoodles have the color apricot, tan, or chocolate.
Parti Goldendoodles are rare Goldendoodles, so expect to pay anything from $2000 higher, depending on your chosen breeder.
7. Sable

Goldendoodle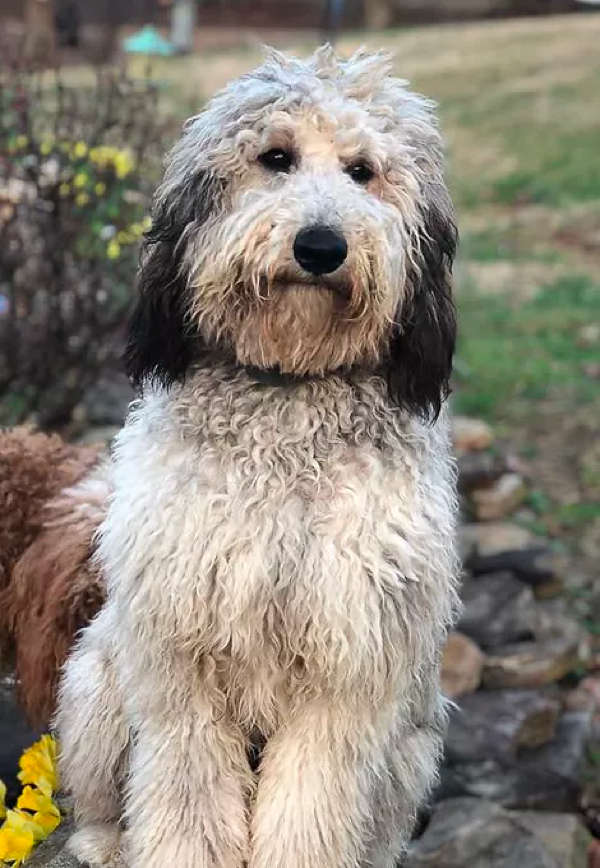 The Sable gene in Goldendoodles presents the Goldendoodle with two distinct tones, a lighter root color and a darker, almost black tip. When young, the Sable Goldendoodle takes up a dark brown or black color, but this slowly settles into a lighter tan or cream color as it matures. The eyes and muzzle retain a dark shade color.
Sables are obtained from 2nd and 3rd generation breeding of the Goldendoodle, they are one of the rarest variations of the Goldendoodle, with the sable gene, giving them a truly unique look.
Sable Goldewndoodles are rare, so you might have to break out your wallets as their price varies from $2000 to $2500.
8. Tuxedo

Goldendoodle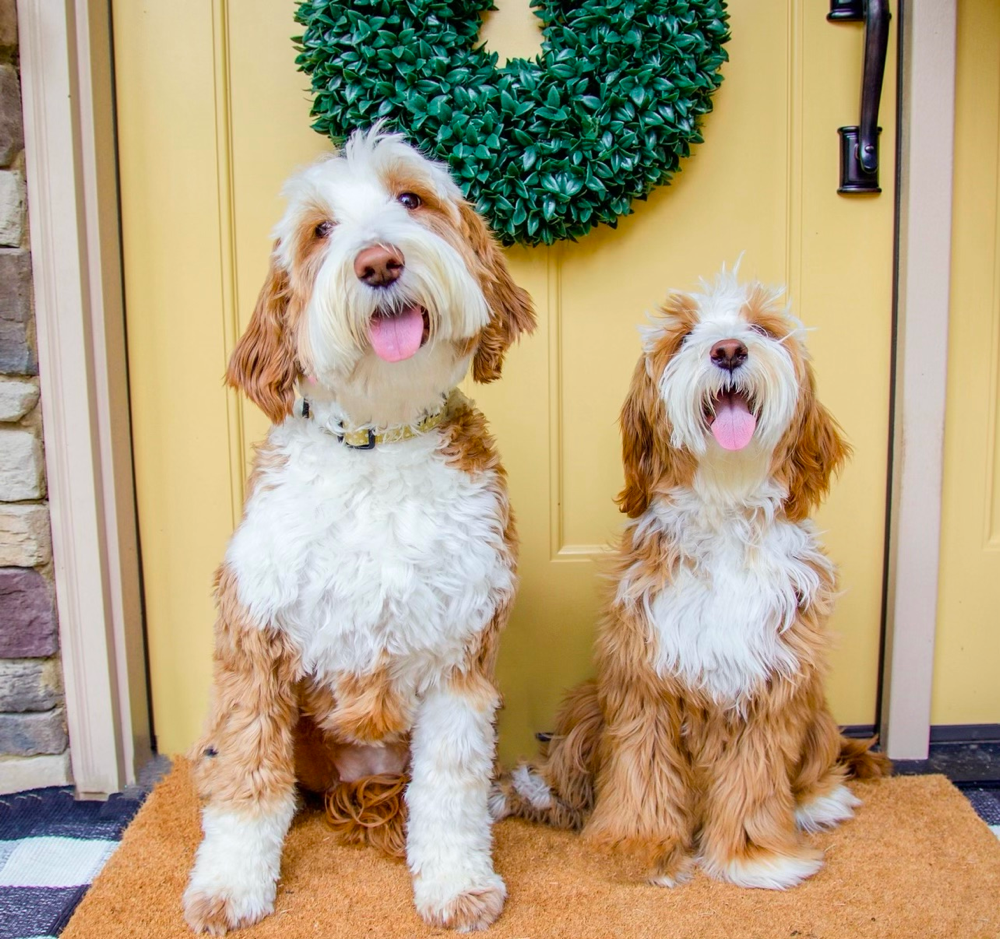 Tuxedo Goldendoodles and Black and white Parti Goldendoodles share similar colors or tones. However, the major difference would be in the locations the colors appear. The two main colors for the Tuxedo Goldendoodle are white and any other color listed above, however, white appears most on the chest and legs of the Goldendoodle, giving it the look of a tuxedo.
It can be quite easy to spot a Tuxedo Goldendoodle from birth, this is because their color variations become visible from birth and do not necessarily change as they get older. The most common Tuxedo Goldendoodles are the black and white Goldendoodles and they are mostly found in the 2nd and 3rd generation breeding.
Tuxedo Goldendoodles are said to be a rarer variation than the Parti Goldendoodle, they are valued at $2100, depending on the breeder.
9. Tri-color

Goldendoodle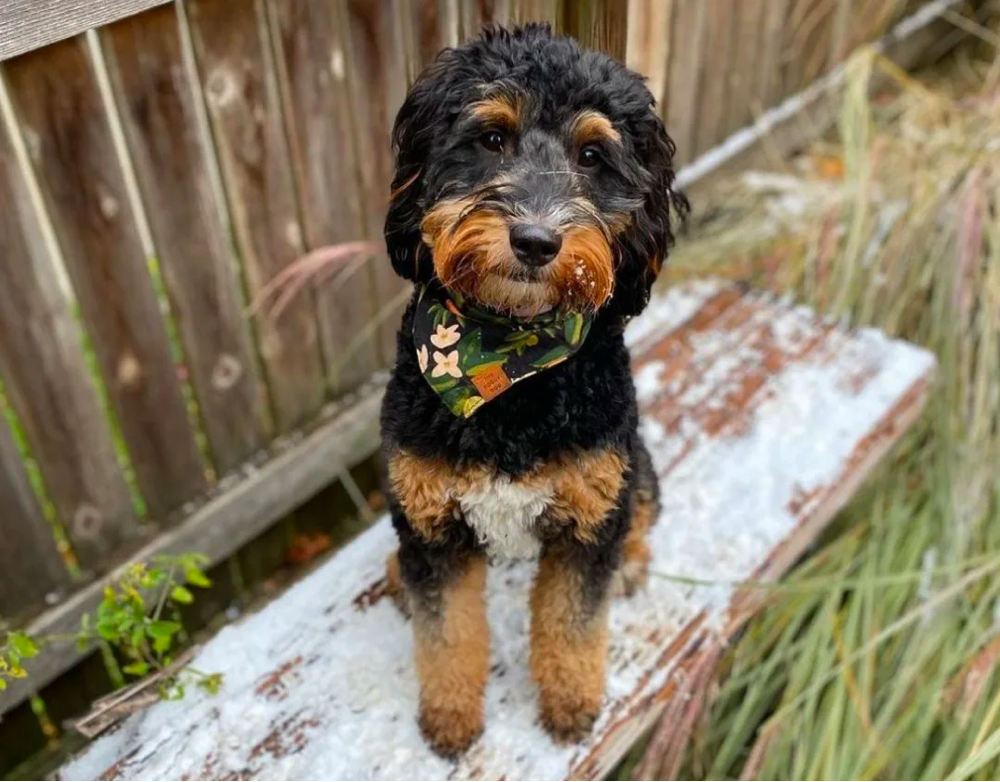 Tri-colored Goldendoodles are only obtained from multigenerational breeding, and they are almost impossible to find by simply breeding Golden Retrievers and Poodles. By tracing a tri-colored Goldendoodle breeding line, you would find evidence of another breed like the breeding of a Golden Retriever, Bernese Mountain Dog, and a Poodle.
These dogs then inherit the alleles of all three bred dogs to form a triple-colored pattern. They are quite rare and are often the result of experimenting with breeding lines. They are slowly increasing in popularity as people enjoy the three coat colors they carry.
Tri-Colored Goldendoodles are rare and as such are quite expensive, with the minimum for one is $2300.
How Can I Predict The Color Of My Goldendoodle?
Well, in all honesty, it is almost impossible to fully predict the coat color a Goldendoodle would end up with. What can be done is a series of educated guesses through a completely informed breeding program.
First-generation Goldendoodles are a lot easier to predict than later generations. This is because their genes are a lot less diluted than those of later generations of Goldendoodles. In fact, the higher the Goldendoodle's generation, the more diluted their gene pool or set, and the harder it is to say which coat color the Goldendoodle litter would end up with.
Do Goldendoodles Change Color As They Grow Older?
This depends on the type of coat the Goldendoodle has. Some specific Goldendoodle variations like tuxedo Goldendoodles and White Goldendoodles are known to maintain a particular color or pattern from birth till they mature.
However, most Goldendoodles inherit a trait from the Poodle parent's gene known as clearing. This clearing gene causes the Goldendoodle to either fade or change to a lighter coat color or silver color as they get older.
This usually takes a while to manifest, but with time the Goldendoodle with this trait loses its color. The muzzle, eyes, and ears of the Goldendoodle are usually known to retain the original coat colors of the Goldendoodle even after fully clearing.
Deciding which Goldendoodle coat color is the best is quite relative, as what is most important is that you get a healthy Goldendoodle that matches your particular taste and lifestyle. These designer dogs might come in variations of colors and patterns, but they all are loveable, highly intelligent creatures that bring smiles to the people around them.
Before choosing to work with any Goldendoodle breeder, it is best to ensure you check to see if they are reputable, as not only does this help you in picking the right Goldendoodle for you, but you can also rest easy knowing that the chosen Goldendoodle is healthy and well socialized.
Ask the right questions and demand the right certifications from any breeder you choose to work with. That's all we have for you in this article. Make sure you check out the website for more engaging articles.