Everyone is raving about one of the newest and most popular breed combos: the Goldendoodle. By mixing the Golden Retriever with the Poodle you receive a loving, reliable, and mostly hypoallergenic new companion! The Goldendoodle can be found in a vast array of colors, sizes, and coats.
With the popularity of the Goldendoodle on the rise all over the world, it has become very difficult to find a reputable Goldendoodle breeder to adopt from. When searching for a breeder, it is important to use your due diligence and make sure your new breeder has a good reputation, valid credentials, and humane ethics when it comes to breeding their litters. In this article, I have researched and listed the top 10 Goldendoodle breeders in the state of New York.
1. Mini Goldendoodles of NY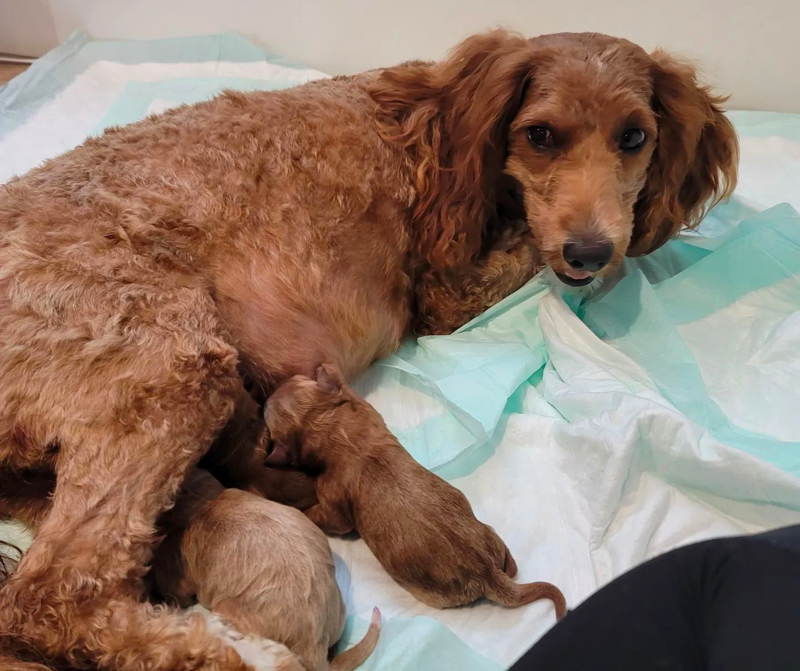 Breeding multigenerational miniatures to petite Goldendoodles, Mini Goldendoodles of NY are located in Pine Brush, New York. From the age of one, all of the dogs are genetically health tested and screened for over one hundred and fifty-one genetic and hereditary diseases. This guarantees that all of the puppies will be free of these common issues found in neglectful breeding.
They are so confident in the health screening that each puppy goes home with a two-year health guarantee. Mini Goldendoodles of NY are a family-run operation who have been breeding dogs since 1976. The puppies have been born and raised in the family's home since they started breeding, and they continue this practice today. Raising dogs at home provides wonderful hands-on socialization and training.
The puppies are all raised with Good Puppy Curriculum training by Lara, Micheal, and Julie. Mini Goldendoodles of NY have been recognized by Good Dog as a Good Dog Good Breeder due to the outstanding health of the dogs and puppies. They also provide the opportunity to adopt a pre-trained puppy if you are looking for a new service or therapy dog.
2. Lakeshore Doodles
Founded in being "distinctly different", Lakeshore Doodles provides five reasons why they are better than the rest. The first reason is accredited to their superior genetic health testing, continually DNA testing to guarantee their puppies will not inherit over one hundred and fifty different genetic diseases. Following that, they also spend a majority of time and effort ensuring you select the perfect puppy and guiding you through the process. They provide temperament testing as well.
Thirdly, The babies are raised at home by their family, socializing the puppies to be ready to integrate into your family as soon as you take them home. Since the puppies are raised in a family home, they are used to hearing the sounds and commotion of busy family life. Their fourth point is their ability to provide answers to nearly every question you have! Their website contains over fifty pages of resources and frequently asked questions for new adopters, as well as a video segment coming soon.
Lastly, along with a large amount of information, family care, health, and temperament testing, Lakeshore Doodles prides themselves on their raving reviews and testimonials, as well as their professional experience. They have bred miniature and standard F1b, multigenerational, and F2b Goldendoodles for years and have yet to see an unsatisfied customer. The puppies are sent home with a two-year health guarantee and are qualified for two weeks of obedience training post-adoption. The puppies are even litter box trained!
| | |
| --- | --- |
| Owner | N/A |
| Breeding Since | 5+ Years |
| Location | Albion, NY |
| Email | lakeshoredoodles@rochester.rr.com |
| Phone Number | (585) 623-0426 |
| Website | lakeshoredoodles.com |
3. Golden Beauties Driven to Doodles
At Golden Beauties Driven to Doodles LLC all of the dogs in custody including the adult breeding dogs, the retired breeding dogs, and the new litters are cared and loved for in a home setting by a Certified Canine Behavior Consultant and Veterinary Assistant as well as an Applied Behavior Analysis Post Master certificate. They are fully licensed and inspected by the state of New York.
They have earned the title of Preferred Breeder by the Continental Kennel Club and are a member of the Premium Breeders list. Stacy Albahari, Behavior Consultant, is a member of the Association of Pet Dog Trainers and holds many certifications and degrees in animal behavior, and is a published author of the Goldendoodle (2009). In 2017 and 2018 she assisted in a genetic study on Goldendoodles about genetic diseases at Cornell University.
Without a doubt, Stacy is well educated on the training and care of dogs and the genetic backing of breeding Goldendoodle puppies. All dogs are OFA (Orthopedic Foundation for Animals) health tested and are provided with full vaccinations, deworming, and a six-year health guarantee. All of the dogs and puppies are raised and live in the home to properly socialize and ensure the dogs are kept in a happy living style. They provide F1 medium Goldendoodles.
4. Saratoga Goldendoodles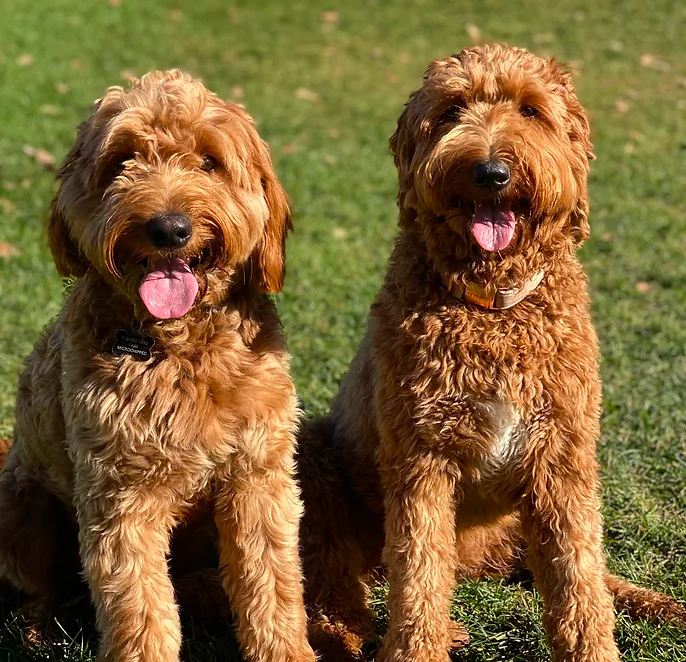 All puppies receive a full veterinary check, up-to-date vaccinations, deworming, and a two-year health guarantee before leaving Saratoga Goldendoodles. They provide thorough socialization as the puppies are born and raised in their home with their four children. The more the children interact with the puppies, the more outgoing they will be with your family when they go home!
They take great pride in the health and temperament of their puppies, as well as matching you with the best possible fit of the litter for your family. Saratoga Goldendoodles provide F1 and F1b Goldendoodles. After filling out an application on the website, they will call you and discuss your family's preferences and ensure you get the perfect puppy for you.
Saratoga Goldendoodles claim to be above many others due to their exceptional breeding standards. All dogs are cared for wonderfully since they are the family's pets! The puppies spend their days happy and free to run and play before you ever lay your eyes on one.
| | |
| --- | --- |
| Owner | N/A |
| Breeding Since | 3+ Years |
| Location | Saratoga Springs, NY |
| Email | saratogagoldendoodles@gmail.com |
| Phone Number | N/A |
| Website | saratogagoldendoodles.com |
5. Toodles Doodles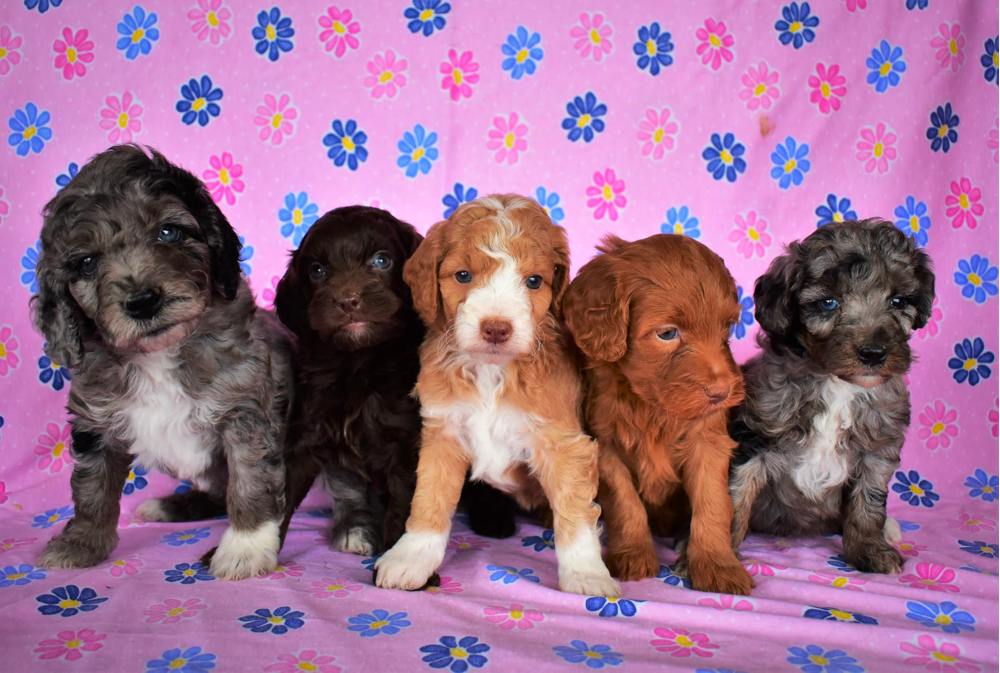 A close family-run operation, Toodles Doodles is a Goldendoodle breeder providing multigenerational F1b and Miniature F1b Goldendoodles. The owners have raised dogs since their youth, and carry on the family tradition with a family-friendly, hypoallergenic breed that was introduced to them when their children were little. They are a licensed facility with annual state inspections and semi-annual inspections by their veterinarian and other experienced breeders.
Every puppy is born in the comfort and safety of their living room, receiving hands-on care and socialization from the minute they are born. All of the adult dogs are brought in as family pets and properly introduced to each other. The family has an invisible fence system, allowing the dogs to have free rain outdoors to run and play.
The puppies go home with a two-year genetic health guarantee. All of the dogs are genetically tested to ensure a healthy bloodline. They have raving customer testimonials and pride themselves on making sure each puppy goes home happy and healthy from every litter!
6. Deans Creek Doodles
On a quiet dead-end street, Deans Creek Doodles have been breeding Goldendoodles out of their home in Vernon, New York. Their family takes a big part in raising the puppies in a busy household. All puppies are medium-sized and are coat tested to see how many hypoallergenic qualities each individual has. They provide multigenerational Goldendoodles with many different coat colors as well.
Puppies are raised with Puppy Culture, including early neurological stimulation and socialization. They are also introduced to most basic commands, but will still require additional training to solidify and upkeep this knowledge as they grow. The owner, Karen Serianni CPDT-KA, is a certified dog trainer and spends her life breeding and raising Goldendoodle puppies with her family, just as she grew up. Deans Creek Doodles has been accredited as a Blue Ribbon Breeder by the Goldendoodle Association of America.
Every puppy will be sent home with a bag of food, a microchip, a few toys, a cloth with mom's smell, and a binder with a bunch of information about your new pup! They are also health screened and veterinary checked with an up-to-date round of vaccines. Deans Creek Doodles ensures a happy, healthy puppy to go home with you every time!
7. Willowgreen Goldendoodles
Willowgreen Goldendoodles raises F1b medium, miniature, and micro Goldendoodles out of upstate New York. They raise the puppies from their home, and even have a puppy nursery to make sure each puppy receives the love and care that they need every day! The Goldendoodles bred are actually the family pets of Todd and Karla Green and their adult children. All of the puppies born to each litter are born in the homes of the Green family and raised by hand.
The dogs and puppies are fully vaccinated as well as veterinarian checked. The dogs are actually raised and kept in a very rural area, giving them plenty of space to run and play in their large fenced-in yard! As they grow older, they are constantly introduced to new people and pups, broadening their socialization.
Willowgreen Goldendoodles also provide a discount for recurring customers, so if you are looking to start a whole puppy family, look no further! Each family that returns to buy a second puppy receives a "Willowgreen Family Discount". The puppies come in all colors and coat types but are guaranteed sound health and sweet temperament. All of the studs are American Kennel Club registered Poodles.
| | |
| --- | --- |
| Owner | Todd and Karla Green |
| Breeding Since | 2012 |
| Location | Lowville, NY |
| Email | N/A |
| Phone Number | (3150 376-3017 |
| Website | willowgreengoldendoodles.com |
8. Adirondack Goldendoodles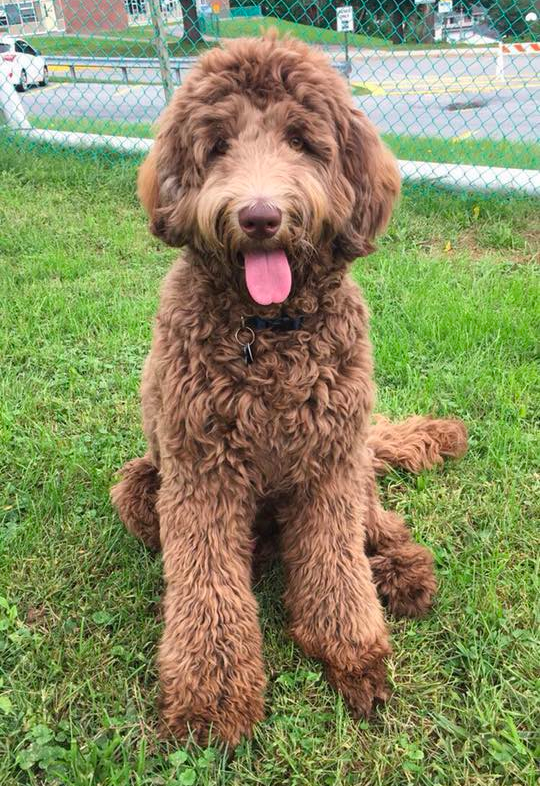 Adirondack Goldendoodles are a small family in rural Lowville, New York consisting of Matt, Lizzi, their very young daughter, and their Goldendoodles! They raise beautiful puppies in a family setting. All of the puppies are thoroughly socialized.
Healthy puppies have a one-year health guarantee from Adirondack Goldendoodles. The dogs are hypoallergenic and cuddly but also eager to explore! Before going home the puppies begin potty training and learning how to be a valuable addition to your family. The puppies also come with a certified veterinary check and their first round of vaccinations.
The family provides a great deal of information about what to do and expect when you bring your new puppy home. Adirondack Goldendoodles have wonderful customer testimonials mostly discussing their great communication and customer service. Even after your puppy goes home, the family is available and willing to help at any time!
9. Finger Lakes Doodles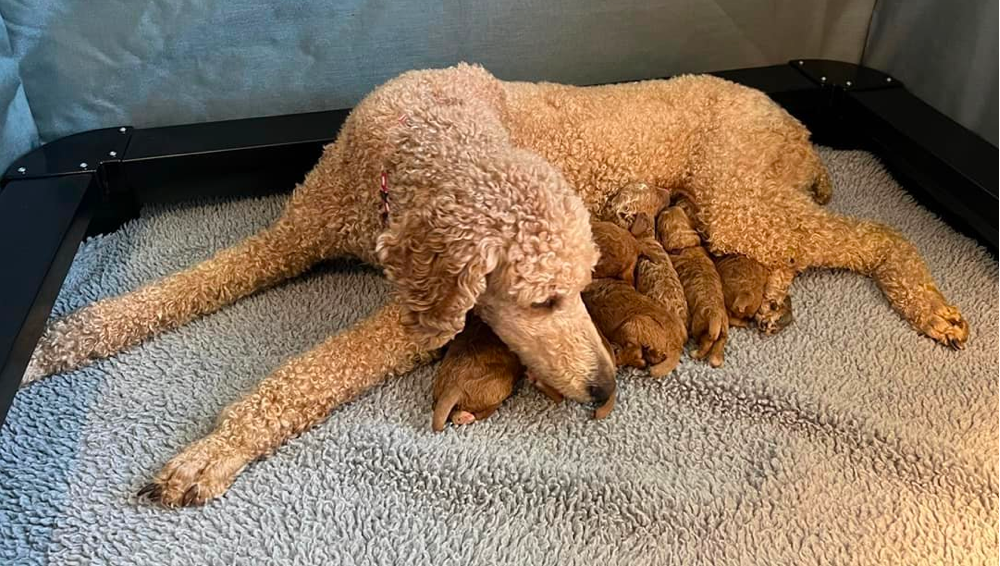 Providing Old English Goldendoodles, Finger Lakes Doodles raise their puppies in the comfort of their home. The dogs and puppies are socialized by adults and children alike from the day that they are born. They begin Early Neurological Stimulation from the age of three days old for two consecutive weeks using harmless exercises.
Finger Lakes Doodles give their puppies the best start possible by using Puppy Culture to train the puppies from an early age. By utilizing the first few weeks of the puppy's life to train and socialize, the puppies are far more prepared to integrate into your family happily. All dogs and puppies are genetically health tested with PawPrints genetics. They are screened for more than two hundred and fifty genetic diseases.
All of the puppies are temperament tested as well to make sure you bring home a happy, perfect family dog. After their temperament is tested, each puppy is paired strategically with each of their owners to make sure they are a perfect match! The puppies get vaccinated, dewormed, and periodically checked up by a high-end local veterinarian.
Who is the Right Breeder For You?
In the end, the only person who knows who will be the right breeder for you will be you. Searching for a new puppy can be taxing, but it is critical to ensure that you find a breeder that is ethically sound and knows what they are doing. Make sure to always communicate your wants and needs with any potential breeder.
I chose Mini Goldendoodles of NY as the number one breeder on this list after diligent research. I made this decision based on their qualifications, ethical practice, and customer testimonials. What may be best for you is something only you can decide, but hopefully this list helped you one step closer to your new best friend!
Best Goldendoodle Breeders in The Other States