Finding the perfect canine companion for your family can be tough! With so many options for sizes, personalities, and skills, you could spend hours researching breeds! Like many Americans, if you've decided that the Labrador Retriever is the best fit for you, then you'll be looking for Labrador Retriever Puppies in Georgia! To help you find the best breeder for your needs, we've gathered a list of the top Labrador Retriever breeders in Georgia.
Before deciding on a breeder, be sure to do your own extensive research. You'll want to read customer reviews and speak with the breeder personally. Puppies are a lot of work and you'll want to ensure that your puppy is happy and healthy!
Each breeder on our list has been researched to decide if they're a good, reputable breeder that produces quality puppies. We'll include their contact information, including their social media accounts. Social media is a great way to see how a breeder interacts with their customers and treats their dogs. Always scope out a breeder's social media before making a decision!
Our list includes breeders who have done genetic health testing to verify their puppies are clear of any genetic disorders. Labrador Retrievers are known for hip and elbow problems, so you'll want to work with a responsible breeder to lessen the chance of your puppy developing those issues. Many breeders will sell their puppies with limited AKC registration and a few will offer full registration, which will cost more.
1. G&L Southern Bred Labradors
As a mother and daughter duo, G&L Southern Bred Labradors is committed to breeding high-quality Labrador Retrievers. Many of their puppies have gone on to be hunting champions, therapy, and search and rescue dogs.
G&L are very serious about placing their puppies in loving homes. They'll only allow their puppies to go to approved homes and reserve the right to deny any potential breeder. All of their sires and dams have been cleared for hip and elbow health issues, an important quality to look for!
This breeder is also willing to fly their pups via Delta Airlines, so if you're interested in one of G&L's pups from out of state, they'll gladly work with you. Reach out to G&L Southern Bred Labradors to ask about health guarantees and AKC registration.
G&L Southern Bred Labradors Contact Details
| | |
| --- | --- |
| Owner | Lindsey & Ginger |
| Location | Nashville, GA |
| Email | Lindsey@southernbredlabradors.com |
| Phone Number | (229) 539-4736 or (229) 349-3744 |
| Website | southernbredlabradors.com |
2. Bailiwick Labrador Retrievers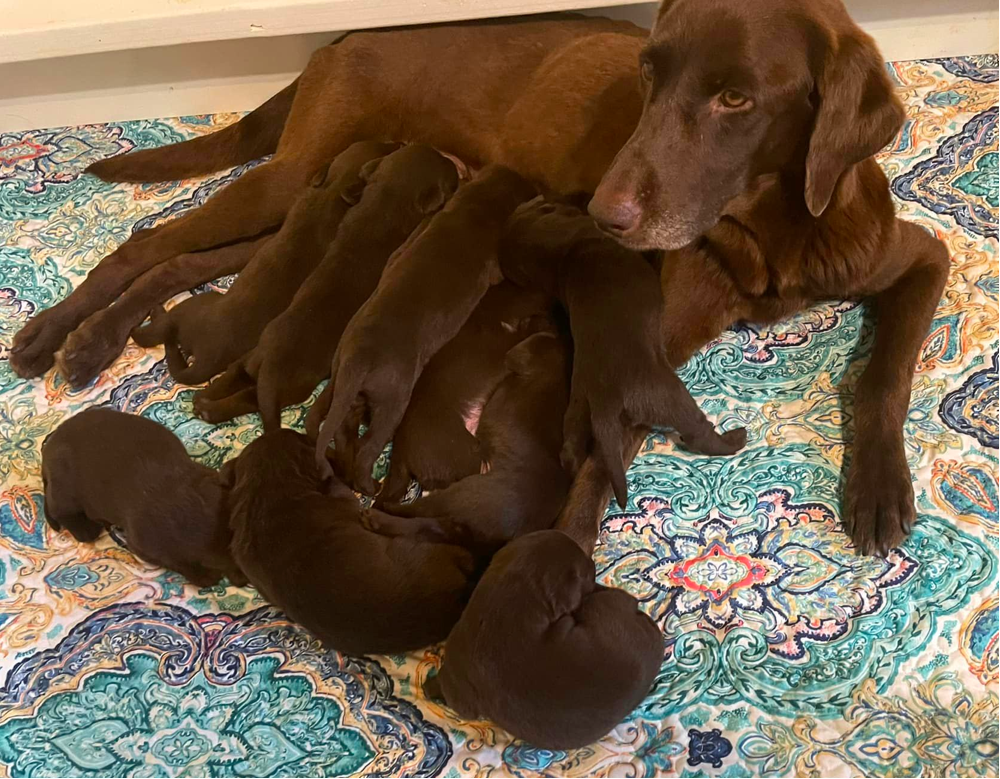 For those looking for an excellent hunting Labrador Retriever, check out Bailiwick Retrievers. Rip & Lisa Bloodworth specialize in breeding puppies from labrador hunt tests and field trial bloodlines. Their mission is to produce puppies that are intelligent and active while being great family companions as well.
Bailiwick puppies will come with AKC registration, health records, shots, deworming, and their dew claws removed. They also offer microchips for an extra $50 dollar cost, a worthy investment! Many of their sires and dams are champions in hunt and trial work, which will be passed on to your new pup.
Bailiwick also offers training services through a partnership with professional dog training. Through these classes, your puppy will learn obedience 101 and can be entered into advanced training, which will begin their retrieving training. With excellent reviews and a wonderful website full of information, Bailiwick is truly a top breeder.
Bailiwick Retrievers Contact Details
3. Horizon Labs
Tammy and her husband, Ricky, have been breeding Labrador Retrievers since 2001. Their mission is to provide quality Labradors from champion bloodlines to advance the Labrador Retriever breed. They only breed the three accepted AKC colors: chocolate, yellow, and black.
Each parent has been health tested for genetic issues common to the Labrador breed. Horizon Labradors is focusing on building their breeding stock by choosing dogs with championship titles and excellent hunting and show ring skills.
We like Horizon Labs for their dedication to advancing the breed and their full questionnaire. Many breeders will place a puppy in any home, but Horizon goes above and beyond by asking real questions about life with a dog, especially a puppy! Head over to their website for more information and contact them for what is included with each puppy.
Horizon Labs Contact Details
| | |
| --- | --- |
| Owner | Ricky & Tammy Boleman |
| Breeder Since | 2001 |
| Location | Hart County, GA |
| Email | horizonlabradors@yahoo.com |
| Phone Number | (706) 436-1192 |
| Website | horizonlabradors.com |
| Facebook | |
4. Southern Pride Labs
Ramone & Misty Gilbert specialize in white Labradors. While technically this is the lightest color of yellow you can get in a lab, many people still look for a "white Lab." As a small hobby breeder, Southern Pride doesn't produce many litters, instead focusing on healthy, well-loved puppies.
Southern Pride Labs are of the English variety, meaning they'll have the block-head style body with a bulkier build. Think of them as a lovable tank! Many of their puppies have gone on to be hunting companions, service, and pet companions.
With excellent reviews from previous customers, Romone & Misty have proven themselves to be an excellent small-time breeder of white Labs. If you're looking for a unique-looking Labrador that is AKC registered, give Southern Pride Labs a look!
Southern Pride Labs Contact Details
5. Damascus Way Labradors
Damascus Way Labradors is family owned and operated by the Taylors. They have a deep pride in their Labradors and strive to produce quality puppies. They offer white, yellow, chocolate, fox red, and black Labradors who will be intelligent, of good size, and have even temperaments.
They have a special nursery just for their moms and puppies to provide them with the best care possible. The first few weeks of a puppy's life is critical and Damascus Way is dedicated to providing them with the best start!
They offer a 1-year health guarantee against hip and eye issues and will replace a puppy as long as a certified vet confirms the diagnosis. Check out their guarantee page for more information. We like this breeder for their emphasis on socialization. They sit from day one with the puppies to show them love and kindness from humans, helping you take home a great companion!
Damascus Way Labradors Contact Details
6. Van Dalen Labradors
As a veterinarian, Dr. Laura van Dalen places an emphasis on breeding healthy Labrador Retrievers. As a breeder of many purebred dogs for over 30 years, Dr. van Dalen is competent in her knowledge of dogs and breeds only those with good qualities.
Her Labradors will have even-temperaments, low to medium energy levels, and will be easily trainable. Dr. van Dalen takes many months of research to pick the perfect parents for her puppies. All of her sires and dams have been tested and cleared of genetic health issues that run in the Labrador lines.
Van Dalen Labradors stand out for their wonderful website full of information and excellent testimonials. Dr. van Dalen welcomes all of her customers to update her on their puppies and invites those who are looking to compete to her home to learn more about show competitions.
Van Dalen Labradors Contact Details
| | |
| --- | --- |
| Owner | Dr. Laura van Dalen |
| Breeder Since | 30 years |
| Location | Winder, GA |
| Email | laura@vandalenkennels.com |
| Phone Number | (770) 330-8841 |
| Website | vandalenkennels.com |
7. Razzle Dazzle Labradors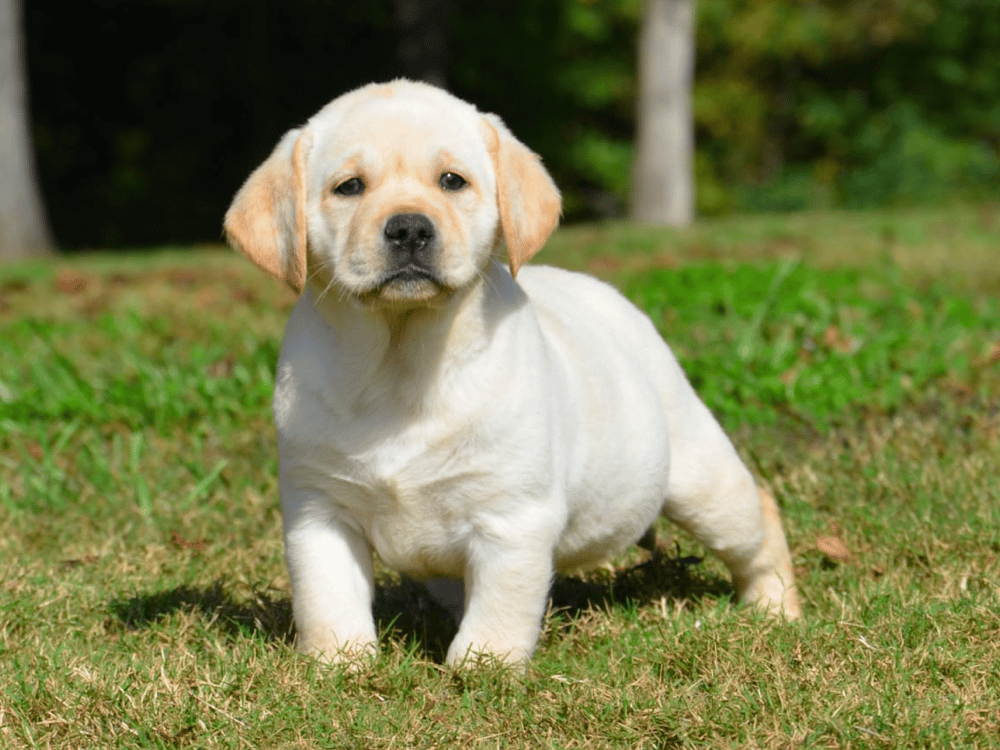 Hand-raised in their home, Razzle Dazzle Labradors start from the very beginning with their pups. They wish to provide puppies that are of sound temperament and good health to fellow Labrador lovers. Razzle Dazzle provides all coat colors but specializes in silver Labradors. Their main goal is to become the top silver labrador breeder in Georgia!
A Razzle Dazzle Labrador Retriever puppy will come with AKC registration (limited or full, depending on puppy), health guarantee, and can be microchipped for an additional fee. As a further commitment to their dogs, Razzle Dazzle offers lifetime support for their puppies. They love to hear updates about their dogs and are available for all questions and concerns.
With an excellent FAQ page and availability to ship anywhere nationwide, Razzle Dazzle has earned a place on our list. This breeder is enthusiastic about placing a Labrador in a loving home and makes it their top priority to ensure each Lab puppy is well-loved.
Razzle Dazzle Labradors Contact Details
| | |
| --- | --- |
| Owner | Brooke |
| Location | Lavonia, GA |
| Email | razzledazzlelabradors@yahoo.com |
| Phone Number | (706) 498-8226 |
| Website | razzledazzlelabradors.com |
| Facebook | |
8. Katons Labradors
As a smaller hobby kennel, Katons Labradors focuses on producing family pets with great temperaments. Katons believes Labrador Retrievers make excellent family companions, as long as you are prepared to handle a Lab. They're energetic while young and can grow as large as 75 pounds!
His sires and dams have championship bloodlines and have their own homepage with their pedigree available to view. They also occasionally offer adult and retired adult dogs for rehoming. Check out their page and reach out to Jim for more information.
Katons Labradors Contact Details
| | |
| --- | --- |
| Owner | Jim |
| Breeder Since | 20 years |
| Location | Athens, GA |
| Email | katonslabradors@yahoo.com |
| Phone Number | N/A |
| Website | katonslabradors.com |
9. Little Falls Labradors
Run by Krystal Brown, who was once owner of Silver Bear Labs (now owned by her daughter), Little Falls Labradors are top-quality Labrador Retrievers. As a lover of the breed and wanting to improve the breed, Krystal makes sure her puppies are clear of genetic health issues by testing her sires and dams prior to breeding.
All of her breeding parents are AKC registered and will produce yellow, chocolate, or black puppies. These are the standard AKC-approved colors and will also include AKC limited registration.
Little Falls Labradors have a beautiful website with absolutely gorgeous dogs. Check out their page for more information and reach out to Krystal to talk about what is included with each puppy.
Little Falls Labradors Contact Details
| | |
| --- | --- |
| Owner | Krystal Brown |
| Breeder Since | 2006 |
| Location | Northeast Georgia |
| Email | Krystal_b_72@yahoo.com |
| Phone Number | (740) 624-4363 |
| Website | littlefallslabradors.com |
10. WindFields Labradors
Family-owned and operated, Windfields Labradors offers family companion Labradors that are of excellent health and temperament. They place a large emphasis on health and test for many genetic conditions to ensure their puppies live long, healthy lives.
A big bonus to this kennel is their ability to crate-train your puppy before they come home! It's important that your new puppy has a space to go and feel safe in and crates can be great places when used properly. They also offer adoption for older or retired Labs, showing their dedication to placing them in loving homes.
Before going home with you, WindFields Labradors puppies will have a full vet check and come with limited AKC registration. Reach out to speak with them about their puppies and upcoming litters!
WindFields Labradors Contact Details
| | |
| --- | --- |
| Owner | N/A |
| Breeder Since | 20 years |
| Location | Lincolnton, GA |
| Email | windfieldslabs@doglover.com |
| Phone Number | (706) 359-1033 |
| Website | windfieldslabradors.net |
11. Northern Lake Labradors
Northern Lake Labradors raise their puppies in a family environment on 20 acres of property and only breed the highest quality labrador puppies. These puppies will qualify to be working dogs, such as therapy dogs, service dogs, and hunting companions. Of course, they will also make amazing pets for the family.
All adult dogs have the necessary health clearances before breeding. They are also all champions in confirmation shows and/or come from champion lines.
All litters are registered with the American Kennel Club and are up to date with vaccinations and deworming. The price for a puppy starts from $2,500.
The breeder is fully licensed and inspected by the AKC annually. They are also supported by trusted vets.
For those who are not within driving distance of the breeder, they offer transportation assistance.
Only families who have paid the non-refundable deposit can book an appointment to visit the property to meet their future pup. This is for the health and safety of all puppies on the property.
With the new puppy, the adopters will also receive a health/hip/eye warranty, limited AKC application, vaccination/deworming records, a small bag of puppy food and a microchip inserted into their puppy.
In my opinion, this breeder is very professional and can be very accommodating to those wishing to adopt a puppy from them. They obviously work hard to make sure their puppies are from quality bloodlines and do all the necessary tests to assure the health of every litter.
Northern Lake Labradors Contact Details
12. Legendary Labrador Retrievers
The puppies of Legendary Labs are of high quality and are American Kennel Club registered. The breeder has over 10 years of experience as well as being a former Veterinary Technician.
All puppies are raised indoors with plenty of space to run around and are given so much love and attention.
For the health and safety of the puppies, Legendary Labs do not allow visitors.
Before breeding, both parents are health tested to assure the health of any planned litter. Prices for a puppy from Legendary Labs are from $1,900 and come with a 2-year congenital health guarantee as well as lifelong breeder support for all clients.
I consider this to be a very educated breeder and the puppies are certainly in safe hands and well looked after. They do the necessary tests on the parents and make sure that the puppies will be happy and healthy. What more could you ask for? Also, the advertised prices are one of the lowest on the list for quality Labrador puppies. Offering lifetime support for their clients assures any adoptive Labrador owners that they can turn to them whenever they need some help and advice, which is ideal for any breeder.
Legendary Labs Contact Details
13. Ducktown Retrievers



Ducktown Retrievers are proud breeders that are dedicated to preserving bloodlines and heritages, producing happy and healthy puppies from excellent performance bloodlines. They work hard and focus on providing excellent all-rounder puppies for home and field. This means they only breed structurally and genetically sound dogs, producing puppies of high quality. The parents are documented and health tested, as well as genetically tested with proven bloodlines.
If you want a puppy with a proven bloodline of hunting, sport, or show dogs, then this is the breeder for you. You can expect nothing less than pure quality from a happy and healthy pup.
They are raised in the home with an increase of space once the pups are mobile and able to move around a lot more, changing environment as they grow and being introduced to different noises. When they are old enough to be let outside, they have their own outdoor patio yard where they are let out every two hours for air, play, and, of course, bathroom needs.
Personally, I believe these pups are raised properly and given the right structure to get used to the environments that they may be living in once they arrive at their new homes. Keeping them on a schedule is also an ideal way to raise puppies and is very useful for training. Although I do not personally care for a puppy's bloodline, those that require proof of heritage will find this breeder to be ideal due to the information they can supply for the bloodline and heritage of their chosen puppy.
Ducktown Retrievers Contact Details
| | |
| --- | --- |
| Owner | N/A |
| Location | Dawsonville, Georgia |
| Contact No. | (770) 733-0836 |
| Email | Ducktownretrievers@gmail.com |
| Website | ducktownretrievers.com |
14. Lake Country Labrador Retrievers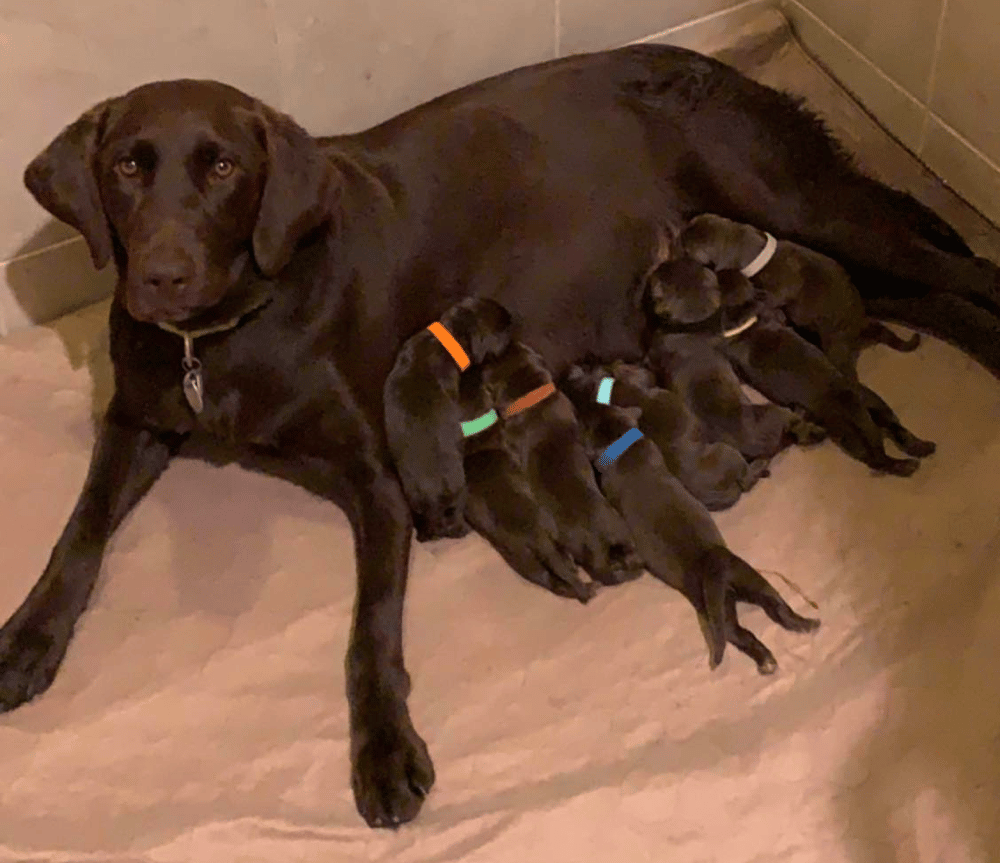 Lake Country Labrador Retrievers have over seven years of experience and all their puppies are registered with the American Kennel Club. However, they have recently decided to only breed one little each year, which means there is limited availability for one of these precious little pups.
All the dogs at Lake Country Labrador Retrievers have had all the necessary health checks. Including, OFA/Penn for hips and elbows, OFA eyes, EIC, CNM and PRA.
They are dedicated to providing families with intelligent, friendly and highly trainable pups to be their loveable lifelong companions.
As lovely as these puppies are, I think the breeder is limiting themselves greatly by only having one litter available a year. But, we don't know everyone's personal circumstances and perhaps they no longer have the time to breed multiple litters. Whatever the case may be, these puppies are of an excellent standard and would be a charming addition to any family home.
15. Loganwood Labs
Loganwood Labs are based in Juliette, Georgia. It has 60 acres of property, and plenty of space for the energetic breed to run around, with rolling hills, creeks, and pastures.
They have over 10 years of experience with breeding English Labs from a purebred line of Labrador Retrievers with a well-documented pedigree.
Loganwood Labs provide some of the best pups for families that are well-socialized, well-behaved, and super adorable. Their color variety includes traditional black, chocolate, and yellow.
All puppies are ready to be picked up from six weeks of age and come vet checked, dewormed and their dew claws removed.
Puppy prices depend on color and gender, starting at $1,000 per male puppy.
My personal opinion of this breeder is that they do seem to know what they are doing when it comes to breeding their dogs. However, it was a little tricky to find all the information online. Their website appears blank when I searched and there only seemed to be a Facebook Page to find any information about this breed.
That being said, they do update their Facebook and post regularly. They are also pretty good at responding to questions via comments as quickly as possible. Their reviews were also positive with very happy new lab puppy owners.
Owning a dog is a big responsibility and shouldn't be taken lightly. When looking into bringing a new puppy home, be sure you're prepared to take care of a puppy. They're a lot of work and require constant supervision, along with training. They'll need to be loved and cared for from the start, as they'll be nervous in a new place!
If you've chosen a Labrador Retriever as the dog for you, keep in mind this breed can be very active. They're also intelligent and will look forward to spending time with you doing outside activities. An absolutely wonderful breed, and like with any breed, it's imperative that you research your chosen breeder carefully. This puppy will become your companion for their lifetime and will give you all the affection and joy a dog can bring. You'll want them to be as healthy as possible and well-socialized to begin their life with you!
Reputable Labrador Retriever Breeders in The Other States