Have you been looking for the right Labrador retriever for you and your family but are not sure which breeder to work with to find the right do for you and your family? You need to work with a quality breeder to be sure that you will get a happy and healthy dog that will be perfect for your needs. Working with a skilled and responsible breeder matters, no matter what kind of dog you are looking to get, and you will want to be sure that you are working with the right breeder when you are picking your Labrador Retriever puppy.
There are many skilled breeders in the Wisconsin area who have litters each year of happy and healthy puppies that you can add to your family. You will love working with these breeders to find your next Labrador Retriever, and getting a dog from a breeder that knows what they are doing can make all the difference. Make sure that you use this guide to help you to find your next Labrador Retriever puppy so that you will have a great experience.
Top 10 Reputable Labrador Retriever Breeders in Wisconsin
These are the best breeders in Wisconsin for Labrador Retrievers. You will love being able to work with these skilled and honest breeders who take the time to make sure that they breed healthy puppies that are ready to move in with your family.
1. The Labrador Lodge
This is the best breeder in Wisconsin for healthy Labradors that are bred with lots of experience. This breeder has been in business for 35 years, and they have also bred other breeds of dogs. They have lots of experience in responsible breeding, and they are passionate about making healthy puppies that have great personalities.
These dogs can be used as service animals, they can be pets, or they can even be trained to be hunting dogs. These are beautiful dogs that love swimming, and they are exposed to water and hunting experiences when they are being socialized. This means that the puppy that you get from this breeder will be prepared to have lots of fun with you and your family.
This breeder also runs a training business, so you can count on puppies that have been handled with skill and that are prepared to be your next new companion. You can choose between a few different colors of the dog when you work with this breeder, and you will only have to put down a reasonable deposit to get a dog. Puppies are delivered to new owners with their dew claws removed and with their puppy vaccines. You will also get a 2-year hip guarantee with ease dog. Puppies are also given a vet inspection, and they are dewormed as well.
| | |
| --- | --- |
| Owner | Todd and Michelle |
| Year founded or number of years breeding | 35+ years |
| Location | Hortonville, Wisconsin |
| Email | [email protected] |
| Phone Number | N/A |
| Facebook | |
2. Balsam Brand Labradors Kennels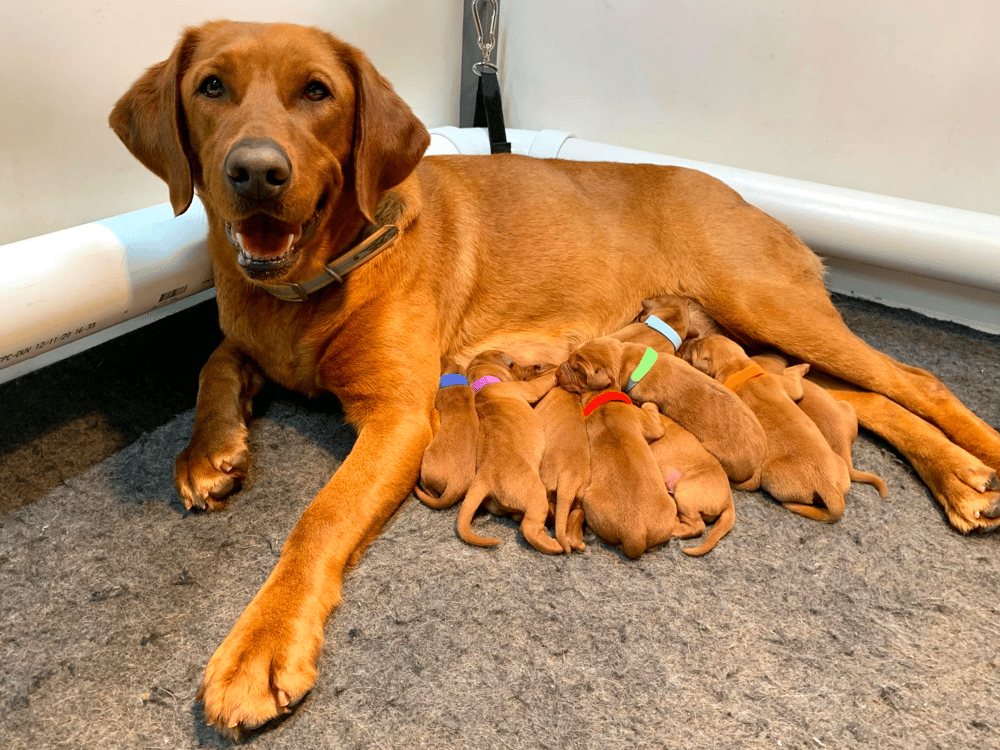 This family breeding program offers dogs that are bred to be hunting and working dogs, but that can be perfect for pet homes as well. This is a great choice if you want to get to know about your breeder before you pick a puppy, and you will love that the dogs that are bred here are exposed to so many new experiences before they are sent to their new homes.
This breeder creates Fox Red Labradors, which are very beautiful and which are ideal for hunting and competition. This breeder also has enough acreage to take puppies out to learn about hunting, and there are pheasants on the property that are used for training older dogs.
This breeder certifies their dogs as being free of health ailments that can be common for this breed, and they also take care of puppy's first shots, vaccines, and health checks before pups are given to their new homes. If you are looking for a quality dog that will be healthy and have a great personality, this is the right breeder to choose to work with.
3. Thunder Labradors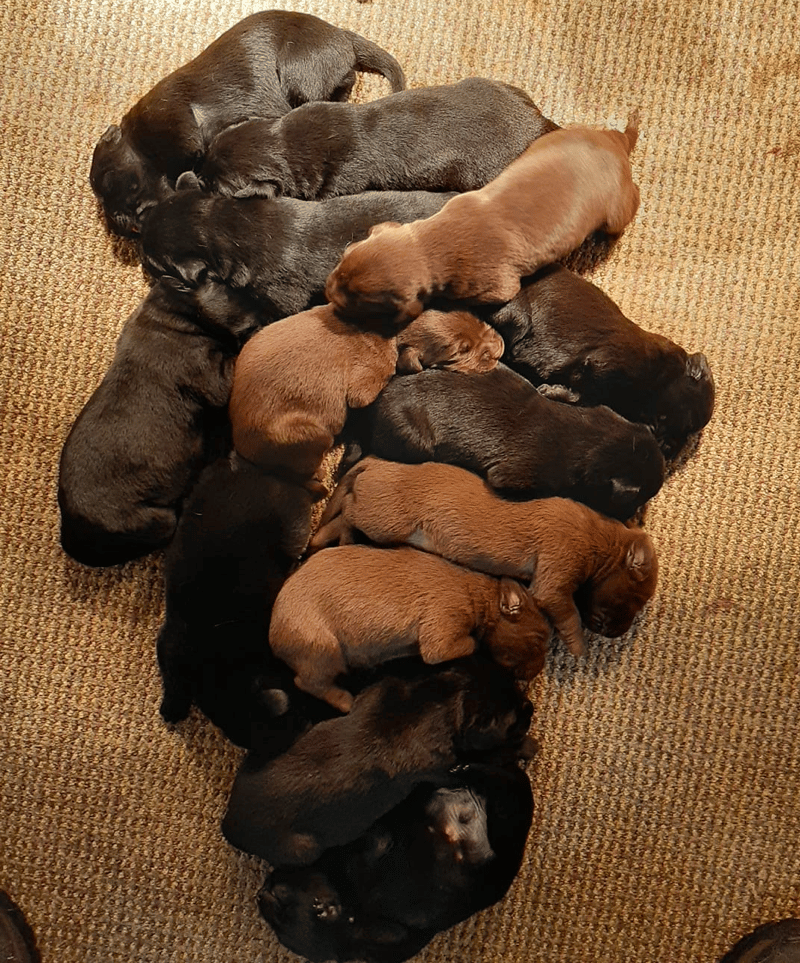 This is one of the best breeders in the state for Labrador Retrievers. You will enjoy access to puppies that have been carefully selected for their health and their excellent genetics to prevent common health problems for this breed. This breeder focuses on highly trainable dogs that can be used for hunting and field trials, but they also release puppies to pet homes as well.
This breeder takes the time to socialize all their puppies, and they also offer screening for genetic disorders and other common problems. You can count on a dog that is prepared for your family to have fun with. You will love that you can trust this breeder to have taken the time to ensure that their dogs are so well-prepared in every way.
This breeder offers black, yellow, and chocolate puppies, so you can get on the waitlist for whichever color you would prefer. This is not common to other breeders, so this is the right place to shop if you want to get a lab that is a specific color. This is the right breeder to choose for a really seamless process to get your own puppy and for dogs that are happy and healthy and come with excellent health guarantees.
4. Dutch Acres Labradors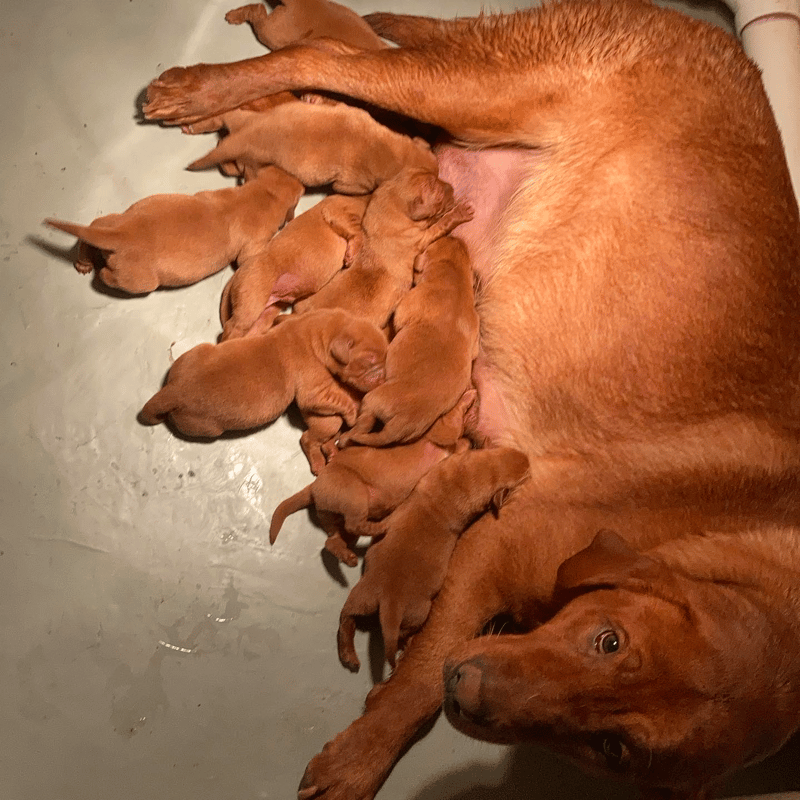 This is a very reputable breeder that has been in business for more than 20 years. They have 65 acres that they run their dogs on when they are training, and you can get a companion dog here or a hunting partner. The dogs that are bred here are health tested to make sure that they are going to have a great life with their new owners, and they are lovingly socialized and worked with before they are allowed to be sent to new homes.
This breeder makes sure that all of their litters are planned very carefully and that all puppies are offered with vaccinations and worming done as well as a health check. You can get a limited registration with all puppies for the AKC, but they do offer breeding animals with full AKC registration after a careful selection process. This is a great choice if you want to work with a skilled and invested breeder that is passionate about what they do.
5. Jungle Lake Labradors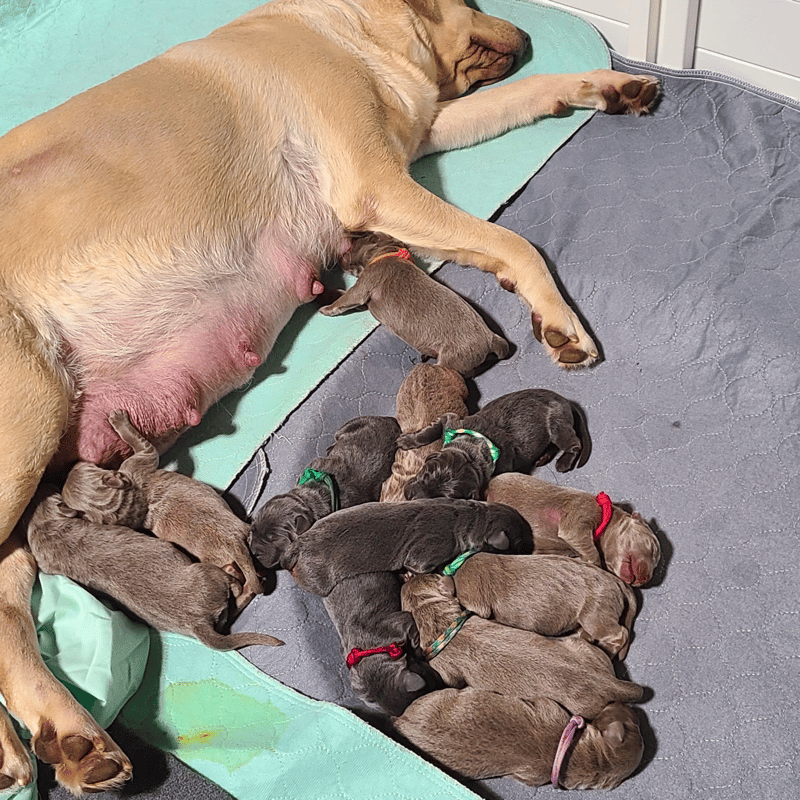 This breeder offers puppies in various coat colors, and they also breed field pedigree dogs and English Labradors. This is a very accomplished and conscientious breeder that works with owners carefully to be sure that they get the dog that they have been looking for. You will find that this breeder takes great pride in their work, and their puppies are carefully created through crosses that are the result of years of experience breeding dogs.
All puppies are certified as healthy and are only allowed to go to new homes when they have been vaccinated, wormed, and socialized enough to be prepared. This breeder does not remove dew claws and allows owners to determine if this is the right choice for them. Puppies come with a parents' health guarantee as well, and they promise 100% breeder support. If you have issues with your pet for any reason, you can reach out to the breeder, and they will help to make the situation right for everyone involved.
This is a very responsible breeder that takes the time to deliver well-bred and very healthy puppies to the people on their waiting list. They are also excellent at educating new owners and will take the time to work with you to find out what your goals really are before you reserve a puppy
6. South Fork Retrievers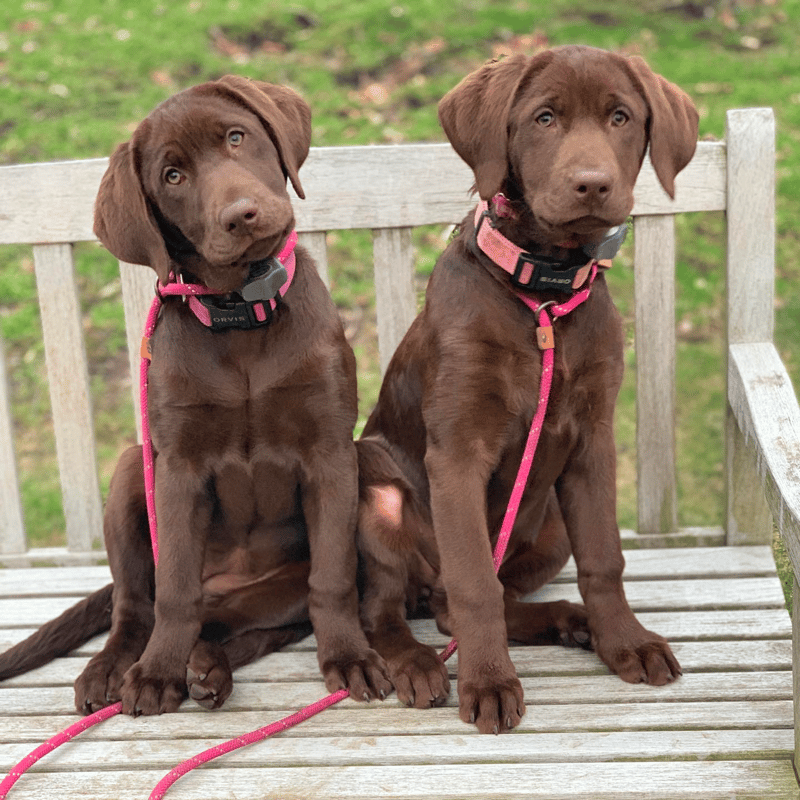 This breeder is focused on hunting dog litters, but they do care very much about trainability and personality as well. They are aware that many people will want to have a dog that is a companion first and a working partner second, so they take the time to deliver dogs that can do both jobs with ease. These dogs grow up in an environment full of love and attention, and they are exposed to all kinds of necessary stimuli and training at a young age.
Puppies are released to new homes with vaccinations, worming, and health certification. The parents of all the litters are tested for common genetic defects as well, so you can feel assured that your Labrador Retriever will not suffer from these common ailments in any way. This is a very responsible and involved breeder that not only creates litters of dogs that can work hard but also dogs that makes great family friends and companion animals.
7. Kohler Creek Labradors
This breeder takes the time to create healthy and happy puppies that are prepared for their new homes when it comes time to pick them up. You can get on their waiting list, but they will also want to vet the homes where they are releasing puppies to. Puppies are released at seven weeks with vaccinations, worming, and vet certification.
All of the animals here are properly socialized and ready to move into new homes. These dogs are certified as clear of common Labrador Retriever health ailments, and they are also looked at for eye abnormalities by a board-certified ophthalmologist. These dogs are also EIC clear, PRA clear, and dilute gene clear.
This is a great breeder to work with if you want to be sure that the breeder will stand behind the animals they produce and if you want a very healthy dog.
8. Winter Valley Labs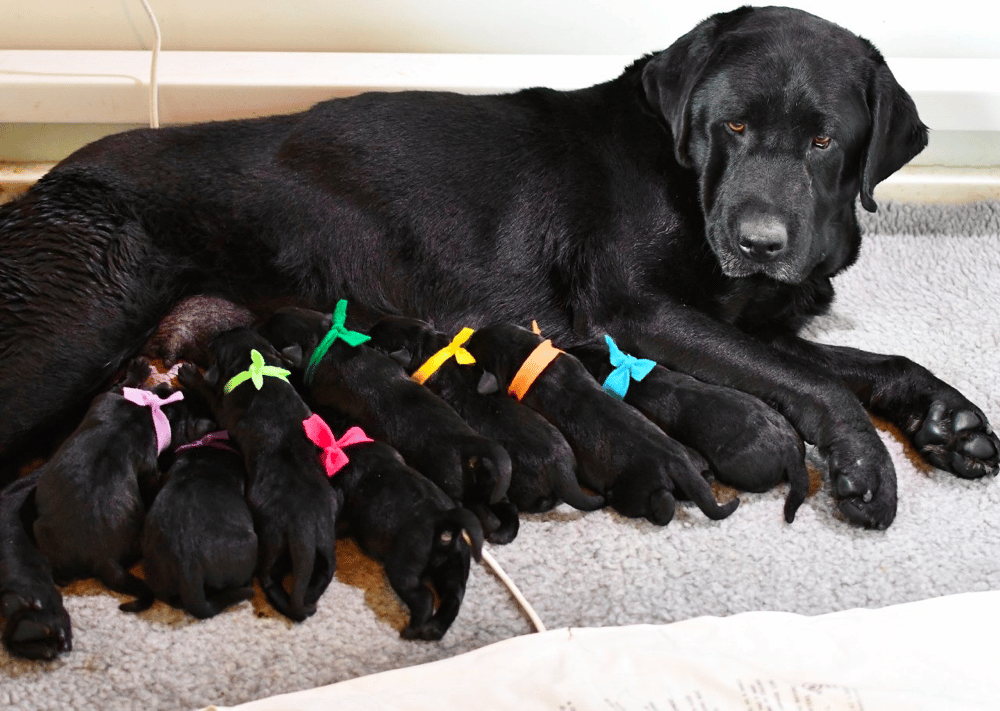 This breeder offers you the chance to get a white lab, a fox red lab, a black lab, a chocolate lab, or an English lab. You will be able to trust that this breeder is careful when crossing each litter so that the puppies are as healthy as possible. This breeder offers limited AKC registration with their puppies as well.
This is a really qualified breeder that offers a unique blend of different coat patterns and puppies that are certified and well-socialized before they are sent to new homes. You will love working with this breeder as well since they are so knowledgeable. This breeder creates animals for fieldwork as well as the show ring and they make sure that their animals have the right temperaments to be perfect for pet homes as well.
9. Bird Crazy Gun Dogs
This is a breeder that focuses on quality hunting animals, and their puppies come with a 3-year health certification as well as screenings for all the common Labrador health problems. These dogs are only released to new homes once a vet has looked them over, and they are vaccinated, wormed, and offered with a limited AKC registration.
The puppies that are bred here are all given socialization work but also are exposed to common hunting experiences. This means that even if you are getting a dog that you will keep as a pet, that puppy will have been shown a lot of things before they are ready to be released to your home. This makes for calm and trainable dogs that are ready to succeed in any situation.
This is a family breeding operation that stands behind their dogs, and they offer really excellent certifications and puppy preparation before they release puppies to customers. The dogs here are also bred for traditional lab traits like blocky heads, deep chests, and shorter legs. This means you will have a healthier dog that is not impacted by genetic flaws related to show dog breeding.
You can also count on this breeder for boarding and full-service care of older dogs. This is a very well-rounded and skilled breeder who can help you with all of your Labrador Retriever needs. If you are a new owner, you will have a great time working with this breeder for your next dog.
10. Zig Zags Pointing Labs
This breeder specializes in Pointing Labs, which make excellent hunting dogs. They are also great companion dogs, and this breeder has taken the time to create the best bloodlines that you can find for this kind of dog. You will love that your puppy will be certified as free from common lab health defects when you work with this breeder, and you will also get a puppy that has been carefully bred for its physical traits and its looks.
This is a family breeding program, so puppies are well-socialized and are more than ready to succeed in pet homes as well as competition homes. This is also a breeder that will work with you if you might want to get a breeding dog, but this requires an approval process. You will love how responsible and caring this breeder is, and you will have a great experience when you work with them. This is also a really ideal Labrador breeding line for so many reasons, and you will love the personality and physical well-being of these dogs.
How to Find a Good Labrador Retriever Breeder
If you are not sure how to vet out breeders when you are looking for a puppy, you need to know a little bit more about how to check on breeder quality. There are some common factors that all skilled and trustworthy breeders will share. When you know what to look for, you can more easily determine the trustworthiness of a breeder that you are considering contacting about a puppy.
Using this checklist of factors will help you to learn more about a breeder and get a better idea of whether or not they know what they are doing. This is important to do whenever you learn about a breeder, even if you have been told about them based on word of mouth. Not every breeder offers the same benefits either, so even if they know what they are doing, they still might not be a good fit for your needs. Part of being sure that you are working with a good breeder is being sure that you know what you are looking for in a puppy. Once you are sure about what kind of dog you are looking for, you will also have a better time finding the right Labrador Retriever breeder for your needs.
1. Check on Puppy Policy
Puppy policies are a key aspect of a skilled breeder's business plan. You should be able to find out what the puppy policy is right on the website, and you should look at what details are included in the puppy policy. This might include the age that they release the dogs they have bred, the vaccines and worming that might be done, as well as the registration offerings that you have access to. This puppy policy should also include information about the health guarantees that are offered with puppies. You will want to be sure that your dog will be guaranteed to be healthy and that the breeder will stand behind their animals.
2. Verify That Parents Are Health Tested
Parents of all litters at a quality breeder will be health certified and tested to be free of common genetic defects. This is a critical function that all breeders should do to ensure that they are going to be breeding healthy dogs. You will need to choose not to work with any breeder that does not do this necessary step in the breeding process.
3. Socialization and Handling
All breeders that are good at their job will mention the work that is done to prepare puppies to be ready to head to new homes. Socialization should be a big part of the way that puppies are prepared to be sent to new homes, and most breeders will also mention what kind of handling they are providing their dogs when they are babies. Family breeding programs might include information about how the family interacts with puppies, and kennel breeders will mention how the staff handles new puppies. This is a key part of getting a puppy that is well-adjusted and ready to go to a new home, and you should be worried if you do not see any information about this on the breeder's website.
4. Verify Reviews
One of the best ways to see what other people have experienced with a breeder is to read reviews that are posted online. You need to remember that all businesses will have some negative interactions detailed in reviews, but if most of the reviews are good, then you should feel like this breeder cares about customers. You will want to check out at least a few different review sites to be sure that you get a good idea about the performance of this breeder.
Conclusion
When you are looking for a Labrador Retriever, you need to make sure to look into these top breeders. They are all skilled at what they do and offer dogs that are healthy, happy, and ready to head to new homes. You will have a great buying experience when you choose from these breeders, but if you are looking at other breeders that are not on this list, you need to remember to use our tips about how to find the right breeder for your needs. Getting a dog from skilled breeder matters, and you will want to be sure that you are not working with a breeder that is not a good choice for your needs.
Labrador Breeders in The Other States
Other Dog Breeds: