If you live in Texas or come visiting, you have likely met at least one Labrador Retriever throughout your time there. This is because the Labrador Retriever is the most popular breed of dog in the country.
The breed has earned a special place in the hearts and minds of dog lovers worldwide thanks to its exceptional intellect, amiable character, fun-loving temperament, and degree of commitment to its owners. Who wouldn't want one of these energetic and joyful dogs as a pet?
If you want a Labrador Retriever, make sure to look for a reliable breeder by doing your research. Also, ensure to talk to the breeder in person or over a video call till you have a feel for them. This will help you to identify if they are trustworthy breeders or not. Good Labrador Retriever breeders are not only in for the money, and they do care for the dogs.
Fortunately, the reputable Labrador Retriever breeders in Texas are included in this article. Although this is not an exhaustive list, finding the ideal Labrador Retriever puppies for you and your family should be made easier with the guidance of this list.
Top 5 Best Labrador Retriever Breeders in Dallas, Texas
1. Hope Retrievers
There are many Labrador retrievers breeders in Dallas, but, among this lot, Hope retrievers stand out. To many of us who know about English Labrador Retriever in Texas, they are the GOAT of breeders. This Dallas Labrador breeder specializes in training Labrador retrievers for different client tastes. So, if you visit them, you will definitely get what you want.
Hope retrievers train Labradors in Texas to participate in AKC hunting competitions. In addition to hunting training, they also do gun training for Labrador retrievers. To spicy up their program, their dog obedience is top-notch. Hope retrievers chocolate Labrador retriever puppies are one-of-a-kind.
All Labrador retrievers from Hope retrievers are AKC certified and vaccinated. Their hairs are well-groomed and their nails are neatly trimmed. Hope retrievers also do love breeding Labrador retrievers, so, they offer boarding services. So, even if you are traveling or going to work, you can trust them to take good care of your Labrador retriever. They are not just a Dallas Labrador retriever, they are one of the best Labrador retrievers in Dallas.
2. Wildrose Kennel Texas
Wildrose Kennel in Dallas is not the regular Labrador retriever breeder; they are an amazing breeder that offers unrivaled genetics. Labradors from this Dallas labs breeder are usually regarded as very versatile sporting dogs.
For more than forty years, Wildrose Kennel has been providing great temperament and energetic Labrador. Dogs here are not just perfect for the family, they fit in if you like to go fishing, canoeing, and even hiking.
If you decide to buy a Labrador retriever here, you can rest assured that you will be provided with after-sales support and unmatched health services. Wildrose Kennel lab retriever puppies are AKC registered and vaccinated.
3. Diamond M Labradors
Sitting comfortably on our list of the best Labrador Retriever breeders in Texas is Diamond M Labradors, with over 25 years of experience. Located in the Northern part of Texas, about 20 miles south of downtown Dallas, this breeder is one of the most dedicated Labrador breeders in Texas.
They breed both American/English and Full English cross lines. Their products are natural retrieving ability, amazing conformation, cool temperaments, energetic but trainable, and genetically sound. If having a great companion is what you cherish, this is definitely the right plug.
Some Labrador Retriever puppies from Diamond M Labradors have been featured on #99 Nationwide Nascar and Just Labs & People Magazine. All Labrador Retriever dogs have AKC registration and are given high-quality dog food. They also have the recommended vaccinations and have their deworming treatments documented.
Their health assurance goes past the usual OFA guarantee; it covers any hereditary illnesses or abnormalities that might negatively impact the puppy's general health for 23 months; provided that the puppy is administered Nuvet Plus every day for the whole 23 months and evaluated by a veterinarian within four working days of pickup.
One thing we love about this breeder is that, on a buyer's request, a Labrador puppy can be kept for free for up to 8 weeks; although, a $10 daily fee to cover shots, care, and food will be charged.
4. Jordan Valley Retrievers & Kennels
It is one thing to breed Labrador, it is a different thing entirely to breed a Labrador retriever with a champion mentality. Jordan Valley is the right breeder that breeds great retrievers and amazing companions.
This Dallas Labrador retriever trains their dogs on a 5000-square-foot building that is built for the comfort of the labs. Apart from the sales of Labradors, Valley retrievers also help with training labs, even if it is not bought from them.
After training here, your Labrador will be of good temperament, amazing companion, and wonderful understanding level. All lab retrievers bought here are AKC registered and vaccinated.
5. 6D Labs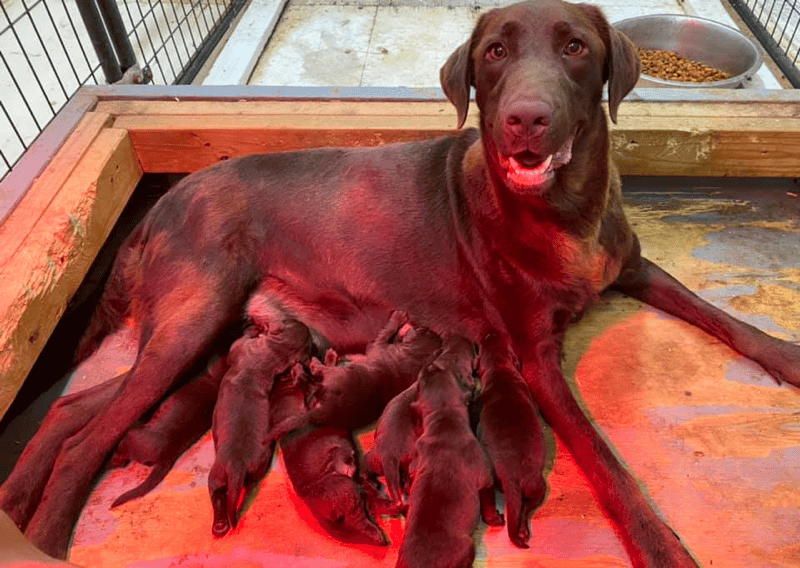 Do you need chocolate Labrador retriever puppies in Texas? 6D Labs has what you need and more. They are one breeder that is passionate about breeding Labradors. This Dallas Labrador retriever breeder produces pets that will comfortably blend into any family.
In order to reduce the likelihood of future sickness and disease, 6D Labs breed for physical characteristics and psychological qualities, screen for FOA hips, genetic health, and breed purity. Their dogs roam freely, swim in the ranch's many ponds, and get proper socialization.
Apart from being a good hunter, 6D labs trained their Labrador retrievers using adult dogs, other breeds, and family members. Unlike many Texas Labrador breeders, this breeder breeds only full chocolate and they are all AKC registered. Also, all puppies come with a health guarantee
Top 3 Best Labrador Retriever Breeders in Houston, Texas
6. Hunters Creek Retrievers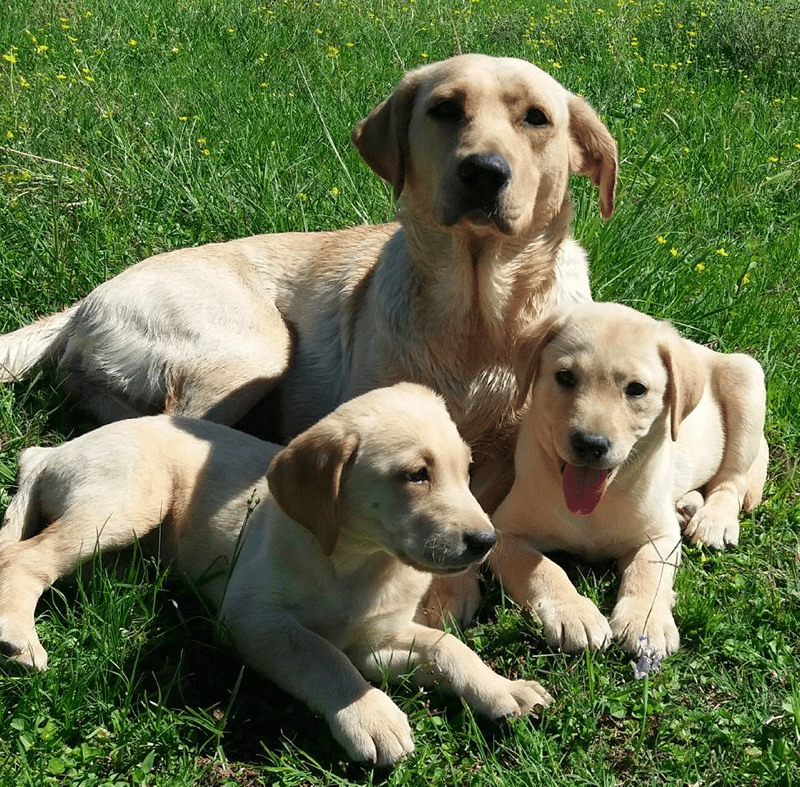 Judging from how they care and show love for their pets, this is undoubtedly one of the best Labrador breeders in Houston. This Labrador breeder in Houston with over 20 years of experience breeds Labradors that are champion pedigrees and a good companion.
Over the years, their products Ace won the Purina Award for the most outstanding field trial retriever for two consecutive years and Cuda won the All-time high point Chocolate Labrador in AKC history.
Hunters Creed retrievers breed yellow, black, and chocolate Labrador retriever puppies with great temperaments and are perfect for children's companions. All Labrador puppies bought here are AKC registered and they have sound health.
Apart from breeding Labrador puppies, this breeder offers training programs for puppies. So, if you are buying your Labrador retriever puppy here, you can be rest assured that your buy will be of great behavior.
7. Top Dawgs White Labs
This is a Labrador retriever breeder that produces only white breed. According to them, they are specialists in producing highly trainable, smart, calm, conscious, and English Labrador Retrievers. If you really check out their products, you will see that this claim is not far from the truth.
Top Dawgs White Labs offer limited AKC registration, a health record, and a written health guarantee for every white Labrador puppy. All puppies are vaccinated and worming. This Houston Labrador retriever breeder provides the care and feeding guide to anyone that buys white Labrador puppies from them.
Puppies here are trained for hunt, track, chase, point, and flush. They are also trained to participate in retrieving competitions, hunting games, field trials, and other related events. Apart from these activities, lab puppies from this Texas white Labrador retriever breeder are excellent companions and they blend into a new family easily.
8. Labs4Ever Labradors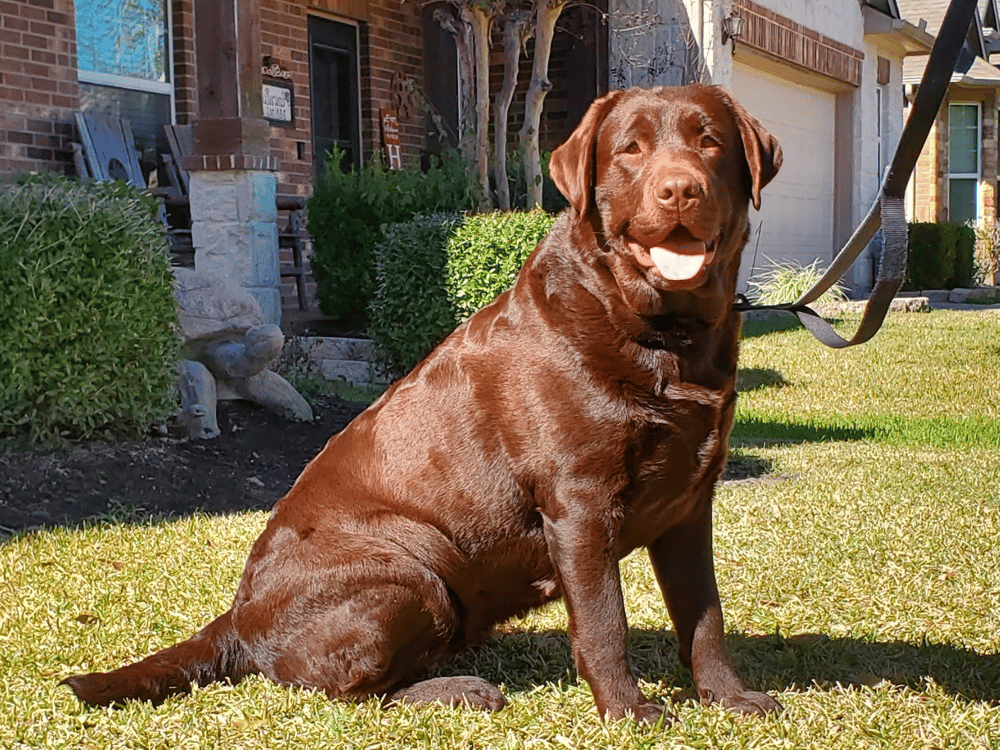 This is another amazing family Labrador retriever breeder in Houston. This breeder values family, so they train their Labradors retrievers to value family and companion. They teach all labs in their care how to socialize with people without problems. Labs4Ever also trains all Labrador retriever puppies to understand the key commands.
The general health and welfare of both the adult dog and puppies is something this breeder place priority on. Before entering the breeding program, all adults are subjected to health examinations to check for genetic as well as other disorders. By doing this, you can be confident that the Labrador puppy you purchase in Texas will be healthy.
Top 3 Best Labrador Retriever Breeders in Austin, Texas
9. Peoples Choice Labs
This breeder topping our list of the best Labrador retriever breeders in Austin by far deserves this spot. They are not just a breeder that is motivated by money; they really do care about these pets. Owned and run by a family of 7, Peoples Choice Labs train Labrador retrievers to be man's pet. If you need an English Labrador Retriever in Texas, this is your sure plug.
Apart from being a good companion, Labrador retriever puppies are bought here to understand the basic commands. They are also good retrievers, hunters, and great listeners. This breeder has black, yellow, and chocolate Labrador Retriever puppies and they are all Labrador from this breeder are AKC registered.
The growing, training, and general care of these Labrador retriever puppies is a family affair at The Peoples Choice Labs since every member of the family is engaged. They make sure the kennels are well-maintained, monitored, and regulated. Also, they ensure that only the most nutritious healthy food is used to feed the puppies.
They exclusively breed Labrador Retrievers with excellent temperaments and impeccable pedigrees. This is done to guarantee that only top-notch, healthy, and sound liters are generated. Peoples Choice Labs' commitment to safeguarding and raising healthy puppies by undergoing a variety of joint and health testing is very amazing.
10. Seven Oaks Kennel
Making our list of the Texas ideal Labs breeder is Seven Oaks Kennel, dedicated to raising Labradors that are great for family and hunting companions. With over 19 years of experience, these family breeders provide Labs that have been DNA tested for 190+ health conditions. So, labs here can be trusted.
All Seven Oaks Kennel puppies are DNA certified, and AKC registered. Also, their whole litter of puppies has undergone their initial round of vaccinations, been dewormed, had their dewclaws trimmed, and been microchipped.
We love this breeder because every Labrador puppy bought here will be given 30 day supply of Nuvet Supplements, a 5lb bag of Victor Dog Food, in addition to their shot record, microchip registration, and AKC registration papers.
11. Redmark Kennels
Think about a situation where your Lab walks beside you without a leash. Think about another scenario where a stranger says Hi to your Labrador retriever while you are both on a walk and it doesn't jump at that stranger. Now, think about a situation where your Lab sits on a spot for a long period because you commanded. Now, that's Redmark Kennels!
When listing the best Labrador retrievers in Austin, skipping Redmark Kennels will make a list incomplete. Redmark is not just a random breeder, it is a family-owned Labrador retriever breeder with experience. This breeder has been in business for more than 10 years.
This breeder does not only give obedience training for Labrador retrievers in Austin, they also train the dogs on how to be a great hunter and good retrievers. Labrador retrievers puppies from Redmark are trained to be good companions, especially to people that need help.
With all experience gathered by the helping hands in this Austin Labrador retriever breeder, they ensure that all black, yellow, and chocolate Labrador Retriever puppies are healthy and well-fed. Labrador puppies are also trained to be good companions, hunters, retrievers, listeners, and easily blend into a new family. All lab puppies from Redmark Kennels are AKC registered and their nails well-trimmed.
Top 3 Best Labrador Retriever Breeders in Fort Worth, Texas
12. Rockin' B Labradors
With just 10 years of experience, Rockin' B Labradors sit in the third spot of the best Labradors Retriever breeders in Texas. These excellent breeders offer a 24-month full health guarantee for any lab bought from them. And they are also AKC registered.
Their litters have the best quality Labrador Retrievers in almost all colors from charcoal, chocolate, silver, champagne, fox red, black, yellow, white, to silver. Labrador Retriever puppies bought here are also very healthy and energetic.
All Lab puppies from this breeder are allowed to undergo socialization training, and they also provide genetic abnormalities and other typical health screenings. You can rely on Labradors bought here to socialize with your family in no time.
We love Rockin' B Labradors because not many breeders can train a loveable and social lab, but this amazing Texas Labrador breeder does it easily. All puppies are fit, fully immunized, registered with the AKC, and have had their dew claws cut.
13. Yellow Rose Labradors
Yellow Rose Labradors are the next breeder to grace our list. They have spent a lot of time, energy, and money since its foundation in 1993 to produce high-quality Labrador Retriever puppies that make wonderful family pets as well as exceptional hunting and show dogs.
They have Labrador Retrievers that are all social, trainable, and have innate hunting instincts. They claim the Labrador Retriever should be educated to be a multipurpose dog because they are a breed that is.
All their dogs perform well in hunt trials and field tests and are excellent participants in international display competitions. Yellow Rose is home to the show champions, hunting champions, and performance champions.
Labrador Retrievers from this breeder has won many AKC and HRC awards in master hunter, agility competition, OTCH competition, and obedience trials. This is genuinely a breeder that trains Labradors like it should be done. All puppies here are ACK registered, vaccinated, and claws are already clipped.
14. Alder Creek Labradors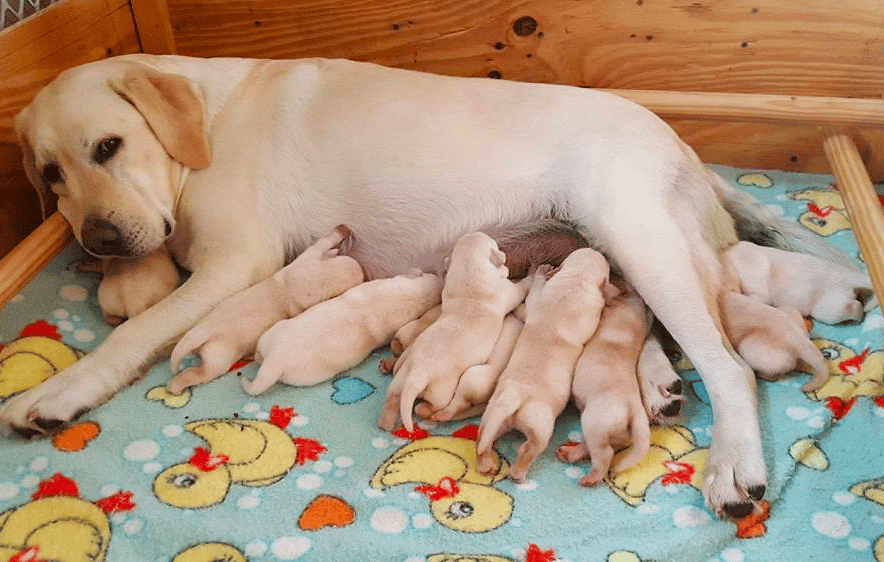 Sitting on the fourth spot on our list is Alder Creek Labradors, with over 35 years of experience. This breeder is located in the Eastern part of Texas, just an hour southeast of Dallas. Alder Creek not only breeds they also rear horses, cats, and donkeys, among others.
This proud breeder is the home to Miles, the 2012 fourth-best Labrador Retriever in the United States. Miles also won the best of the opposite sex in the 2012 Westminster Kennel Club. His offspring are already doing well for themselves on the show circuit.
Alder Creek's goal is to produce quality Labrador puppies that are genetically sound, have excellent temperament, and have the natural social ability. They also provide crate training that helps puppies settle comfortably into their new homes. All puppies are fully immunized, and AKC registered.
This is undoubtedly one of the best Labrador Retriever breeders in Texas, no wonder they made this list. We love this breeder because they are certified veterinary, so their Labrador puppies' health can be trusted.
Alder Creek Labradors Contact Details
Owner
Elizabeth Kuper, Amanda Lewis, Jordan Easter Taylor, Amy Forks, Sallie Broaddus, Matthew Dueser, Felecia Solomon, Jackie Longo,
Breeder Since
1987
Location
LaRue, Texas
Email

[email protected]

Phone Number
(903) 681-4262
Website
aldercreeklabradors.com
Facebook
Alder Creek Labradors
Labrador Retrievers Breeders in Other City of Texas
15. Soggy Bottom Retrievers
Soggy Bottom Retrievers, owned and operated by Lauren Daniel, raises top-notch Labrador Retrievers breed in accordance with the AKC's strict breeding guidelines. They are gifted with chocolate, yellow, and black coats on their English-type Labrador Retrievers.
They also expose each Labrador retriever pup to a broad range of textures, noises, and sensations to keep them happy and at ease in whichever household or setting they go out to.
Soggy Bottom use Labrador retriever puppies from admirable lineages with strong and excellent pedigrees in their breeding program, which has been meticulously chosen. All of their Labrador retriever pups undergo the necessary genetic testing and clearances for their eyes, hearts, hips, and elbows to be admitted to the highly exclusive breeding program.
16. Texas Pride Labradors
Texas Pride Labradors are ranked seventh on our list. They are in the business of producing healthy, premium liters. Their Labrador Retrievers puppies are real English Labradors with coat hues of chocolate, yellow, and black. They are also endowed with good temperaments and excellent intellect.
Texas Pride Labradors have spent almost 21 years producing Labrador Retrievers who make fantastic family companions, wonderful work dogs, fantastic therapy dogs, and outstanding hunting dogs.
We love this breeder because they ensure that only the best pedigrees are incorporated into their breeding program and that all Labrador Retriever puppies are thoroughly examined and tested for any genetic or hereditary conditions that may be problematic for next litters. All puppies here are ACK registered.
17. Greenstone Labradors
Located in the Texas Hill Country, Green Labradors is a recognized breeder of Labradors. They produce English Labradors Retriever breed and place a higher priority on character than on speedy gains. Their Labradors serve as more than just companion animals; they also compete in dog shows and are employed as retrieving and hunting dogs.
Greenstone Labradors have participated in many AKC hunt challenges and have won over 40 championships. The Labrador breeder does provide companions and shows puppies. A companion Labrador puppy and a show puppy have very few distinctions. All lab Retriever puppies here are AKC registered and vaccinated.
18. High Desert Labradors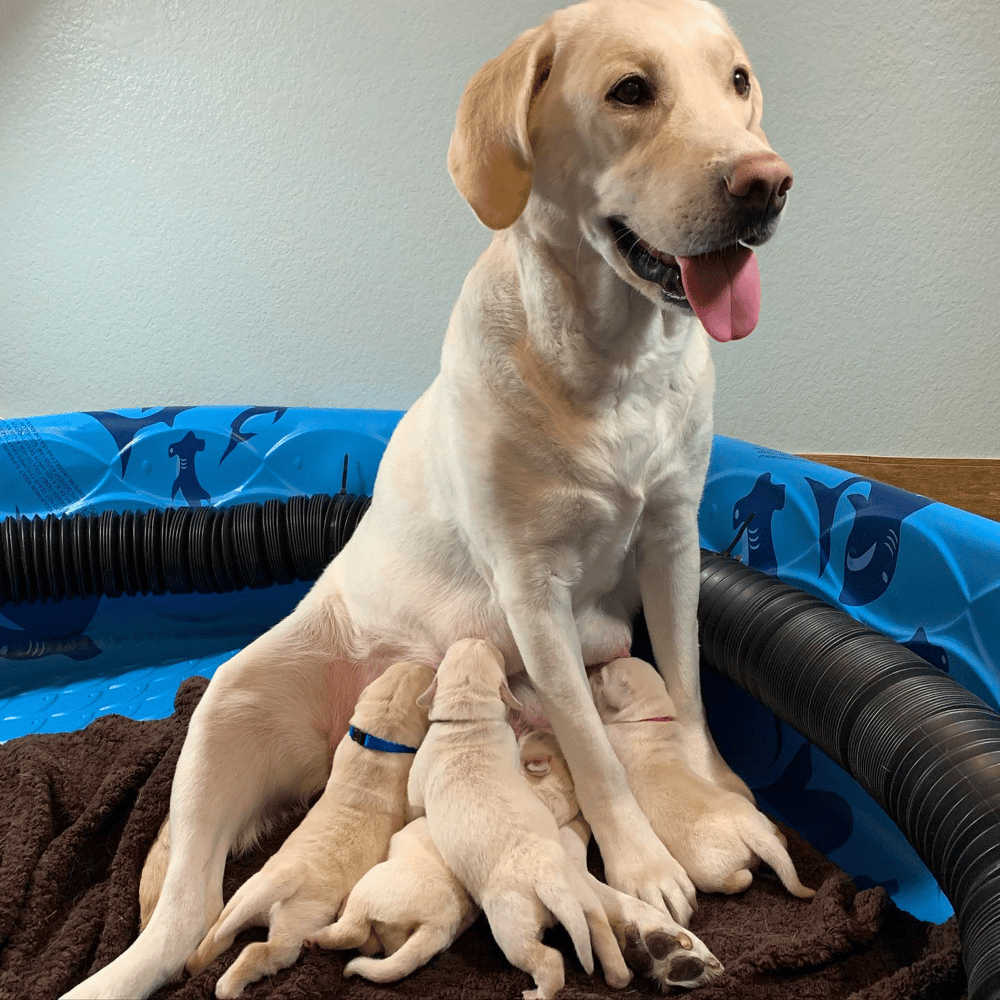 Although a small family breeder, High Desert Labradors sitting on our number 9 spot, is a classic breeder concerned about producing social and kid-friendly puppies. They deliver and nurture their Lab puppies in their house, where they are closely watched after.
Puppies raised by High Desert Labradors are NEVER housed outside concrete kennels, unlike bigger breeders. Instead, their puppies reside in the family home and spend all day interacting and playing with the kids.
The lineages from which High Desert Labradors are sprung are exceptional, and they include Master Hunters, who have achieved great success internationally and nationally. Despite having impressive pedigrees, they decide not to hunt or display their dogs. All lab Retriever puppies here are AKC registered and vaccinated.
19. Dickendall Labrador Retrievers
Dickendall Labrador Retrievers are one of the best Labrador breeders in Texas. They basically breed show, companion, and hunting dogs. However, only companion Labrador Retrievers are sold.
Their puppies are available only in yellow and black and are available for pickup after they turn 12 weeks old. All dogs are microchipped, ACK registered and vaccinated. Apart from selling Labrador puppies, they also sell young dogs and retirees available for homes.
Additionally, the general health and welfare of the pups are a priority for these breeders. Before being accepted into the breeding program, all Labradors undergo health checks for genetic and other disorders. This makes it more likely that you'll receive a healthy Labrador puppy in Texas.
Dickendall Contact Details
Owner
Dick and Kendall Herr
Breeder Since
1993
Location
Gainesville, Texas
Email

[email protected]

Phone Number
(940) 668-2893
Website
dickendall.com
Final Thought
All Labrador Retrievers on our list are good at what they do and can be trusted. However, Alder Creek Labradors is one breeder that really caught our attention.
Apart from the owner being a vet, their training methods are impressive. No wonder different Labradors from their litters have won several awards. Alder Creek's socialization program is also top-notch.
With this list, you should be able to get Labrador Retriever puppies in Texas quickly. However, as we mentioned earlier, ensure you do personal research on the breeder and make sure you have a facial conversation.
Best Labrador Breeders in The Other States
Other Dog Breeds: