Labrador Retrievers have captivated the hearts of many for decades, and it's doubtful this will change any time soon. It's no surprise, either. Labs are attractive dogs, known for their blocky heads and solid coloring – traditionally in black, brown (chocolate), and yellow. When we imagine the perfect family dog it always seems to be a Labrador, and many of us have fond memories of growing up with one of these patient and easy-going dogs.
This is one of the most versatile breeds, which only adds to their charm. A Labrador is capable of being a show dog, hunting dog, therapy dog, and most importantly, a loving companion. Whatever you plan to do with your Labrador Retriever puppy, it's important to do your due diligence in researching the breed. This is a dog that is known to live well into its teens, and as such should be viewed as a life-long commitment. Getting a puppy from a reputable breeder will ensure that you bring home a puppy that is confident, healthy, and ready to follow you through every adventure.
Our list will be discussing the best Labrador Retriever breeders in Oregon. These kennels have proven to be knowledgeable in their breed, and take all of the care in the world to produce puppies of solid temperament, structure, and type.
1. Sunnyview Labradors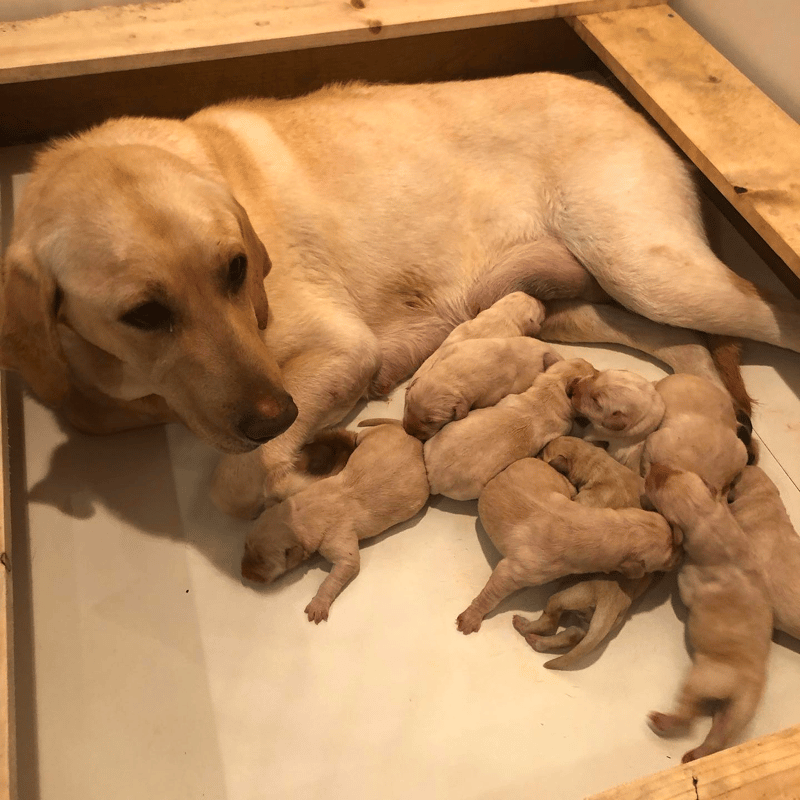 Given how Sunnyview Labradors have over 50 years of experience in the breed, it shouldn't come as a surprise that they're the first on our list of best Labrador Retriever breeders in Oregon. Their focus is on American lines, known for a more streamlined physique, and they only breed the colors black and yellow. Ultimately, this program seeks to produce Labs that are truly versatile and able to fit within every part of your life. If you're just looking for a loyal family dog, rather than a hunting or working companion, this breeder has placed many of their dogs into pet homes where they've thrived.
Sunnyview has some of the most impressive breeding standards, and it shows. Due to their rigorous health screening of sires and dams they have nearly eliminated hip dysplasia, PRA (progressive retinal atrophy), and cancer in their lines. Many of the puppies they've produced have lived well into their teens and still continued to be active family pets in their senior years. Each dog is OFA and CERF certified, and breeding pairs are selected carefully. They also regularly title their dogs in hunting trials, proving their capacity and talent in the field.
2. Merganser Labrador Retrievers
Second on our list of Oregon-based Lab Breeders is Merganser Labrador Retrievers. This is a breeder that produces dogs of exceptional quality, talent, and health. Where some programs focus on either English or American lines, Merganser has found a balance in combining them. Their Lab puppies have that fun-loving temperament that the breed is known for, with a moderate structure that includes the signature blocky head and otter tails. Their dogs are AKC registered and they follow the breed standard, so their lines are free from dilutes such as silver and charcoal.
All of their sires and dams come from exceptional pedigrees and are intelligent dogs, making them extremely easy to train. While a Merganser Labrador is capable of going on to compete and win high titles in whatever venture they are trained in, many have found their place as family companions and thrive in the house. To ensure the health of their bloodlines, all dogs are extensively health screened and certified before breeding.
Puppies are raised and socialized in the house, to make the transition into a new home seamless. Part of the socialization process includes crate training and being introduced to birds and water. All puppies come with full AKC registration, written guarantees on their hips and eyes, are dewormed, and have had their first vaccinations.
| | |
| --- | --- |
| Owner | Dianne and Alex Morley |
| Breeder Since | 1990 |
| Location | Creswell, OR |
| Email | [email protected] |
| Phone Number | (541) 953-8980 |
| Website | duckdog.com |
3. Rogue Retrievers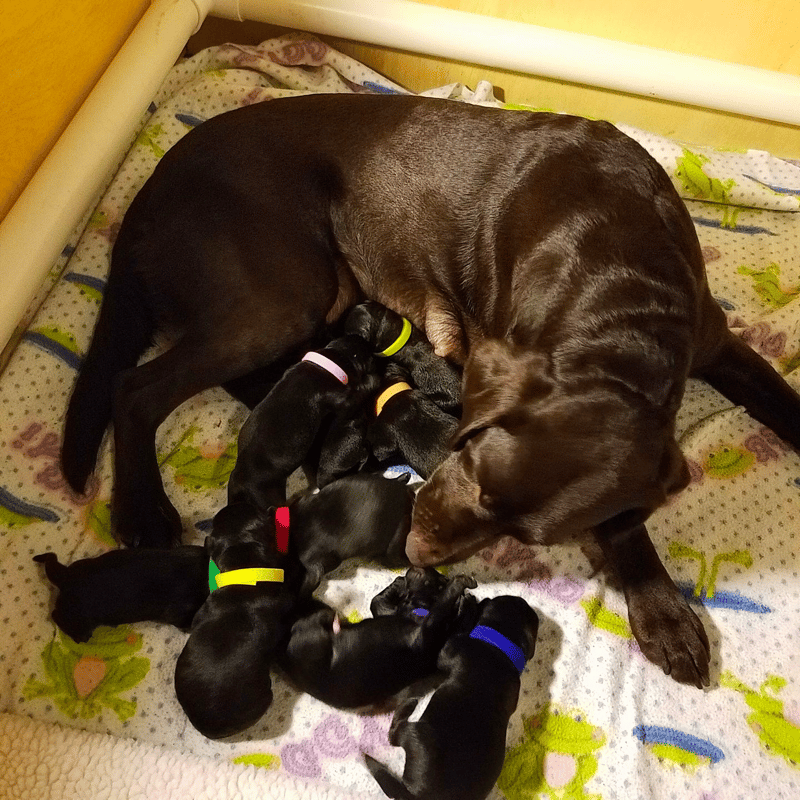 Located in Scappoose, Oregon, Rogue Retrievers has earned the third spot on our list of best Labrador Breeders in the state. Adrienne Hardin, an AKC Breeder of Merit, is the founder of this program, and not only is she knowledgeable in the breed, but she's also an experienced dog handler and trainer. She breeds AKC registered Labradors in all three of the recognized colors, and her program includes English and American Lines. By doing this she can ensure that each home is placed with a dog that has the appropriate temperament and drive, as many families just want a pet.
As a dog trainer, Adrienne has seen first-hand many dogs that have been poorly bred and poorly socialized. Her breeding stock is fully health screened, including having hip, elbow, and eye clearances, and genetically tested. Puppies are raised in the house, handled daily, and introduced to a variety of new experiences. They begin crate training, house training, and puppy obedience training before ever leaving their mother.
All puppies are de-wormed, microchipped, vaccinated, and have had their declaws removed. We've included Rogue Retriever's contact information below, to make it easier for you to approach her with any questions!
4. Kinnaman Retrievers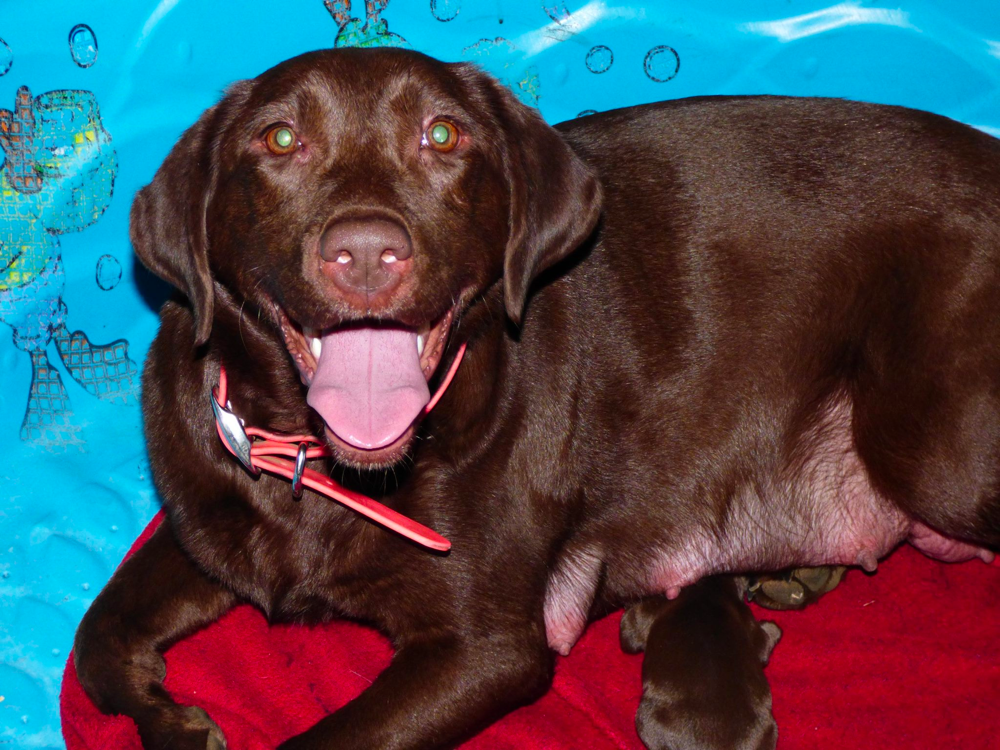 Temperament is very important in the Labrador Retriever. This is a breed meant to be friendly and loving, without any aggression, and our next Lab breeder in Oregon understands this. Kinnaman is the fourth on our list, and just as exceptional as the rest. While they breed field-line American Labs of exceptional working quality, at the end of the day their dogs are still family pets and thus are gentle-natured and easy to train.
Your Lab puppy from Kinnaman will come from a pedigree full of champions in competition and the field, though if you're just looking for a loyal companion they are great at that too! All parents have been health tested fully, so you can be assured that your puppy will live a long, healthy life. Their dogs are eager to please, and just as happy chasing a ball as they are hunting pheasants in a field.
If you're interested in this program, you can reach out to them using the information below to learn how puppies are socialized and what health guarantees they come with.
5. Sutter Bay's Retriever Junction
We've reached the middle of our list of the best Labrador Retriever breeders in Oregon and number five won't disappoint! This kennel was developed by Tellus and Tracy Calhoun, a couple that loves dogs and wants to produce only the best Lab puppies around. They have years of combined knowledge in breeding, competing, and training and use it to improve their bloodlines with every generation. They seek to produce puppies that are multi-purpose, with many of their Labs showing aptitude as therapy dogs. They also breed Golden Retrievers.
Given this is another AKC Breeder of Merit, they follow strict breeding guidelines to ensure their Retrievers are healthy, structurally sound, and of a good-natured temperament. A Sutter Bay Labrador is ideal for active pet homes, field/performance homes, and sporting homes. Sires and dams have had their hips, eyes, and elbows screened and are genetically tested for inheritable conditions such EIC and CNM.
This program matches puppies to their new homes, this is done to make sure that each Labrador is placed into the right home. Puppies are AKC registered, temperament tested, and well-socialized. They no longer remove dewclaws.
6. Elk Creek Gun Dogs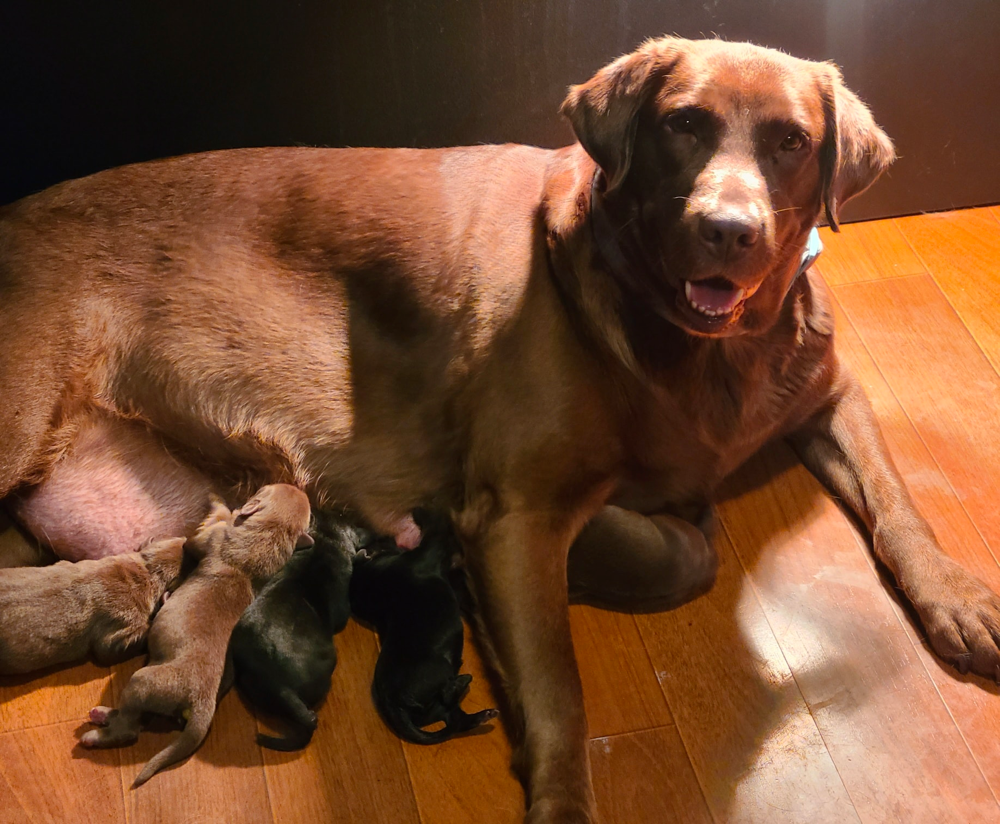 The list of best Labrador breeders continues and at number six is Elk Creek Gun Dogs. Located in Drain, OR, this is a program that specializes in the classic American yellow Labrador. Ron is the founder of this kennel and he understands that not every puppy will be placed in a home that wants to hunt and compete, so he is careful in his selective process when it comes to litters. While all of his dogs have the genetic drive to perform and hunt, they can live happy and fulfilling lives without ever going out on the field.
If you have any questions about their breeding process, health screening, or how they raise their puppies you can reach out using the information provided below! They also have a Facebook page that is up to date with litter news.
7. Cold Creek Farms
This is a Labrador Retriever breeder that understands how versatile the Lab is! Cold Creek Farms produces English Labradors that are yellow (ranging from cream to fox red) and black in color. Not only do their dogs have that stable, gentle personality that's wanted in a Lab puppy, but they are eager to please and make great show dogs, amazing gun dogs, and all-around loyal pets.
All of their breeding dogs are health certified and genetically tested, come from impressive pedigrees with championship-titled dogs, and are extremely affectionate without signs of aggression. They are a member of the RCLRC, further proving their dedication to the breed.
8. Riverlane Labradors
While many of our best Labrador Retriever breeders in Oregon may specialize in American field lines, Riverlane Labradors boasts spectacular bench line Labs. Their dogs have that classic thicker structure and blocky heads known in show lines. Don't be fooled, though. These dogs are more than just prissy show dogs and are just as happy romping through a field after a bird or playing in the yard with kids.
As members of the RCLRC, Greg and Susan are active in the Labrador community and have bred and shown many champions in their 30 years of experience. All of their breeding stock is OFA hip/elbow certified and have their CERF clearances, so you can enjoy many years with your Riverlane Lab puppy.
While their website doesn't discuss how puppies are socialized and what they're sent home with, you can send them an email with any questions you may have and they'll get back to you as soon as possible.
9. Breton Gate Labrador Retrievers
Coming at number nine on our list of Lab breeders located in Oregon is Breton Gate Labrador Retrievers. Located in Portland, this program has been active since the early 1980s. Betty Barkley's dogs are of exceptional quality, so it's no surprise that her kennel name often pops up in the pedigrees of other breeding programs. Her dogs are beautiful, healthy, and affectionate English Labs that have nice, square heads and the drive to compete in show or field. Many of her puppies have gone on to gain their championship titles, but they are still loyal companions and family pets at the end of the day.
Their website doesn't go into a lot of detail about their whelping procedures, but Breton Gate Labradors does health certify all of their sires and dams to ensure that they produce healthy puppies that will live long lives without the risk of inheriting genetic diseases. Puppies are raised in-home and socialized through the eight weeks they are with their mother and litter; introduced to stimuli such as children, car rides, and water.
10. Thornwood Labradors
We've reached the conclusion of our list of best Labrador breeders in Oregon! Last is certainly not least in this case, as Thornwood Labradors have been in the breeding game for decades now and are AKC Breeders of Merit. While they breed AKC registered English conformation line Labradors, with blocky heads and thicker builds, their puppies still have the drive to become talented gun dogs. Thornwood, run by Kevin and Cheri, breeds to the standard set by the LRC so you won't find the dilute gene in their lines.
They understand how versatile the Labrador is meant to be, so their puppies grow up to become loving pets, laid-back gun dogs, service dogs, and sometimes even champions in the ring. A lot of us see showing dogs as a useless act and a beauty contest, but in reality, it's a way for good breeders to have their breeding stock judged to standard. Thornwood has an eye for well-bred Labradors, and it shows with every litter they breed.
This program believes in rigorous health and temperament testing, as it's important in producing Lab puppies that will grow up to be loving companions of great health, loving temperament, and correct type. They follow all OFA recommendations for health screenings, only breeding dogs with passing results. Puppies are socialized in a home environment and have already begun the foundations of obedience training before going to their new families.
Final Thoughts
When making the decision to buy a Labrador puppy, it's important to choose a reputable breeder that follows breed standard and health tests all of their breeding dogs. This helps make sure that each puppy is structurally sound and healthy so that they can live long lives by your side. Many breeders will temperament test their puppies and should focus on making sure that they never breed dogs with aggression issues.
Each breeder deserves recognition and a spot in this list of the reputable Labrador Retriever Breeders in Oregon, but I ultimately chose Sunnyview as my first choice because of their experience and the care they put into their program.
To be able to nearly eliminate health disorders like hip dysplasia, which is common in Labradors, is impressive and truly speaks to this breeder's dedication to the health of their puppies. Their dogs live in the home with them and yet, also compete regularly in the field and sports, which shows how much they value breeding for a multi-purpose dog with the sweetest personalities.
You can't go wrong with any of these Oregon Labrador Retriever breeders, but Sunnyview does deserve that special nod!
Best Labrador Breeders in The Other States
Other Dog Breeds: