It's time to bring a new puppy home; you've done all of your research, and settled on the perfect breed: the Labrador Retriever! Whether this is your first Lab or your fifth, it's still as exciting as it is daunting. We know how hard it is to find the right breeder and get one step closer to that adorable bundle of joy. To help make the search easier, we've compiled a list of the best Labrador Retriever breeders in Vermont.
This list only features reputable breeders that are passionate about the breed, and care about each and every puppy they produce. They have rigorous programs where all of their dogs are health tested and certified, only breeding dogs that pass with flying colors to reduce the chances that your puppy inherits a genetic disorder, like hip dysplasia.
Many of these breeders have also titled their dogs, and have produced champions or successful service dogs. Most importantly, all their puppies grow up to be loving and loyal companions. These breeders provide AKC registration for their dogs, so you can be comforted with the knowledge that your puppy is a purebred Labrador.
You probably have many questions to ask, and these great breeders will be willing to answer all of them, while also having ten more of their own for you! We've included contact information and their website and social media accounts if they have one.
1. Covered Bridge Labradors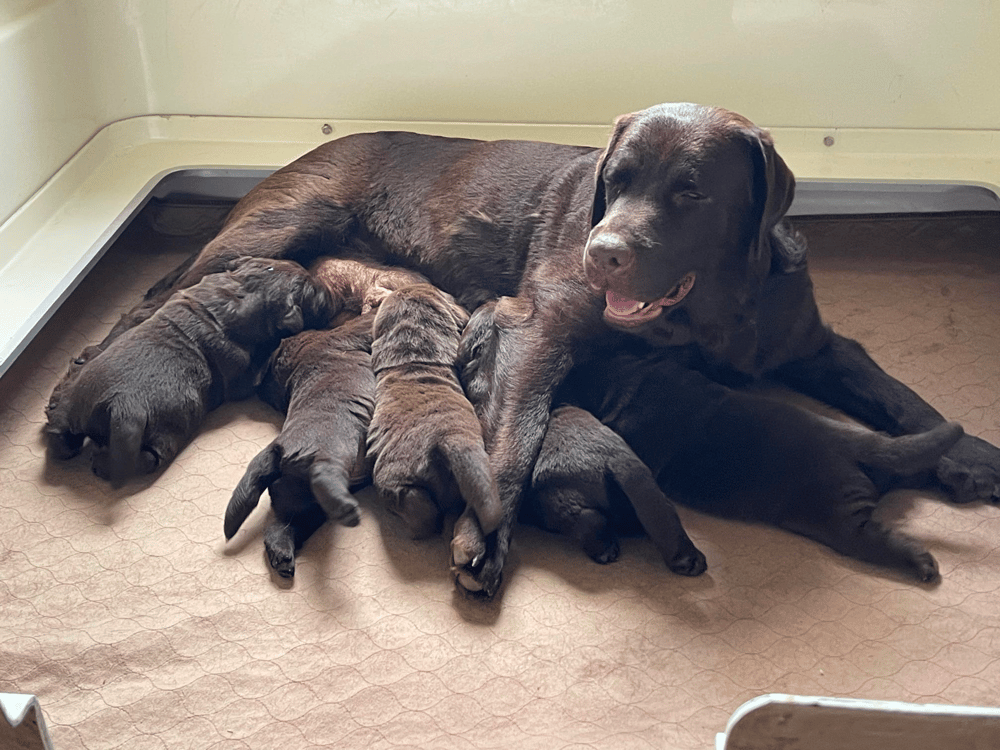 Founded by David and Patty Jaqua in 1987, Covered Bridge Labradors has built up a positive reputation in the community of Vermont and the dog world itself. This program deserves to be at the top of our list due to their dedication to the Lab, and the glowing reviews that they've received through the years really highlight how much they care for their dogs. If you're looking for a quality Labrador Retriever, Covered Bridge is the place to go.
They specialize in English Labs, known also as show or "bench" lines. This type of Labrador is stockier than their American field line cousin and has that quintessential look when you think of a Lab with the blocky head and otter tail. As an AKC Breeder of Merit, they only breed for the accepted colors so you won't find dilute or silver dogs in their lines.
Each sire and dam has its hips and elbows X-Rayed and OFA certified before breeding and are genetically tested for inheritable diseases. They take great care when selecting which dogs to breed, and their females generally never have more than two litters.
Puppies are raised in the home, as part of the family, and through the eight weeks, their personalities are monitored. Once they're 7 weeks old pups undergo temperament testing, which is an aptitude test that gives David and Patty an idea of what each puppy will be like when grown. This ultimately helps make sure that their Lab puppies are placed in the right home.
2. Dole Hill Labradors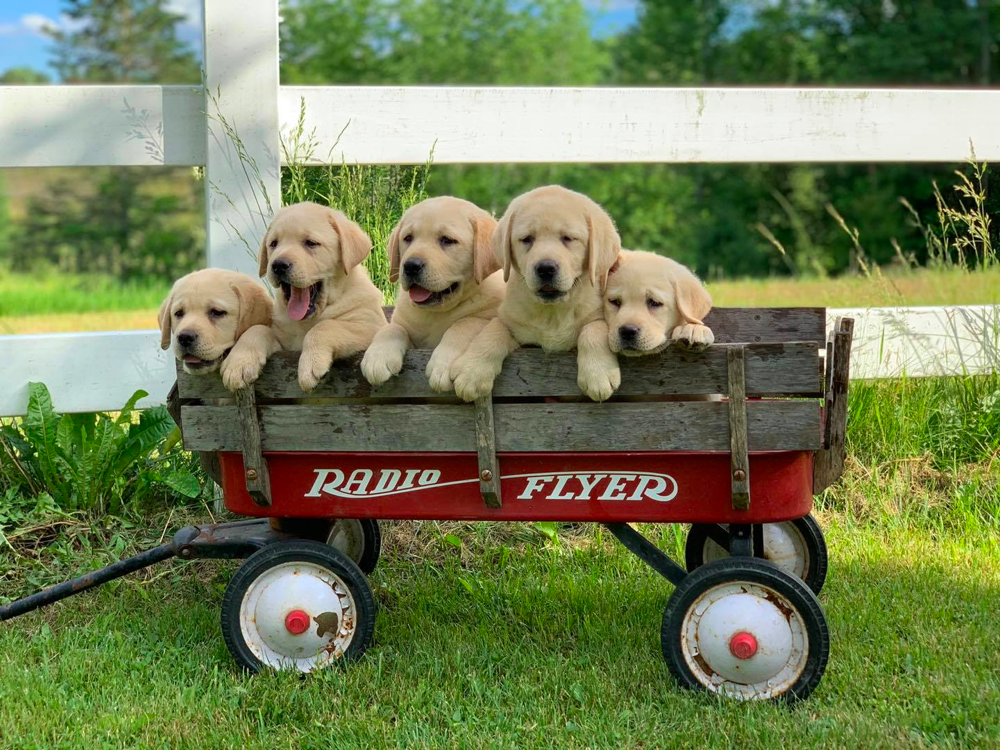 Dole Hill Labradors, located in the lovely town of Danville, Vermont, is a breeder of AKC-registered black, yellow, and chocolate English Labrador Retrievers. They take pride in their bloodlines and only choose the best dogs to breed, so most of their puppies come from champion lines that have been health tested. Rhiannon knows how important it is for a Labrador to be a well-rounded and multipurpose dog with that shining temperament. Many of the puppies she places not only go on to make great sporting, show, or service dogs but loving companions.
She typically only sells puppies with limited AKC-Registration, so if you're looking to show or breed in the future, you will have to discuss the possibility with her beforehand. Rhiannon also welcomes any questions you might have about Labs, their health issues, and whatever else might cross your mind – especially if this is your first Labrador.
Each potential home is screened in advance because she cares about her dogs and wants to ensure they go to great homes. Before even going to their new homes, puppies have already begun basic obedience, house training, and crate training. She'll also take back any dog she has ever produced if you can no longer care for him.
3. Diamond Brook Kennel
At number three on our list of Vermont's top Labrador Retriever breeders is Diamond Brook Kennels. Founded by Rodney and Barbara Mack, this program differs from our first two in that they specialize in American, or field, lines. Their goal is to produce puppies that aren't only high-drive working dogs but obedient companions eager to please. While their Labs may lack the traditional thick build and blocky head, they still have that same loving temperament that makes the breed so popular.
Diamond Brook doesn't breed for color or specific looks, but that doesn't take away from the quality of their puppies. They prove the working ability of all of their dams by not breeding until they at least have their Senior Hunter title, but most of their dogs have Master Hunter titles. Each dog is OFA certified with hips rated Good or Excellent and is clear of genetic eye disorders. Naturally, Rodney and Barb are just as picky when choosing sires for their litters.
This breeder is ideal for anyone looking for an active family companion, hunting dog, sporting prospect… or all of the above!
4. Lakota Labrador Retrievers
Lakota Labradors, founded by Lynn Lawson, is located in the town of Danby. She proves that English-style Labs aren't just lazy, snobby show dogs. Her dogs are exceptional; they have won many conformation ribbons, competed in agility and dock diving trials, or made superb gun dogs. Some of the puppies Lynn has produced have become therapy dogs and service dogs. Perhaps most importantly, a Lakota Labrador puppy will be your devoted companion.
While an AKC Breeder of Merit, Lynn is a small hobby kennel, so she only produces one or two litters a year. Her website states that puppies are reserved in advance, so if you're wanting a puppy from Lakota Labradors, you'll have to reach out and get on the waiting list. Every so often, Lynn might have spots open on a current litter. She only breeds in the three AKC-recognized colors, so no silver or dilutes.
All of their breeding dogs live in the house and are, first and foremost, family companions. This doesn't negate their drive and eagerness to work, because at the end of the day a Lakota Labrador wants to be with his people.
5. CrossHaven Kennels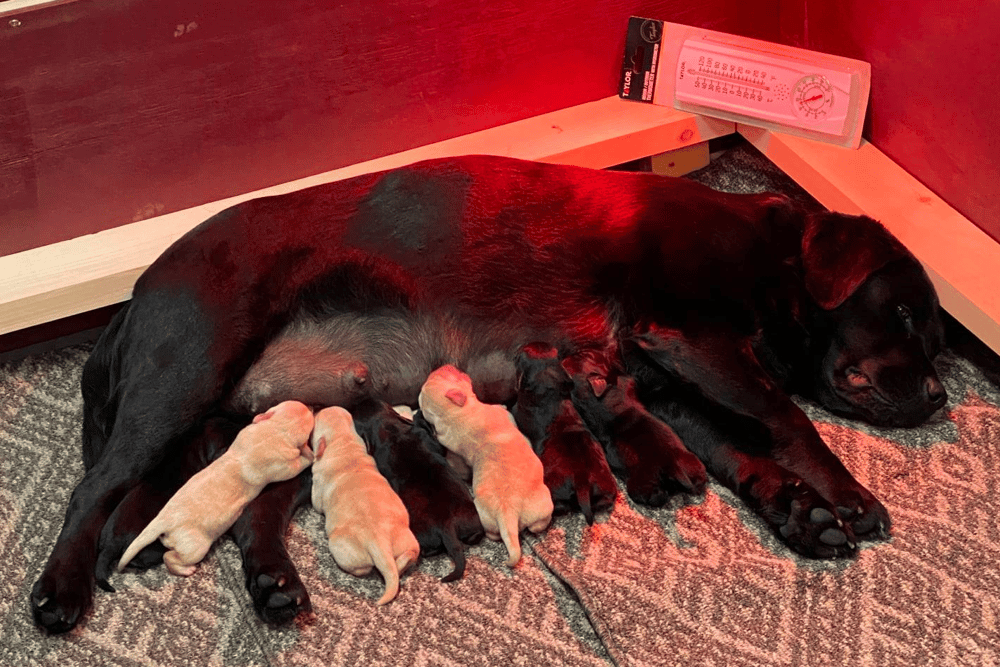 Nestled in the heart of 400 acres of Vermont land and forest is CrossHaven Kennels. Just the thought brings forth images of happy Labradors running and playing to their heart's content, with giant smiles and shining fur. This breeder has more than three decades of experience in their breed, so they know what they're doing. Though they breed for the classic looks of English Labs, as preferred by the AKC and LRC, Scott hasn't done away with good health and temperament for the sake of a pretty dog. Still, a CrossHaven dog is certainly handsome!
Scott is a respected breeder from Vermont to Bermuda, so you definitely won't go wrong with getting a Labrador puppy from him. Every dog has been health tested, including OFA certifications and genetic testing, to reduce the risk of passing on inheritable diseases or disorders. Ultimately, CrossHaven takes pride in producing puppies that grow up to become devoted to their families and have a love for all people.
If you're looking for a companion that will be by your side for years, we highly recommend this breeder. They only produce a couple of litters a year, so you'll have to reach out in advance about getting on their waitlist.
6. Lilley Hill Kennel
Though many of our breeders we have discussed on this list hold a preference for the confirmation show Labs, Lilley Hill is well-known and respected for its field lines! Located in the town of Plainfield, this kennel is run by Doug Lilley, who breeds British Labradors and English Setters. His dogs come from champion pedigrees, and while they have a high working drive and love to be on the field, they're also amazing family dogs that adore children.
Doug's website and social media accounts aren't kept updated, but you can reach out to him by email or phone call, and he'll be happy to answer any questions you might have about his program or available puppies.
7. SC Morgans
The seventh spot on our list of great Labrador Retriever breeders in Vermont is SC Morgans, who also raises horses and Tennessee fainting goats. Of course, we'll be talking about the dogs. SC Morgans began in 1998 with an adorable yellow Lab puppy named Oats, who all of Sherry's current dogs are descended from.
As expected, her dogs are health tested and certified by licensed professionals. They have good or excellent OFA hip and elbow scores and are genetically cleared of PRA and EIC. While the website focuses more on the horses and goats, there is a page that goes into further information about her Labrador breeding program and gives more insight into the long line of dogs that have contributed to bettering their bloodline.
Puppies from this kennel grow up to be versatile, as is expected of the breed! Whether you want to cuddle on the couch, compete on an agility course, or spend the day hunting fowl, an SC Morgan Labrador will be happy to do all of that and more.
8. VT Waterbound Labs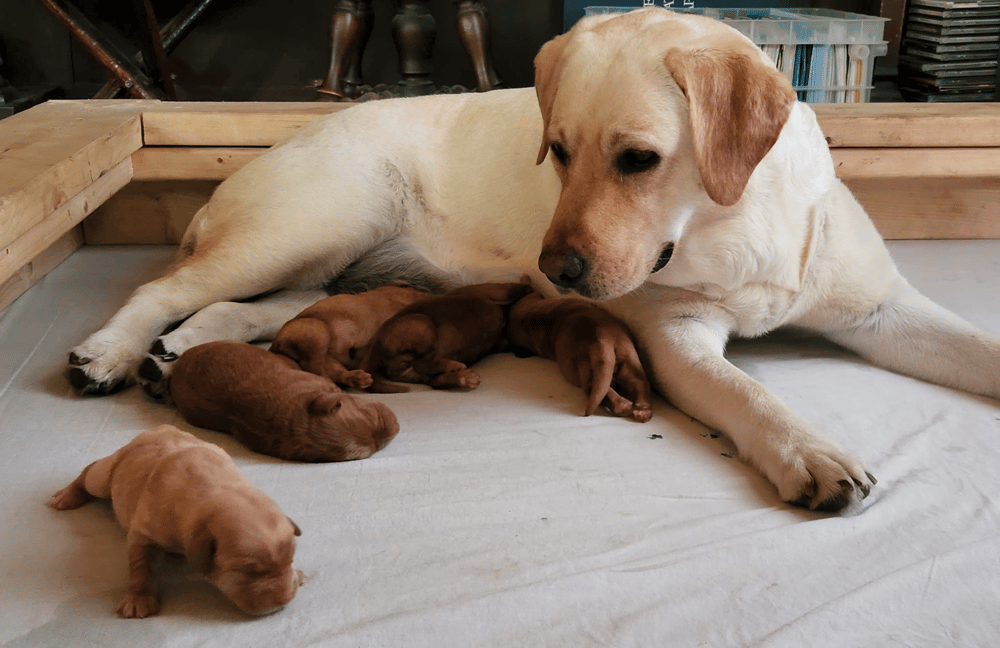 Wrapping up this list of Vermont Labrador Retriever breeders is VT Waterbound Labs. Tucked away in Rural Vermont, these dogs are a part of the family and get to spend their lives in the house and roaming the 16 acres of land, which includes a pond. Though this is a small hobby breeder, Waterbound Labs is dedicated to producing puppies that will ultimately make the perfect companion dog with the natural ability to work and hunt.
Their dogs are moderate in conformation and have the loving, people-oriented temperament expected of a Lab. Breeding dogs have their hips and elbows OFA certified and are genetically tested, cleared of the 15 diseases common in the breed.
Puppies are raised in the house, not in an outside kennel or barn, and socialized daily with people and other dogs. They also begin basic training and have been introduced to water before going to their new homes, making the transition easier. All Vermont Waterbound Labs are sold with AKC registration and a one-year health guarantee, though it is up to the owner to microchip their puppy to prove ownership. For the entirety of your dog's life, this breeder will be available for questions and concerns.
Final Thoughts
By choosing a reputable breeder, you're setting yourself and your future Labrador puppy up for a life of success. Rigorous health testing will help reduce the risk of hereditary health problems, giving you many happy years with your puppy that shouldn't be spent at the vet. You know how important temperament is to Labrador Retrievers, and so does a reputable breeder. That's why many of them temperament test not only the parents of the litter but the puppies as well, and some breeders will use these results to place each puppy in the right home.
While all eight breeders on this list are reputable, with great breeding programs and dogs, my top Labrador Breeder in Vermont is Covered Bridge Labradors. Looking at their website, it's easy to see how much they care; first and foremost, their dogs are family. Puppies aren't sold first come, first serve. It might seem strange to have your breeder choose the puppy for you, but they have years of experience to guide them along.
Before deciding on a breeder, be sure to do your research and always reach out and get to know the person behind the program before making a decision. A good breeder should have ten questions for every one question you have and will be happy to help guide you along your way.
Reputable Labrador Retriever Breeders in The Other States