Are you looking to complete your family with a loyal furry friend? Look no further than the Goldendoodle! Goldendoodles are possibly the biggest up-and-coming breed combo in the United States at this time. Combining the loyal and friendly Golden Retriever with the calm and gentle Poodle makes for a wonderful companion!
Since the Goldendoodle is so popular, it can be hard to find a reputable breeder that you can trust. In this article, I will list the top 10 best Goldendoodle breeders in the state of Georgia. Although much research was done to compile this list, it is still very important to use your due diligence to select a breeder that best fits your personal wants and needs.
1. River Falls Goldendoodles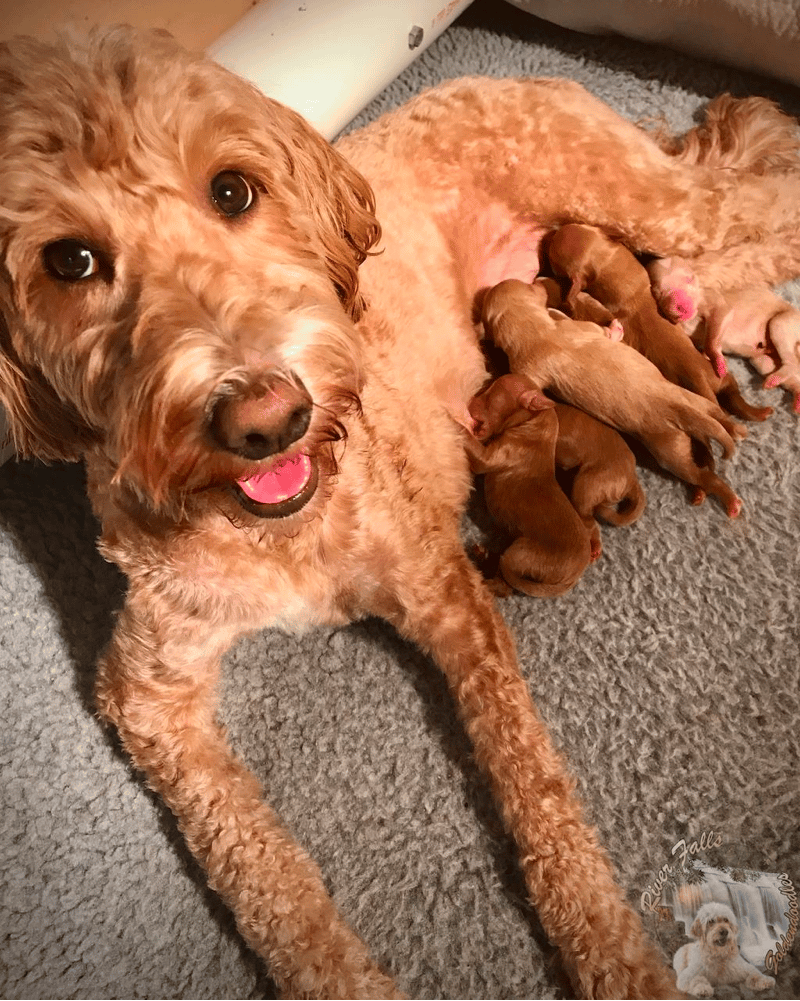 Starting our list, River Falls Goldendoodles is a GANA (Goldendoodle Association of North America) certified Blue Ribbon Breeder in Mount Airy, Georgia. Neelie and Steve own and operate River Falls Goldendoodles completely out of their home with their three young children. Each parent dog is one of their family pets and the puppies are raised by hand and heavily socialized from day one.
Both Neelie and Steve are lifelong dog owners, breeders, groomers, and trainers. They specialize in creating the most healthy, loving environment for their dogs and puppies. Since the puppies are raised in the home, they are given constant attention and medical care on demand. They are also properly socialized to the family setting and commotion that comes with having children in the home. With twenty years of combined experience, River Falls Goldendoodles understand the importance of raising puppies to have a sound temperament.
All of the dogs are DNA tested through Paw Print Genetics and screened for over 150 diseases. They also OFA (Orthopedic Foundation for Animals) health screen all of the dogs as well, promising the healthiest puppies possible. They have partnered with the Braxton and Bella training school as well as the AKC (American Kennel Club). River Falls Goldendoodles have many dazzling testimonials, and a large number of their puppies continue training and become service or therapy dogs. They provide multigenerational Goldendoodles and send you home with a two-year genetic health guarantee.
2. Atlanta Doodles and Poodles
Atlanta Doodles and Poodles is run by Malissa Purvis and Lauren Bishop, a mother and daughter duo, located in Jackson, Georgia. Both women mirrored a breeder of 15 years to learn how to responsibly and ethically breed dogs.
Atlanta Doodles and Poodles are partnered with the ASPCA (American Society for Prevention of Cruelty to Animals) as well as the AKC (American Kennel Club). They raise their puppies on the BAB (Badass Breeder) curriculum. They are also partnered with Baxter and Bella training to offer a lifetime discount on online training for every new owner!
The Goldendoodles bred at Atlanta Doodles and Poodles are raised by hand in their family home with plenty of land to run free. The bred dogs are quite literally family members to the duo, constantly taking the dogs hiking, swimming, and on play dates. The puppies are shown constant love, affection and proper socialization from the day that they are born. The ladies also are vigilant about keeping the dogs up to date medically and feeding them only the highest quality food.
| | |
| --- | --- |
| Owner | Malissa Purvis and Lauren Bishop |
| Breeding Since | 5+ Years |
| Location | Jackson, Georgia |
| Email | Must Email Through Contact Page on Website |
| Phone Number | (404) 456-3511 |
| Website | atlantadoodlesandpoodles.com |
3. Champions of the Heart
Classifying themselves as "serious hobby" breeders, the Alexander family has been breeding F1 and F1B Goldendoodles on their large plot of land in Lavonia, Georgia since 1999. "Serious hobby" breeding means that the Alexander family has their parent dogs as pets first, some are bred and some are not, but they allow mother nature to decide when breeding occurs. Although this can become difficult to keep up with supply and demand, this ensures the dogs and puppies have the best quality of life possible in the breeding world.
Champions of the Heart is fully licensed and insured and was actually the first Goldendoodle breeder in the state of Georgia. The family of four has been running a farm for years and does not breed solely for profit. All of the puppies are socialized with a countless number of different animals, noises, and environments that come with living on a farm-style property. The puppies even have experience in swimming pools before going home! The puppies begin crate training and house training while in the care of the Alexander family.
Each dog is DNA tested to ensure a healthy bloodline. The family has placed puppies with celebrities and has had puppies featured in many magazines, TV shows, and books. They also hold many accolades, but choose not to disclose much of this information to avoid "bragging for sales". The family prides themselves on staying simple, raising puppies naturally with love and affection, and avoiding growing larger than the home they have had for decades.
| | |
| --- | --- |
| Owner | Alexander Family |
| Breeding Since | 1999 |
| Location | Lavonia, Georgia |
| Email | championsoftheheart@gmail.com |
| Phone Number | (864) 934-1598 |
| Website | championsoftheheart.com |
4. Southeast Doodles
Southeast Doodles is a family-owned and self-managed F1 Goldendoodle breeder out of McDonough, Georgia. The family hand raises each litter from the comfort of their own home. Southeast Doodles ensures that all dogs and puppies receive consistent grooming, veterinary care, training, and socialization. All puppies are sent home with a two-year health guarantee. Southeast Doodles also provides puppy training services directly after your puppy is adopted at eight weeks of age.
Although Southeast Doodles is run by a single-family household, they provide transportation to anywhere in all fifty states! They also provide miniature Goldendoodles as well. Each puppy is exposed to the household setting and handled from the day that they are born by the entire family, including the children. Their puppies have grown to excel at service, therapy, obedience, herding, outdoor recreation, and more.
Southeast Doodles have received glowing testimonials. They prove to go the extra mile for each client, they will even meet you at the pet store to help pick out supplies. Sean and Shakira, the owners, spend a large amount of time meticulously making sure each new pet parent is taken care of, just as much as their puppies!
5. Mini Goldendoodles of Georgia
Out of Suwanee, Georgia, Christy C. runs Mini Goldendoodles of Georgia. As the name states, Christy specializes in breeding multigenerational Miniature Goldendoodles. Each puppy will grow to about 20 to 30 pounds, making it the perfect new lap dog! Miniature Goldendoodles can be hard to find since they are the least common variety bred, especially by a breeder that exclusively focuses on minis.
Mini Goldendoodles of Georgia is a Good Dog Good Breeder and every dog is OFA (Orthopedic Foundation for Animals) health tested to ensure that they have healthy genetics to pass on. All of the parent dogs are household pets, meaning they spend their days at home receiving constant love and affection! Each parent dog and litter of puppies are either raised in Christy's home or one of the trusted guardians' homes. The dogs are all handled and socialized daily, exposing them to countless things such as vacuums, cars, and most high-fidelity noises.
Christy also provides a wonderful service partnered with Snuggly Doodles where she donates one puppy a year to become a service dog to someone who needs it. To qualify, you must go to her website and fill out an application. The best candidate will be selected based on their need for the service puppy. By doing this, Christy feels she can begin to give back to the community that has helped her and Mini Goldendoodles of Georgia blossom.
6. Ramen Doodles
Ramen Doodles has adopted the goal to breed the healthiest Goldendoodle puppies in Georgia. Located in Byron, Georgia, Ashlie breeds and raises Goldendoodle puppies out of her own home. Each puppy receives quality one-on-one time training starting from three weeks. By handling the puppies so much at a young age, the puppies develop a kind temperament and begin socializing with humans comfortably.
Ashlie consistently maintains a training schedule with the puppies, sending them home crate trained by the time you meet them! With a structured schedule, all of the dogs at Ramen Doodles have a sense of purpose, as well as the affectionate personalities that result from being hand raised in the home instead of a kennel. All of the puppies are also sent home mostly potty trained with a goodie bag and a two-year health guarantee.
Something that really sticks out about Ramen Doodles is the countless raving testimonials and reviews by previous adopters. Ashlie is very professional but amazingly easygoing. She answers any and all questions quickly and happily. Ramen Doodles not only specializes in breeding wonderful dogs but also specializes in providing wonderful customer service.
7. Ayers Pampered Pets
Many of the F1B Goldendoodles with Ayers Pampered Pets go back up to four generations. Located in Hull, Georgia on acres of land, all of the puppies and dogs have plenty of space to run and exercise with no cages. The fresh air mixed with room to run equals very happy, healthy Goldendoodle puppies!
The puppies are given full veterinary checkups, vaccinations, and deworming as soon as possible. Ayers Pampered Pets are so confident in the health of their Goldendoodles that they offer a lifetime health guarantee. They have made national news numerous times due to their puppies being accredited service animals for the disabled.
All of the dogs are OFA (Orthopedic Foundation for Animals), PRA (Progressive Retinal Atrophy), PRCD (Progressive Rod-Cone Degeneration), and temperament tested to ensure the healthiest bloodline possible. They participated in a nationwide DNA survey and determined the bloodline of their Goldendoodles were in the top 5%. Every puppy born through Ayers Pampered Pets is raised with a kind, loving hand and it shows!
8. Forever Snuggly Goldendoodles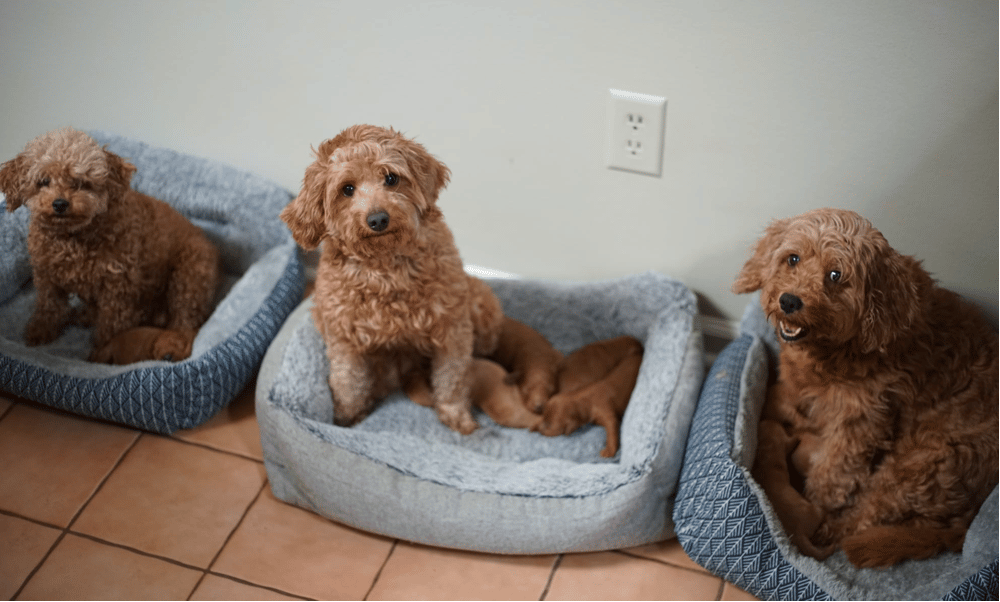 Forever Snuggly Goldendoodles provides toy and miniature Goldendoodle puppies. The family of 6 is licensed by the state of Georgia. They breed and raise each litter in their own home. They breed smaller puppies, to create smaller best friends. From the moment they are born, the puppies born with Forever Snuggly Goldendoodles are given love and attention from adults and children alike, creating a very socialized companion in each puppy.
The family makes sure to pair each new potential owner with the perfect puppy that fits their needs. The dogs are all health tested and go home with a two-year health guarantee. The family intentionally immerses all of the dogs and puppies into their everyday life, making sure the puppies go home prepared to be integrated into your family.
All puppies are vaccinated, dewormed, and given a clean bill of health prior to leaving Forever Snuggly Goldendoodles. On their website, they have an informational tab to help new dog owners know what to get that is essential and good quality. The clientele has left wonderful reviews and updates on their Goldendoodle puppies.
9. Tuckers Doodles and Poodles
Tuckers Doodles and Poodles is a licensed breeder in Augusta, Georgia. The owner, Debbie, has been breeding dogs for decades, bringing lots of experience to the table. Each puppy comes with full vaccines, a microchip, and deworming.
If you choose a puppy and place a deposit you can begin visiting and bonding with your puppy as young as four weeks old! All of the puppies are raised in a family setting, making sure the puppies are happy and well socialized. They allow you to meet the puppy's parents as well as view their current living environment.
Debbie with Tuckers Doodles and Poodles is happy to communicate and help any new dog parent even after the puppies go home. She has grown up personally on a farm, and has been passionate about animals ever since she was young! Tuckers Doodles and Poodles have been breeding Goldendoodle puppies for about twenty years.
| | |
| --- | --- |
| Owner | Debbie Tucker |
| Breeding Since | 25+ Years |
| Location | Augusta, Georgia |
| Email | debbie@tuckersdoodlesandpoodles.com |
| Phone Number | (706) 829-6116 |
| Website | tuckersdoodlesandpoodles.com |
10. Georgia Doodle Dogs
Since 2015, Georgia Doodle Dogs have been breeding multigenerational and F2 Doodles. Betsy Gotch breeds her family dogs in Winder, Georgia. All of the dogs have been genetically health tested through Embark for Breeders.
All of the dogs bred through Georgia Doodles Dogs are family pets, meaning the puppies immediately become a part of the family! Two of their puppies have already stamped a print on the family's heart and they were kept as emotional support dogs for Betsy's children. Betsy herself has vast experience with animals as three of her sisters also find joy in breeding dogs.
Georgia Doodle Dogs is simply a small town breeder with a large lot of love for their Doodles. The family keeps a very simple operation, which allows more one-on-one time with each puppy, customer, and client. Betsy and her family have a veterinarian, a groomer, and an inspector who visits the home often.
Who is the Best Goldendoodle Breeder for You?
Although I have spent quite a bit of time researching these top 10 reputable Goldendoodle breeders, the question of who the right breeder is for you can ultimately only be answered by you. It is crucial when selecting a puppy and a breeder that you interview everyone personally and make a selection based on your wants, needs, and beliefs. There are many wonderful, ethical breeders in Georgia, and any of these 10 could be the perfect fit for you!
Personally, I selected River Falls Goldendoodles as the number one best breeder in Georgia based on their qualifications and credentials as well as how they care for and about their puppies. It is important to purchase a puppy from someone who is morally sound and spends the first eight weeks molding the perfect companion for you!
Best Goldendoodle Breeders in The Other States