For those looking to add a Labrador Retriever to their home, we've collected a list of the top Labrador Retriever breeders in Arizona. This amazing breed is well-loved in America and it's easy to see why! Labradors are known for their affectionate natures, calm personalities, and easy trainability.
They make great family pets, companions, hunting dogs, service, and therapy dogs! If you're considering adding this breed to your home, check out our list for important information about the most reputable Labrador breeders in Arizona.
We'll provide contact information, direct links to their website, and other relevant information they provide. We do our best to research each breeder to ensure they're a reputable breeder and have had previous satisfied customers. It's important that when choosing your breeder, you meet them in person, if possible, or speak with them directly on the phone. You will be the best judge of character and you'll want to bring the best puppy home!
1. Daisy Mountain Labs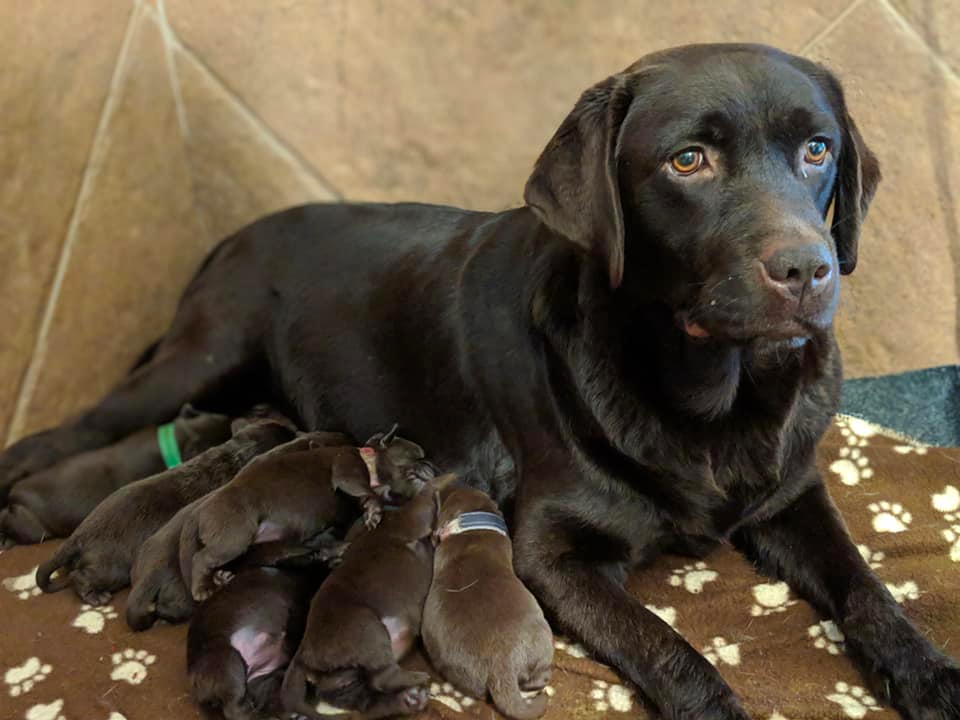 Brooke Waldron had been a certified vet technician for 15 years before deciding to devote her time to producing quality Labrador Retriever puppies. Raised on her family farm in Phoenix, AZ, Brooke strives to produce healthy puppies that will go on to do well in various roles.
We like Daisy Mountain Labs for their informative website about their sires and dams. Each dog is listed with their show qualifications and all of their health clearances. This is a responsible breeder dedicated to her adult dogs and puppies.
Each litter will be the blocky English Labrador breed and come in three standard colors: yellow, chocolate, and black. Your puppy will come with limited AKC registration, vaccinations, deworming, a microchip, and a 26-month health guarantee. They have many upcoming litters so be quick to join their waiting list!
Daisy Mountain Labs Contact Details
2. Graves Labradors
Graves pays particular attention to their breeding stock and is dedicated to breeding healthy AKC-registered Labs. With sires and dams with impressive pedigrees and awards, along with an international sire from Russia, Graves offers quality labs.
They specialize in the English style, meaning your puppy will have a blocky head and stocky body build. You'll have a choice of a yellow, black, or chocolate puppy, depending on which color litters they are currently breeding.
Your puppy will come home well-socialized, introduced to new sights and sounds, and doggy door trained. You'll need to create a potty training routine, but each puppy will be ready to outside and explore with you!
Graves Labradors Contact Details
3. Arizona Labs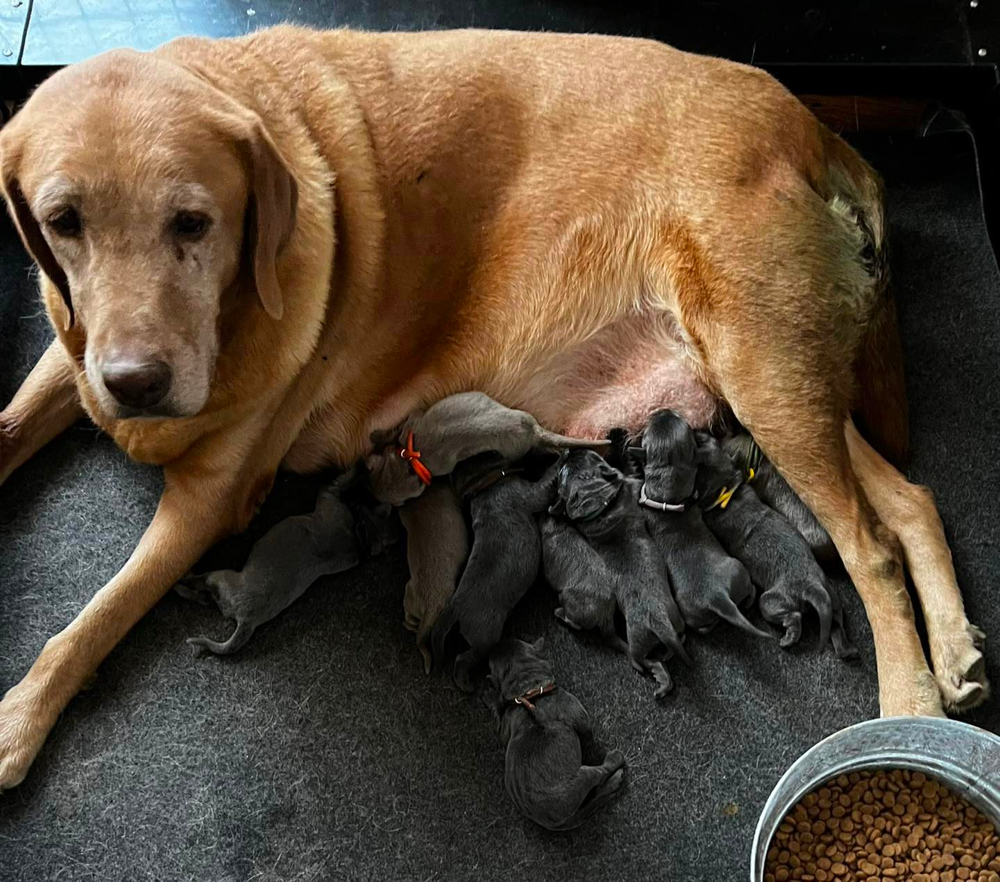 Located on a ranch in the beautiful San Tan Valley, Arizona Labs breed puppies of all colors from the show and hunt champion lines. Their goal is to produce Labrador puppies that are healthy and have good temperaments. Each puppy is well socialized and exposed to sounds and sights, with an on and off button.
Arizona Labs adult dogs are put through rigorous health testing to verify they're clear of genetic health issues before being added to the breeding program. An Arizona Labs puppy will have a two-year hip & elbow health guarantee, deworming, vaccinations, microchip, dewclaws removed, and AKC limited registration.
Another bonus of this breeder is that they start their puppies on house training! They'll also provide a puppy care package along with lifetime support from the breeder.
Arizona Labs Contact Details
| | |
| --- | --- |
| Breeder Since | 10 years |
| Location | San Tan Valley, AZ |
| Email | arizona.labs4you@gmail.com |
| Phone Number | N/A |
| Website | arizonalabs.com |
| Facebook | Arizona Labs |
4. Az Firehouse Labs
As a breeder for over 12 years, Jonathan is committed to producing quality Labradors that will excel as companions, hunting, and working dogs. As a supporter of serving the public, Az Firehouse Labs offers a 10% discount for those who work in public services, such as firemen, police, and EMT officers.
They're proud to offer all three colors: chocolate, yellow, and black. Each sire and dam are health-cleared and enjoy being a part of Jonathan's family. Your Az Firehouse lab puppy will come with declaws removed, vaccinations, deworming, and first-time customer-free vet checks with Pet Life Veterinary. They'll also provide a puppy plan, a 1-year health guarantee, a welcome package with food and toys, and a limited AKC registration.
If you'd like to discuss full AKC registration, reach out to Jonathan to discuss. Join their waiting list quickly as they have upcoming litters!
Az Firehouse Labs Contact Details
5. Desert Winds Labrador Ranch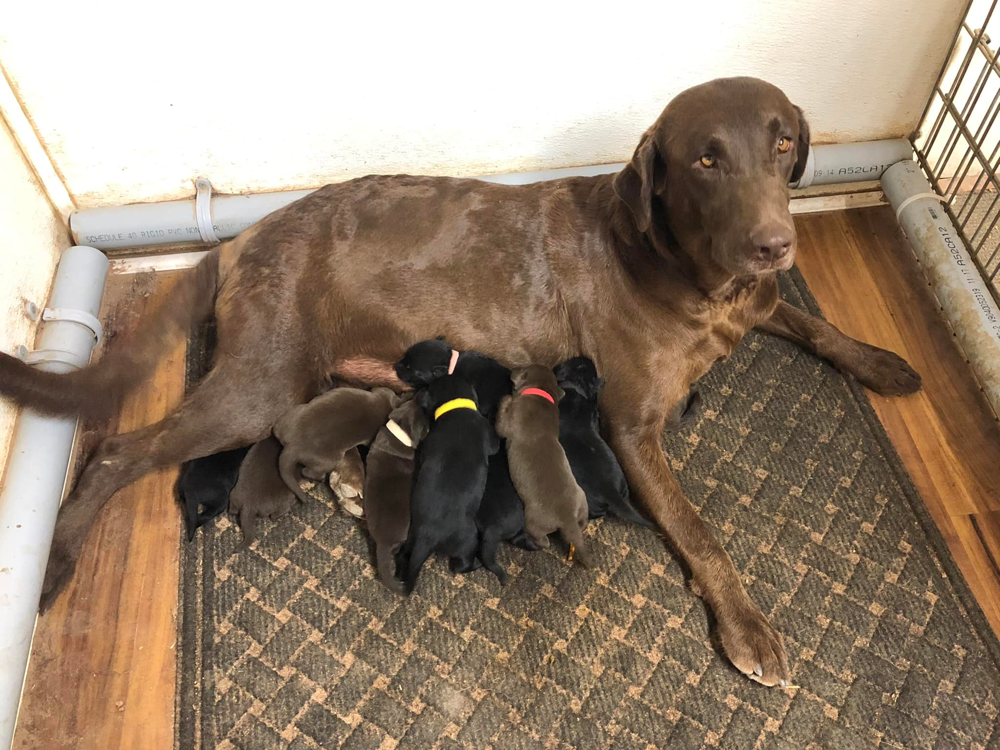 A family-owned hobby breeder in Arizona, Desert Winds Labrador Ranch breeds AKC registered black, yellow, and chocolate Labradors. Monica pays close attention to the health of her breeding dogs and shares their health scores on their sire and dams pages.
They have a FAQ page that can answer some of the most common questions along with discussing the dewclaw removal, which can be controversial. Each Desert Winds litter will come with declaw removal, vet checks, deworming, and first shots. They will also come with limited AKC registration once the breeder has received confirmation of your puppy's spay/neuter.
They have a few planned litters for this fall, so head over to their page for more information. Be sure to check out their social media, as they're very active on it.
Desert Winds Labrador Ranch Contact Details
6. Quail Haven Ranch Labradors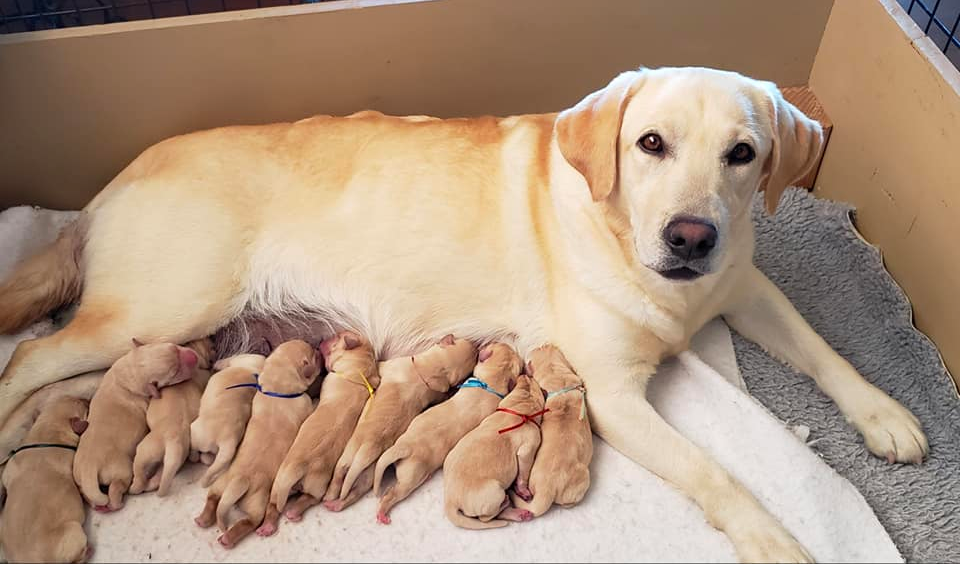 Going on its 19th year of breeding Labradors, Quail Haven is constantly striving to improve their breeding program. They wish to produce labs with great genetic health, even temperament, conformation, and the ability to do work. This breeder loves Labrador Retrievers and is proud to be a breeder for the betterment of the breed.
Each puppy will come with limited AKC registration and can leave as early as 7 weeks but recommended they stay until 8 weeks for extra social skills. They'll have their declaws removed, vaccinations, microchips, and a 26-month hip guarantee. These puppies are raised in a family home and begin doggy door training at 4 weeks.
A special note about this breeder is their requirement to keep your puppy on NuVet Plus supplements until their two. Read more about this on their information and links page.
Quail Haven Ranch Contact Details
7. Chiricahua Retrievers
As a breeder of both Golden Retrievers and Labrador Retrievers, you can be guaranteed that your puppy from Chiricahua Retrievers will come from a long history of retrievers! They do not mix the breeds and focus on each breed's unique skills. Both breeds make lovely companions and many families have one of each! Sign up for their newsletter to learn about upcoming litters.
Raised on a farm in rural Arizona, the puppies spend their days outside, learning new sounds and smells to be best prepared for the world. Each puppy is handled frequently by their family and children, teaching them good social skills to fit into any family.
Each sire and dam are genetically tested and kept up-to-date on their yearly vaccinations. Chiricahua is invested in the health of their dogs and will send puppies home with first vaccinations and deworming. If an older puppy is still with them, they will keep them going with their vaccinations to keep them healthy!
Chiricahua Retrievers Contact Details
8. Sinagua Labradors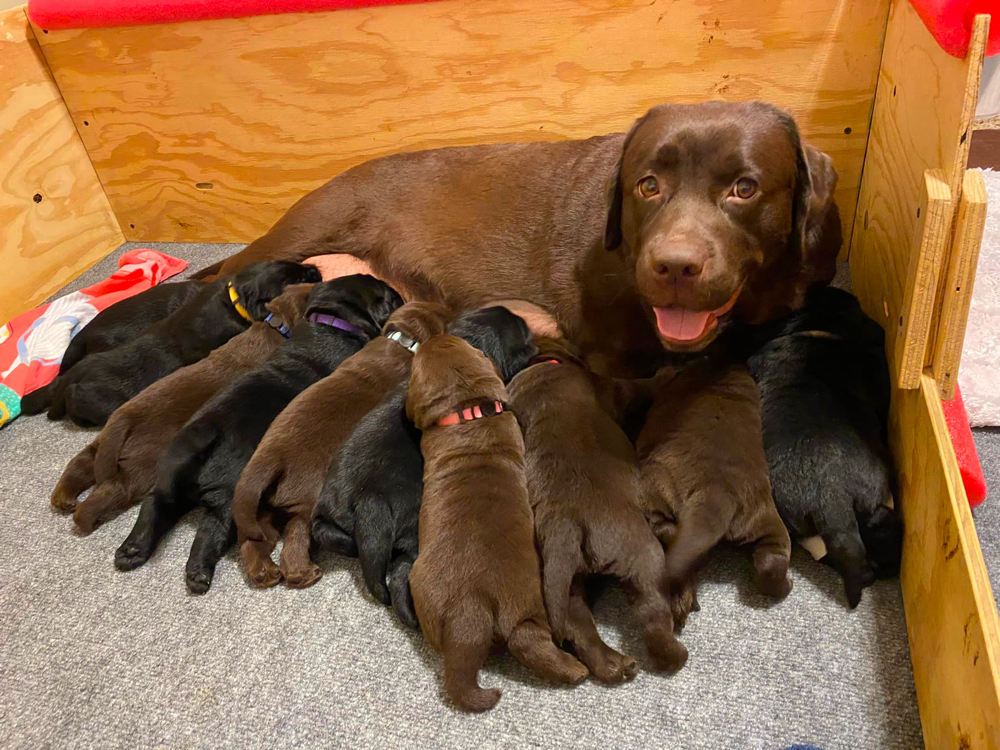 As a breeder of English Labrador Retrievers, Sinagua is focused on producing AKC-registered labs with excellent temperament and confirmation. With champion sires and dams in their breeding program, Sinagua's puppies are bound to be champions in the show ring or in your home!
This breeder has a wonderfully detailed puppy application, showing their commitment to placing their puppies in good homes. Puppies will come with a puppy package to help them in their new homes. They'll also have their declaws removed, deworming, first shots, and a microchip.
They'll come with limited AKC registration, but you can discuss with the owners if you'd like full breeding rights, which will come with an additional fee. Check out their FB page for updates on puppies and upcoming litters!
Sinagua Labradors Contact Details
9. Quail Chase Labradors
Dedicated to raising AKC-registered chocolate labs, Quail Chase Labradors does occasionally offer black labs. Contact them to enquire about any upcoming black litters. Quail Chase Labradors are champions in both the show ring and hunting trials. This breeder is very active in the show world and prides themselves on producing high-quality labs.
All their sires and dams are cleared for genetic health issues and carry their excellent temperaments and intelligence to their puppies. This breeder will speak with each prospective owner before signing any contracts and only offer limited AKC registration.
Your puppy will come with a health guarantee, first shots, microchip, AKC pedigree, and a puppy starter kit. Quail Chase Labradors are serious about placing their puppies into homes that they find a good fit. Reach out to them about any upcoming litters and to learn more about their show history.
Quail Chase Labradors Contact Details
Bringing a puppy home is an exciting time! If you're set on having a Labrador Retriever join your family, be sure to do the proper research. Puppies are fun but require a lot of work to become trusted family companions. Each breeder above will be more than happy to provide the necessary information for you and your puppy to start off on the right foot.
For those in Arizona, there are plenty of options for good, reputable breeders. Be sure to check out each our list to find the perfect match for you. Remember, always speak with a breeder personally before making a decision. We hope that a breeder from our list can provide you with a lifelong companion!
Reputable Labrador Retriever Breeders in The Other States