Finding a breeder is hard, especially when puppy fever is making it hard to resist going out and bringing home the next dog you see. Labradors have been AKC's most popular breed for over thirty years now, and they show no sign of losing that spot any time soon. They're known as the gentleman's gundog, and to this day are still a popular choice for hunting homes. Even if hunting isn't your hobby, Labs are a truly versatile breed that lives to make their owner happy and will excel in whatever they do.
We've compiled a list of breeders in the state of Missouri that have made it their mission to preserve the Labrador Retriever. These kennels are dedicated to upholding the breed standard and as such produce dogs with a stable temperament, strong desire to please, and unwavering loyalty to their family. Health is also very important when it comes to breeding, as there are unfortunately some problems that Labradors are prone to. Thankfully, modern screening practices help reduce the risk of your Lab puppy developing problems down the line.
This list has a mix of breeders so you will have a variety to look at, based on what you're looking for in a dog! There are breeders of English and American lines, that title their dogs in conformation and hunting trials. Some have even produced puppies that thrived as service and therapy dogs.
We've included a small blurb about each kennel, to give you a quick overview of every program, along with their contact information and any websites and social media accounts.
1. MistyWoods Labradors
The first breeder on our list is located in the town of Alton, Missouri, and was founded by Tammy Johnston. With nearly twenty years of breeding experience, Tammy has created a program with a bloodline of high-quality bench-style English Labradors. Even if you're not interested in showing your puppy, you can still enjoy knowing he comes from a pedigree filled with amazing champions.
MistyWoods seeks to produce all-purpose Labs, just as the breed was intended for, so many of her puppies go on to perform in conformation, agility, dock diving, therapy/service work, and field trials. Most importantly, they all make wonderful family companions. This breeder strives to breed well-rounded dogs with the hallmark temperament the breed is known for, and their good looks are a bonus.
Every breeding dog in this program has been rigorously health tested and certified; they're temperament tested, and many of them have received grand champion titles. Tammy is an AKC Breeder of Merit, and as such, she breeds to the standard as defined by the Labrador Retriever Club.
2. Lamons Labradors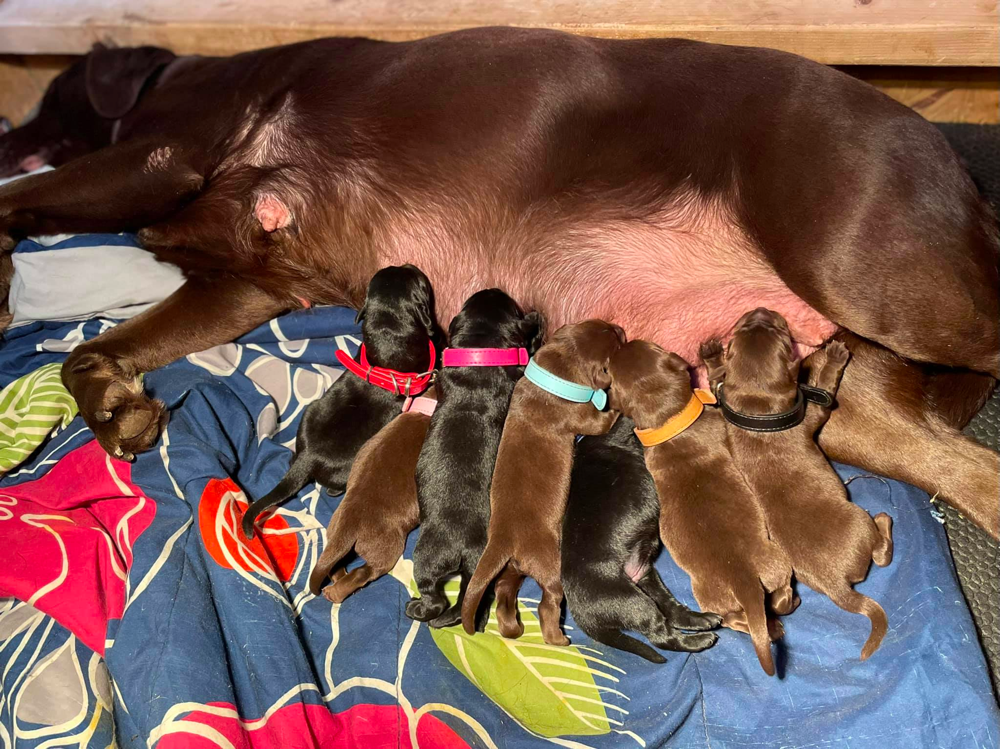 The next Missouri Labrador breeder on our list may be relatively new to the game, but that doesn't mean their program is lacking in quality. Lamons Labs seeks to preserve quality bloodlines by following the standard set by the Labrador Retriever Club. They breed for the classic looks of the English style lines, so their dogs are conformationally correct; these Labs have stable, predictable temperaments, a strong drive to retrieve, and an inherited off switch. A Lamnons Labrador will thrive in the show ring, on a field, and in your home.
Health is important to this kennel, as Tara Lamons is a veterinarian's assistant and has studied genetics. Sires and dams are health tested; their hips and elbows are certified through OFA, and they're genetically clear of diseases like DM, EIC, and PRA. As they adhere to breed standards, Lamons Labs only produces puppies in the accepted colors of chocolate, yellow, and black. Their dogs are free of the dilute gene.
All Lab puppies are sold with a 2-year health guarantee that covers their hips, elbows, and any genetic disorders. Every litter is raised as part of the family and introduced to many new experiences early on. This breeder uses the ENS (Early Neurological Stimulation) as part of the socialization process. A Labrador Retriever puppy from this breeder will go home confident, which makes it easier to train.
3. C.R. Labradors
Missouri has many reputable Labrador Retriever breeders with high-quality bloodlines, and C.R. Labradors certainly belong on this list! Carole Ramsey is a licensed breeder that produces chocolate, yellow, and black English Labradors. There are many conformation champions in her dogs' pedigrees, and she also breeds her dams to titled hunting dogs. Many of her puppies go on to become loving family pets due to their intelligent, affectionate temperaments but make great sporting and service dogs too.
Every dog used for breeding, including sires from other programs, is thoroughly health tested to ensure they don't pass on any disorders or other health problems. Their hips and elbows are OFA certified, and they've been cleared of PRA, EIC, and CNM by genetic testing. These dogs have sound temperament, health, and conformation. They love children, are great with other dogs, and are very intelligent and easy to train.
Puppies are whelped and raised in the house, not in kennels. They play with the children of the family and are introduced to many new experiences daily, so these Lab puppies go to their new home stable and confident. Before going home they will have been dewormed, received their first set of shots, and have even been litter box trained, which makes house training easier.
4. Swift Creek Labradors
The fourth spot on our list of the best Labrador breeders in Missouri is Swift Creek Labradors. Paul began his program over thirty years ago and has been hunting and training dogs for over five decades, and he knows what goes into breeding a good Lab. This breeder is a great choice for active hunting or sporting homes seeking a balanced future working dog with natural instinct and great temperaments. While Paul's dogs have been bred to have an off-switch that makes them calm and stable in the house, they still need a job to do and would do best in an active home that can meet their needs.
A puppy from Swift Creek Labradors will have a pedigree full of champions to back up an impressive bloodline, and many dogs bred by Paul go on to compete in the highest levels and excel at anything they do. Beyond hunting, many of his puppies have become service and working dogs. Ultimately, they still make affectionate companions that are loyal to their families.
SCL takes health testing seriously and stays up to date with current research in order to go above and beyond with their dedication to producing healthy Labradors. Paul only breeds dogs that have passed their health clearances and proven themselves in the field; he doesn't breed a dog just because it's pretty.
Labrador puppies are raised in the house, and Paul uses the Early Neurological Stimulation Program (ENS) as part of the process. This has been shown to help pups deal with stress as they get older. Puppies will also be introduced to water, vaccinated, dewormed, and have begun crate training by the time they arrive at their new home. Paul has a lot of information about health testing, socialization, and the pedigrees of his dogs on his website that is kept up to date.
5. Muddy Creek Labradors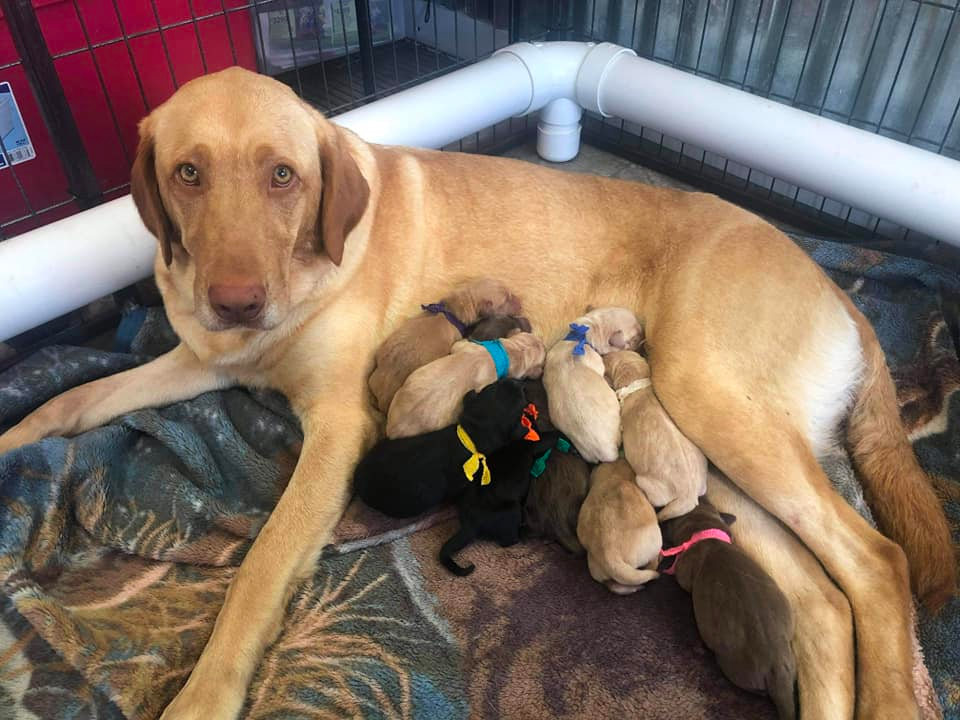 At less than a decade old, this kennel is a newer program but that doesn't mean the quality of their dog is any less. Muddy Creek Labradors has already found its place as one of the top Labrador Retriever breeders in Missouri. They are a member of the Kansas City Hunting Retriever Club and has been recognized as an AKC Bred With H.E.A.R.T. breeder. This kennel produces some truly versatile Labs, which is proven by their bloodlines full of champions in many different disciplines, like dock diving and field trials.
Breeding dogs have been cleared to be free of inheritable diseases through genetic testing, and have had their hips and elbow certified through OFA. Many of their current dogs have titles in a variety of different sports and actively hunt, but still live in the house as pets. Every puppy will go to their new home with a one-year health guarantee, be dewormed, and have had its first round of vaccines. Puppies are raised in the house and socialized with children and other animals and have had ENS implemented from the start. They also get foundation training in obedience, basic commands, recall, and potty training.
Muddy Creek Labradors currently only breeds yellow, black, fox red, and chocolate puppies but they hope to introduce silver and charcoal into their lines in 2023.
6. Sorenson Kennels
Labradors should be well-rounded, good-natured, and eager to please. Sorenson Kennels aims to produce puppies that are just that, and have followed its mission for many years now. A Lab puppy from Sorenson Kennels is a multi-purpose dog, just as the breed is meant to be, that's of superb health and quality. Located in the town of Defiance, this kennel was founded back in the 1950s by the late Tom Sorenson. To this day it's still a family-run business that also offers boarding and training services. They also breed lovely Golden Retrievers.
The dogs get to enjoy running, playing, and training on over fifty acres of land… any Labrador's dream! Puppies are sold with limited AKC Registration, so they can't be bred, and their parents have been health certified through OFA. Your puppy from Sorenson Kennels will have a 24-month health guarantee against genetic and orthopedic disorders. They've also been vet-checked, dewormed, socialized, and have had their dew claws removed.
Labs from this program have a natural retrieving drive, and a desire to please. While puppies can go on to be active working and hunting dogs, many simply become loyal companions. Sorenson Kennels has some planned Labrador litters coming soon, so give them a call to learn more! The family will be happy to answer any of your questions, and you can find testimonials of happy puppy buyers on their website.
| | |
| --- | --- |
| Breeder Since | 1954 |
| Location | Defiance, MO |
| Phone Number | (636) 442-0042 |
| Website | sorensonkennels.com |
7. Twin Lakes Labs
The final top Lab breeder on our list is Twin Lakes Labs; this program specializes in chocolate labs and produces some of the finest chocolates in the state of Missouri. Helmed by Stephen Phifer, Twin Lakes Labs is known as a "micro-kennel", which means that he only whelps one litter a year. This makes puppies from this kennel even more special. His bloodlines are also from specialized pointing lines, a unique trait that has to be bred for in the Labrador.
Every puppy is sold with a strong genetic health guarantee, but Stephen's breeding dogs are of such good quality he has never had any disorders or diseases pop up in his lines. You can be confident that your chocolate Lab puppy will live a long, happy life without any health problems. All puppies are AKC registered, microchipped, and have been socialized within the house so each one adapts quickly to its new home.
If you're looking for a pointing Lab with a solid pedigree, or just want a family dog, a puppy from Twin Lakes Labs is a great option.
Final Thoughts
With so many puppy mills, backyard breeders, and scammers trying to make a quick buck it can be hard to find a reputable breeder amongst them. We recommend you do a thorough research during your search and try to get to know the breeder of your potential future puppy before sending that deposit. A good breeder should have health-tested dogs that can be verified through OFA and vet records, and will typically only have a few litters a year.
My personal choice from this list of superb Labrador Retriever breeders in Missouri is MistyWoods Labradors, though you won't go wrong with any of the options discussed above! Looking at her website, you can see that Tammy has truly put so much time and effort into perfecting her bloodline and has even been recognized as an AKC Breeder of Merit. She cuts no corners when it comes to health testing, and diligently researches pedigrees when choosing future breeding pairs.
Labradors are amazing dogs and an amazing breed; a well-bred Lab puppy will give you joy for years to come as a loving member of your family.
Reputable Labrador Retriever Breeders in The Other States
Other Dog Breeds: