Friendly, eager, and outgoing are just a few words to describe the Labrador Retriever, so it's no surprise they've been America's favorite dog breed for almost 32 years. Their versatility helps them adapt to many different roles, from following their original purpose as hunting dogs to helping guide the blind. While some breeds are known to prefer a single person, labs make great family companions due to their ability to bond with everyone.
Given how popular the Labrador is, there are a lot of breeders to choose from in Minnesota, and sadly not all of them breed for the best purposes. You've decided that you want to add a Labrador puppy to the family, and now you're on the hunt for reputable breeders that aren't in it for the money.
In this article, we've made a list of the best Labrador Retriever Breeders in Minnesota and included their contact information so that you can give them a call and see if they're the right fit.
1. Danikk Labrador Retrievers
We begin our list with Danikk Labrador Retrievers. With over 30 years of experience, there's a reason why Danikk Labradors are well-known and respected nationwide. They are a member of the Labrador Retriever Club and follow their guidelines by only breeding Labradors of the three AKC recognized colors – black, yellow, and chocolate.
Danikk Labradors have good-natured and stable temperaments, making them excellent family companions. The dogs in their program are titled in not only the show ring but the field too. These are dogs that can perform many jobs.
Each Labrador Retriever puppy is home raised; they get socialized around other dogs, children, cats, and many new experiences. By doing this, Danikk puppies go to their new home confident and ready to explore the world with their family.
Their sires and dams are genetically tested for inherited diseases like PRA and EIC, certified by OFA and CAER, and have all proven to be free of the dilute gene that causes silver.
Your Lab puppy will be hand-matched to you by the breeder to ensure that it will be the perfect fit. Danikk guarantees all puppies to be free of hereditary problems with the hips, elbows, and eyes. All puppies are microchipped and have been vaccinated, wormed, and had their dewclaws removed. Each puppy undergoes an eye exam by a licensed veterinarian at 7 weeks old.
2. KT British Labradors
The second on our list of the best Labrador Retriever breeders in Minnesota is KT British Labrador. With decades of experience in dog breeding and training behind them, KT Labs knows what they're talking about. They strive to produce dogs eager to please, love attention, and are easy to train. Their Labradors are versatile; not only do they make great hunting dogs but loving pets.
KT British Labs are working dogs, so their health is of the utmost importance. This is why their breeding stock are OFA, PENN Hip, and CERF certified and tested for EIC. All of their puppies come with a health guarantee.
If you're looking for a Labrador with the energy and drive to work but can still relax in the house and be safe around the kids, a puppy from KT British Labradors is a fantastic option. They understand that hunting dogs are still part of the family, so they pair the best dogs together for that stable temperament. If a puppy isn't right for you, they occasionally sell younger started dogs that have already gone through training.
All KT British Lab puppies are genetically sound in health and temperament and are socialized since birth. Each puppy has had dewclaws removed, is dewormed, and has received vaccines. They have also started basic training to make it easier for them to adjust to their new home.
3. Hayshaker Labs
We continue to the third on our list, Hayshaker Labs. This breeding program, founded by Sherry and Michael Geurts, operates as a small, hobby kennel; they're an AKC Breeder of Merit and a member of the Labrador Retriever Club. Hayshaker Labs treats their dogs like family because they are family. They produce English Labrador Retrievers in the recognized colors black and chocolate and sell their puppies on a limited registration basis.
As a breeder Hayshaker Labs is heavily involved with their dogs. All their dogs, including the puppies they keep back, are shown regularly in Conformation to receive their Championship titles. Some of the labs they've produced have gone on to be gun dogs, therapy dogs, guide dogs, and above all else amazing family companions.
Their breeding dogs are OFA certified for hips and elbows, receive annual eye exams, and are genetically tested for diseases such as EIC and PRA. They take health seriously.
Puppies are raised indoors and start basic training before heading to their new homes. All pups are AKC registered, vaccinated, dewormed, and have a 25-month health guarantee.
4. Master Creek Labradors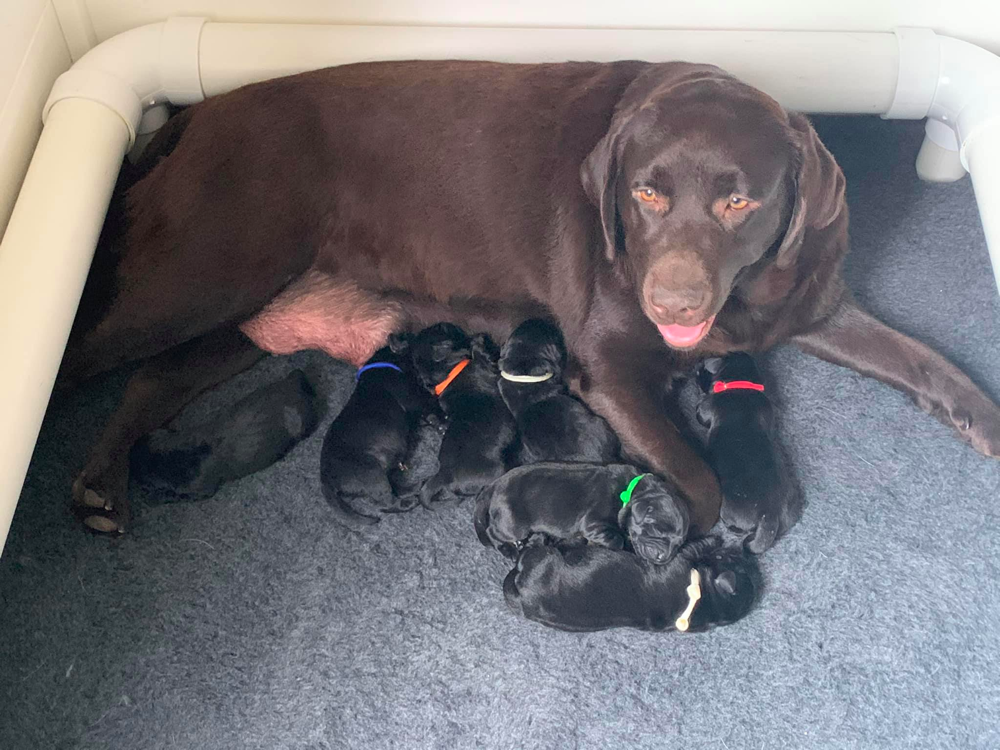 We have another member of the Labrador Retriever Club on our list of best breeders in Minnesota. Master Creek Labradors adhere to the breed standard set by the LRC and only offers Labs in black, chocolate, and yellow. The dams in their breeding program are dual registered through the AKC and UKC and are regularly titled in Conformation. Put simply, they love to show their dogs!
This breeder is knowledgeable in their breed and has done thorough research to ensure strong pedigrees and stable dogs. Their program focuses on temperament, conformation, and structural soundness so that not only will their dogs be pretty, they can work and are as loving as any Labrador Retriever should be. Each of their Labs are health screened
Every Master Creek Lab puppies is AKC registered, microchipped, dewormed, and vaccinated. The breeder temperament tests each Labrador puppy at 7 weeks old to match them to the right home. They choose to place puppies this way because they have spent the time with the litter and have learned each personality.
5. Karamar Labrador Retrievers
The fifth slot on our list has been filled by Karamar Labrador Retrievers. This kennel, located in Pine Island, MN, is owned by Ruth Lubahn. She is dedicated to her dogs and has years of experience with breeding and showing Bench style Labradors, nearly thirty years! While Karamar Labs specializes in chocolates, some of her litters will produce black puppies.
This breeder isn't in it for the money, so they only have one litter every 1 to 2 years, making a Karamar Lab all the more special. Their breeding stock is OFA certified on their hips and elbows, has their eyes checked regularly, and several are champion-titled. Karamar Labradors take pride in producing multi-purpose dogs that have a stable temperament, love to work, and are of sound health.
Your Labrador Retriever puppy from this breeder will be AKC registered, dewormed, vaccinated, and come with a health guarantee. Puppies are raised in the home and socialized to new experiences beginning as soon as they're born. If you have any questions, you can reach out to Ruth!
6. Brensue Labs
We've reached number 6 in our list of the best Minnesota Labrador Retriever breeders, Brensue Labs. The small family-owned kennel produces American Labradors in the AKC recognized colors, black, and chocolate. They strive to breed genetically sound dogs that are friendly, biddable, and excited to work.
This breeding kennel is located on 15 acres, giving their dogs all the running space they could ever dream of. Puppies are raised at home with the children of the house, giving them the socialization they need to thrive with their new family. Each pairing is intentional and well thought out; they don't breed any dog randomly. Their sires and dams have been genetically tested, OFA certified, and are proven gun dogs.
Every Labrador puppy from Benson Labs comes with a 26-month health guarantee and a working dog pedigree. Before puppies go to their new homes, they are vaccinated, dewormed, and have their declaws removed. Occasionally, they will have started dogs available.
7. High Voltage Retrievers
With over thirty years of experience, this is a breeder that deserves the 7th spot on our list of the top Labrador Retriever breeders found in Minnesota. High Voltage Retrievers focuses on breeding dogs that can do it all and still be happy to have lazy days relaxing on the couch. As members of the Labrador Retriever Club, all of their dogs are tested free of the dilute gene that produces silver.
This impressive program really highlights the versatility of the Labrador Retriever. They have bred dogs that won Championship titles in field, conformation, and obedience trials. Several of their puppies have become FEMA-certified SAR dogs and narcotics dogs. Every High Voltage Labrador has proven to be a loyal family companion.
They ensure that their dams and sires have been thoroughly health screened to confirm that they are of breeding quality. High Voltage Labradors doesn't discuss what comes with their puppies and how they're socialized, but you can reach out to them with more questions.
8. Next Generation Gundog Training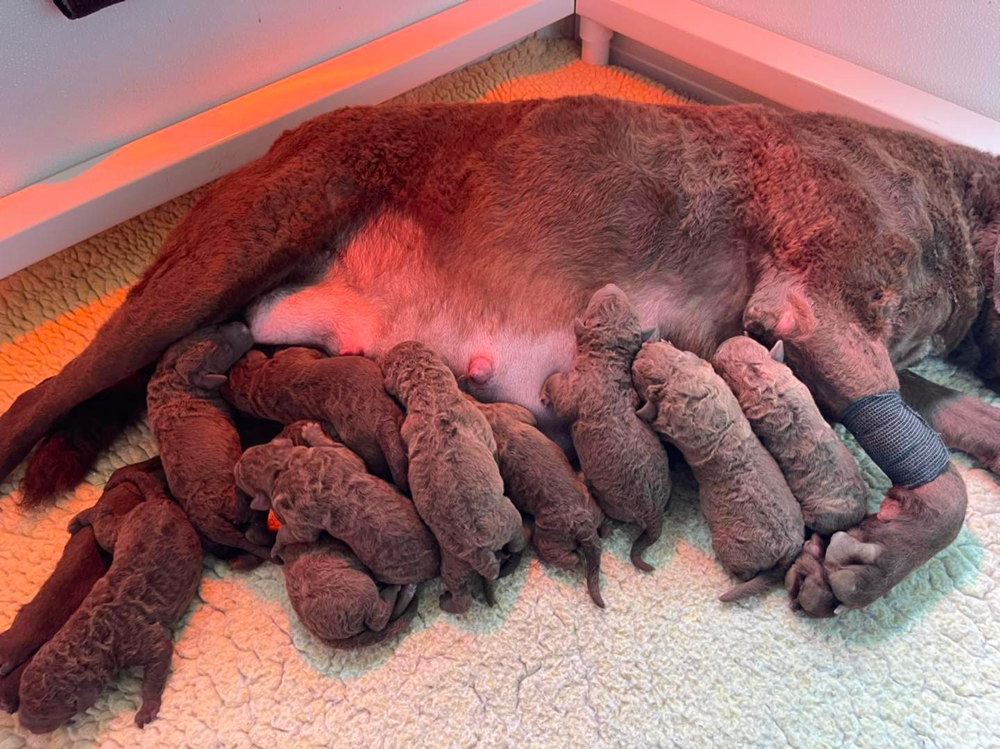 Labrador Retrievers were originally working dogs, and many still excel as talented gun dogs, which is why this breeder is the 7th on our list of best lab breeders in MN. Next Generation Gundog Training is a great choice for sporting and hunting homes looking for an active pet. It is run by co-founder Andrew Barbouch, the head trainer, and Adam Levy, the head breeder.
While this facility is a breeding kennel, they also board and train dogs. Each American Labrador from Next Generation has a high drive and is extremely biddable. They still have a great off switch for those lazy days at home. They train and prove all of their breeding in the field by titling them before they ever have a litter. They only breed Labradors that have been cleared by genetic and x-ray testing.
Their website doesn't discuss what comes with their puppy, but you can find all of their contact information down below and they will be happy to answer any questions you may have.
9. Eboni Labrador Retrievers
Mike and Gloria Hennen are passionate about preserving the breed health of the Labrador, which is how they've found 9th place on our list. Dogs are a lifetime commitment, and they deserve to come from the best breeders, like Eboni Labrador Retrievers. They believe in following the breed standard set by the LRC so all of the Labs in their program are free of the silver gene.
They understand the strength of a good pedigree, showing the meticulous planning they put into every litter. Dogs from Eboni Labrador Retrievers are multi-purpose; they make amazing field dogs and just as amazing family pets. All puppies are handled regularly, play and have fun outside, and are introduced to loud noises early on. This breeder trains their dogs regularly and cut no corners when it comes to health testing. They only accept sires and dams in their program that have OFA excellent or good hip ratings and EIC/CNM clear.
Puppies have their dewclaws removed and are up-to-date on worming and vaccinations by the time they're ready to go home. They sell their Labrador pups on a full registration basis and offer a 26-month health guarantee.
Owner
Mike and Gloria Hannen
Breeder Since
N/A
Location
Bird Island, MN
Email
N/A
Phone Number
(612) 221-0348 (Mike's Cell)

(612) 702-0363 (Gloria's Cell)

Website
ebonilabradorretrievers.com
10. Fowl Mouth Labradors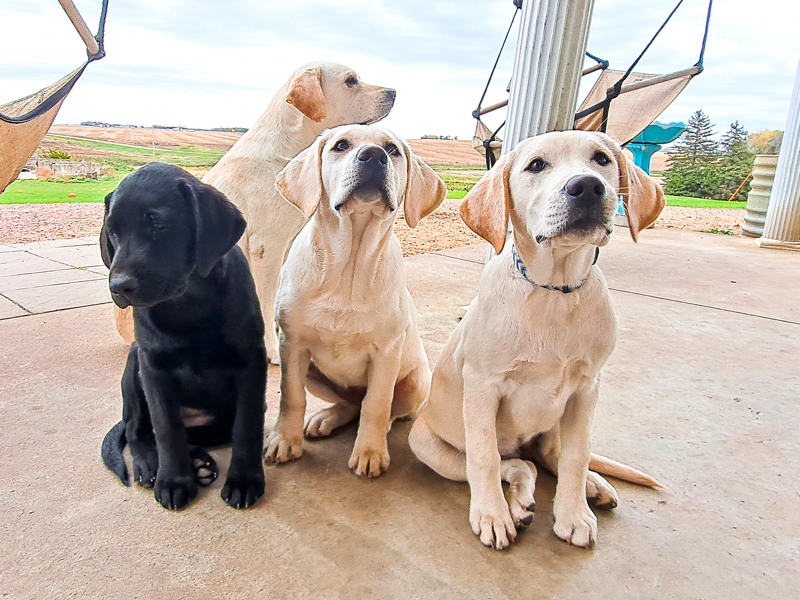 We have reached the end of our list of the best reputable breeders of Labrador Retrievers in Minnesota. The 10th spot is claimed by Fowl Mouth Labradors, a breeder of American and English type labs in the colors, black and yellow. While they may be new to the scene, having gotten started less than a decade ago, Celsie and Joe already offer so much to the breed with their program.
All Fowl Mouth Labradors are AKC registered; their breeding dogs have field and show champions in their pedigrees, and they have outsourced other lines to strengthen their genetics. These dogs are versatile, healthy, and have that gentle and loving temperament that's desired in a well-bred Lab. They do all of the recommended health clearances, certifying their dams and sires through both OFA and PENNhip.
To be able to devote the most time to each litter and not put too much pressure on their dams, Fowl Mouth Labs only has a few litters are year. Puppies are socialized and raised in a loving environment, have begun their vaccinations and deworming, and go home with a 12-month health guarantee. It's obvious that they treat their dogs as part of the family.
Final Thoughts
Choosing a reputable breeder will set both you and your future Labrador Retriever puppy up for success. You will know that your pup was brought into this world by someone that is devoted to the breed, from the health to the looks. Labradors have proven to be some of the best family companions you can find while still having a love for getting into the water and working.
I chose Danikk Labrador Retrievers because they are truly experts in the breed and one of the best Lab breeders in Minnesota. They breed to the standard set out by the Labrador Retriever Club, genetically health test all of their Labradors, and are active in the show community. Danikk dogs are known for having excellent hips, which is very important for large breed dog like the Lab.
In the end, I recommend you begin your own personal research. Breeders are meant to help potential buyers every step of the way and welcome every question you may have.
Reputable Labrador Retriever Breeders in The Other States