I am not a researcher, but I can confidently tell you that if you ask ten or twenty people at the park their favorite dog breed, they will tell you that it is a Labrador Retriever. Who doesn't love Labradors in New Hampshire? These dogs are fun, interesting, smart, and friendly, and they are like a human in form of a dog.
Because everyone loves Labrador Retrievers, we have created a list of the best Labrador Retriever breeders in New Hampshire. This list contains the best of the best Labrador Retriever breeders, their contact, their accolades, owner's name, and other information.
Although this list is created on overall performances and passion for breeding Labrador Retrievers, it is advised that do a little research on any breeder of interest before transacting with them. If possible, visit their location from the address provided in this article. If you can't visit, make sure you do a video call with the owners and request that you see the environment. It is better to be safer.
That being said, let's see the best Labrador Retriever in New Hampshire. We would also review top Labrador breeders in cities like Manchester and Nashua, amongst others. Make sure that you read our final thought because it carries important information for you.
1. Laurie & Joe's Labs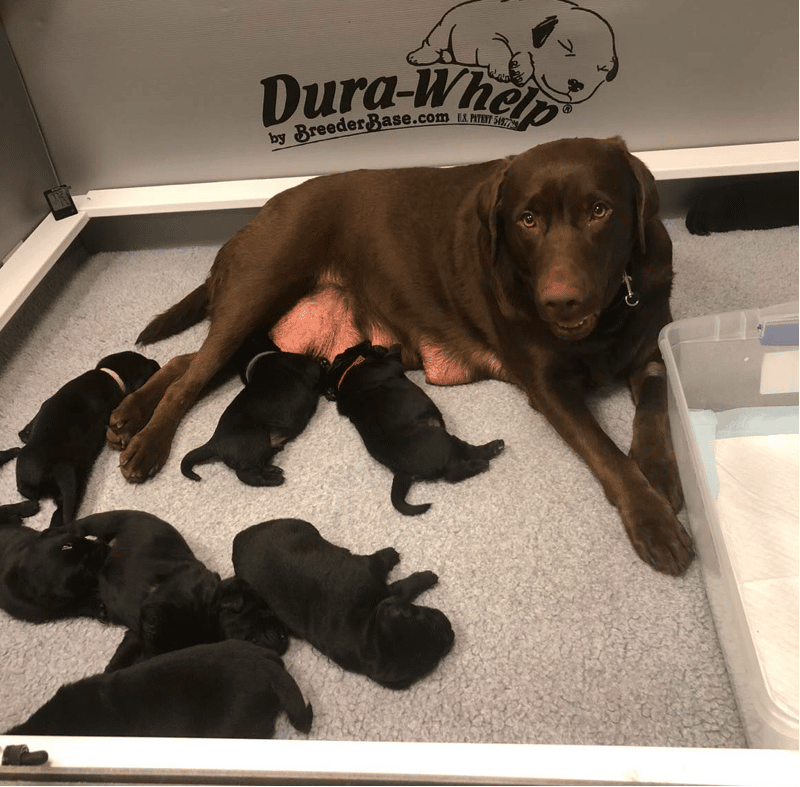 This is breeder is undoubtedly the best Labrador breeder in Manchester, NH. Just like the best Lab Retrievers around the world, Laurie & Joe's Lab is family owned and operated inside their home. This breeder breeds the best black, yellow, and chocolate Labrador Retriever puppies in New Hampshire. They also breed the best English Labrador Retriever in New Hampshire.
This Manchester breeder really loves what they do and they make sure that all their parent dogs are healthy before breeding. So, you can rest assured that Labrador Retriever puppies from this breeder are healthy and vaccinated.
Apart from ensuring that their lab puppies are healthy, Laurie & Joe's Labs train their Labradors to be of good temperament and human-friendly. Dogs from this breeder have won titles from AKC, CGC, and CGCA.
Labrador Retrievers bought from this breeder are also obedient and good for hiking, fishing, and canoeing. They can also fit in retirement homes as therapy dogs and emotional support animals. Note that Labrador Retriever puppies from Laurie & Joe's Labs are AKC registered.
2. Varney's Labs
This is another family-owned Labrador Retriever breeder in Manchester. Varney's Lab is not just a great Labrador breeder; they are Lab Retriever puppies' breeders with experience. They have been breeding happy, healthy, and family dogs since 1998.
They breed Labradors of the English kind, giving confirmation and temperament a higher priority than immediate financial gain. Their Labradors serve as more than just companion animals; they also compete in dog shows and are employed as retrieving and hunting dogs. Their Labradors do the tasks for which they were bred and have employment.
To breed the finest disposition possible, all Labrador Retriever puppies are raised in a home environment with kids and receive a lot of socialization. Additionally, the general health and welfare of the pups are a priority for the breeders. Before entering the breeding program, all people are subjected to health examinations to check for genetic and other disorders. By doing this, you can be confident that the Labrador puppy you receive in Manchester is healthy.
3. Integrity Farm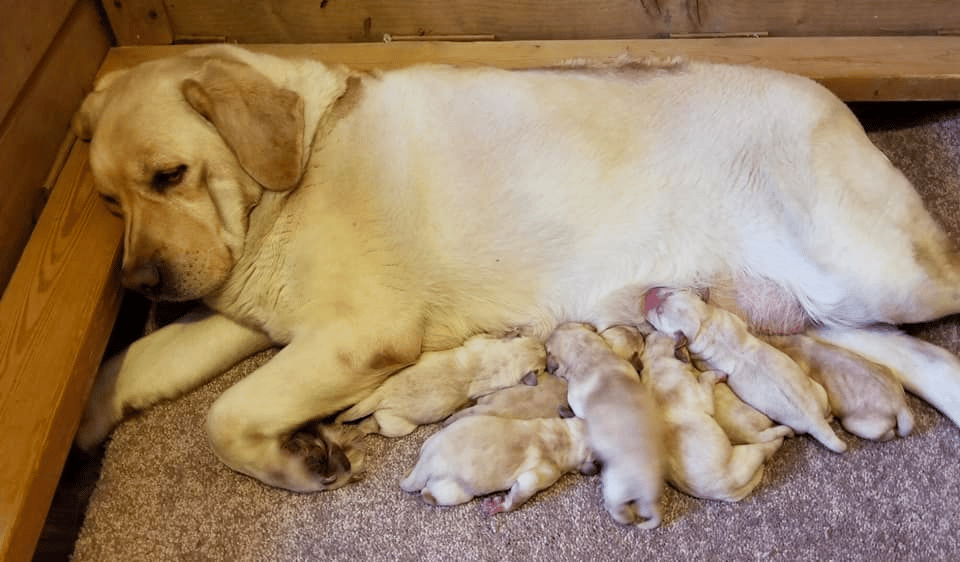 This Manchester Labrador Retriever breeder is located on a horse farm in southern New Hampshire. Although, this family-owned farm started as a horse breeder, now, they breed only quality Labrador Retrievers. This New Hampshire Labrador Retriever breeder is the best in what they do, so, they ensure that all parent dogs are AKC registered and OFA cleared.
Integrity Farm is a significant Manchester Lab breeder that is dedicated to improving the breed while upholding its correctness, health, and temperament. They are a breeder who is well worth getting in touch with. Their Labrador Retriever puppies are bred for hunting and retrieving. Their entire family loves and cares for every one of their Lab Retriever puppies.
This expert breeder is available to answer any questions because they have years of experience in dog breeding. They were established in 1985 to spread their passion for the Labrador breed to households wishing to expand their ranks. Labrador Retrievers here are good companions, obedient, and good-looking. Integrity farm Labrador Retriever puppies are also AKC registered and vaccinated.
4. Excalibur Labradors
If you need an English Labrador Retriever in New Hampshire, Excalibur Labradors are your sure plug. This Nashua Labrador Retriever breeder breeds the finest yellow, black, and chocolate Labrador Retriever puppies. All Excalibur Labrador pups are born and nurtured in the family's house, where they can devote all of their time, attention, and socialization to them.
They sincerely care about the puppies and are committed to them. All of their pups have a documented health guarantee, have numerous worming treatments, visit a veterinarian, receive their first round of vaccinations, begin taking NuVet vitamins, and are given thirty days of cost-free health insurance when they are released to their new homes.
The most devoted households will be given a chance to adapt their English Labrador puppies as family pets since they are a very significant part of everyday life. Please do your homework and consider your decision carefully before buying a puppy if you have never had a dog or puppy. This is a lifetime commitment. As a result, you are always welcome to bring your dog or puppy back to Excalibur Labradors if for any reason you are unable to keep them.
5. Murrayville American Field Labrador Retrievers
Sitting comfortably on the top spot of the best Labrador Retriever breeders in Concord is Murrayville Kennels. With over 45 years of experience, you can rest assured that they go wrong in their doings. With their overall performance and testimony from people, it is clear evidence that this Concord Labrador Retriever does this for the passion they have for this breed and not for the money.
The Murrayville Kennels takes great pleasure in matching some of the happiest and cutest Labrador Retrievers puppies with some of the best pet families around. Their goal with Labrador Retriever puppies is to provide you with the finest possible experience.
All of the Labrador Retriever pups at Murrayville Kennels are nurtured in families and pampered from the moment they are born until the moment they go with their new families. And they do want their puppies to keep enjoying such devoted care from their new owners; for this reason, much care is made when choosing a family for their dog.
They exclusively breed Labrador Retrievers with excellent temperaments and impeccable pedigrees. This is done to guarantee that only top-notch, healthy, and sound liters are generated. With well over 100 medical examinations completed, Murrayville Kennels has demonstrated its commitment to safeguarding and raising healthy puppies, which is truly amazing. Note that all Labrador Retriever puppies purchased here are AKC registered and vaccinated.
Final Thoughts
This list containing the best Labrador Retriever breeders in New Hampshire will help you purchase the best yellow, black, white, or chocolate Labrador Retriever puppies. It will also direct you to where you can buy an English Labrador in New Hampshire. So, this list is complete.
Not downplaying any Labrador breeder on this list, Granite State Labradoodles is our best Labrador breeder on this list. This is because they go a step higher than every other Labrador breeder. Apart from the normal health checkups every breeder gives to puppies, Granite State Labradoodles provides 2 years guarantee and lifetime support. They also give some useful routines to the puppies' new owners. What more can we say?
With this list, you should be able to get Labrador Retriever puppies in New Hampshire quickly. However, as we mentioned earlier, ensure you do personal research on the breeder and make sure you have a facial conversation.
Best Labrador Retriever Breeders in The Other States