Labrador Retrievers also make excellent family canine companions. They love their owners unconditionally and are wonderful with children. For those looking for Labrador Retriever breeders in Alabama, we've compiled a list of reviewed breeders to help you decide on the perfect puppy!
Before deciding on a breeder, be sure to speak with them yourselves, either through email, phone, or in-person visit (if possible). This ensures you know exactly what kind of breeder you're working with and if they're the best fit for you and your family.
We've researched the top 7 breeders in Alabama to help you decide which breeder is the best fit. We'll provide their contact information and social media accounts along with what they offer with their puppies. It's important to know what a breeder does for their puppies, as that sets your new dog up for the rest of their life.
Most breeders will have limited AKC registration, meaning that you can show the dog but not breed them. Some will do a full AKC registration, but that will come with a higher price tag. You'll want to know about their health history, if their parents have been cleared for genetic health issues, and if your puppy has received their first shots.
We'll also provide unique facts about each breeder and what makes them stand out. With careful reviews of each breeder, we believe we've provided a list of excellent Labrador Retriever Breeders in Alabama.
1. Rock Springs Labs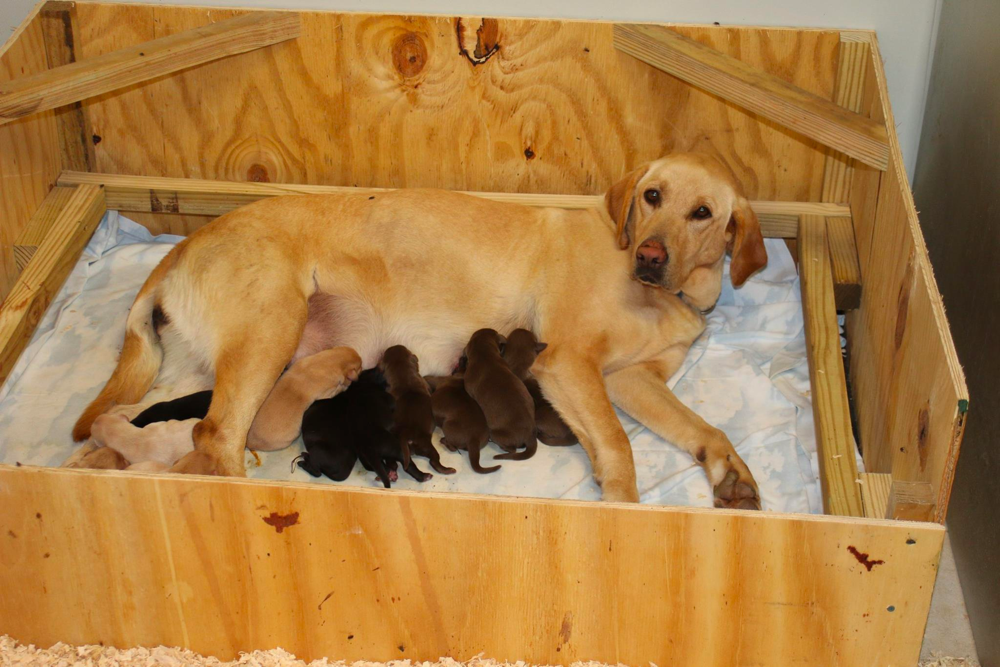 Roger and Judy Bullard of Rock Springs Labs specialize in breeding British Labrador Retrievers. There are two lines of Labradors, American and British, with the British line having the stockier look with a broad chest and head. Rock Springs love this line for their intelligence, excellent hunting instincts, and loyalty.
Many of their sires and dams come from champion bloodlines and have won awards. Each year, Rock Springs offers black, yellow, chocolate, fox red, or white puppies, depending on their sire and dam. Each puppy will come with a health guarantee and is replaceable if a serious health defect is found within the time frame of buying a puppy.
With excellent customer reviews from customers and an active social media page, Rock Springs Labs is an excellent choice for your newest family member. Whether you're looking for a gun dog or companion, you'll be guaranteed an excellent pup from Rock Springs Labs.
Rock Springs Labs Contact Details
| | |
| --- | --- |
| Owner | Roger & Judy Bullard |
| Breeder Since | 2014 |
| Location | Blountsville, AL |
| Email | rockspringslab@gmail.com |
| Phone Number | (205) 446-0597 |
| Website | rockspringslab.com |
| Facebook | |
2. Aggie Labs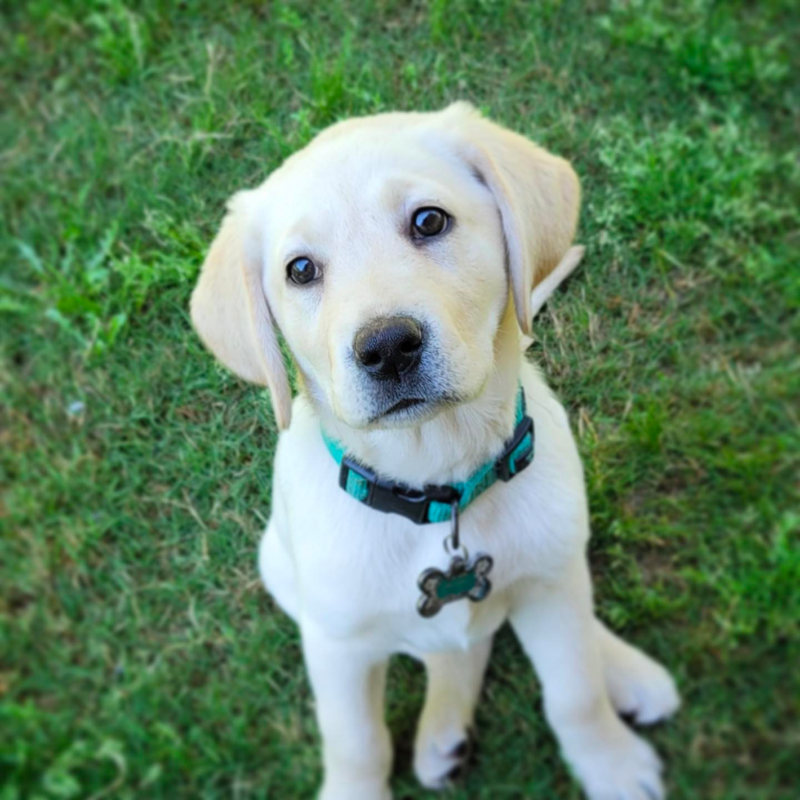 Melody and Shannon Dunn have a family-owned farm where they raise AKC-registered Labrador Retrievers. They treat each dog as a part of their family and raise all of their pups with love and plenty of social interaction, which is important for your pup.
As very active breeders, Aggie Labs has current and upcoming litters. They offer black, chocolate, yellow, cream, and silver. Prices will vary on color, sire and dam, and other factors. Each puppy will come with limited AKC registration, deworming, vaccinations, microchip, puppy pack, NuVet Plus sample, and a 24-month health guarantee.
Aggie Labs also has older pups and retired dogs for sale, so be sure to check their website and social media often. Their website has past little pictures, showing the color variations they offer, and they post pictures of their sires and dams. This breeder is committed to producing happy, healthy Labrador puppies and will work with you to match the best one for you.
Aggie Labs Contact Details
| | |
| --- | --- |
| Owner | Melody & Shannon Dunn |
| Location | Fairview, AL |
| Email | info@aggielabs.com |
| Phone Number | N/A |
| Website | aggielabs.com |
| Facebook | |
3. Hickory Nut Kennels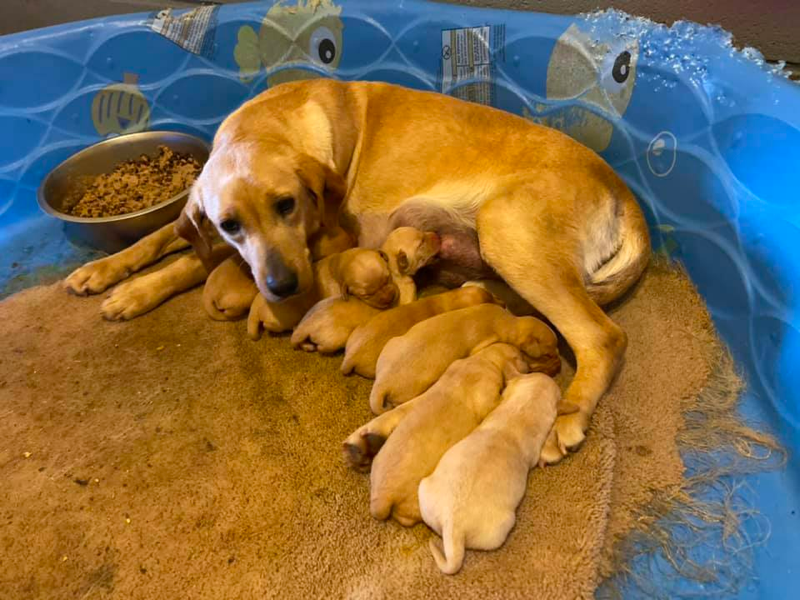 Hickory Nut Kennels boasts an almost 40-year history of breeding champion-line British Labrador Retrievers. This variation is the stockier built and comes from old Scottish and British bloodlines, imported to their kennel over the years. Hickey Nut has a well-earned pride in their dogs, as they offer not only companion and hunting dogs, but also service labs.
If you or someone in your family is looking for a service dog, including diabetic alert dogs, seizure alert dogs, autism dogs, and PTSD dogs, Hickory Nut Kennels is the place to go. Each puppy starts their training early to be the best service dog possible.
While on the pricier side, with puppies starting at $1,600, you'll be guaranteed an excellent, healthy Labrador Retriever puppy. This kennel knows their business and breeds selectively to ensure the highest-standard pups are born. They also offer started and finished dogs, meaning you can purchase a dog that has started official training, or one that has finished its training. Contact Hickory Nut Kennels to begin your search for your new companion!
Hickory Nut Kennels Contact Details
4. Ruffwood Labs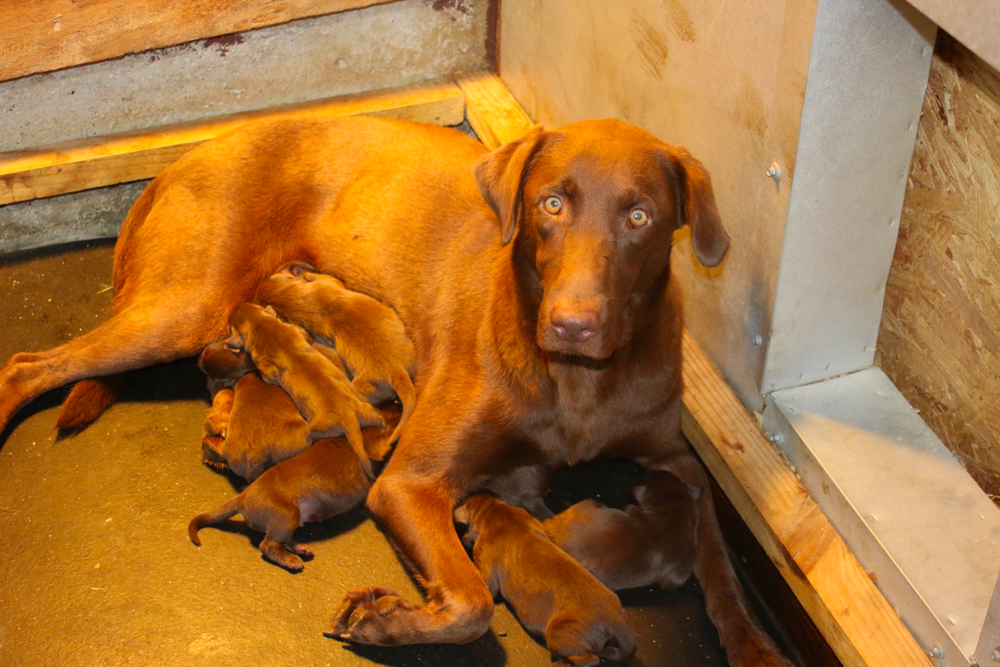 As a small family-owned kennel, Ruffwood Labs offers AKC-registered British Labradors who are raised with love and care by a dedicated couple. As this is the British line, these Labradors will be stockier builds. Each puppy is raised with love, one-on-one attention, and daily socialization.
Ruffwoods is proud to offer life-long support and loves to get updates on their pups! They also offer short-term boarding if you're unable to pick your puppy up at 7 weeks, contact them for more information on this. You'll receive a goody bag full of starters for your new pup as well.
Each puppy comes with a 26-month health guarantee for issues of the eyes, hips, or elbows. They also offer a three-day guarantee for returns if you have written statements from a vet that there is a serious health issue. Ruffwoods is also AKC compliant and checked regularly by the organization to ensure you'll be receiving a quality puppy.
Ruffwood Labs Contact Details
| | |
| --- | --- |
| Owner | Darrell & Angie Batemon |
| Breeder Since | N/A |
| Location | Blountsville, AL |
| Email | ruffwoodlabs@gmail.com |
| Phone Number | 205-237-4607 |
| Website | ruffwoodlabs.com |
| Facebook | |
4. Tried and True Labradors
Owned by a young couple, Tried and True is an upcoming kennel that is proving their weight among the Labrador breeders of Alabama. With an emphasis on breeding standards, Kyle and Kelsey Pope are on a mission to produce top-quality Labrador Retrievers.
They breed the English, also known as British, line of Labradors, resulting in a stockier body build, but not less adorable! Each puppy comes with a 12-month health guarantee, which can be read about on their FAQ page. They'll also have limited AKC registration.
Tried and True offers training and boarding services, allowing you to attend training sessions or board your dog with peace of mind. The Pope's training sessions range from beginner to advanced. This kennel only breeds the three standard colors of Labradors, black, chocolate, and yellow. This is a kennel that truly cares about the breed's future and is committed to ensuring it's a strong future!
Tried and True Labradors Contact Details
| | |
| --- | --- |
| Owner | Kyle & Kelsey Pope |
| Breeder Since | 2014 |
| Location | Eva, AL |
| Email | Triedandtruelabradors@gmail.com |
| Phone Number | 205-688-6773 |
| Website | triedandtruelabradors.com |
| Facebook | |
5. Crimson Kennels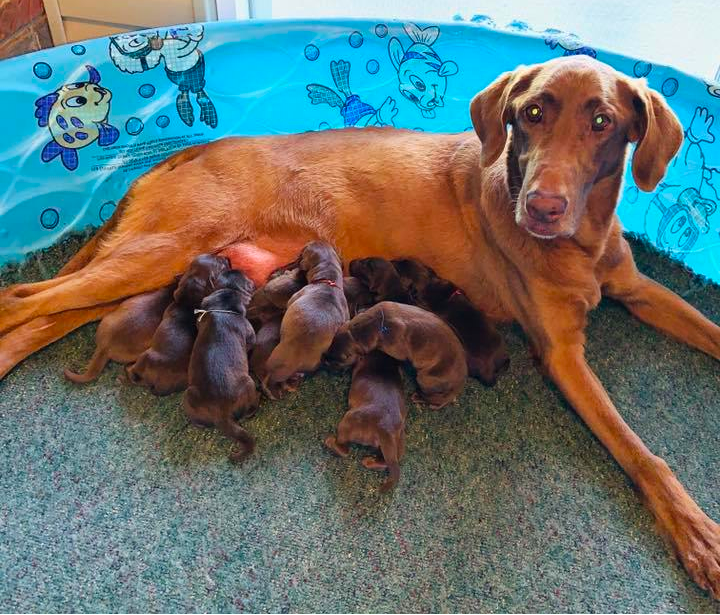 For those looking for an excellent hunting Labrador Retriever, Crimson Kennels is the best choice. Jimmy & Tracy have a passion for duck hunting and spend most of their time training for hunting season. They're active participants in AKC hunt trials and most of their sires and dams are hunting champions.
Crimson Kennel puppies come with first vaccinations, dewormings, dew claws removed, and a 26-month health guarantee. This kennel also begins the introduction to water when possible. Each pup will cost between $800-2,000 dollars depending on several factors, such as their bloodlines and color. You'll also receive a starter bag to help your new puppy transition to your home. Crimson Kennels also offers microchipping & shipping for additional fees.
This is a high-achieving kennel. Check out their achievements page to learn more about AKC hunting trials and to see their awards. For any reason you cannot keep your dog, Crimson Kennels will take them back to ensure they find a loving home.
Crimson Kennels Contact Details
| | |
| --- | --- |
| Owner | Jimmy & Tracy Hughes |
| Breeder Since | 2000 |
| Location | Greenhill, AL |
| Email | info@crimsonkennels.com |
| Phone Number | (256) 627-3967 |
| Website | crimsonkennels.com |
| Facebook | |
6. Dugger Mountain Labs
Dugger Mountain Labs was first a canine training business that expanded into breeding after the loss of their beloved lab. Through the tough times they had with their lab, they decided they wanted to be an ethical breeder of Labrador Retrievers along with training them.
Dugger Mountain Labs specialize in white, silver, and Dudley-colored labs. It's important to note that the AKC does not recognize these colors. They also do have black, yellow, and chocolate litters occasionally.
These breeders love their dogs dearly and provide them with all the comforts a dog could ask for. If you're looking for a breeder that is ethical and loving, contact Dugger Mountain Labs for more information. This kennel will be worth the visit!
Dugger Mountain Labs Contact Details
| | |
| --- | --- |
| Location | Dugger Mountain, AL |
| Email | happy@duggermountainlabs.com |
| Phone Number | (256) 525-9092 |
| Website | duggermountainlabs.com |
Final thoughts
Labrador Retrievers are the number one dog breed in America for a reason. They're easy to train, affectionate, and loyal. They'll provide you with lifelong companionship and return your love thousand times over.
With so many puppy mills and backyard breeders out there, it's easy to find a Labrador Retriever puppy. But those puppies, and their parents, are often abused and neglected, living horrible lives for the sake of profit. With a reputable breeder, you know that you'll be getting a healthy, happy puppy.
If you're in Alabama or one of the surrounding states, take a look at our list of breeders to decide which one is the best for you. We encourage you to speak with your chosen breeder before purchasing or applying for the waitlist. You'll know if you're working with someone who cares and if they'll be able to provide a quality Labrador Retriever puppy for you. We wish you the best in finding your new canine companion!
Reputable Labrador Retriever Breeders in The Other States