Are you ready to add a new canine companion to your home? After tons of research and falling absolutely in love with the Labrador Retriever, you're now wondering, where do I get a Lab puppy? For those in Kentucky or the surrounding states, we've gathered the top reputable Labrador breeders to help you decide where you'll be getting your new furry four-legged best friend!
Our list will provide you with plenty of options for breeders along with their contact information and a brief introduction to their kennel. We look for AKC-registered breeders who take the health of their labs seriously and are invested in placing their puppies in good homes.
We'll include what each breeder offers with their puppies and any unique facts about them as a kennel. As with any breeder, you should do your own research and reach out to them privately. Everything can look great on paper, but only you will know when you've found the right breeder.
1. Bourbon Country Retrievers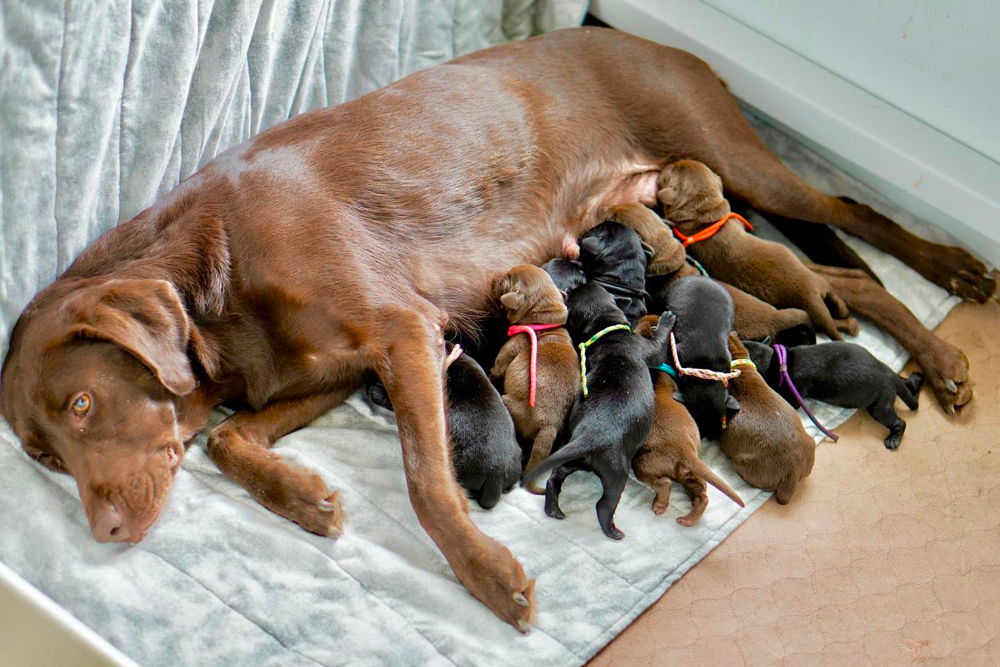 Jackie & Duce Williams started their Labrador Retriever kennel in 2019 and since then have made quite the splash among breeders. This breeder's dedication to producing true, 100% Labrador Retrievers for hunting, trials, show, and companions is clear. They boast on their website that they don't wish to be the largest breeder, simply the best!
Your buying experience with Bourbon Country Retrievers is sure to be a breeze, with plenty of contact and updates about your chosen puppy. Each of their puppies will have limited AKC registration and come with a 26-month hip and eye health guarantee.
This breeder has excellent customer reviews and a great website that provides wonderful information about their dogs and the Labrador Retriever breed in general. They have an upcoming litter so be sure to join their waiting list!
Bourbon Country Retrievers Contact Details
2. West Ky Labs
For those looking for a more unique colored lab, West Ky Labs has you covered! As a breeder since 2006, this family-owned kennel is confident in their puppies. They offer the standard three colors: black, yellow, and chocolate. They also specialize in charcoal, champagne, silver, fox red, and white labs. Please note these colors are not accepted by the AKC for showing.
Raised on a 160-acre farm, West Ky Labs strives to produce even-tempered and well-socialized puppies. This is a breeder who considers their dogs a part of their family and expects any new owner to treat their puppy the same!
Included with your puppy is limited or full AKC registration, with full rights being a higher price point. Your puppy will also have first shots, deworming, dewclaw removal, and a two-year health guarantee. You can also request a microchip for an additional fee. Check out their many upcoming litters!
West Ky Labs Contact Details
| | |
| --- | --- |
| Breeder Since | 2006 |
| Location | Drakesboro, KY |
| Email | puppies@westkylabs.com |
| Phone Number | 270-820-4750 |
| Website | westkylabs.com |
3. Carter Farm Labs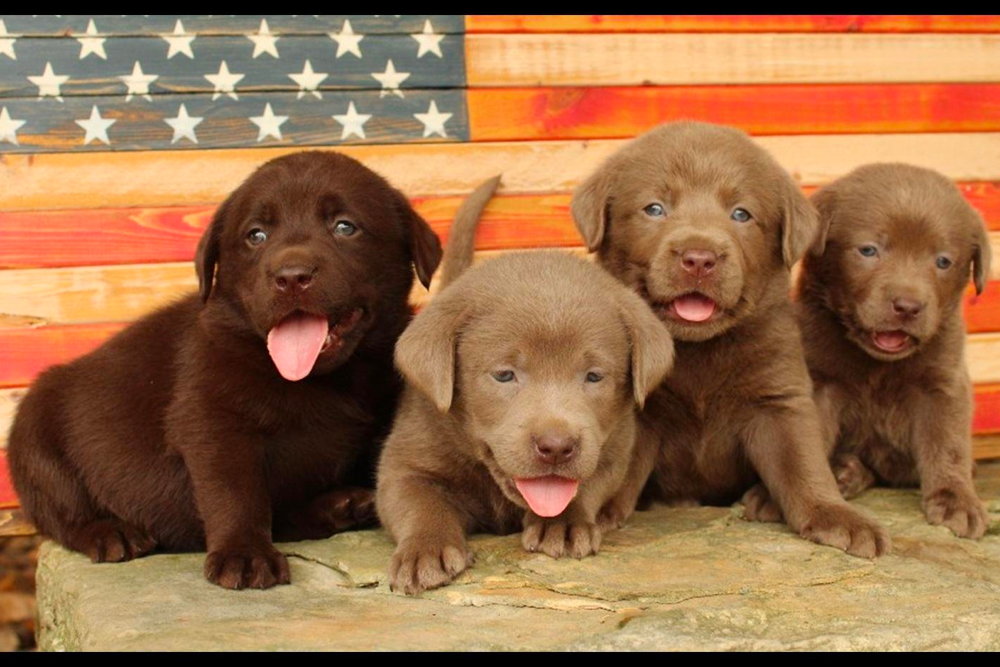 As a small hobby farm, Carter Farm Labs has more of a focus on producing easy-going, family companion Labradors. They breed mainly the rich, chocolatey color coat, but occasionally will have other colors. Carter Farm Labs are the English style, meaning they'll be the more bulky body build with a more laid-back temperament.
It's important to note that this breeder focuses on a more calm lab, even pointing out in their bio that while their labs are great retrievers, that is not their main goal when raising their puppies. These dogs are a part of the family and the puppies grow up on a 160-acre farm, enjoying activities with their humans constantly. Carter Farm Labs is dedicated to improving the breed line with a focus on health and pedigree.
They provide each puppy with limited AKC registration, 24-month hip guarantee, and health guarantee, see their site for more details of what the guarantees include. Your new puppy will also have up-to-date shots, deworming, a vet exam, and a puppy toy to go home with.
Carter Farm Labs Contact Details
4. RCM Labradors
RCM prides themselves on raising their Labrador Retriever puppies around their children and grandchildren! This means your puppy will come well socialized and do great with children. As breeders since 1995, RCM Labradors knows their stuff and has been producing quality pups for many years.
All of their sires and dams are genetically tested for breed-specific diseases and are guaranteed clear. The kennels have been inspected by the AKC and they received a 100% compliance score, showing you that this breeder is ethical and responsible.
Puppies will come with limited AKC registration, microchip, deworming, and first shots. A unique fact about this breeder is that they will begin litter box training your puppy. This means that while you're away, your puppy will know to use the litter box until they've grown enough to wait for you to let them out. This is super helpful for those nervous about puppy accidents!
RCM Labradors Contact Details
| | |
| --- | --- |
| Owner | Ron |
| Breeder Since | 1995 |
| Location | Bloomfield, KY |
| Email | rwm0601@att.net |
| Phone Number | 866-719-3180 |
| Website | rcmlabradors.com |
5. Snow Ridge Labradors
First and foremost, Snow Ridge Labradors treat their Labs as their best friends and life-long companions. These labs are not raised in a kennel and instead enjoy a fenced-in 2-acre yard with access to the house. You'll find these champion bloodline dogs living a life of ease with their favorite humans.
With an emphasis on raising sound, even-tempered labs, Snow Ridge also partakes in obedience and show ring competitions. They also pride themselves on training therapy and service labs!
Snow Ridge offers limited AKC registration, microchip, and basic house manners. They place a big emphasis on your part in helping your new puppy become a well-adjusted adult and will provide information to train and raise them.
Snow Ridge Labradors Contact Details
6. Grandview Labradors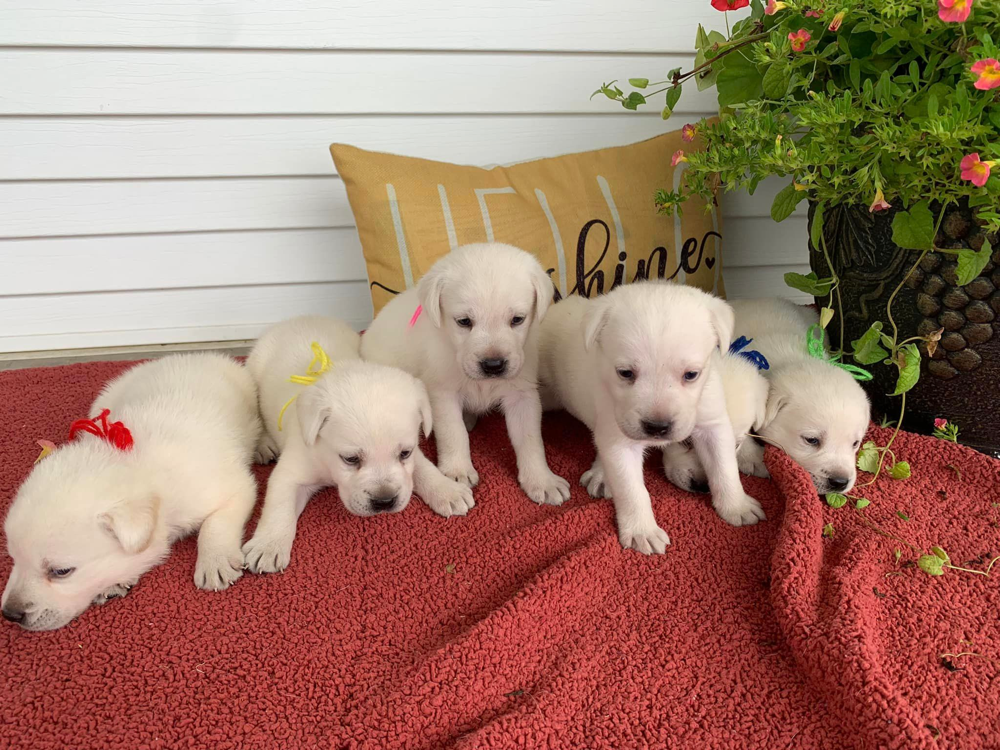 First starting out with white labradors and then expanding to silver and charcoal, Grandview Labradors produce the dilute colors of the standard three colors. Each of their puppies is gorgeous and raised with care on their farm.
While they breed the dilute colors, each puppy will still be registered with the AKC. White will be a yellow lab, and so on. Visit their site for a breakdown of each color. Their puppies will come with a written one-year health guarantee. They also provide stud services and shipping worldwide!
Check out their "Our Labs" page to view their beautiful sires and dams. They also have a wonderful photo gallery full of past customers and their puppies. With many upcoming litters, be sure to contact them quickly!
Grandview Labradors Contact Details
7. Bluegrass Labrador Retrievers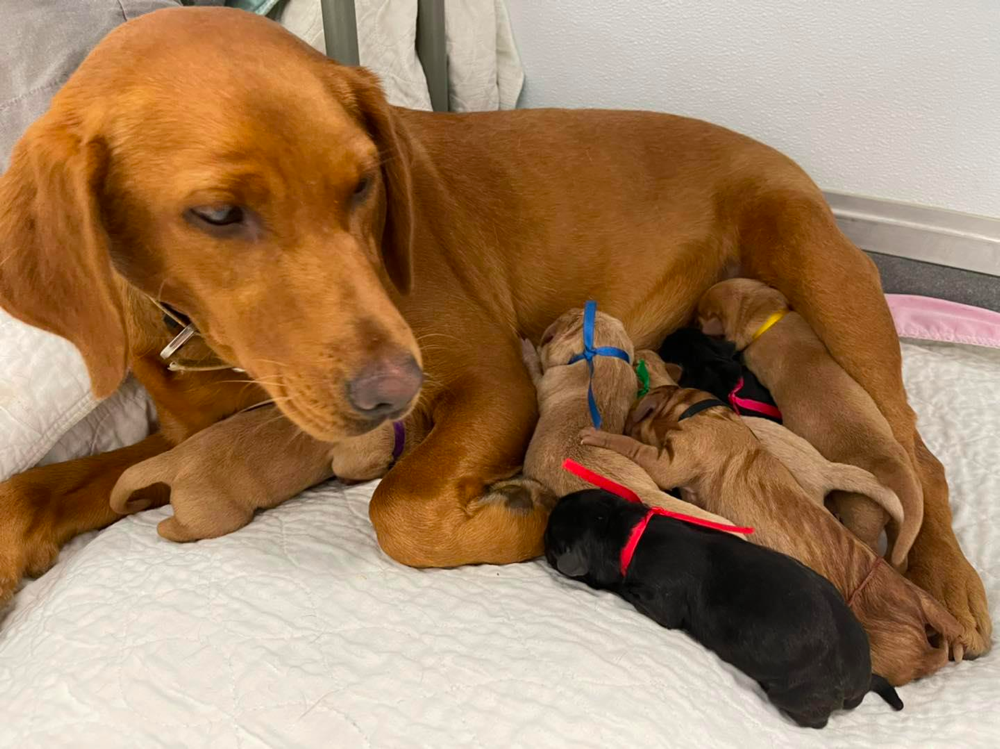 We highly recommend Bluegrass Labrador Retrievers for those looking for therapy, service, or emotional support dog. Carolyn Cabot has 17 years of experience breeding dogs and recently achieved master training certification. She also works with a program to place service dogs with Veterans.
Each of their English or American Labs comes from champion bloodlines and will have the qualities to be a great hunting or family companion. They also begin positive reinforcement training at six weeks, which will help your puppy be better prepared to come home with you. A puppy from Bluegrass will be introduced to many sights, sounds, and frequent handling by the owners.
This breeder takes the mental and physical health of their dogs very seriously. By incorporating early training, this breeder is ensuring your puppy will have the tools it needs to brave the wide world with you. Contact them to learn more about what they offer with each puppy and AKC registration.
Bluegrass Labrador Retrievers Contact Details
8. Kentucky Labs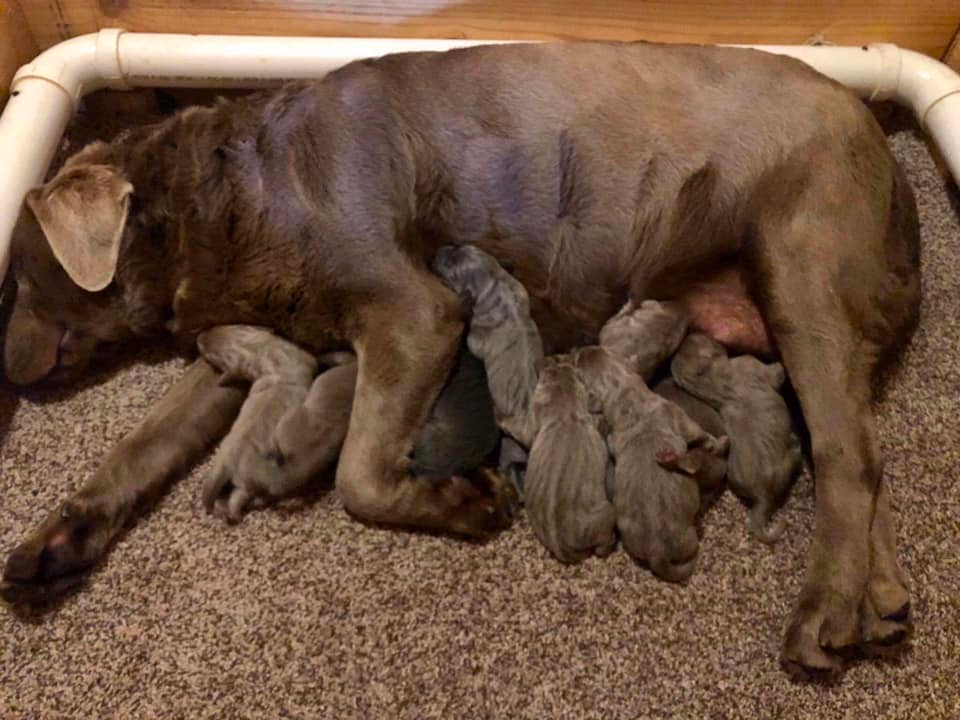 Kentucky Labs emphasizes breeding to improve the breed standard. Ethical and responsible breeders will want to contribute and improve the breed, an excellent sign of a good breeder. Each of the adult dogs is DNA cleared through the AKC, meaning your puppy won't inherit any breed-specific diseases. Labs are prone to hip and eye issues, in which this breeder offers a two-year health guarantee against developing these issues.
Each parent is available on-site for meet and greets before deciding to purchase a puppy. If you do decide to go with this breeder, they offer AKC registration, first shots, deworming, and dewclaw removal. They offer a waiting list, so be sure to sign up quickly!
Kentucky Labs Contact Details
9. Walnut Creek Labs
While their website doesn't provide the most information, they do have plenty of pictures of past and current litters, along with happy customers! For those looking for the more "rare" colors, this breeder may be able to help you!
They recently had a fox red litter and announced a few silver puppies yet still for sale. They're active on their Facebook page and promote sending their puppies to warm, loving homes. Contact them to learn more about this breeder and if they're a good fit for you.
Walnut Creek Labs Contact Details
Final thoughts
Researching each breeder is essential to ensure you're working with an ethical breeder. There are far too many puppy mills and backyard breeders out there who only care about profits. All of us want each dog out there to go to a loving home and to be treated with care. By going through a breeder, you can help ensure that all dogs receive the love they so easily give us.
Reputable Labrador Retriever Breeders in The Other States