When looking for the perfect canine companion, Americans have chosen the Labrador Retriever as their number one pick. This wonderful, loving breed is an excellent hunting companion and a great family dog.
Finding a great breeder in your state who is qualified, respectable, and raises healthy dogs can be difficult. We've rounded up the top 7 reputable breeders in Washington to help you easily find the information you'll need. When looking to purchase Labrador Retriever Puppies in Washington, you'll want to know the breeder's health guarantees, bloodlines, vaccines, AKC registration, and pup support.
We've done most of the legwork for you by providing the information you'll need to decide if a particular breeder is right for you. We'll provide contact information, what they offer with their puppies and an honest review of their services. It's important to be informed before you purchase your new best friend!
1. Silver Bow Labradors
Lauren Seitz and her family raise their Labrador Retrievers with love, compassion, and a drive to produce healthy dogs. For over thirty years, Lauren has bred chocolate and black Labradors that excel in the field and as family companions.
Each puppy purchased from Silver Bow will be clear of any hip and eye genetic health issues, have their first vaccines, and limited AKC registration papers. This breeder stands out for their hunting bloodlines and unique puppy picking process. They invite you to their home to meet the puppies in person and play with them to determine the best fit for you or your family!
Reading through the reviews and going through their website, Silver Bow Labradors are an amazing breeder of Labradors. Many owners have reached out to mention how their pups have natural hunting instincts and adapt naturally to being in the field and in the home. We strongly believe this breeder is worth a visit as they offer amazing puppies and are hands-on for the whole process.
Silver Bow Labradors Contact Details
2. Johnson Point Labradors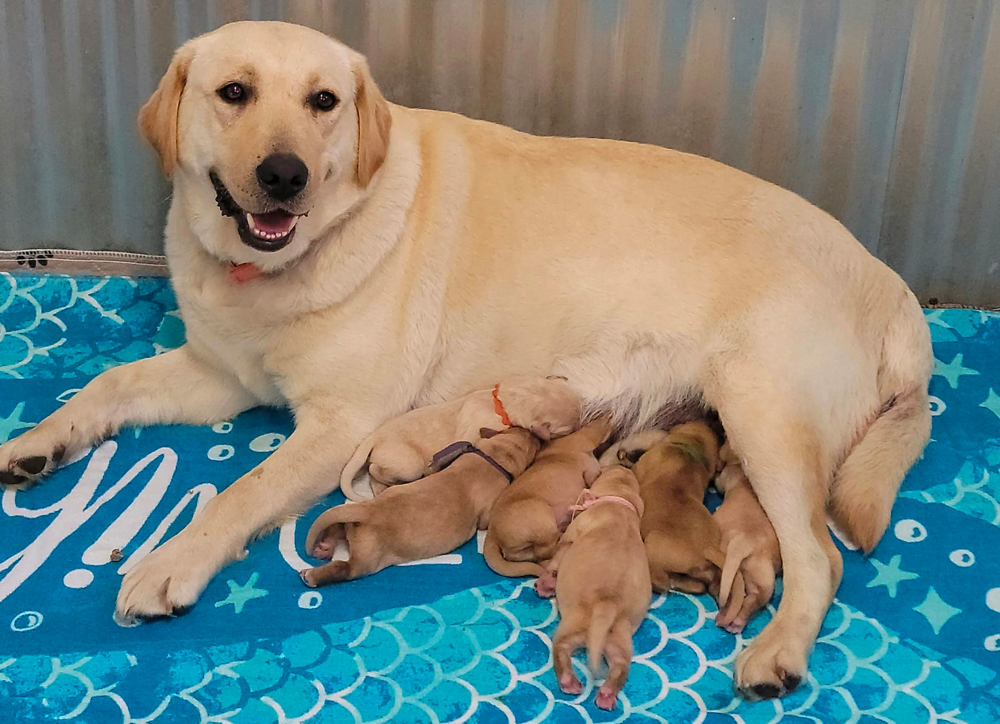 Another family-owned business, Johnson Point Labradors makes the list for their hands-on approach to their puppies and their obvious love for the breed. Despite the tragic loss of their leader, they have rallied together to continue producing Labradors of sound quality and even temperaments.
Johnson Point provides chocolate, yellow, fox red, and black Labrador puppies, leaving you with plenty of options! Each puppy will come with a health certificate plus a two-year health guarantee, vaccination, microchip, and limited AKC registration. This breeder also stands out by providing a "care package", including puppy food, blanket, collar, toothbrush/toothpaste, waste disposal holder with bags, and toys!
They also provide life-long support for your Labrador and hope to receive updates over the lifetime of your new canine companion. Visit their homepage to see the wonderful reviews customers have left. Johnson Point Labradors is an excellent breeder and will provide your family with a life-long companion.
Johnson Point Labradors Contact Details
3. Maple Lane Labradors
Located on a five-acre hobby farm in Western Washington, Amy and her family have a passion for producing quality Labradors. They strive to breed puppies that will excel in the show ring, as a hunting companion, and as a great family dog.
Maple Lane offers with each puppy: AKC limited registration, microchip, health guarantee against genetic eye and hip issues, vaccinations, and a small starter kit. They also provide "lifetime breeder support", where they will always be available to help with questions or update them on your pup.
Maple Lane asks that you bring a towel or similar piece of cloth with your scent on it for your puppy. This will help your new family companion adjust to your smell and not be so afraid! Another great benefit to this breeder is they accept any pup back if you cannot keep it. This is a breeder who is truly committed to their dogs.
Maple Lane Labradors
4. Desert Wind Labradors
Jeff and Laura are building a small kennel that focuses on the health and longevity of their Labradors. They believe with proper nutrition and genetic selection can help improve their lines and also extend our beloved companions' lives. Desert Wind Labradors excel in hunting, show rings, and as family pets.
They offer black, yellow, and chocolate Labradors, along with the rare "white chocolate" lab (see their page for more info!). Their puppies will come with a limited AKC registration, a one-year health guarantee against hip and eye issues, and a health certificate. Desert Winds also offers shipping throughout the continental US, a wonderful way to receive one of these gorgeous pups despite not being in Washington!
Their website includes updates on current and future litters, helpful links, and pictures of each color variation of Labrador to help you choose your favorite! Desert Winds also offers training classes for puppies to help them grow into sound dogs. Check out their reviews and social media for stellar reviews, updates, and helpful information!
Desert Wind Labradors Contact Details
5. Artesian Labradors
As a small hobby kennel, Artesian Labradors focus on each litter closely to ensure health, temperament, and performance. The bloodlines at Artesian include champion Labradors and have their genetic history for viewing on their website. The breeders are upfront about having only a few small litters as they are focused on showing their dogs. They do have some upcoming litters, so be sure to contact them quickly.
Each pup will come with limited AKC registration, vaccination, microchip, and a health check before going home. Their site does not offer any information on whether they guarantee no eye or hip problems, but can be contacted easily for this information.
This breeder truly loves to show their dogs. While all of their Labradors will excel in the ring, as hunters, or as a family pet, they have a passion for show competition. Artesian also uses gopuppy.net to send over the puppy packet, which includes puppy pics, articles, and information on the parents. We love small hobby breeds as they really do focus on providing quality puppies from a loving home.
Artesian Labradors Contact Details
6. Garrard Creek Labradors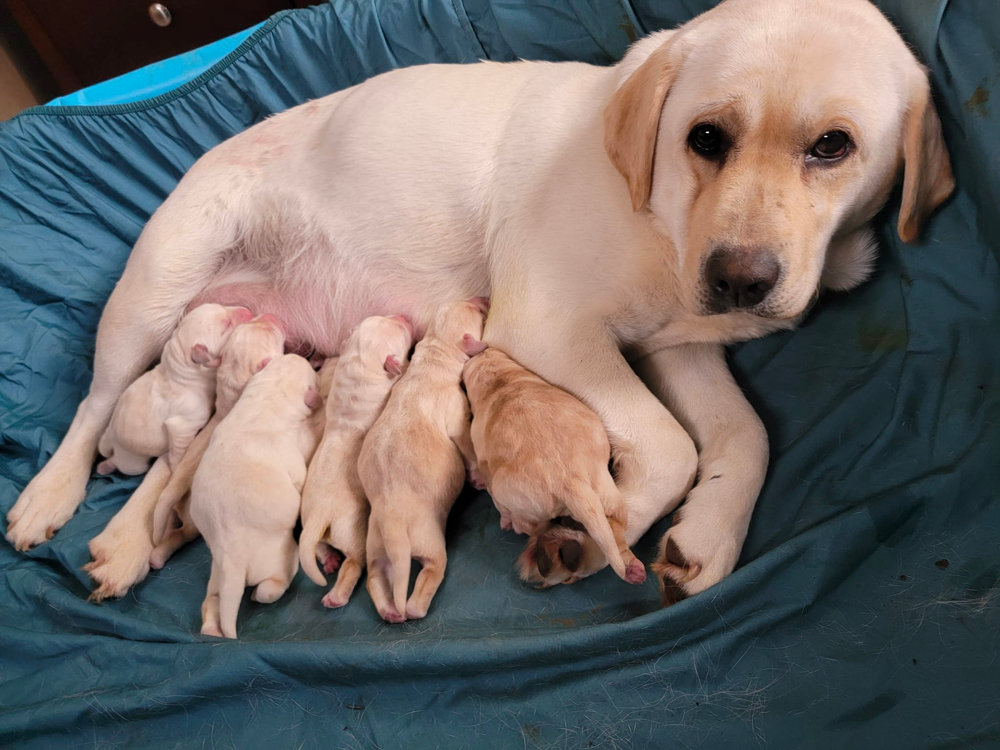 A small family-owned Kennel, Garrard Creek Labradors offer black, yellow, and chocolate puppies. Their labradors are from hunting and champion show lines, resulting in well-rounded pups that will do well in the ring and out in the field.
Each pup will come with limited AKC registration, vaccinations, and a two-year health guarantee. All parents have been checked for eye and hip issues and cleared by a veterinarian. Garrard Creek also supports the non-dilute movement, which means keeping the Labrador line pure. This means that they will not breed silver, white chocolate, or any other color of Labrador.
We like this breeder because of their consistent social media presence and love of their dogs. Each parent is listed on their website and comes with the English blocky build, so be sure to browse the sires and dams before choosing this breeder.
Garrard Creek Labradors Contact Details
7. Wind River Labs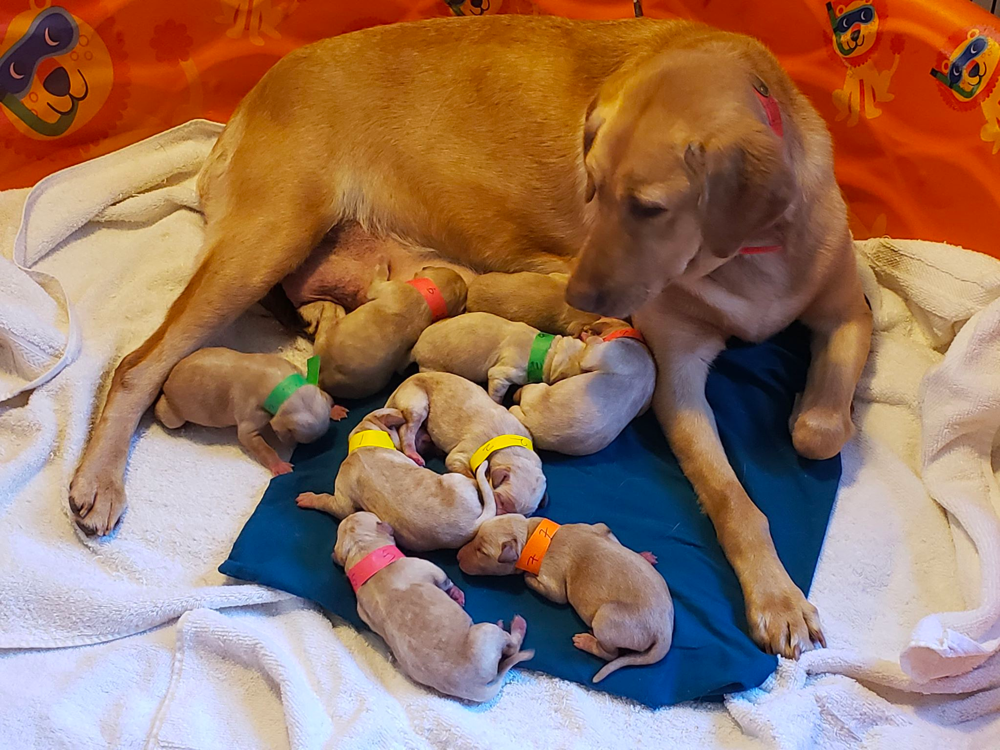 For those looking for a perfect hunting companion, Wind River Labs specializes in field Labradors. With a heavy focus on bringing the Labrador Retriever's natural hunting instincts out as soon as possible, you'll see very young pups training early to retrieve!
They offer black, yellow, and chocolate color variations. While their site doesn't mention what they offer with their puppies, they're easy to contact and will be happy to help you. They have many upcoming litters, so be quick to check them out and reserve your new best friend!
This breeder stands out for their strive to produce healthy Labradors that are ready to be hunting partners. Of course, their puppies will make excellent pets as well, but we love that they focus on working with the Labrador's natural instincts!
Wind River Labs Contact Details
8. Spokane Labrador Retrievers
Located in beautiful Spokane county, WA, Spokane Labrador Retrievers are truly bred in the field. As a family-owned business with an emphasis on breeding quality Labradors, Spokane Labrador Retrievers has earned a spot on our list!
They breed their labs for traits, genetics, and character, resulting in a dog that will do great as a hunting companion, show ring contestant, and a wonderful family companion.
Each puppy will come with a health guarantee and 30 days of free health insurance. Contact Spokane Labrador Retrievers today to enquire about what is included with each pup, if you can visit, and when a new litter will be available.
Spokane Labrador Retrievers Contact Details
| | |
| --- | --- |
| Owner | N/A |
| Breeder Since | N/A |
| Location | Spokane, WA |
| Email | N/A |
| Phone Number | +1 (509) 850-0454 |
| Website | spokanelabradors.com |
| Facebook | |
9. Green Valley Pups and Paws
A family-run farm with 50 acres of cows, horses, and chickens, Green Valley Pups and Paws truly offers a family-raised puppy. While Wendy and her husband offer both Labrador Retrievers and Golden Retrievers, rest assured your Labrador Retriever puppy will be 100% lab.
Wendy and Rafael offer silver and chocolate labs. While the silver lab is still hotly debated in the show world, they make a beautiful dog and wonderful pet. Your lab puppy will come with a vet check, deworming, vaccinations, and limited AKC registration. Each puppy will be well-socialized and ready to start their new adventure with you at 8 weeks old.
Green Valley Pups and Paws also offers lifetime support and asks that you return your dog in the case you cannot keep it. They have wonderful reviews that glow about their happy, loving pups. Check their social media for updates as they're a very active breeder!
Green Valley Pups and Paws Contact Details
Final thoughts
When searching for the perfect breeder for your new canine companion, it's imperative to do thorough research. Puppy mills and backyard breeders are common everywhere and will try to sell unhealthy puppies and often abuse the parents.
You want to be able to see where your puppy is being born and raised and talk with the owners yourself. Most breeders have testimonials, reviews, and lots of interactions on their social media pages. Be sure to check those out as they can tell you if a breeder is a right choice. Always be sure to ask about health guarantees, puppy support, and what is included with the puppy's price.
Having reviewed several breeders, we strongly believe Silver Bow Labradors and Johnson Point Labradors are the clear winners. They offer hands-on support throughout the process and are easy to work with. Their dedication to their dogs is clear and they love to share the joy of Labradors with everyone.
Finding a new canine companion for your home is an exciting time. Take the time to carefully research the breeder and speak with them. Your new puppy is waiting out there for you!
Best Labrador Retriever Breeders in The Other States
Other Dog Breeds: