What do you think of when someone asks you, "What is the true American dog breed?" Many people would claim the Labrador Retriever. Labradors are a great breed for a family with kids and other animals, service dogs, hunting buddies, or even for breeding. They are well-mannered dogs that are social, sweet, and have funny personalities! Labradors are currently registered in the AKC as the most popular breed for the last 20 years. Today I will show you the top best breeders located in the beautiful state of Tennessee.
1. Smoky Mnt Labradors
Smoky Mtn Labradors was founded back in 2016 by Gene and Karen Wolfenbarger. All combined Gene and Karen have over 40 years of canine professional working experience from prior careers. This is a family-based company with strong wills and big hearts. The Wolfenbarger family have proud-bred multiple bloodlines to bring home the AKC-approved Grand Champion & Champion Sired Pedigrees. They are a humbled and trustworthy family-owned breeder business stationed out in beautiful Tennessee. Smoky Mnt Labradors offers outstanding services to all their clients and have great quality puppies looking for their forever homes! They offer high-quality puppies all over the United States of America.
Many people out of state have purchased from Smoky Mnt Labradors because of their fantastic bloodlines. Wondering how will I receive my puppy? Well, you are in luck! Smoky Mnt Labs offers shipping, delivery, or pick-up for the puppies purchased. Their website will show that for the best price quotes give them a call or email them today! They are highly reviewed and rated on Google and Yelp.com. The Smoky Mnt Labradors website offers extensive information regarding puppy prices, shipment types, health care, health certifications, and more in-depth information about the limited registration AKC pedigrees for all their puppies.
| | |
| --- | --- |
| Owner(s) | Gene & Karen Wolfenbarger |
| Years Breeding | 40 years of canine experience (since 2016) |
| Location | Seymour, Tennessee |
| Email | [email protected] |
| Phone Number | (865)440-1100 |
| Website | smokymtnlabrador.com |
| Facebook | |
2. Johnson's Labrador Retrievers
Johnson's Labrador Retrievers began in March of 2013 as a hobby that quickly turned into a love and passion. The owner, Kevin Johnson has roughly 4.5 acres of land to house/service all his breeding needs onsite. The facility is about 90 miles away from Nashville Tennessee. Kevin has been breeding for over a decade now but only recently in 2013 started making love into more of a career instead of a hobby. Kevin is proud and takes great pride in the quality of all his puppies and his facility. All of his puppies drink from filtered water, A/C and heated kennel run insulated walls, and a small creek on the back of his property where the dogs/puppies can run and play.
This is wonderful for dog/ puppy enrichment and socialization. He offers pregnant moms nice birthing houses to stay comfortable during pregnancy. Kevin has competed in different dog shows in the United States with his own dogs. All puppies receive clean filtered water, insulated kennels, and 4.5 acres of land for exercise and enrichment purposes. Please feel free to give Kevin a call or email for his shipping information, puppy prices, AKC pedigrees, information on all available bloodlines, and health questions.
3. Pleasant Knoll Labrador Retrievers
Pleasant Knoll Labrador Retrievers is a Tennessee well-known small breeder that has shown great success and vision with a passion for Labradors! Owner Michelle Anderson is a knowledgeable breeder that lives on 300 acres of beautiful green grass hills that offers great enrichment plans and exercise plans for all her dogs and puppies. All the dogs and puppies are able to roam the property within safe perimeters. Michelle and her family enjoy hunting with their dogs and spending quiet time as a family with all their beautiful dogs!
Michelle and her family, including her 5 children are all involved with the care and maintenance of all puppies and dogs on their property. They all work together closely to help produce the best puppies. Michelle proudly offers over 10 years of breeding experience and offers all puppies are AKC registered. All puppies are vaccinated and wormed before adoption. Michelle has multiple sires with highly successful pedigrees and impressive bloodlines which include, Master Hunter (MH), Senior Hunter (SH), Field Trial Champion (FC), and Amateur Field Trial Champion (AFC). Upon request, the breeder will happily train the puppies in either hunting, service animals or just being all-around good home family dogs.
| | |
| --- | --- |
| Owner(s) | Michelle Anderson |
| Years Breeding | 10 years+ |
| Location | Morrison, Tennessee |
| Email | [email protected] |
| Phone Number | (931) 808-5179 |
| Website | labpups4u.com |
| Facebook | |
4. Sunny Hearts Farm Labradors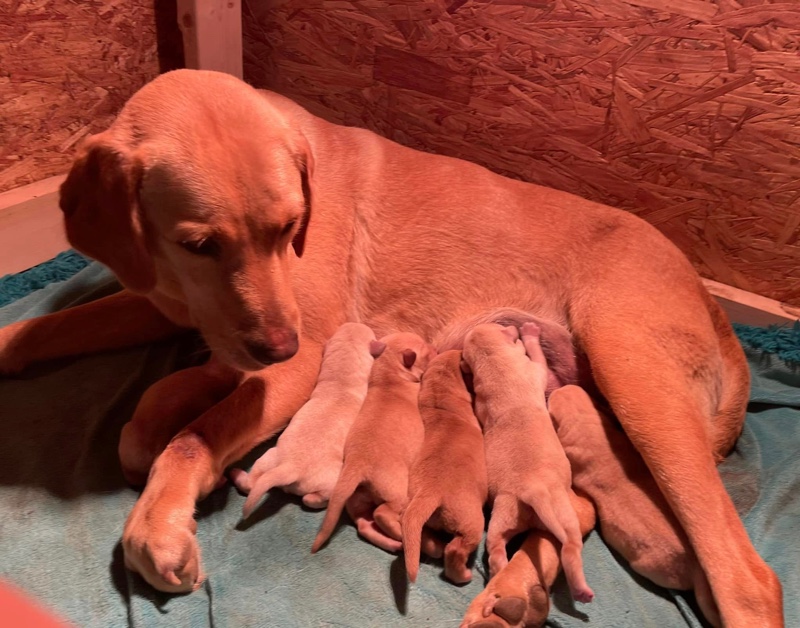 Sunny Hearts Farm Labrador Retriever Puppies is a small family-owned hobby business that is highly rated online and locally. This business is proud of their outstanding personal testimonies from clients who have purchased from Sunny Hearts in the past and with current buyers. Sunny Hearts Farm Labrador Retriever Puppies is also known as one of the best Labrador breeders in the USA per yelp and google postings online.
Owner Kimberly began breeding her Labradors officially in 2013 in the state of Colorado, after some time she and her family packed up their home and moved their shop to the beautiful state of Tennessee, where the business is now currently located. Feel free to contact Sunny Hearts Farm via phone, Facebook or email. Their past clients are all very happy with the quality of the puppies that are available for adoption. All puppies will be ready to go to their forever homes upon approval of Michelle at Sunny Hearts Farm Labrador Retriever Puppies.
Owner(s)
Kimberly B.
Years Breeding
Started breeding in 2012
Location
Hohenwald, Tennessee
Email
N/A
Phone Number
(720) 412-9901

(931) 374-7237

Facebook
Sunny Hearts Farm Labradors
5. Rocky Flats Labradors Kennel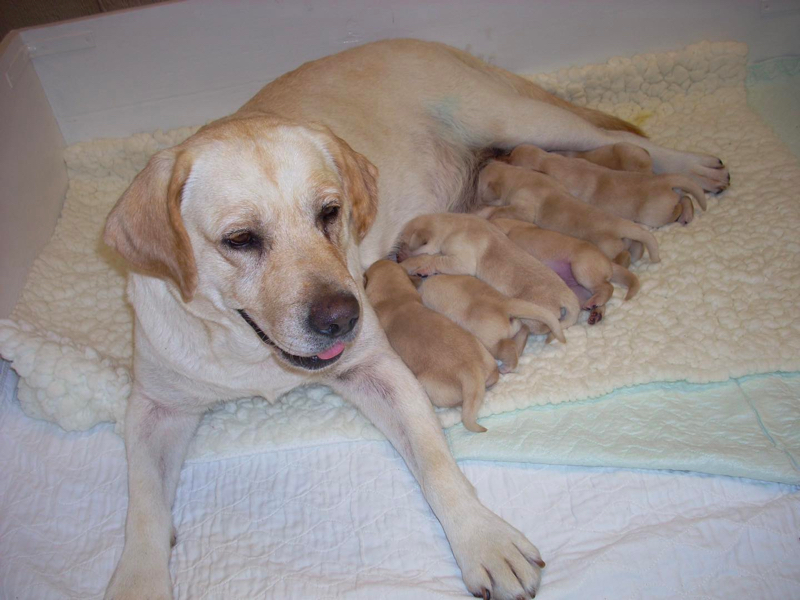 Rocky Flats Kennel is located in east Tennessee. Owners, Stephen and Sue Thelle-Harr are proud to offer clients bloodlines that produce AKC Championship dogs. They breed pure English Labradors with specific coat colors. Coat colors include yellow, red, and black. The Thelle-Harr is a well-known selective breeder in Tennessee since 2011. Both Stephen and Sue have over 25 years of breeding experience combined. They thrive to deliver the highest quality of experience with purchasing a new puppy or dog. This breeder is home-grown from top to bottom with high standards towards every puppy they have available for adoption.
Proudly they are thriving in the dog breeding community and at different national and local dog shows. All of their puppies and dogs are AKC registered and fully papered along with full veterinarian health certificates to all puppies. Rocky Flats Kennel focuses mainly on conformation, intelligence, good temperament, and retrieving training so that the owners will get the best puppy around. This breeder offers full health clearance, puppy packs that include shampoos, treats, toys, family pedigree papers, and AKC papers. Please feel free to give Rocky Flats Kennel a call or email for more information about their amazing facility.
| | |
| --- | --- |
| Owner(s) | Stephen & Sue Thelle-Harr |
| Years Breeding | Breeding since 2011 with 25 years of Labrador experience. |
| Location | Sevierville, Tennessee |
| Email | [email protected] |
| Phone Number | 865-908-0026 |
| Website | rockyflatskennels.com |
| Facebook | |
6. Three Bears Labradors
Three Bears Labradors is a two-person breeding facility located in the gorgeous rocky Cherokee mountains of east Tennessee. Owners Charles and Connie have gotten their small breeding business name from their massive love for black, brown, and white bears, which is referencing the Polar bear, Kodiak bear, and Black bear. Three Bears breeds of chocolate, yellow and black Labradors on the facility location site. Owners Charles and Connie are both highly skilled avid hunters. Along with hunting, they will train their own personal dogs to hunt with them. They are also strong lovers of the lab breed and champion bloodlines.
Three Bears Labradors have over 40 years of breeding experience which is making them proud breeders of champion hunting dogs and show dogs. Over the years they have set high goals for themselves by producing and selling amazing puppies. Three Bears Labradors have built their dream career successfully and humbly. Three Bears Labradors proudly offers full health exams with health certificates for a licensed veterinarian. They are also performing genetic testing along with other blood tests. This way the clients will know for certain that their new puppy is healthy and ready to be taken to their new forever home.
7. Still Creek Labradors
Still Creek Labradors is a small family-owned local breeding facility in east Tennessee right in the heart of the town. One of their main goals is to help families find their next forever family member. Still Creek Labradors do offer a beautiful enrichment environment for all the breeding females, males, and their puppies. They are also are proud breeders and business owners of a high-quality facility that includes birthing rooms, kennels, and running fields. This breeder and all their puppies are all AKC registered for over 10 years. Still Creek Labradors breed chocolate, yellow, and black coat colors with English Labradors. All the puppies that are bred and then sold are given their vaccines, received full health exams with health certificates from a licensed veterinarian, and undergo puppy socialization.
Still Creek is set apart from other breeders in Tennessee is their outstanding love, healthy nutrition plans, and great pride that goes into all of Still Creeks puppies. What makes this breeder so unique? It is that all their puppies are born and raised in the family home of the owners, and then are raised all together with all their dogs. This style is great for puppy socialization and puppy bonding time.
8. English Mountain Labradors Tennessee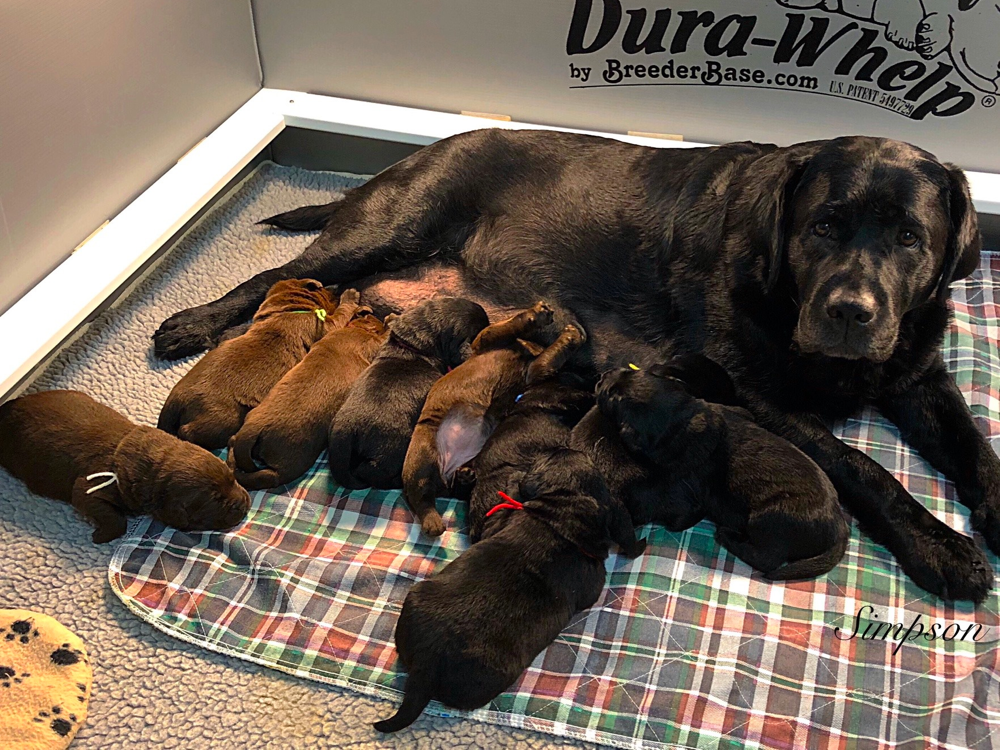 English Mountain Labradors is a breeding business up in the beautiful mountains of eastern Tennessee. Owners of English Mountain Labradors like to occasionally aid in the different surrounding animal shelters for sick dogs, in hope of a new start and future for the lost animals. English Mountain Labradors emit true compassion for this field and for helping animals in general. This breeder proudly offers high-quality bloodlines and pedigrees of English Labrador puppies. All of their puppies and dogs are all friendly, intelligent, easily trained, and all-around good level-headed puppies. Each puppy is well-socialized and medically examined by a licensed veterinarian.
English Mountain Labradors thrives to service their customers with the best quality of puppies. They are proud breeders of healthy happy puppies that will eventually grow to become a lifelong friend and member of the family. All puppies are AKC registered, vaccinated, and each puppy will go home with their pedigree papers. Health exams and health certificates are performed and then approved by a licensed veterinarian. This way each puppy is healthy and ready to go to their new homes.
My Top Pick
Labradors over the years have successfully become one of America's best top dog breeds and of course the good old family favorite dog breeds. This beautiful breed is a fantastic addition to any family looking to add a new member. From couch potato to hunting partner, Labradors are so universal how could they not be a breed favorite? Labradors can easily be trained in the medical field. Labradors have been and still are specifically used to help aid patients such as diabetic patients, seizure patients, etc. Labradors are commonly used with aid to the different medical fields and other personal or medical services like search and rescue parties.
I can happily say that I am a proud owner of 2 beautiful female chocolate Labradors. Those girls are my whole world! I will most defiantly adopt this dog breed over and over again just because of the calm temperament, funny personalities, loyal companionship, smart domineering, and courageous hearts they all share. Labradors are by far one of the best dog breeds that I have ever owned!
I highly recommend purchasing this breed! From the list of Tennessee Labrador breeders, I personally would choose Johnson's Labrador Retrievers. I really liked how Kevin the owner is so involved with all of his puppies. Also, he has such a beautiful and clean facility which also that produces great hunting bloodline pups! Another thing is that Kevin breeds only English Labradors, making that a massive plus since that style is my favorite. Labradors are an all-around great breed to have in your home!
Reputable Labrador Retriever Breeders in The Other States
Other Dog Breeds: