Goldendoodles are the perfect combination between the sweet, loyal Golden Retriever and the stoic, kind Poodle. Goldendoodles are quickly becoming one of the world's new favorite designer breeds for their companionship and their mostly hypoallergenic qualities. With the popularity of the Goldendoodle on the rise, it can be very difficult to find a good, reputable breeder.
In this article, I have compiled the most reputable Goldendoodle breeders in the state of Iowa based on their qualifications, ethics, and testimonials. Of course when you are looking to find a Goldendoodle breeder for your new best friend it is important to use your due diligence and interview everyone personally to make the best decision for yourself.
1. Iowa Goldendoodle Dandys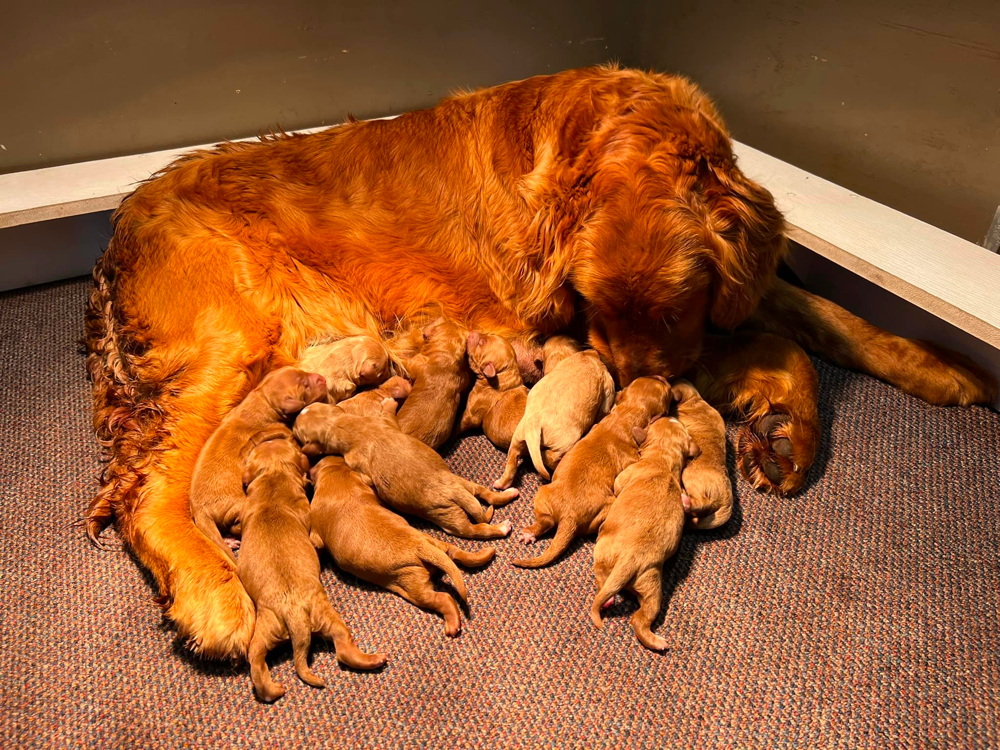 Since 2011, Iowa Goldendoodle Dandys have been breeding F1 mini Goldendoodle puppies in Humboldt, Iowa. Jodi Pederson and her family raise the Goldendoodles and their puppies cage-free on her farm in central Iowa, allowing all of the dogs and puppies to roam free and experience the farm naturally for the first eight weeks before they go home.
The puppies are well socialized and handled daily by every member of the family. Each puppy receives constant vet checks and care as well as full vaccinations and deworming. They are exercised daily by playing outside on acres of land and walking trails with the family.
Since the puppies are so well socialized, they will come to you already accustomed to humans, children, and adults alike, as well as many natural noises of the home and the great outdoors. The puppies that resemble the Poodle heritage will weigh about fifteen to twenty pounds while the puppies that resemble the Golden Retriever heritage will weigh up to fifty pounds.
2. Goldendoodles Forever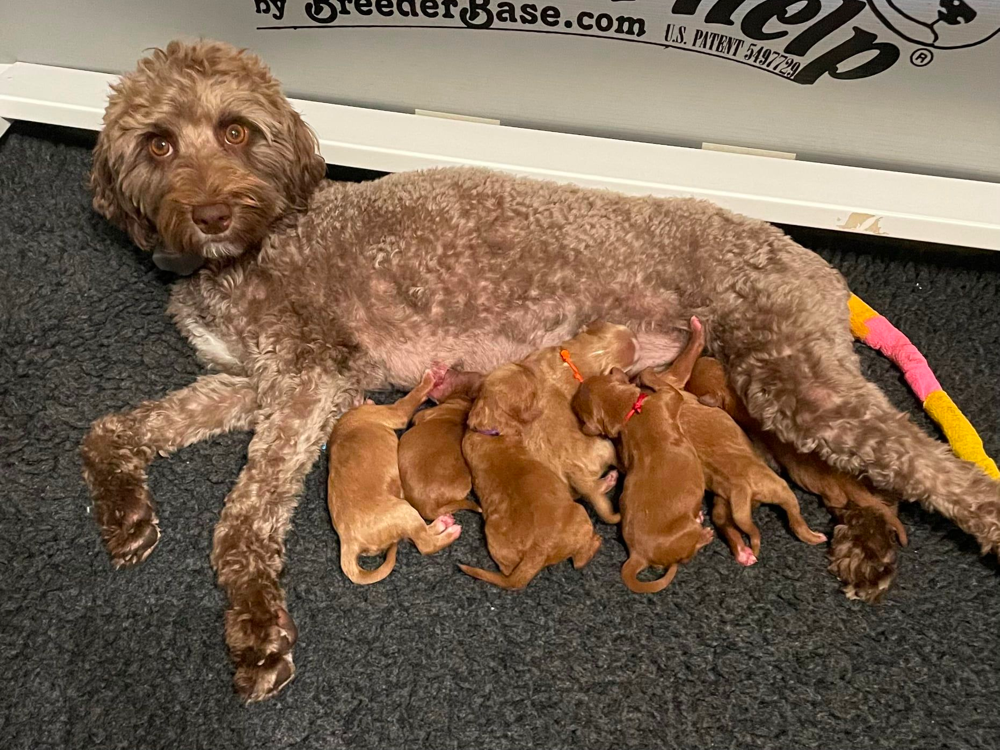 In Dubuque, Iowa, Goldendoodles Forever breeds premier miniature and medium-sized multigenerational Goldendoodles. All of the dogs are genetically and OFA (Orthopedic Foundation for Animals) health tested to ensure the healthiest puppies. The adults are taken to a certified veterinary ophthalmologist every two years to receive their CAER certificates.
Goldendoodles Forever sends every puppy home with a two-year health guarantee and a strict spay and neuter contract. Their early puppy program includes neurological stimulation as well as daily handling, play, and exposure to everyday noises. The puppies also begin crate exposure, potty training, and scheduled meals at four weeks of age.
Plenty of room is provided every day for the puppies to play and run outside. The family spends an abundance of time socializing the puppies with plenty of handling, love, and affection! Their children, grandchildren, extended family, and friends are all exposed to the puppies throughout the first eight weeks, to ensure a kind, well-socialized puppy for you to take home!
3. Kimberlee's Kennels
Placed perfectly on a 212-acre farm, Kimberlee's Kennels provides standard, moyen, miniature, and petite F1 and F1b Goldendoodles. The large farm includes a creek and woods for the dogs to roam and explore, experiencing the outside world and all it has to offer!
Kimberlee has seven children who spend the majority of their day running and playing with the dogs and puppies. They often pick their favorite ones and bring them into their rooms to cuddle and sleep together. They own a state-of-the-art facility on the property with a neonatal room, grooming area, and even a photography room. Every puppy is supplied with their own clean bed, food, water, and toys.
The dogs are all OFA (Orthopedic Foundation for Animals) health tested and the animals are guaranteed veterinary care at any time, any day. They are licensed by the state of Iowa and have annual state inspections. The health of her dogs is Kimberlee's biggest concern, ensuring you leave with a happy, healthy puppy.
4. Little Paws of Iowa
Breeding miniature Goldendoodles since 2001, Little Paws of Iowa takes pride in raising their puppies with love in clean and high-end facilities. All of the adults and puppies are treated with love and care. The puppies are introduced to neurological stimulation from an early age.
Before going home, puppies have a thorough vet check, up-to-date vaccinations, and their dew claws removed. The puppies are all sent with a one-year health guarantee. Little Paws of Iowa has accredited an A+ rating from the BBB (Better Business Bureau). They provide F1, F1b, F1bb, and F2 miniature and standard Goldendoodles.
The puppies born through Little Paws of Iowa receive a great deal of one on one handling and socialization for the first eight weeks of their life. The puppies are typically at the family home, playing with the family children in the backyard. Very early on, the puppies become accustomed to people of all ages and many outside stimulants.
5. Golden Point Puppies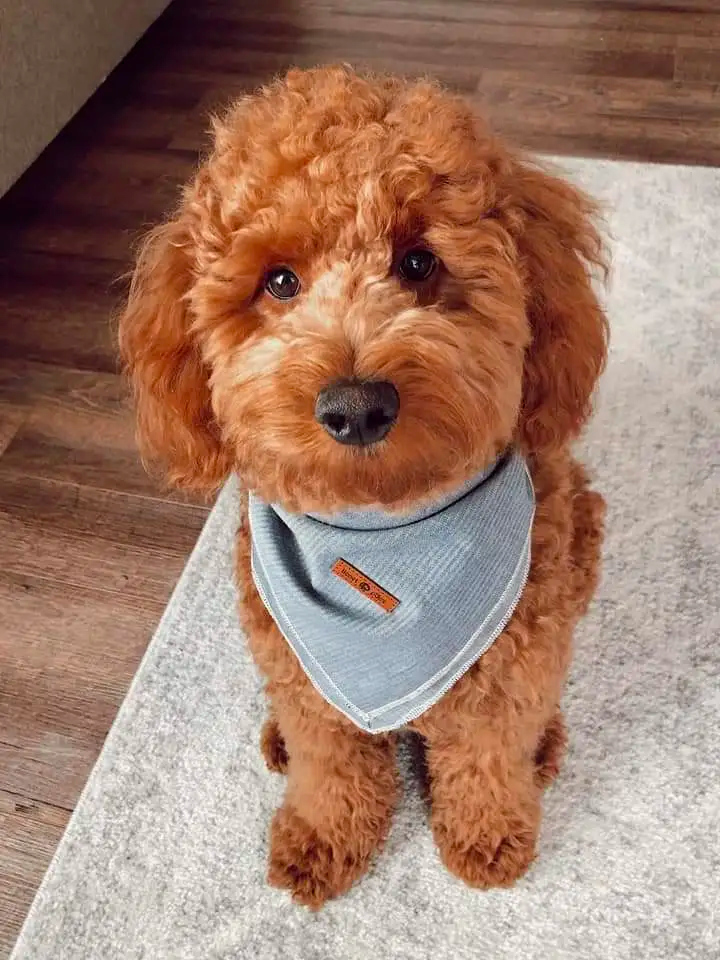 With almost 20 years of experience, Golden Point Puppies breed F1b and F1bb miniature Goldendoodle puppies in a rural setting with a lot of room for the adults and puppies to run and play as they choose. The dogs are allowed inside or outside on demand as they please, giving them the comfort and freedom they would have in a typical family setting. They are a very small-scale breeder, allowing plenty of one-on-one time with the dogs and puppies.
Every puppy comes with full vaccinations, a microchip, deworming, and a two-year health guarantee. Golden Point Puppies provides partial potty training before the puppies leave to get them going a step in the right direction! A licensed veterinarian also gives them a full exam. Golden Point Puppies vouches to be the most responsive possible, answering most calls on the first try, texting back within minutes, or emailing back within a couple of hours.
As you begin your adoption process, Golden Point Puppies ensures you are happy and satisfied by helping you choose the perfect puppy. They will guide you through the differences in each puppy and how to decide who will fit your family best. You can begin this process either on-site or over a video call. Their customer service is above all else, yielding wonderful testimonials from past clientele.
6. Hermeier Doodles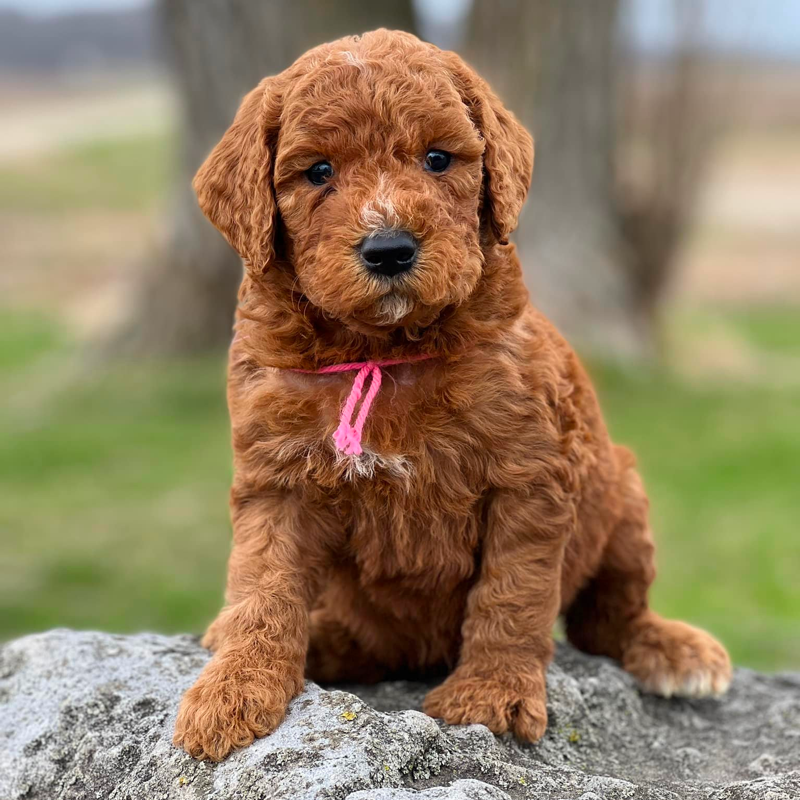 Dannette Hermeier runs Hermeier Doodles out of Waukon, IA. They breed a wide range of varieties including F1, F1b, F1bb, F2, F2b, and multigenerational, as well as miniature, medium, and standard sizes. Although they provide so many Goldendoodle varieties, they still manage to keep the business completely kennel free with the use of Dannette's personal home and the home of trusted guardians. Hermeier Doodles is a state licensed Goldendoodle breeder.
Every litter is born in the comfort of a family home. Dannette Hermeier herself owns a three hundred-acre farm where her puppies can run freely! The puppies are immediately handled when they are born and thus begin their early stages of socialization. By living at home, they are constantly being introduced to different household sounds and stimulants, preparing them to come home with you at eight weeks. With a cage-free style of living, all of the dogs and puppies are given an outstanding quality of life and are treated like pets and not just breeding livestock.
The puppies begin ENS (Early Neurological Stimulation) and ESI (Early Scent Introduction) starting at three days old. These processes prepare your puppy for the stresses and stimulants of the world at a very early age, creating an intelligent mind and a sound temperament.
7. Sandy Ridge Miniature Goldendoodles
Located in Southeast Iowa, Sandy Ridge Miniature Goldendoodles breeds beautiful F1 and F1b miniature Goldendoodles. These puppies are born and raised in a rural setting with plenty of room to run and play.
Sandy Ridge Miniature Goldendoodles claim that they never want to see any puppy in pain, therefore they take serious steps to ensure the health of each puppy. The fewer diseases a puppy is susceptible to, the less likely they will find themselves in pain down the road. Each puppy comes with a two-year genetic health guarantee.
Training is very important to them, therefore they begin socialization training at four weeks old. Most of the day at this time is spent one-on-one handling and training the young puppies. The best way to ensure your puppy has a sound temperament is to spend the first four to twelve weeks socializing them by hand.
8. Whispering Pines Puppies
With decades of experience, Glen and Kris Kohima have been running Whispering Pines Puppies. The couple breeds F1 and F1b miniature Goldendoodle puppies. In 1997 the couple moved with their five children to a farm in Hull, Iowa, and have been breeding at the farm ever since.
The facility is governed and regulated by the state of Iowa as well as the USDA. They also provide airline shipping through Delta or American Airlines, and you will need a photo ID at the time of pickup. They also send the puppies with a bag of food, paperwork, and the kennel they arrive in. Whispering Pines Puppies take great pride in the cleanliness of their facility, cleaning with high-end products, and ensuring each dog and puppy has clean bedding, food, and water at all times.
Each puppy is microchipped before going home. The Kohima family consists of five adult children and two grandchildren, all of which have interacted with the puppies. Such extensive socialization with a wide variety of people makes it much more likely that your puppy will be extraordinarily friendly as soon as they go home with you! Introducing puppies to a large number of people, especially some at a younger age, create wonderful family dogs.
| | |
| --- | --- |
| Owner | Glen and Kris Kohima |
| Breeding Since | 1997 |
| Location | Hull, IA |
| Email | Must Email Through Contact Page on Website |
| Phone number | (712) 470-3229 |
| Website | wppuppies.com |
9. Wild Paw Doodles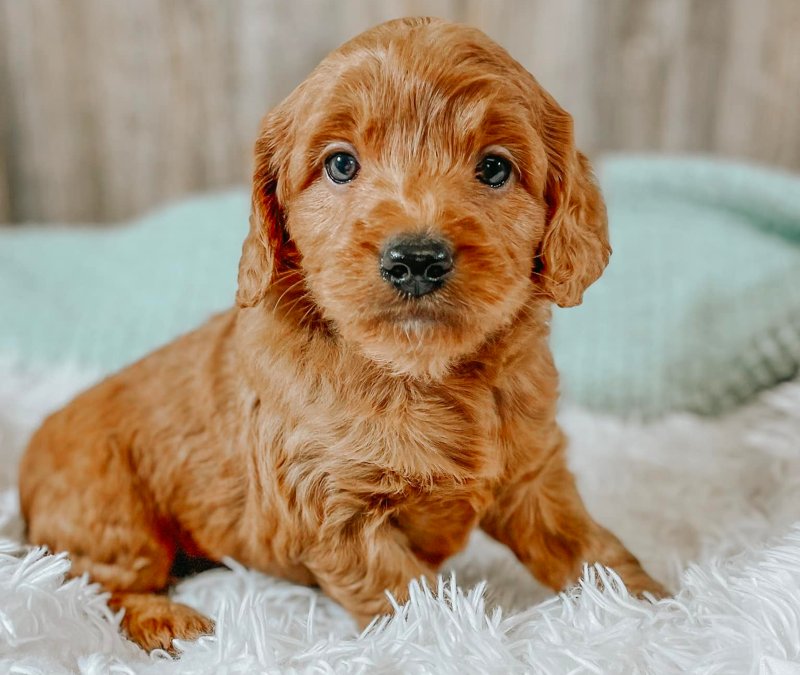 This home-based breeding organization is located in Northeast Iowa. The Goldendoodle puppies born with Wild Paw Doodles are born and raised in the comfort of a home setting. This way every puppy receives the love, care, and socialization needed to create the perfect companion!
All of the dogs and puppies are introduced to common day-to-day activities such as riding in a truck, swimming in a pool, or jumping on a trampoline! The puppies are partially kennel trained for your home before they leave Wild Paw Doodles. They also follow veterinary-recommended desensitization protocol to help the integration from their home to yours.
Wild Paw Doodles currently provide F1bb Goldendoodles that are miniature-sized and medium-sized. Each puppy is given a thorough veterinary check and temperament check. The dogs are consistently checked by a veterinarian as well as groomed, exercised, and most importantly, loved!
10. Violet View Iowa Goldendoodles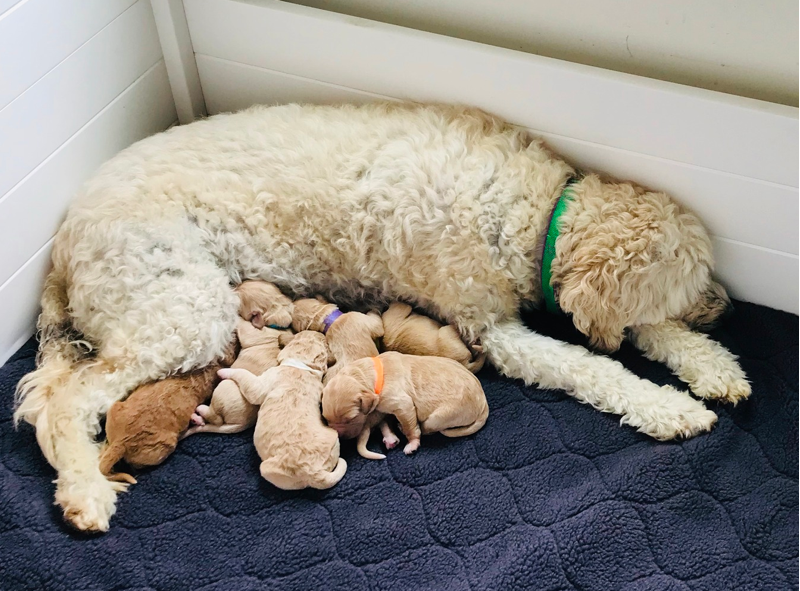 Breeding miniature to medium-sized multigenerational Goldendoodles, Violet View Iowa Goldendoodles specializes in making sure you select and go home with the perfect puppy that fits your personality and lifestyle. All of the dogs and puppies undergo consistent genetic health testing.
Violet Ahrenholz owns and runs Violet View Iowa Goldendoodles and she vouches to weed out as many genetic and health issues in the Goldendoodle line as physically possible. They are so confident in the health of their puppies that they provide a 26-month health guarantee. Before any puppy leaves, a vet thoroughly examines the puppy to ensure perfect health.
They also begin crate training, potty training, and socialization in the care of Violet View Iowa Goldendoodles! With in-home care, the puppies are handled by children and adults all day long, creating an instinctual bond in the early days of their life. Violet infuses aspects of Puppy Culture into her training, as well as ENS (early neurological stimulation).
11. Star Creek Kennels
The last breeder on our list is Star Creek Kennels. They are located in Knoxville, Iowa, and are a certified breeder under the Goldendoodle Association of North America. Their Goldendoodle puppies are of premier quality as they are of superb health, and have decent intelligence and gentle temperament. They produce Goldendoodles of all sizes that are of F1, F1b, and multigen.
All their puppies are from decent bloodlines as they are quite selective with their sire and dam prospects. They ensure each sire and dam is genetic health tested to ensure they are free from defects that could harm the litter. They also have their required certifications available.
The puppy kennels are kept clean at all times. It is quite large so each puppy has more than enough space for them to play and socialize. The puppies are exposed to a new environment that introduces them to various sights, sounds, and textures to help boost their socialization. They are well-fed with good puppy food and given the required nutrients.
A 2-year health guarantee comes with each Goldendoodle puppy. They also have their full vaccination and deworming records updated and are thoroughly examined by a licensed vet.
Star Creek Kennel Contact Details
My Pick of Goldendoodle Breeder
Ultimately, only you can truly answer this question. Each breeder raises their puppies entirely differently, and as stated previously, it is so crucial for you to take the time to research and interview each potential breeder. Only you know your specific wants and needs and can communicate them efficiently.
After researching these breeders, I selected these 10 for their qualifications, ethics, and experience. I selected Iowa Goldendoodle Dandys to hold the top of the list due to their free-range style breeding, heavy socialization, and dazzling customer testimonials. Once you discover exactly what you want in a new puppy, finding the right breeder will be a breeze!
Recommended Goldendoodle Resources
Goldendoodle Breeders in The Other States Near Iowa