Goldendoodles have broken through as possibly one of the world's most popular designer mixed breeds. The combination of the Golden Retriever mixed with the Poodle creates the perfect family dog. Goldendoodles are kind, intelligent, and mostly hypoallergenic, appealing to many families and individuals across the world.
During the search for your newest best friend, one of the most difficult steps in picking your new pup is finding a reputable Goldendoodle breeder. It is crucial to use your due diligence and spend time researching each potential candidate when choosing a breeder for yourself. In this article, I will share what I believe to be the most reputable Goldendoodle breeders in the state of Maryland.
1. Curly Doodles
Curly Doodles breed mostly F1b and multigenerational miniature Goldendoodles. They use only genetically health-tested parents that are tested by the OFA (Orthopedic Foundation for Animals). They are located in Maryland but can deliver anywhere in the United States!
They are recognized as Good Dog Good Breeder as well as hold the title of Blue Ribbon Breeder by the Goldendoodle Association of North America. Every puppy is evaluated throughout the first weeks of their life to match each individual temperament with the perfect family. At Curly Doodles, the puppies are raised and socialized by hand with constant love and care!
All of the puppies are evaluated by a veterinarian and receive their first dose of vaccinations, deworming, flea and tick prevention, and heartworm prevention. Curly Doodles take the health of their puppies very seriously. The puppies are also provided with 30 days of pet insurance.
2. Rocks and Roses Doodles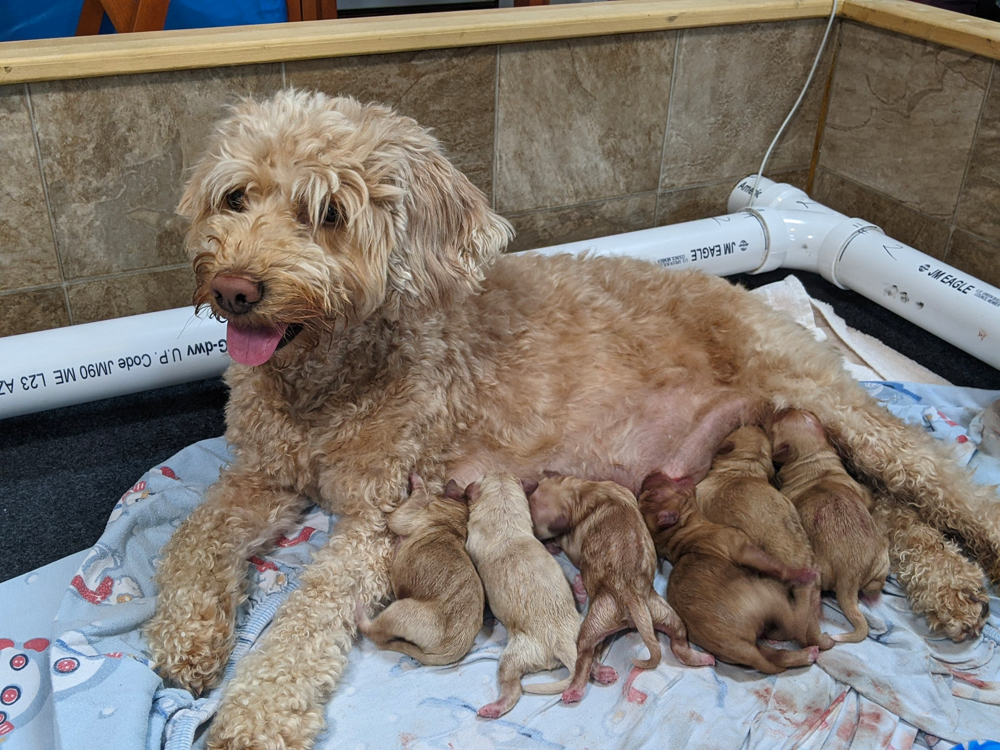 With over 4 years of breeding history, Rocks and Roses have been able to earn a decent reputation as top breeders of the Goldendoodle. Rocks and Roses Doodles are located in Street, Maryland. They are a blue ribbon breeder of the miniature Goldendoodle under the Goldendoodle Association of North America. They are also a recommended breeder by Good Dog.
Their Goldendoodle pups are raised in the family home where they are provided with enough space to run and play to their satisfaction. They get to sleep in a clean and temperature-regulated area and are provided with the right supplement and food to foster strong growth. Each Goldendoodle is exposed to basic puppy training and is also exposed to a wide variety of enrichment protocols like puppy culture and Early Neurological Stimulation.
All their puppies are bred to high standards and stay with them until 10 weeks. They are multigen puppies so they come with hypoallergenic coats. In addition, the puppies all come from a healthy, impressive bloodline. To achieve this, careful, selective breeding must be done. This is why they spare no resources into researching the right sire and dam for their program. The dogs are tested for genetic health issues that are common to the Goldendoodle breed. They also have their hearts, patellas, hips, and eyes tested and certified by licensed professionals.
When the puppies go to "forever home", they come when called, sit for a treat, walk on a leash, have been socialized and noise desensitized, crate trained for at least 6 hours, and are well on their way to potty training among other things.
Your Goldendoodle puppy should be exposed to basic potty and crate training. They also come with a 2 years health guarantee. They are health checked by a licensed vet and are each properly vaccinated and dewormed with records to show this.
3. Maryland Doodles
Bred, born, and raised at home, the Goldendoodle puppies from Maryland Doodles are well-socialized and accustomed to human interaction from a very early age. They breed full and standard-sized Goldendoodles. All of the parent dogs are American Kennel Club registered or Continental Kennel Club registered.
By allowing their children to play with the puppies from two weeks old, Maryland Doodles make sure each puppy is a perfect family dog. The dogs shed very little and classify as hypo-allergenic for families that can not adopt other dogs for that reason.
They are a very small, family-owned breeding operation meaning each puppy is given extensive one-on-one time and handling. They only have one dam and one sire, since both dogs are their family pets. Every puppy is guaranteed a kind temperament and demeanor due to their wonderful early handling.
4. Quailridge Poodles and Doodles
Specializing in miniature and standard Goldendoodles, Quailridge Poodles and Doodles is a family-based breeder in La Plata, Maryland. Everyone in the family has a huge hand in raising the Goldendoodle puppies. They are a very tight-knit family, consisting of twenty-four grandkids and great-grandkids, and work together to raise the perfect puppies for your home!
At the moment, they are not allowing visitation before pickup. This measure is set in place to ensure a safe, calm, and serene place for the mothers as well as the puppies. Instead, they post updates constantly on social media sites as the puppies grow. All puppies come home with a veterinary check, up-to-date vaccinations, and have already taken care of deworming.
The puppies are also sent home with a bag of food, a toy, or a blanket, and a twelve-month health guarantee. The Goldendoodle puppies bred with Quailridge Poodles and Doodles are primarily F1b. After choosing your puppy, you receive a customized puppy binder filled with information and resources for your new best friend.
5. Gleneden Goldendoodles
Claiming to be the "first dedicated breeder in the United States", Gleneden Goldendoodles have been breeding since the early 1990s. All of the original breeding dogs were American Kennel Club Registered and many held multiple champions in their pedigree.
Gleneden Goldendoodles endure keeping their dog's bloodline as healthy as possible with careful and considerate breeding. They understand that attractiveness and cosmetic looks of the puppies are second to health. Their puppies display pristine genes and wonderful temperaments. A rigorous vaccination and deworming protocol are followed for all puppies.
The business has been in the family for years, creating a personable, loving environment for all of the puppies! The new owners Becky and Bill Hahn have taken the business over from their mother, Judy Hahn, and vouch to continue the same quality breeding practice that has been implemented for years.
6. Copper Oaks Mini Goldendoodles
Nathan and Becky have been Goldendoodle obsessed since discovering them and finally having the perfect, hypoallergenic, family dog for their seven children. The puppies are raised in the home and receive endless love and socialization. The puppies enjoy swimming in the pool, playing fetch in the yard, and even attending tea parties with the children!
The family provides F1b petite and miniature Goldendoodle puppies. The dogs are genetically health tested by Parentage to ensure the puppies do not inherit many common diseases. They are given their vaccinations, deworming, a microchip, and a veterinarian health check.
Going home, the puppies receive a Lovey blanket with their mother's scent and a two-year health guarantee. The puppies also begin early potty training before they ever leave Copper Oaks Mini Goldendoodles. They provide delivery to 48 of the United States. The Copper Oaks Mini Goldendoodles website is also filled with a bunch of resources for new and expecting puppy parents!
7. Upper Bay Goldendoodles
Although relatively new to the breeding world, Upper Bay Goldendoodles have spent three years in preparation to breed multigenerational Goldendoodle puppies. The first litter was not officially born until 2021, making Upper Bay Goldendoodles the youngest breeding company on our list. The lack of time breeding under the family's belt has been completely overcome by the dedication, credentials, and professionalism they have brought to the table.
The puppies are born and raised at home, in the small town of Street, Maryland. The family had gained interest in breeding over the years, but it was not until after their four children were grown that they decided to begin researching, reading, and following other qualified breeders. They took time to properly pick out and genetically test the adult dogs before they began breeding, ensuring that all of the future litters were happy, healthy, and social puppies.
The puppies receive consistent hands-on care and affection from the family so they will be plenty socialized in their new home. The dogs are tested genetically through the OFA (Orthopedic Foundation for Animals). The puppies go home with up-to-date vaccinations, deworming, and a certified veterinary check. They also receive a two-year health guarantee and begin training through Puppy Culture in the home from a very young age.
8. Watersedge Goldendoodles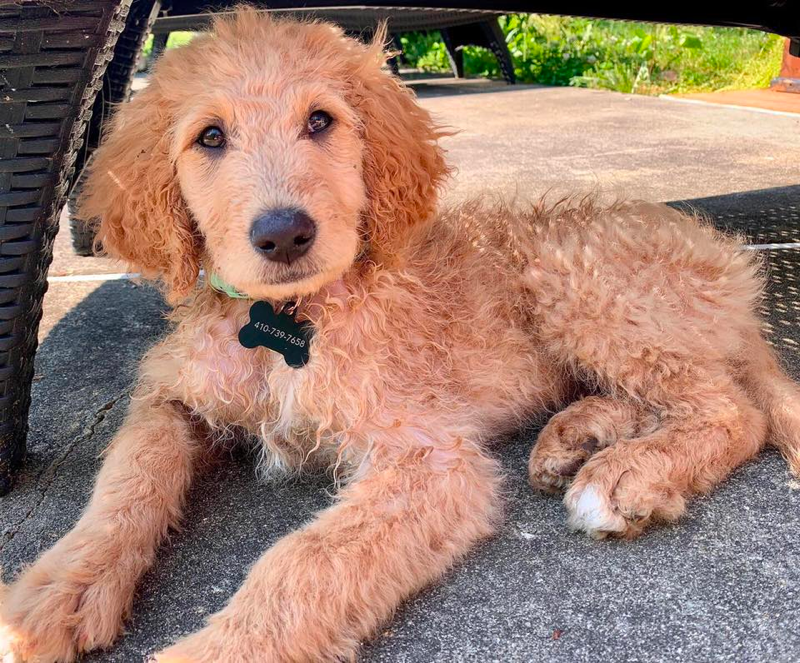 Watersedge Goldendoodles are a family-based breeder based in Baltimore, Maryland. After spending a great deal of time doing tons of research about different dog breeds, the family discovered Goldendoodles as their perfect fit, and strives to breed Goldendoodles that are the perfect fit for you! All of the bred dogs are family pets and each puppy is treated as such. The entire family is hands-on in socializing, training, and raising.
The family focuses on raising the puppies to be completely comfortable and happy with children and a chaotic household. They begin the puppies on Potty training and early Puppy Culture training to bloom a good foundation for after they go home. They have been implementing these breeding and training practices for over six years.
Their website contains information on all of the dams, sires, and puppies at all times. The family receives raving testimonials from past customers on the health, temperament, and intelligence of their puppies. Even after the puppies go home, the family stays in touch with the new owners as much as possible!
9. Albark Kennels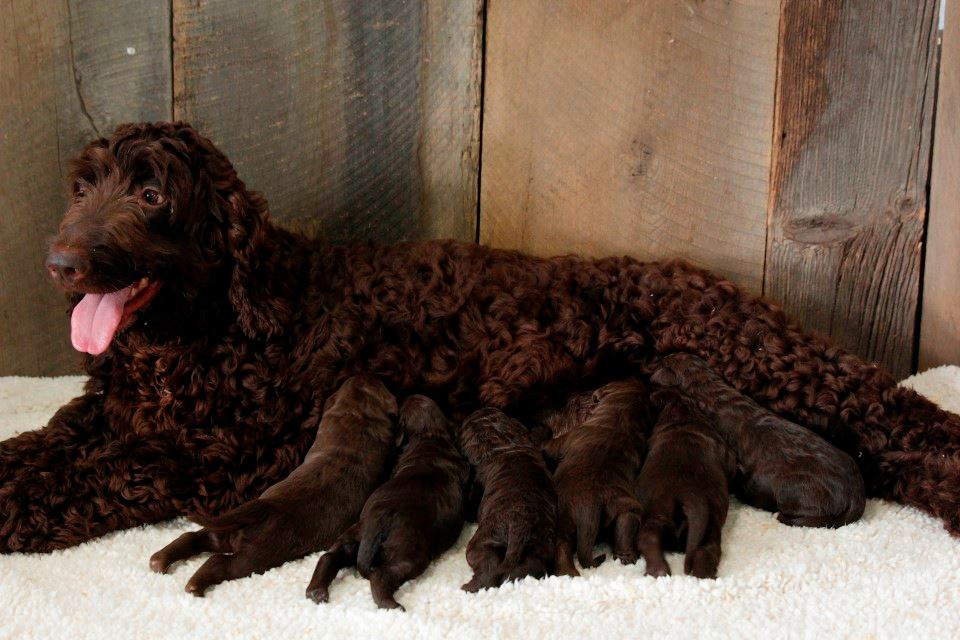 The puppies from Albark Kennels are very friendly and social due to them being family owned and raised. The children in the family help care for the dogs and actively spend time feeding, playing, and socializing with them. Albark Kennels have been happily breeding healthy puppies since 2004.
They provide F1 and F1b Goldendoodle puppies. All of these puppies are veterinarian-checked and come with up-to-date vaccinations. Along with being extremely friendly and socialized, the puppies are guaranteed to be healthy from every litter. The health and wellness of the puppies are critical parks in Albark Kennels journey to create the perfect Goldendoodle puppies.
Albark Kennels have received glowing customer testimonials. Many people claim they are the friendliest family to work with. They pride themselves on being kind and easy to communicate with. After years of experience, their customer service is superior just like their puppies!
10. Windsor Oak Farm Goldendoodles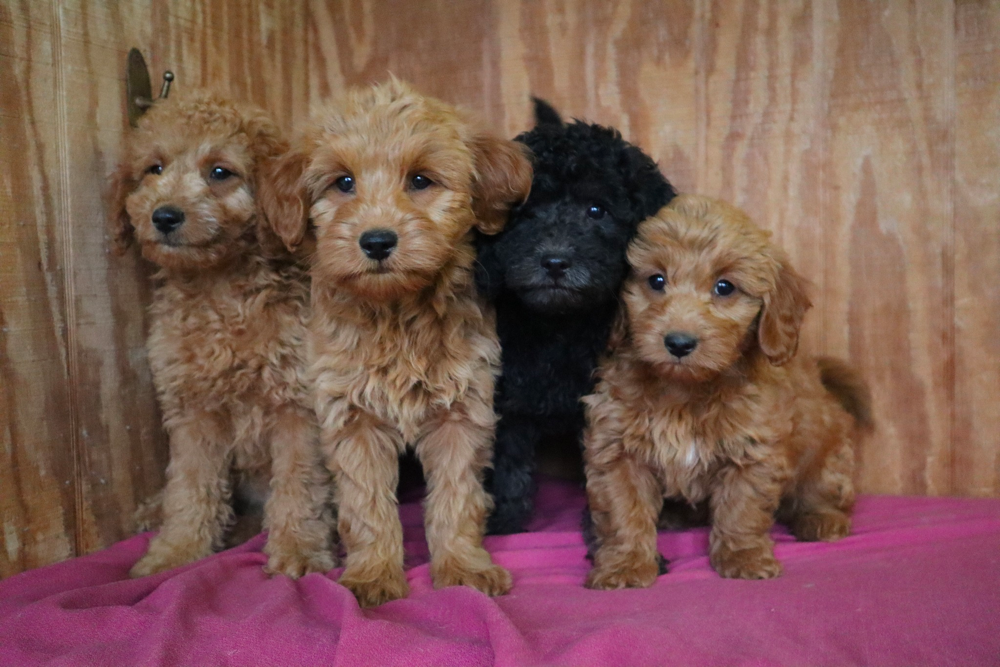 In the small town of New Windsor, Maryland, Windsor Oak Farm specializes in breeding small, hypoallergenic puppies including multigenerational Goldendoodles. They provide happy, healthy small dogs for families that enjoy the companionship of Goldendoodles, but would like the smaller size that a miniature can have.
The puppies are raised on a farm with plenty of room to explore! The socialization and exposure of the puppies are very important to Windsor Oak Farm, and it prepares them for the hustle and bustle of family life after they leave. All of the dogs receive hands-on care and are raised by their family.
The puppies are fully vaccinated and dewormed before leaving. Windsor Oak Farm provides a free thirty-day trial of pet insurance for new owners as well. The family is willing to deliver puppies to Maryland, Washington D.C, and Northern Virginia regions.
Who is the Best Breeder for You?
At the end of the day, the only person who can answer this question is you. It is important when you are searching for a new puppy to take your time and research every possible breeder to find your perfect match. Every family and individual has different wants and needs, so finding the perfect breeder boils down to who can provide exactly what you and your family are looking for.
Personally, I put Curly Doodles at the top of the list due to their extensive qualifications and ethical breeding practice. I made sure to construct this list after researching every Breeder thoroughly. Although every breeder on this list is wonderful and contains many desirable features, my goal is that one will stick out above all else. Hopefully, this article helped you one step closer to finding your new best friend!
Recommended Goldendoodle Resources
Goldendoodle Breeders in The Other States Near Maryland